Affiliate links linking to products we love may be found within this article. For more info, please check our Disclosure page for more explanation of affiliates and sponsorships.

---
Hiking in North Carolina is so much fun and not just in the mountains. And it's not just reserved for fall, as you'll find when staying here during the summer, spring, and even winter. Throughout the year, North Carolina's Piedmont and Coast for getting out and enjoying nature. So no matter where you plan to be hiking in North Carolina, we've compiled more than 20 of our favorite hikes near Asheville and its surroundings, as well as other awesome parts of the state.
Hiking in North Carolina
This post originally appeared on NC Tripping on September 4, 2018. It has been maintained and updated (as of June 9, 2019) to reflect current viewpoints and travel trends.
Fall Foliage Note
Before choosing among these North Carolina trails, you'll want to time things just right. We're keeping a close eye out for the latest North Carolina fall foliage map that will be released to the public soon. Here's a nationwide fall color map to give you an idea if you're traveling elsewhere.
Note on Distances, Access, and Safety
Anything that is not listed as a loop or if "round trip" is not mentioned, the distance is calculated one way.In order to best experience these hiking trails, we recommend that you arrive early, not leave any garbage (save the dolphins!), and be respectful of the environment. We'll occasionally add an extra note of caution but will remind you here that safety is your responsibility when enjoying these hikes. If you're bringing a dog along for your hike, many parks warn that they must be kept on a leash.
Mountain Hikes
The Mountains of Western North Carolina are where you'll find most of the insanely beautiful landscapes and, of course, waterfalls when hiking in North Carolina. If you're looking for hikes around Asheville and other High Country spots, you'll need at least a few days to work with. Check out these awesome places to stay in the mountains.
Bass Lake Trail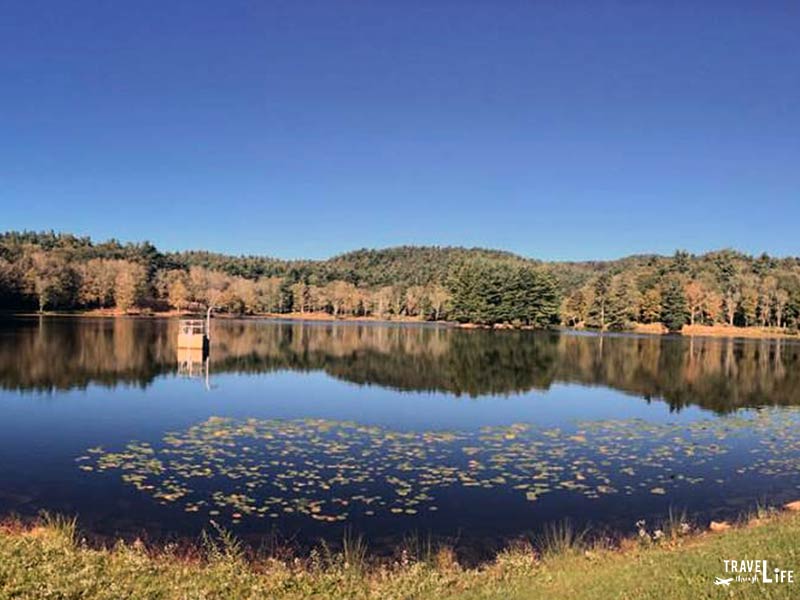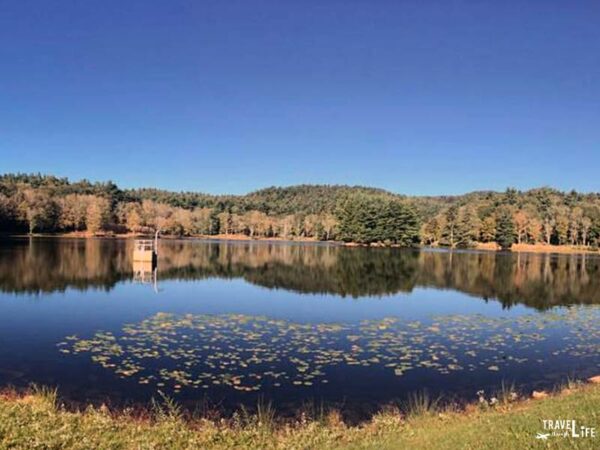 Bass Lake Trail is a great hike near Boone and Blowing Rock. It is a really easy loop (.8 miles), though there are longer options including The Maze (3 miles). The loop is wheelchair-accessible and good for strollers, which is great for travel-with-baby people like us. Like to fish? This place has that available, so don't forget your poles!
Catawba Falls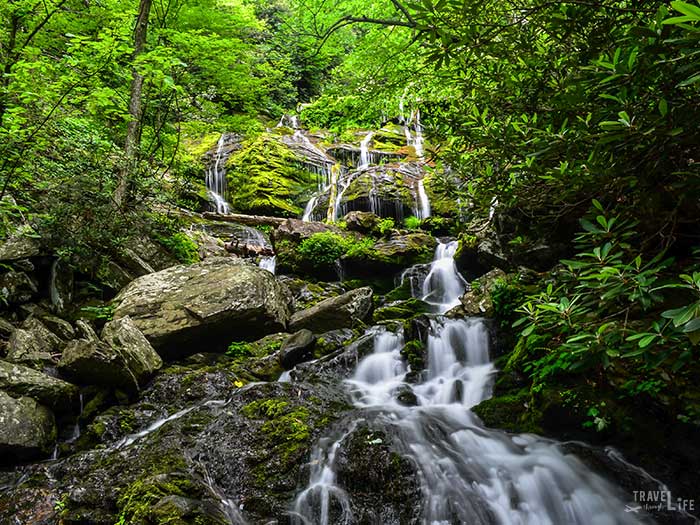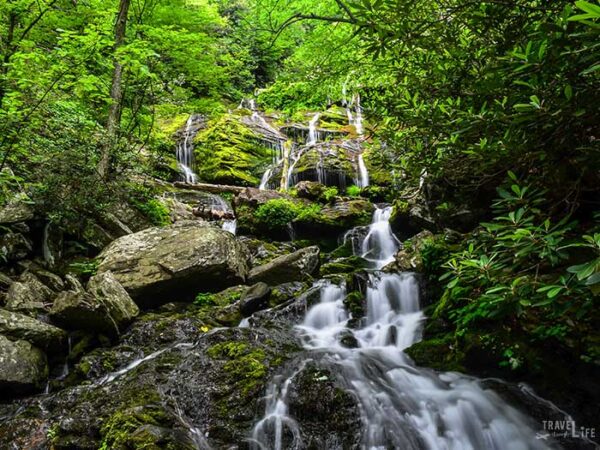 Located just 26 miles east of Asheville in Old Fort is Catawba Falls, an easily accessible hidden gem. The 100-foot falls are your final destination after a 1.5-mile steady hike along the Catawba River. Take in the smaller cascades along your hike and pause at the stone foundation of the 1900s-era dam used for power production. Catawba Falls is surrounded by mossy rocks and beautiful rhododendrons. When you reach the end of the trail at the waterfall you can have a full view of the lower cascades, or you can choose to climb to the upper cascades. This route is extremely strenuous and it is advised that you have proper footgear to scale to the top. This is a beautiful trail to take in early spring when everything is green and lush after heavy rain.
Crabtree Falls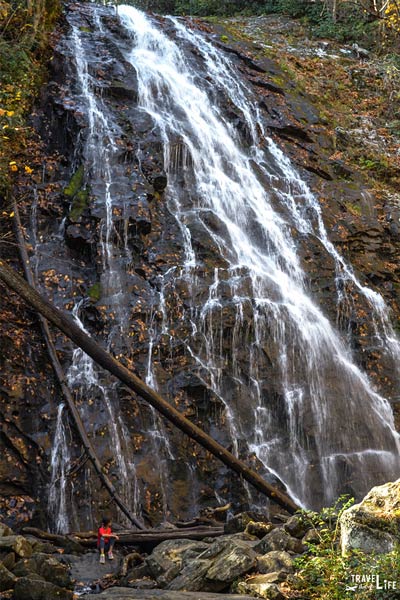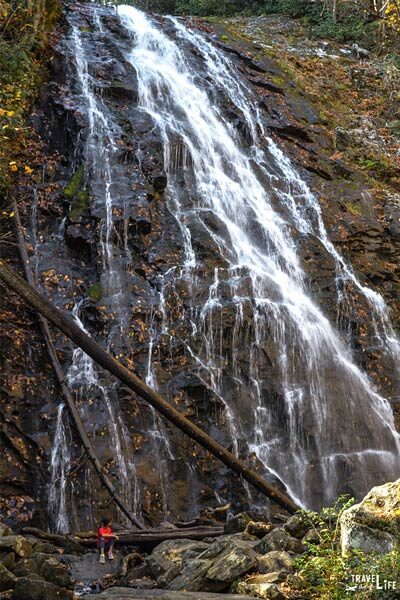 Not far from Linville, Crabtree Falls is a beautiful spot just off the Blue Ridge Parkway (Milepost 339.5). It's so popular that the trail was rerouted to alleviate parking issues at the campground. To reach the 70-foot waterfall, there's a 2.5-mile loop trail that'll take you through hardwoods and rhododendron.
It's tempting to climb the waterfall since it's so accessible, but don't give into temptation. The rocks are very slippery and unforgiving.
Craggy Gardens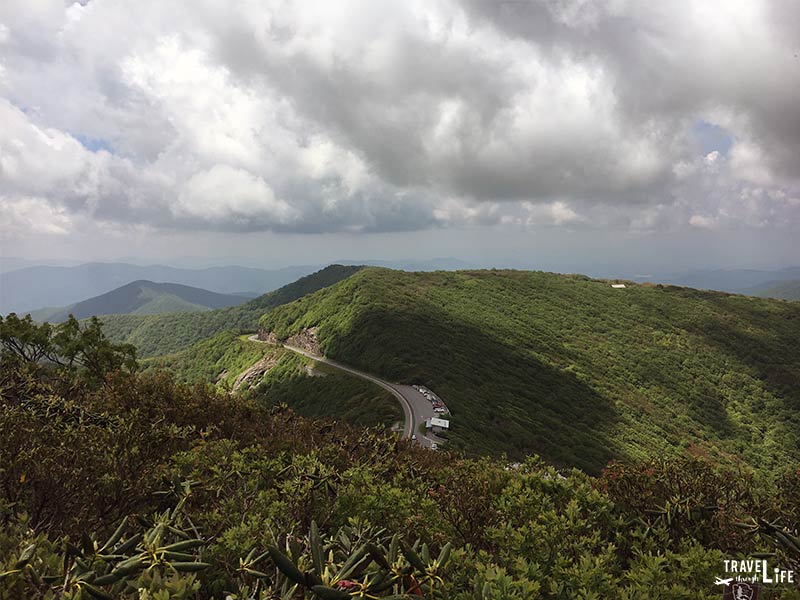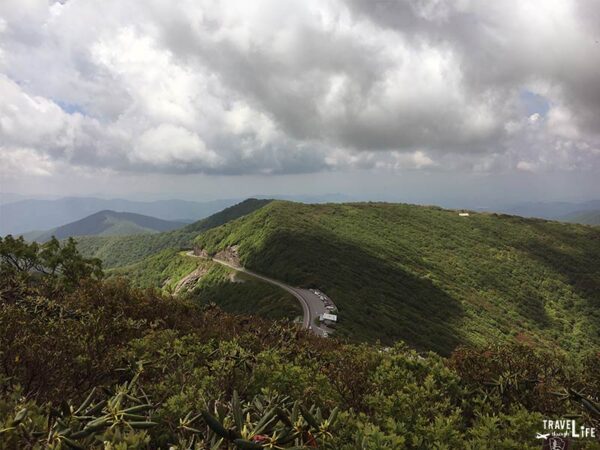 Craggy Gardens is a nice spot 40 minutes outside Asheville, with the super easy 20-minute walk up to Craggy Pinnacle, which is home to one of my all-time favorite views of the Blue Ridge Parkway. There's also Douglas Falls Trail (4 miles) will lead you to a 70-foot tall waterfall. The area is better known for the Catawba Rhododendrons that pop up in the spring, but I think it's also worth a trip in the fall.
You can read more about our experiences at Craggy Gardens here.

Glen Burney Trail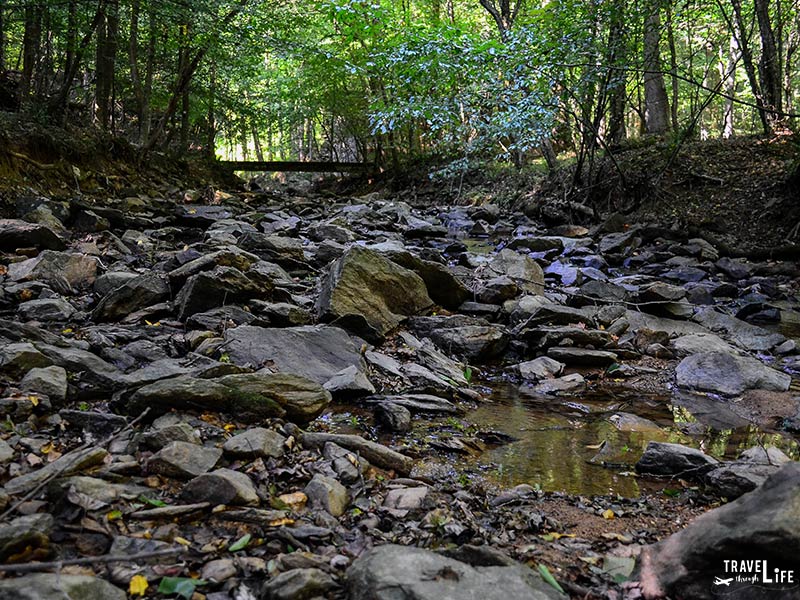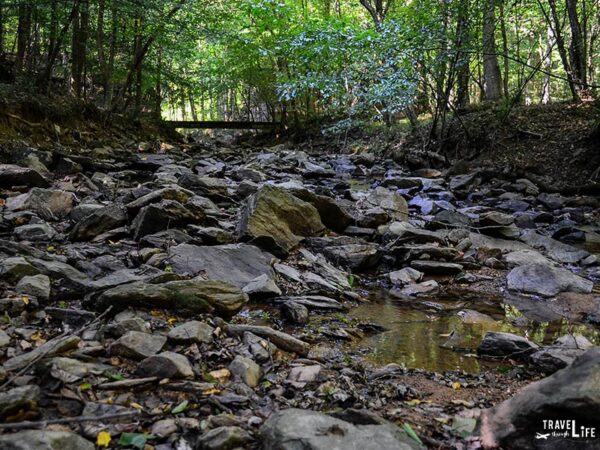 Glen Burney Trail (2.1 miles) sits right outside Downtown Blowing Rock and takes you away from everything toward two beautiful falls—Glen Burney and Glen Mary. You'll descend about 800 feet so get those legs and knees ready for a workout! Also, beware of roots and occasional muddy areas if it's recently rained.
We also mentioned Glen Burney Trail and Bass Lake Trail in our guide to a weekend in Blowing Rock!
Grandfather Mountain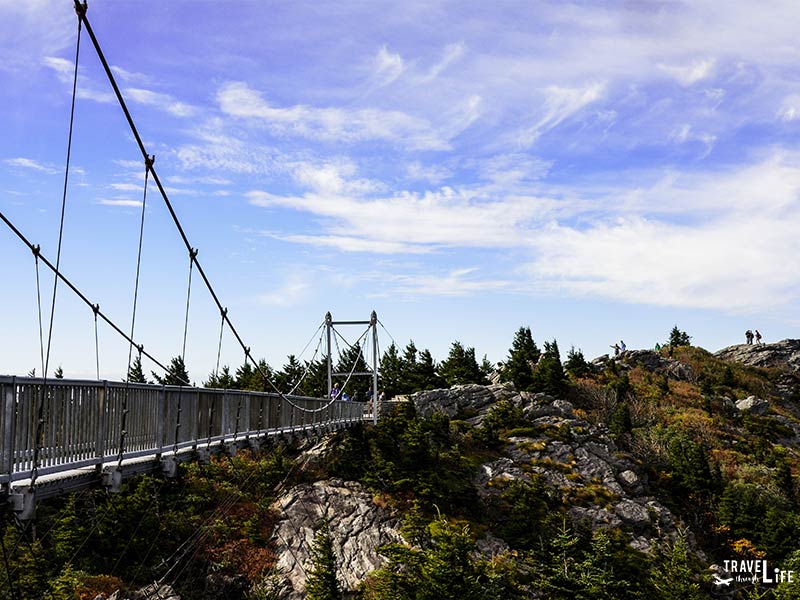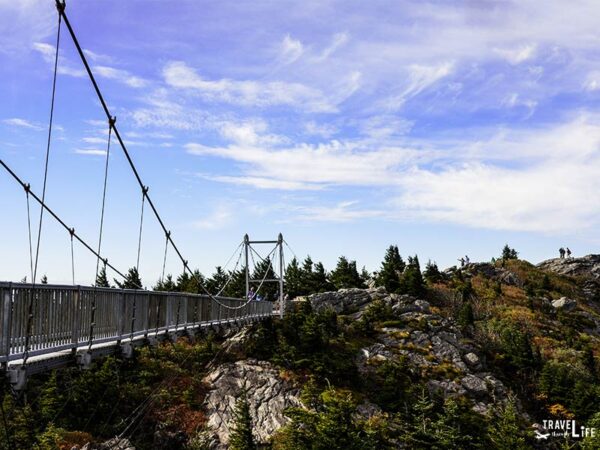 Grandfather Mountain is home to 12 miles of trails managed by North Carolina State Parks (Free) and another section (about 720 acres) that is protected by the Grandfather Mountain Stewardship Foundation. The 228-foot long Mile High Swinging Bridge (Tickets Required) is easily accessible by car and elevator.You can also park below and hike to it (.7 miles).
Grassy Creek Falls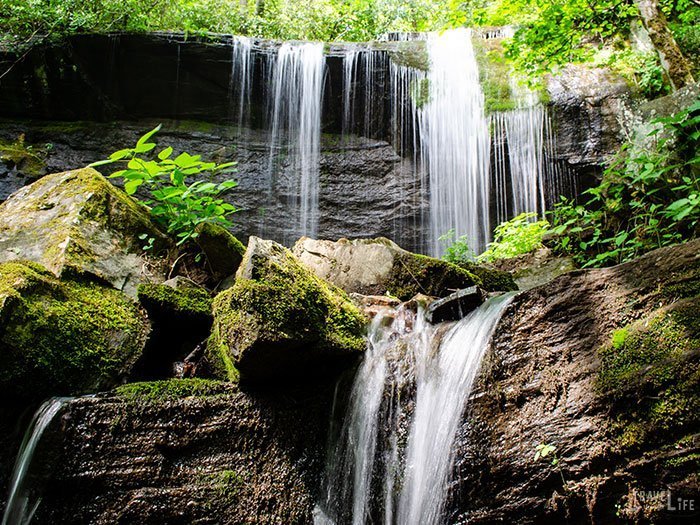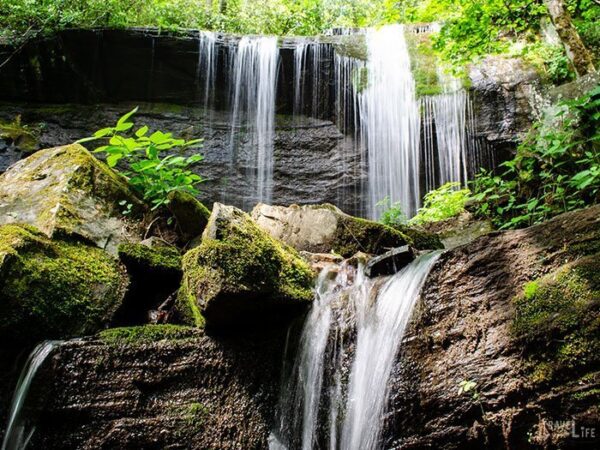 Grassy Creek Falls is reachable by parking at the trailhead (Blue Ridge Parkway MM 335) or by walking from the nearby Switzerland Inn, if you're staying there. It's about a half-mile walk downhill, where the trail will snake left around a bend before you take two right turns along the way. There are a couple of walkways (take the second one down) that will lead you down for a closer look at the falls. Just be careful, as they can get slippery when wet. But my is it a beautiful place to stand and watch the water come down!
Graveyard Fields
Blue Ridge Parkway fall travelers will find Graveyard Fields at Milepost 418 and if you've arrived later in the day, you'll notice this place by all the cars parked or waiting to find an empty spot. It's one of the most popular hikes in Pisgah National Forest and home to two waterfalls that are reachable by either a 3.5-mile hike or much shorter 1/3 of a mile long one.
Linville Falls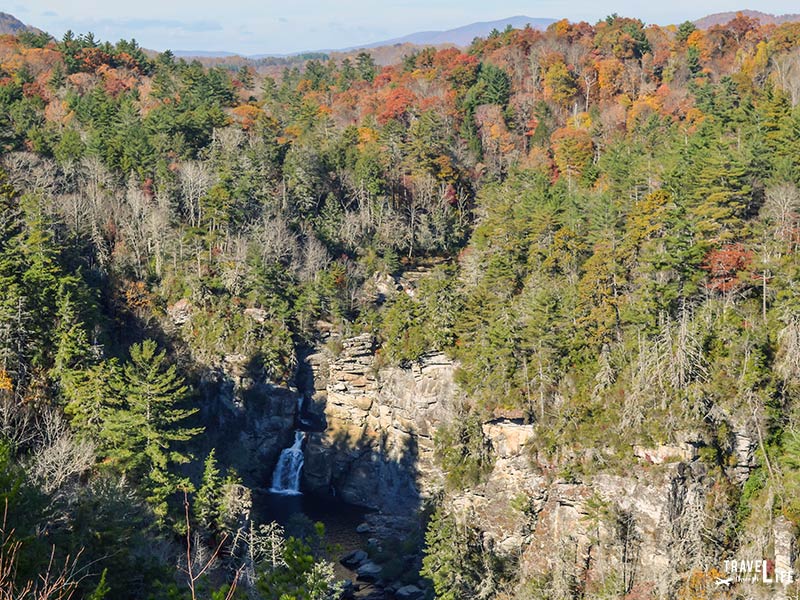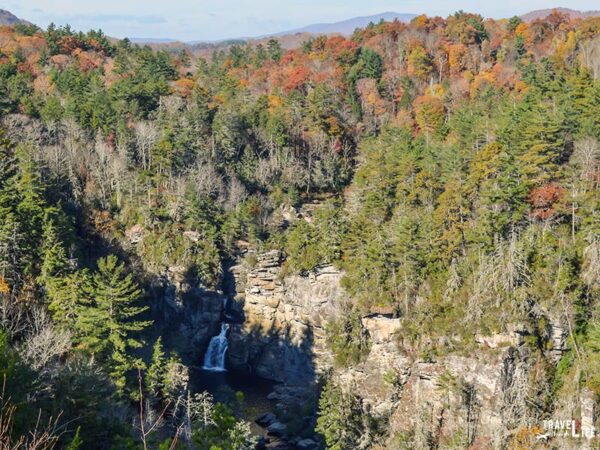 The gorgeous Linville Falls is one of our favorite places to go hiking in North Carolina. Erwin's View Trail is a moderate 1.6 miles that'll take you to beautiful views of the falls and valley below. The Linville Gorge Trail takes you to the opposite side of the falls. That's where the Gorge Trail (1.4 miles round trip) Plunge Basin Trail (1-mile round trip) will appease your more adventurous side.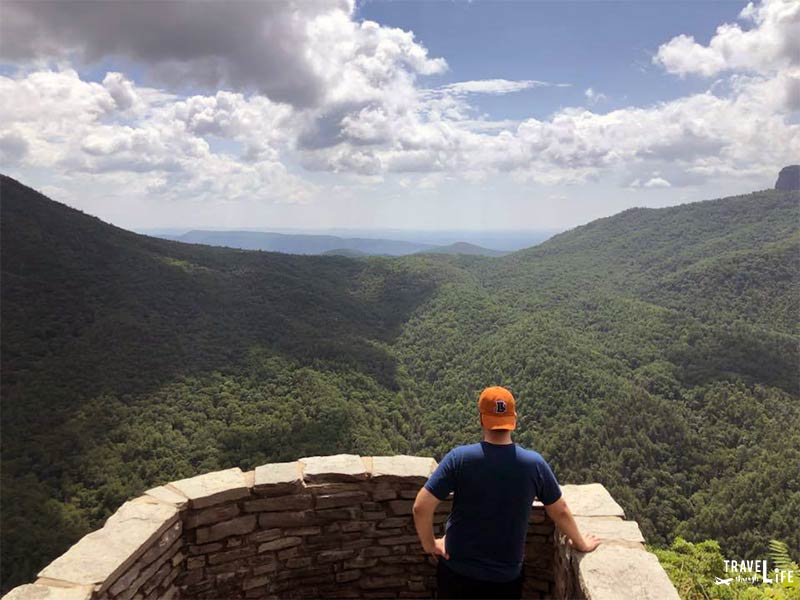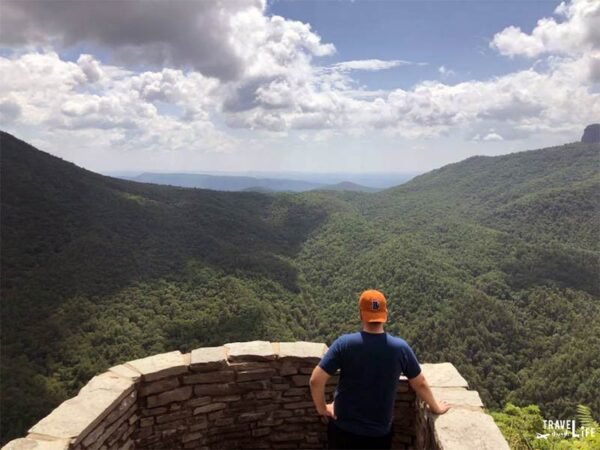 Bonus Hike: Away from the Visitor's Center and up a curvy, sometimes treacherous road, Wiseman's View is a short walk (.2 miles), wheelchair-accessible, and home to some of the most beautiful views you'll find of North Carolina's mountains.
We've covered hiking Linville Falls in more detail here, in case you'd like more info.
Moore Cove Falls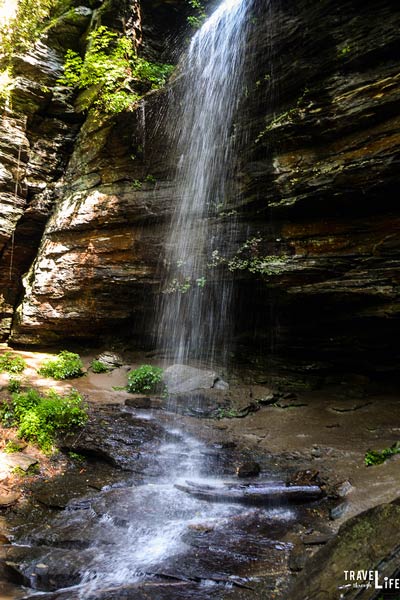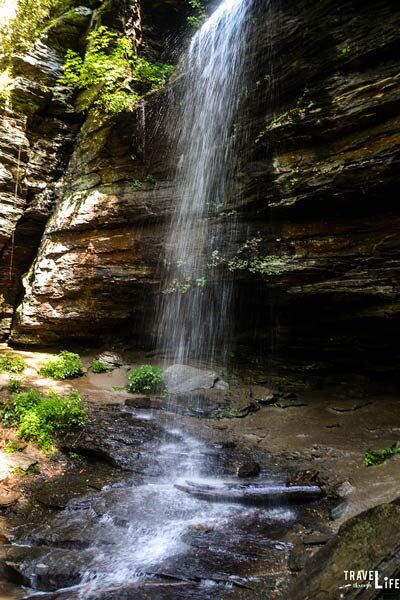 Many folks in search of the best waterfalls near Asheville are able to find tons of them in Transylvania County, which is home to Brevard. A 1.5-mile hike right off Highway 276 will lead you to Moore Cove Falls. This is one of the few in the area that you can walk behind. It's one of our favorites and also close to popular spots like Looking Glass Falls and Sliding Rock.
We also created a guide to 11 must-see waterfalls near Brevard!
Piedmont Hikes
You won't find all the best hiking trails in North Carolina in the Mountains. The Piedmont is filled with great places to get out and enjoy the outdoors! Here are some of our favorite spots.
Cliffs of the Neuse State Park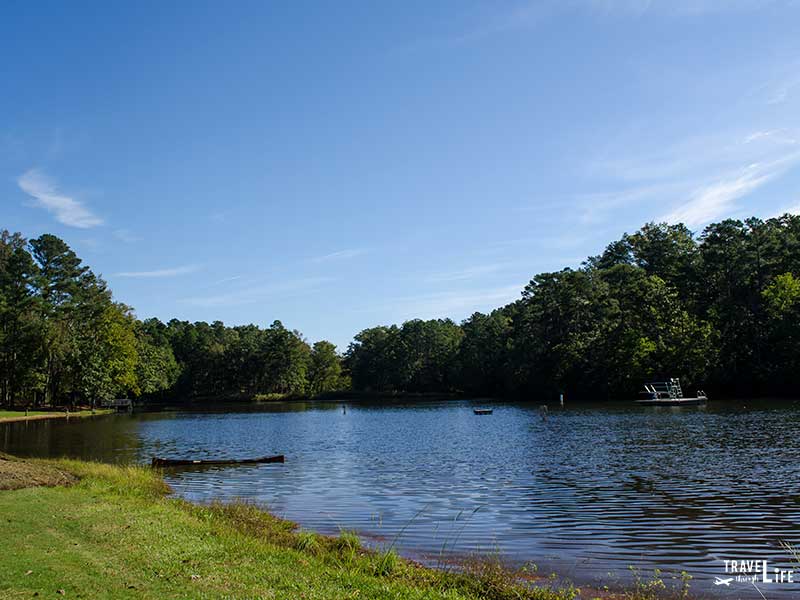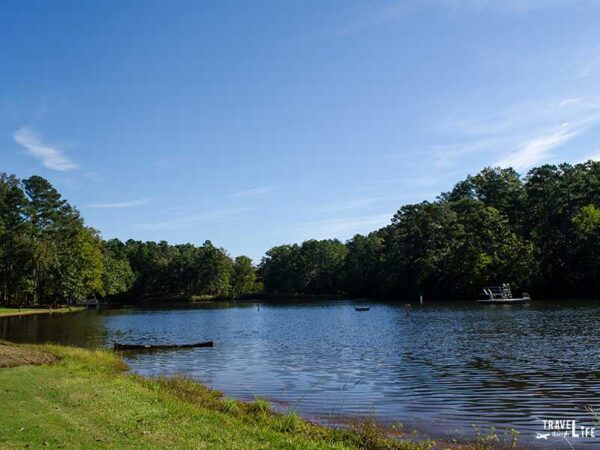 The 90-foot overlook at Cliffs of the Neuse State Park, via the 350 Yard Trail, is enough of a reason to visit this beautiful spot near Goldsboro. It's such a unique spot, thanks to a shift in the Earth's crust millions of years ago. Let's just hope it doesn't move again. There are other trails worth exploring at Cliffs of the Neuse, including the Lake Trail and Spanish Moss Trail. Don't forget to check out their visitor's center, which has some of the best-produced and maintained exhibits for all ages.
We also included Cliffs of the Neuse in our guide to a weekend in Goldsboro.
Eno River State Park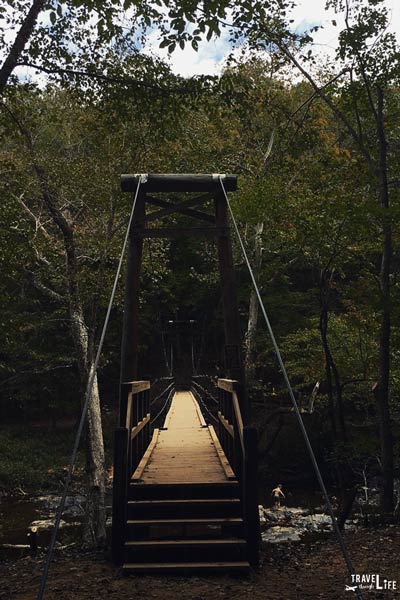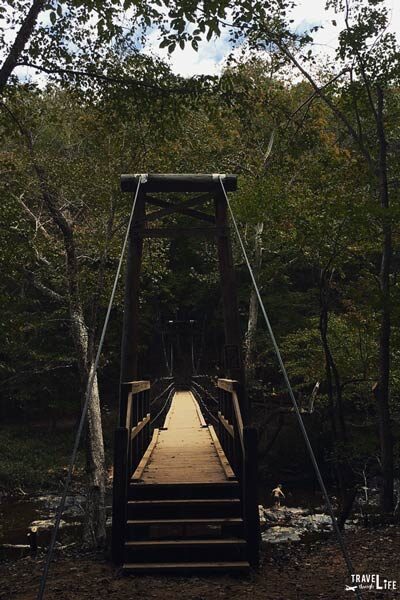 Hiking in North Carolina's Eno River State Park is one of our favorite outdoor things to do in Durham and such a great escape from it all. Cox Mountain Trail (3.75 miles round trip) and Pump Station (1.5 miles round trip) are two of our favorites. A lot of people head to Cox Mountain to dip their feet in the river. On hot days, tons of people head to the Eno Quarry for a little more thrilling swim time.
Note: Be careful and stay safe when heading to Eno Quarry, as the water is 70-feet deep and underwater hazards are very well documented.
Hanging Rock State Park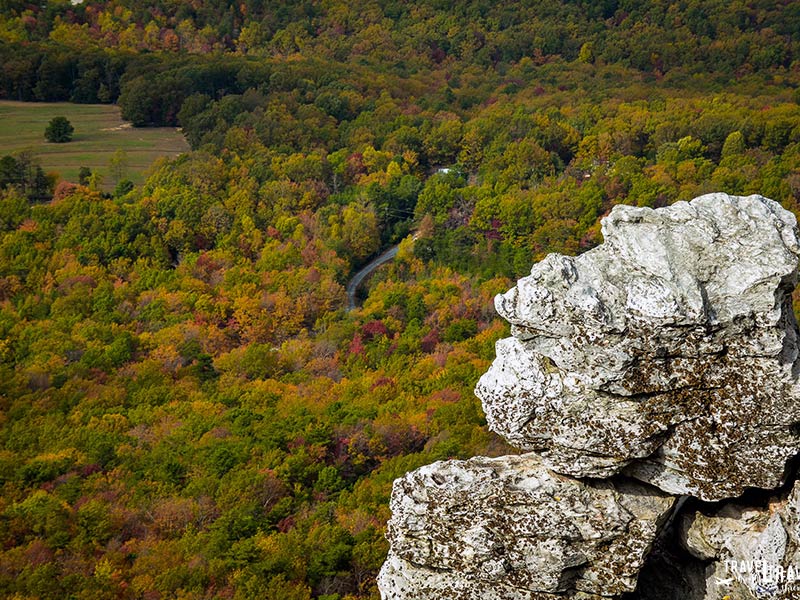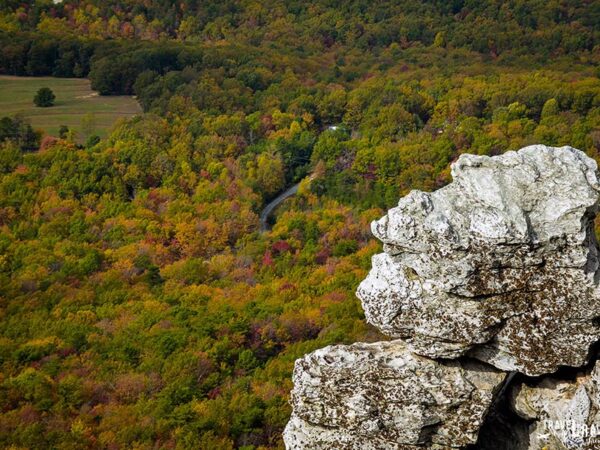 Not far from Winston-Salem, there are over 20 miles of hiking at Hanging Rock State Park and our favorite trails include Cook's Wall (2.2 miles) and Moore's Wall Loop Trail (4.7 miles). The views from any of the park's "Five Peaks" are wonderful. We prefer scoping out the scenery from Moore's Knob (via Moore's Wall) and Cook's Wall.
Hanging Rock is great for a day trip but if you spend at least a weekend in Winston-Salem, you won't have to rush and knock it all out so quickly!
Morrow Mountain State Park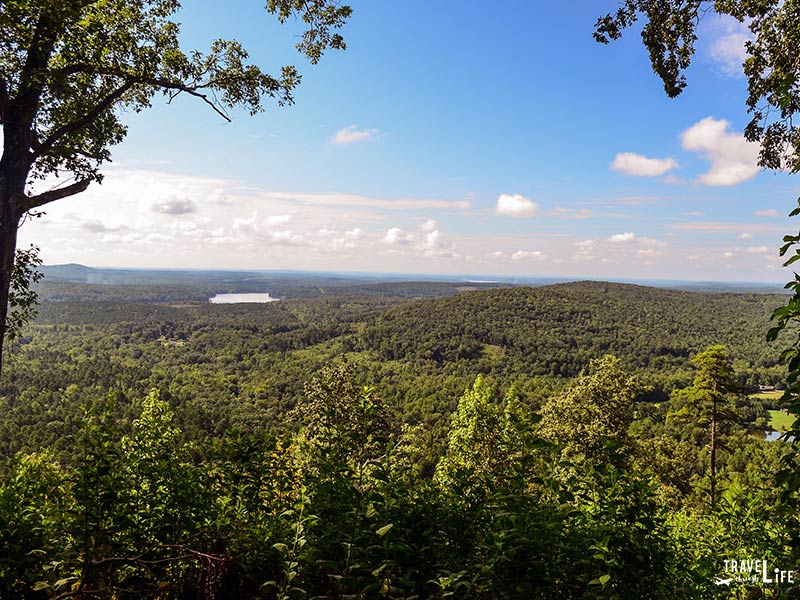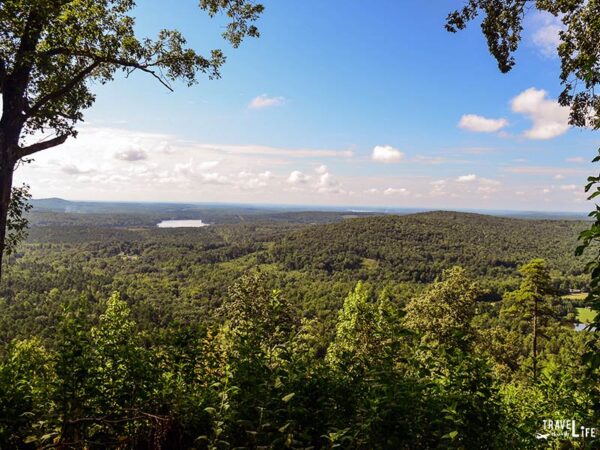 About an hour outside of Charlotte, Morrow Mountain is another one where you can drive to the top. There are 15 miles of hiking that you can enjoy there, with the Fall Mountain Trail (4 miles) and the Mountain Loop Trail (.8 miles) among the most popular. Views are pretty nice from the huge paved area that serves as the peak.
We've also included Morrow Mountain among our favorite ways to spend a weekend in Charlotte.
Occoneechee Mountain State Natural Area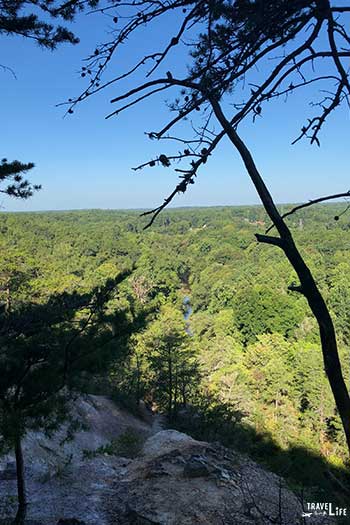 Hillsborough is an awesome small town in the Research Triangle for a bunch of reasons already, but Occoneechee Mountain has nudged it closer to the top. Speaking of the top, the Overlook Trail (.8 miles) connects to the Mountain Loop Trail (2.2 Miles) and will take you to a nice peak. There, you can see the Eno River below. Also, you can walk down and check out a quarry and stare up at the peak. This place is special in many ways. Another reason is the animals and tree species that you'll see, which are typically found in the mountains.
Pilot Mountain State Park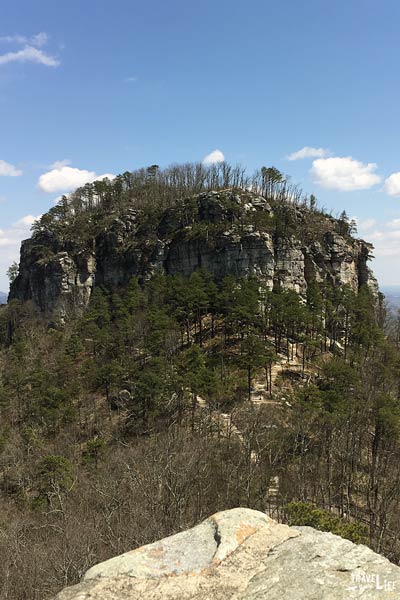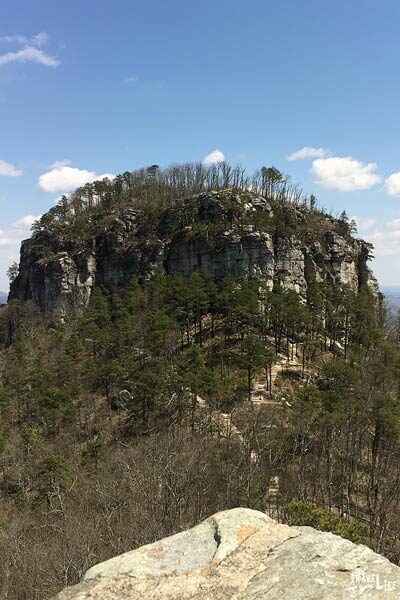 Pilot Mountain is one of the state's most famous mountains (thanks, Andy Griffith). Drivers on I-77 and other highways can easily recognize Big Pinnacle from miles away. Hiking the Little Pinnacle Overlook Trail (.1 miles) will give you a quick and perfect look at Big Pinnacle. There are more trails here that are hiker- and even horse-friendly. Just be sure to stop by Mount Airy nearby for a stroll through Mayberry.
Raven Rock State Park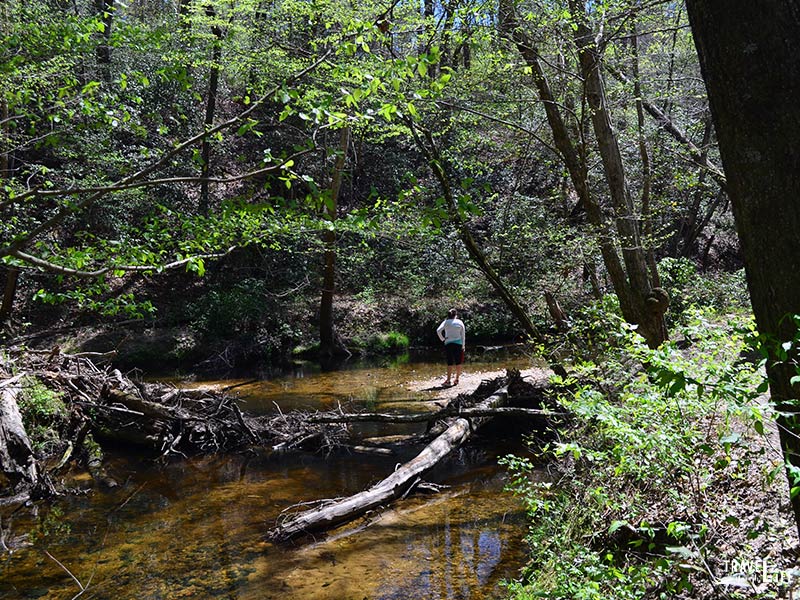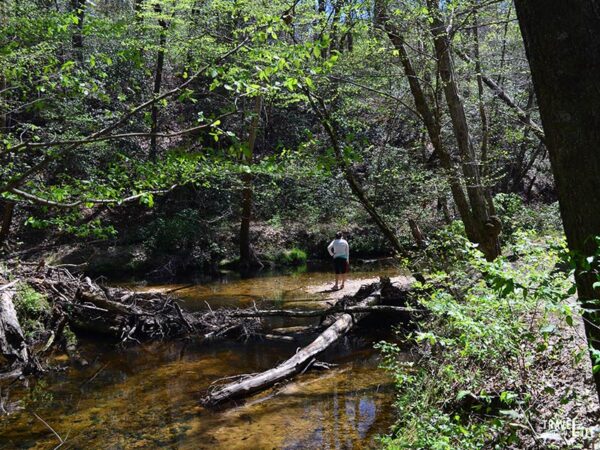 On the eastern edge of the Piedmont and near Lillington, Raven Rock State Park is popular for hikers seeking a look at the famed Cape Fear River. Campbell Creek Loop Trail (5 miles) will take you to a nice view of the river. The Raven Rock Loop Trail (2.6 miles) will lead you to an overlook standing 350 feet above the river.
William B. Umstead State Park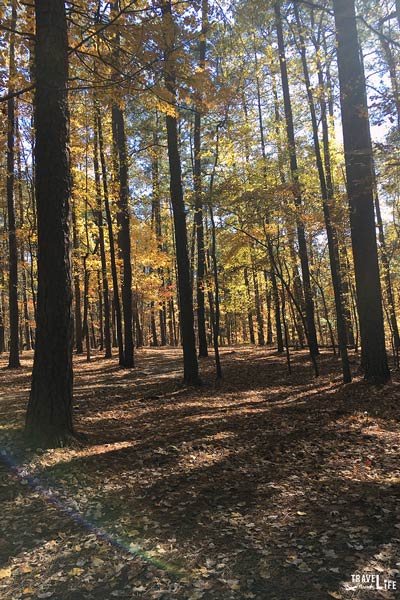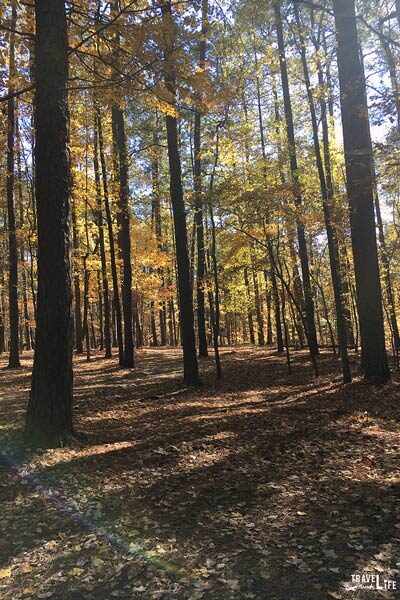 Just off Highway 70/Glenwood Ave. in Raleigh, you'll find William B. Umstead State Park. It's within earshot of Raleigh-Durham International Airport. You'll hear planes passing over every now and then at Umstead. However, it's easy to feel like you're very far away from the busy city when exploring the trails here. Sycamore (7.2 miles round trip) and Sal's Branch (2.8 miles round trip) are our favorites for beautiful tree-covered walks. In the latter's case, for some time staring at Big Lake.
Coastal Hikes
Whoever said there wasn't good hiking in North Carolina by the coast has probably never ventured far from their beach chair. Sure, most people come here for the sand, surf, and doughnuts and we do, too, but not always. We're also fans of hikes in Eastern NC, especially later in the year when it's cooled off a bit.
Croatan National Forest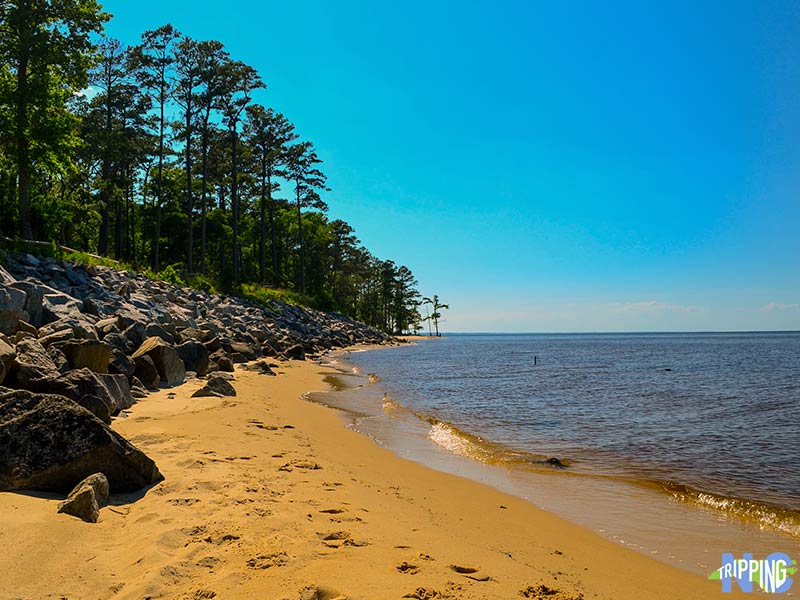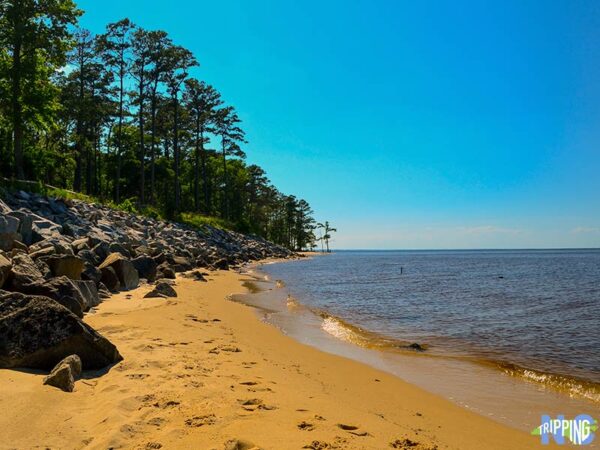 Croatan National Forest is about a half hour drive from New Bern and really popular for its beaches on the Neuse River and camping during holiday weekends. It's also home to some of the best hiking in North Carolina. Some cool trails include Flanners Beach (1 mile with optional 5-mile addition) and Patsy Pond Nature Trail (3 loops ranging from .75 miles to 1.9 miles). The most challenging hiking at Croatan is Neusiok Trail (20 miles). It starts at the beaches of the Neuse and takes you to the Newport River.
Croatan is typically included in our weekends in New Bern.
Jockey's Ridge State Park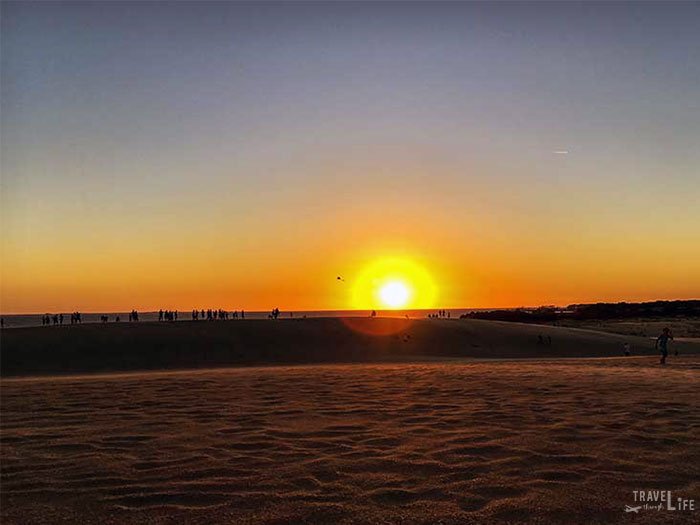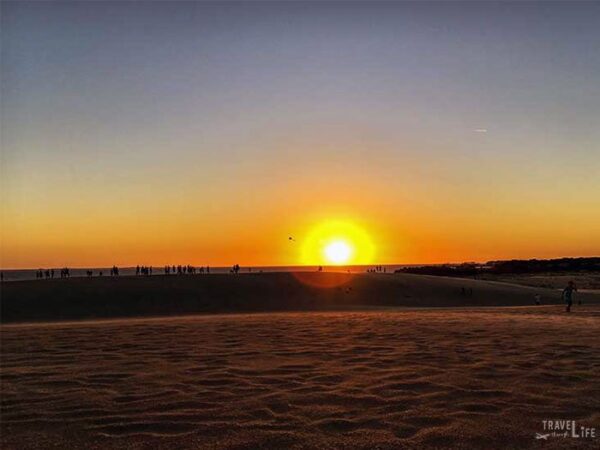 Many folks know about Jockey's Ridge State Park in The Outer Banks. It's home to the tallest set of natural sand dunes on the East Coast and one of our favorite places to hike in North Carolina. Three official self-guided trails (Tracks in the Sand, Soundside Nature Trail, and Boardwalk) will take you over and around the dunes. And on nice days, you'll see folks flying kites and hang-gliding in the distance. But my favorite time to be at Jockey's Ridge is for sunset. It's really one of my favorite views in all of North Carolina and I hope you get to enjoy it, too!
Nags Head Woods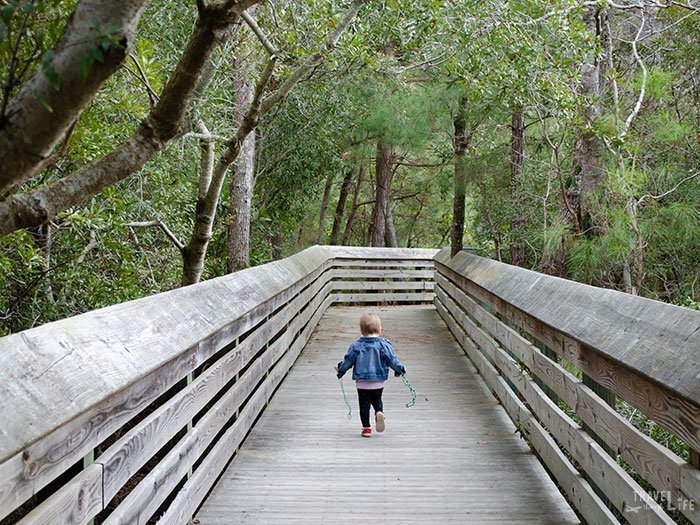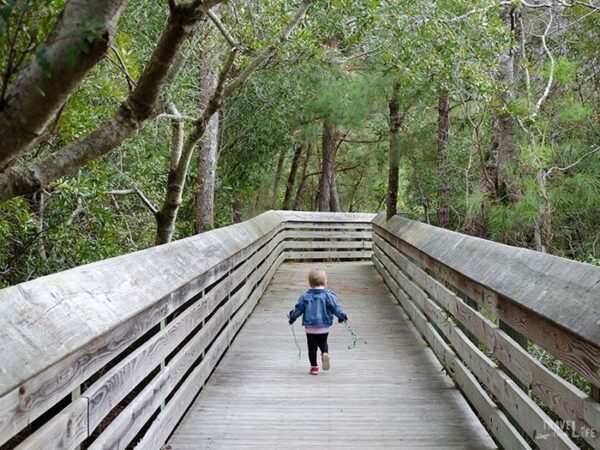 Found between Jockeys Ridge and the Wright Brothers Memorial in The Outer Banks, Nags Head Woods is a Nature Preserve and home to over five miles of trails. Sweetgum Swamp Tail (3.4 miles round trip) is the most popular path, though many folks also like the Discovery Trail to Roanoke Trail Loop. There's even the ADA Trail (.5 miles round trip), made of boardwalk and concrete to be completely accessible!
Pea Island National Wildlife Refuge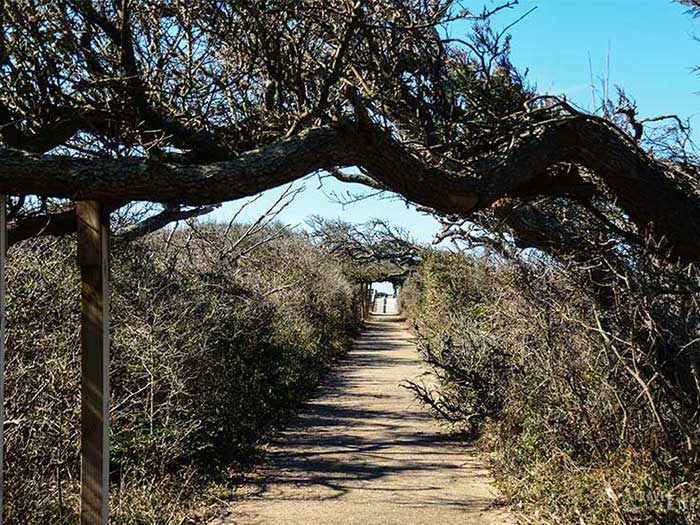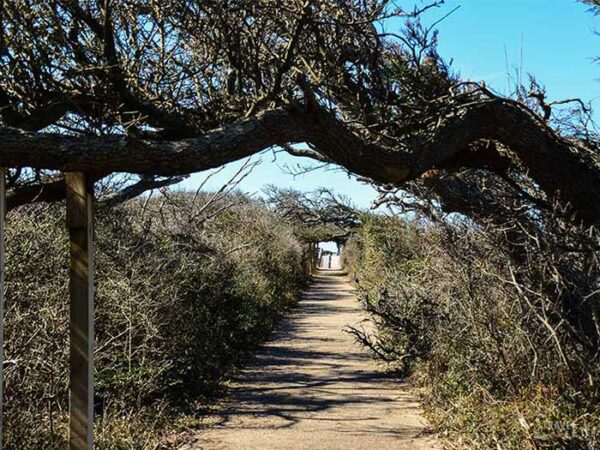 Drive south down NC-12 from Bodie Island on Hatteras Island and you'll run into Pea Island National Wildlife Refuge. It's home to two interesting trails (North Pond and Salt Flats), great for spotting birds, turtles, and other wildlife. For me, it's the relative sense of isolation that takes over when I'm walking around Pea Island that's enticing, thanks to the winds and largely untouched scenery.
Final Thoughts
Whether you're hiking in North Carolina during a lengthy backpack trip or looking for a short loop near one of our cities or small towns, these trails should have you covered throughout the year. If you get to check one of these places out in the future, we'd love to hear about your experience. Also, if you've ever gone hiking in the Tar Heel State, where is your favorite trail for checking out the scenery? We'd love to know about it and even check it out if it's not on this list!