Affiliate links linking to products we love may be found within this article. For more info, please check our Disclosure page for more explanation of affiliates and sponsorships.

---
Goldsboro isn't your average Eastern North Carolina town. It's got a small-town feel but this place packs a punch in the arts, history, and food. And honestly, these are just the start of what you'll find here. Sprinkle in annual events and some awesome outdoor fun you can discover here and around Wayne County, and you're going to find that there are always plenty of things to do in Goldsboro.
A Weekend in Goldsboro
Fun Facts
Where else in the world do you know that celebrates ringing in the new year by dropping a pickle? Goldsboro's neighbor Mount Olive, the city with the best pickles, does! The Mount Olive Pickle Company is a big dill (hardy har har) and not only does the town of Goldsboro celebrate by dropping a pickle, but they also host the NC Pickle Festival every year! Wayne County is also the third largest agriculture producer in North Carolina! From poultry, pickles, pigs, and a myriad of other products, Wayne county can be thanked for keeping food local and people fed!
We included the Pickle Drop in our guide to Winter Things to do in North Carolina. Also, stay tuned for our look at poultry, pickles, pigs, and the other P(planes) that Goldsboro is famous for!
Where to Stay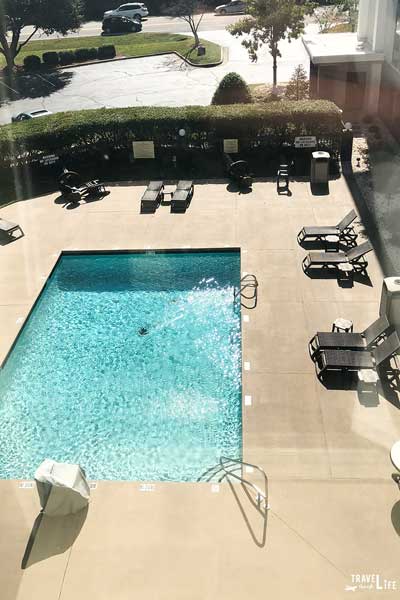 If you're looking for hotels in Goldsboro, Plum Tree Gardens is a highly rated bed and breakfast that'll get you close to Downtown. There are more places to stay just a couple of miles away between Royall Avenue and Highway 70. Hampton Inn has saved the day on many occasions and we enjoyed the one in Goldsboro. Guests have access to the hotel's outdoor pool that nicely compliments the other things we love about Hampton Inns, including funny signs, free breakfast, and comfy rooms.
Need to see more hotels in Goldsboro NC? Check them out via our favorite booking sites! (TripAdvisor | Hotels.com)
10 Things to Do in Goldsboro NC
Now, it's time to get into things to do in Goldsboro. These'll help, whether you're staying for a weekend or living here and need a refresher.
Hang Out Downtown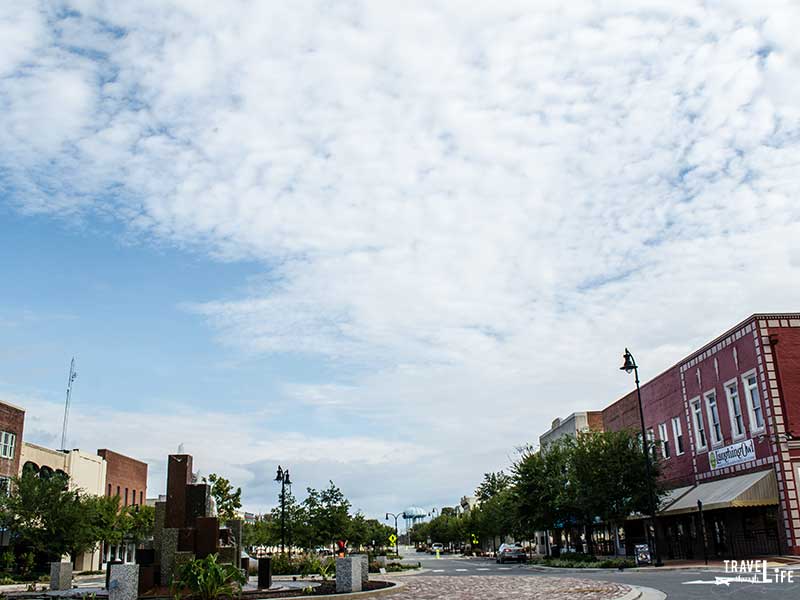 The newly revitalized Downtown Historic District is the best place to start when arriving in Goldsboro. When you want to settle down for a few, play some arcade games with a flight of beers from Asheville to the Coast at Brew Works (Website/Facebook) and find a friend to dominate at Tekken. Downtown also has some fun places shops run by locals, including Carolina Pine Country Store and Bicycle World-The Outdoor Shoppe.
Learn About the Arts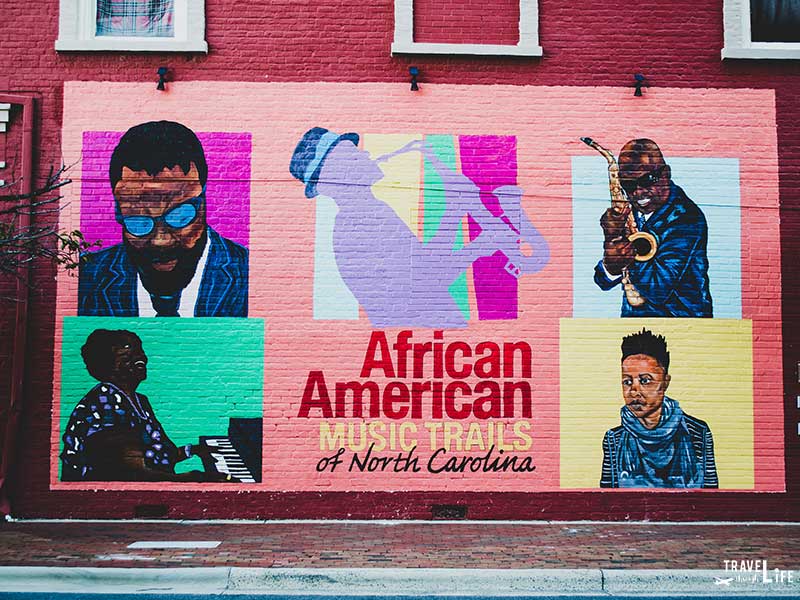 While you're hanging out Downtown, walk around and scope out the art installations throughout Center Street and around. The cool mural that commemorates the African American Music Trail was our favorite, but there's even more fun artsy stuff going on in Goldsboro. Most of it is managed by The Arts Council of Wayne County and you should keep tabs on them for news of new exhibitions, performances and more.
Dig into Goldsboro's History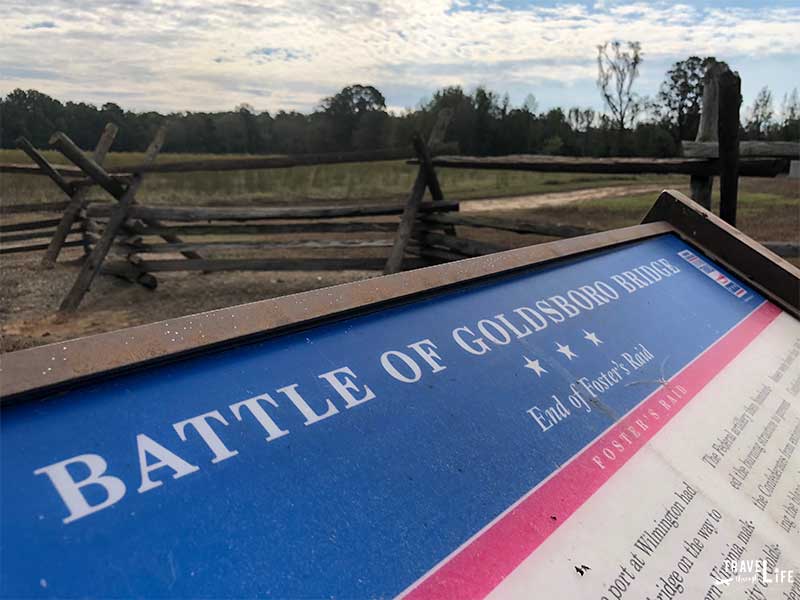 Into history? Goldsboro was an important railroad junction in the Civil War. Take a stroll through The Battle Of Goldsborough Bridge and you'll be taken back to December 1862 when Union and Confederate troops fought a bloody skirmish. As you walk the trail, markers will bring you through the events of that day. As you'll learn, Union troops burned a crucial bridge and destroyed miles of railroad tracks.
Interestingly, a Union journalist covered the area and time and published it as Kinston, Whitehall and Goldsboro (North Carolina) Expedition, December 1862.
Go Dark with a Ghost Tour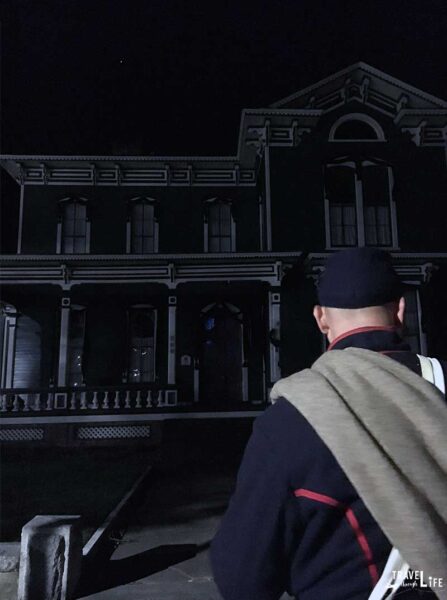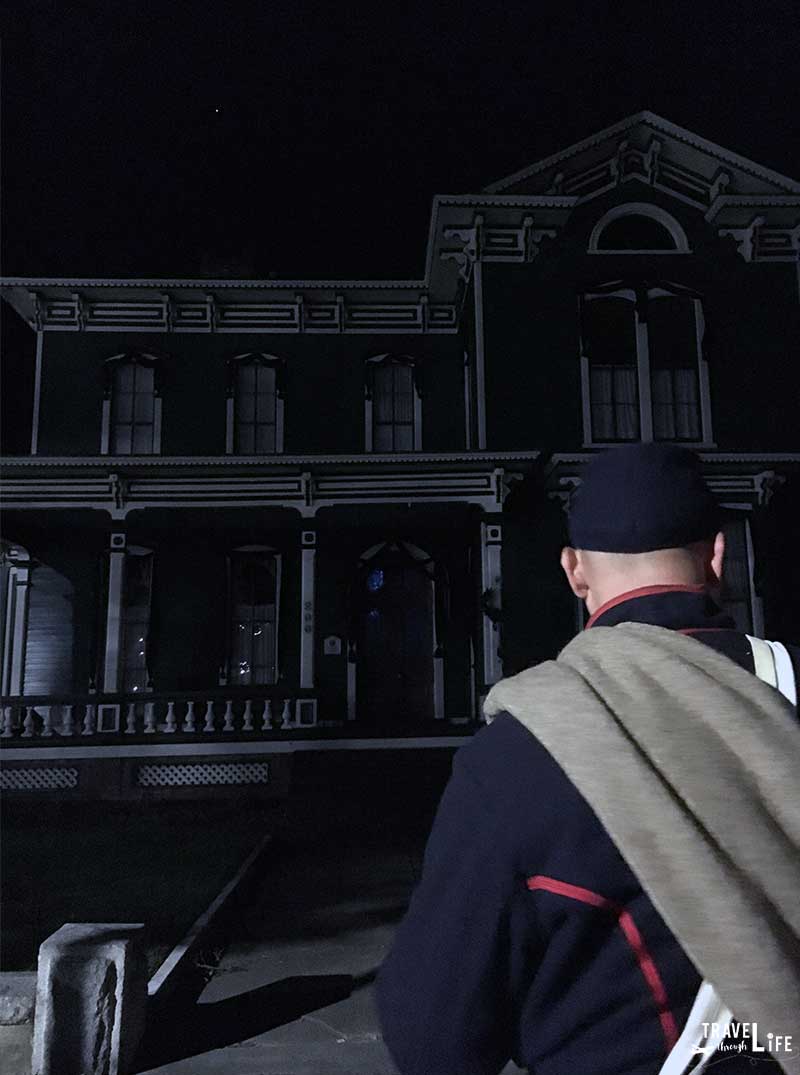 You can learn more of the dark side of that battle, as well as Downtown, and Waynesborough Historical Village via a tour. Thomas Bailey's Candlelight Tours run the 2-hour Ghosts of Goldsborough, which is seriously worth the $10 it takes to book. You'll learn about Goldsboro's history while also discovering some of the darker sides of this otherwise quiet little town. We've been on a few ghost tours and if you're into them, too, please do this one.
For more info, Visit Goldsboro (Website | Call at 919.734.7922) can help get you set up.
Cliffs of the Neuse State Park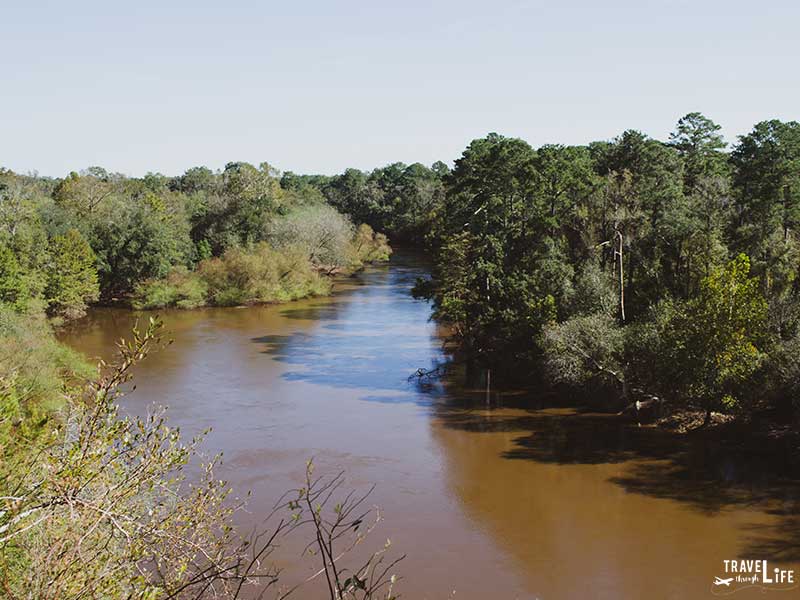 Get outside and enjoy the beautiful scenes of Cliffs of the Neuse State Park. With hiking trails for all levels and a scenic overlook (rare for anywhere away from the mountains), it's the perfect spot to pack a picnic and enjoy the day. Looking more for getting out on the river? You can rent a boat, grab a fishing pole, or swim over to the diving platform and cool off! There are also some fantastic primitive cabins and a family-friendly visitors center with educational tools for kids of all ages!
Festivals to Keep on Your Calendar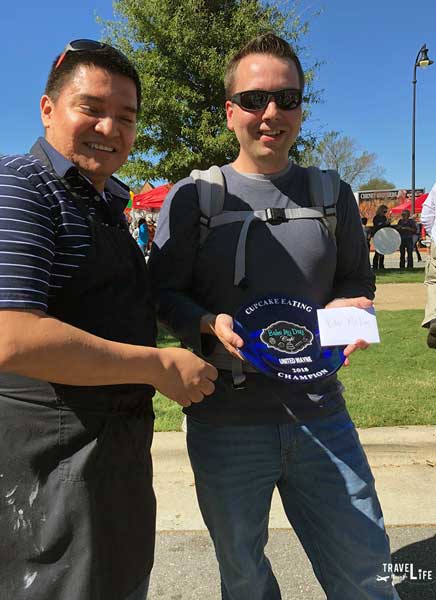 Goldsboro is also the host to many festivals throughout the year, beyond the awesome NC Pickle Festival. Center Street Jams happen from May to August, there's also the NC Poultry Festival in September, Taste of Wayne County in October, and Pig in the Park BBQ Fest. Don't forget that every two years, Seymour Johnson Air Force Base hosts Wings Over Wayne where they showcase dozens of aircraft and air shows performed by the US Air Force's premier aerial demonstration teams.
Explore Restaurants in Goldsboro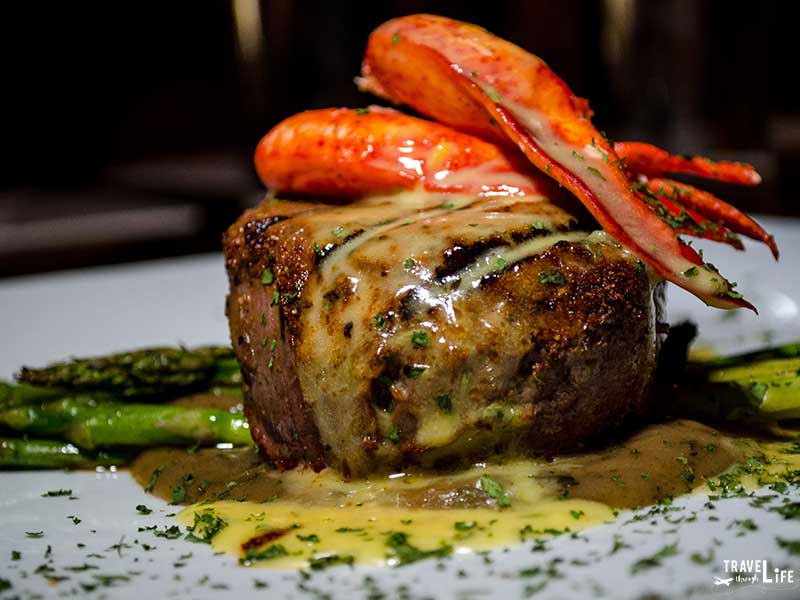 Goldsboro has some stars in the Eastern North Carolina Barbecue scene, with iconic spots like Grady's and Wilber's here. Both restaurants are listed on the NCBS Historic Barbecue Trail, meaning they have reached standards that only 22 establishments throughout the state have. Fairly new to town, the Historic District's Barrique (Website/Facebook) provides upscale and locally sourced food, 21-day (minimum) barrel-aged cocktails, and an esteemed selection of fine wines. Whether you order the Angus Steak or the Seafood Risotto with ingredients sourced from Sneads Ferry, everything on the menu at Barrique is will go perfectly with your date night, business meeting, or just any night when you want to eat awesome food in a cool setting.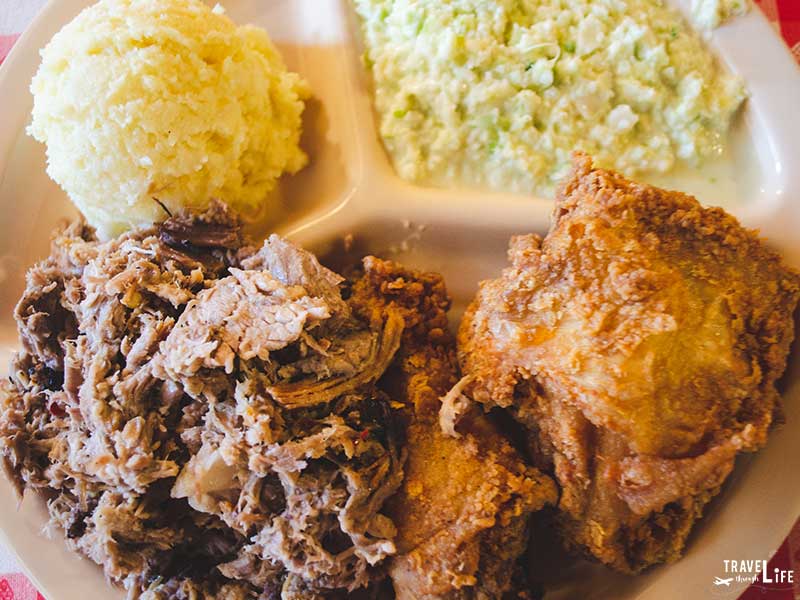 There are some more Goldsboro restaurants that we couldn't leave out. Please go check out awesome Bake My Day (Website/Facebook) for their delicious cupcakes. Center Street Station One O Eight makes amazing burgers and hand-cut fries to go with them. Jay's Sushi & Burger Bar (Website/Facebook) mixes specialty sushi rolls with creatively thought-up burger concepts and gets busy, so get there early. The Laughing Owl has daily drink specials to go along with their cool Asian fusion menu.
What do you think, though? Where else should one eat in Goldsboro? Stay tuned as we work to create a more comprehensive guide to these awesome restaurants in Goldsboro.
Eat and Shop at Heritage Farms General Store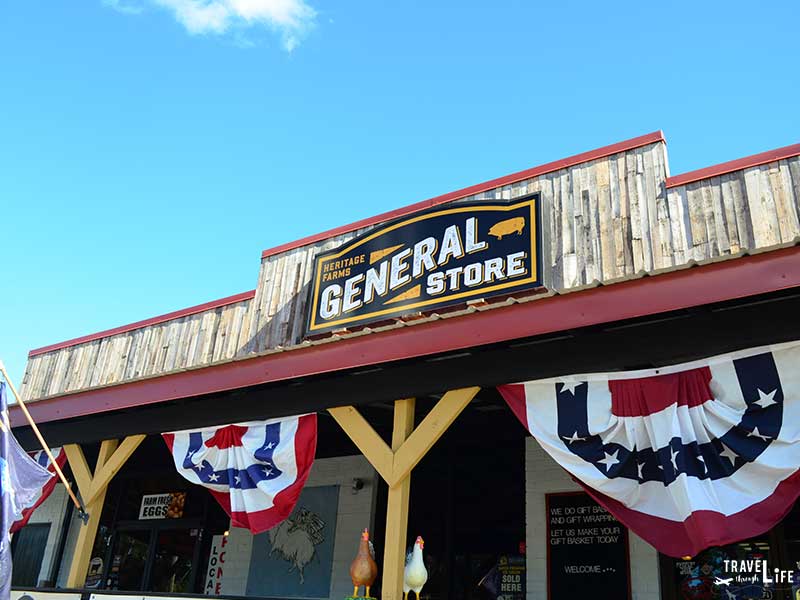 Grab an ice cream or a root beer float (or both? Nobody's judging you) at Heritage Farms General Store after walking through the doors of this truly amazing shop. There are so many North Carolina-based products here, including Cheshire pork and tons of BBQ sauces and rubs. They also have tons of souvenir T-shirts and other apparel. Load up on stuff to wear outside and show off your pride for the Tar Heel State.
Grab Craft Brews in Wayne County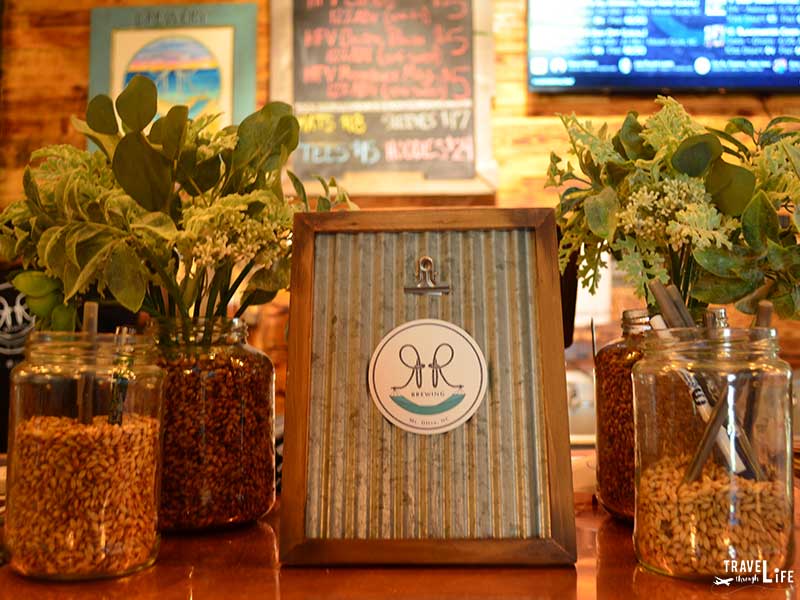 Pop over to R&R Brewing (Website/Facebook) in Mt. Olive, the only craft brewery in Wayne County—for now. They're a fairly new operation but there's quite a bit of energy surrounding this place. You'll see why when you stop by their chilled-out location on Northwest Center Street. Laze around on a hammock, grab some food from the food truck, and enjoy beer made with locally inspired flavors and ingredients.
Use Goldsboro as Your Base
View this post on Instagram
Goldsboro is halfway between Raleigh and Wilmington, making it the perfect base if you want a day in the big city or on the coast. Whether you're on your way to the beach or coming back, it would be a mistake to not stop in Goldsboro. If you'd like to explore some surrounding towns, start with Wilson, home of Vollis Simpson Whirligig Park. Or you can head over to Kinston and check out Mother Earth Brewing or renowned North Carolinian Vivian Howard's Chef & the Farmer and Boiler Room Oyster Bar.
What else should a person do if they'd like to see Goldsboro's surroundings? We'd love to know what you think.
Our Thoughts and Yours, too!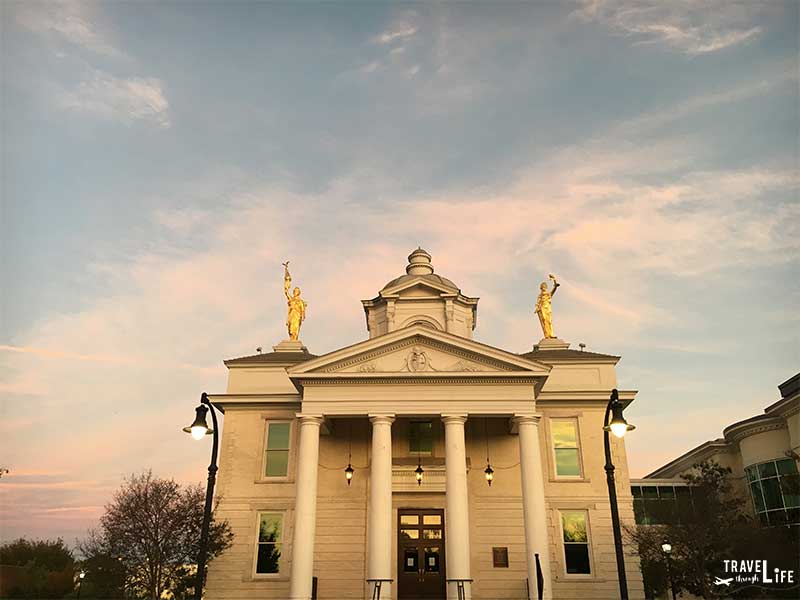 Goldsboro is a town filled with rich history, incredible food, and amazing people. It is a prime example of exactly what Eastern North Carolina was, is, and where it's going. From the chopped barbecue to the farmlands, visiting Goldsboro perfectly captures this part of the state. Based on what we've seen, we know even more is on the way. With new art installations, murals, and businesses popping up, Goldsboro is definitely a place worth watching for at least a weekend, if not more.
Special thanks to Goldsboro Wayne Travel & Tourism for providing us with complimentary accommodations, tours, and meals throughout our stay. All opinions within this article are our own. This post is a part of our blog's series on USA Travel and North Carolina Travel. It originally appeared on our sister site NC Tripping.