Affiliate links linking to products we love may be found within this article. For more info, please check our Disclosure page for more explanation of affiliates and sponsorships.

---
Summer in North Carolina is busy, and not just with folks coming in from everywhere. Our state's residents are joining them, taking time to enjoy our awesome state. And people throughout all parts have taken notice over the years and put together some of the year's best local events during this time. We've uncovered quite a few and want to share them with you, in this guide that covers summer things to do in North Carolina.
This post originally appeared on our sister site NC Tripping and is a part of our seasonal guide series, where we've featured spring, winter, and fall!
Summer Things to Do in North Carolina
Commemorate Summer in NC
Summer might not officially start until a bit later but the Washington Summer Festival (June 7-8) is a great way to kick things off. There'll be fireworks, food, music, and more fun in this awesome small town. If you want to keep things by the book, check out the Summer Solstice Festival in Greensboro (June 22). A drum circle, parade, and "Fire Finale" headline this annual showcase of Gate City.
Fireworks Galore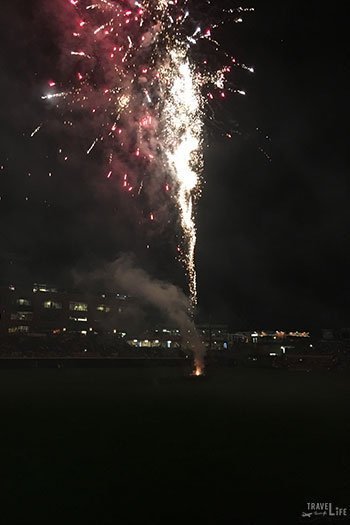 You'll find Fourth of July fireworks events throughout the state, as far west as Bryson City and all the way to The Outer Banks. There's even a Fireworks Extravaganza at Tweetsie in Blowing Rock and a massive celebration held each year at Fort Bragg. The fun continues beyond Independence Day, with celebrations in Cashiers and Canton lighting up the sky on July 5. Minor League Baseball games will also hold fireworks after games throughout summer if you're looking for constantly lit skies.
Bonus NC Fireworks Celebrations
Throughout the summer, folks staying in and around Carolina Beach can enjoy Fireworks by the Sea and Boardwalk Blast. The fun kicks off every Thursday during the summer, until August 22.
Hot and Cold Food Festivals and Events
June
Bedlam will be at Taste in Durham.

Copa, too!
Butner's Chicken Pickin' (June 1) kicks off a pretty hot schedule of NC food events at beginning of June. Of course, you have to visit Cary for the town's Pimento Cheese Festival (June 8). Burgaw's NC Blueberry Festival (June 14-15) will bring tons of folks to Pender County. Tons of foodies will converge in Franklin's Taste of Scotland Festival (June 13-16). And you know what? We're not even halfway through June. Picklefest (June 23) and Taste (June 26-30) taking over Durham's food scene at the end of the month.
More Summer Food Festivals in NC
Once the heat of summer has kicked up, folks will gladly welcome Fair Bluff's North Carolina Watermelon Festival (July 27). And finally, the Ocracoke Fig Festival (August 16-17) will celebrate the fruit's history on our coast. The fun includes a bake-off, tastings, and more.
Also, don't forget that summer in North Carolina is a great time to join a Taste Carolina Gourmet Food Tour! We have and can't wait to join the next one!
June Flower Celebrations
June is also busy for summer flower celebrations. Get started with a tour of six private gardens during Mount Airy Blooms (June 8). The Graham County Native Azalea Festival in Robbinsville (June 14-15) invites visitors to hike up Hooper Bald for a look at species you won't see anywhere else. Wilmington's Bubbles & Blooms (June 20) mixes flowers, bubbles, music, and more fun for everyone. In the mountains, Bakersville's Rhododendron Festival (June 21-23) brings together a craft fair, car show, and 10k run with its long-standing pageant. And then there's Blowing Rock's Mile of Flowers (June 28), where select homes and churches will be open for tours.
Bonus Flower Fun
One of our favorite summer things to do in Raleigh is visiting their sunflower field at Dorothea Dix Park. This post about it details where to find them, when to visit, and more. Also in July, get wowed and inspired at the biannual Joy Garden Tour (July 19) in Cashiers. Tickets are available for those at all horticulturist levels.
'Cue and Cars
Bryson City's BBQ & Brew Train departs three times this summer (June 14, July 19, and August 24). Its arrival at the Fontana Lake Trestle for sunset will leave riders awestruck each time. Enjoy the ride while munching on barbecue and sampling local beers, while the kids can have a yummy root beer. And not too far away, the Kansas City BBQ Society-sponsored Mountain High BBQ Festival & Car Show (August 9-10) will take over Franklin for food, cars, crafts, and more.
Run, Hike, and Bike
Elkin will hold its first-ever Trail Days Festival this year (May 31-June 2), with a race, guided hikes, paddling events and more happening over the three days. New Bern's eighth annual Run for the Warriors (June 29) is a Hope for the Warriors-sponsored event. The race brings communities together to support our service members and families. In August, there are a couple of fun events that caught our eye. Sylva's Great Balsam Bike Relay (August 10) combines road biking and mountain biking with teams of four competing. And finally, Race to the Rock (August 11) gives entrants the option of a 5k run or 25-mile bike to the base of Chimney Rock. That should guarantee a beautiful panoramic view of Lake Lure and the Hickory Nut Gorge.
Enjoy the Water
As far as watery events go, the fun starts at the beginning of June with Enfield's Fishing Creek Paddle and Kayak for the Warriors at Pine Knoll Shores (both June 1). The NC Maritime Museum's Maritime Day (June 8) offers sailing in wooden boats, games, and a chance to just relax by the water. Back in New Bern, the Great Trent River Raft Race has two days of fun (June 21-22) for those who want to paddle, pedal, or just watch. And at the Littleton Lake Gaston Festival (August 30-31), festivalgoers can enjoy carnival rides, food, a classic car show, and more entertainment.
Don't forget our Beaches, Waterfalls, and Lakes
Whitewater Falls.

Linville Falls.
Okay, I don't think this is going to be a problem. Many folks have one thing in mind when it comes to summer things to do in North Carolina: the beach. With over 12,000 miles of coastal shoreline, we have a lot to enjoy. But don't forget about other ways you can enjoy our waters. Yep, we're talking about the waterfalls and beautiful lakes found throughout the state. Which of the three do you prefer?
Hang Out with Bears and Other Wildlife
Plymouth's North Carolina Black Bear Festival (June 1-2) is back with award-winning fun for its fifth annual. Over 30 bear-themed activities celebrate the world's largest black bears, which inhabit the NC coast. Sapphire Valley Resort's 16th annual Mountain Wildlife Days (July 12-13) features hikes, field trips, and close-up opportunities with live animals.
Heat Up with the Arts
The Toe River Art Council's Studio Tour (May 31-June 2) in Spruce Pine is where you can meet artists and see where they live and create. A few weeks later, Pots on the Green in Cashiers will celebrate Western North Carolina's pottery heritage with featured artisans, demonstrations, and talks. During the same weekend, the Backwoods Beat Music & Art Festival in Sparta (both June 21-22) will honor the memory of local polymath TJ Worthington with music, a songwriting competition, and a workshop. Mr. and Mrs. Claus will be in Seagrove for Christmas in July (July 19), which features hand-made pottery demos, weaving, and knitting. And a couple of times this summer, you can head to Banner Elk for their Fine Arts and Master Crafts Festival (July 19-21 & August 9-11). There, more than 90 vendors will be selling jewelry, sculptures, and pottery.
Sing and Slam
This year's Southern Fried Poetry Slam comes to Fayetteville for its 27th incarnation (June 5-9). For this exciting event, teams will travel from as far west as Texas to compete in this celebration of poetry, spoken word, and community outreach. The State Annual Singing Convention in Downtown Benson (June 21-23) remains one of the largest and oldest gospel sings in the US. Thousands of people are expected to attend and lawn chairs are encouraged.
Jam Out
For laid-back fun in the place where the shag was born, check out the Carolina Beach Music Festival (June 1). The Greenville Grooves Music Festival (June 14) commemorates African-American Music Appreciation Month Motown and R&B music, food, and more fun. Forest City's Cherry Bounce Festival (June 14-15) will offer plenty of music to accompany cherry-inspired food, art, and more. Triangle-based Merge Records hit the big 3-0 this year and is celebrating with 30-plus bands at MRG30 in Carrboro and Durham (July 24-27). And in August, Burning Can North Carolina (August 9-10) brings bands, beer, food, and more to Hendersonville's REEB Ranch.
Celebrate History and Heritage
Our state's history is literally rich and you can celebrate our wealth at Vein Mountain's NC Gold Festival (June 1). Learn about our "first in gold mining" heritage and even pan some for yourself. Franklin's Appalachian Heritage Festival (July 20) also offers a glimpse into life from a previous era, too. They'll have dozens of live demonstrations, a checker tournament, and more fun. To commemorate the Revolutionary War-era Battle at House in the Horseshoe, you can watch a reenactment at the Sanford-area site over two days (August 3-4). Back in Macon County, the Franklin Folk Festival (August 17) offers music, an antique car show, and plenty more entertainment. Oh, and we can't talk history without mentioning the steam-powered celebration at Tweetsie's Railroad Heritage Weekend in Blowing Rock (August 24-25).
Outdoor and Indoor Sports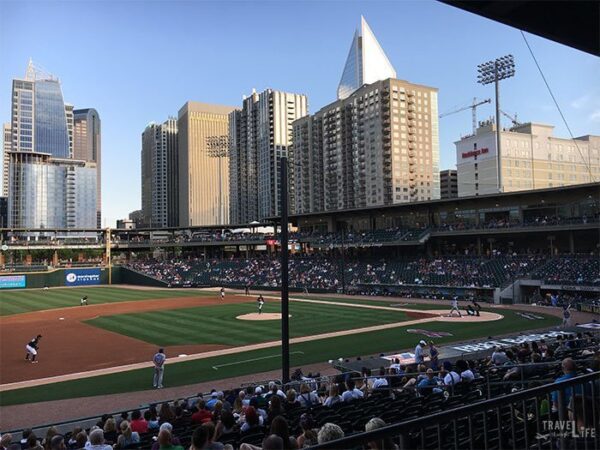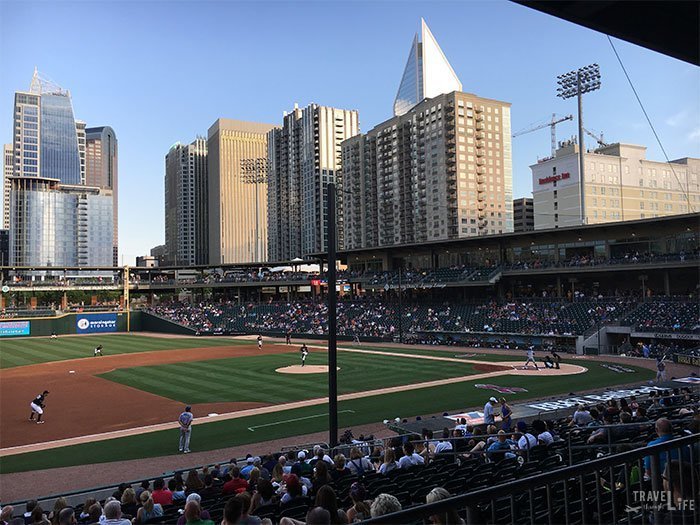 Minor League Baseball starts in April but is really in full swing once we get to summer in North Carolina. We don't want to take away from fun times at the ballpark, but there are some sports events worth mentioning, too. The Big Rock Tournament (June 9-15) comes back for its 61st year in Morehead City. Boats will descend upon the Crystal Coast town to catch the blue marlin that will hook that huge prize. In Greensboro, Chris Paul's CP3 Team will represent our region in The Basketball Tournament (July 19-21). That's a 64-team bracket filled with players from high school to the NBA. And in August, the 119th US Amateur Championship comes to Pinehurst (August 12 to 18). For the first time ever, will be played on two courses.
Look Up and Ahead
We thought the Spruce Pine Alien Conference & EXPO, aka SPACE (June 14-15) would be a fitting way to look up. You'll have a chance to do exactly that, with Dark Sky Observatory Tours, food, and fun for all ages. And just as summer's end approaches, you can sneak-peak into fall at the North Carolina Apple Festival in Hendersonville (August 30-September 2). Known as one of the best Street Fairs in the Carolinas, there'll be a parade, arts and crafts, festival food, and of course, tons of apples. We think this is a fitting way to close out summer.
What are Your Favorite Summer Things to Do in North Carolina?
Shew! So much going on in our state really makes this the hottest time of year. With all these fun summer things to do in North Carolina, we're having a hard time choosing which one to visit first. If it were up to you, which of these fun events would you start with? Is there something we missed? Let us know in the comments!