Affiliate links linking to products we love may be found within this article. For more info, please check our Disclosure page for more explanation of affiliates and sponsorships.

---
We first spent a weekend in Blowing Rock after stumbling upon the small mountain town during one of our Blue Ridge Parkway journeys. It has since become one of our favorite places to visit throughout the year. It's got something for all of our inner travelers, from the beautiful scenery that surrounds it to the quiet and cozy downtown that's filled with fun shops and great eats. And since we've been through the area more than a few times, here are some of our favorite weekend things to do in Blowing Rock and beyond.
We love traveling through North Carolina and have created a whole series on it here.
Weekend Things to Do in Blowing Rock NC
This post about weekend things to do in Blowing Rock NC also appears on NC Tripping. It was originally created on February 19, 2018. It has been maintained and updated, as of June 27, 2019.
Learn About the Town
Before investigating all the things to do in Blowing Rock during your weekend, learn more about it. The town is known as "Crown of the Blue Ridge" and home to just over 1,000 residents. And like many places in North Carolina, it's a part of two counties—Watauga and Caldwell. Many people from North Carolina's cities and beyond come here to check out one of the state's best small towns.
For a Blowing Rock-themed literary escape, Jan Karon spent time in the town and based her Mitford series on it.
Stay Somewhere Cozy and Historic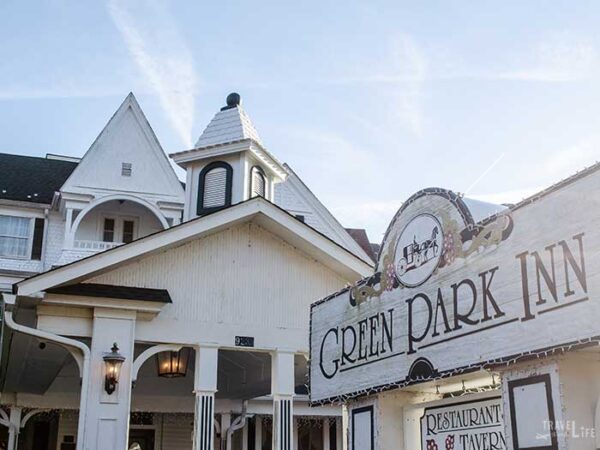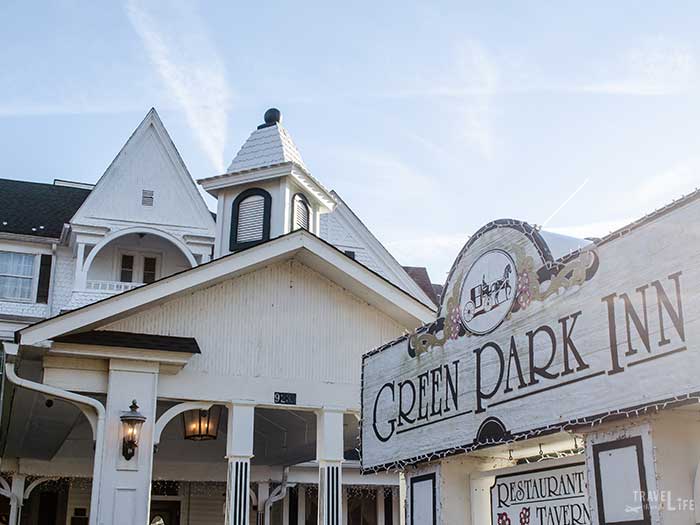 Blowing Rock's hotels range from right in town to tucked away in the mountains. We spent our first weekend at the Meadowbrook Inn, which is a very short walk away from Main Street's restaurants and shopping. We've also stayed at the historic Green Park Inn and rank it among our favorite hotels in North Carolina!
You can read more about our time at Green Park Inn on NC Tripping.
More Blowing Rock Hotels and Rentals
Another conveniently placed Blowing Rock hotel includes Azalea Garden Inn. And we haven't yet stayed at Chetola Resort at Blowing Rock, but everyone we've met there recommends it for pure relaxation and a getaway within the getaway that is Blowing Rock.
Visit The Blowing Rock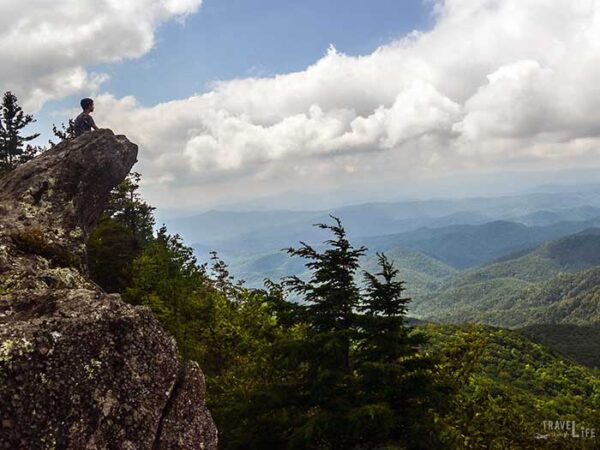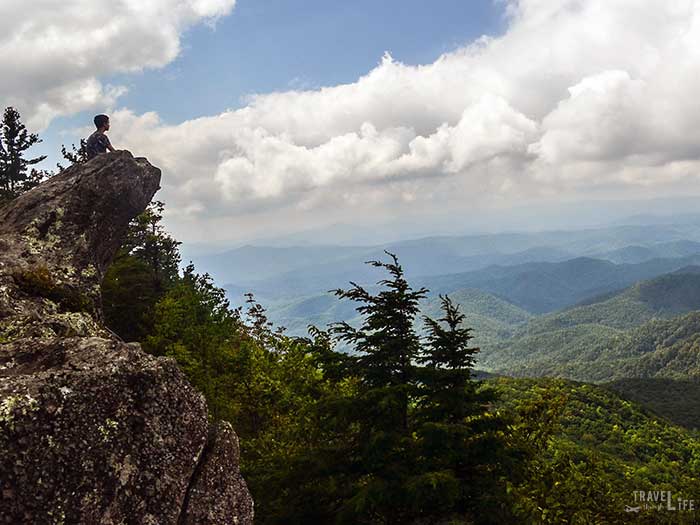 I mean, this is a no-brainer, right? The Blowing Rock and just a short drive from Downtown off US 321. It's nice to just stare out into the mountains from "North Carolina's Oldest Travel Attraction." And if you haven't been yet, their Facebook page's constant updates will convince you to visit.
We visited The Blowing Rock Music Festival and highly recommend it if you're visiting in September!
Eat and Drink Your Way through Blowing Rock
There are some great places to eat in Blowing Rock during your weekend. Our favorite Downtown restaurants start with The Speckled Trout. Their menu and wine selection tell me that they want to push the envelope for visitors and residents alike. We're also big fans of Woodlands Barbecue on US 321, Foggy Rock next door, Bistro Roca, and more places included in this guide to must-eat restaurants in Blowing Rock.
Visit the Town's Best Coffee Shop
If you're staying at a bed and breakfast in Blowing Rock, you might not need to go out for a pick-me-up. But I was very happy with the coffee in town. Camp Coffee is a cool mix of really good caffeinated stuff and outdoor store.
Enjoy One of the Best Breweries in North Carolina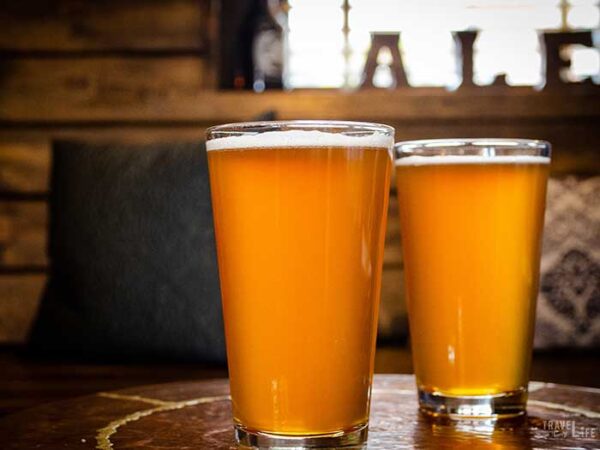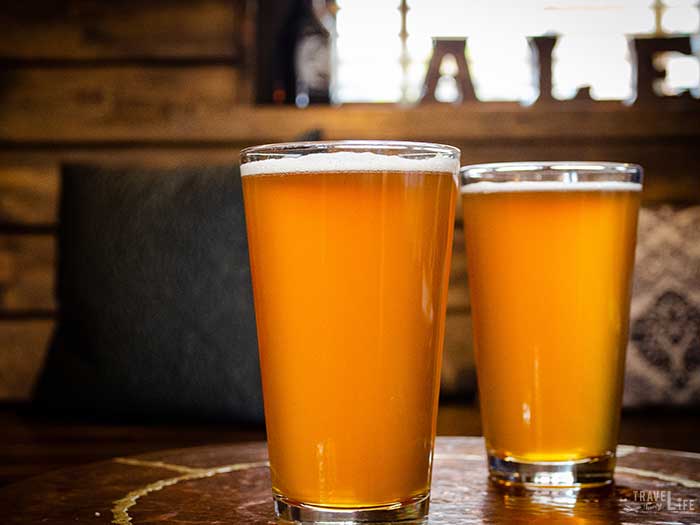 We also like some craft beer and always enjoy a stop at Blowing Rock Alehouse Restaurant. Testing my favorite beers at the source while also enjoying food is a big plus!
Visiting NC's breweries is one of our favorite Spring Things to Do in North Carolina!
Shop to Your Heart's Content
Downtown Blowing Rock is filled with shops catering to just about every taste. You can find antiques, outdoor gear, home furnishings, and kids toys. Main Street is lined with shops and SouthMarke Shopping Mall is a nice little nook packed with fun stores. Shops at the Martin House is across the street, next to Memorial Park, and waiting for you to peruse, too!
Hike the Glen Burney Trail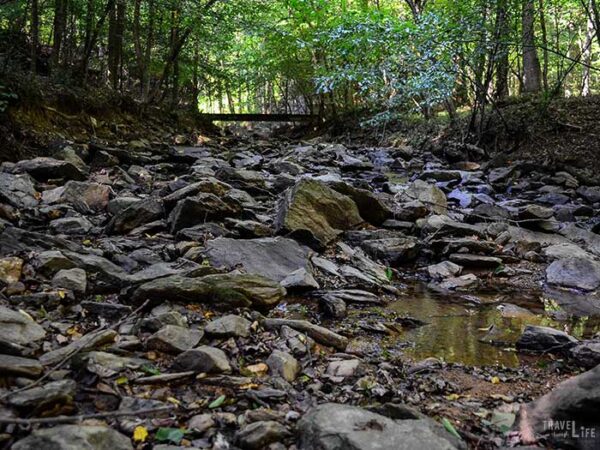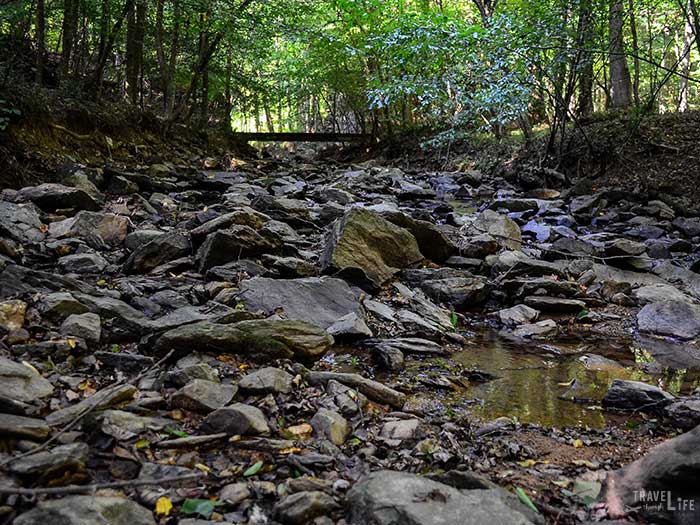 While I love this small town's shops and eateries, the outdoor things to do in Blowing Rock stand out, too. We fell in love with the Glen Burney Trail. It's right next to the downtown and begins in Annie Cannon Gardens. Once you enter, you'll feel like you're far away from everything. The trail will lead you to either Glen Burney Falls or Glen Marie Falls, depending on the route you take.
Visit Moses H Cone Memorial Park
Another beautiful Blowing Rock walk is inside Moses H. Cone Memorial Park, where you circle a picturesque pond. The immense Flat Top Manor overlooks it all and seems huge even from below. You can keep driving for about four miles along the Blue Ridge Parkway and spend time at Julian Price Memorial Park and even stay overnight at the Julian Price Campground.
We included both Glen Burney and Moses H. Cone in our guide to hiking in North Carolina!
Explore the Blue Ridge Parkway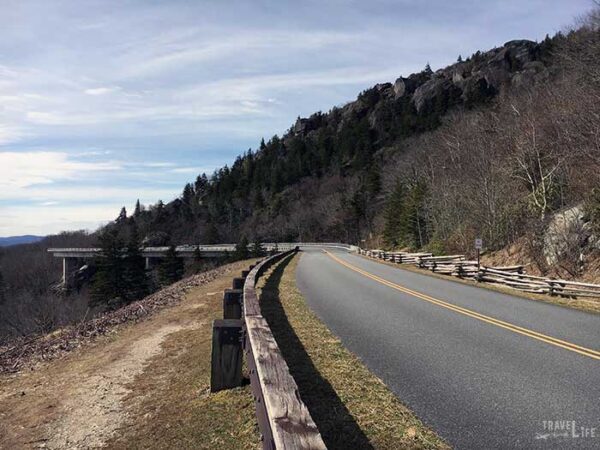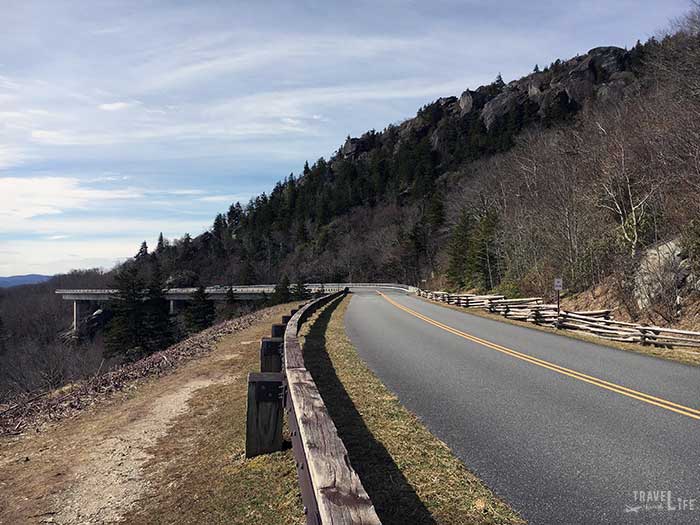 And, of course, you have to spend some time driving the Blue Ridge Parkway. Popular spots like Linville Falls (26 miles) and Linn Cove Viaduct (12 miles) aren't too far from Blowing Rock via the Parkway. If you've ever been through the area, got any favorites to share near Blowing Rock?
Linville and Linville Falls
As we mentioned, Blowing Rock isn't too far from Linville and Linville Falls. Famous Louise's in town is a great spot for breakfast, with generous portions and reasonable prices. Linville Falls is easily one of our favorite hikes in North Carolina.
Wiseman's View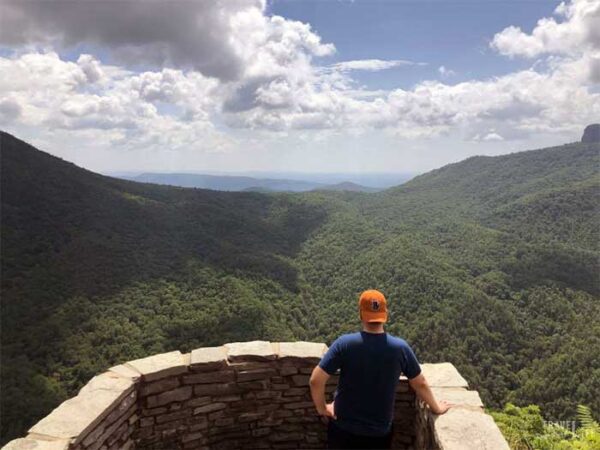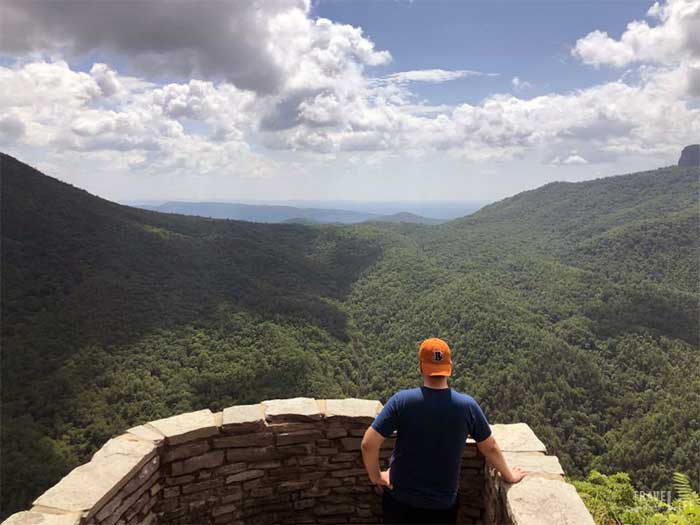 If you're up for a more adventurous drive, Wiseman's View can be reached by a somewhat treacherous trek four miles up what seems like a never-ending winding road. However, the short walk after parking and the view are certainly worth it.
Note: I've made it up and down this road multiple times in a Toyota Camry, though I think an SUV would make things easier.
Tweetsie Railroad
One thing that should fit into your weekend in Blowing Rock, especially if you're traveling with kids, is a day at Tweetsie Railroad. I have to admit that the child inside me came out while riding on the train. Oh, and it was tons of fun watching the cowboys and train robbers duke it out. No spoilers!
Looking for some cold weather fun in Blowing Rock? Tweetsie Christmas was included among these other awesome Winter Things to Do in North Carolina!
Explore Boone
You'll notice a lot of younger people working there, and they likely live in Boone and attend Appalachian State University (App). Thanks to that thriving college, there are a lot of things to do and great restaurants in Boone. We can't wait to revisit that part of the area, too!
Check Out the Rest of the High Country
If you'd like to explore Blowing Rock's surroundings and are here during winter, start with Sugar Mountain Ski Resort. Nearby Banner Elk is just down the mountain and a nice town for hanging out, grabbing some food, and relaxing in North Carolina's High Country. For a look at North Carolina's first historic rural town, visit Valle Crucis and the Original Mast General Store. As you can see, there are quite a few things to do in these small towns.
Apple Hill Farm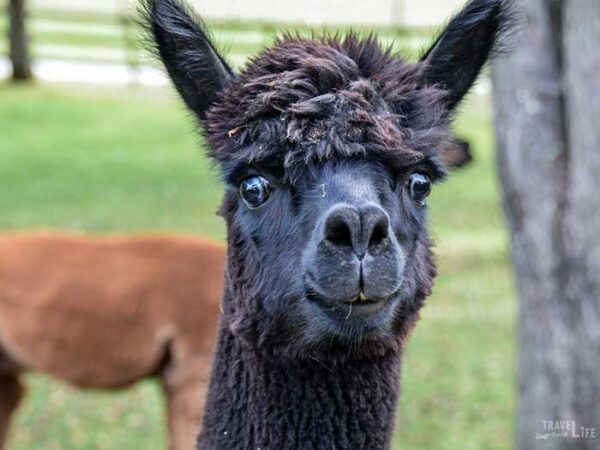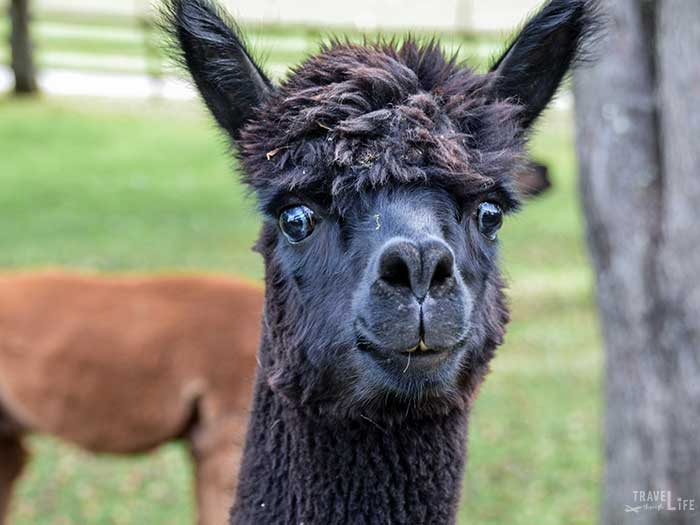 I think people should come year-round to visit Apple Hill Farm and see the wonderful people and animals there. We interviewed owner Lee Rankin for more about this wonderful place. Just one thing you should know is that this farm is NOT for apple picking and they do not sell apples. However, they do provide the greatest escape from this chaotic world.
Grandfather Mountain
Blowing Rock is close to more of North Carolina's most beautiful outdoor places. We'd probably start with Grandfather Mountain's gorgeous hikes, that breathtaking mile-high bridge, and wildlife exhibits inside. Keep in mind that this part of Grandfather is privately run and admission fees are required, though there are season passes available if you're a frequent visitor.
Grandfather Vineyard and Winery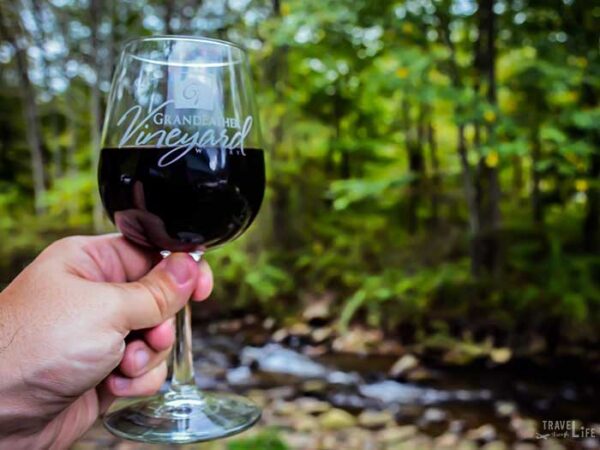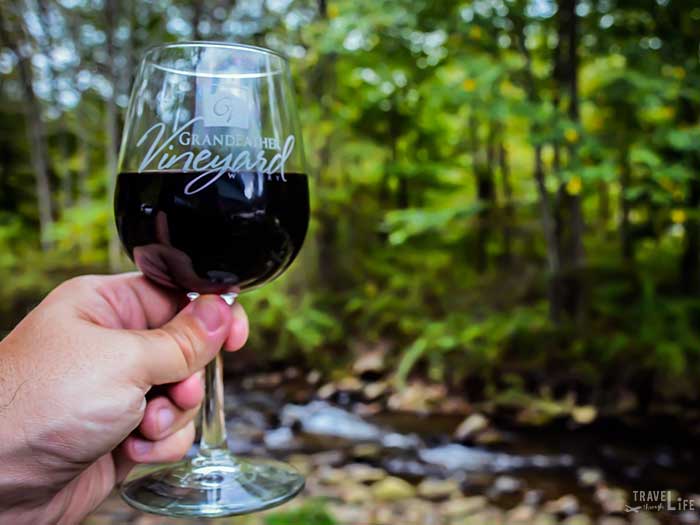 Grandfather Vineyard and Winery is the first producing winery in Watauga County. Spend some time chilling by the water and drink some of their delicious offerings and you'll see why they're so popular. I still have their Cabernet Sauvignon on my mind when comparing to new wines that we explore.
Visit All Year Long
I'm a huge fan of spending a weekend in Blowing Rock throughout the year but will say that spring and fall are great times to hang out there. Summer is also cooler here than spots at a lower elevation. Also, things do cool down in the winter, but if you're seeking quiet and solitude during those months, Blowing Rock is your place. The town gets busy when the weather warms up, as it's a little bit cooler than North Carolina's Piedmont and Coast.
But Definitely Visit During Fall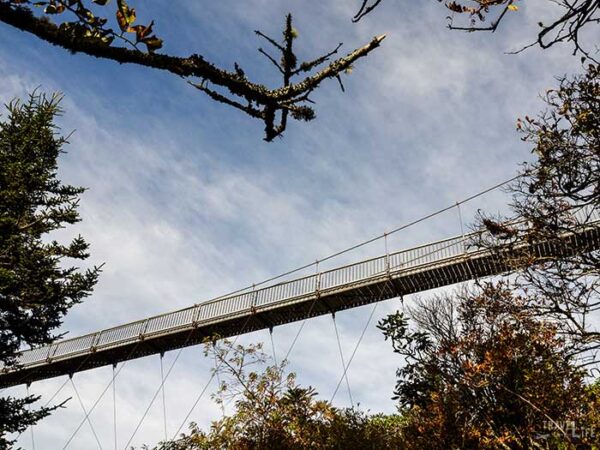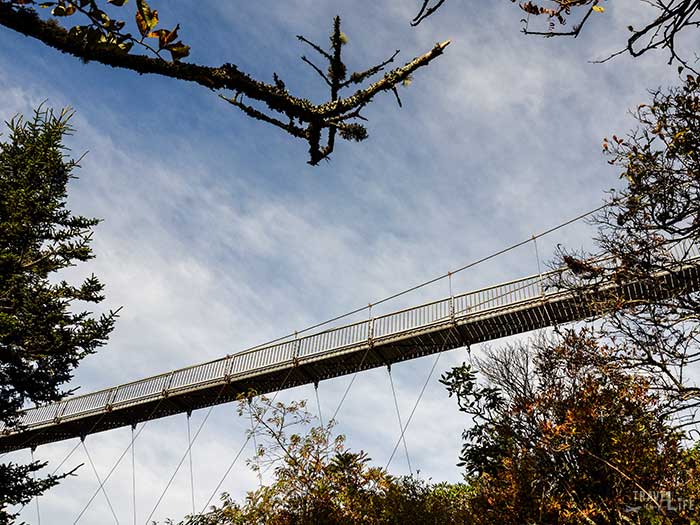 Fall is our favorite time to visit Blowing Rock, thanks to the beautiful foliage and changing colors found along the area's tree-covered paths. Fall brings the best views, but it will also bring more visitors. Just keep that in mind when looking for Blowing Rock hotels or cabin rentals.
Our Thoughts and Yours, Too!
We have always loved the mountains and our many weekends in Blowing Rock are a big reason why. This awesome town and its surroundings would earn such a warm spot in our hearts. I can't wait to go back and walk around Downtown before planning our day of exploration over some Camp Coffee or Blowing Rock beer.
What about you? Have you ever been to this part of North Carolina? What did you think of it? If you're in the midst of planning a trip there, where do you plan to go first? We'd love to read your thoughts in the comments section below!