Affiliate links linking to products we love may be found within this article. For more info, please check our Disclosure page for more explanation of affiliates and sponsorships.

---
Hickory Knob State Park and Resort in South Carolina hugs the Georgia border and the shores of Lake Thurmond. Many know this park as a wonderful golfing destination, thanks to the award-winning Tom Jackson-designed course inside.
Of course, it's possible to spend all your time on those greens and fairways. We just think you should know about all that lies beyond them.
During a trip hosted by the Old 96 District Tourism Commission, we found 7 ways to enjoy the rest of South Carolina's only resort park. And that's what we want to share in this guide, along with all the wonder that awaits during your next vacation to Hickory Knob.
This post is part of our series on awesome places to visit in South Carolina.
Hickory Knob State Park and Resort (Stay, Eat, and 7 Things to Do)
Organization Note: If you're looking for something specific in our guide, here's how we've organized it.
Background
Stay at Hickory Knob State Park
7 Outdoor Things to Do
Places Nearby
Map of Hickory Knob State Park (and Nearby Places)
Background
Hickory Knob State Park is actually one of many parks and recreation areas that sit on or near J. Strom Thurmond Dam and Lake. This 1,100-acre park was developed in 1973 and is South Carolina's only State Park Resort.
Hickory Knob is a huge economic driver to McCormick County and its surroundings, with roughly 100 employees on staff and annual tax revenue from lodging and recreational activities.
Stay at Hickory Knob
You are more than welcome to visit Hickory Knob State Park throughout the year but we think the experience is a bit more special if you stay here. During busier times of year, weeklong stays are required but absolutely worth it.
You can book via Hickory Knob's reservation site or by calling their office at 864-391-2450.
Here are the resort park's lodging options.
Guillebeau House
$115 to $161 per night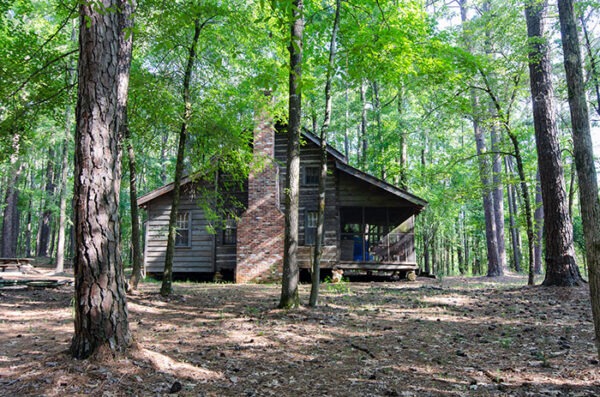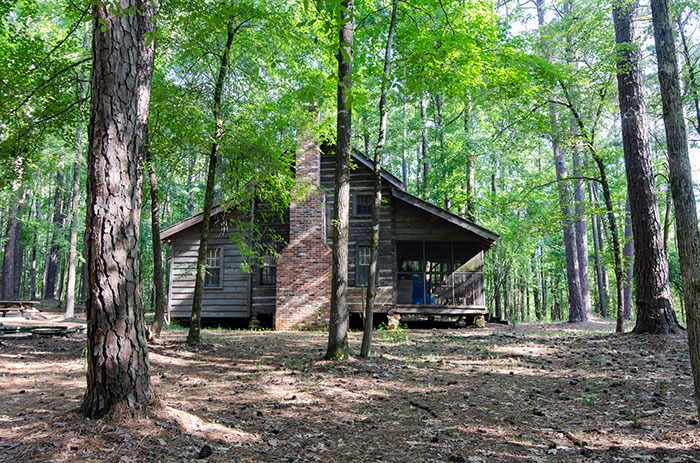 For the most unique stay at Hickory Knob State Park, call and ask for a reservation at the Guillebeau House. It was built in 1753 by French Huguenots and lived elsewhere in McCormick County for much of its existence.
The house was shipped to its current location inside the park in 1983. While some additions and modifications have been made to the home, you'll see that it still retains many original features inside and outside.
Inside, there are two bedrooms, which consist of a master with one double bed and a loft with two twin beds. Up to four people can stay here. You'll also be treated to a gas fireplace, kitchen with a full-sized refrigerator and freezer, and oven range.
Another great reason to try for the Guillebeau House is that you're right across the street from the Boat Ramp & Dock.
Lodges
$70 to $128 per night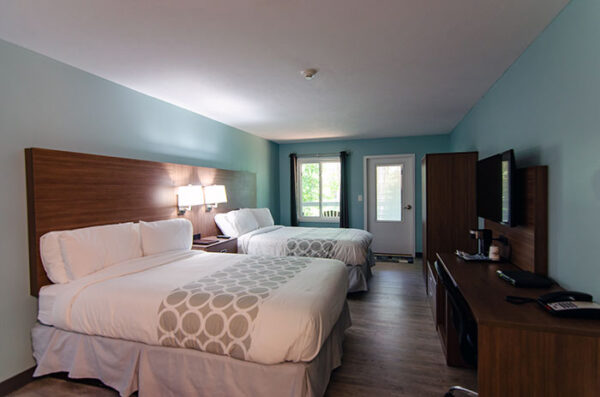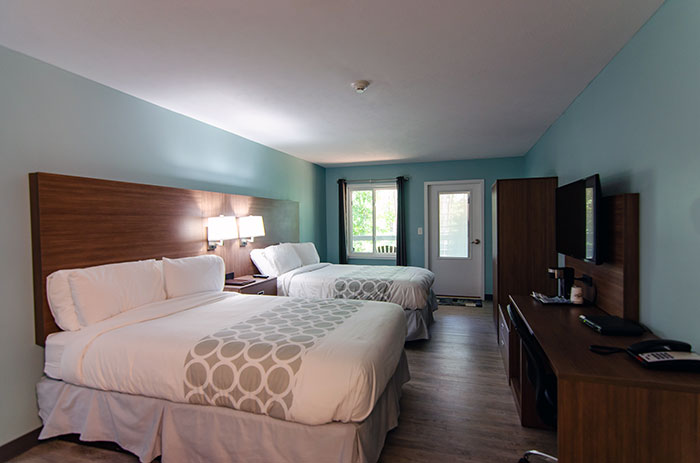 The Lodges (rooms and suite) are perfect for families or couples seeking a nice escape at Hickory Knob. They accommodate between two and four people and offer either two double beds or one king.
For the suite, you'll have nearly everything that the Guillebeau House offers, except for the fireplace. We stayed here and loved the space for stretching out.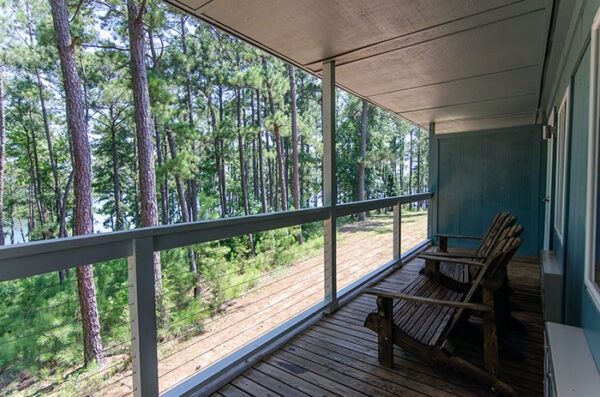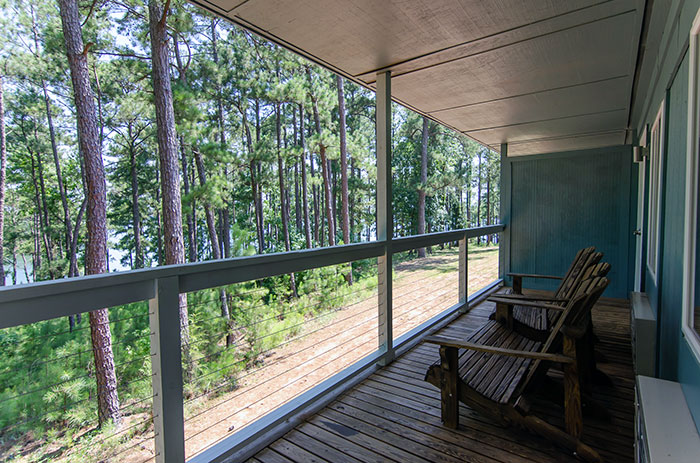 The balcony overlooking the pine-covered shores of the lake is an extra bonus when you've traveled with a little one and need to enjoy a morning cup of coffee in peace. If your family includes a furry friend, some of these rooms are pet-friendly as of 2020.
Cabins (Suites)
$78 to $134 per night
Suites (also known as Cabins) are similar to the Lodges but not as close to the lake. The interior has not received the same recent renovations as the Lodges but they are still great for families or groups.
Another bonus to staying in the cabins is that they are closer to the swimming pool, visitor center, and restaurant.
The Barrack
$231 to $315 per night
The Barrack is next to the cabins and ideal for large groups traveling together. Inside, there are four bedrooms and 10 beds total (six single beds and two sets of bunk beds).
For your time before and after getting outside, there's a separate living room with sofas and bathrooms. A commercial kitchen is ready for everyone, too, with a full-sized refrigerator/freezer, two ovens with rangers, microwave, and place at the table for 10.
Camping Spots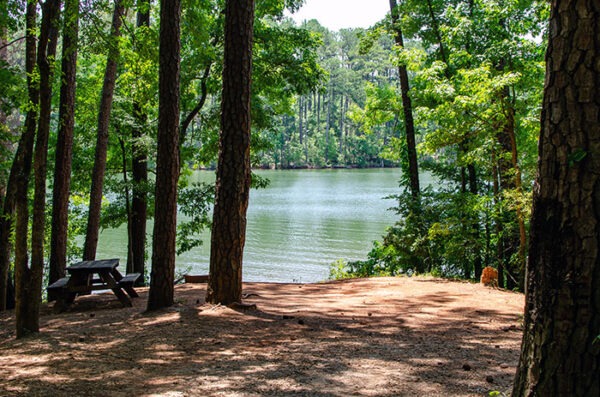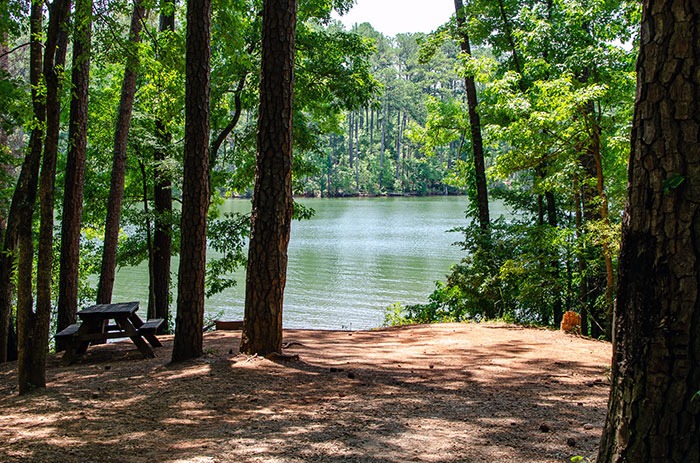 Whether you've come fully loaded in an RV or just brought your tent and supplies, there's a camping spot for you at Hickory Knob. The 43 sites' suface is packed gravel and each one has its own water and electric hookups.
And for meals or just a place to sit, all sites have one picnic table.
Eat at Hickory Knob
Being a full-service resort, there are a couple of options for food at Hickory Knob and they start with the on-site restaurant. During typical years, you can enjoy a meal at their buffet throughout the day.
If you're golfing, the Pro Shop's Shagbark Snack Bar offers food as well, including sandwiches, pizza, and other munchies.
And if you feel like grabbing some food outside the park, our "Nearby Places" section shares a few spots.
Book the Barn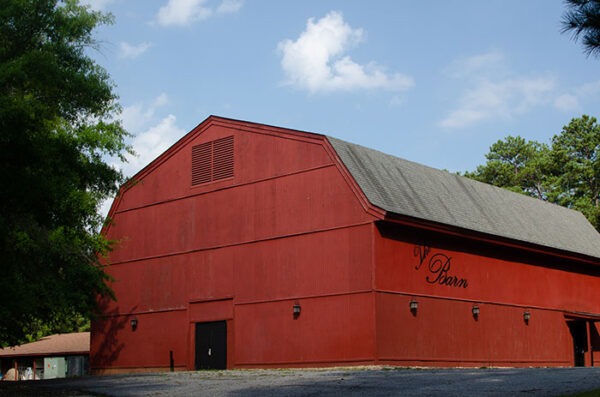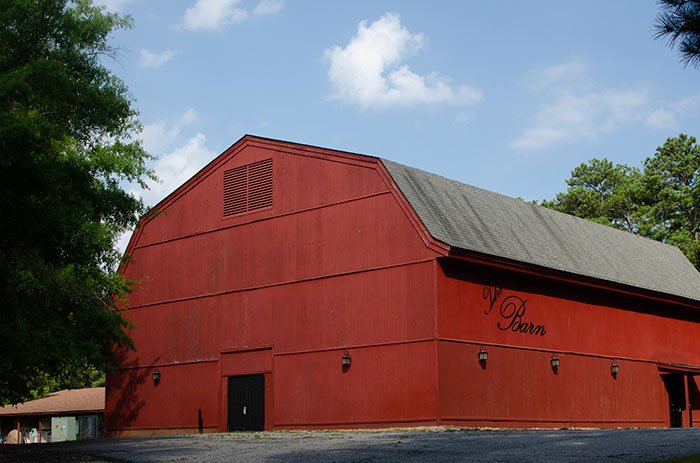 The Barn (also known as the Long Cone Convention Center) is the first place that you'll see after entering Hickory Knob State Park. It can accommodate up to 200 people and is perfect for meetings, corporate retreats, and any other large gatherings you'd like to set up.
7 Ways to Enjoy the Outdoors at Hickory Knob
Golfing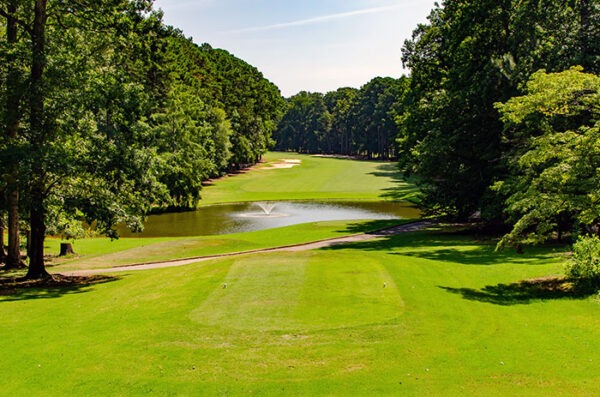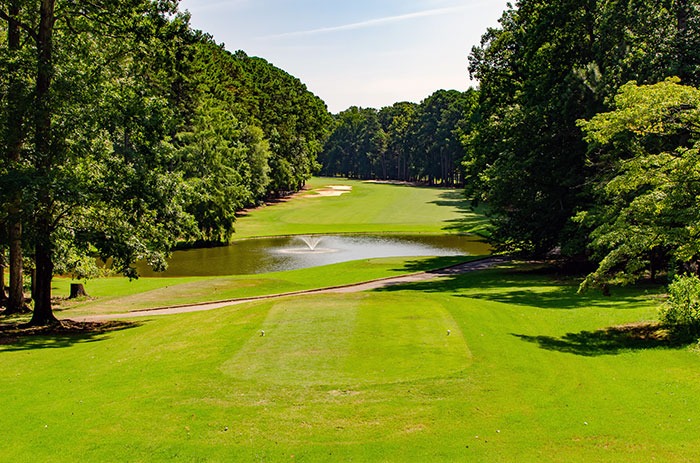 I promised you we wouldn't solely focus on the golf at Hickory Knob. But if you are a golfer, then you need to know about the Tom Jackson-designed course that awaits.
The greens and fairways of this amazing course hug the shores of Lake Thurmond, creating exquisite scenery and backdrops for your round of golf. And for just $30/round, you can get started from the clubhouse.
These are just a few reasons why this public course (yes, public) does so well against the private ones in the area. For practice between rounds, there's a putting green behind the visitor center.
Hint: that's another reason you should stay at Hickory Knob.
Fishing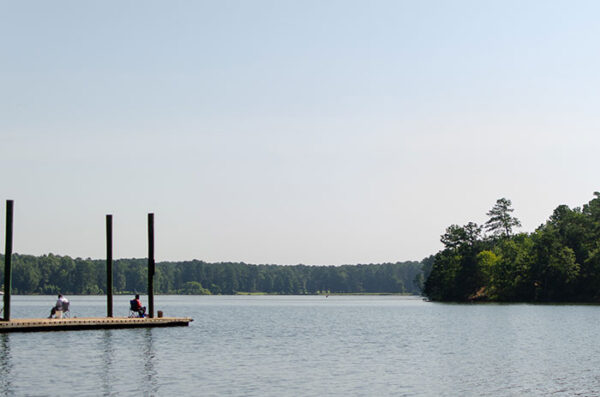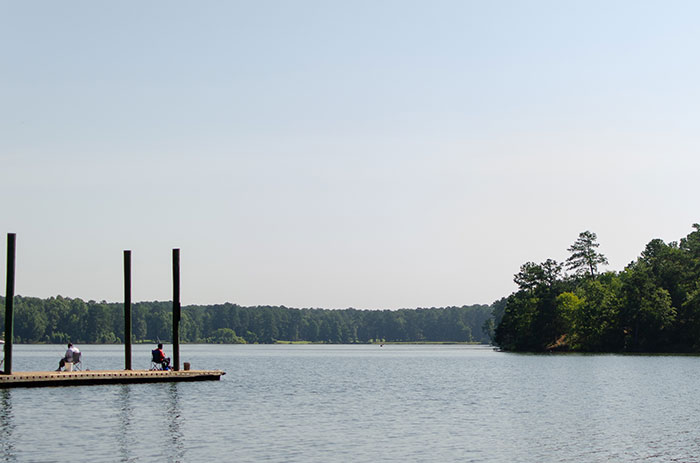 Bass, crappie, striper, and other species await your lines at Hickory Knob State Park. You can fish from the dock at the boat ramp and the park will even provide you with fishing rods and reels if you need them.
Of course, you can also ride the waters of Lake Thurmond in search of the perfect spot. There are nearly 20 other places to launch your boat from, including the popular Dorn Sport Fishing and Boating Facility outside the park.
Boating (and Kayaking!)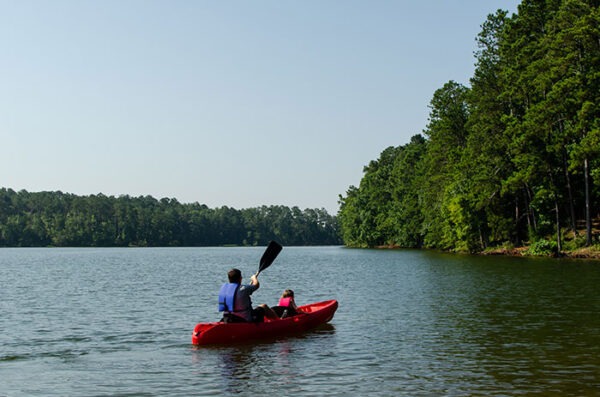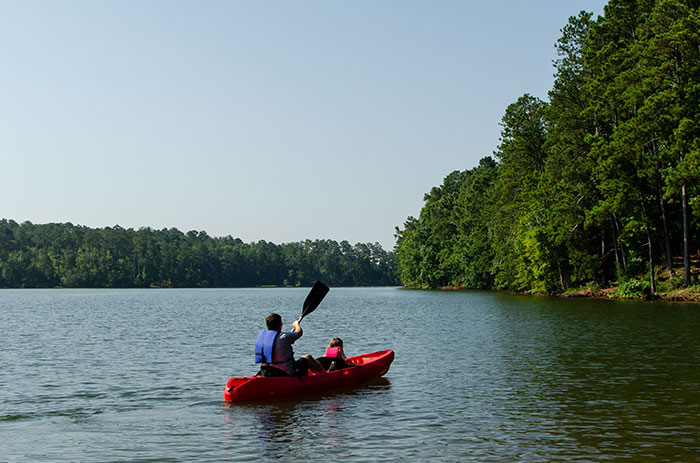 And speaking of boats, you can get in the water with a kayak, canoe, SUP (stand-up paddleboard). If you didn't bring any of the above with you, rentals are available inside the park, starting at $5/hour for SUP and $10 for four hours/$15 for eight hours for kayaks and canoes.
Outside the park, Earth Connection Outfitters is a great resource for Lake Thurmond. They'll also deliver boats to you if you didn't bring a vehicle equipped to haul them.
Swimming
Right behind the visitor center is the pool, with chairs and tables, but also umbrellas to provide much-needed shade on hot Carolina days. To enter, you'll need your room key.
Multi-Use Trails (for Hiking and Biking)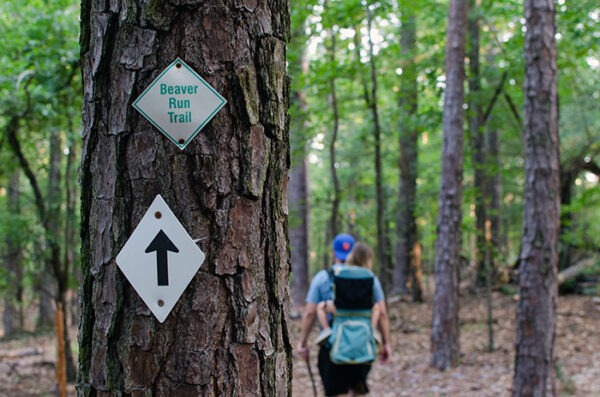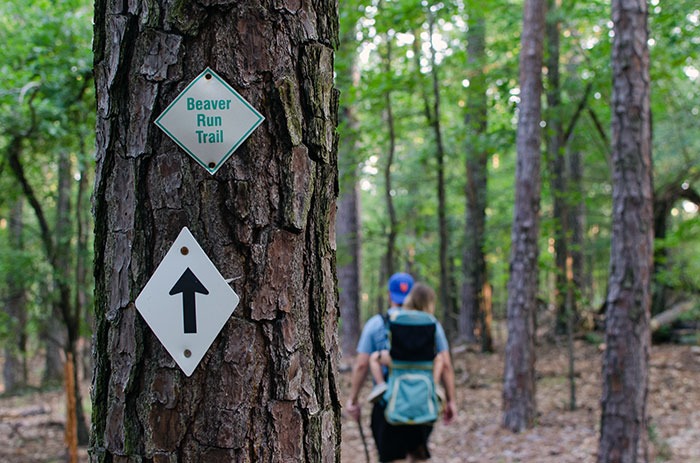 We really enjoyed Hickory Knob's Multi-Use-Trails, as they'll take you into the woods and further away from seemingly everything. You can walk these paths (stay on path) or bring your mountain bike, though I'd suggest caution on the latter due to rocky and narrow sections we encountered.
Personally, we loved the Beaver Run Trail (2.5 miles one way) most of all. It's a nice mix of tree cover and runs along the main road from the visitor center toward the shooting area, which we'll mention shortly.
The Turkey Ridge Loop Trail (1.7 miles) is the shortest trail, taking you through oak and pine-covered paths and across streams.
And finally, there's the Lakeview Loop Trail (7.2 miles). You'll walk through a mix of forest and open spaces, with some of the path hugging along the lake, viewable through the trees.
Shooting (Skeet and Archery)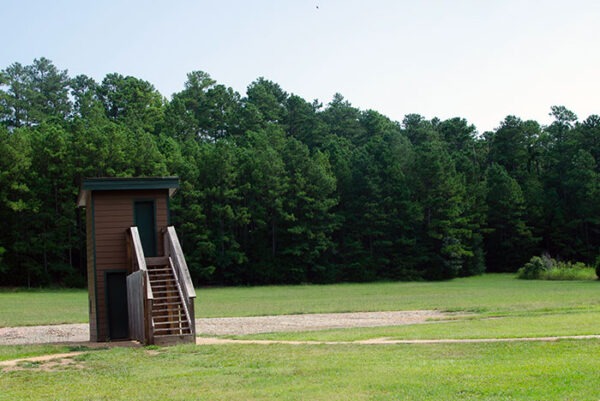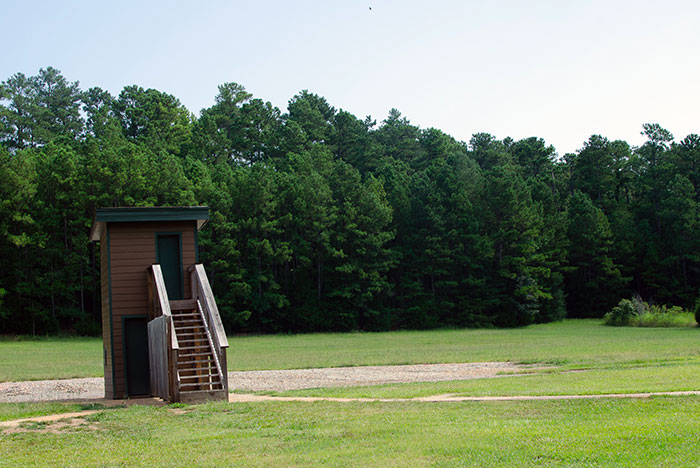 The outdoor recreation at Hickory Knob also includes shooting skeet or archery, depending on your preference. Sessions are made by appointment via the park. If you've brought a group of five or more, you must make an appointment at least one week in advance.
Here's a breakdown of cost and offerings for each:
Skeet
$20 per round of 25 clay pigeons, with your own gun and ammo.
$27.50 per round of 25 clay pigeons, with park-provided gun and ammo.
Available for ages 13 and up.
Archery
$5 per person, with your own equipment.
$10 per person, with park-provided equipment.
Each person receives 30 minutes of instruction.
Available for ages seven and up.
Playground (and Games)
For families traveling with little ones, you'll love to know that there's a playground at Hickory Knob. Letting them get their wiggles out, as you know, makes the day go much easier so either an early morning or late afternoon stop here is a must.
Ready to Enjoy Hickory Knob State Park?
We thoroughly enjoyed Hickory Knob State Park and look forward to seeing how you did, too. If you're ready to enjoy this park, what are you waiting for?
Since you've already read this guide, isn't it time for you to look into booking your next vacation here? We look forward to seeing how much you loved this park and personally, can't wait to come back.
Nearby Places to Visit
McCormick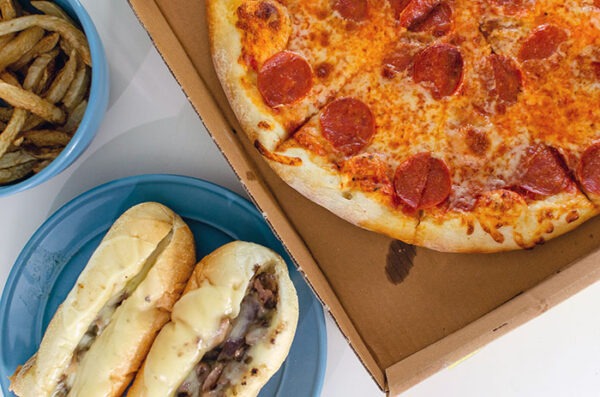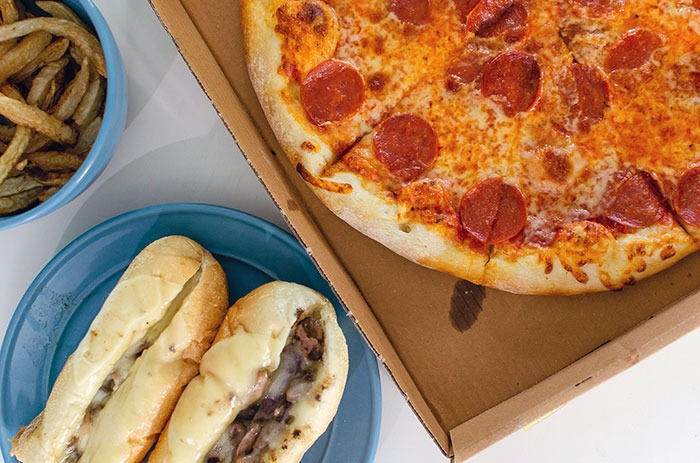 The closest food and grocery store is about 15 minutes away in McCormick. You'll pass through this town if you're coming from Greenwood or elsewhere to the east.
McCormick is an interesting town, with more than a few good restaurants and streets to walk around and stretch your legs. We loved the pizza and Philly Steaks at Michelle's in town and the fried chicken at McCormick Drive-in is worth exploring. Just call in advance before they cook to order at the Drive-in and it takes about 30 minutes to get things ready for you.
A couple of spots between downtown McCormick and the park are worth a stop. Definitely Delicious makes some awesome wings with a variety of sauces that'll keep you coming back. And the last stop before the park you should make is at the Ice Cream Parlour, especially on hot days.
Surrounding Counties and Towns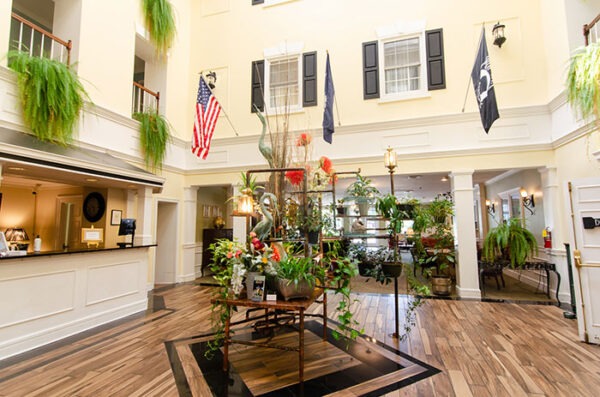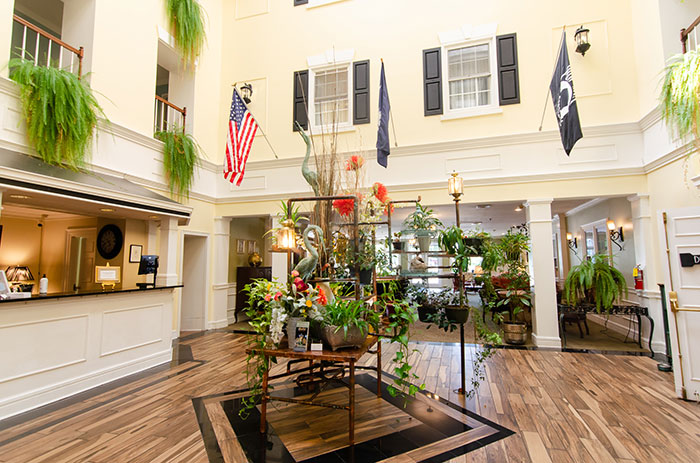 Greenwood, Edgefield, and Abbeville counties border McCormick on the South Carolina side. Just across the Savannah River is three more counties bordering McCormick on the Georgia side (Lincoln, Elbert, and Columbia).
State Parks (in South Carolina and Georgia)
There are a lot of parks and protected areas near Hickory Knob State Park, so we'll stick with the main two that are closest.
Baker Creek State Park
On the South Carolina side is Baker Creek State Park, managed by the US Army Corps of Engineers. There are two campgrounds, picnic shelters, and boat ramps that'll get you on Lake Thurmond.
A 10-mile nature trail cuts through the park and is popular for hiking and mountain biking.
Elijah Clark State Park
Elijah Clark State Park is a very popular park in Lincolnton on the Georgia side of the Savannah River. It's also well-known for boating and fishing, but also for camping and picnicking.
Many folks also come here to enjoy the beach and stay at one of the 20 lake-front cottages.
Map of Hickory Knob State Park (and Places Nearby)
Our map includes the location of Hickory Knob State Park, all the things to do there, and the nearby places we mentioned. Select each one for more info, including directions.
More Things to Do in South Carolina
Disclosure Note
Special thanks to Old 96 District Tourism Commission for hosting us during our stay. All opinions within this article are our own.