Affiliate links linking to products we love may be found within this article. For more info, please check our Disclosure page for more explanation of affiliates and sponsorships.

---
Brevard, North Carolina is known as the land of waterfalls, boasting over 200 in the area. Let's be real, though. Unless you live in the area or pride yourself as a super adrenaline junkie, there's no way you're going to be able to see them all in one weekend visit. So that's why we condensed things down a bit and want to share a few of our favorites. Here are 11 Brevard NC waterfalls that you absolutely must see.
We included some of these awesome waterfalls in our guide to a weekend in Brevard, too!
Must-See Brevard NC Waterfalls
Pisgah National Forest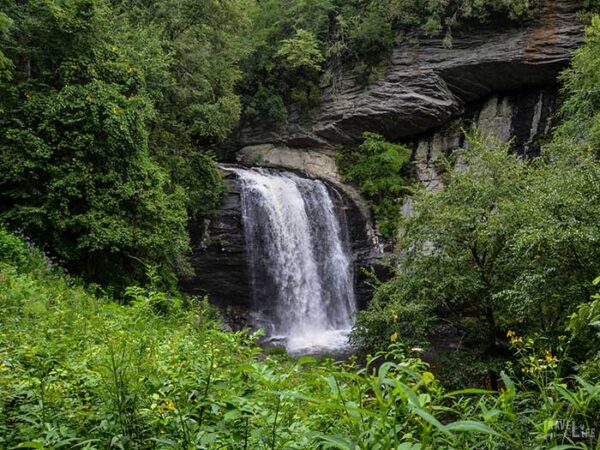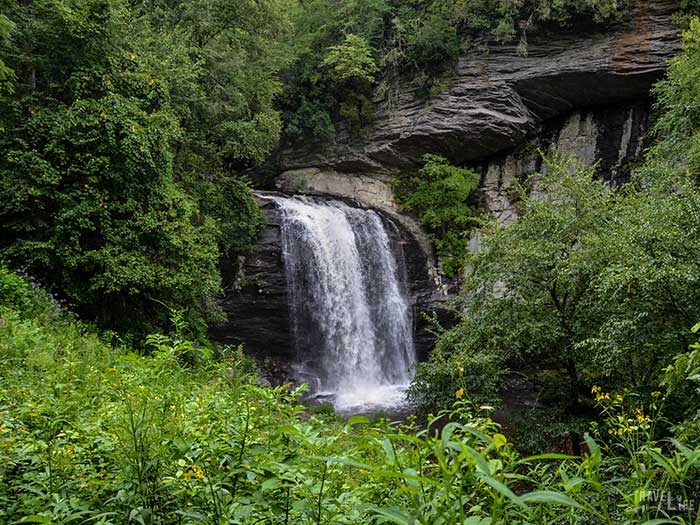 Many of Brevard's most popular falls are found within Pisgah National Forest. If you're staying in Brevard and pick up a handy Brevard Visitors Guide, you'll see Looking Glass Falls on the cover. It's beautiful and right off the main road after entering Pisgah National Forest. For this one and really any of the Brevard waterfalls, you should arrive as early as possible. Sliding Rock Falls is a mile up the road from Looking Glass and is even more popular, because of its exhilarating natural waterslide. Moore Cove Falls is reachable after a short hike and is nice to look at for a while.
Dupont State Recreational Forest
Dupont State Recreational Forest is filled with fun things to do and you might be familiar with this park, which I'll get to in a minute. Hooker Falls is accessible after a short hike and on hot days, is known as one of the area's best swimming holes. There are some other interesting hikes that lead to falls inside this park, including High Falls, Triple Falls, and Bridal Veil Falls. If any of these jump out at you as a "hey, I've seen this before" type of place, it's probably because many scenes from The Hunger Games and The Last of the Mohicans were filmed here!
Gorges State Park and Nantahala National Forest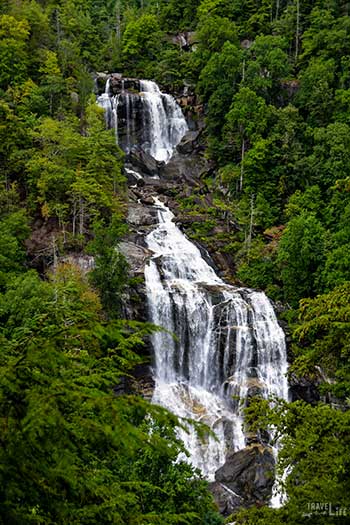 For now, it seems like the best way to get to Gorges State Park and Nantahala National Forest near Lake Toxoway means traveling through windy roads and switchbacks, but there's a very good reason for it. Upper Whitewater Falls is just a magnificent sight to be seen. A set of stairs leads you down to the viewing platform and if you time it right, you can see this all by yourself. If anything, do visit this waterfall, even though there are others, including Turtleback and Rainbow Falls, that should make your must-see list.
More Waterfall Spots
Moore Cove Falls.

Key Falls.
There are even more places to see waterfalls around Brevard, beyond state- and national-designated areas. Not far from where we stayed at the Pines Country Inn, Key Falls is on private property, though the folks who live there are fine with you stopping by and having a look.
French Broad Falls and Mill Shoals Falls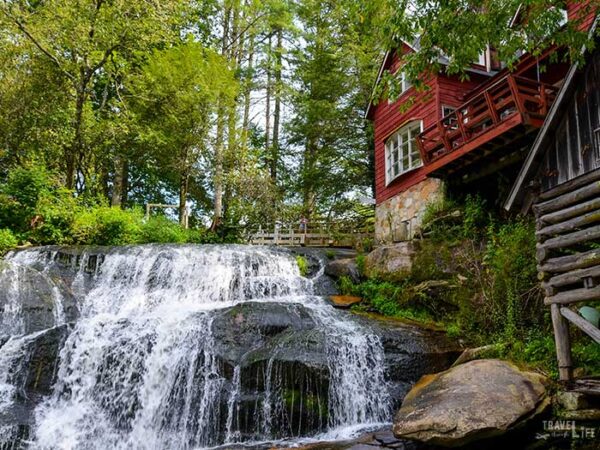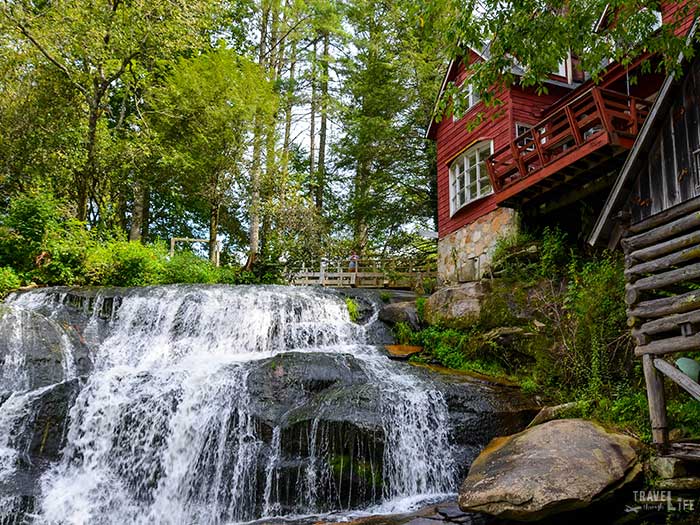 French Broad Falls and Mill Shoals Falls is really cool, too, and also on someone else's property. Don't mind the "enter at your own risk" signs, as they're more for liability than anything else. These falls are easily accessible if you're driving along the Blue Ridge Parkway, as they're about 10 minutes off that iconic road.
Our Thoughts and Yours, Too!
So there might be oodles of waterfalls surround Brevard and Transylvania County, but you can easily see plenty of beautiful ones without touching them all. It's even okay to check out more than the ones we've listed here.
Have you ever been to this part of North Carolina? If you've got one a beautiful waterfall that you'd like to share, let us know in the comments section below and we might just add it to our list!
This guide is part of our series on North Carolina travel. It was originally created on August 29, 2017. It has been maintained and updated (as of March 5, 2019) to reflect current viewpoints and travel trends. This post also appears on our blog's sister site NC Tripping.