Affiliate links linking to products we love may be found within this article. For more info, please check our Disclosure page for more explanation of affiliates and sponsorships.

---
You might not believe it, but winter in North Carolina can be a pretty cold time, even between the inevitable heat waves that come through. With that in mind, we and others around the state get a bit antsy for things to do when the weather isn't too nice.
That's why we came up with seasonal and small-town fun, as well as our favorite indoor attractions. Also, we couldn't leave out stuff you must get out and do during the colder months.
So grab a sweater (or coat, if you must) and join us as we explore these ten winter things to do in North Carolina.
This guide is part of our series on North Carolina Travel. It was originally created on October 16, 2018. It has been maintained and updated (as of October 28, 2019) to reflect current viewpoints and travel trends. Also, this post originally appeared on our blog's sister site NC Tripping.
Winter Things to Do in North Carolina
Looking for accommodations near these places to visit in North Carolina? Check out our favorite hotels in the state! If you're looking for something specific, check Hotels.com or TripAdvisor for the best pricing and availability!
Watch Winter Sports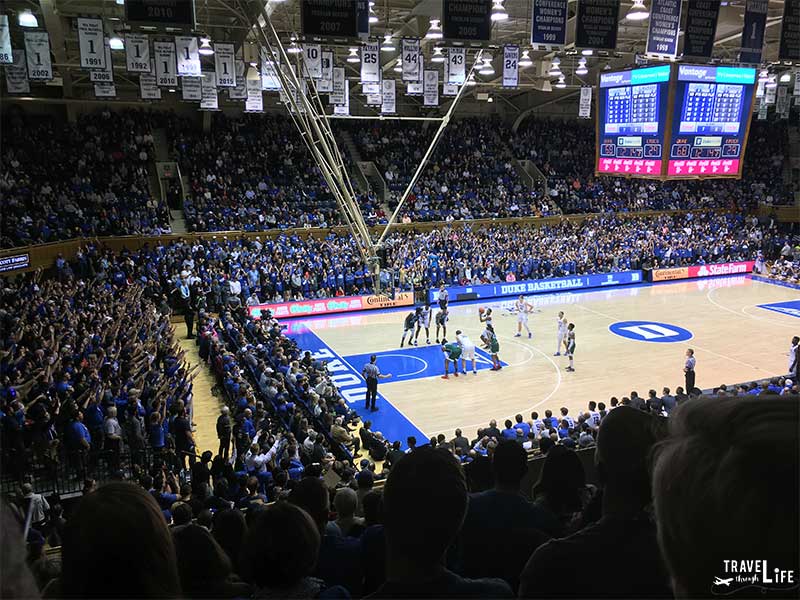 The Carolina Panthers are hopefully still going strong at the beginning of winter, as are many of the state's college football teams.
But when fall turns to winter, you'll be seeing a lot of college basketball and names like Duke, UNC, NC State, and Wake Forest on TV. Why not check them out in person and get a closer look?
Head to Queen City and watch the Charlotte Hornets battle a tough NBA schedule.
Bonus: If you can't get hoops tickets, there's plenty of hockey in North Carolina, with the NHL's Carolina Hurricanes in Raleigh, and the Minor Leagues' Charlotte Checkers, Fayetteville Marksmen, and Carolina Thunderbirds (Winston-Salem) regularly playing throughout the winter.  
Eat Roasted Oysters on Ocracoke
What better way is there to warm up your cold hands than with a freshly roasted oyster in the Outer Banks? 
The Ocracoke Working Watermen's Association (OWWA) hosts an oyster roast each year (Dec. 28, 2019) to celebrate non-mechanical harvesting methods for fish, clams, oysters, and crabs. 
Proceeds from this event on the coast go to support educational outreach programs by OWWA.  
After filling your belly with oysters, check out these awesome Outer Banks restaurants during your stay! Many are even open during the off-season, which you'll see here!
Check Out Chinese Lanterns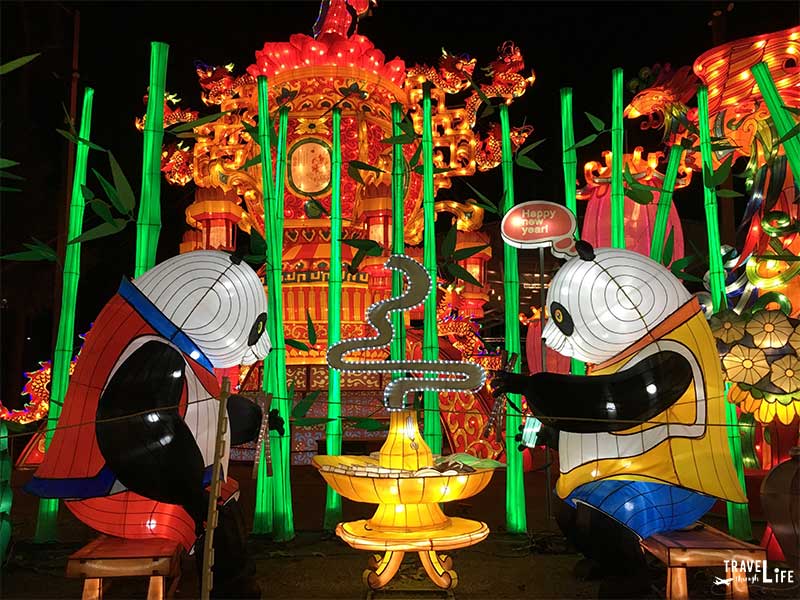 Looking for something unique? The Chinese Lantern Festival in Cary is a really cool event. This is where the work of 25 visiting artisans is put on display for all to see. 
As the sun goes down, Booth Amphitheatre lights up with over 20 hand-crafted LED lanterns, seasonal concessions, and traditional Chinese performances such as foot and vase juggling, Wushu/Kung Fu, and Chinese dance.
It's a really special event and one that will hopefully stay in Cary for many years to come!
Watch the Pickle Drop
That's right. You're reading this correctly! At the stroke of midnight on December 31, when most people are singing Auld Lang Sang, Wayne County's Mount Olive comes together to watch a pickle drop!
Mount Olive and their famous pickles are a 90-year tradition in Eastern North Carolina. We think this pickle drop is kind of a big dill! I'll be here all week.
We also included the Pickle Drop in our guide to a weekend in Goldsboro!
Get Interactive at Museums
Gettin' interactive at the Greensboro Children's Museum!

Glad we got to experience NC Museum of Art's special "You Are Here" exhibit in 2018!
North Carolina has a ton of awesome (and interactive) museums to check out, especially when it's cold and wet outside.
Some of our favorites include NC Aquariums on the coast, Greensboro Science Center and the city's Children's Museum,
We're also big fans of the Museum of Life and Science in Durham, and Raleigh's NC Museum of Art in the Piedmont, Discovery Place Science in Charlotte, and the Pinball Museum in Asheville.
The abundance of museums spread throughout the state really makes traveling here in the winter more fun. 
We talk a bit more about North Carolina's awesome museums here and have even shared our favorite children's museums in the state. What are some that you like visiting here? 
Hit the Slopes
Western North Carolina and its mountains are filled with incredible skiing! Whether it's the 115 acres of Sugar Mountain Resort or the year-round Beech Mountain, you're guaranteed to have a great day on the slopes.
Hang out by the fire at Beech Mountain Brewing Company, one of the only US breweries in a ski area, before jumping on the ski lift for the afternoon. Snow tube parks in the mountains are a lot of fun, too.  
Explore NC Food and Beer
New Belgium in Asheville.

Heist in Charlotte.
You can eat and drink throughout the year, but North Carolina is a great place to warm up with some good food and beer.
If you get here during a warm weekend, join a food tour with Taste Carolina and they'll give a lot of cool facts behind the city you're walking through. We've done tours in Greensboro and Carrboro/Chapel Hill so far and can't wait to keep sharing more of our experiences with you.
Head to breweries that overlook a river—New Belgium in Asheville—or visit Fullsteam, a place owner Sean Lilly Wilson accurately proclaims is Durham's unofficial welcome center.
Spend time in the big city and hang out at Charlotte's local-friendly Heist Brewery, or cruise to Kinston's Mother Earth Brewing. It feels like every town and city in North Carolina has a craft brewery (the most in the South!) so there is always nearby worth checking out!  
We're covering our favorite food and breweries in North Carolina as we go on NC Tripping! Where are your favorite places to eat and drink in the state?
Get Festive with Christmas-y Fun
Experience what Forbes calls "America's Prettiest Town" as Edenton celebrates Christmas. Caroling in the 1767 Courthouse, private historic home tours and carriage rides through the first and former colonial capital of North Carolina will surely put you in a festive mood. 
There's also Cape Fear Botanical Garden, whose "Holiday Lights" featured in our Winter Things to Do in Fayetteville.
Looking for more festive fun? Christmas at Biltmore has you covered, as America's largest home is decorated with wreaths, lighted evergreens and more to bring out the festive in you.  
Don't forget to grab a meal at Bistro there. We included it in this guide to restaurants in Asheville, in case you need any more convincing!
Tree Cutting and Decorations
One big tradition that we all know is going out and finding a tree, just like the Griswolds did in National Lampoon's Christmas Vacation. The Ashe County Christmas Tree Farms Choose & Cut Season begins in November and we recommend you follow their Facebook Page for more updates and specific dates.
In Boone, the Choose and Cut Christmas Tree Season runs from early November through mid-December. Check here for more info.
Another way to celebrate the coniferous contribution to the holidays is through the Festival of Trees at Pinehurst's Carolina Hotel. This showcase of 100-plus decorated trees benefits the Sandhills Children's Center. 
Lights, Parades, Tours
We couldn't include every Christmas-y celebration here but will do share them in our monthly events posts. The Christmas Parade and Tree Lighting in Hickory (November 22) starts the fun.
Downtown Lights Up! – Holiday Lighting (November 26) is a Goldsboro tradition and fun for everyone in the family if you happen to be in the area. There are also festive events in Blowing Rock and more spots in Western North Carolina. If you've got one in mind that you love, let us know about it.
Smithfield's Christmas Tree Lighting (December 5) highlights the fun in Central NC. On the coast, there's a Holiday Flotilla in Wrightsville Beach (November 30), and Christmas Parade in Hatteras (December 14).
Ride Themed Trains
If there's someone in your family who loves trains, then hopefully you're in North Carolina when these seasonal Choo-Choos are running. Grab your spot early and don't get stuck in traffic, as Tweetsie Christmas is a really big deal in Blowing Rock.
Raleigh's Holiday Express at Pullen Park sells out fast (literally minutes after going on sale), so you might want to plan for next year if you haven't gotten tickets already.
The Great Smoky Mountains Railroad in Bryson City runs the Polar Express Train Ride through New Year's Eve and is a great way to spend a wintry mountain getaway.   
Know of any other fun Christmas things to do for kids in North Carolina? We'd love to hear about them in the comments section.
Catch a Show
Of course, North Carolina's awesome performing arts centers cannot be left out!
A few awesome spots to catch a show in North Carolina include DPAC in Durham, Blumenthal Performing Arts in Charlotte, and Triad Stage in Greensboro.
As far as events go, there are tons of Christmas- and winter holiday-themed shows going on. Hopefully, the Avett Brothers continue their longstanding tradition of playing on New Year's Eve somewhere in North Carolina. For 2019, Greensboro is where they'll be.  
What Else?
We created this after pondering so many times about what to do in North Carolina during the winter. Being such a big state, finding fun stuff to do can get overwhelming, so we hope you find this guide helpful when trying to pin down your weekends and free time. 
Also, if there's something that should be added, please feel free to let us know in the comments section. We're always on the lookout for new things to do in our state.