Affiliate links linking to products we love may be found within this article. For more info, please check our Disclosure page for more explanation of affiliates and sponsorships.

---
I'm in love with Southeast Asia and want to see it all someday. Since I haven't touched every corner of the region, I've reached out for help. Over 60 travel bloggers have shared more than 150 pictures and thanks to them, we can travel Southeast Asia through this epic photo collaboration. You'll need to buckle up and load up on travel insurance (or Expatriate Insurance) before embarking on this exciting ride.
Where to Travel in Southeast Asia
Your body is not a temple, it's an amusement park. Enjoy the ride. ― Anthony Bourdain, Kitchen Confidential: Adventures in the Culinary Underbelly
Through all this, I discovered wide stretches of Southeast Asia that were previously unknown to me and it really shows the vastness of this part of the world. I hope you enjoy this photo collaboration and if there's a spot in the region that could use more exposure, get in touch and send your photos along so we can talk more about adding them to the collection.
Brunei
Brunei is easily overshadowed by Malaysia and Indonesia's claim on Borneo, as a tiny nation largely supported by the oil industry.
Sultan Omar Ali Saifuddin Mosque is one of the top spots to visit in Brunei, and quite photogenic too! Mar also traveled to the "Abode of Peace" and came away with a shot of it as well.
She pointed out that the greenery below is Ulu Temborong National Park, "one of the few parts of Borneo that has not been touched by palm oil. 95% of Brunei's territory is pristine jungle." 
Patti and Matilda also spent time in Brunei and created gorgeous photos of many spots, including the Jame' Asri Sultan Hassanal Bolkiah Mosque as you can see below. 
They also visited Tamu Kianggeh, "an open-air market on the banks of the Kianggeh River."
I love the colors and contrasts from these Brunei shots. Have you ever visited this country?
I think Brunei deserves more attention against those other two countries occupying Borneo. What do you think? Let me know in the comments section. 
Cambodia
It's cliche but true to say that Cambodia is a country full of contrasts. Some of the world's most beautiful places battle against a tumultuous history. I've created a few Cambodia travel stories and feel like there's so much to tell just through our photos, as well as those from other wonderful people.
Angkor & Siem Reap
Angkor headlines all of our lists and for a variety of reasons. It's home to some of the most epic religious and cultural sites in the world, and yadda yadda. How about we just let the pictures do the talking?
Steve has visited Cambodia multiple times and shot this nice photo of Angkor Thom's entrance during one trip there.
Then there's the granddaddy of them all, Angkor Wat. Tess explored Siem Reap and enjoyed an Angkor Wat sunrise and produced this lovely picture among more on her site.
Why not share another great photo from Angkor Wat? This one comes courtesy of Helen from Not Without My Passport.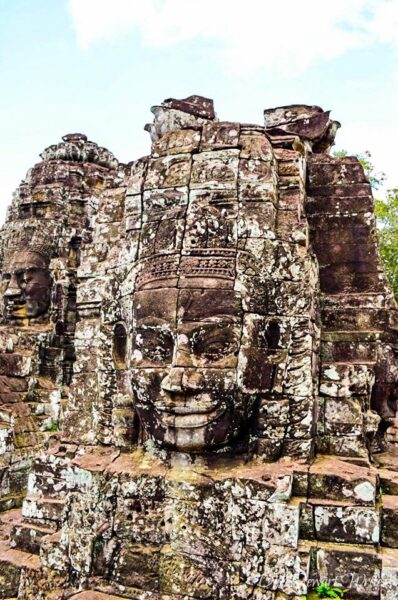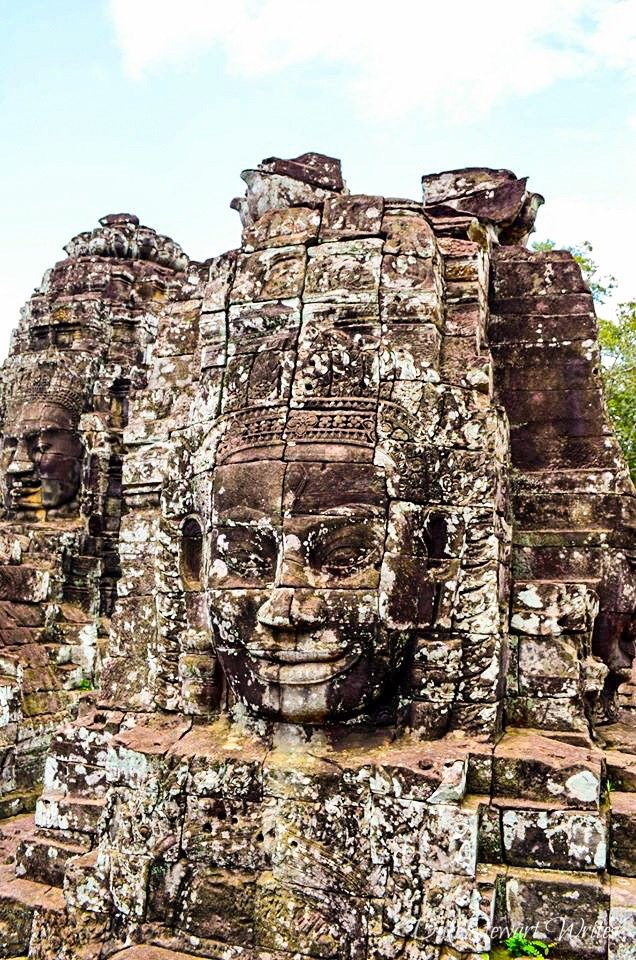 It's very easy to get overwhelmed after walking around these spectacular temples. Bayon's stone faces are so beautiful that it's hard to believe they were put together so many years ago.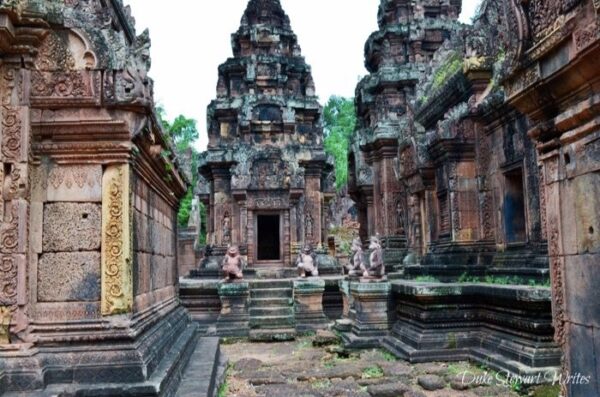 There are so many other temples to see around Angkor, and Banteay Srei is one of the more colorful places to visit in the area.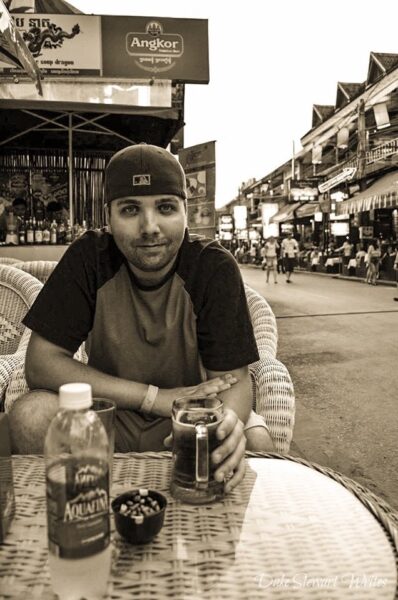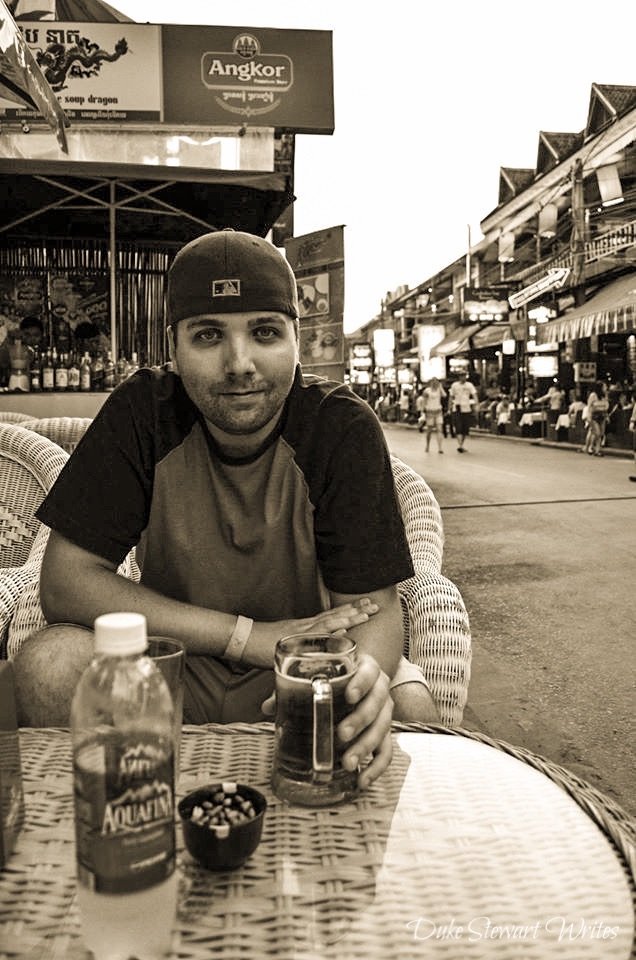 Siem Reap does very well to keep up with the hordes of travelers coming to see Angkor, and Pub Street is a common spot for after-hours.
Battambang
Many people stop in between Siem Reap and Phnom Penh for a look at Battambang, and its bamboo train.
Chantae dug in and spend a day riding around by bicycle and motorbike around Battambang during one of the biggest Khmer holidays.
Her photos and stories show that Battambang is not just a stopover for those coming from Siem Reap or Phnom Penh.
Phnom Penh
Kirsten shot photos of the Royal Palace and this one in particular really captures it well, with either brightening or darkening clouds – depending on your perspective – hanging over Cambodian royalty's most important buildings.
She also spent time at the Killing Fields, which is the most obvious indicator of Cambodia's attempts to preserve ancient traditions while the past's skeletons dominate the conversation.
I think you can learn a lot just by visiting Phnom Penh but the Killing Fields will put a lot of it into perspective.
Aside from trips through Cambodia, Kirsten shares memorable journeys through photos and words at First for Everything.
Kampot
We spent nearly a week in Kampot (post coming soon), close to the coast and within a few hours drive from Phnom Penh. It seemed like every night, we'd find a good spot to watch the sunset from the Praek Tuek Chhu riverside.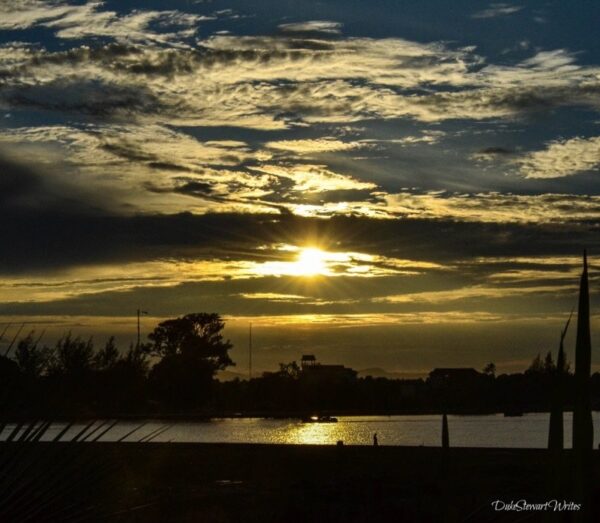 Christina and I also traveled around via motorbike and checked out places like this Kampot Pepper Farm, where many of the world's best chefs come for a taste.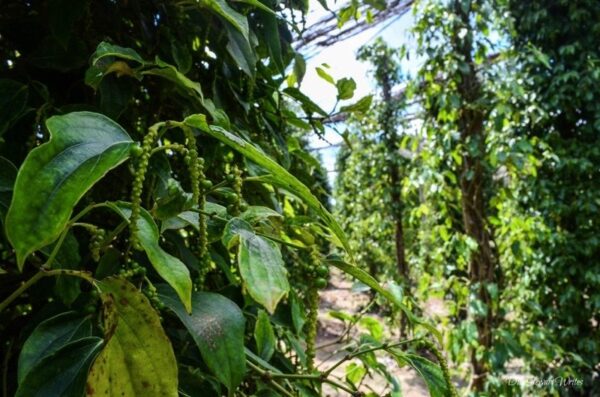 Kep
Ever since I saw the No Reservations episode on Cambodia, I've wanted to visit Kep. The drive in wasn't too bad, aside from occasional cars flying past us and sending gravel up into my eyes.
We mainly came just to eat some crab, and you can see the people walking out to the traps to bring some delicious back to the seafood market!
There are so many more spots along the coast, including Sihanoukville and Koh Rong to name a couple. Do you have any favorite places to add?
Kampong Cham
Follow the Mekong River to the north and you'll run into Kampong Cham like Sarah did.
She noted missing the bamboo bridge construction that happens during the wet season, her photos of the city's Rubber Plantations and lighthouse are worth checking out.
This is the first of many spots in eastern Cambodia that will hopefully gain more exposure in coming years.
Kratie
Kratie is an emerging yet small town that takes in many visitors coming via Phnom Penh.
The big reason to visit Kratie is for the extremely rare Irrawaddy Dolphins, found in small dotted portions of Southeast Asia. Laura traveled to Kratie and caught a glimpse of these beautiful animals.
She also walked around Wat Phnom Sambok, where you can see this cool collection of statues lining a stairway there.
Sen Monorom
One common theme many of us discover while traveling through Southeast Asia is animal tourism and how it can lead to mistreatment of many precious living beings.
Thankfully there are places such as Sen Monorom's Elephant Valley Project and people like Scott and Megan to photograph it.
Each of these sanctuaries are an important step forward in protecting our elephants and hopefully, people can keep visiting them and getting the word out.
Ratanakiri
Not as many people travel this far in eastern Cambodia but Kirsty and Mark from Kathmandu & Beyond did, visiting Ratanakiri and snapping these two lovely photos along the way.
You can see plenty more of Kathmandu & Beyond in Cambodia, as well as 100 other countries they've visited!
Another reason to visit Ratanakiri Province is for hiking, like this 12-mile trek completed by Paige from For the Love of Wanderlust.
This very talented writer also retold an awesome experience at Banlung's Waterfalls and Crater Lake. I'm sold after reading about them.
Cambodia might seem small on the map but reaching these parts of the country can take quite a bit of time, and I'm happy that these people are sharing that country's wonderful beauty found all over!
Have you traveled through Cambodia? What did you think of it? Let me know in the comments section below:) 
Indonesia
Indonesia is a massive archipelago, full of natural and manmade wonders that can keep even the most seasoned explorers busy forever. We spent three weeks there but barely scratched the surface, scrambling about in Java and Bali before getting lost for a while in the Gili Islands.
Java
Many people start with the capital when flying into Indonesia, and Jon killed a couple of days in Jakarta walking around the city's National Monument, among other hotspots.
Though he did honestly mention some bad smells around the river, his shot of it makes me want to spend at least a moment or two there.
This photo from Dieng Plateau in Central Java won't be the last of Jon's contributions, as you'll see he made a dent in this huge archipelago.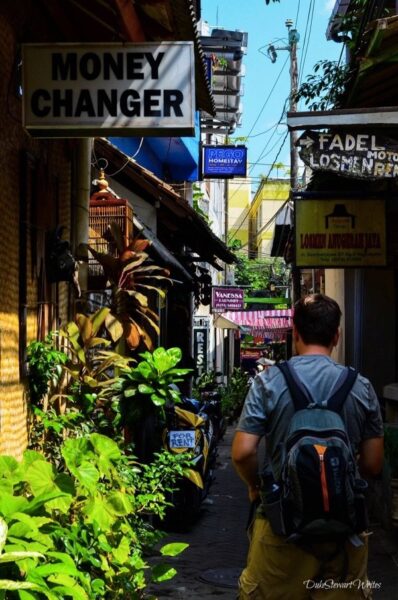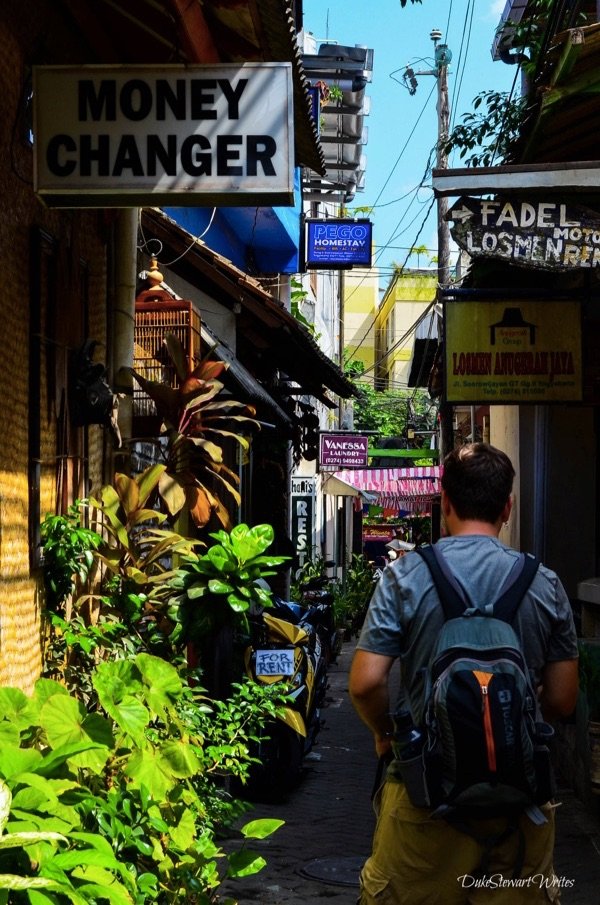 Not far from Jakarta, Yogyakarta (Jogja) was where we started and turned into a veritable traveler's paradise after a few initial missteps.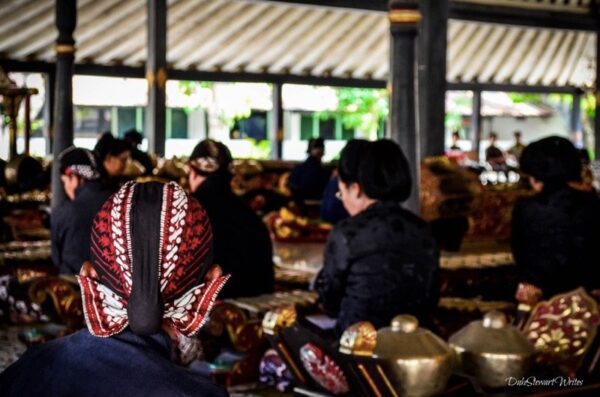 A big treat was the gamelan performance that takes place at the "Real" Kraton in the afternoon. My music-loving wife enjoyed every moment.
A big reason to visit Yogyakarta is for a trip to Borobudur. Kirsty of Kathmandu & Beyond fame also stopped by this wonderful place. Their Indonesia adventures don't stop there, and really convinced me that we have to go back!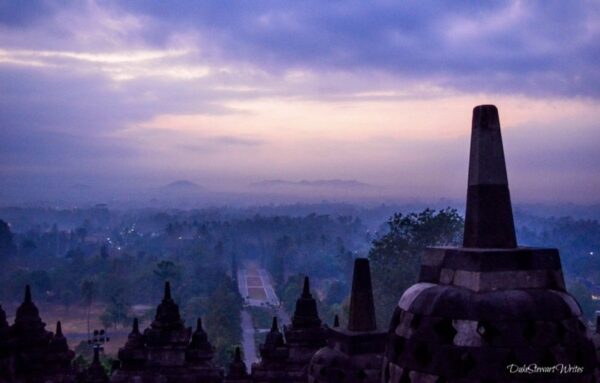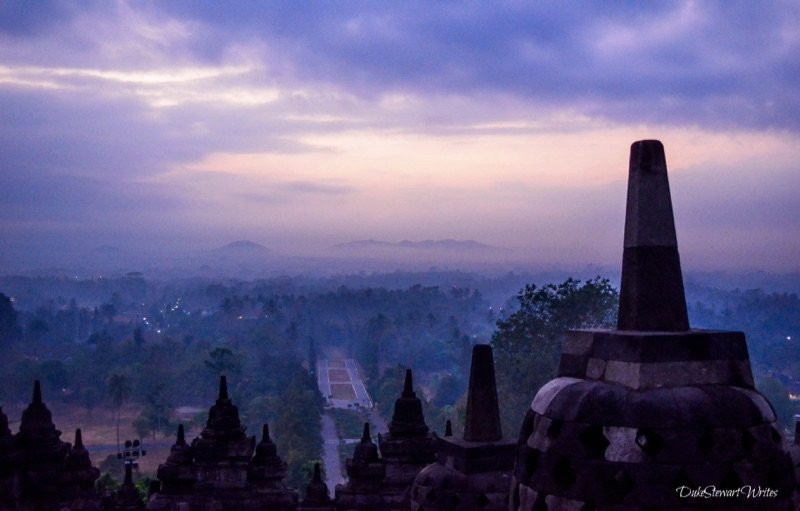 We also spent a very memorable day walking around Borobudur for the sunrise. We passed up other fun stuff to do, like Prambanan Temple and Mount Bromo.
I really regret missing the latter, based on Nina's experience hiking Mount Bromo for free.
I love the fact that she avoided a tour, which can turn into a truly chaotic and tiring experience. If you can find this view without anyone else around and for free, why not do it yourself?
Bali
Bali is a huge island that we visited for about a week, and one thing you can't avoid is a look at beautiful spots like these rice terraces.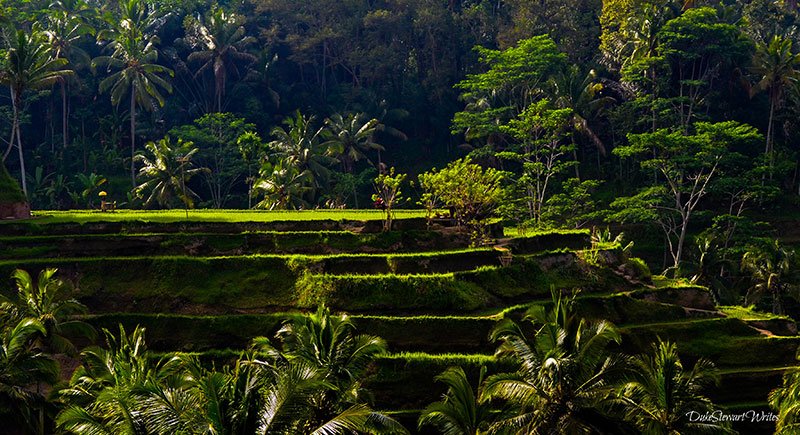 Another thing you'll see everywhere in Bali are the Hindu offerings placed outside of businesses and homes. We had the pleasure of making some while touring a village outside Ubud.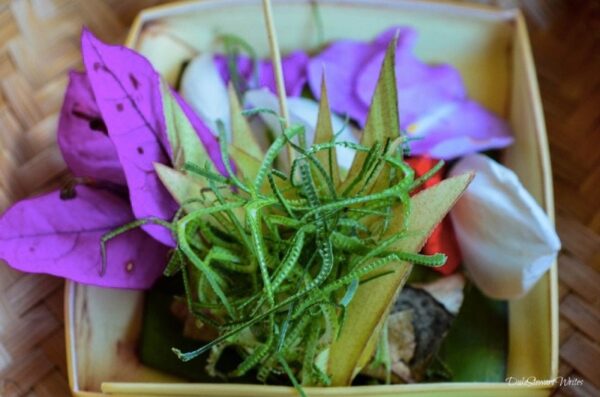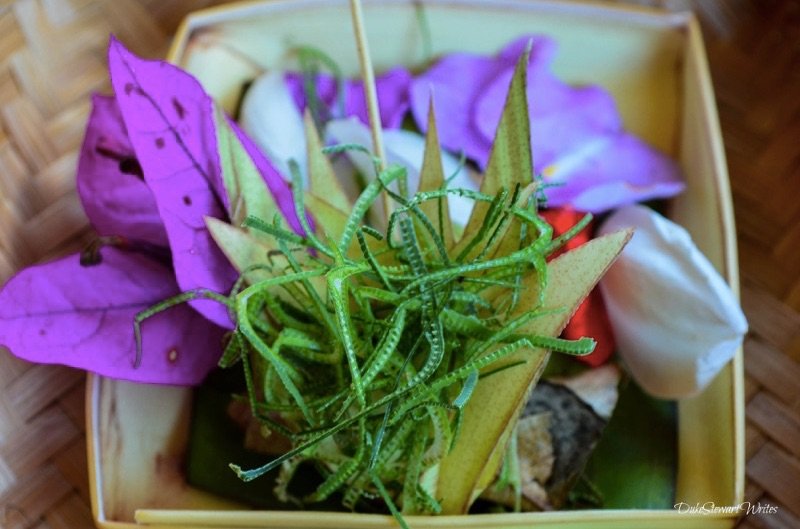 There are so many wonderful places to visit in Bali and the Ubud Monkey Forest is another. Talon walked around it during his time in Bali, sharing this photo of cute monkeys.
There are tons of western food options in Bali and that can be frustrating for someone in search of something local. Talon snapped this shot of a Indonesian restaurant while walking around Bali.
I know there are many more places to see in Bali. If you'd like to share your experiences through a photo from Bali, let me know in the comments section!
Nusa Lembongan
Bali is surrounded by lots of awesome places that are reachable by boat. Nusa Lembongan is one of the closest and led me to question whether or not it's the "real" Bali.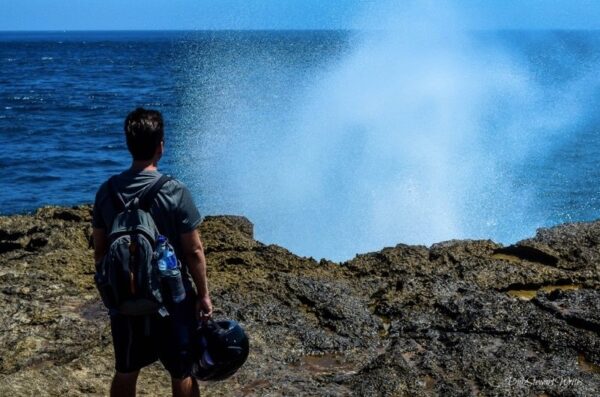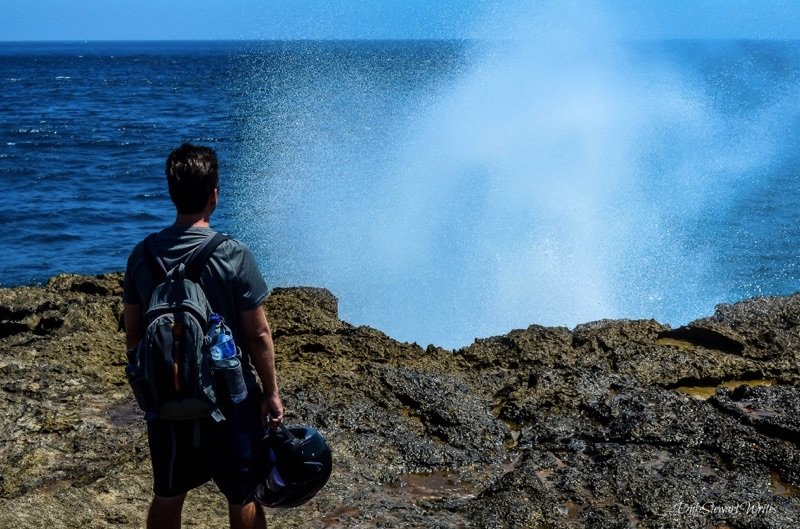 We motorbiked around the island and its surroundings, but my favorite spot was Devil's Tear. It's just so cool to watch those waves crash into the rocky coast.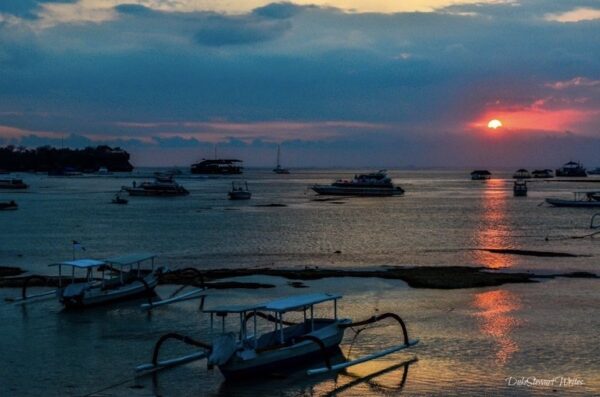 Being early risers, we were always back at our base to watch Lembongan's gorgeous sunsets.
Gili Islands
Probably one of the scariest boat rides in my life took us to Gili Air, and the largest scale operation chill known to man.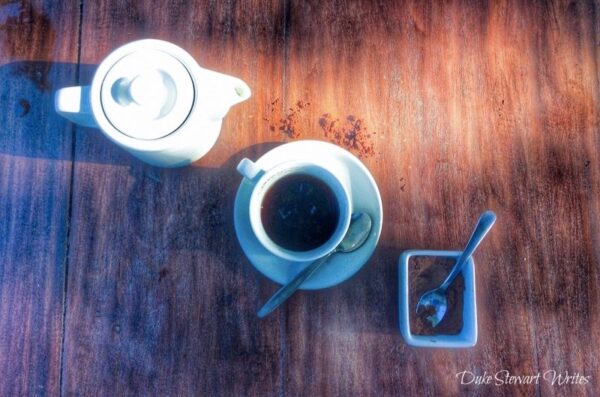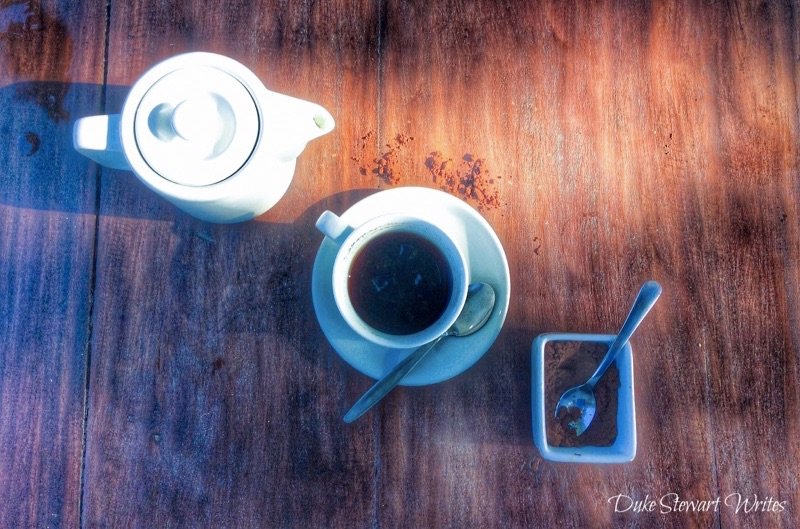 Days started with some delicious Lombok coffee and followed with a bike ride, some afternoon relaxing, and nothing else. I'm kidding.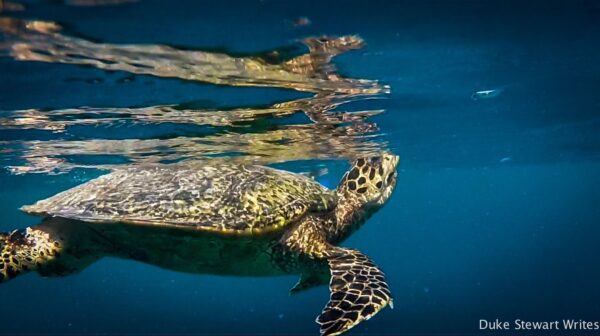 The snorkeling here is phenomenal and I'm happy this turtle didn't smack me in the face, though he or she came really close.
Nusa Tenggara
Jon Algie is back and worked his way through Nusa Tenggara, which includes Komodo National Park.
You can see that Komodo is more than just dragons, though I'd go just to stay as far away as possible from those deadly predators.
Jon also passed through Flores and snapped this wonderful photo while at 17 Islands Marine Park.
Sumatra
Sumatra is a vast island west of Java that's easily overlooked by travelers.
Thankfully our friend Jon made his way through there and captured this photo from Lake Toba. I foresee more people visiting Sumatra in the future, joining awesome adventures like Jon.
Kalimantan
Kalimantan sits on Borneo and is full of wonderful natural adventures for visitors. Rafika visited the Derewan Islands just off the coast from there. That beautiful water really looks inviting, huh?
According to Rafika, you can swim with all sorts of fish including stingless jellyfish here.
Sulawesi
Sulawesi is east of Borneo and full of some beautiful landscapes, as captured here by Vanessa.
She spends a great deal of her time in Malaysia and took these while traveling through Sulawesi.
Just a beautiful scene! Thank you, Vanessa, for sharing this!
Helena from Through an Aussies Eyes also visited Sulawesi, sharing this photo of the ubiquitous sambal that graces many Indonesian meals.
She walked around Hill of Love and captured this lovely picture on a foggy morning.
Rote Island
Rote Island is the largest island before Timor in the east and Australia to the south and looks like a dreamy escape, thanks to the uber-explorer Jon.
Maluku
On the way to Papua, Maluku (the Moluccas) are also known as the Spice Islands.
These wonderful photos by Valen are part of a Maluku escape guide she created. It certainly like a place I'd seek out as a getaway.
I mean, just look at that! It's easy to see why a person would want to visit this beautiful destination. Am I right?
Well, that concludes this look at Indonesia through some truly adventurous travelers. Have you ever visited Indonesia and want to share your thoughts on this vast archipelago? Leave a comment below and keep the conversation going!
Laos
I really regret not spending time in Laos, based on these photos. I get the feeling that it's fun and beautiful.
Dave bounced around Laos and went on a riverboat ride, from which he took this photo.
Vientiane
He also walked around and explored temples in the capital, Vientiane.
Scott and Megan also spent time in the Laotian capital, but they were just getting started there. You'll see more from them in a bit.
Vang Vieng
Head north from the capital and you'll likely run into Vang Vieng. That's what cool people like Victor did.
He hired a mountain bike and rode around the town and took in the beautiful landscapes all around.
Tourists flock to this place and you can see why, with the mix of scenery and stuff to do in Vang Vieng. Danielle went to Vang Vieng while traveling through Southeast Asia.
She returned home after a 66-hour trip that allowed for two sleeps. What a trooper!
Luang Prabang
Danielle also took the slow boat to Luang Prabang from Thailand.
Luang Prabang is a visitor's dream, and Danielle found tons to do there.
Lots of people come to get in the water and let loose and the waterfalls seem like the best part.
Helen also passed through Luang Prabang, snapping shots of the watery scenes like this one.
Jon stopped by Kuang Si Falls for a bit. Doesn't that look amazing?
Luang Prabang isn't just about the water, as Linda from Linda Goes East shows here.
She did all kinds of stuff in Luang Prabang, including bike rides and walks around this temple in the 1000-year-old city.
Nong Khiaw
Nong Khiaw is a quiet spot north of Luang Prabang, and it looks like a place that never wakes up.
Jon's journey through Laos included Nong Khiaw and makes me wonder if it gets any better than this.
Southern Laos
You don't hear too much about Southern Laos, thanks to the noisy north.
Victor explored spots in the south like Don Khon and checked out this local market there.
Jon and Gia took a cruise and grabbed this gorgeous photo of Khone Phapheng Waterfalls. Wow!
Victor rented a motorbike and rode around Don Det and other spots in the 4000 islands archipelago.
That's a nice sunset captured by Jon. I'm falling in love with Laos through these pictures, I must say!
Scott and Megan also passed through the 4000 islands as they covered just about everywhere in Laos.
Tad Yuang Waterfall in Paksong looks perfect for a whole day, don't you think?
Xishuangbanna Autonomous Region (China)
As a bonus, I'm happy to share a contribution from Linda from Linda Goes East!
I know China isn't Laos but Xishuangbanna Autonomous Region is pretty special because you can take buses very easily from there into Laos and even Thailand.
It's quite a scenic part of China as well.
That wraps up this look at Laos, from north to south. Have you ever visited that wonderful country? Let me know what you think in the comments section!
Malaysia
I fell in love with Malaysia the first time and had to go back. It's one of the most interesting countries I've ever visited, full of the best people and food that compliment a beautiful country.
Kuala Lumpur
It all starts with Kuala Lumpur, which has to be one of my all-time favorite cities.
Stopping by and staring up at the Petronas Towers has to be one of the best things to do when visiting for the first time.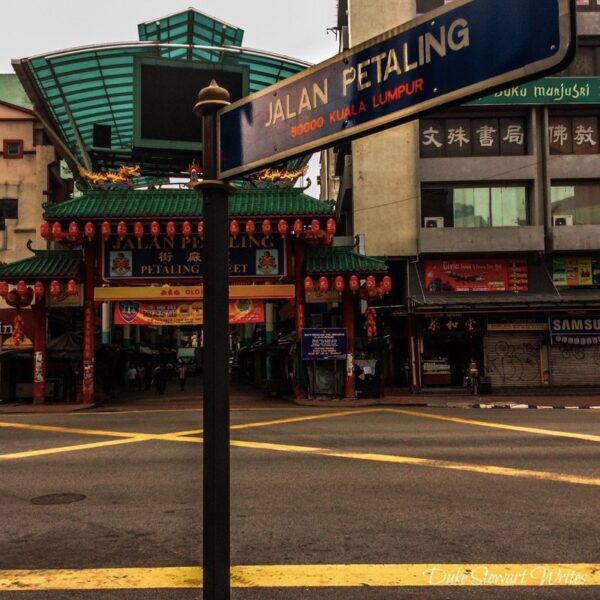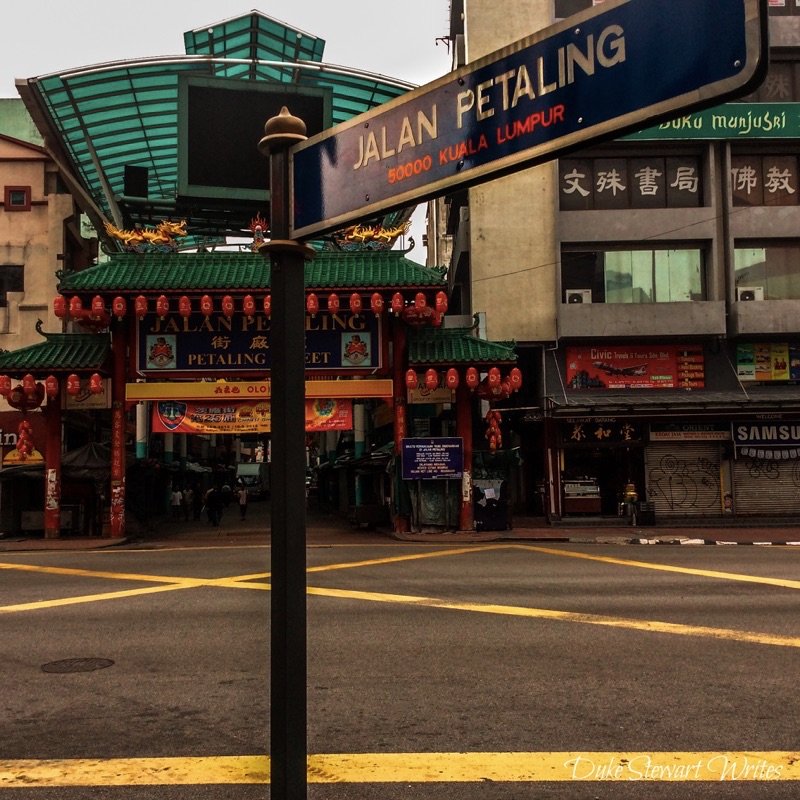 KL's Chinatown is truly special in my mind and is always fun and full of delicious eats, no matter when you visit.
It's always cool to visit when the vendors are out, like when Sally from Our 3 Kids V the World came through Chinatown.
Bukit Bintang is intimidating at first but certainly worth a moment of everyone's time. I love how Sally grabbed the monorail coming into this bustling neighborhood.
Rafiqua walked around Kuala Lumpur and checked out Malaysia's National Mosque while there.
She also visited the Batu Caves outside the city and really made me think that there's so much to Kuala Lumpur. I really want to go back and see it all now! Have you ever been?
Penang
I first wanted to visit Penang for the food, thanks to Mr. Bourdain's romp through that island just off the main Malay Peninsula.
This bowl of wonton mee helped me realize that Penang's food scene really leads the pack.
A morning stroll through the famed Chew Jetty is a great introduction into the waterfront settlements that are an important part of Penang's history.
Then there's the street art, like this really awesome mural discovered by Jen. I keep having to look at this to determine what's real and what's art.
There are some pretty epic murals around Georgetown Vivian found a few more.
I'd love to go back and try to find as many of these as possible! Which one is your favorite?
Cameron Highlands
One of my favorite things about Malaysia is the different types of places one can visit there. If you'd like to escape the heat for more than 24 hours, I'd recommend a minute or two at the Cameron Highlands.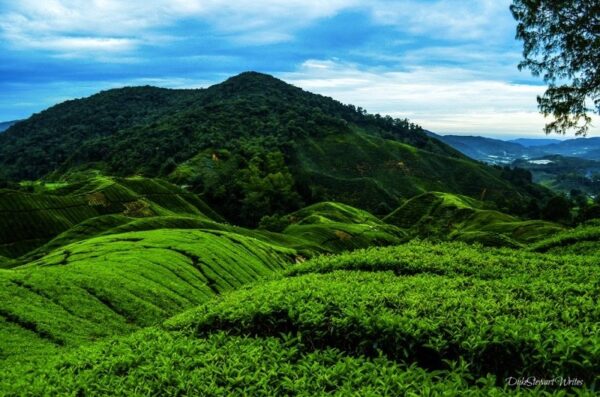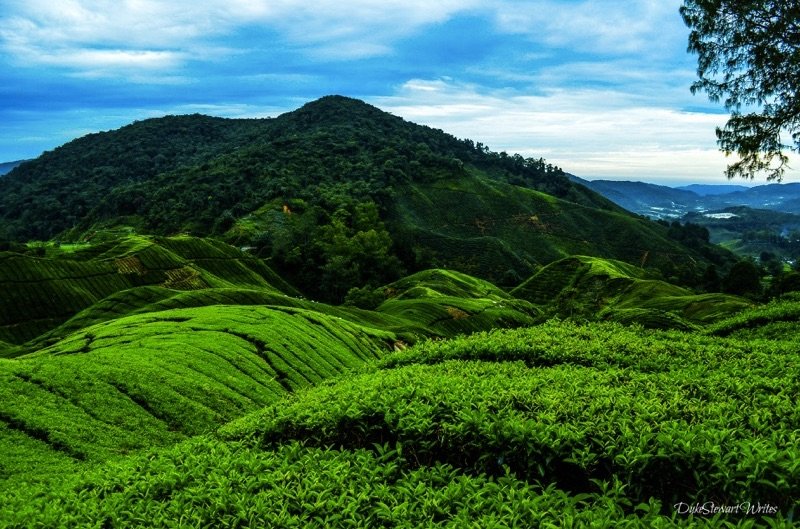 Don't you want to just sit in a chair with a cup of tea, and look out into this?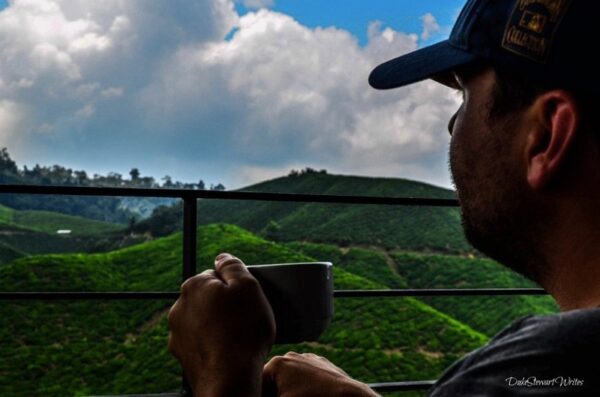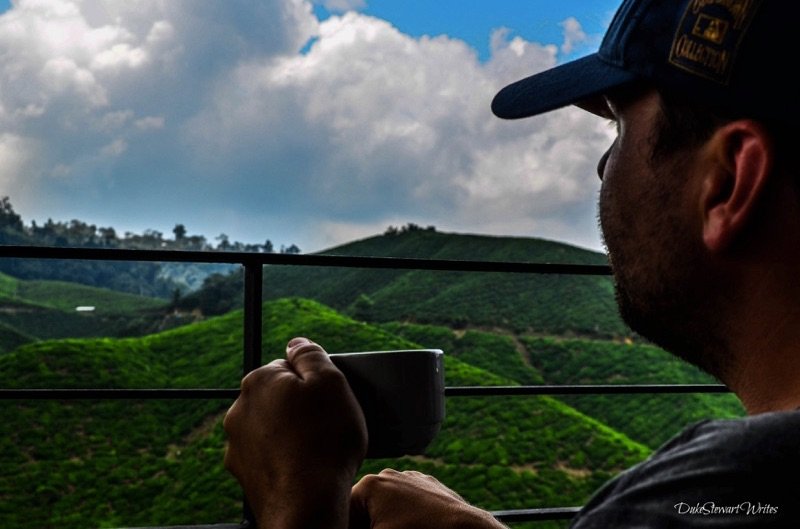 Does life always have to be this tough?
Langkawi
When a place is officially known as Jewel of Kedah, doesn't that mean you have to go there?
Dave visited Langkawi and found his island paradise.
He road on boats and walked around bat caves during the trip. Do you think he found it?
Rachel drove 4-wheelers through Mangroves and toured the caves as well, but this beautiful beach also took up some of her time.
She also went parasailing and was brave enough to film the adventure at the same time. Times like these are perfect chances to test that fear of heights, huh?
Borneo
I always heard great things about Borneo and after seeing these photos from Kuching by Raw, I'm so jealous!
After hanging out on the water, Raw also watched orangutans at Semenggoh Wildlife Center.
Looks like a happy ape, don't you think?
There are also some pretty sweet views of the water in Sarawak near Kuching, as Margherita and Nick found.
They kayaked and hiked through forests and enjoyed every moment of their time in Borneo.
Head to Borneo's northwest coast and you'll find Kota Kinabalu, a paradise that's surrounded by water and rainforest.
When I think of traveling Southeast Asia, images filled with beaches and coconut palms definitely come to mind. Sally from Our 3 Kids V the World absolutely demonstrates that in these images.
Myanmar
My first thoughts of Myanmar started with the words of George Orwell, and more recent times with the "opening" of the country thanks to reforms and dissolution of the Military Junta. I'm so excited to see the images that will come from this place.
Yangon
Yangon is the former capital of Myanmar (Burma) and carries a mix of the past and present as it forges ahead towards the future.
Silvia spent a week in Yangon, meeting friends and walking around this beautiful city.
She also took a train out to Kandawgyi Lake and walked around this awesome-looking bridge.
Inle Lake
Speaking of lakes, a very popular one to visit is up in Shan Hills, northeast of the capital (Naypyitaw).
Petra and Shaun went trekking from Kalaw to Inle Lake and claim it's the best thing they've ever done. They've done a lot so that's a pretty bold statement. Look at that view, though.
I think I'm starting to agree with them on this. Inle Lake looks pretty fantastic, now that you mention it!
Our friends Kirsty and Mark also spent some time in Myanmar and took this awesome shot of an Inle Lake boater.
Mandalay
Something I love about these images from Myanmar is the distinctions between each place. Mandalay is another example and reason why we must all visit this spectacular country.
"Don't Skip Mandalay," warns Hannah, who walked through the country's last royal capital.
This photo from the Palace/Fort Complex alone has me interested in this historic city.
Mawlamyine
Moving southeast from Yangon and between the Andaman Sea and Thailand, sits Mawlamyine. It's the fourth largest city in Myanmar and close to a truly wonderful sight.
Head 30 km south of Mawlamyine like Jen from Two Can Travel did, and you can see the world's largest reclining buddha at Mudon. Jen also really enjoyed the people in Myanmar.
Bagan
Probably the most imaginative scenes I've witnessed have come through photos of Bagan. It's home to over 2,000 Buddhist relics and monuments and surrounded by beautiful green plains.
Mar produced this beautiful black and white photo of a young monk walking through a temple hall in Bagan.
I love that she characterized it as the "Lost World of Bagan," which evokes images of a quiet Buddhist capital devoid of noise and tacky tourist shops.
With views like these, I'm not sure if it will stay untouched for long. Eric's pictures of the temples of Bagan create a scene too beautiful to not visit.
Do you prefer his sunrise shot or this one during the sunset? Can I say both are awesome?
I'm so grateful for the photos that people shared from Myanmar. Have you ever seen these places in person? I'd love to know about your experiences in the comments section!
The Philippines
Sometimes we think of traveling Southeast Asia as merely ticking off parts of a massive list while forgetting that some of these countries have enough spots to spend our whole lives exploring. I could spend forever in the Philippines and still, I'd barely scratch the surface of its 81 provinces.
Luzon
Many people start in Luzon, where the chaos of Manila can be found. I really want to go back there instead of hopping off to some island like I did a couple of times before.
Brenda and Andrew from Dish Our Town have traveled extensively, and their man in Manila shared an interesting look at that city. For me, the jeepney is one of the most colorful ways to get around and I'm happy they shared this photo of one.
There's so much going on in Manila and hopefully someday, I'll get to return.
If you ever look up images of the Philippines, Banaue's Rice Terraces will likely dominate the forefront alongside the country's picturesque beaches.
Nathan hiked the rice terraces of Banaue and shared these exquisite photos. I'm not sure I'd want to keep moving after looking into this landscape.
Head south from Manila and the Batangas Province will greet you with beautiful views from Laiya Beach, as captured by Christel.
There's also the Tagaytay Highlands, where you can overlook Taal Lake and Volcano. I think Christel stumbled onto a pretty nice looking spot, don't you agree?
Palawan
A short plane ride from Manila will take you to the huge island of Palawan, where many people will start in Puerto Princessa before venturing out to El Nido and other spots.
We spent some time at Puerto Princessa's Pristine Beach, trying to not get tongue-tied and hoping Christina could catch this skimboarder in action.
There were more tricycles and motorbikes than jeepneys in Palawan, which slowed things down a bit.
I love the 3-week itinerary for the Philippines that Lotte created because it gives you the right amount of time to enjoy Palawan and El Nido.
We were in El Nido for about a week, hanging out on boats and riding around through rainstorms. Thankfully they didn't last very long and the skies would get back to staying beautiful.
We got a nice and perfect day on Nacpan Beach and haven't found anything as nice ever since.
Cebu
Cebu is a bustling paradise full of beaches and perfect for just about every traveler. Direct flights are bypassing Manila these days and heading directly to the island, giving visitors more time to enjoy the beautiful scenes.
After checking out images like these by Brenda from Dish Our Town, why wouldn't you want to visit Boracay?
This sunset image would inspire any family to visit Boracay, don't you think?
Bohol
Just south of Cebu in the Central Visayas, Bohol is a gorgeous island and home to some uniquely wonderful finds. You really have to go there and just spend a few days riding around its coastal road!
Bob visited the Chocolate Hills, otherwise known as the most popular attraction in Bohol.
The tarsiers are a highly endangered primate scattered around various parts of Southeast Asia. I love this photo Bob took while visiting a sanctuary in Bohol. Note: Please be mindful of where you want to see them because many tarsiers are abused and even commit suicide while in captivity.
Bohol's Loboc River is a great place to kick back and relax, and that's where Lotte stayed before venturing out on a scooter to see the hits.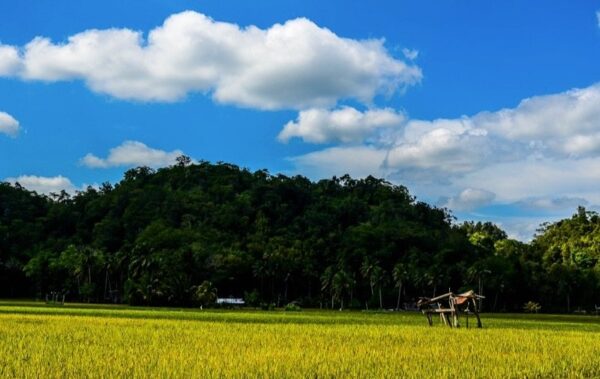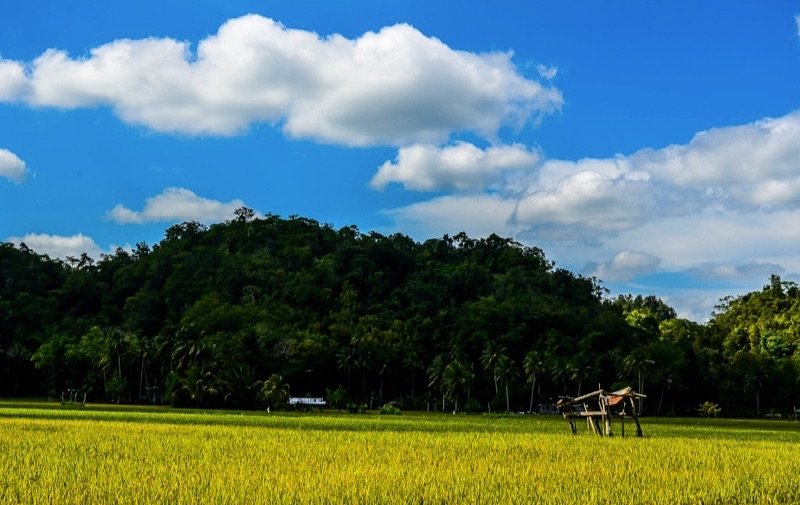 Christina and I also rode around Bohol via motorbike and fell in love with this island.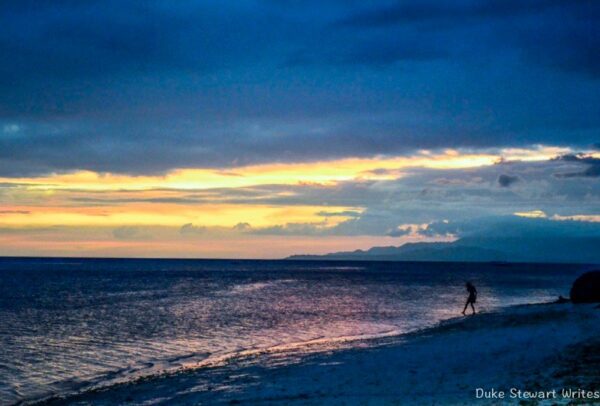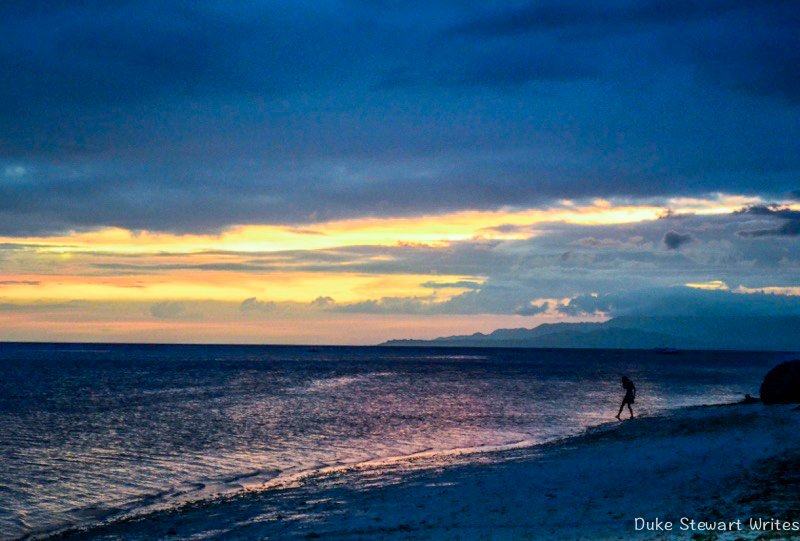 We ended the trip on a remote slab of sand in Anda, on the southeast coast. Bohol is truly wonderful in my eyes! What do you think?
Negros
Negros is west of Cebu and fourth largest island in the Philippines. The largest city in the east is Dumaguete and certainly looks enticing.
The great folks from Globetrotting spent time in Dumaguete with kids and came back with some really nice photos. Every time I see these up close photos of turtles, it makes me want to immediately get a PADI!
They also spent time at Twin Lakes, enjoying the water and staring out at the tree-covered mountains in the distance.
That's all from the Philippines for now. Hopefully, you'll get a chance to visit this wonderful archipelago and if you have already, what did you make of it?
Singapore
For such a tiny island, Singapore really packs a punch. This city-state is home to some of the most beautiful green spaces and delicious food on the planet.
There are even fun things to do at Changi Airport, as the gang from Peanuts or Pretzels found out.
For many people, images of the Marina Bay Sands Hotel come to mind when thinking of Singapore.
Mar from Once in a Lifetime Journey caught some pretty lovely scenes while traveling through Singapore.

 Gardens by the Bay is a big attraction near the Marina Bay Sands and this awe-inspiring Supertree Grove is worth a look.

We made a super quick trip to Singapore and tried to devour as much food as possible, like this chicken rice inside Maxwell's Food Centre.
Alesha and Jarryd visited the hawker centers too and are convinced that you can be frugal in Singapore.
Just look at this wonderful (and free) view from the top of the Marina Bay Sands that they captured in a photo. Isn't it perfect?
Singapore might be tiny but there are tons of things to do and see while there. Have you ever been and taken photos while there? How was your time in Singapore?
Thailand
I speak highly of many places but Thailand is right there at the top when I think of a place that's worthy of retirement consideration. From the sprawling beaches in the south all the way north to the Golden Triangle, Thailand has some special things to see and do.
 Bangkok
Land in one of Bangkok's two airports and prepare for a wild ride from there. Everyone knows about Khao San Road but there are more things to see inside the city.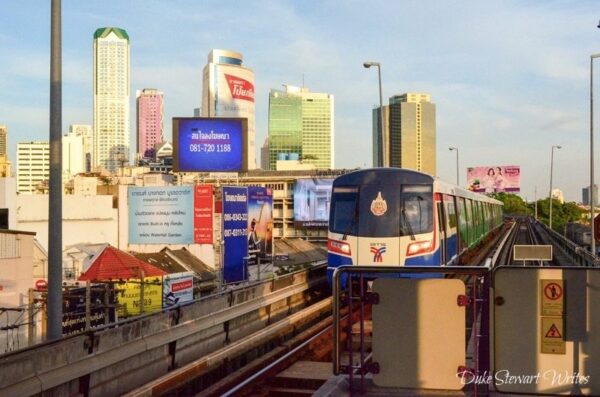 Get around via tuk-tuk, riverboat, or the train and you'll see a different side of Bangkok each time.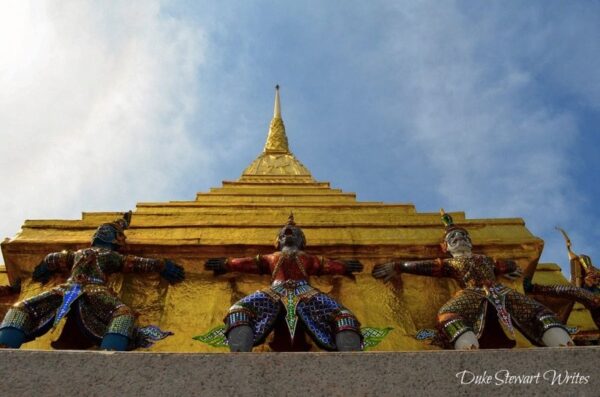 A lot of temples are situated along the river and are worth exploring, especially Wat Pho and the reclining Buddha.
Sarah backpacked through Thailand and took tons of photos, sharing this one from Bangkok that has me looking more than once. Isn't that just an immaculate scene?
Ayutthaya
Ayutthaya is a day trip away from Bangkok and full of history, as it was once the world's largest city and former trading post between India and China.
Gloria walked around the Siam Kingdom's 2nd capital and came away with these lovely pictures.
Though "not as impressive as other archaeological sites," she recommends Ayutthaya as a must-visit from Bangkok.
Sukhothai
Sukhothai is often overlooked by visitors to Thailand but is a truly important part of the country's history. Here you can check out relics from the Kingdom of Siam's first capital.
Sher visited Sukhothai Historical Park and rode a bicycle around this beautiful site. History has clearly been preserved here.
She prefers Sukhothai over Ayutthaya but what do you think? Which one looks like a nicer place to visit?
Taylor spent Loy Krathong in Sukhothai, celebrating the festival in its city of origin.
The city is steeped in history and it's hard to avoid it, judging from her wonderful photos taken there.
Geocaching is a really cool way to enjoy travel and Josh and Liz did just that in Sukhothai. They even shot a video of their time in the former capital.
Chiang Mai
During our second trip to Thailand, Christina and I started in the north and wish we had much longer when thinking back on it! There are so many reasons why I love Chiang Mai but for now, I'll share a few with you here!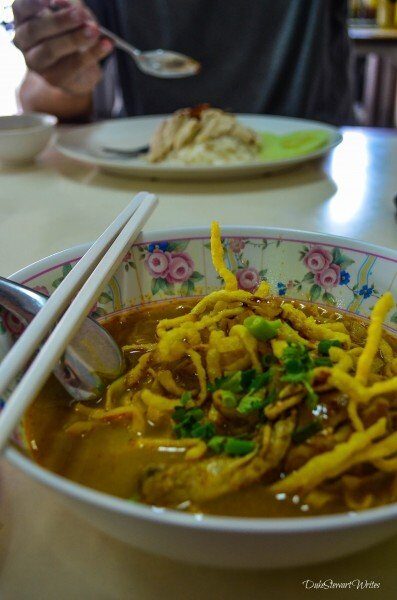 Hang out in Chiang Mai and eat Khao Soi (Burmese noodles) at least once, twice, or maybe every single day you're there. It's just that good.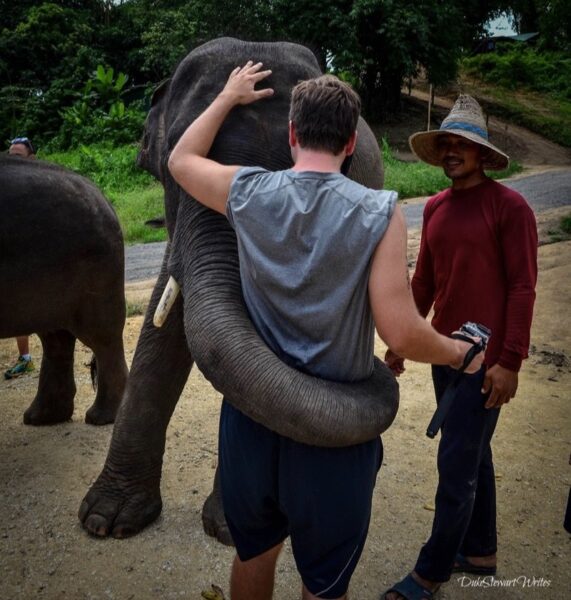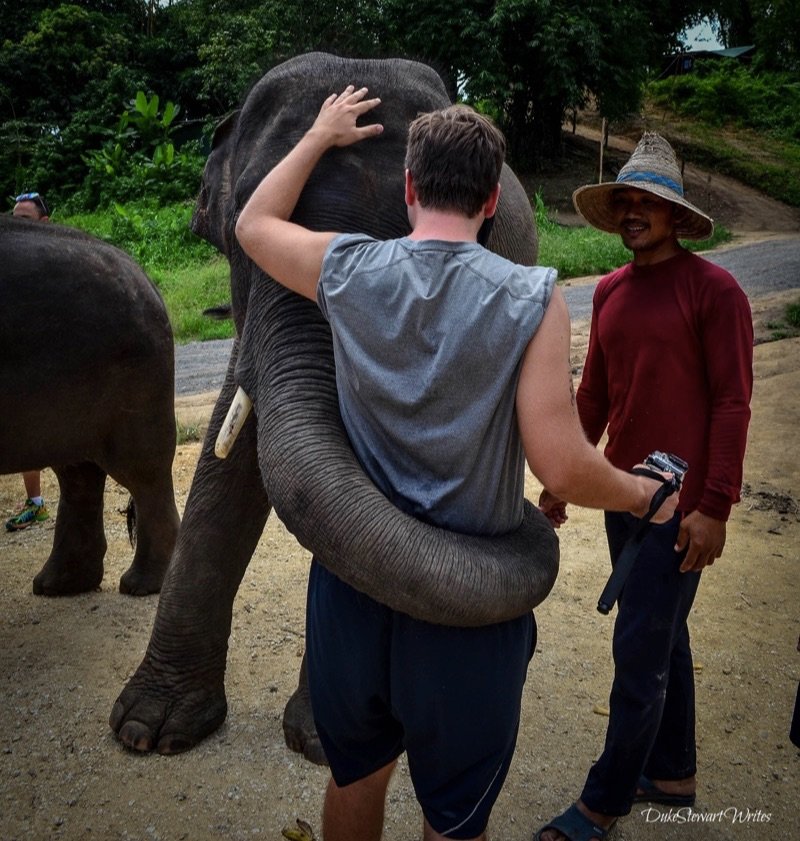 We even hung out with elephants and played with them (no riding), learning about their daily habits and jumping in the water to give them a bath.
If you want to see the coolest waterfalls ever, visit Bua Thong Sticky Waterfalls outside Chiang Mai. You can just sit on them if you want or climb them like these kids did.
Chiang Rai
I wasn't the biggest fan of the Golden Triangle tour that we joined, feeling pretty badly after the experience and wondering if it's even worth writing about.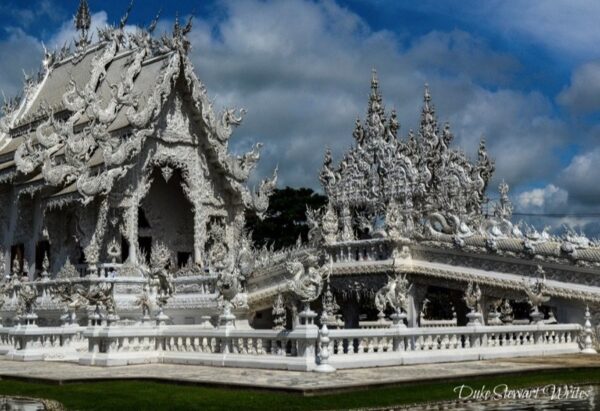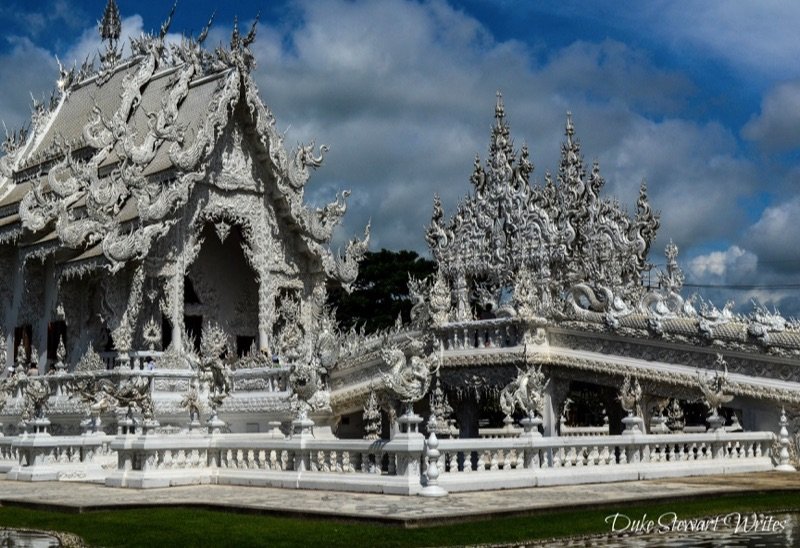 Go see the White Temple in Chiang Rai on your own and not during a tour. Your sanity and well being will thank you later.
Pai
Brave the 760+ curves to Pai and you'll either fall in love with it or not.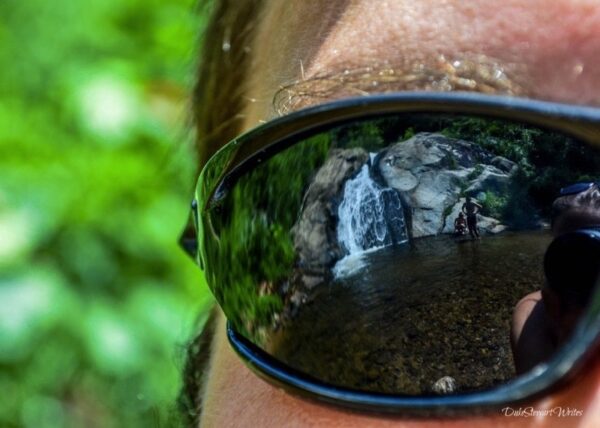 We spent a few days chasing waterfalls like TLC warned against back in the day. I think they're cool. What's your problem, TLC?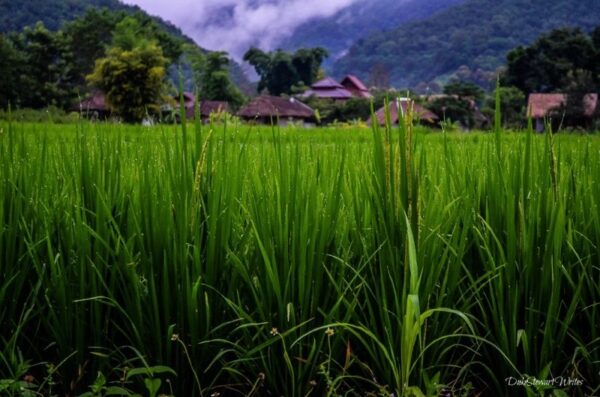 We booked a room that overlooked this luscious rice field and might never achieve this level of peace outside our front doors again. Here's to trying!
Mae Salong (Santikhiri)
Formerly known as Mae Salong, Santikhiri is a great Pai alternative in Chiang Rai Province.
Based on the things Jen loves about Mae Salong, I think it's worth checking out! This image is a great starter for the journey that she and Stevo embarked on.
Phuket
Phuket is where Thailand's beach conversations begin and end with many people, with the fun starting around Patong.
Kata Beach isn't far from there and Arnette hung around that part of the island for a bit.
She also stopped by the Singpatong Muay Thai Gym and included it in her 72-hour guide to Phuket.
Rob and Natalie ventured away from Patong via motorbike, though the beaches still look amazing along the way.
They avoided all the haggling and fun that comes with taxis and tuk-tuks, and explored Phuket on their own. You'd have to drive a hard bargain with a driver to get this view for a good deal, huh?
Krabi
Many people get away from Phuket and head south on the mainland through Krabi Province, where they'll find beautiful scenes and tons of things to do. 
Natasha found out that there are tons of ways to enjoy Krabi, like staring at the sunset from this beach.
She explains that Krabi is a great jumping-off point to islands, such as Phi Phi and Phra Nang. Just look at that water and try talking yourself out of going!
Railay Beach is a fairly isolated spot between Krabi and Ao Nang but still reachable by boat. Vicky and Buddy the Traveling Monkey made it there and took this pretty wonderful photo of the sand, water, and rocks.
Koh Phi Phi
Koh Phi Phi is a popular haunt for travelers in search of a beautiful getaway, and also known for its association with The Beach. While you might not find the seclusion that Leo DiCaprio encountered, these islands are certainly worth investigating.
Sarah from Tales from a Fork passed through these islands during her epic backpacking tour of Thailand. I love the way she shot this, with the rocks battling against the boats and water for your attention.
The beautiful water and karst are a big part of scenes from southern Thailand and really brings back memories of relaxation on a quiet beach.
Ko Pha Ngan
On the other side of mainland Thailand in the Gulf, Ko Pha Ngan is popular for travelers in search of a party but there's much more to the island.
As Sarah and Nathan point out, Koh Pha Ngan is not just for Full Moon debauchery and has tons of fun for everyone.
Besides checking out beautiful sunsets and the water, they went hiking and rode around on a moped to check out the island's most fun things to do.
Koh Samui
Koh Samui is closer to the mainland and better known for its nightlife but the daytime looks nice enough to have an early wake-up call.
Sarah and Nathan spent time there as well, hanging around Silver Beach and claim its the best on Koh Samui.
They also hiked to Mu Nuang Waterfall and got to know the island pretty well while staying there.
Not every destination is going to impress everyone, and Gemma and Craig from Two Scots Abroad honestly pointed out that Koh Samui was a bit too touristy for them.
However, this sunset passed the test for them and is certainly something I'd try hard to get up for every day.
Koh Chang
Koh Chang is close to the mainland on the far east coast towards the Cambodian border, and home to a mix of quiet and busy neighborhoods. As it gets more and more popular, people might be searching elsewhere for quiet and relaxation.
We spent about a week on Koh Chang and really came away with fond memories of its sunsets and beautiful scenery.
I tried really hard to conquer that fear of heights in the trees and while riding a motorbike through Koh Chang's winding roads.
Koh Wai
This island is a hop, skip, and a jump away from Koh Chang and looks like a fairly untapped island compared to many found around Thailand.
Claudia fell in love with Koh Wai and attests to it being one of the best in Thailand. What do you think?
The views are pretty awesome and if you're not planning on staying the night in Koh Wai, she mentions that a day trip will do.
That was a long trip around Thailand, right? How many of these spots have you picked out for the next trip? Let me know which ones stood out to you in the comments section! 
Vietnam
Is Vietnam confusing? Yes! Is it awesome? More Yes! After two visits to the country, I want more and can't wait to revisit some places while scoping out others for the first time.
Hanoi
Hanoi is the very busy capital city and the epicenter of Northern Vietnam. It's Old Quarter is filled with noisy streets and tons of history that many people either fall in love with or want to run away from with a quickness.
Walk around any Vietnamese city and you'll likely see scooters outnumbering cars by 10-to-1. The streets of Hanoi are the perfect example and Paige captured them very nicely right here.
Ngoc Son Temple is the most popular temple in Hanoi and for pretty good reason, as it sits on the northern end of Hoan Kiem lake and looks beautiful from inside and out.
Talon knows Hanoi and Vietnam pretty well. He spent time walking around Ngoc Son and came away with this nice picture of incense burning outside its halls.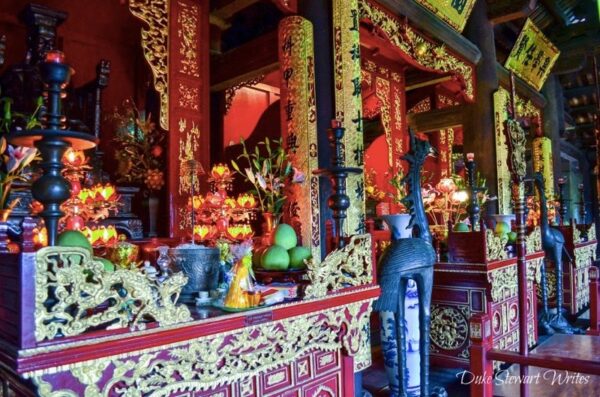 The Temple of Literature in Hanoi is another cool place to visit but beware of crowds, especially if you happen upon a school graduation like we did!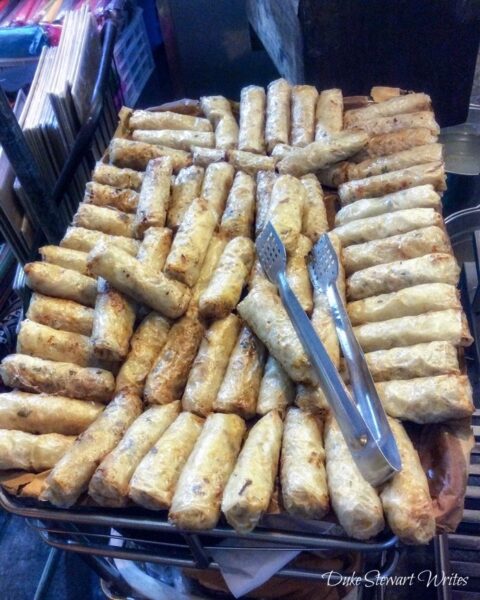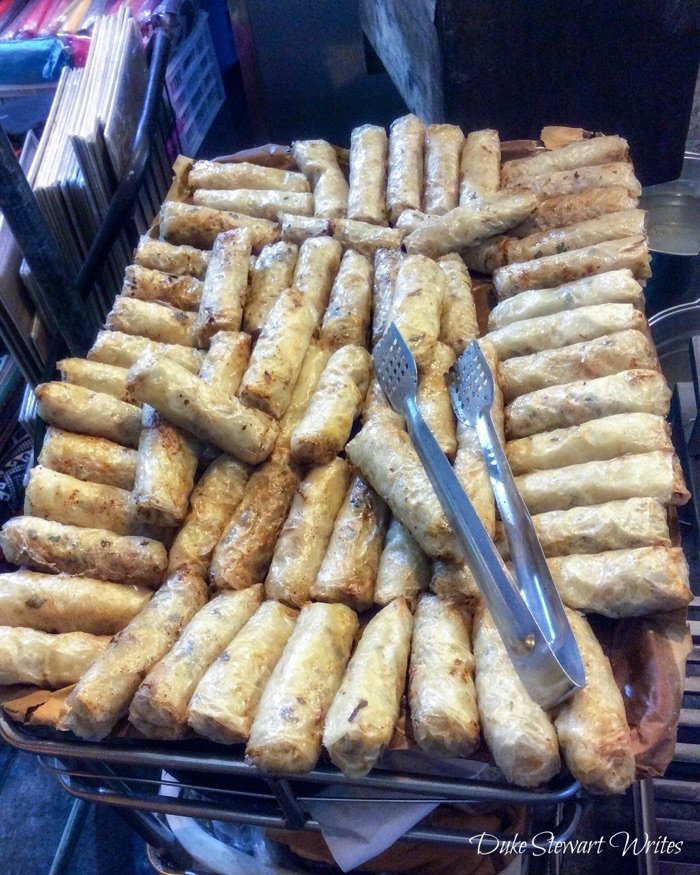 I feel like I'd be doing Vietnam a disservice if I didn't mention the food there, and it's very easy to dive in and find something good to eat!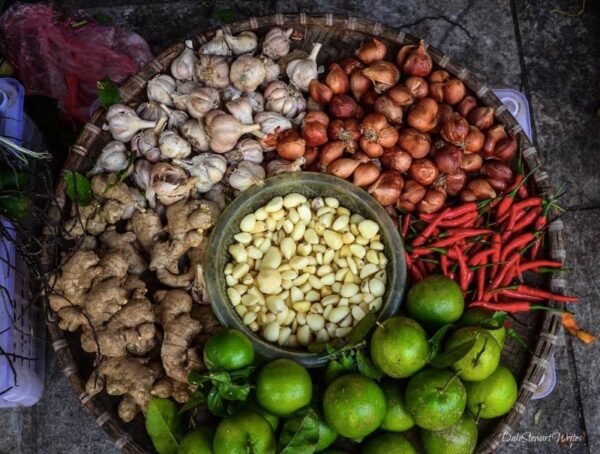 With such beautiful ingredients to choose from, you won't go hungry while traveling through Vietnam. That's for sure!
Sa Pa
Hanoi is great in so many ways but also for its proximity to Sa Pa, a very rural northern town that doubles as a trekker's dream.
The folks from Two Monkeys Travel Group visited Sa Pa in winter and realized that it's colder than expected.
Audrey visited as well and has some pretty solid tips for trekking in Sa Pa.
She and Nomadic Samuel also created some informative and useful Sa Pa videos that are a must-watch before visiting the area.
Paige is back with some epic Sa Pa photos as well. Her experiences trekking the rice terraces of Sa Pa led to beautiful views of bamboo forests and waterfalls.
She even made a friend along the way, whose only "serious" moments took place during this photo.
Halong Bay
The greatest-known trip away from Hanoi leads to Halong Bay, a massive collection of karst surrounded by glorious waterways and more.
If these images by Sarah and Kris tell only a part of the story, then I'm convinced that Halong Bay is a destination worth visiting in the future!
They took a 2-day cruise and kayaked through caves, swam in the water, and more during their trip around Halong Bay. Have you ever visited?
Mai Chau
A lesser known trip away from Hanoi leads to Mai Chau, in Hoa Binh province southwest of the capital.
Aside from the many Mai Chau travel tips Karolina and Patryk shared, packing a camera (#6) would be most important for me. I mean, don't you want to just spend a whole day taking pictures there?
Danang
Head to the central coast and you'll find a great number of cities vying for your attention. Hue is one that we regrettably overlooked but Danang was gracious enough to let us in for a few days.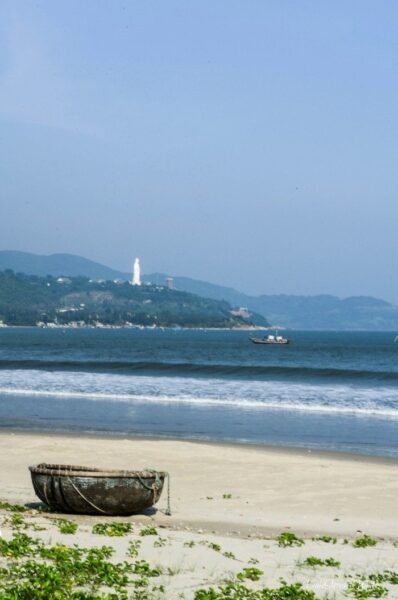 Walk around China Beach and just stare at the massive waves. Hopefully, the sky is clear enough for you to see the Lady Buddha Statue in the distance.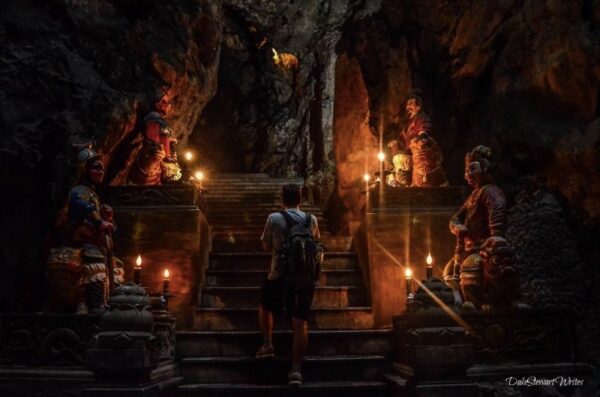 Visit Marble Mountain and learn about the VC hospital that operated literally run under the American military's nose during the war. It's also a really cool-looking cave and gave me a Temple of Doom kind of vibe.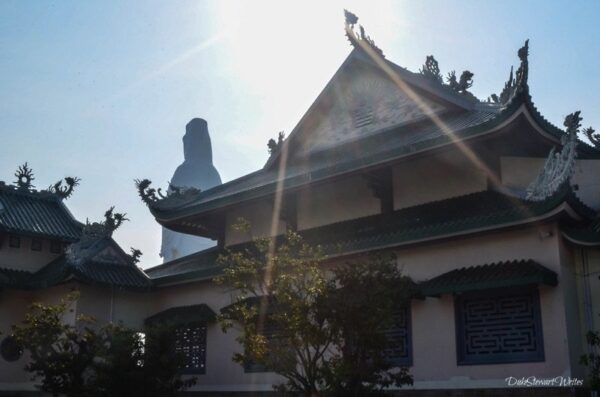 If you can't see the Lady Buddha statue from the coast, drive out and see her up close. The temple that surrounds her is really nice to walk around, too.
Hoi An
I'm sure there are other quiet places in Vietnam but for us, Hoi An was a perfect break from the noise and buzz that dominates the cities.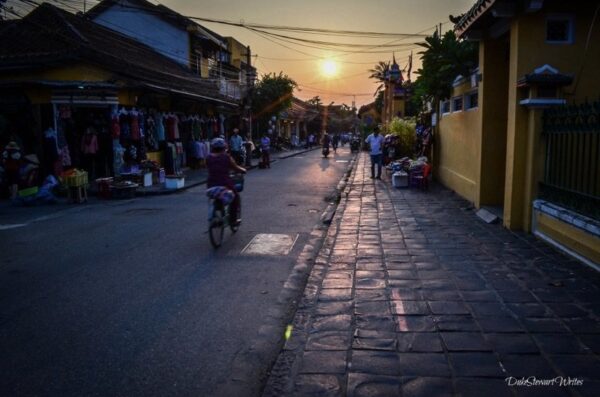 Its Old Town was left alone during the war and is recognized by UNESCO, thanks to the well-preserved buildings, streets, and canals.
If you ride along the riverside towards the beach, the area's beautiful landscapes really come to life. I'm thankful that my friend Tom also went to Hoi An and brought his camera along.
It's really hard to describe the beauty in this photo, taken of a Hoi An cemetery, but Tom really did capture it.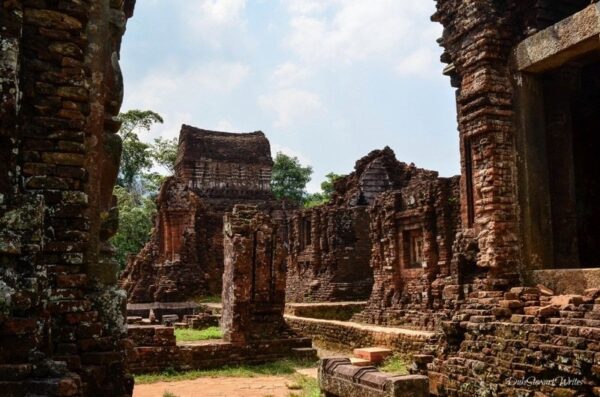 My Son Sanctuary, unfortunately, did not receive the same treatment as Hoi An Old Town, as many bomb craters are still visible today. The surrounding areas supposedly have undetected land mines as well, so be careful.
Nha Trang
The never-ending coastal options continue with Nha Trang, as we move further south.
Among the many things she and her family did while there, Po Nagar Temple via guided tour was a great way to get out with the kids.
Nha Trang's heat and humidity certainly challenged the family coming out of the Australian winter but they certainly made due and came away with some great stories to tell!
Talon's interesting story continues with a visit to Nha Thang for some diving and relaxation by the water.
When he wasn't impressing the locals by eating super-spicy food, Talon was on the water getting views like this before going under.
Da Lat
Head inland from the coast towards HCMC and you'll find Da Lat full of cool air and a super chill atmosphere.
Talon spent some time relaxing in Da Lat and enjoyed the friendliness of the locals, compared to the bustling big cities.
Mui Ne
Mui Ne is a really popular beach destination that's close-ish to Ho Chi Minh City and known as a windsurfer and kitesurfer's paradise along the South China Sea.
There are so many things to see in Mui Ne and Suzanne enjoyed quite a few of them, including a look at these fishing boats on the water.
This photo of the famed White Dunes really has me wishing for a return trip to Vietnam, just to see if the scene is as beautiful as she produced.
Ho Chi Minh City
Call it Ho Chi Minh City or harken back to the past by referring to it as Saigon and you can't go wrong. HCMC is a beehive and the first holiday destination we visited from Korea. The shock was real but after a couple of times rolling through, the city seems tame enough for me.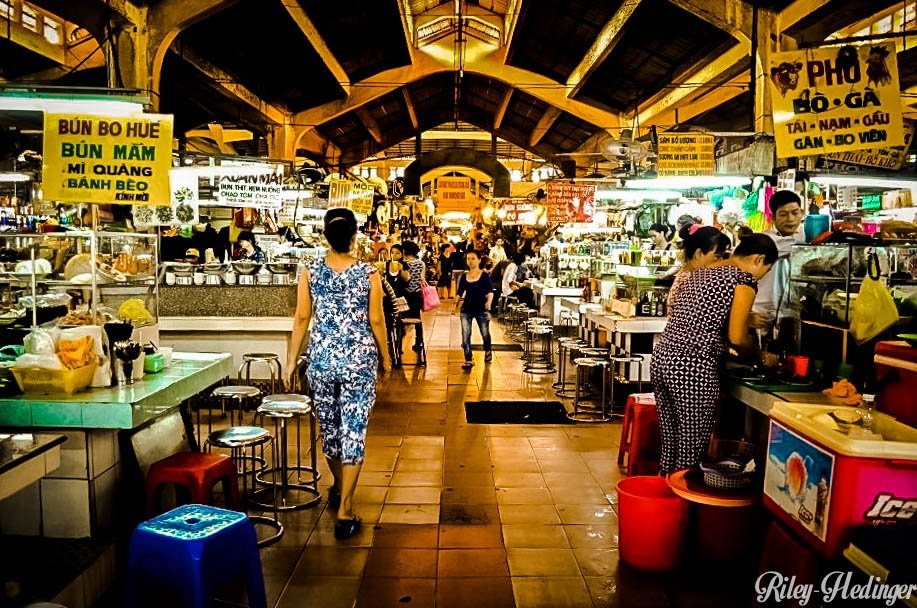 Ho Chi Minh's Ben Thanh Market still stands as my favorite food destination, and can't be missed if you're in the city.
Notre Dame Cathedral stands tall over the surrounding areas, as Sally found during a walking tour of HCMC.
The Reunification Palace is a big Saigon must-see for history buffs and people interested in seeing where the Vietnam's new era began.
As you can see, Vietnam has a treasure trove of great things to see and do. Have you gotten a chance to stroll through this interesting country? I'd love to read about your experiences in the comments section!
When I first started traveling Southeast Asia, the experience opened my eyes in so many ways. Christina and I walked through gorgeous locations, ate the finest cuisine, and listened to beautiful languages spoken by everyone around us. I'm so happy that we got to experience some of it and that all these great people were willing to share their photos as well!