Affiliate links linking to products we love may be found within this article. For more info, please check our Disclosure page for more explanation of affiliates and sponsorships.

---
Northern Thailand remains many people's Southeast Asia starting point, but why? Honestly, because it's one of the best parts of this globe that you will ever see. While the south and other regions in Thailand may have their own form of flash and flare, the north has its own vibe, and that's why I wanted to create this guide. Along with fellow travelers who have also frequented the area, I want to share some of our favorite Northern Thailand cities and things to do.
Northern Thailand Travel Guide
When to Go
Northern Thailand tourism peaks between October and February, when the weather is at its coolest and driest. The weather is amazing during this time of year but be prepared to fight huge crowds at times. Many people will also be traveling around the country as a whole for the major holidays, like Songkran and Loy Krathong. You can always take a chance and travel during the wetter months (July to October), where you'll find smaller crowds but heavier rainfall. Just pay attention to when you plan to visit and good preparation will help you have the trip you're expecting.
Where to Go
Bua Thong Sticky Waterfalls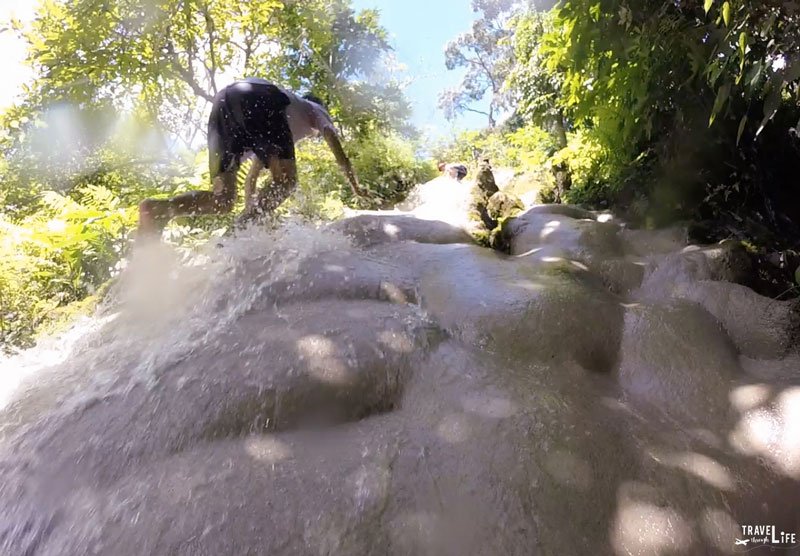 Bua Thong Sticky Waterfalls are one of the best in the Chiang Mai area. You can do a sticky waterfalls tour but our hour-plus motorbike ride out there felt more adventurous. From a distance, one might think the waterfalls are a series of muddy canals similar to the Mekong or other brown rivers. However, the travertine limestone that the cool water runs down is what gives them their color. Stairs lead all the way down to the bottom and third level, which is where I'd recommend starting. You can climb many of the falls but I prefer just sitting down and feeling the water. One thing you shouldn't forget is a change of clothes because the ride back could be a very cold one!
Chiang Dao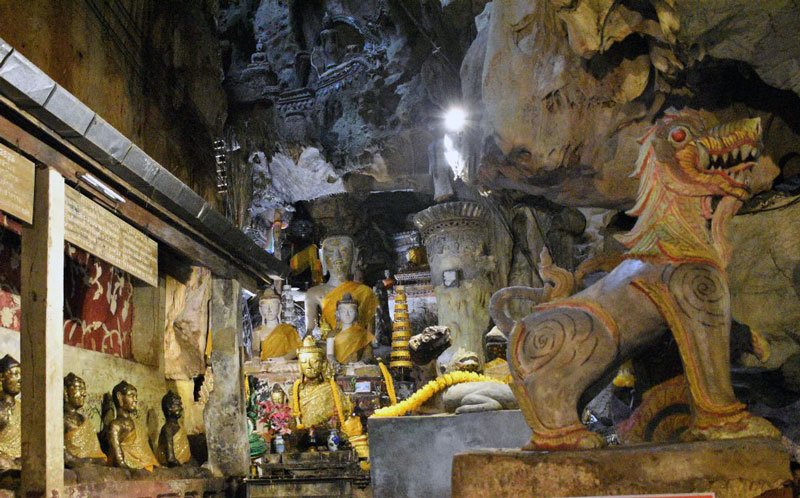 Rosalind & Alan Cuthbertson, Frequent Traveller
Chiang Dao is a small town that is a 1.5-hour drive north of Chiang Mai. Towering above Chiang Dao is Doi Chiang Dao Mountain, a monolith honeycombed with caves and covered in thick impenetrable forest. It is an area popular with trekkers and home to the Karen Lahu and Akha hill tribe people. Chiang Dao is also home to many Buddhist Temples, including the Chiang Dao Cave and Wat Tham Pha Plong. The entrance to Chiang Dao Cave is encircled with milky blue waters filled with sacred fish. At the entrance is a well-lit cave with decorative shrines paying homage to Buddha. For an extra fee, hire a lantern and guide to take you deeper into the cave system. Wat Tham Pha Plong will take you on a journey of enlightenment as you walk up the 510 steps to the Golden Pagoda. Once at the top you can marvel at the cloud-shrouded mountains that surround you. There is so much more to see in the Chiang Dao area, it's a place that shouldn't be missed when planning a visit to Northern Thailand.
Chiang Khong
Taiss Nowrouzi, Together to Wherever
Chiang Khong is a little-known town in northern Thailand by the Laos border. It's an underrated border crossing "pit-stop" with some incredible river-side accommodations. Staying here for a night or two is a surprising treat with its gorgeous views of the Mekong River, friendly locals, and great restaurants, not to mention extremely low-key and laid-back atmosphere. A super budget-friendly place about 5.5 hours from Chiang Mai by bus that will make you want to extend your time in Thailand before riding the slow-boat down to explore Luang Prabang or wherever else you're headed in Laos.
Chiang Mai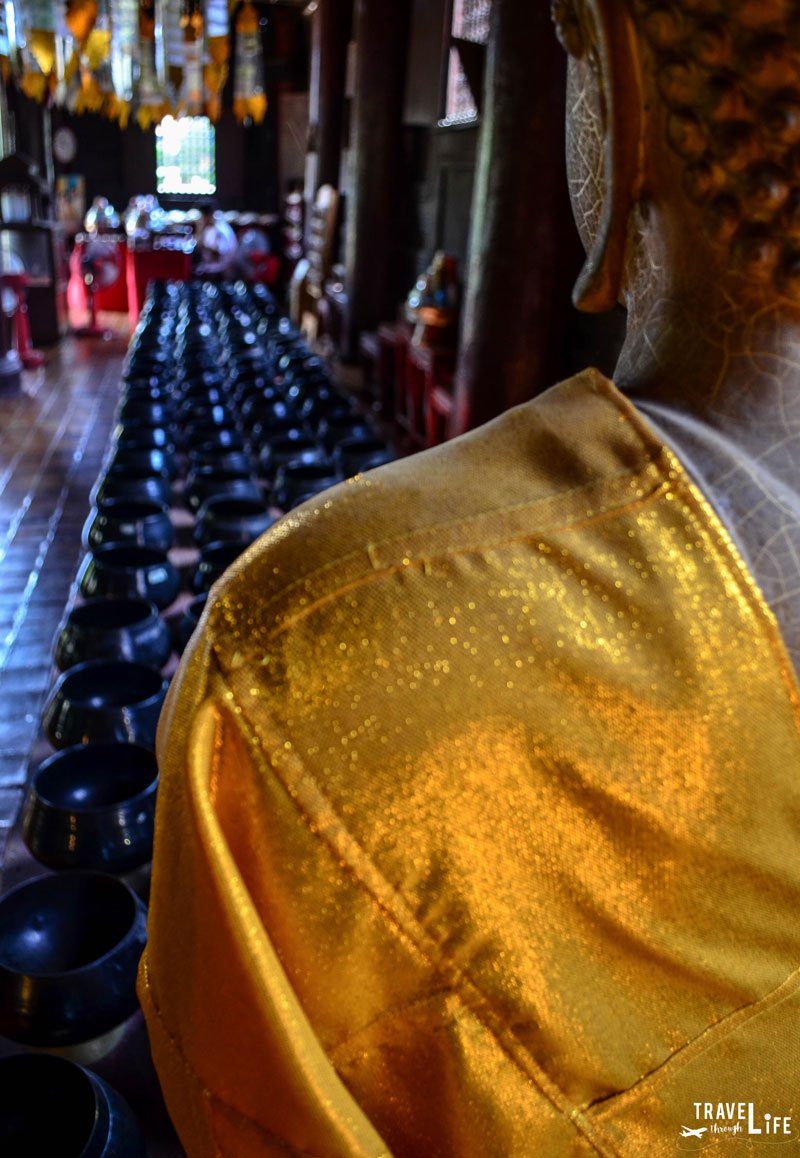 Chiang Mai is a wonderful city for tons of reasons. Its massive collection of temples should provide enough of a reason to come and visit. Other Chiang Mai points of interest include its amazing food scene, full of so many delicious dishes. Further Note: please eat Khao Soi in Chiang Mai at least once! The city is also surrounded by beautiful places in all corners. The massive Doi Suthep-Pui Hill and National Park overlooks the city and deserves a drive around along its series mountainous, somewhat dangerous, and beautiful roads. Hotels are fairly cheap in Chiang Mai and that's because many of them work with tour operators. One last thing I'd recommend is to avoid forms of exploitative animal tourism. For example, we visited an elephant camp that does NOT allow riding, and it was one of our greatest days ever.
Chiang Rai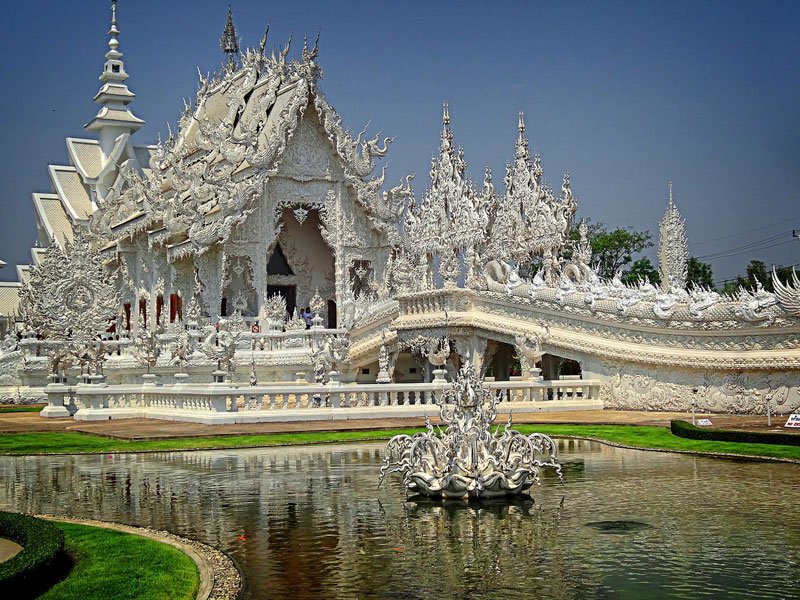 Jerny Destacamento, The Jerny
Chiang Rai is the northernmost city in Thailand. One of the most popular temples located in the city is Wat Rong Khun (The White Temple). It's one of the most visited temples in Chiang Rai, due to its color, complicated architecture, and design. Wat Rong Khun is a unique temple that stands out through the white color and the use of pieces of glass in the plaster, sparkling when hit by the sun. The white color signifies the purity of Buddha, while the glass symbolizes Buddha's wisdom and the Dhamma, known as the Buddhist teachings.
Doi Inthanon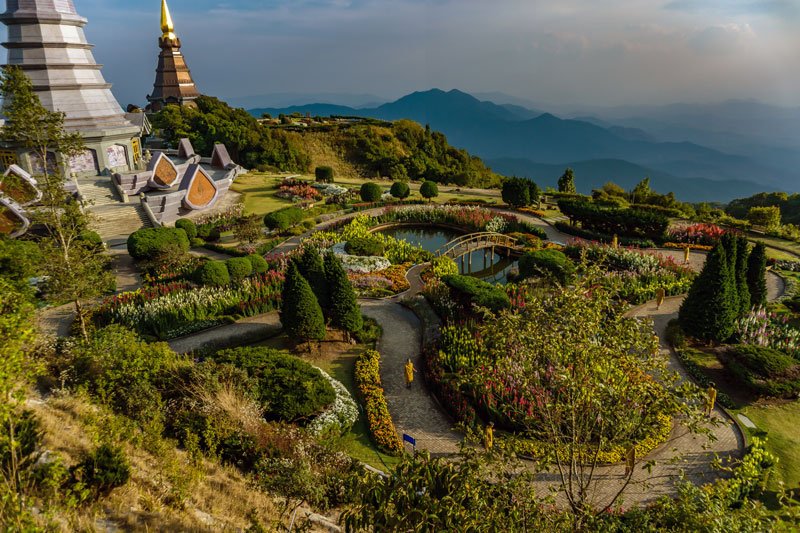 Alex Varninschi, Doar Dus
If you reach Chiang Mai but the heat is just too scorching for a city that's supposed to be surrounded by mountains, you can always cool off on top of the Doi Inthanon peak. Just 100 km southwest of Chiang Mai, the highest mountain in Thailand provides a refreshing refuge from the burning sun. With an elevation of 2,565 meters (8,415 feet), Doi Inthanon is easily accessible by car or motorbike. To reach the summit, you only need to climb a few steps. On top of this peak (part of a large National Park), you'll find two giant stupas, a majestic garden and the most incredible view of the whole mountainous range. Not to mention that it´s the first stop of the must-do Mae Hong Son Loop (see below). Don´t forget to bring a sweater and a raincoat! 
Lampang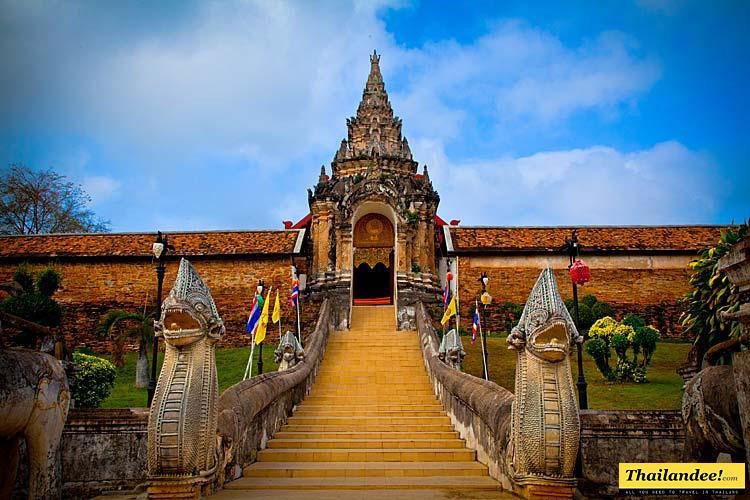 Hannah, Adventure Travel Family
Lampang is the third largest town in Northern Thailand and the capital of the Lampang province, Lampang is nestled in the valley of the Wang River. Rice, pineapple, and sugarcane are the main crops grown in the region, and an annual food festival is a big event. Lampang's paddy fields and beautiful countryside move some Thais to call it the "last paradise in Thailand." Horse and carriages are a popular way to get around and tourist attractions include the natural beauty of the Wang Kaeow waterfalls and the Chae Son National Park, home to abundant hot springs. Doi Khun Tan National Park is also regularly visited for camping, hiking, and waterfall visits.
Mae Hong Son Loop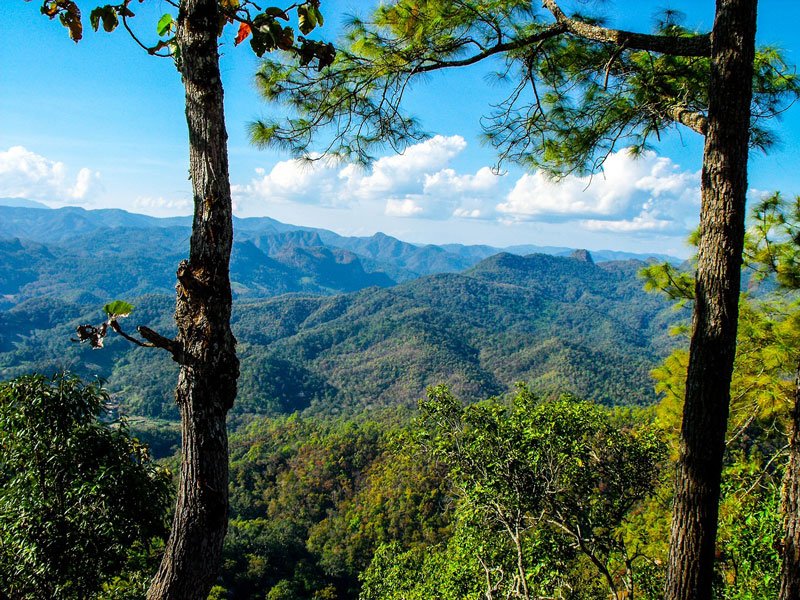 Callan Wienburg, Singapore n Beyond
Looking for something magical to do in Northern Thailand? I would highly suggest taking a slow motorbike ride along the Mae Hong Son Loop. It's an epic 600-kilometer journey starting at Chiang Mai and extending through the gorgeous scenery of Mae Hong Son province. It is truly an off-the-beaten-track destination, one of the last untouched areas of this beautiful country. You can choose to only ride certain parts of the route if you don't have a complete three days to spare. You will still get a sense of its open space and grandeur, with sweeping panoramic views that are untouched by tourism. Prepare yourself for changing landscapes, cascading waterfalls and mist-covered forests, while you explore the cool mountainous region of Northern Thailand.
Mae Salong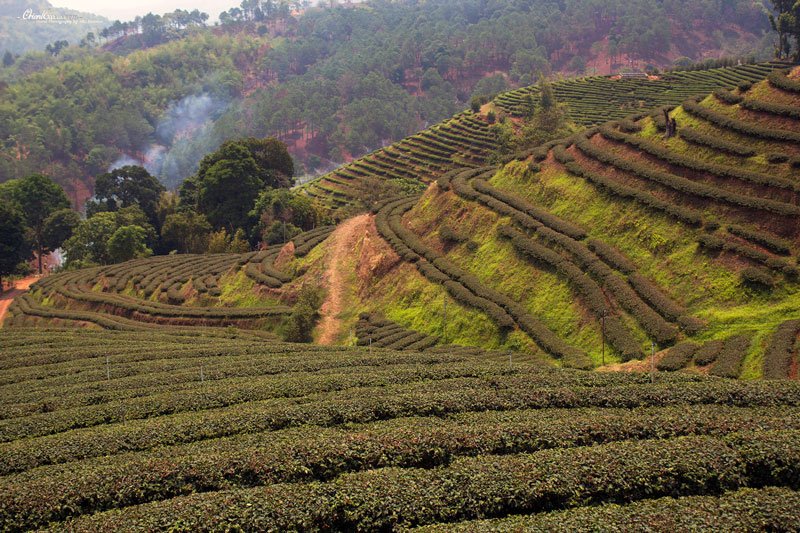 Marie-Carmen, Orient Excess
Mae Salong is not only famous because of its amazing tea culture and the many hill tribes living in the area, but also for its fascinating history. Located North of Chiang Rai, Mae Salong has a strong Chinese cultural influence. Dishes from Yunnan can often be found being served alongside local Thai meals. The language might also be another proof of the influence of their history: people are able to speak Thai and Mandarin. Amazing landscapes, culture, and tea, it would be a shame to pass a chance to visit!
Sankamphaeng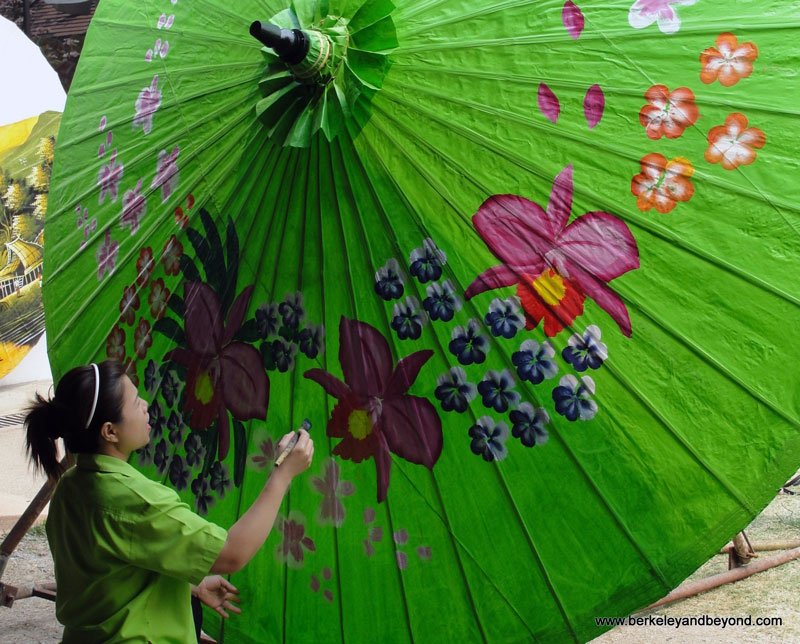 Carole Terwilliger Meyers, Travels With Carole
In Borsang Village—also known as "Parasol Village"—in Sankamphaeng, Chiang Mai Province, the Umbrella Making Centre is where you can view workers assemble paper umbrellas. They work in a covered outdoor pavilion making frames that they cover with colorful paper made from the bark of mulberry trees as well as with vibrantly-colored cotton or silk. Then they hand paint designs. My favorite was a gigantic green umbrella that was more than twice as big as the artist. This must-visit spot also has a huge gift shop where, but of course, there is a large selection of umbrellas for purchase." 
Pai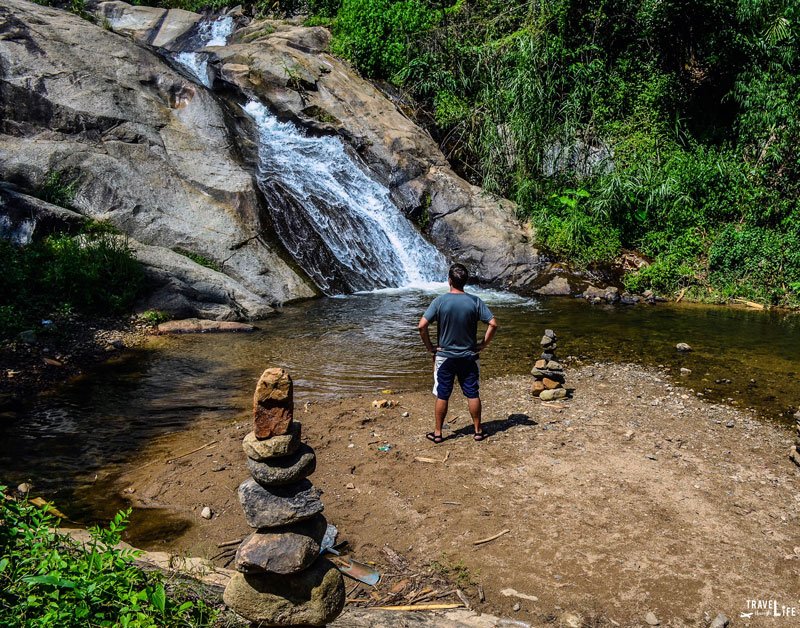 Visit Pai and try to leave after a few days. The drive there might be rough, but you might think that the 760-plus curves that it takes to get to Pai serve as a deterrent to even more people. There are so many things to do in Pai, and falling love with its gorgeous scenery is a way to start. Wat Pra That Mae Yen's White Buddha will help you get bearings on one side of Pai but the Ban Santichon Overlook is the best way to do so with a cup of tea at your side. The Land Split in Pai is evidence that lemonade can be made out of lemons or in the owner's case, roselle juice and free snacks that he offers for donations. One thing about staying in Pai is that it's easy for one to let at least a few days pass as if in a daydream. Explore the many beautiful waterfalls in Pai (Mo Paeng & Pambok) and you'll want to spend more time chasing them all.
Pha Chor Grand Canyon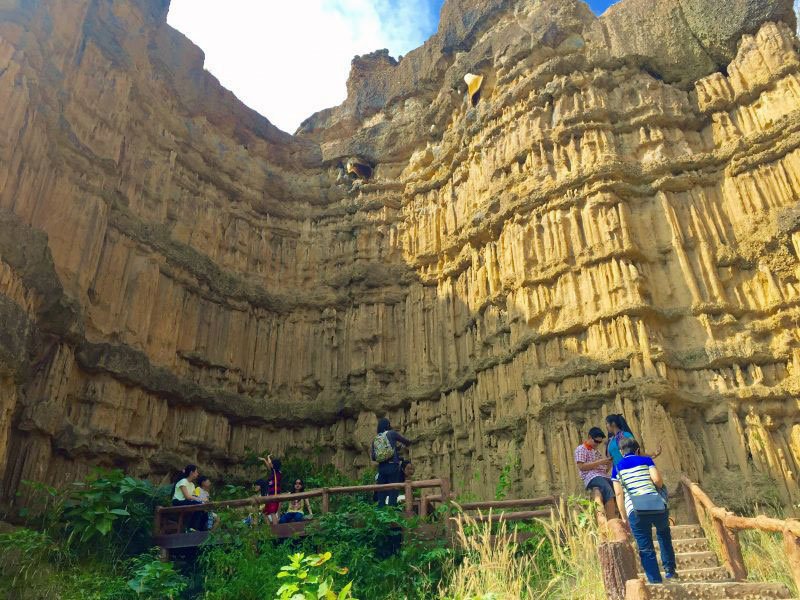 Jub, Tiki Touring Kiwi
Pha Chor is considered to be one of the Grand Canyons of Thailand but it certainly doesn't have the fame of its USA counterpart. I can't pinpoint why this is, as it is near the road leading to Doi Inthanon, the highest mountain in Thailand. That's okay though, more space for you. The cliffs rise out of nowhere in contrast to the forest surrounding them. There are a couple of paths you can follow taking you through the canyon in less than 30 minutes then you can relax at the cafe nearby overlooking the forest. There is no entrance fee and are located near the highway, meaning you can get there with a scooter or car. Would be a great day trip to go to both Pha Chor and Wachirathan Waterfall.
Wat Pha Lat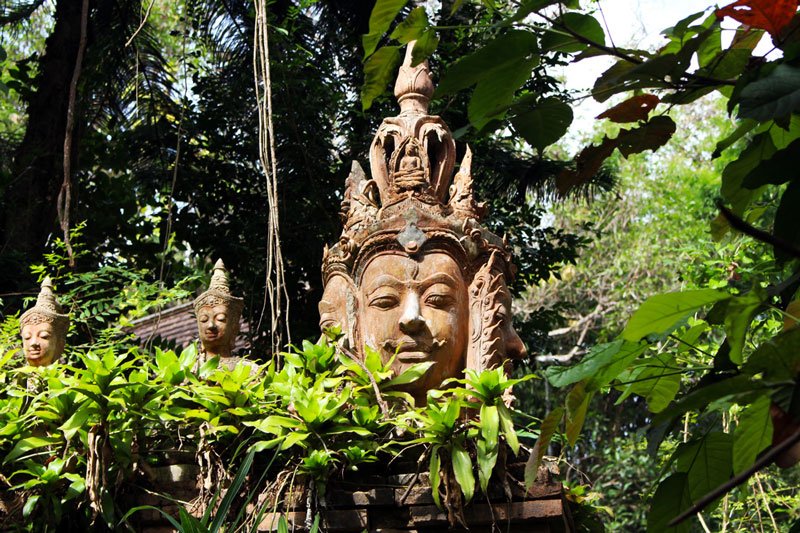 Martina, As Far as You Can
Wat Pha Lat is nestled in a lush green mountain away from the chaos of Chiang Mai's city streets. It is located on the way to Wat Phra That Doi Suthep and it is seldom visited by tourists. There are no crowds, no food stalls, and no unwanted distractions. This Buddhist temple, sitting next to a waterfall, is as peaceful as it can get. Wat Pha Lat was originally used as a resting place for people on the pilgrimage up to worship to Doi Suthep. Then the location developed into a monk residence and a meditation retreat. You can't miss it! 
Our Thoughts and Yours, Too!
So we are pretty smitten with Northern Thailand and hope to return someday. While we plan to revisit some of our favorite spots, I'm pretty sure that we'll explore some of these awesome sights provided by our friends here. But what about you? Have you ever been to Northern Thailand? What did you think of this wonderful part of the world? If you're still in the planning stages of your trip, where do you plan to visit first? We'd love to read your thoughts in the comments section below:)
Further Reading
DISCLOSURE: I may be an affiliate for products that I recommend. If you purchase those items through my links I will earn a commission. You will not pay more when buying a product through my link. In fact, I oftentimes am able to negotiate a lower rate (or bonuses) not available elsewhere. Plus, when you order through my link, it helps me to continue to offer you lots of free stuff. Thank you, in advance for your support!