Affiliate links linking to products we love may be found within this article. For more info, please check our Disclosure page for more explanation of affiliates and sponsorships.

---
Perfect days should require more planning than the simple phone call I make from our hotel on a humid afternoon in Yogyakarta, Indonesia. I'm totally unaware that this is soon to become something special but at the time, my main concern lies with the likelihood that we'll squeeze into a Borobudur sunrise tour the next morning. These are nervous moments and the phone's spotty reception mixes with background chatter from our hotel lobby in a way that almost cancels out the voice on the other end.
Borobudur Sunrise
This Borobudur travel guide is part of our series on Indonesia Travel and Southeast Asia Travel. It was originally created on September 11, 2015. It has been maintained and updated (as of December 27, 2018) to reflect current viewpoints and travel trends.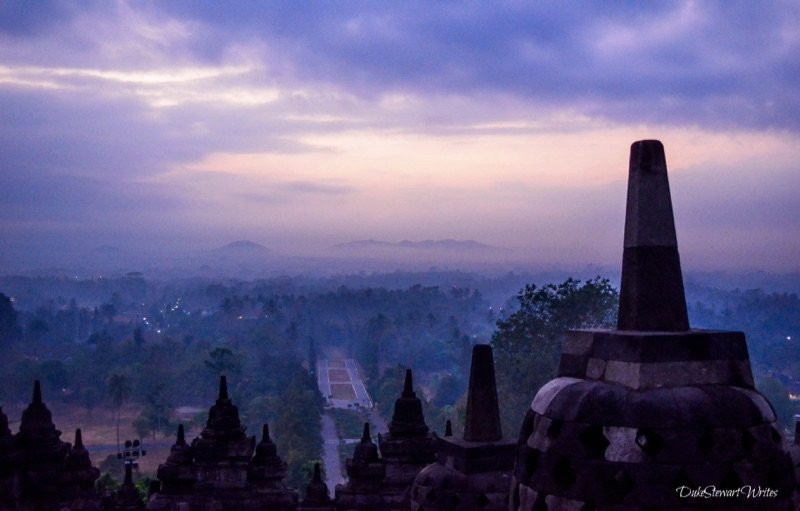 The intelligent have plans; the wise have principles.
― Raheel Farooq
Luckily this person only asks for our hotel name and mentions the cost, explaining that she'll pick us up at 4 am the next day. I hang up in an almost confused state and wonder if this is going to work out, considering the ease of booking. Planning for our early night, we have a light meal and try to sleep as early as possible. Waking up at 3 isn't a problem, as Korea time would make it about 5 am. We both pass out at around 10 and have no problem waking up the next morning.
Early Start, Drive
We wait patiently in the hotel restaurant until a black car pulls up and a lady gets out. I see her walk towards us and wonder if this is the one as she asks if we're the people who called yesterday, mentioning my name. Atik is hers and a younger man waiting at the car to let us in accompanies her. Driving out of Yogyakarta at such an early hour, the streets are relatively quiet except for the food markets that seem especially active. Atik explains that these people are sellers looking to get some prized food to cook and hawk throughout the coming day.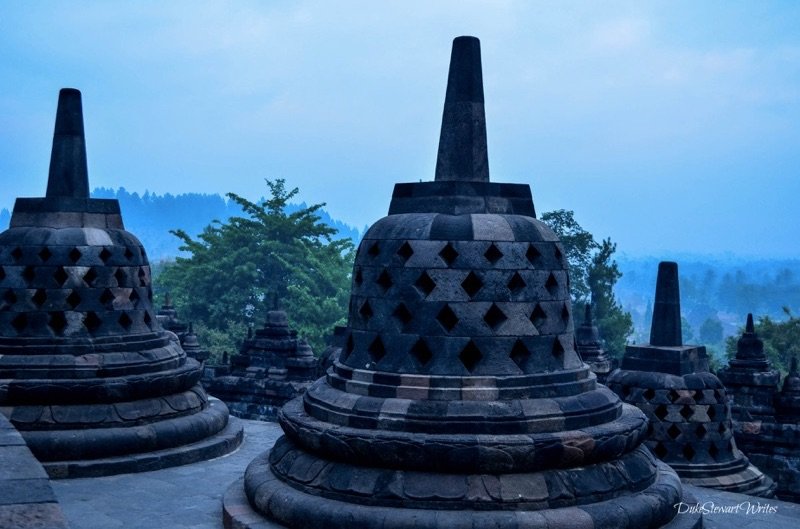 During the hour-long drive to the temple, we strike up conversations with the only other person tagging along. Atik remains quiet while occasionally sliding a question in between our introductions and questions about travel plans and accomplishments. I can tell that she's gearing up for something big but I can't place it yet. The car gets closer and my excitement starts picking up even though it's not yet 5 am. We arrive at the Manohara Hotel and it quickly becomes clear that we're not alone today.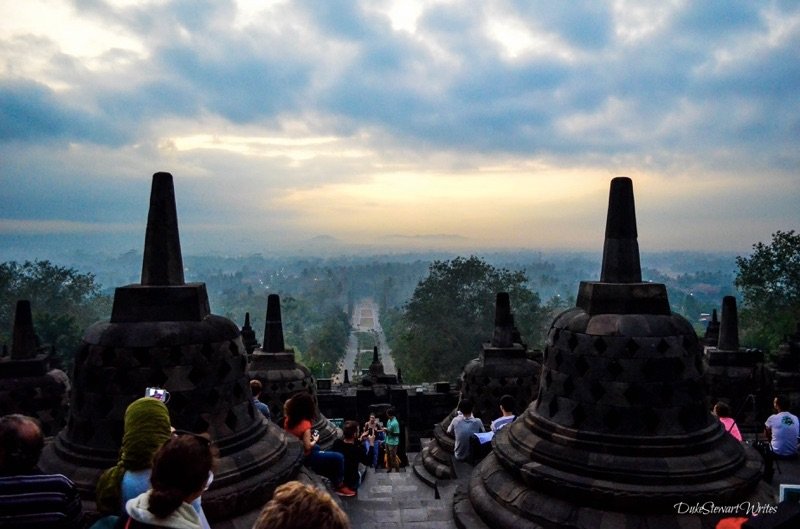 Sunrise at Borobudur
There are so many people waiting for the sunrise and that becomes abundantly clearer as we ascend to the highest level of the temple mountain. Atik is calm and carefully points out good spots for photos along the way like she really knows that place. As I'll find out later, Borobodur was basically her backyard and where she grew up playing hide and seek. Her village once stood here before the Manohara but she's not bitter about it. At the top, Atik shows us some more photo spots as we look for a place to sit along with the other groups of "VIPs" who are also here waiting for the sunrise.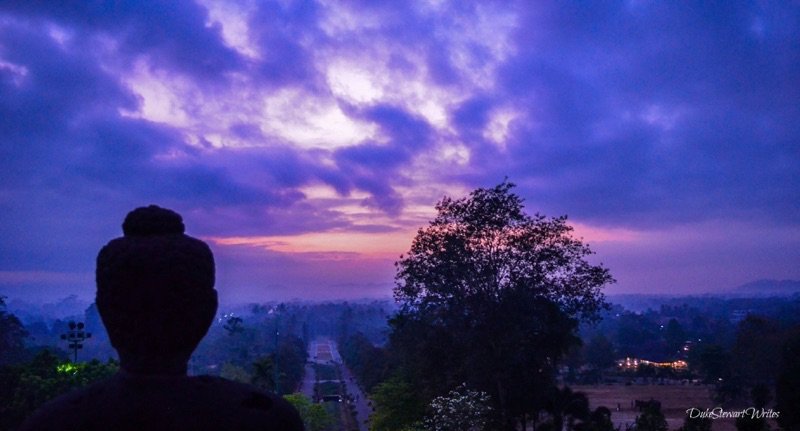 It's a festival feeling here and chatter is flowing in a variety of languages. Everyone is waiting for those crucial moments of first sunlight and even though the clouds will win today, Christina pulls off some wonderful shots of Borobudur's stupas and the mountains that surround us. I stare out at the landscapes ahead of us and even run into an old friend from college who's traveling through Indonesia with her husband. A group of Japanese tourists behind us start praying towards the main stupa and light incense even though the latter is forbidden. Atik informs us that the security force here might not completely understand the temple's rules to the point of saying something about it.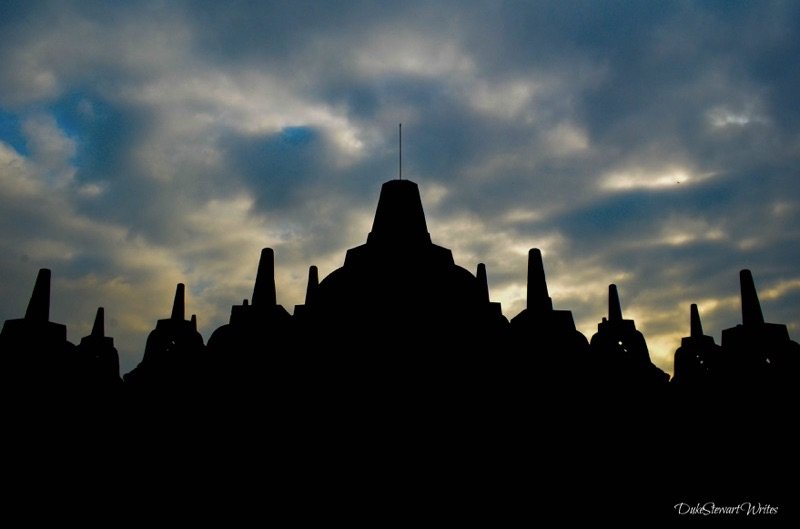 Kejawen and Buddha
After we can tell that the sun is up and awake, the crowd quickly thins out and moves away from the main sunrise spot. Atik moves us to a relatively quiet place so she can talk about a few things. She first introduces us to Kejawen, a set of traditional beliefs that still exist in Java. Though many people identify as Muslim and some as the other major religions found throughout the world, Atik notes that Kejawen permeates everyday life. People practiced Kejawen long before Hindus, Buddhists, and Muslims came to Java and viewed it less as religion and more a guide to achieve harmonious lives through moral and right ways of doing things. Atik then shows us a book of drawings that she's made to tell the story of Buddhism.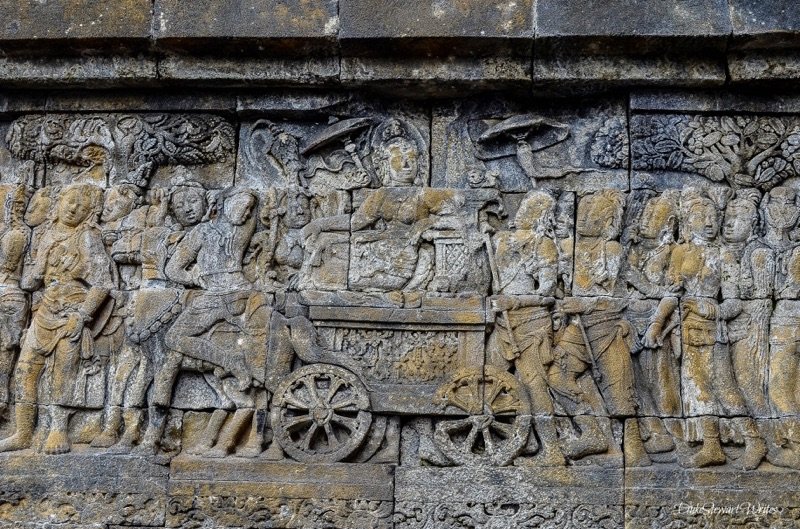 Through watching her tell these stories, I can see Atik's passion for teaching others. Her calm yet confident voice takes us through Buddhism's beginnings and leads us to a quiet, meditative walk throughout Borobudur's upper levels and 72 stupas that contain a mixture of full and headless Buddha statues. We stop on the 3rd floor where one can see Siddhartha's life through carvings along each wall. I can't explain how wonderful it is to hear Atik interpret each carving to us. I have visited so many temples and have learned so much from others but this is the first time that I've heard the story so clearly and precisely. I'm already thankful for Atik and can't believe that there's so much more to do today.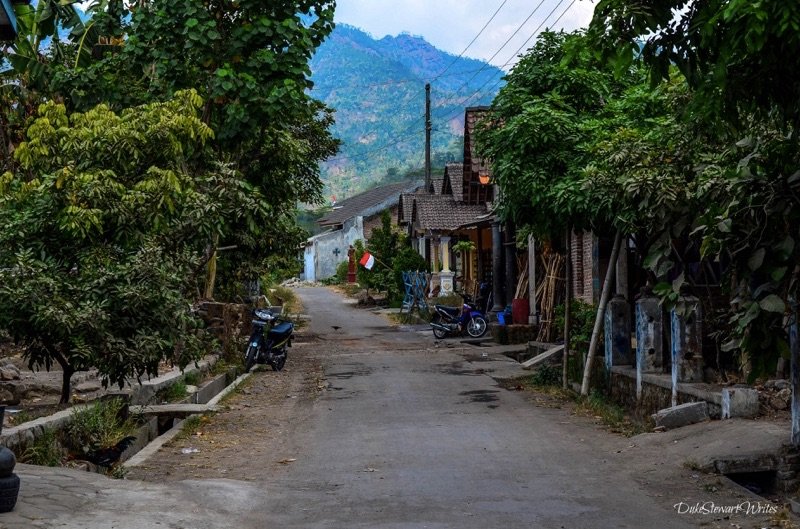 Village Walks and Soup from Mom
We eventually walk out of the temple complex and have a light breakfast of coffee and a fried banana. A brief drive away from Borobudur takes us some local villages that are close to Atik's heart. It becomes clear she's not just a tour operator and is something of a community organizer along with all of the other odd tasks she performs on a daily basis. Atik frequently returns to her former neighbors even though she's moved on to the big city. She works to help these people through funding various community organization projects that include recycling waste and providing functional interior design ideas for their homes.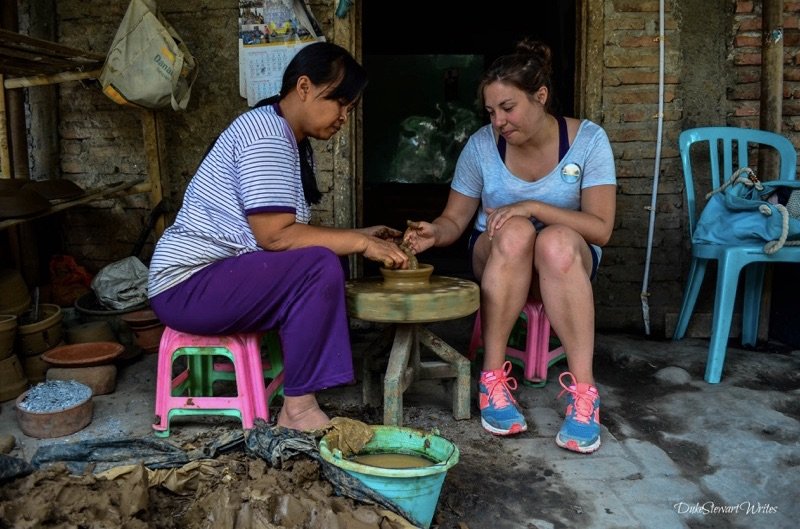 We walk around villages surrounding Borobodur and learn from Atik that each one focuses on a specific trade. We learn from a master sculptor before driving to another one, where Atik's friends let us wrap tempe in banana leaves as she holds their children. It's nearing lunchtime and for that, we head back towards Borobudur and to the former site of Atik's childhood home. Her mother was an expert soup chef in keeping with her family and village tradition, serving it for years at a nearby market. I've learned so much from Atik and grow happier by the minute when in her company. The soup comes packed with an assortment of flavors based in coconut milk, accompanied by other spices and tastes. We graciously thank her mother in Javanese before moving on to our final stop.
.
[instagram url=http://instagram.com/p/7JZS5sl8XS/]
.
5 Minutes at Mendut and Back
Before going back home, we stop at a monastery with the adjacent Mendut Temple that lives in Borobudur's shadow. I wonder why after walking through the former's beautiful courtyards, statues, and massive trees. We walk to the temple and admire its three beautiful statues that left-to-right depict the Buddha in his past, present, and future form. Incense burns in front of them and Atik instructs us to try 5 minutes of silence before we go. It's amazing how many things come into mind when there's nothing else to worry about. I feel like I could've solved all of the world's problems with just a few more. After I ask for more time, Atik reminds us we'll have plenty while riding back in the car.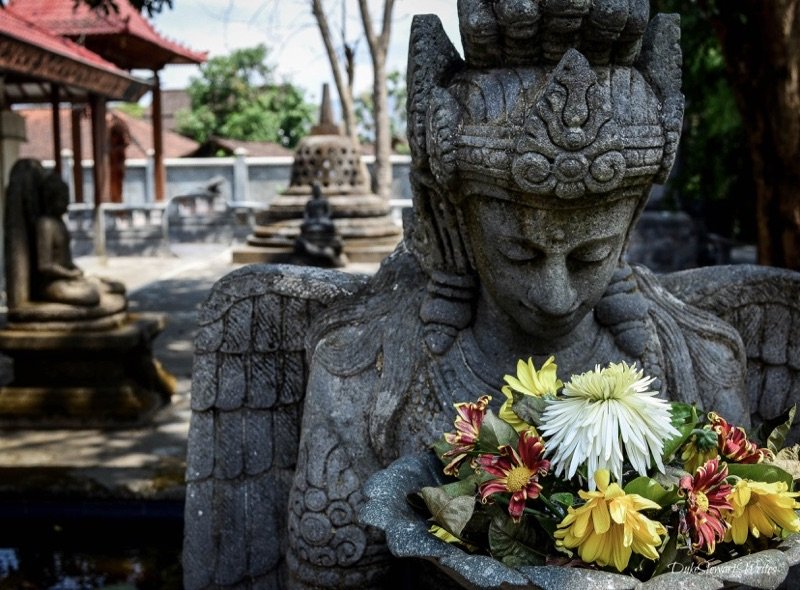 The drive into the city hardly reminds me of what we left 10 hours before. Cars and buses surround us and remind me of the familiar city buzz that greeted us upon arriving in Yogyakarta just a few days ago. Everyone in the car remains quiet or starts napping and rightfully so, thanks to a wonderful day courtesy of Atik. She shared so much with us and not just about the places we visited today. We've learned not just about one of the world's wonders but about a most interesting person. Thanks to a new friend, this Borobudur sunrise trip was much more than a tour filled with photo ops, facts, and descriptions. Sometimes things don't require too much planning and this day certainly proved that.
How to experience Borobudur Sunrise like us!
Here's where you can go to book with Atik's company. It's known as Kaleidoscopes Of Java Tour and not only does she offer a Borobudur Sunrise Program, you can also tag along with one of her students for Sunset at Prambanan.
If you need further convincing, check reviews here at Trip Advisor. We're not the only people raving about Atik.
I DO NOT receive any monetary compensation for recommending this tour.