Affiliate links linking to products we love may be found within this article. For more info, please check our Disclosure page for more explanation of affiliates and sponsorships.

---
We had a very short stay in Singapore, trying to keep the budget at a minimum. We were not the only visitors to this wonderful city-state as the Indonesian haze also settled in during our 48 hours there. This led to limited visibility that affected some of the shots we took at the big attractions. Other than wanting to go back and explore more and get some better visibility shots, I totally think a quick Singapore trip is possible. Honestly, my main travel tips are to eat copious amounts of food before checking out the main sights. However, there are plenty more things to see in Singapore and I really wanted to stick around for it all. I hope my story gives you a sense of the hurry and trying to pack it all in that we did. Let's see how it turns out!
Singapore
This Singapore travel guide is part of our series on Southeast Asia Travel. It was originally created on March 11, 2016. It has been maintained and updated (as of December 27, 2018) to reflect current viewpoints and travel trends.
Is a Quick Singapore trip possible?
The plane hops and jumps like always and we enter Singapore's Changi Airport that's supposedly dethroned our beloved Incheon for tops in the world. Both are still two of our favorite airports, though. Anyway, the Paris Baguette just outside of Arrivals is a strange reminder that Korean influence is everywhere even if they can't win "Best Airport" anymore. It's also weird to pay for things in dollars now, even though it's SGD. We try not to waste a meal at a chain but they have food and there's nothing else to satisfy our empty bellies before the train to Chinatown.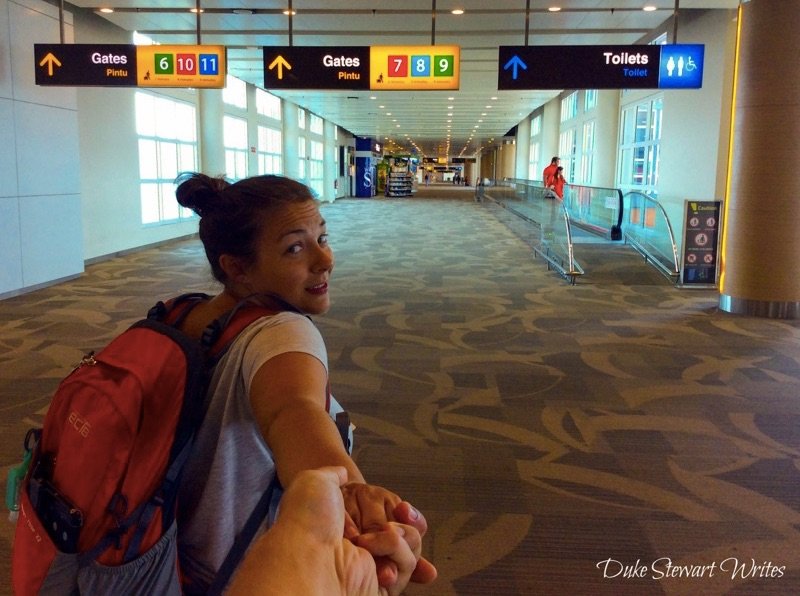 Two trains later with minimal wait in between and we arrive in Singapore's Chinatown, exactly where a person wants to be when searching for good food. I'll definitely enjoy this part of the island more than everywhere else but who knows that until searching through the other parts. We follow the email instructions from our host and gain entrance to the room inside the apartment where we'll stay for the next 48 hours. It's high up in an apartment building next to various shopping malls and food stalls that make my belly yearn for just a taste.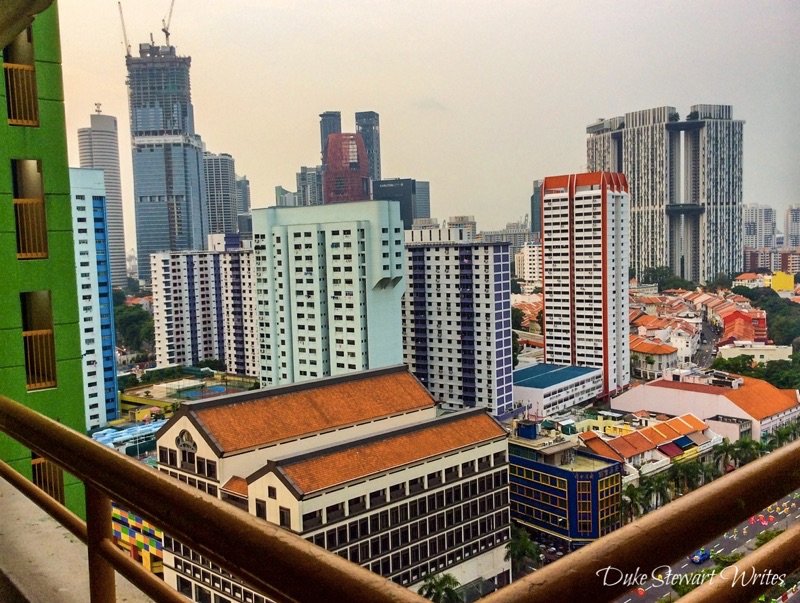 We can't see too far out, thanks to limited visibility resulting from Indonesian agricultural fires that have been raging throughout the week and caused problems throughout this part of Southeast Asia. I try to avoid soapbox moments but must say that the haze is a clear reminder that problems happening in other parts of the world affect us all in some way. The elevator opens and we walk into the beautiful madness that is the shopping mall and nearby restaurants of People's Park Complex in front of the train station entrance.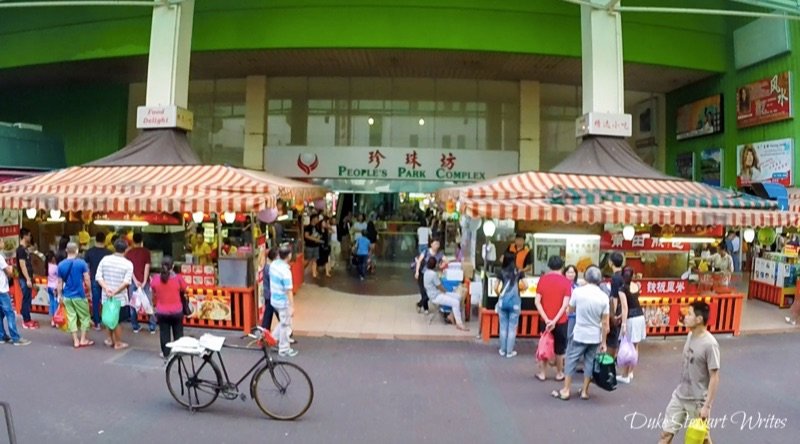 Having watched Anthony Bourdain gobble plates of chicken rice at the not-too-far away Maxwell Food Centre that holds our next meal. The sun isn't out and I've forgotten about the heat until noticing I've sweat through the only "clean" but more importantly dry shirt. By the time this trip is over, I'll have nothing but a collection of threads and some dirty socks at this rate. Maxwell looks more like a shack with a tin roof where someone would likely get shanked in the U.S. Thankfully this is Singapore and the smell of 1,000 wonderful meals overtake any fears I might have.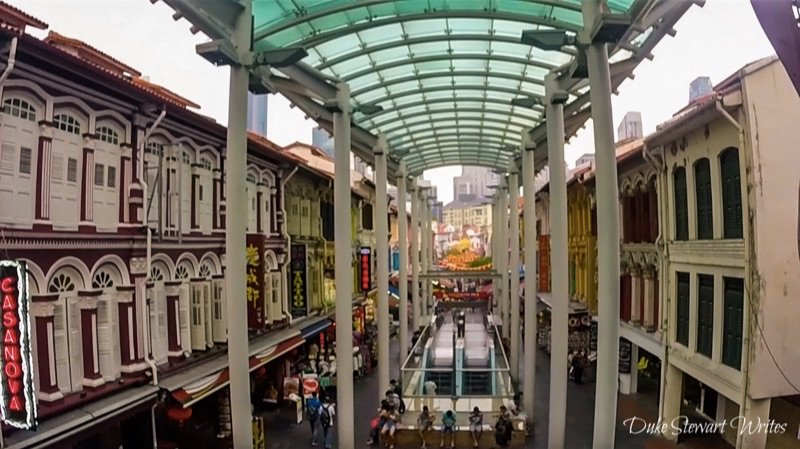 After a quick walk through the four or five rows of stalls, we realize that THE chicken rice place is closed today. There are at least three others open so I order one while Christina grabs a soda and water, avoiding the SIN tax that's notoriously added onto alcohol here. That when in Rome mantra will keep us sober while here, not even indulging in that Singapore Sling people rave about drinking at the Marina Bay Sands. It's early afternoon and the place is still crowded enough with non-tourists to demonstrate that people come here to eat well.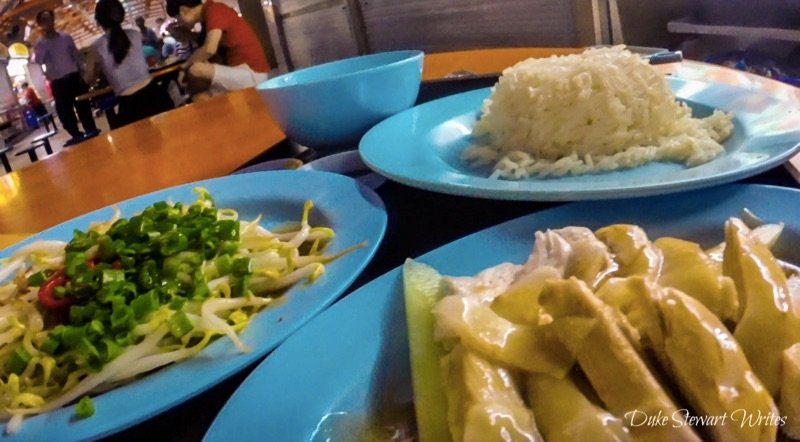 The food comes out in that quick and misunderstood way that makes many people think something is wrong. However, I know from the first bite that our stomachs and taste buds have gone to the right place, with the deliciously tangy and spicy sauce mixing with perfectly cooked chicken rice. This is a perfect introduction to Singapore's national dish and somehow, I feel underdressed. This occasion deserves more formality but the thought of a suit drops along with the sweat from my chin. I try my best not to embarrass myself destroy the meal in one reflex motion.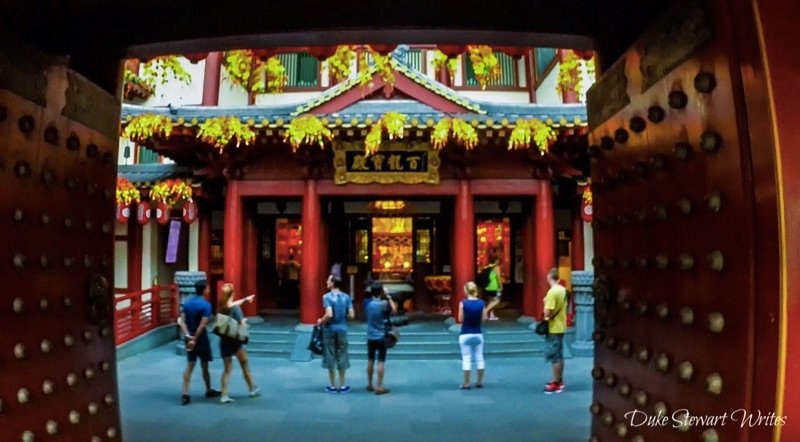 I know that I'll always want more and am sad that we only have one more full day but for now, my life will be as content as it's always been. What more can you ask for after enjoying one of the world's finest meals in one of the most famous settings with the person you love? Someday I will return to Maxwell but since there's limited time, we try to explore more of Chinatown before turning in for the night. We stare outside the window at the nearby hotels and bright lights of the city. Neglecting to take a shot and remaining present with each other, it's great to hold your loved one and enjoy a place as magnificent as Singapore.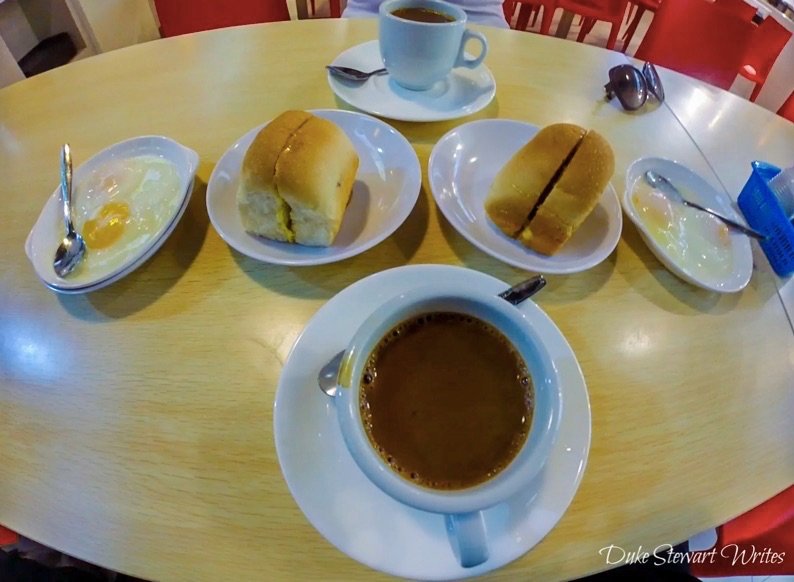 The morning comes and we head downstairs to the closest place that serves kaya toast, pretty solid bread with jam and butter. I dip this in a runny egg and slug down coffee as the morning heat comes back for its daily assault on my body. It's definitely going to be a hot, muggy, and all things sweat-inducing final full day in Singapore. I'm strangely getting used to all this heat after about four full weeks walking through it in Indonesia. We slam down the food and coffee before heading towards the train station, where we'll be seeing the big-named attractions today.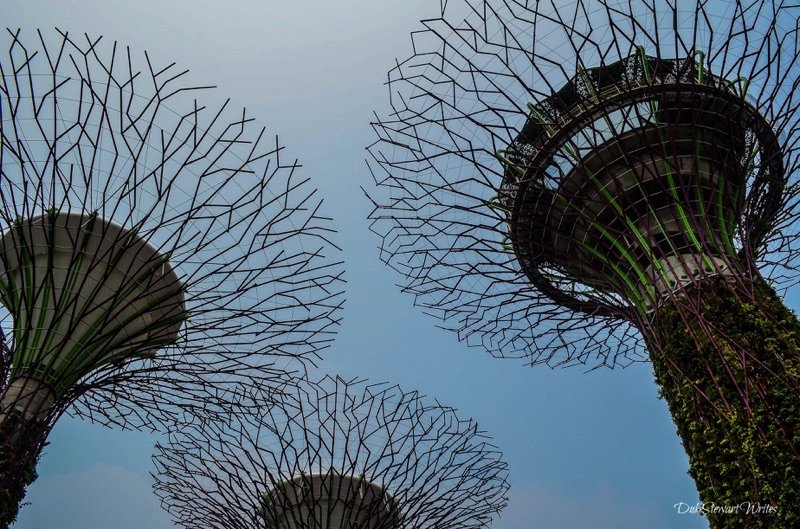 I'm amazed at the general politeness of people on the train as we head towards the bay. The chaos and noise that I'd grown accustomed to in Indonesia has whither away with the comparative courtesy and quiet that we've encountered in Singapore. Sometimes I look around the train and see a sign that promotes kindness and restraint during busy times. It's charming and something I'll always associate with this quick Singapore trip between Indonesia and Thailand. The train lets us off and we head towards the first stop – Gardens by the Bay.
As we've encountered so many times during this trip, something is closed due to maintenance and we'll be missing out on the Flower Dome today. That's okay but something has to give with the heat, as my defenses have weakened thanks to the sun's arrival. It came out of nowhere and Christina and I both struggle to stay nice while hoping for a quick reprieve. I should probably care more about the awesome Supertree Grove at the Gardens by the Bay but we quickly head towards the air-conditioned Flower Dome first.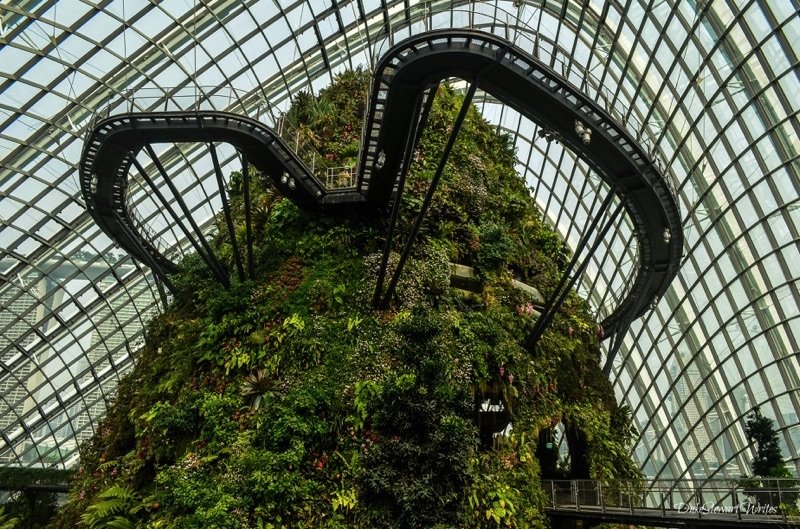 I can see the Marina Bay Sands Hotel from afar and push that should I go there debate to later. Since this entire complex attempts to lower its carbon footprint and bring awareness to the world's environmental problems, I'm already sold on it. Then I walk around the Cloud Forest and fall in love with all the beautiful plants, waterfalls and everything else inside. Parts of it remind me of the Mossy Forest near Cameron in Malaysia and those beautiful pitcher plants we encountered. Christina and I spot them at every chance and try not to stand out as crazies.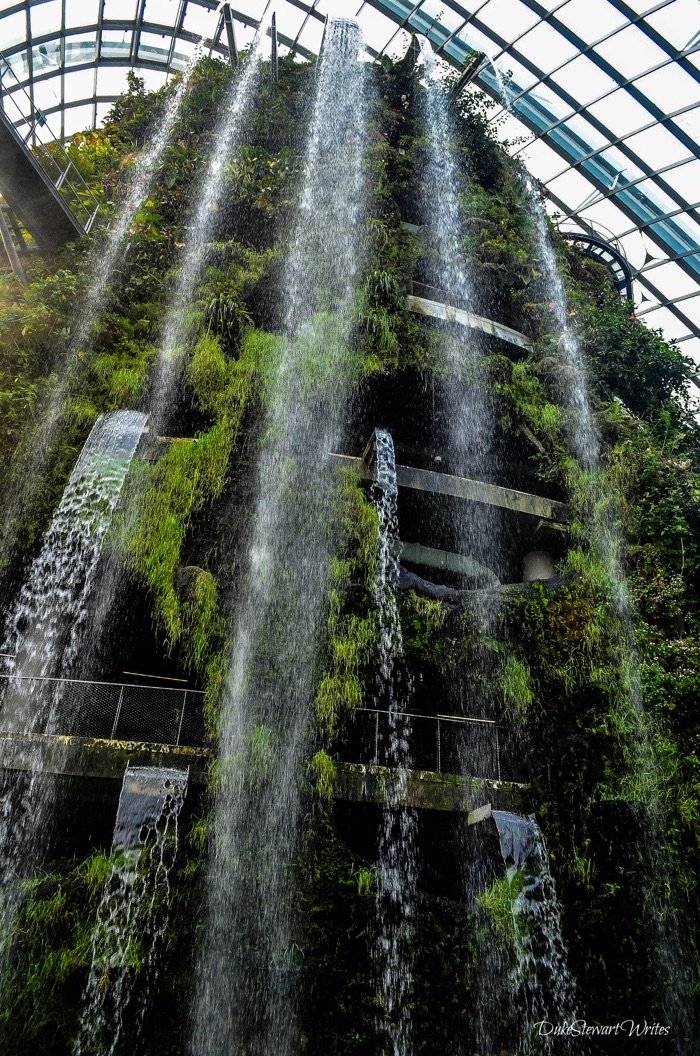 After ascending the cloud mountain and walking through all parts of this beautiful and important structure, we walk out and towards the Supertree Grove. I wonder if we'll ever have anything this awesome in the U.S. because this place is also surreal. This is all part of Singapore's vision to promote itself as a garden in a city and not a city garden. Walk around this place and you'll agree that they're definitely doing something right. After testing my fear of heights walking around the Supertree causeways, we decide to actually go to the Marina Bay Sands and see what's at the top.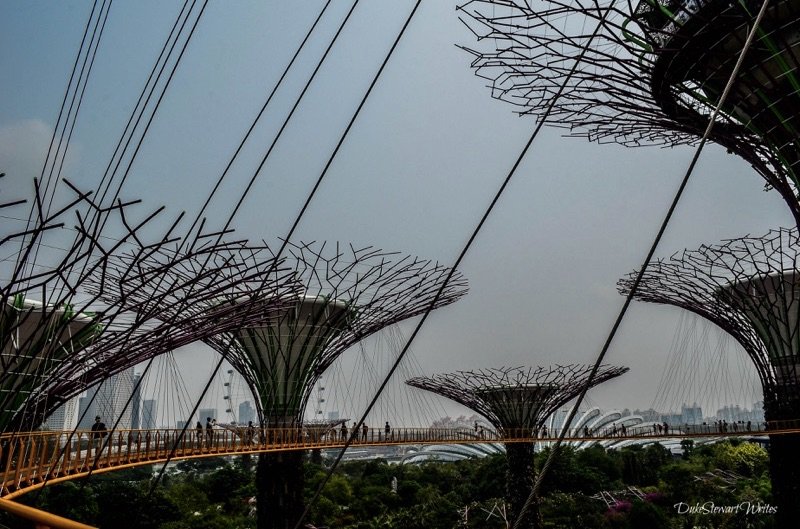 It's only one of the best-known views in Singapore and I know this might be a letdown, due to the seemingly increasing haze. I'm never a fan of shopping while traveling so the shops inside don't really catch my eye. I'm sure there are many people from China and other places looking to live la vida loca in here but I'm more interested in getting to the top and checking out the bay. I pay the $40 or so that it takes and ride the elevator up to the Marina Bay Sands rooftop.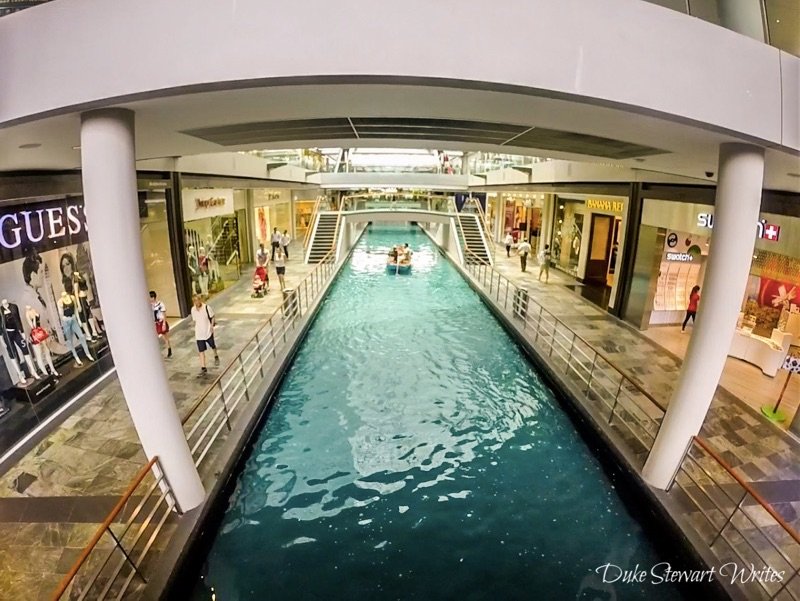 Unfortunately, the haze is pretty intense by this time and I try my best to capture this iconic area. Not all travel situations and photo-ops can be perfect when you're short on time and in the midst of a tragic situation that's resulting from the haze. My problems obviously pale in comparison to those affected by the smoke so I suck it up (not too much) and head back down to the ground floor. Many photographers love this place and I can see why, just that it's not going to be today for me unfortunately.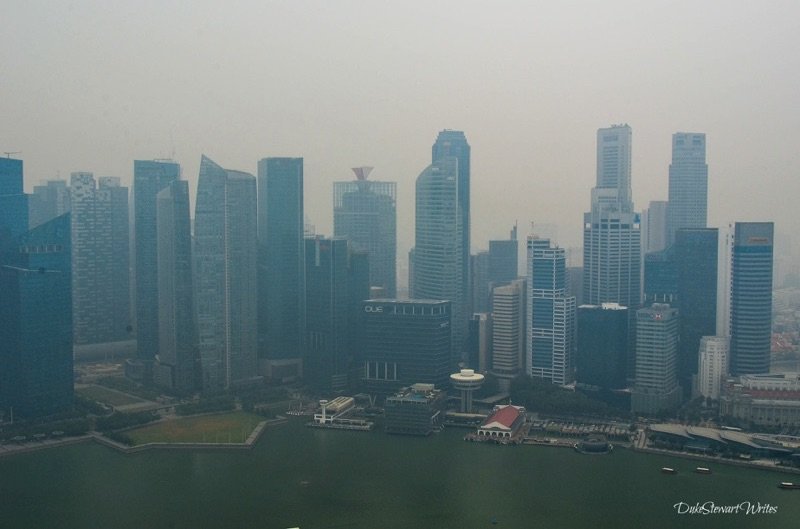 We quickly head back to Chinatown and change clothes before walking around Little India's shopping malls and brightly decorated streets. The goal here is to reach Little Persia and see more of this vibrant city's melting pot. The mosques are beautiful but hard to capture thanks to power lines and other obstructions so I give up trying to line them up. There's really good food in this part of town and after admiring the beautiful street art on some of the area's walls, we sit down to a delicious moussaka at a Persian restaurant.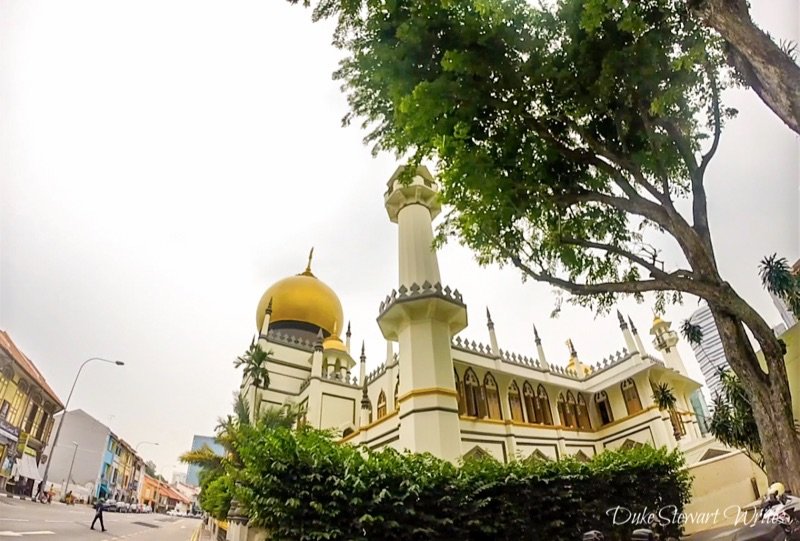 I'll never forget the time my best friend took us to that Lebanese restaurant in Pittsburgh that started off an epic food tour. Those thoughts quickly fade as I devour yet another plate of food back in Singapore. I really wish I could have this place closer by in my life because the tastes here are out of this world. Also, I wish we had more time because tomorrow's early flight to Thailand means time to get some rest at the apartment. I hate saying this especially in Singapore but it's time to go. The next morning is a blur as everything is closed in Chinatown except for… McDonalds.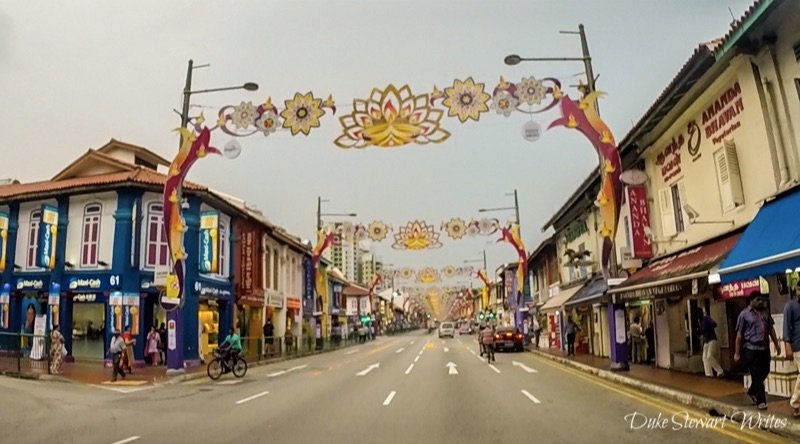 We've been good and not eaten that or any other chains during this journey so a little breakfast won't hurt, right? My belly disagrees as it grumbles during the ride to the airport. The day will be long as travel days always are, it seems. We go through the motions that will never get old because going through security and waiting in line means I'm traveling, and that's okay. After this quick Singapore trip, Christina and I will continue talking about how we wished for more time so I can't speak of a completely happy stay there.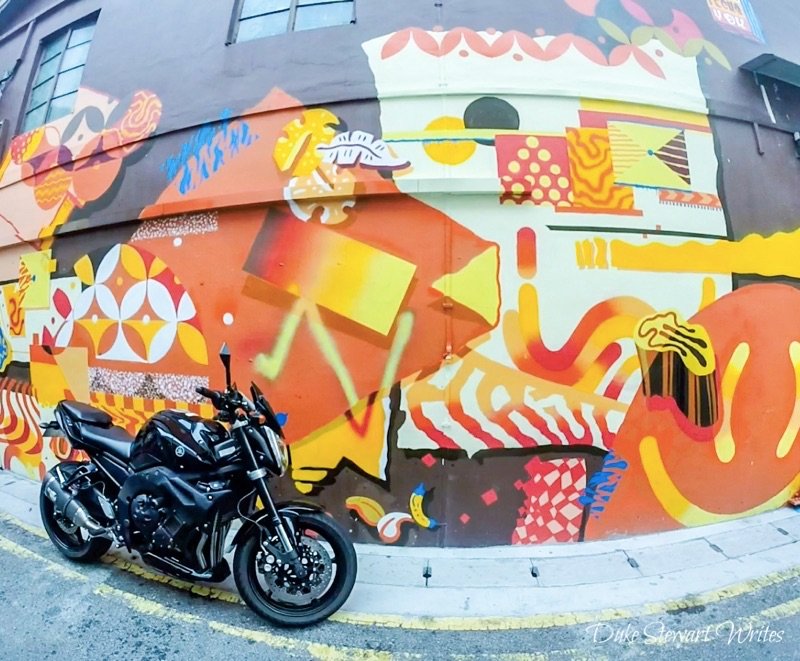 If I had a second chance to visit, I'd save more money and time for this wildly futuristic and interesting island that's miles ahead of many places I've ever seen in this world. Singapore earned a warm spot in my heart and someday; I hope to see it again for much longer. Was a quick Singapore trip possible? Yes, but it's not enough.
What do you think of this quick trip to Singapore? Should we have stayed longer? I'd love to read your thoughts in the comments section below!