Affiliate links linking to products we love may be found within this article. For more info, please check our Disclosure page for more explanation of affiliates and sponsorships.

---
We're tired and on the verge of booking an immediate flight back home, largely due to the crash that came from leaving Northern Thailand and Chiang Mai. For now, we're staying in Cambodia and have mustered up enough energy to stick it out. The taxi ride from the airport to our temporary hotel in Phnom Penh exposes a bustling city that's trying to forget a horrible past⎯and the dictatorship that destroyed the country. Before exploring the Cambodian capital, Christina and I have sought a retreat to the southwest and hope that it lives up. Even though we won't touch everything in the area, we're on the cusp of a wonderful week exploring Kampot in coastal Cambodia.
We've also included Kampot among our favorite places to visit in Cambodia!
Kampot Cambodia
Phnom Penh to Kampot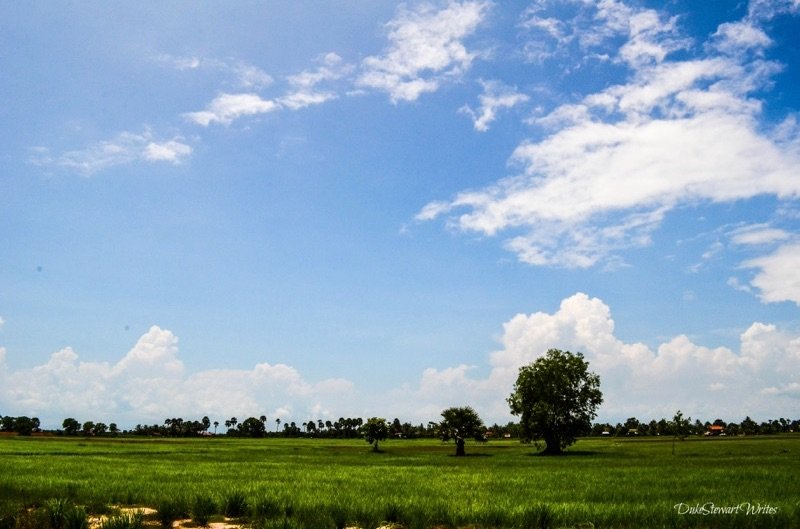 Grogginess and lack of caffeine dominate the short tuk-tuk ride to the bus depot in Phnom Penh. Compared to the other travelers waiting for buses to Vietnam, Siem Reap, and other far-off destinations, this trip to Kampot will take little more than a couple of hours. The only hold up when leaving the city is the Khmer New Year traffic that's picking up as many people escape to see their families out in the countryside. From the long and narrow waiting room inside Kampot's bus station, we decide to walk from there and neglect the hot sun hanging overhead. We sweat and trudge on for a longer-than-it-feels 10-minute walk to the hotel, to cool off and ask about a motorbike.
Grumpy, the Buzzkill Hotel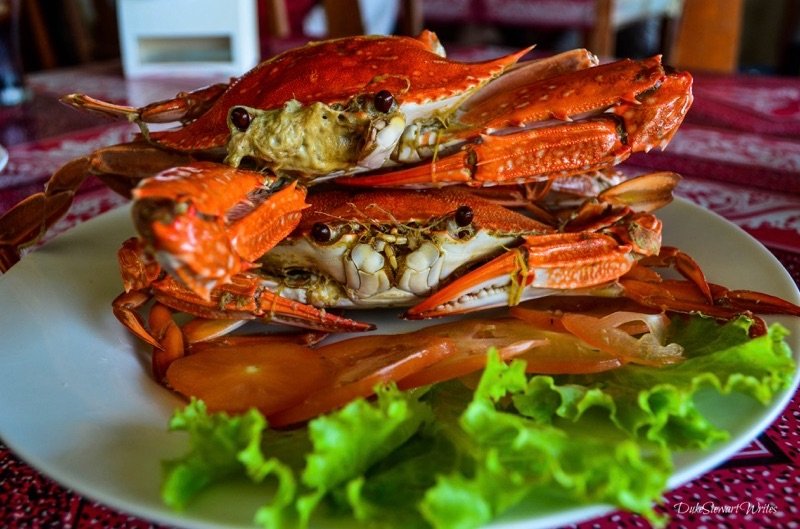 If I painted a composite picture of all the scooters I've rented in Asia thus far, they'd be equipped with zero-to-two working mirrors, maybe-working brakes, malfunctioning speedometer and gas gauges. This one falls somewhere in the middle of the spectrum so no big deal, right? Our man at the hotel seems assures us that the faulty brakes are easily overcome by avoiding Bokor Hill Station and keeping to a low-speed when driving in crowded areas. He's an Australian who recently bought the place and whose helpfulness convinces us to stay in Kampot a little longer than planned. He also tells us to avoid Sihanoukville for beach time and securing our Vietnamese visas because he can handle it for the same price. Unbeknownst to us, the young man will soon transform into a grumpy buzzkill that openly belittles staff and creates a generally sour atmosphere. Aside from consuming Grumpy's delicious breakfasts and sleeping at the hotel, our time is largely spent elsewhere.
Kampot Wat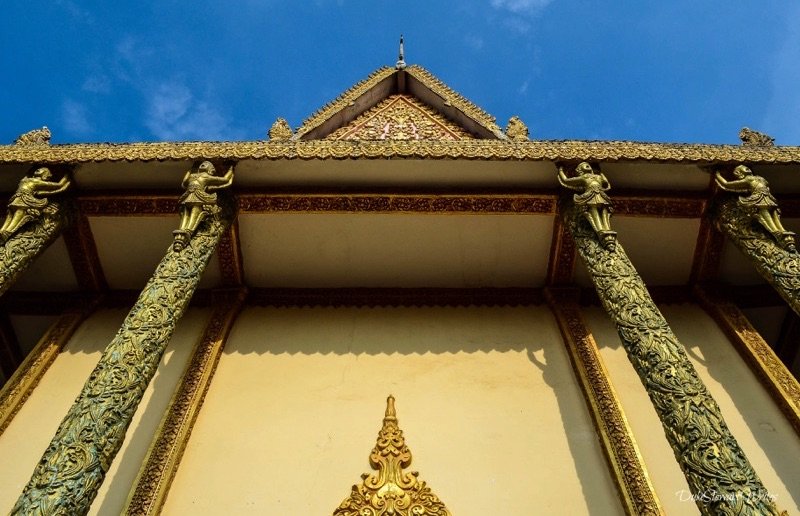 Traffic in Kampot feels like cake compared to other places but occasional wayward cars, motorbikes, and pedestrians can always arrive out of thin air. We drive to the end of the river road and stop at Kampot Wat to have a look. The day's end is near but conditions stay hot and humid, which is a daily reminder during our stay in Kampot. The temple shines against the bright sun and would do well against any of the grand palaces we'll soon visit in Phnom Penh. Cambodian temples always win me over for their sheer beauty amidst all the horror and chaos that destroyed this country hardly a generation before. An older gentleman (maybe a monk) appears from the temple entrance and shakes my thoughts back to the moment, as his stare indicates visiting hours have passed.
Prasat Phnom Chnork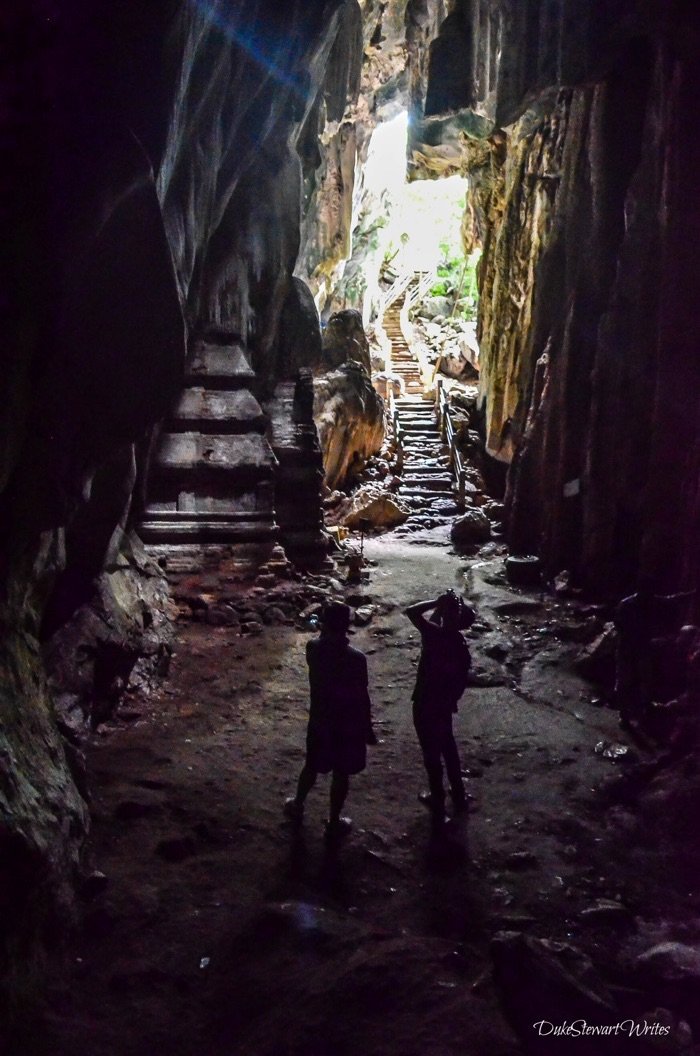 The next day starts with a drive out to Cambodia's oldest temple, which predates Angkor Wat, at about 1600 years old. Prasat Phnom Chnork (or Ngok) remains tucked inside a small cave and some unsmiling yet friendly people wait outside. A college-aged kid takes us up a set of stairs that lead to the temple and a nice informal observatory sitting just before the entrance. One can stand there and look out to the gorgeous mountains and valleys in the distance. We walk inside and scope out the cave and temple that looks pretty good, considering its age. The guide mentions descending to the bat-infested depths of the cave and I say, "thanks, but no thanks." The main entrance and its surroundings will do just fine for snapping photos and staying cool in the cave before leaving.
The River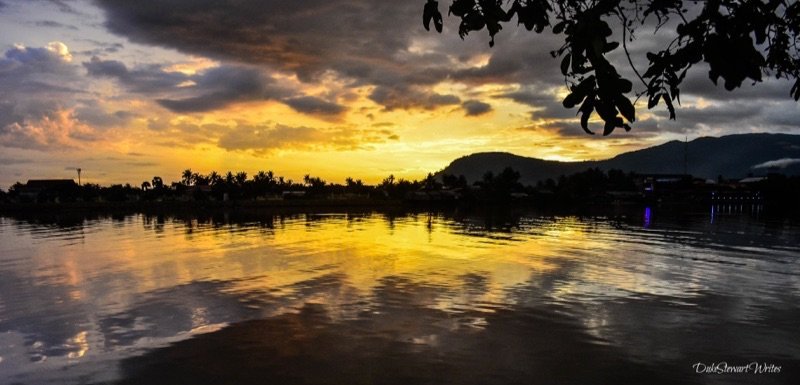 We return to Kampot and cross the Praek Tuek Chhu River that divides the quieter side of town with the one that does most of the business, full of hotels and restaurants. By now, our trip through Southeast Asia is in its second month and we've learned to slow down. Days of driving and sightseeing preclude nights of eating and relaxing by the water and the Elephant Mountains (including Bokor Hill) that rest in front of us. Spectacular oranges and pinks form as the sun passes down each night, and occasional river cruises disembark at the same time. This is a town I could definitely relax in for weeks, maybe months, thanks to that river and the chill that it creates. Aside from bypassing Bokor Hill, we cover a lot of ground in Kampot Province and one thing I'd been looking forward to seeing was Kep.
Driving to Kep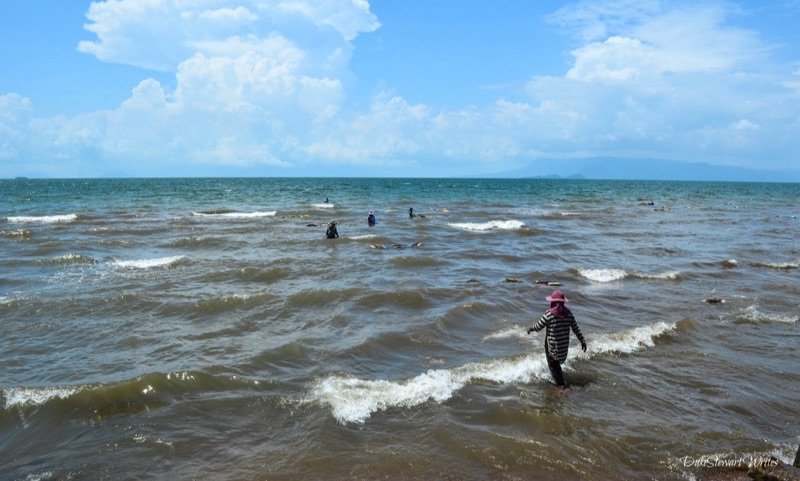 We'd watched videos of it long ago when everyone's favorite traveler⎯Anthony Bourdain⎯toured Cambodia and spent a few minutes in Kep eating deliciously fresh crab. Donning our helmets out of habit, we take scooter along varying degrees of pavement and hard clay. My eyes constantly scan for dark clouds and easy access to pull over, of which the latter rarely exists. The trip takes roughly 45 minutes and the Kep Seafood Market greets us at first. It's busy and full of tourists Cambodia and over the nearby Vietnamese border. I mean, who wouldn't want to capitalize on all the goodness that's offered there? Our afternoon meal happens in a dimly lit restaurant that looks out into the sea. Eager eyes can easily spot ladies bringing crab traps back to the market after ordering, seemingly walking on the water.
Pepper Farms and Rain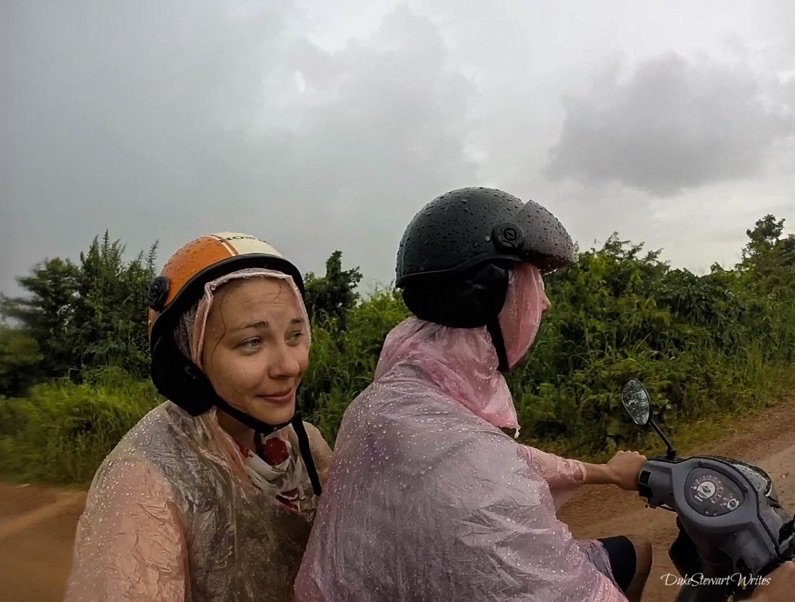 This wonderful meal owes partial credit to freshness and perfect steaming, but the Kampot pepper sauce takes the crab to another level. Excited to discover the source of that sauce, we follow the footsteps of friends who visited Kampot before and drive out to find a pepper farm. The first attempt leads us to Starling Farm, which is a pretty large operation that includes a restaurant and very nice-looking guest rooms. By the time we make it to the vines, the increasingly dark clouds break and there's no point in hanging around. We put our emergency ponchos to the test and slowly skip over mud puddles back to Kampot. Round two takes place at a smaller farm named Sothy's, which is well-known among foodies throughout the world. I shut off the bike and walk to the open-air lobby, where an Englishman asks us to wait a few minutes.
Sothy's Pepper Farm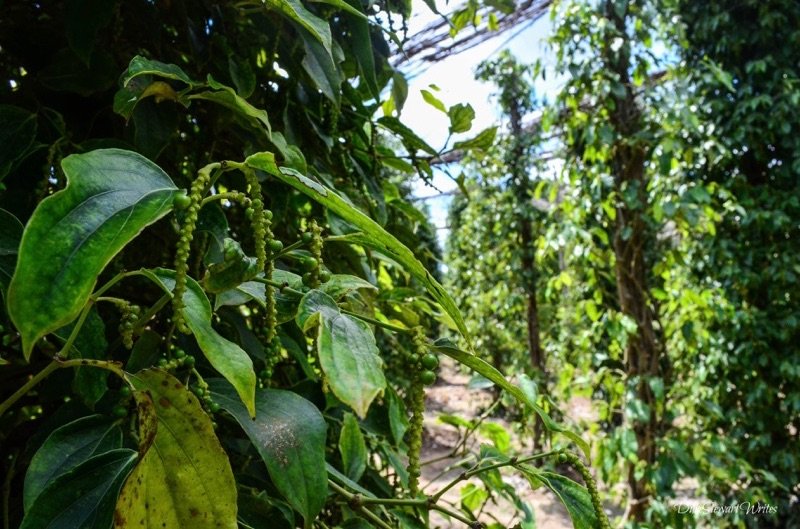 He finishes up and introduces us to the picturesque vines while handing out samples along the way. The tour begins with a very honest disclosure that some of the world's finest chefs come to Kampot for this pepper. The vines take three years to produce consumable peppercorns and after taking a bite or two of black, red, and white pepper, I can see why. Our guide also explains the differences between the real, organic stuff and the industrial, bleached and evenly colored pepper. We grab a handful of the white and notice Sothy's natural and imperfectly hued pepper. The visit culminates with us buying enough pepper to endure any emergency followed by a quick meal of fried pork.
Another 24 Hours in Kampot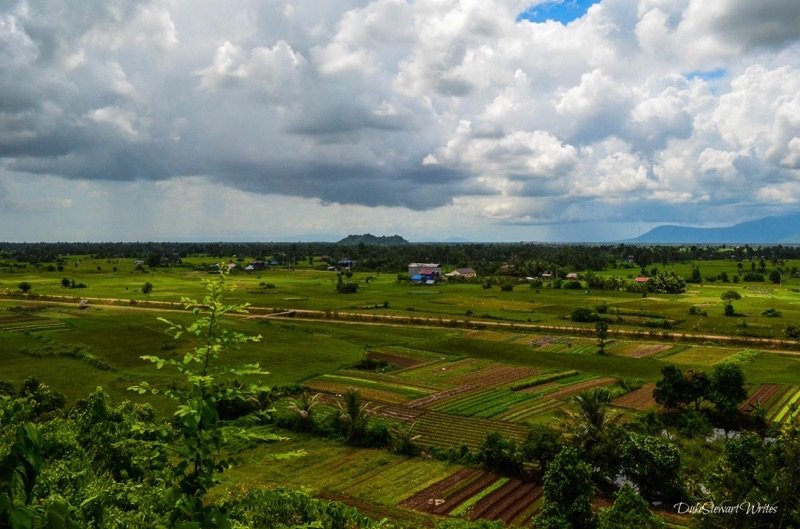 When we return to the hotel, Grumpy is angry about something but has our passports in hand with possibly legal Vietnamese visas inside. That mission's accomplishment ignites a rush to book the next bus out of Kampot, as the now happy Aussie stresses Khmer New Year's interference in transport around the country. Even though he's smug about it and is happy to receive more of our money, the young man is right and we have to spend another 24 hours in Kampot. I've long since wondered if Grumpy's disposition is a result of settling down here, but he's the only crabby personality among the various locals and expats we've met in town.
Don't Overlook the People when Traveling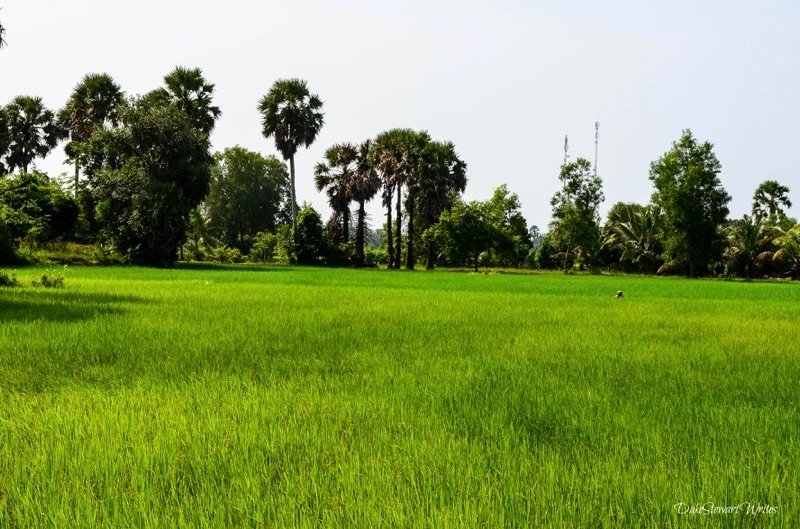 Top of the expat list features the Jeff Bridges lookalike who happily chatted away about gem mining and the casino-filled Bokor Hill that we missed, while we sat and quietly ate buffalo chicken tenders in the Rusty Keyhole. I'll also fondly remember the family who runs Sisters II Café, and their story of overcoming the loss of family and everything else that so many endured during the Khmer Rouge's terrible reign. These are just a few of the fine people who you'll meet along the way when traveling, and it's something that I feel gets overlooked by the places we visit. Walks along beautiful rivers and through immaculate temples are nice but the people you run into are an important part of the journey.
I Could Live Here, But…
If we weren't longing for home by now and I didn't fear the rampant corruption that plagues Cambodia in its post-Khmer Rouge haste to rebuild, I'd definitely plant us down in this wonderful little town. It's a charming place to visit and has so much potential, as long as the foreign companies don't turn it into the next Myrtle Beach or something. I think about this as our week in Kampot comes to a close and the bus takes us back to Phnom Penh. For the next part of the journey, we're going to learn some lessons about what happens when a horrible dictator comes to town promising change and vows to make a place great again, or something of the sort.
Have you ever visited Kampot? What did you think of it? Hopefully you didn't run into Grumpy but either way, let me know your thoughts in the comments section below:) 
This Kampot travel guide is part of our series on Cambodia Travel and Southeast Asia Travel. It was originally created on December 4, 2017. It has been maintained and updated (as of December 27, 2018) to reflect current viewpoints and travel trends.