Affiliate links linking to products we love may be found within this article. For more info, please check our Disclosure page for more explanation of affiliates and sponsorships.

---
We've visited some awesome hotels in North Carolina and wanted to share a few of our favorites so you can enjoy them, too. It can get tricky when narrowing down places to visit, so we've narrowed things down a bit. We've even mixed it up with traditional hotels, bed and breakfasts, a loft, and even a campground. So, whether you're hoping for a weekend getaway in the mountains, Central North Carolina, or on the coast, these are the spots in North Carolina that we absolutely love to frequent as guests.
This post is a part of our series of Hotel Guides. It first appeared on our blog on July 3, 2018, and was originally posted on our sister site NC Tripping. It has been maintained and updated (as of October 4, 2019) to reflect current viewpoints and USA & North Carolina travel trends.
Places to Stay in North Carolina
Already know where you're going? Check Hotels.com or TripAdvisor for the best pricing and availability on hotels in North Carolina via these awesome sites!
Western North Carolina
Blowing Rock
Blowing Rock is a cool town we stumbled upon while exploring the Blue Ridge Parkway one time. We liked it so much that we decided to come back and check it out for a weekend. There are some awesome places to stay in and around Blowing Rock, with spots ranging from right in town to far away in the mountains.
Green Park Inn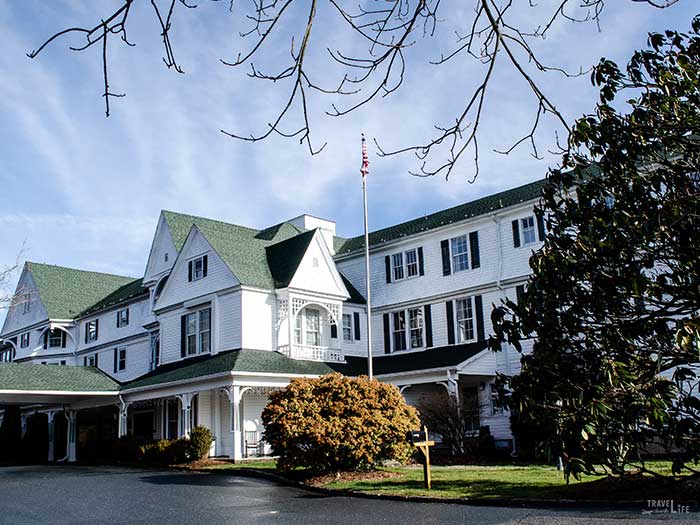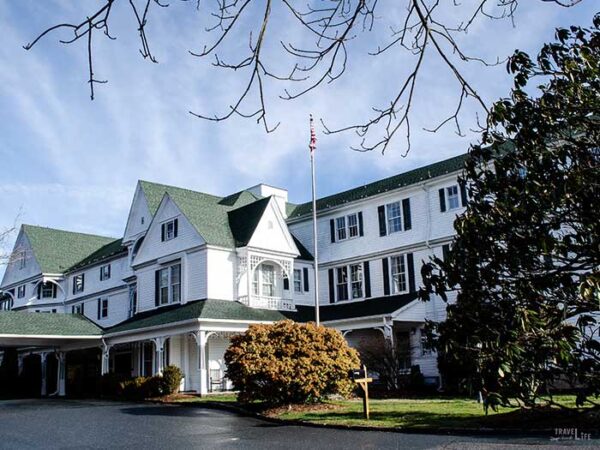 Green Park Inn's history alone will impress, but this cozy mountain getaway has tons of appeal beyond its backstory. Relaxing spaces greet you around every corner, plus there's great food and excellent service throughout the hotel. We included The Chestnut Grille among our favorite Blowing Rock restaurants, just so you know. Then there are the rooms, which will take you away and help you recharge for days out in Blowing Rock or around the hotel, which you really don't have to leave. We loved our stay there and will definitely come back for more.
Read more about why Green Park Inn in Blowing Rock is one of our favorite places to stay in North Carolina, and why we'll be back.
Meadowbrook Inn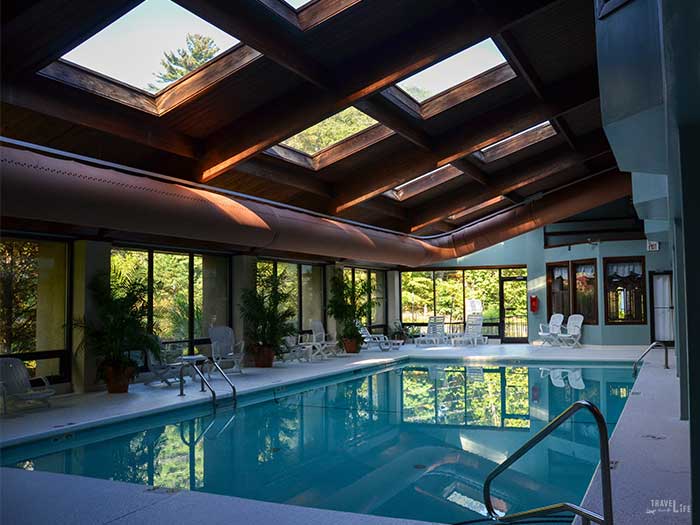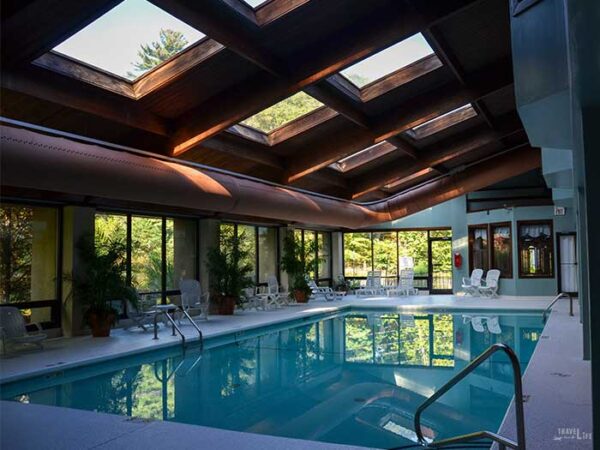 We stayed just around the corner from the main drag in Blowing Rock at the Meadowbrook Inn. It was a very short walk away from the restaurants and shopping in town. It was a nice hotel, with a pool, FREE breakfast bar, and more. All of the above definitely helps when you're traveling with a baby as we have.
If you're into hiking, the Meadowbrook Inn is also close to Glen Burney Trail and Bass Lake Trail. Both featured among our favorite hiking trails in North Carolina.
Brevard
Many people associate this small town with Asheville, but we think that it's good enough to stand on its own. Sorry, friends in Asheville, but one can easily enjoy a weekend in Brevard exploring in nature, digging into the food and brews scene, and more.
The Pines Country Inn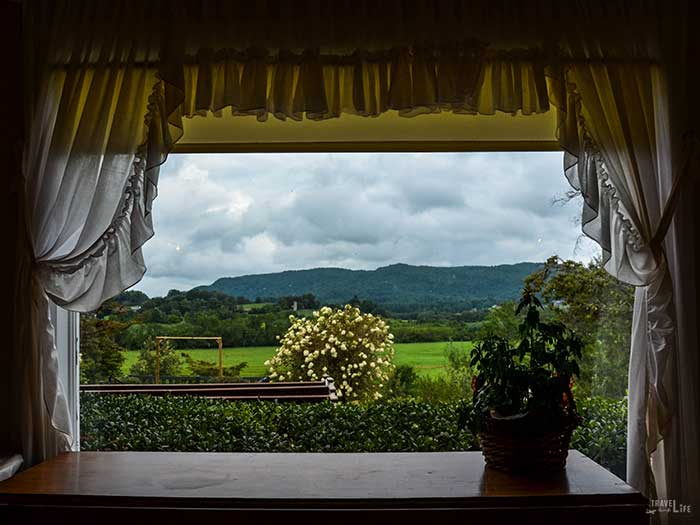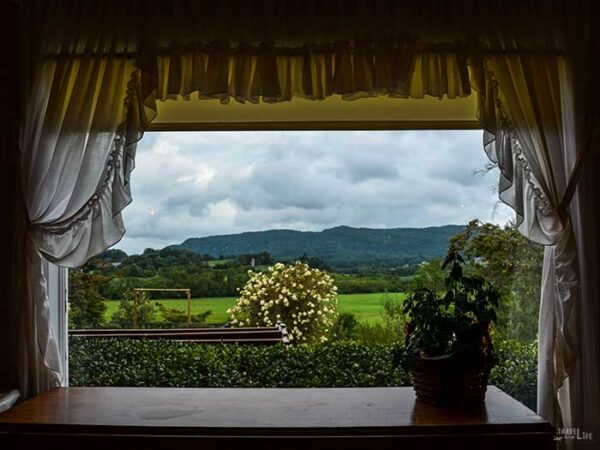 Technically in Pisgah Forest, the Pines Country Inn is a short drive from Brevard and in one of the most beautiful settings you'll ever find. Spend some time getting to know the place and you'll see that this is one of the best BnBs in Western North Carolina. They'll take care of you with awesome service and amazing food. Then, there's the absolutely homey interior. You'll fall in love with it as you catch a perfect morning view before chasing Brevard's waterfalls and everything else that makes Transylvania County so special!
In case you're still curious, we shared 7 things we loved about the Pines here!
Candler
Engadine Inn and Cabins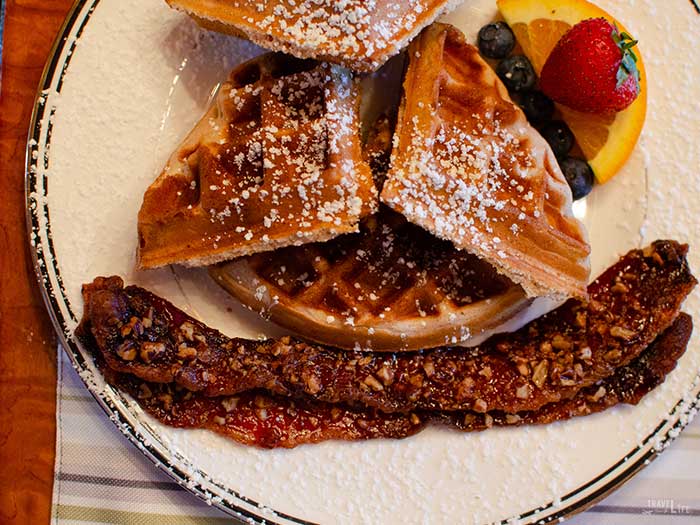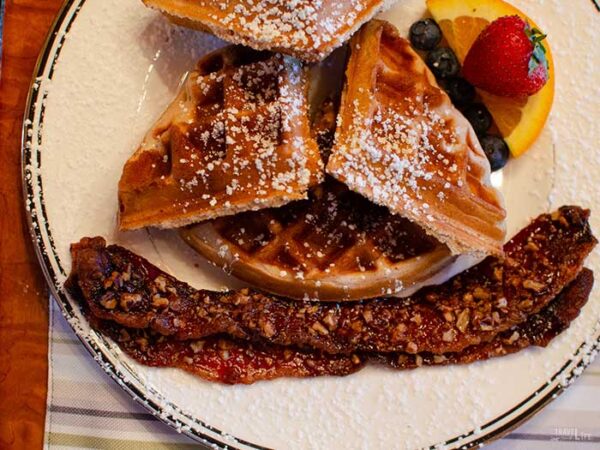 About 20 minutes outside downtown Asheville, Engadine is a wonderful bed and breakfast that was once a wine-producing estate, and that's just a part of the history you'll find here. The home and its surrounding cabins sit on a 12-acre property, surrounded by mountains and beautiful scenery all around. If you venture out to the area used as a wedding and event venue (pictured, top) around dusk, prepare for some epic scenes as the sun goes down. Inside the inn, you have a variety of comfy rooms to choose from, and then there's the breakfast. This two-courser will get you going for a day out exploring and then some. We still fondly remember our meal and hope you'll get to experience it, too.
Stay tuned for more about Engadine, because it's coming soon. In the meantime, I still think you should book a night more there and here's how you can!
Fairview
Blackberry Lodge
Blackberry Lodge is the first property managed by Yonder Vacation Rentals that we'll mention. It's an amazing house in Fairview, which is about 20 minutes from Asheville. The place is completely surrounded by trees, rhododendrons, and mountain laurels, and that's half of what makes it so awesome. The inside is spacious, colorfully decorated, and perfect for up to 12 people to enjoy any time of year. You can easily kick back and relax on any of the house's three levels, but you must spend some time out on the deck. And if you want to know more, read this post on Blackberry Lodge to see why it's an awesome getaway from Asheville.
Little Switzerland
Switzerland Inn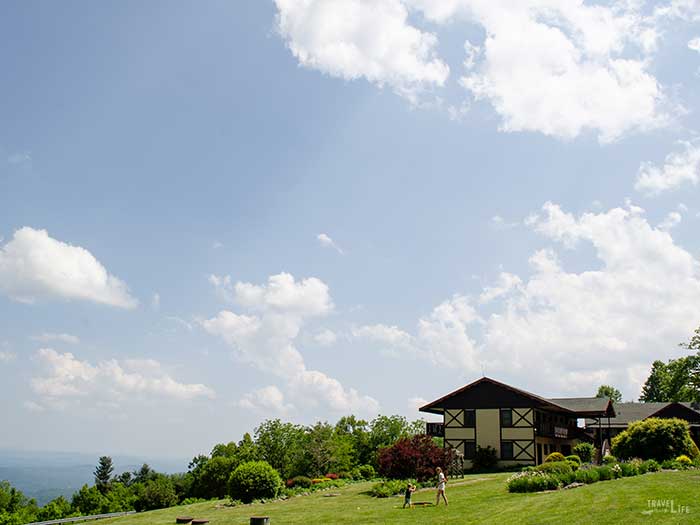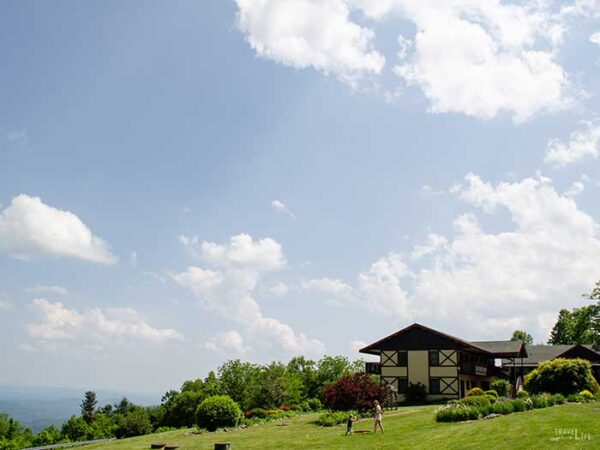 Switzerland Inn sits right off the Blue Ridge Parkway between Blowing Rock and Asheville and is one of our places to stay in western North Carolina, if not the whole state. Along with comfy rooms that overlook the valley below, you'll find a fun collection of shops and delicious on-site restaurants. We think Switzerland Inn's rooms are perfect for large groups and couples seeking a quiet spot. Oh, and Grassy Creek Falls, a waterfall and one of our favorite hikes in North Carolina is nearby, too! 
Spruce Pine
Spruce Pine is a tiny community in Mitchell County, though some really famous people are from there. UNC Basketball Coach Roy Williams and Hall of Fame pitcher Gaylord Perry both grew up there.
Bear Den Family Campground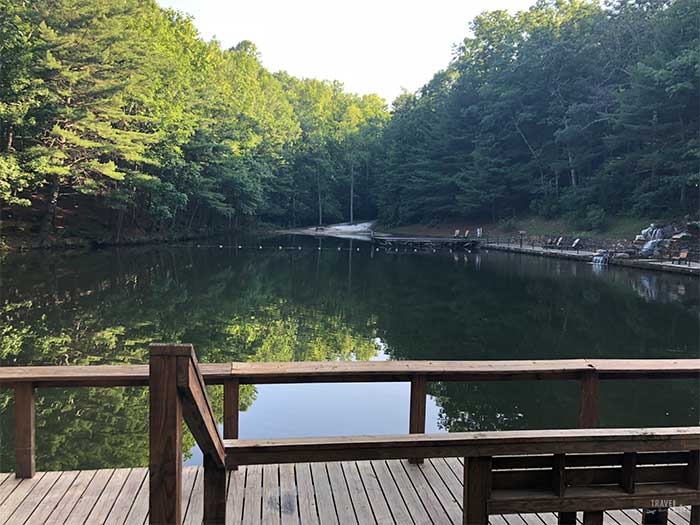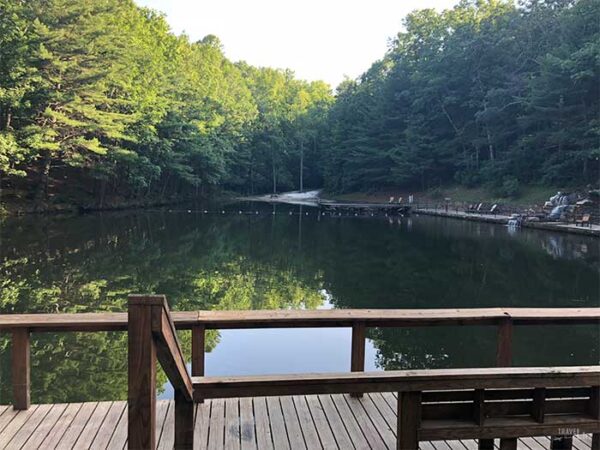 We've been coming to Bear Den Family Campground the past few years and really enjoy its proximity to Linville Falls, which is one of our favorite fall hiking trails in North Carolina. The site's exquisite camping spots, clean and comfy cabins, and friendly staff are another reason we love Bear Den. During our most recent visit, we even noticed considerable improvements to the swimming pond, offices, and expanded hiking trails.
Central North Carolina
Charlotte
Heading away from the mountains, many people first look to Charlotte when thinking of North Carolina's cities. The Queen City is the state's most populous and really the center of it all for people throughout south-central North Carolina and many parts of South Carolina. Charlotte is a great mix of the South and a metropolitan area, to me. It's also a place you should check out more than once to get a real feel for it.
Hilton Charlotte Center City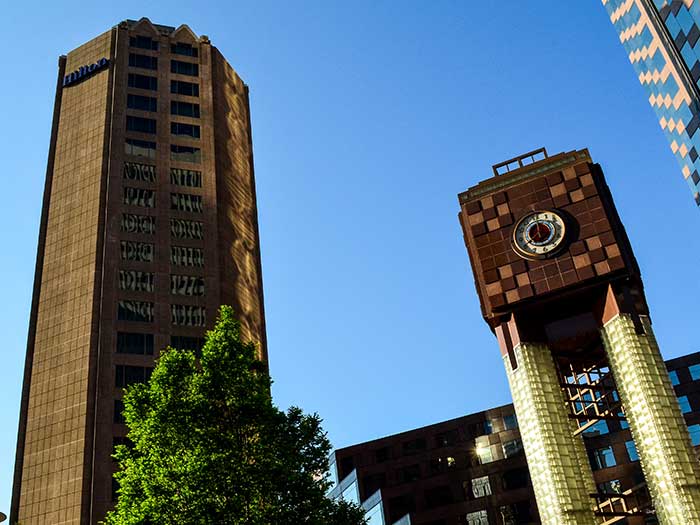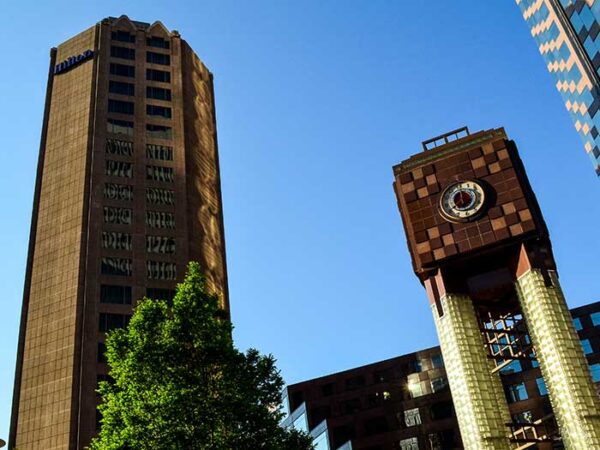 Hilton Charlotte Center City wowed us in so many ways and showed us that Downtown Charlotte (aka Uptown) really has a hotel that's more than just a place to stay. There's a lot to do in and around their super relaxing rooms. There's also the wonderful food coming out of Coastal Kitchen, which you need to visit at least once. We can easily think of 13 reasons to stay at Hilton Charlotte Center City and could go on. This place has it all and we think it's the perfect way to spend your weekend (or more) in Charlotte.
Bonus Tip: This Hilton's Stay in the City Package will give you the most out of your time staying at this awesome hotel!
Durham
We're a bit partial to Durham, and not just because we live here. It really is a fun place to live. Bull City is also full of great accommodations, as more people continue visiting (and eventually moving here!). Our pick from Durham is a more sentimental one, as you'll see.
Arrowhead Inn Bed and Breakfast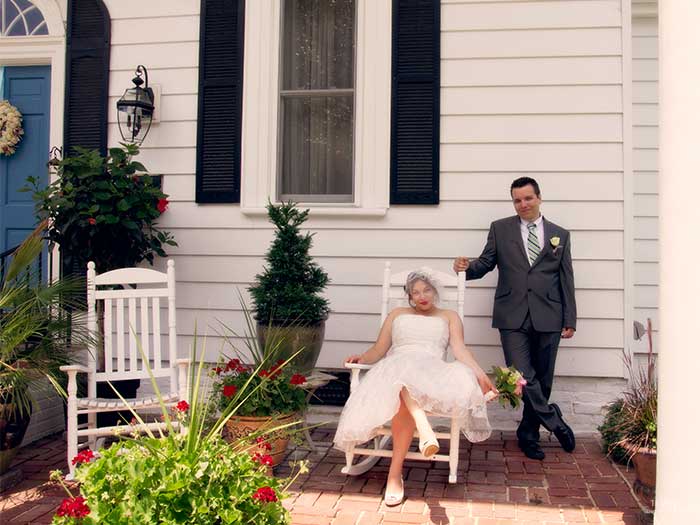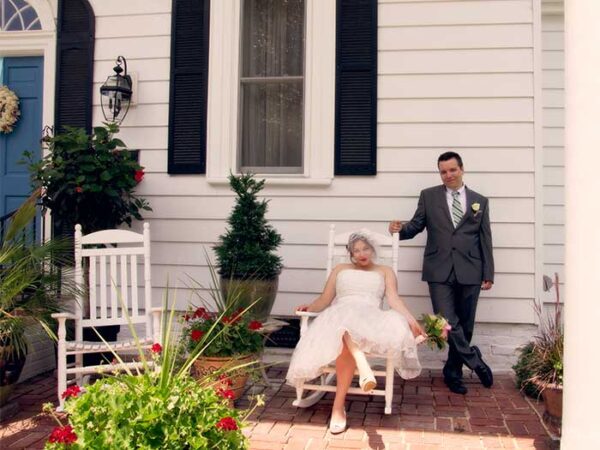 So we tend to favor Arrowhead Inn Bed and Breakfast, not just because it's located in Durham. This is the place where Christina and I were married, on a very hot June day in 2013. Most of our families packed into the inn and watched us tie the knot outside in the tree-surrounded courtyard. Go walk around the backyard or relax inside and you'll feel very far away from it all while in Durham.
The Durham Hotel
The Durham Hotel opened in 2015 and is one of our favorite hotels in Bull City. With a huge focus on "local" throughout the hotel, we know a night (or more) at The Durham is your best bet to enjoying Downtown. Since we live in Durham, we've dined and sipped cocktails there many times, attended events, and done much more than stay at The Durham. However, after a staycation at The Durham, my wife can attest to this hotel's place among the best relaxation spots in North Carolina.
Christina's write-up about The Durham perfectly outlines why we'll be back and most likely, why you will be, too!
Greensboro
Greensboro is the Piedmont Triad's largest city (third largest in the state) and one of our favorite spots in North Carolina. We think the Gate City rocks, especially for the hotel that we're about to share with you.
Proximity Hotel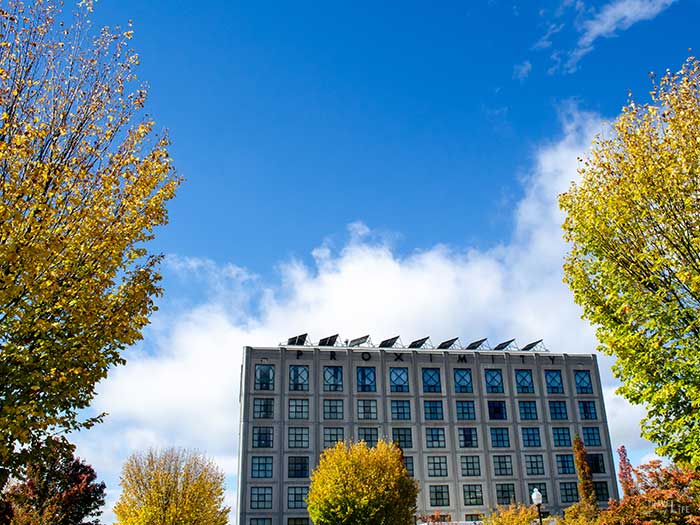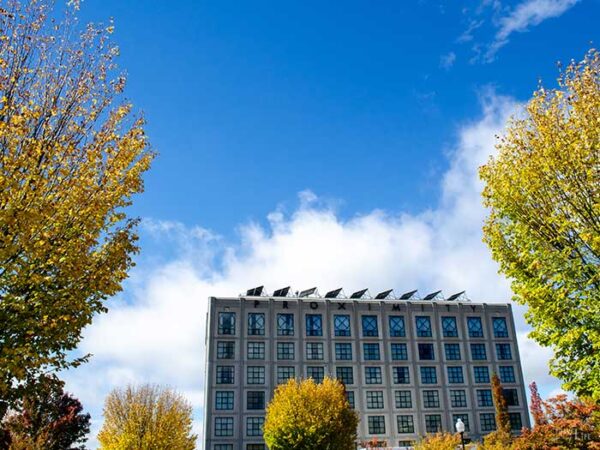 Proximity Hotel in Greensboro is a special one, thanks to its focus on sustainability, but much more than that. We enjoyed our homey rooms, wonderful service from all the staff, and delicious creations courtesy of Print Works Bistro. It's a place that I know we'll frequent again, especially considering I can't get it off my mind.
Winston-Salem
While Winston-Salem was once the largest city in North Carolina, there's quite a bit of historic pride and tons of fun things to do in the Dash. People might say that it's up-and-coming, but we think Winston has arrived on the scene as one of the South's most interesting places to visit.
The Cardinal Hotel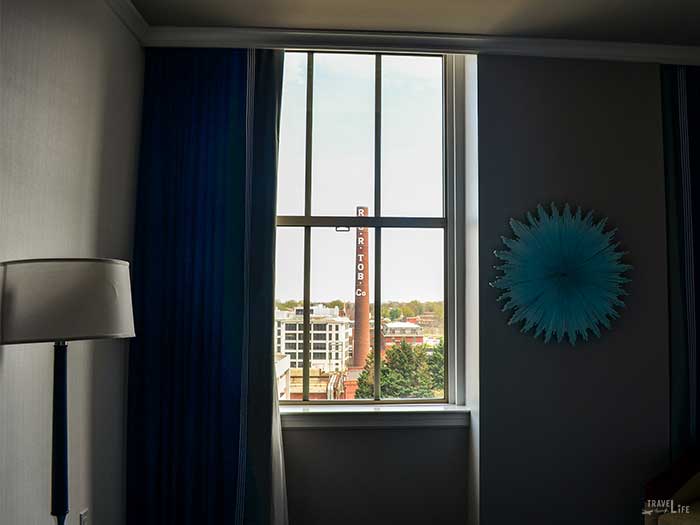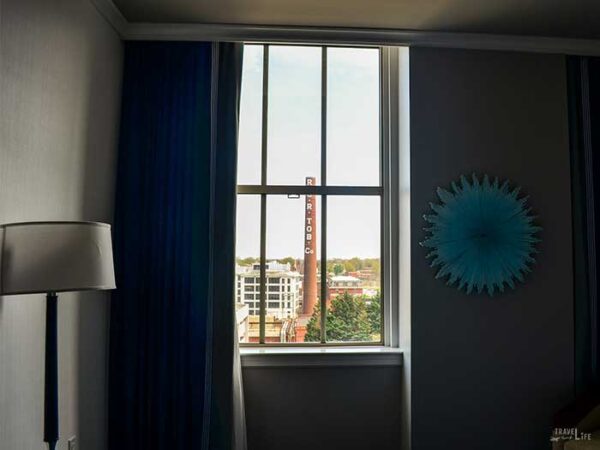 The Cardinal Hotel in Winston-Salem was one of the most interesting buildings we've ever encountered, but the people working there make it even more special. First, you've got the iconic and historic Reynolds Building and Kimpton, a brand who've transformed a former tobacco headquarters into a uniquely designed hotel. Plus, there's the awesome food that's being perfected at The Katharine, a Southern/French brasserie that puts on a show each time a meal is sent out to their very lucky customers.
Read more about our experiences at The Cardinal Hotel here and The Katharine here.
Brookstown Inn Hotel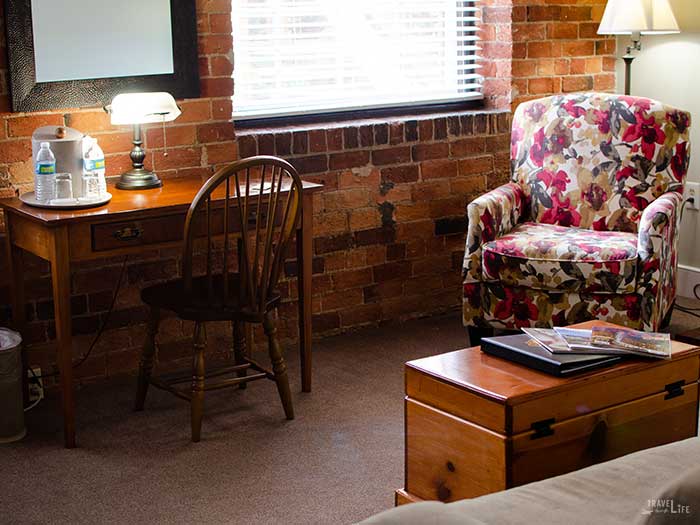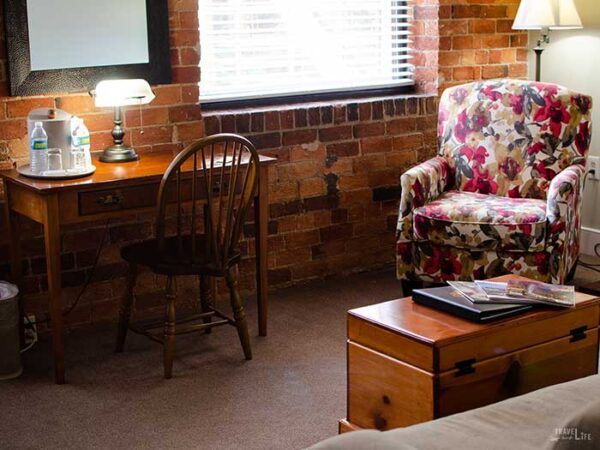 The Brookstown Inn Hotel was once the Arista Cotton Mill Complex and today, it's an awesome historic hotel in Winston-Salem. When you stay there, you'll find a mix of charm and legacy. The rooms' exposed wood ceilings and grand brick windows, with the original millworks still visible in many. It's one of the most beautiful places to stay in North Carolina, with 70 guest rooms adorned with 19th-century pine floors and antique furniture. Their poster-style beds are covered with hand-stitched quilts and many suites are bi-level, featuring a decorative fireplace. If you want to stay at the Brookstown Inn Hotel, check here for prices and room availability.
Eastern North Carolina
New Bern
New Bern is a very special place to us and we hope to keep coming back, Honestly, it's hard to be this awesome coastal community, full of active and friendly people. Not only is it filled with nice folks, but a couple of our favorite North Carolina hotels also happen to be in New Bern.
Courtyard by Marriot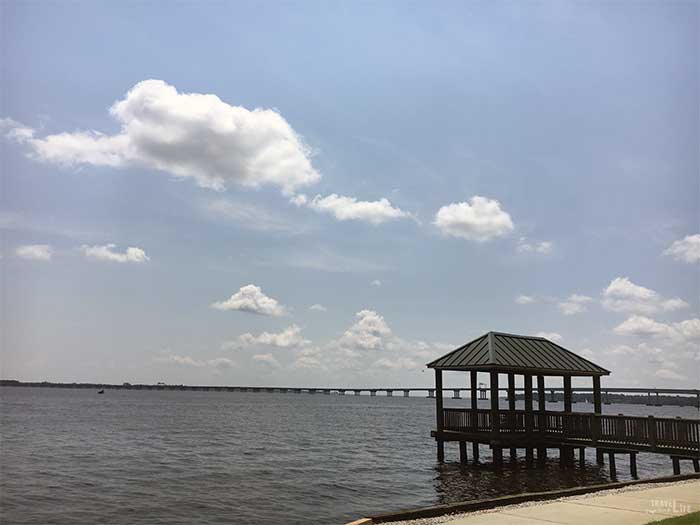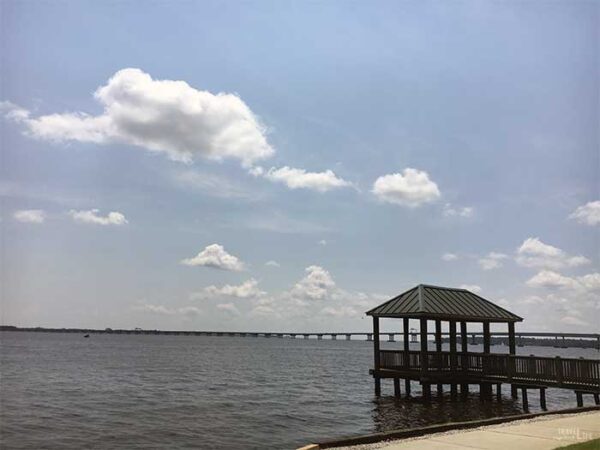 If you want to stay right on the water, I'd suggest a night (or more, of course!) at the Courtyard by Marriott. That lovely hotel is right next to Union Point Park, where you'll see quite a few of New Bern's most picturesque waterfront photos taken. It's just a short drive away from Tryon Palace and other New Bern things to do and see, too. There's also a pool outside for you to enjoy during the warmer months. Grab a Starbucks coffee or something delicious from the bistro in the hotel's comfy lobby.
Hampton Inn New Bern
We're big fans of Hampton Inn and were invited by the folks at the New Bern Convention and Visitors Bureau to attend a wonderful charity event known as MERCI on Middle. We had no idea that the hotel's General Manager Gary Curry is one of the masterminds behind MERCI on Middle. His hotel outside of Downtown is exquisitely run and possesses all the fun things we love about Hampton. That includes a great (and FREE) breakfast, nice rooms, funny signs throughout, and more!
Check out our interview with Gary Curry about MERCI on Middle.
The Outer Banks
Heading to the amazing beaches in The Outer Banks is one of the finest privileges a person can have. Some call it one long beach, but who's counting? I'm not saying anything about the other places we've mentioned. Just know that this really is a beautiful part of the world that we hope you get to explore.
Kill Devil Hills
Kill Devil Hills is the most populous town in The Outer Banks. Stay there and you won't be far from Nags Head, where you'll find Jockey's Ridge State Park and other fun. KDH is also home to the Wright Brothers National Memorial, though the place didn't exist when the famous first flights happened between 1900 and 1903. That's why you hear so much talk about and references to Kitty Hawk instead.
Wright Cottage Court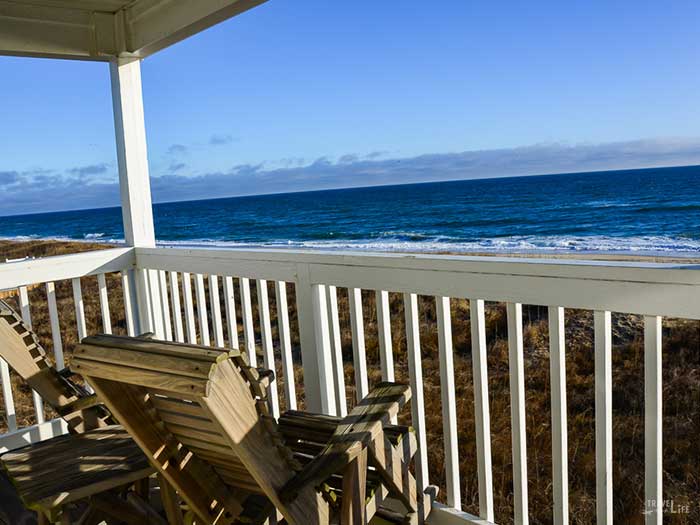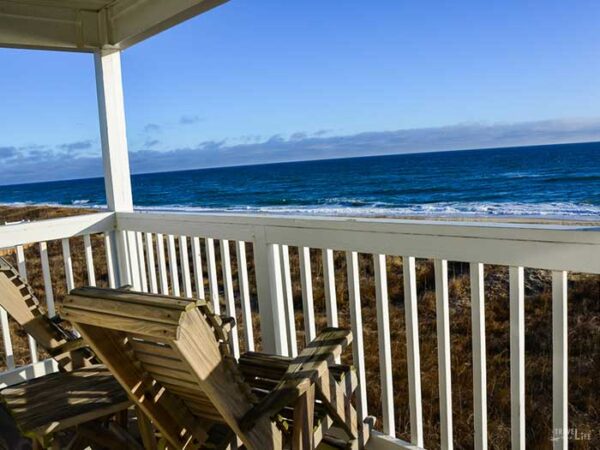 Wright Cottage Court in Kill Devil Hills is a great spot for your beach vacation in North Carolina. Seeing the sunrise from your front porch there is a great way to start your day in The Outer Banks. It's also nice for enjoying a glass of wine in the evening. Inside, these places come with a fully equipped kitchen and have tons of room to enjoy your mornings or nights in.
Topsail Island
Sound n' Sea
This awesome dock is right outside!
Sound n' Sea is the best way to spend a Topsail Island beach vacation. Managed by Yonder Vacation Rentals, this location is one of their flagship spots. Sound n' Sea's size (sleeps 16) makes this the perfect place for a massive family or company retreat. There's a private dock outside, where you can swim, boat, or kayak in Stump Sound, and the beach is within a short walk. There are so many ways to enjoy this property, which makes it the ultimate place to stay in Topsail.
Our Thoughts and Yours, Too!
Now that you've got a few places to stay in mind, are you ready to visit North Carolina and explore our beautiful state? We hope these hotels in North Carolina help you enjoy the trip even more!
Ever spent time in one of these places? We'd love to know about your experiences in the comments section below!