Affiliate links linking to products we love may be found within this article. For more info, please check our Disclosure page for more explanation of affiliates and sponsorships.

---
Greensboro is the Piedmont Triad's largest city (third largest in North Carolina) and is known as The Gate City. That nickname comes courtesy of the railroad once making it a prominent spot between its North-South and East-West routes. But instead of just passing through before heading elsewhere, we think that Greensboro is a place you must visit, for at least a couple of days. There are so many things to do in Greensboro on a weekend, so let us take you through some of our favorite neighborhoods, places to go, and even more.
A Weekend in Greensboro
Fun and Famous Facts
Greensboro was established in 1808 and named after the famous Revolutionary War General Nathaniel Greene. A big part of the Southern Campaign, he led the American effort during the Battle of Guilford Courthouse (see Parks). No Civil War battles were fought in Greensboro, but many sought an escape from the fighting there. Refugees included Confederate President Jefferson Davis and his cabinet not long before the South's surrender. After the war, Greensboro grew as a huge manufacturing hub—particularly with textiles—hence the infamous nickname "Jeansboro." The city also gained notoriety for a major Civil Rights-era moment (the Woolworth Sit-in). You can visit the scene, as its now known as the International Civil Rights Center & Museum (see Museums).
For more Greensboro history, check out former News & Record writer Jim Schlosser's Remembering Greensboro, which compiles his best history articles from over 40 years of covering the city and its surroundings.
Things to Do in Greensboro
Here are some things to do in Greensboro for your first trip or even your fiftieth visit to the city. One-hundredth? Come on. You must be the mayor!
Stay at a Forward-thinking Hotel
When talking about hotels in Greensboro, the conversation should start with Proximity. This is a special place and not just because of all the solar panels you'll see on the roof while walking in. Proximity Hotel was the first in America to receive LEED Platinum certification and has done so much to reduce its carbon footprint. I won't wow you with too many more details, so you should check out their website's section on Sustainable Practices. Also, while you're staying at Proximity, please grab brunch (Duck Confit Hash), a drink (Old Fashioned), or a meal any other time at Print Works Bistro (Website/Facebook). I promise you will enjoy the atmosphere almost as much as the wonderful creation you order.
We can't stop thinking about this hotel and outlined why we'll stay at Proximity again here.
| | |
| --- | --- |
| Love the rooms at Proximity! | Head down into the Social Lounge to get work done or chill out on the cozy furniture. |
If you can't get into Proximity, check out O.Henry—the older sister hotel. The two hotels lead the way in more than sustainability and forward-thinking. They're both employee-owned, which is something you just can't say about many other hotels of their size.
More Greensboro Hotels
If you can't get into either Proximity or O Henry, don't worry. You can even stay closer to Downtown at The Biltmore Greensboro Hotel, which is right between Greene and Elm. Hampton Inn & Suites Greensboro Coliseum puts you close to the Convention Center and Four Seasons Town Centre. If you're looking for a luxurious Greensboro getaway that's close to the city, Grandover Resort will take care of your needs and more.
Looking for more hotels in Greensboro beyond these excellent choices? Check them all out via our favorite booking sites! (TripAdvisor | Hotels.com)
Explore the City's Neighborhoods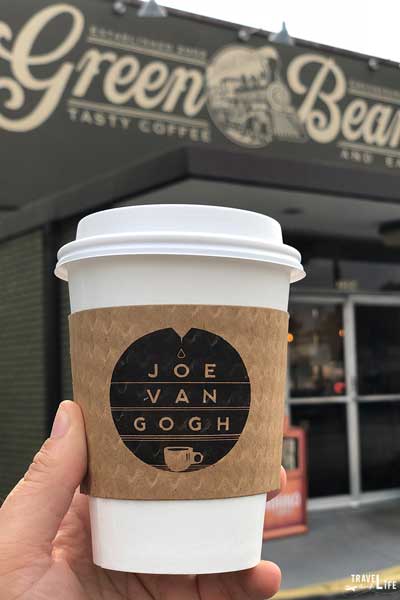 As we've been exploring Greensboro, it seems like there's always a cool neighborhood or street to explore. Most people will start Downtown and all the things to do on Elm, Eugene, Davie, and the side streets in between. Up in North Greensboro, Fisher Park is filled with historic homes that overlook the former swamp-turned-green space. Then there are the restaurants and kitschy shops that fill Spring Garden and Market around UNC Greensboro.
These are just a few of Greensboro's few dozen neighborhoods and we can't wait to continue expanding upon this section. Is there a spot in the city that you like exploring and want to share?
Important and Fun-filled Museums
View this post on Instagram
As we mentioned earlier, Greensboro commemorates the famous Woolworth Sit-in exactly where it happened, as its now known as the International Civil Rights Center & Museum.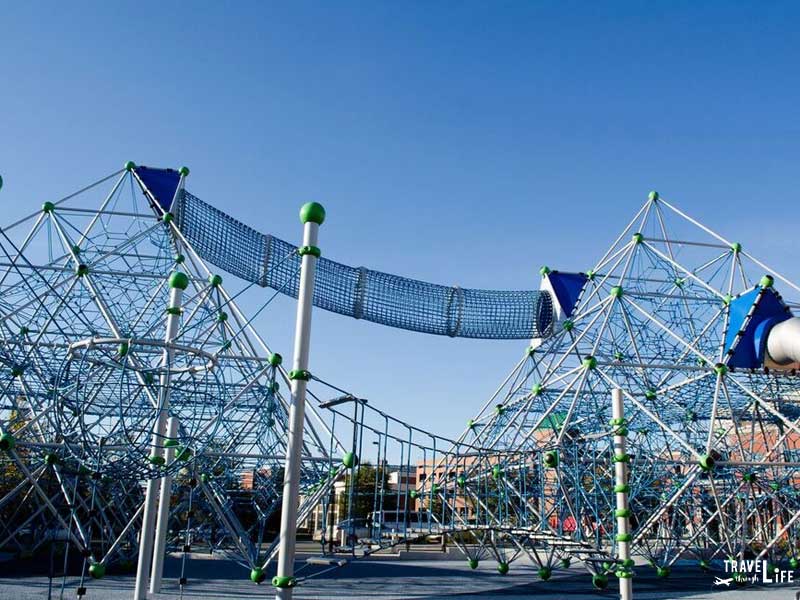 Traveling with kids? Greensboro Children's Museum has more than 20 permanent hands-on exhibits and an outdoor space for you and the little ones to explore. Head north of the city to Greensboro Science Center for a great aquarium, museum, and zoo (also, Sky Wild!). It's also one of our favorite winter things to do in North Carolina, as we've mentioned here.
Other cool museums in The Gate City include Greensboro History Museum, Weatherspoon Art Museum, and Elsewhere. Which one would you visit first?
Hang Out at Parks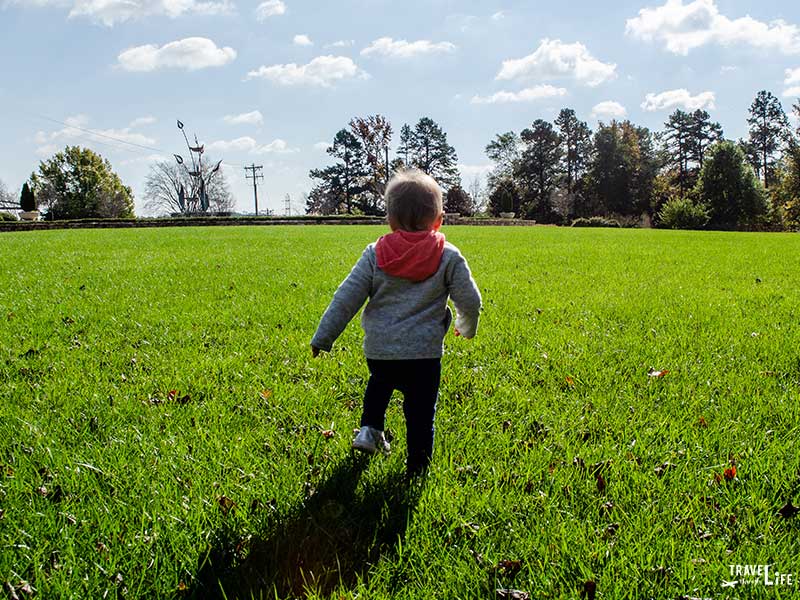 Tanger Family Botanical Garden is one of the city's free-to-enter greenspaces, with more than seven acres of plants to explore beyond the site's popular bronze sculpture. Greensboro Arboretum is well-known for its collections and special displays. We also enjoyed Gateway Gardens for its Children's Garden, which is filled with cute mazes and sculptures alongside shrubs, flowers, and various other plants. Guilford Courthouse National Military Park (trails currently closed due to Hurricane damage) will take you back to the Revolutionary War and the largest battle of the Southern Campaign.
Got a favorite park in the area you'd like to share? Which of these appeals most to you?
Eat Local
| | |
| --- | --- |
| Crafted… | …The Art of the Taco |
We already mentioned Print Works If you live in North Carolina or have traveled through here a few times, you might get that it's more than barbecue and seafood. Elm Street's Crafted The Art of the Taco (Website/Facebook) gives you both of those delicious NC staples, along with many more things you might not expect on top of a tortilla.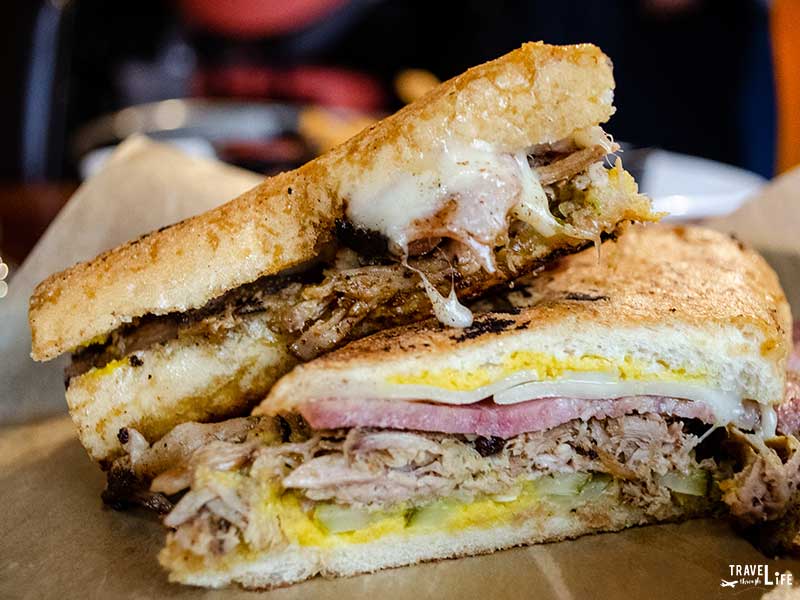 Freeman's Grub and Pub is near UNC Greensboro and the Coliseum and serves some of the best Cubanos to go along with a nice beer menu, but also deliciously crafted cocktails. Of course, we couldn't ignore NC 'cue and you're in for a treat if you get to visit Stamey's (Website/Facebook), which is the city's only recognized spot on the NCBS Historic Barbecue Trail.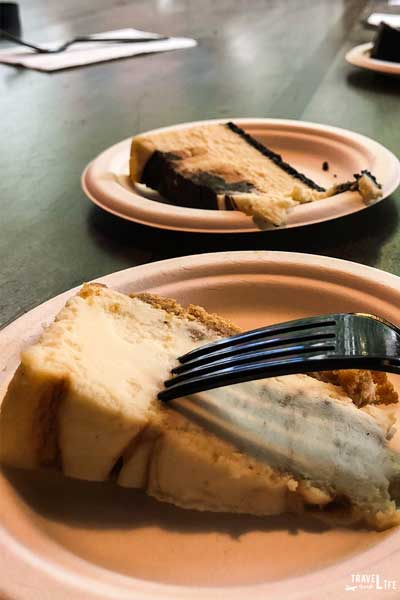 Dessert Bonus: You thought I was going to leave out Cheesecakes by Alex (Website/Facebook)? Think again. Seriously, go here for dessert or else you'll miss out on the most delicious selection of cheesecakes one can find.
Eat Ethnic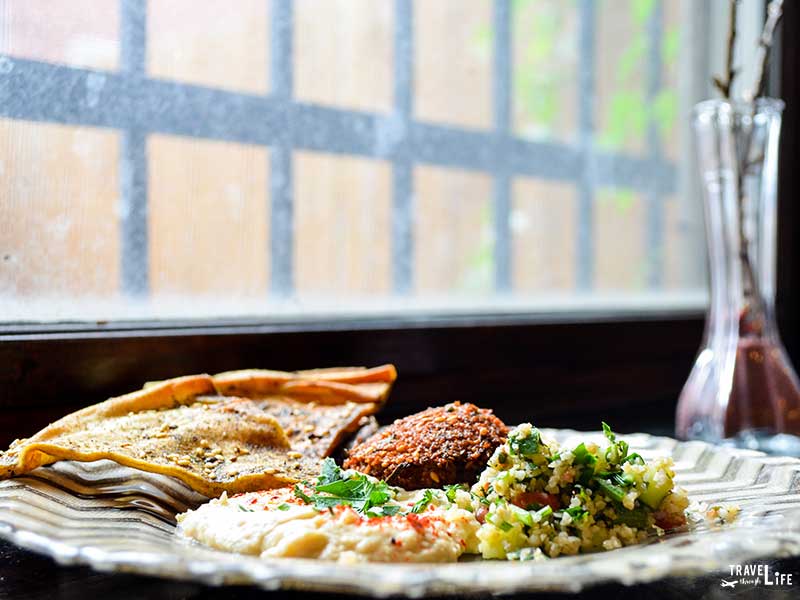 There's great ethnic food in North Carolina and Greensboro is no different from the other cities. Jerusalem Market on Elm (Website/Facebook) offers some of the best hummus I've ever eaten, to go with pitas, savory flatbreads, and more.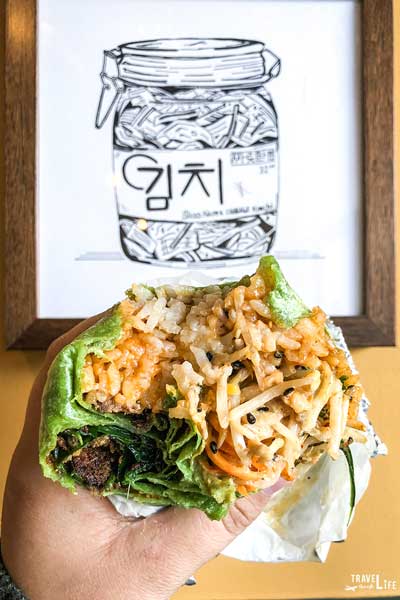 On the fusion side, Bandito Bodega (Website/Facebook) played to our hearts with their Bibimbap Burrito, which took me to Seoul within a bite. Oh, Gochujang, how I love you! If you're into Vietnamese food, check out Banh Minh on Market for noodles or some amazing Banh Mi.
Those in the know told us that Market Street is the go-to spot for ethnic food in Greensboro. If you've dabbled in the city's food scene, what do you think?
Don't Drink Too Much…in One Place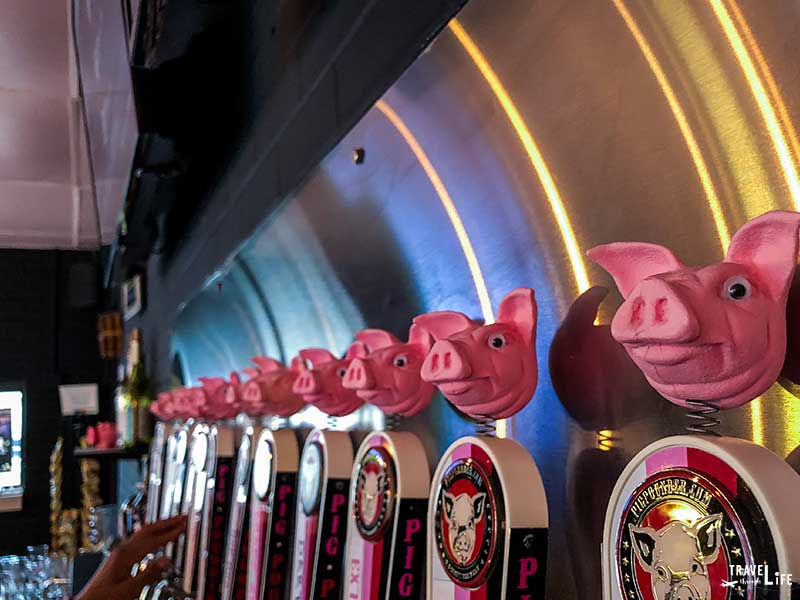 It's pretty easy to drink well in Greensboro and you can start with the biggest name in the area—Natty Greene's (Website/Facebook). There, you'll find delicious food to go along with their signature and seasonal beers. Pig Pounder (Website/Facebook) serves up various barrel-aged brews that rightfully vie for attention against their signature Kolsch and English-style ales. More Greensboro beer favorites include Joymongers, Preyer, and Little Brother. If you're looking for something different, check out Greensboro's Fainting Goat Spirits (Website/Facebook) for some of the best sipping bourbons, gins, and vodkas you'll find. Although it's a newer distillery, their award-winning creations are making a name throughout the US and beyond.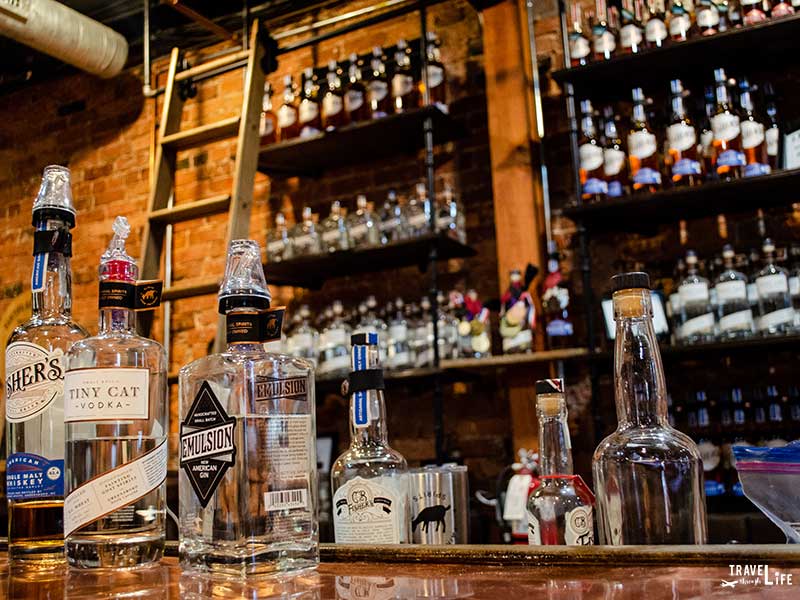 If you're looking for adult beverages, these Greensboro breweries, bars, and distilleries deserve a share of your weekend. Does something else deserve our attention here? Let us know about it!
Eat and Drink with New Friends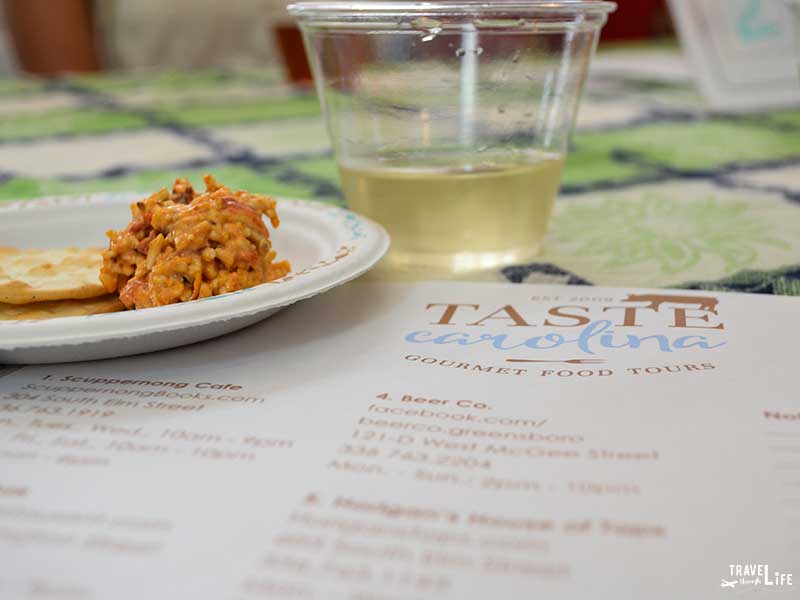 Want to explore Greensboro's food scene and meet new people at the same time? Taste Carolina Gourmet Food Tours runs pretty much every weekend and will save you the time of researching, yelping, or asking around on social media. If we hadn't done this tour, we wouldn't have known about Jerusalem Market on Elm or Beer Co. (Website/Facebook) on McGee if not for Taste. We did know about Scuppernong Books (Website/Facebook) but were happy to start our tour (venues subject to change) with some of their delicious small plates.
Check out our post about Taste Carolina Gourmet Food Tours in Greensboro and the things that we love about them.
Try to Find the "Offseason"
View this post on Instagram
I think your biggest challenge is going to be finding a time when nothing is going on in Greensboro. Spring and fall bring the comfiest weather to Greensboro, but also great events, like the Carolina Blues Festival (May) and the NC Folk Festival (September). The city gets a bit chilly during winter, but there are tons of fun indoor things to do in Greensboro, like the city's museums and shows at Triad Stage, Cone Denim Entertainment Center, and Carolina Theatre. Don't forget about summer, when the city hits its stride with fun at Wet n' Wild Emerald Point Water Park (May to September), Eastern Music Festival (June), Summertime Brews Festival (July), and Greensboro Food Truck Festivals (August). Watching Minor League Baseball's Greensboro Grasshoppers are another fun thing to do in Greensboro between May and September, so don't forget to grab a ticket if you're in town while their season is going.
As you can see, there's something going on in Greensboro throughout the year. For more info, check out Visit Greensboro's events page for the latest happenings in The Gate City!
Greensboro Rocks and Other Final Thoughts
Simply, I think Greensboro rocks but I can't just leave it at that. There are so many ways for a person to get to know The Gate City. Whether you want to dig into history, eat and drink well, or stay in hotels that are ahead of the game, there really are enough things to do in Greensboro for everyone. It's a great place that's not too far from a lot of other busy spots in North Carolina, especially Winston-Salem. Those who live in Raleigh, Durham, or even Charlotte can easily get to Greensboro. It's also only a few hours away from Asheville and Roanoke in Virginia, which puts Greensboro within close reach of the mountains. Alright, I'll leave you alone. Before you go away, I just want to know. For your next weekend traveling around North Carolina, where are you going? That's right. Greensboro!
Special thanks to the Greensboro Area Convention & Visitors Bureau for providing us with complimentary accommodations, admission, and meals throughout our stay. All opinions within this article are our own. This guide is part of our series on USA Travel and North Carolina Travel, and was originally created on November 3, 2018. It has been maintained and updated (as of December 30, 2018) on our blog to reflect current viewpoints and travel destination trends. This post originally appeared on our blog's sister site NC Tripping.