Affiliate links linking to products we love may be found within this article. For more info, please check our Disclosure page for more explanation of affiliates and sponsorships.

---
A camping packing list is nerve-wracking to put together but a lifesaver when you try to remember if you've brought everything you need. Camping has always been a family tradition with us, even before we started traveling with our daughter. And although this has been our thing for a while, we've made some big mistakes along the way and forgotten everything, including our tent one time! That's why we've put together this list of things needed for camping that we can't live without, and even included some healthy food options, which might go against the camping gods of hot dogs and s'mores altogether. If you can get beyond that, hopefully, you can find this as useful as we have and even let us know if there's something to add.
These things are ideal for camping, but we also included them on our day trip travel packing list!
Our Essential Camping Packing List
Sleep
Tent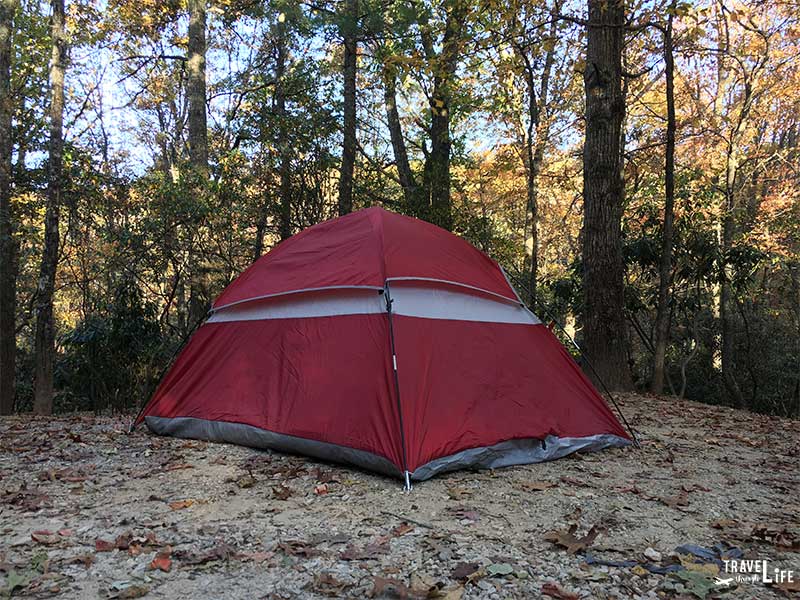 Of all the things to take camping, a tent is most important and something you should never forget, though we managed to do that one time. Don't be like us and leave your tent at home! The key to a good tent is finding one that's compact, but also fast and easy to set up. Sometimes, you'll arrive at your campsite late at night and have to throw together a complicated tent with just your car lights or flashlight can lead to questions that start with, "where did I put…" or "do you see…"
Looking for a new favorite camping tent? Check prices and availability on the one we love and more options for your next adventure! 
Sleeping Pads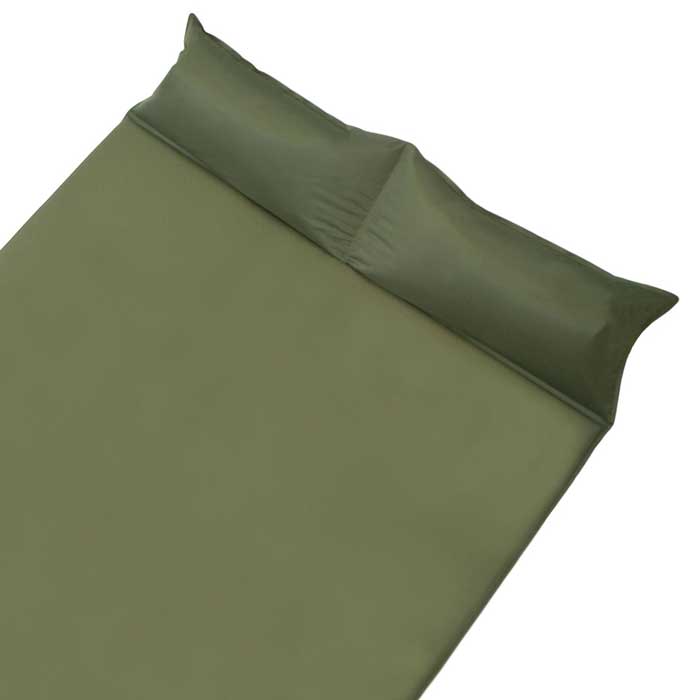 After you cleared all the rocks and sticks away from under your tent, you're still probably going to want a mat for your back and neck. Supportive sleeping pads are the single most essential non-essential item you could bring. We say "non-essential" because you really don't HAVE to bring one along, but your back will thank you during those day hikes or walks in the woods. I don't know how many times I've woken up sore and in pain after forgetting mine!
Searching for a sleeping pad to add to your camping supplies list? 
Sleeping Bags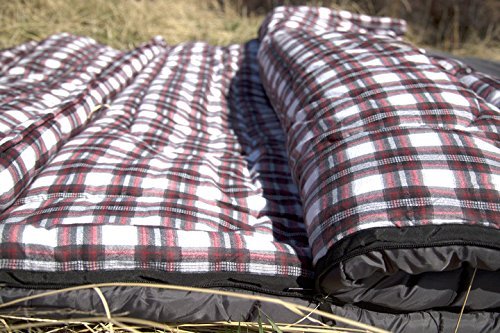 Sleeping bags are a deeply personal choice, or at least we think so! If you share the blanket well, then maybe this double sleeping bag would be great for you! If you're like us and need to have separate blankets, then definitely go the individual sleeping bag route! Pick your bag based on the temperature and climate you'll most likely be camping in. You wouldn't want to get too hot or too cold out there!
So where do you stand? Do you like double sleeping bags or individual sleeping bags when camping? 
Our Camping Kit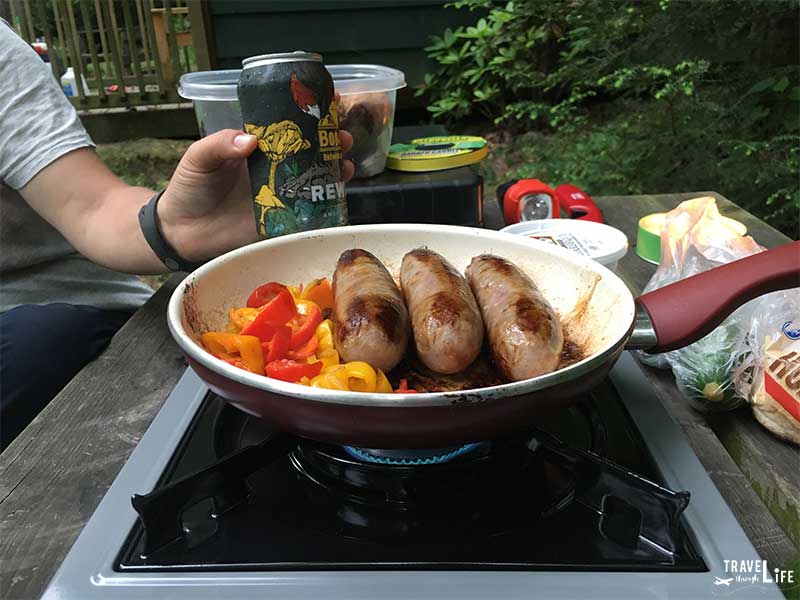 We aren't going to lie. There's a huge Tupperware bin that we keep in our shed that is our "camping kit." Inside, we have a lot of stuff, but always have the following for our camping trips: a camp stove, extra reusable utensils, plates, collapsible cups, marshmallow/sausage skewers, dish soap and sponge, mosquito coils, nonperishable food items, camp lighter, and a reusable water bottles.
What's in your camping kit? We'd love to know if you've got any tips to share because there's always something new to learn!
Food
When we go camping, a lot of the food prep happens in the days leading up to the trip. Often times dairy-free pasta salads are made, maybe some muffins, and there's definitely a plethora of trail mix that gets bought! While it is fun to do some of the meal prep and cooking over the fire, we personally like to have at least a couple of sides already made ahead of time to make things easier. Plus, we'd like to eat just a little less dirt.
Healthy Food Options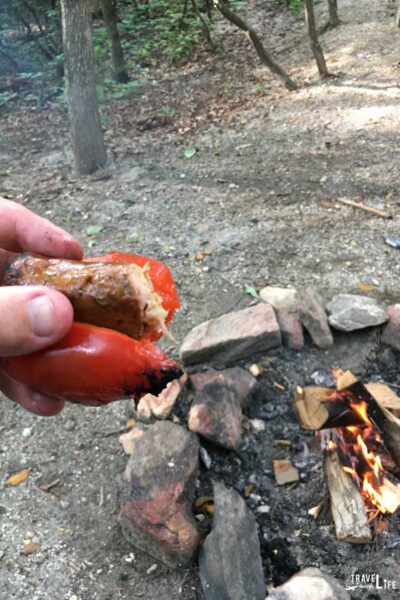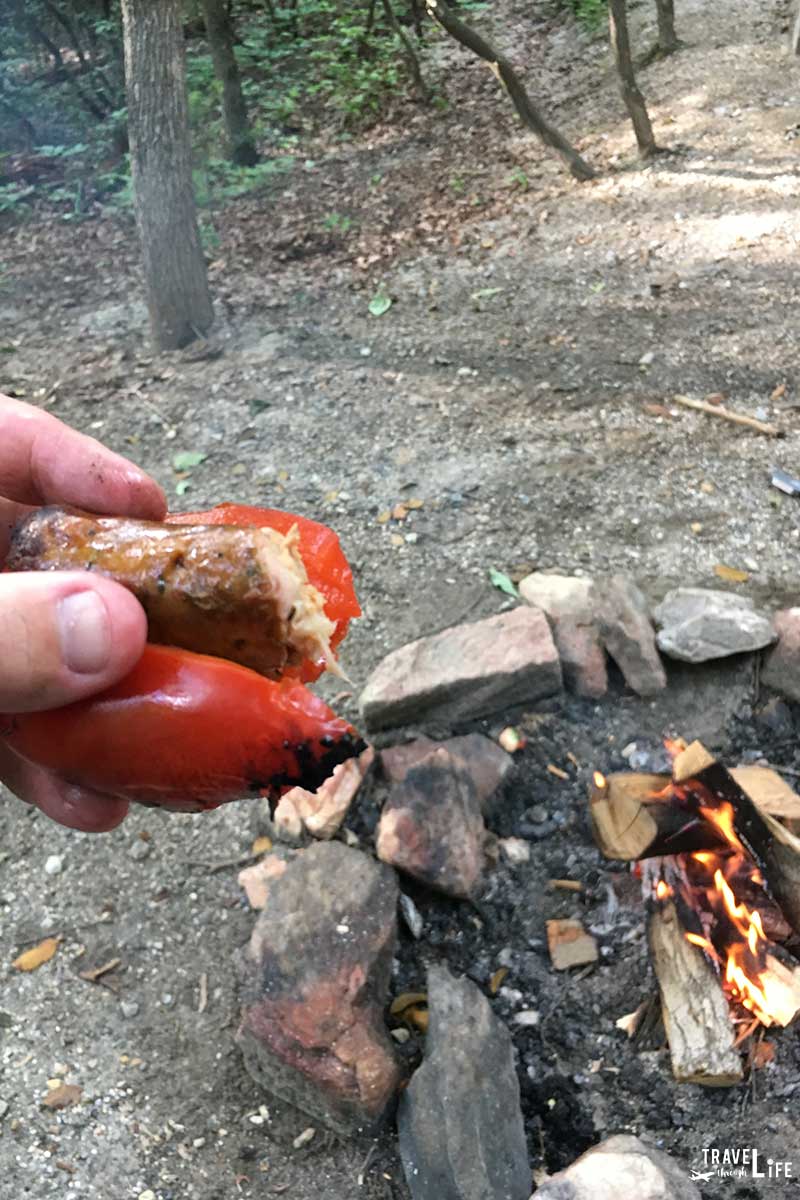 We hope to not offend your camping food list, as we acknowledge this as a valuable time to fill that hamburger and hot dog fix, but just hear us out here. One recent camping trip happened to be during our journey through the Whole 30, which made life a little bit more difficult while on the road. I packed all the food that we would need as a family and thought I'd share some of our ideas with you!
Lunch: Oven-roasted chicken legs, cucumber, and guacamole.
Dinner: Chicken apple sausages on the grill in fire roasted pepper buns and a handful of almonds.
Breakfast: sausage and pepper omelet in a bag and a fruit salad with more almonds.
Bonus: Throw a foil pack of sliced steak, sweet potatoes, and carrots on the coals and let it cook for about an hour. Just make sure the coals are hot and you can enjoy for dinner or lunch the next day!
Healthy Snacks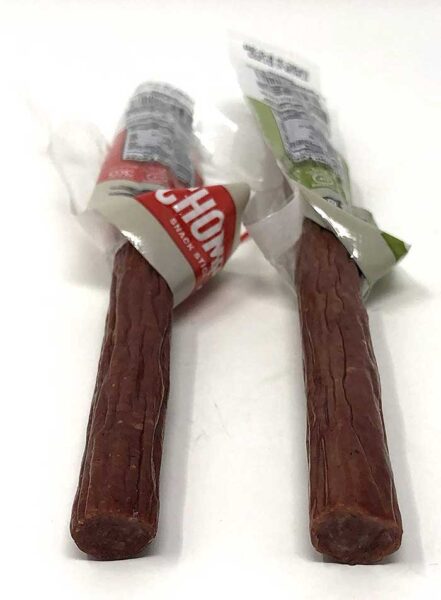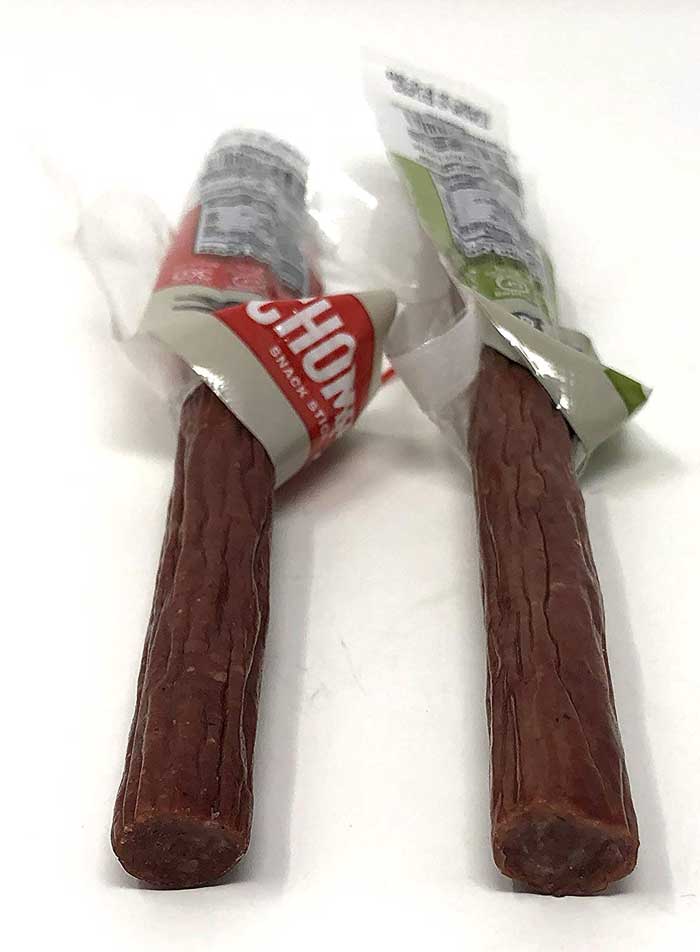 Although snacks are controversial during The Whole 30, we did end up munching at various times on some tangerines, Chomps jerky sticks, and some RXBARs. It was tough and we ended up feeling hungry and cranky, so we gave in during this one trip!
We can't wait to share our journey through The Whole 30 with you. If you're interested in learning more and/or giving it a shot, we absolutely recommend The Whole 30 book. It will change your life if you decide to go through with it! 
Cooler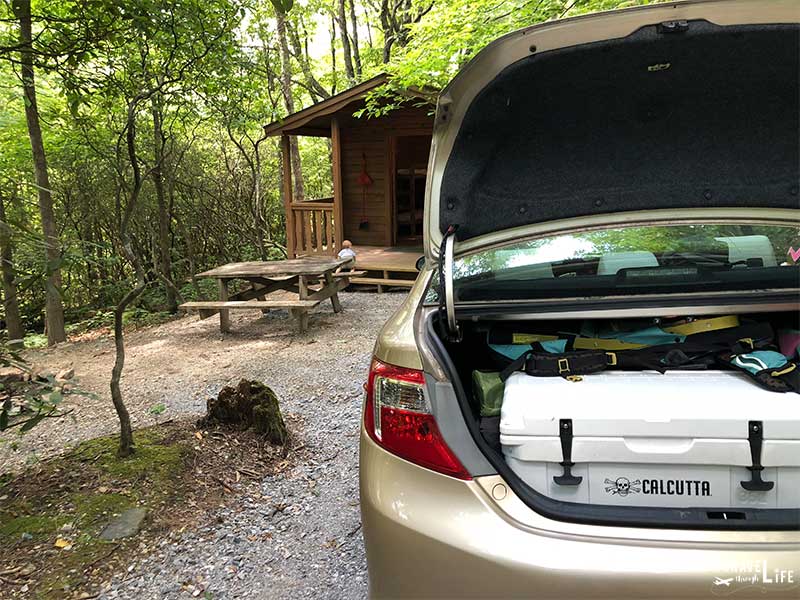 All that food has to be stored somewhere! We pack everything from our pasta salad to our ketchup in our Calcutta cooler. You can either grab a bag of ice on the way or a couple of reusable ice packs to keep things cold. Just know that if you have a premium cooler like this one, your ice will keep everything cold over an entire weekend!
What's your favorite cooler to take camping? 
Camping with a Baby
Camping with a baby has changed things for us, so we thought a breakdown of how we handle a few things there would be nice. We've also covered some other aspects of life and travel with a baby, in case you're seeking more guidance and/or inspiration there.
Sleep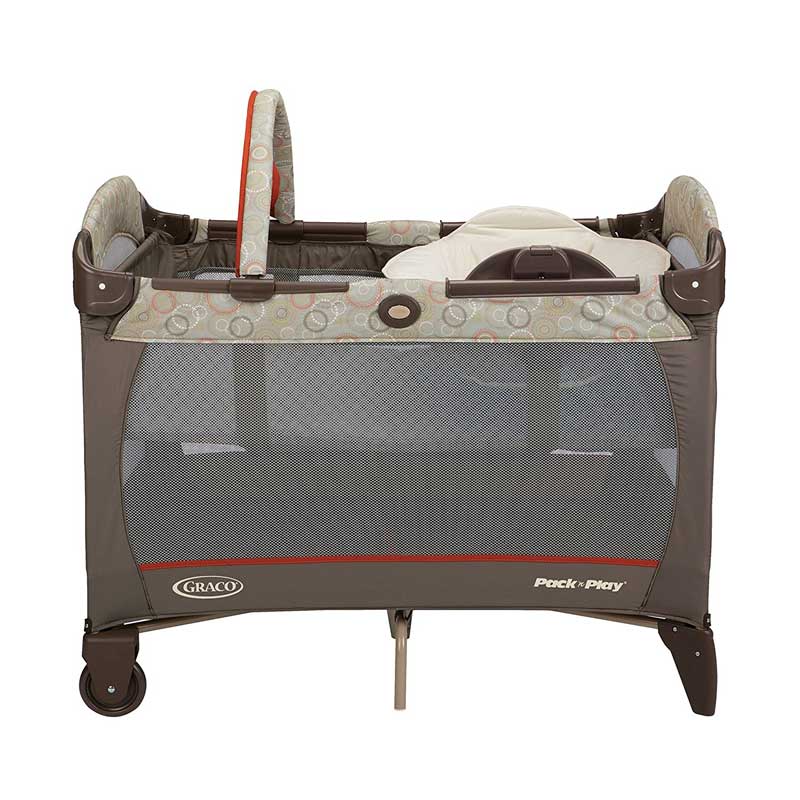 Charlotte's first camping trip we decided to ease her in, so we stayed in a cabin at Bear Den Resort & Campground, which is one of our favorite places to stay in North Carolina. This was mostly so that we could keep her in her pack N play (PNP) instead of figuring out sleeping in a tent, though we will eventually. Charlotte does have a toddler air mattress, which replaced our PNP when we entered the "travel with a toddler" stage. For our next camping trip, we'll definitely roll out the mattress and go all in!
Which these do you think we mentioned in our Four Gifts for Christmas Challenge?
Mat and Chair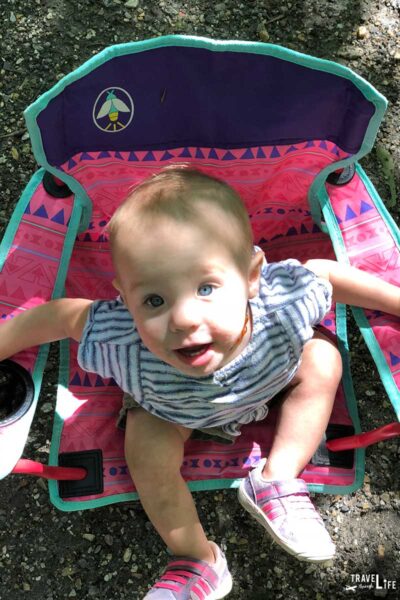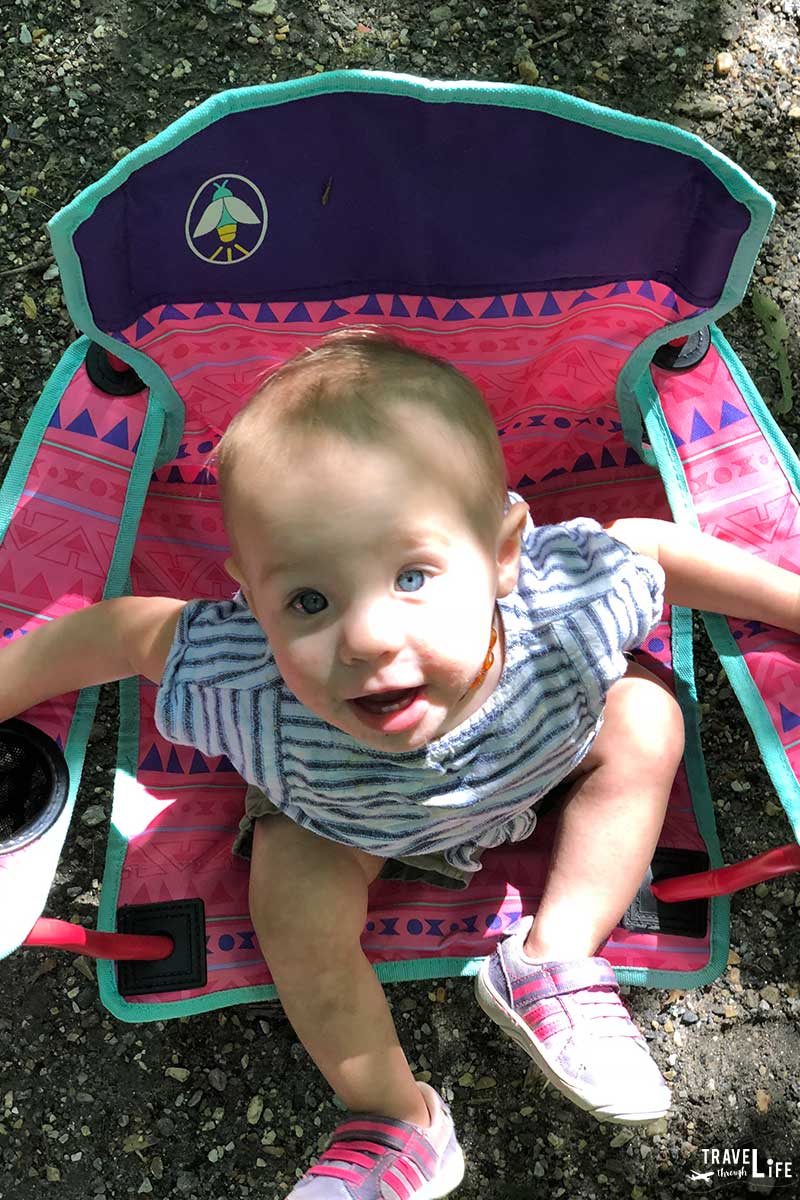 We found having a mat down helped slow her attempts to ingest rocks. This one folds up nicely and is super easy to clean! It's great because kiddo will eat most of her meals on this mat. We also have a child-sized camping chair for her so she can enjoy the fire with us.
I also keep her busy with some toys that she had forgotten about (we rotate toys every week, so I grabbed a toy she hadn't seen in a while and she was fixated!) but mostly she was off exploring and tasting the wilderness.
Our Thoughts and Yours, Too!
Whether you're going to the mountains or finding a campground nearby for a staycation, we hope you find this packing list to be helpful. We love getting out in nature and relaxing by a campfire, so naturally, we had to develop a system to give us more time to enjoy ourselves. And that's why we've compiled this camping packing list for ourselves, but also for you to use. If you use Pinterest like we do (btw, follow us!), here are a couple of handy images to keep this guide at the ready for when you need it next.
Did we leave something out? Are we taking too much when camping? Let us know in the comments section and keep the conversation going!
This post is part of our travel packing list series. If you'd like to see how we pack for another type of trip, please let us know and we'll see what we can do.