Affiliate links linking to products we love may be found within this article. For more info, please check our Disclosure page for more explanation of affiliates and sponsorships.

---
There's tons of parenting advice out there, especially when it comes to traveling with an infant. Honestly, here's the best response for about 99 percent of the things we hear: "What works for your kid may not work for mine!" Basically, it was the same when we wanted to visit new places even after having a child. We heard it all, including "You'll never get to travel," so we decided to test that theory. Knowing that we want our little bit to travel through life, we wanted to try as early as possible. It hasn't been easy in the slightest, and you're going to see that we're sharing lessons learned from our mistakes. However, we've learned that it's totally possible to rock out traveling with an infant, and that's what we're going to show you now!
Looking for different ages? We've also covered travel with an older baby (6 to 12 months) and how to survive traveling with a toddler. 
Traveling with an Infant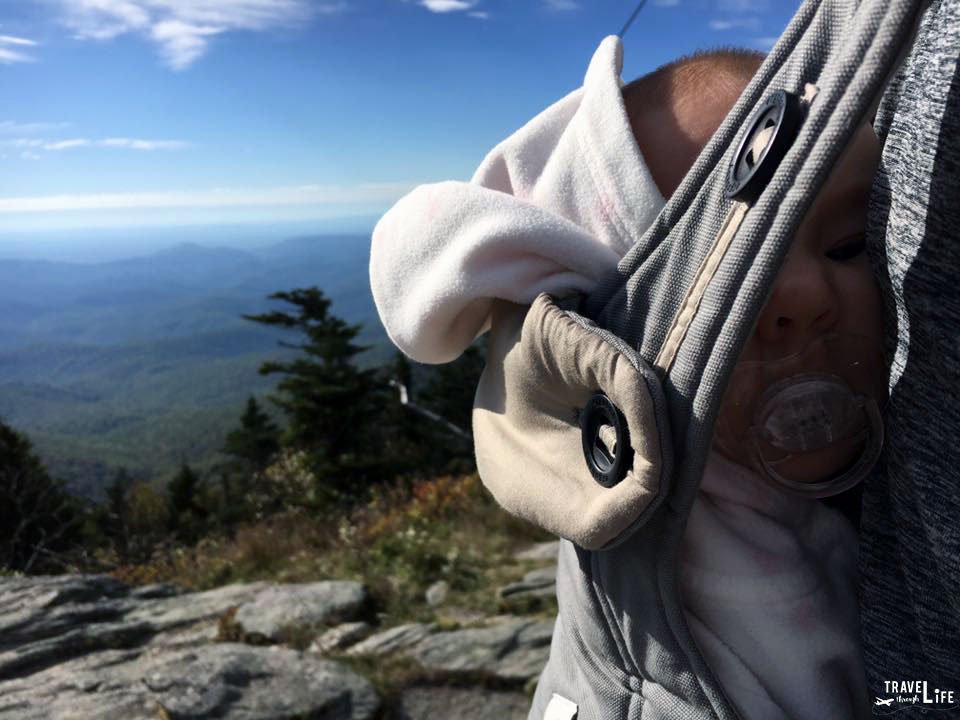 This is the first in our series on baby travel and also a part of our section covering travel with kids. We've also created a guide on travel with an older baby (6 months to 12 months) if you're seeking even more info.
Baby Travel Gear
The short answer for "what do I pack for traveling with an infant?" is "Not much." If you want more info, our detailed baby travel checklist for infants will break down the items you need for your next trip! In the meantime, here's a quick roundup.
Things to Pack for Baby Travel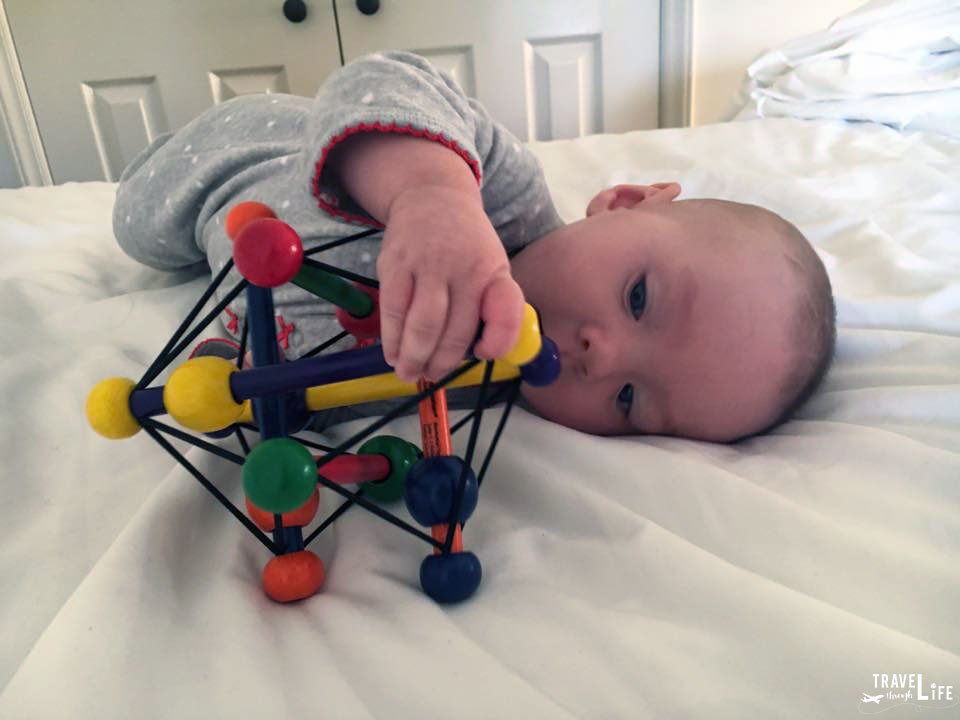 Your baby travel checklist should definitely include clothes, diapers, wet wipes, pajamas, pacifiers, her favorite "chill out" toys, an Ergobaby Carrier, and the same stroller that we use every day. (Bonus points if it doubles as a car seat) We also bring a blanket for chilly days, but we don't pack anything that doesn't get used on a daily basis. Aside from a few things we pack for sleep, this is it. We try to live minimally at home and that means we want to travel minimally as well. Sure, there have been plenty of times we've forgotten things, but in the long run, it hasn't hindered our travel. As long as we have diapers, the baby, and each other, we've found a way to travel as new parents!
We've created the Essential Baby Travel Packing List for Infants to help you even more!
Note to Mommas with Giant Bags
This should shorten your baby travel checklist because here's the thing. Mommas with giant bags. I'm looking at you. When we travel, I will bring one or two toys. But when we're walking around, our little one is pretty content most of the time. Why? Because the entire world is brand new to her. All those new people coming up and staring at her, the new smells, and the whole new environment is fascinating to her. I'd rather her look at all of that than being distracted by the same toy we have a home.
Cloth Diapers vs. Disposable Diapers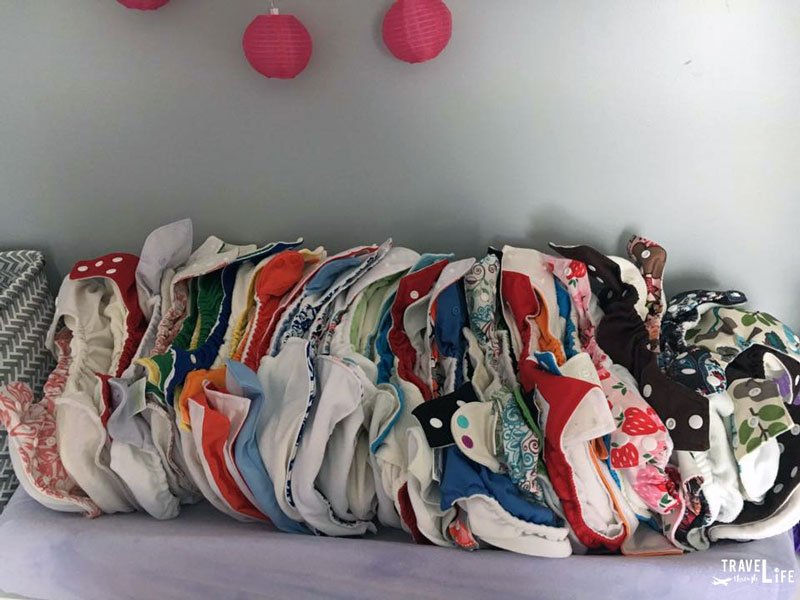 At home, we cloth diaper. I love the affordability and find stuffing diapers once a week while binge-watching Game of Thrones strangely Zen. We've tried to cloth diaper while traveling but found it to be a lot harder than we thought. Pulling the inserts out in and trying to stuff them in the travel bag from the passenger side of our Toyota Camry slowed us down, though diapering in the back of an SUV (like a RAV4) is much more convenient! Traveling with cloth diapers also forced us to carry an entire extra bag just for them. So, when we travel, we use disposable diapers. Call us crazy but that's what has worked so far.
Responsible Diaper Disposal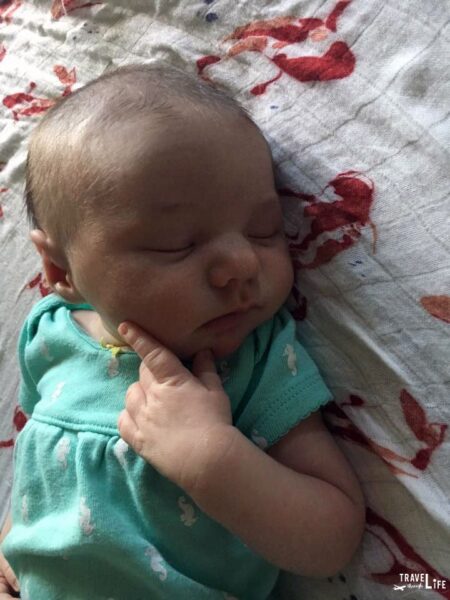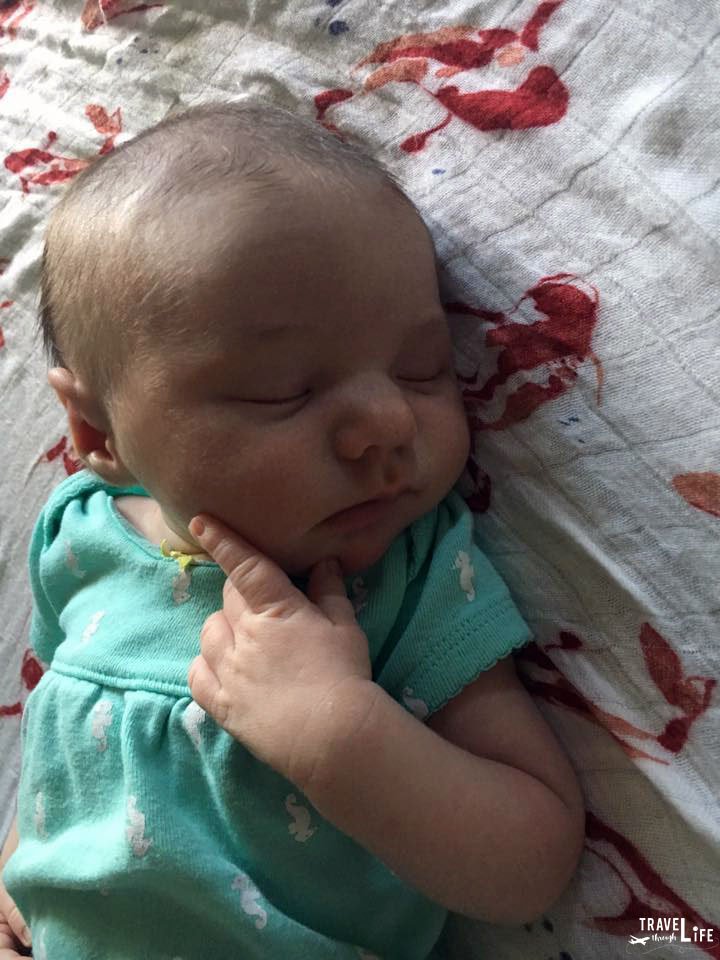 With disposables, we haven't quite figured out what is "acceptable" when it comes to trashing your diapers. As a parent, I'd have no problem dumping hotel trash that had a diaper in it. I've also worked with young diapered children for a long time and bodily fluids/smells from tiny humans no longer phase me. But sometimes, we stay in small BnBs and it feels weird to me to leave our child's diapers in the trash. We still bring our large travel wet bag with us to dump our diapers in. Not only does it make me feel like a good Samaritan, but it also helps when you're changing the kiddo say on a random pull off in the middle of some unknown backroad with no trashcans in sight! How do you handle diaper disposal while traveling?
Sleep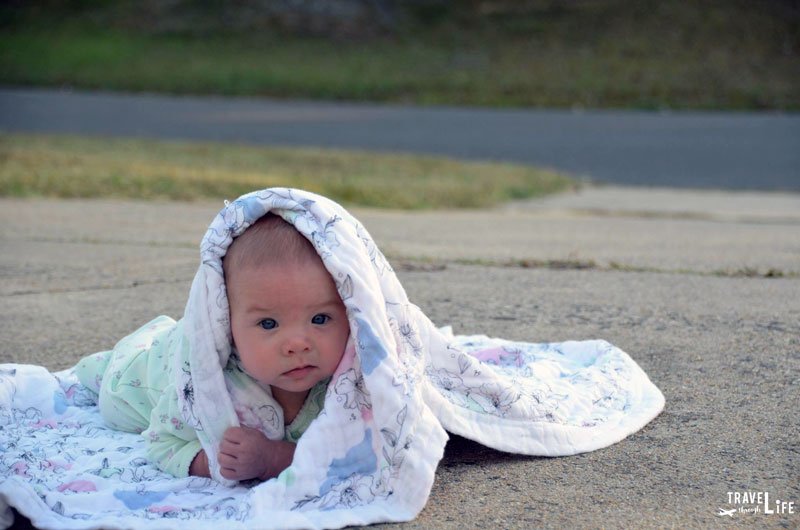 Surprisingly, for our kid, travel hasn't messed with her routine too much. Now, excuse me while I run and knock on wood, buy a magic potion, and kneel to the sleep gods at the base of Mt. Slumbertumberpajamaland. We let our daughter sleep wherever she is and ideally plan for baby-wearing her in our Ergo360 for at least an hour, so she will hopefully pass out later. At night, she sleeps in her travel bassinet which has been incredible and has saved us a lot of worry about where to put her. It'll be a sad day when she outgrows that bassinet and we have to find a new alternative!
Disclaimer: As a new parent, I've also learned to NEVER TALK ABOUT SLEEP. Like ever. Even with an older baby, we don't talk about sleep! Because either your kid is sleeping or they're not. Either you can commiserate with other parents over the countless hours of sleep you're not getting or you're the lone wolf where your kid IS sleeping and you don't want to rub it in.
Sleep Routine (?)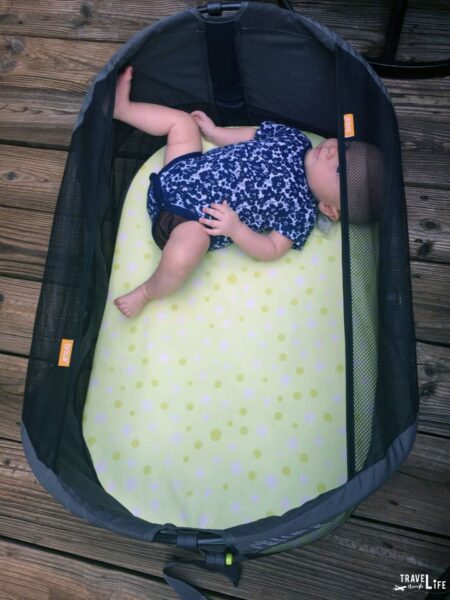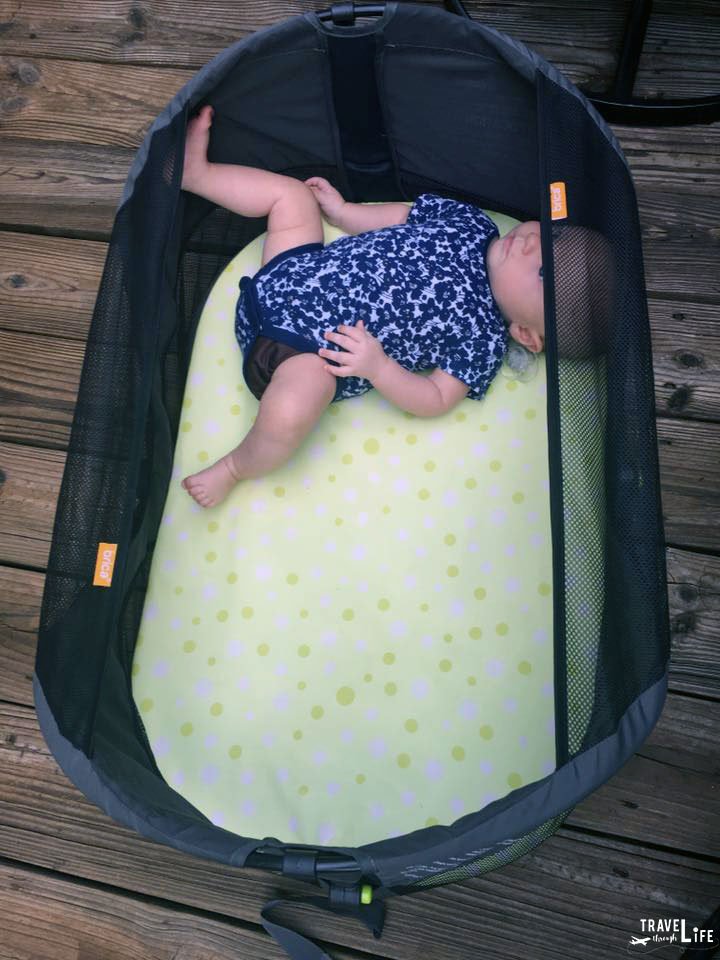 Her normal routine (for now, because of #babies) goes out the window, but we still adhere to the nightly bedtime rituals and time that we have been following since birth. That means we're back to the hotel or BnB by 7 pm. Places like The Pines Country Inn near Brevard, NC have been perfect because it's a cozy set up for Mom and Dad to hang out and chill after the kiddo goes to sleep. Otherwise, we're stuck in a dark room staring at our phones until one or both of us pass out.
Can a baby sleep well in a hotel?
Hotel sleep with a baby is terrifying. You know your kid is going to wake up in the middle of the night, but the question is always, "How loud is she going to be?" and "Will I get a nasty note slipped under my door?" This is the part of traveling with a baby that stresses us out the most. I never expect my kid to sleep through the night. I'm in my early thirties and still don't sleep through the night! But having an extra element of other people around you that aren't as gracious about those cute 3 am screams/babbles/demands for milk can be intimidating. We try our best. It's all we can do. And on weekends where she's waking up a lot more frequently, we just add extra money to our coffee budget!
Things We're Looking Forward to…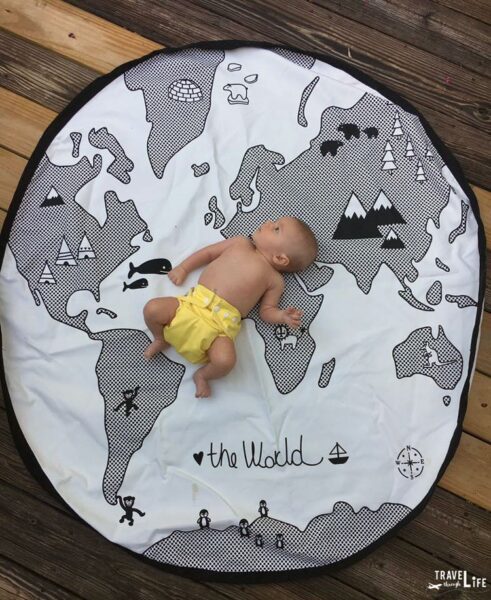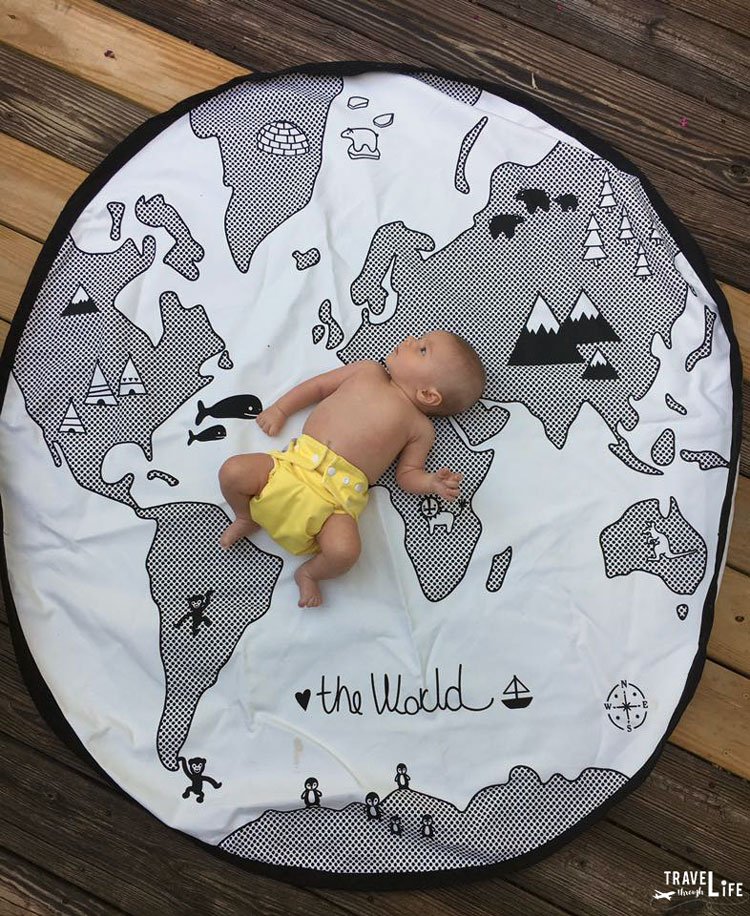 Flying with a baby is something I've tried to put off for as long as possible, but my inner bucket list keeps growing by the day. Many of the world's best places to travel with a baby are quite far away, so we'd better get our little bit on a plane before it's too late! I think my hubby is more excited for this than me, but he wants to hike and carry our daughter on his shoulders while doing so. I'm sure that our list will keep growing, but what about you? If you're a new or expecting parent who wants to travel, what are some things that you're looking forward to while traveling with your baby?
Final Thoughts and Yours, Too!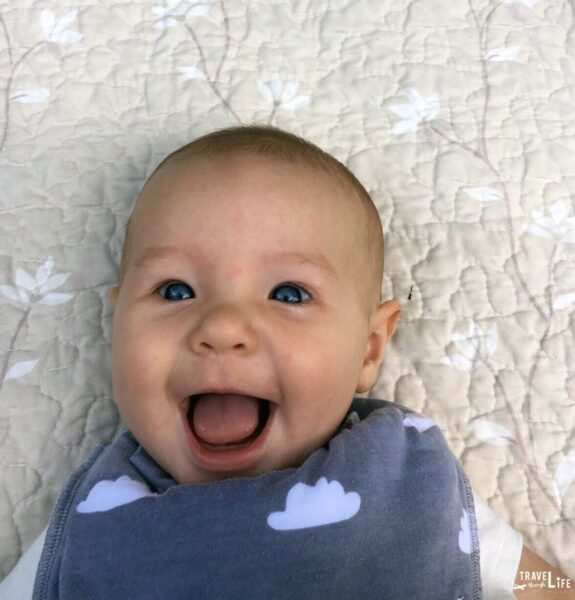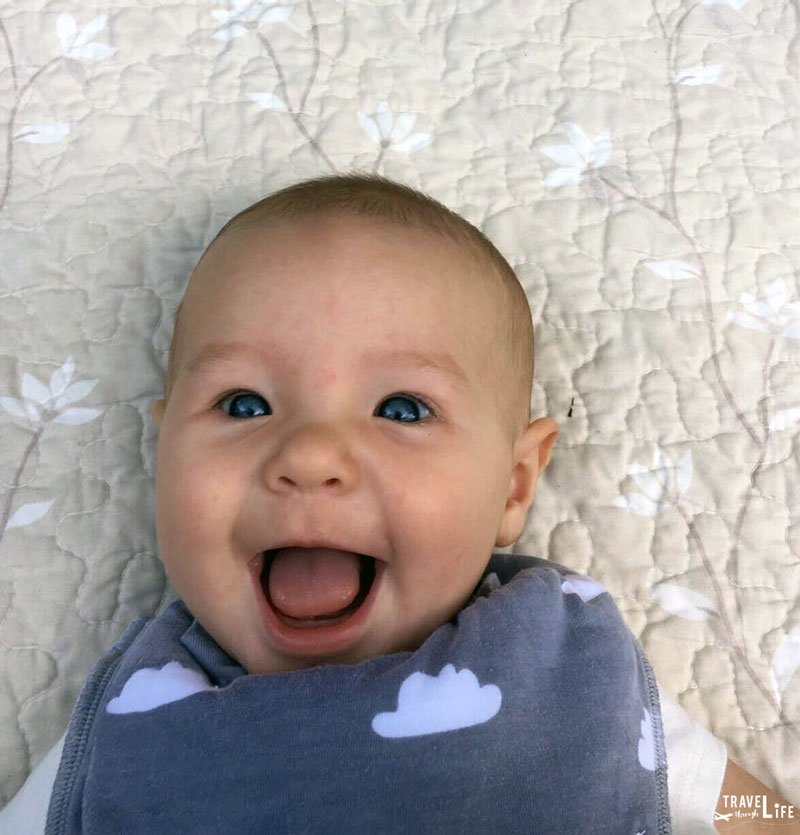 Ever since our first baby travel experience to New Bern, NC at eight weeks old, we've learned so much and are always figuring out something new (to us!). We over packed for the baby and forgot everything for ourselves! (including toothbrushes, cell phone chargers, and even underwear!) This is how we've made baby travel for now. Because as any new parent will tell you, as soon as you have it figured out, those darn kiddos change on you!