Affiliate links linking to products we love may be found within this article. For more info, please check our Disclosure page for more explanation of affiliates and sponsorships.

---
Thinking about the best places to visit in the US during the fall puts an immediate smile on my face. That's why we decided to create this guide. However, we couldn't have done it without the help of some pretty awesome people.
We reached out to experts and the result is this—the ultimate USA fall travel guide that will help you plan that perfect getaway this year, next year, and beyond.
This post is part of our blog's series on US Travel. It was originally created on August 17, 2017. It has been maintained and updated, as of September 22, 2019.
Places to Visit in the US During Fall
Blue Ridge Parkway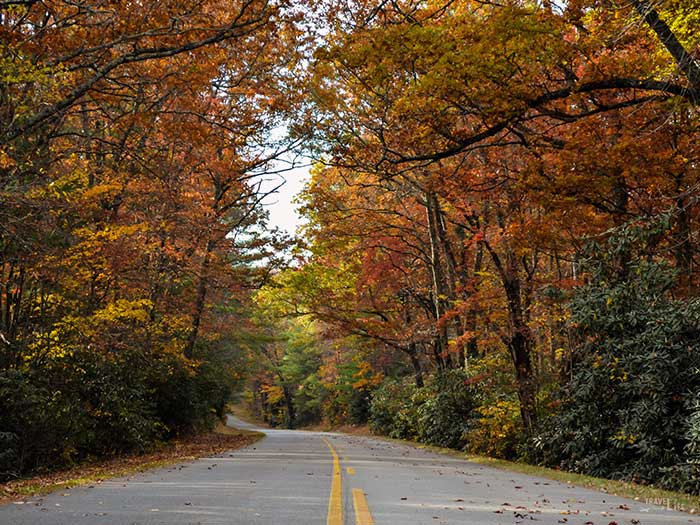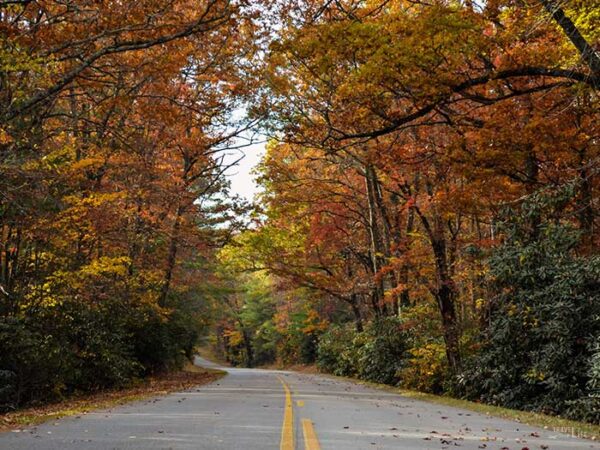 The Blue Ridge Parkway is hands down our favorite road to drive and easily makes our list of best places to visit in the US during fall. From south to north, it stretches from Great Smoky Mountain National Park on the North Carolina-Tennessee border.
You can ride it through Asheville all the way up to through the Shenandoah Valley to Rockfish Gap, near Charlottesville, Virginia. The Parkway's roads twist and turn for 469 miles through beautiful mixes of green, orange, and red.
We're not done yet discussing the Blue Ridge Parkway in this post but also created one especially for it here.
California
Julian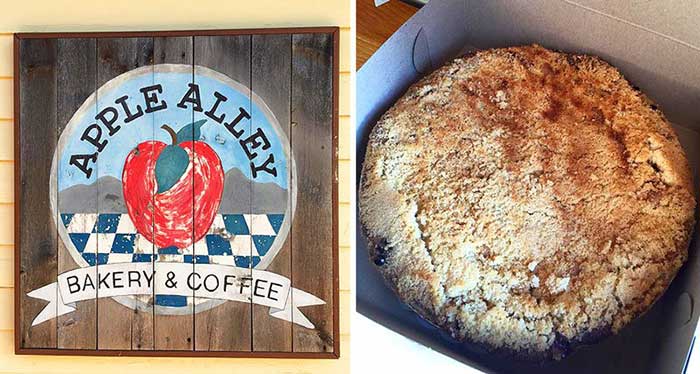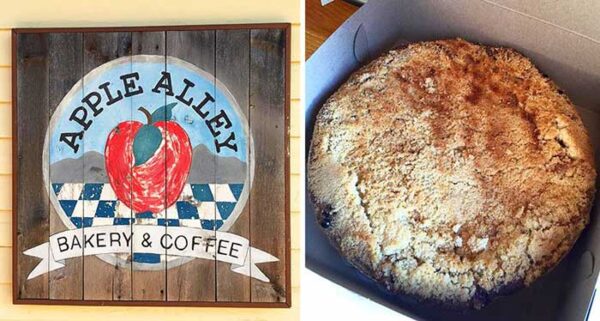 Alexa, 52 Perfect Days
Head one hour east of San Diego to Julian, in the Cuyamaca mountains. It is my favorite Southern California town to visit in fall. The town's history is tied to the 1870s gold rush and today it continues to celebrate these roots.
This is a small town with an old-fashioned feel; you'll find an Alpaca on the corner waiting for parents to let their kids take a ride and a local theater company called Desperados that put on a bank-robber gun show/play.
More Julian Fun
While in Julian you can take a gold mine tour, enjoy a horse-drawn carriage ride and visit the many stores that dot Main Street. In fall, you can't visit Julian without enjoying a slice of apple pie. The town is famous for apple pies and apple cider.
There are many apple pie shops in town all making their delicious desserts from apples grown in nearby orchards. If you have time and the appetite, enjoy a slice of pie from different locations and try as many as possible!  
Delaware
Fifer Orchards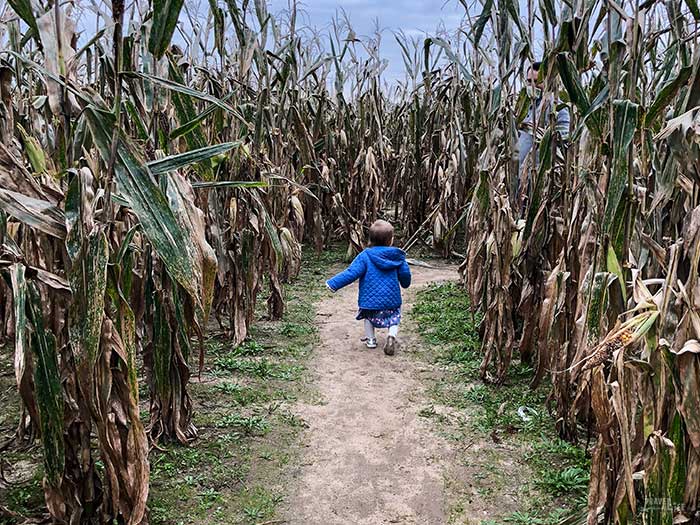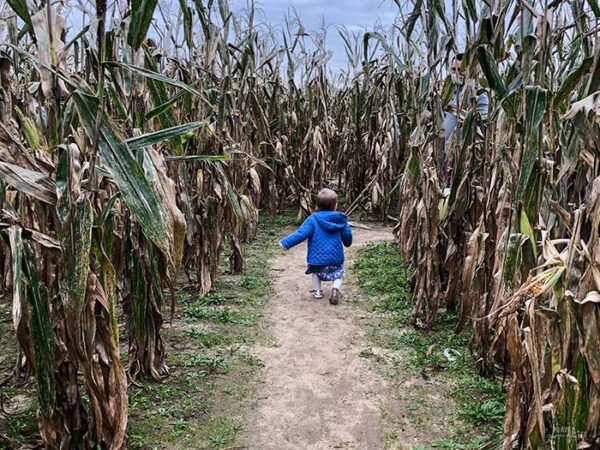 Not too far from Dover in Camden-Wyoming, Fifer Orchards is an awesome place to visit in the US during fall. Throughout the year, you can visit their country store and buy something delicious and grown right around the corner.
However, during autumn, this place really livens up. You can enjoy U-Pick Apples, a pumpkin patch, corn maze, and tons more fun during Fall Fest Saturdays. We loved our time there and even interviewed a person with a long connection to it here. 
Florida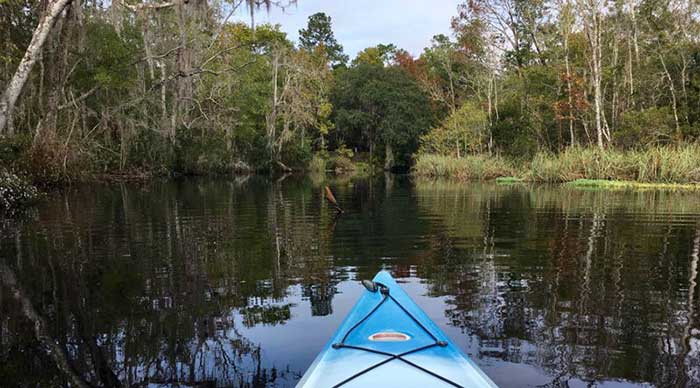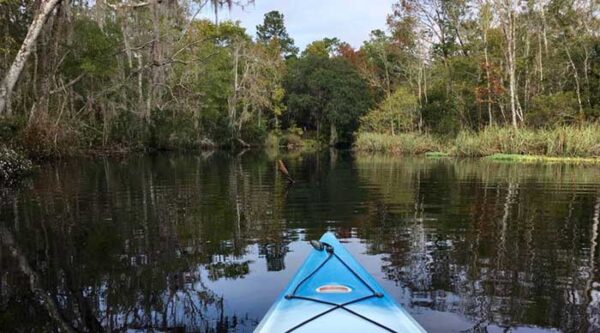 Charles McCool, McCool Travel
Much of the USA is wonderful to visit in autumn. Crowds are light, the weather is cooler, and fall festivals are everywhere. It is one of my favorite times of the year to visit Florida. Days are still hot/warm but evenings and early mornings are coolish.
Hurricane season is over (mostly) and snowbird season is a few months away. Skeeters are nonexistent. It is a fun time to visit! One year in mid-November we did a family vacation to a theme park and rode a popular ride over and over and OVER again with no wait. A much better experience than in the summer!
Dunedin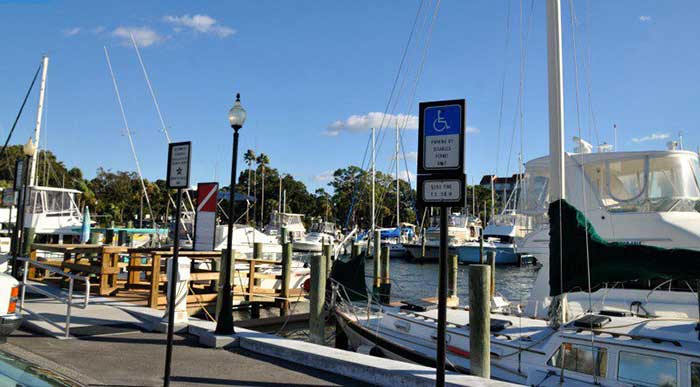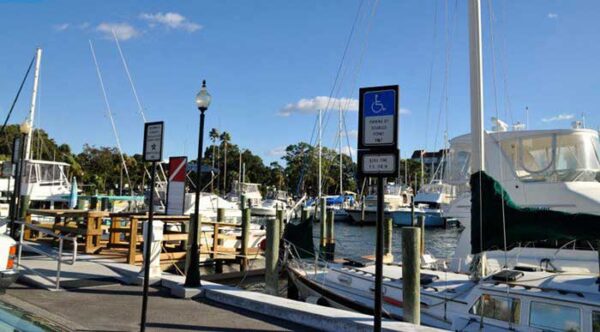 Melody Pittman, Wherever I May Roam
Florida isn't all theme parks & beaches; we actually have four distinct sunny travel seasons and one of the best places to visit in the US during fall. I love visiting Dunedin, a cute little town on the Gulf Coast, and sister city to Stirling, Scotland. 
Dunedin boasts an adorable downtown with boutiques & local eateries, while the Pinellas Trail (cycling and walking.) runs through it. When we aren't eating, drinking, or photographing this beautiful city, we attend the Art Harvest Show & Sale (juried art) in November.
Of course, we also drive to Tampa for NFL football games. Kayaking to Honeymoon or Caladesi Island State Parks is a must. Nearby Safety Harbor & Clearwater are fun day trips.
Georgia
The North Georgia Mountains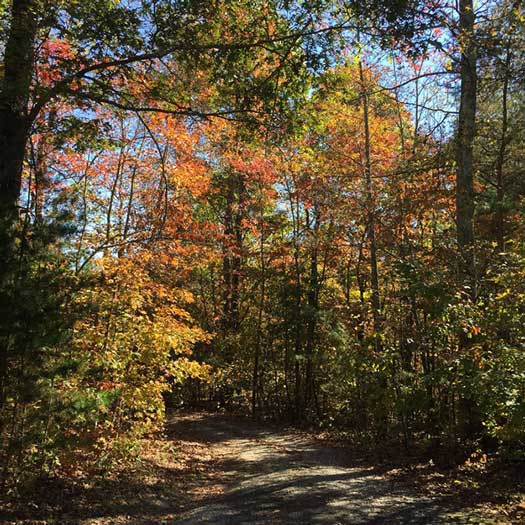 Karon Warren, This Girl Travels
The North Georgia Mountains offer many activities to enjoy during the fall season. For instance, head to Ellijay in Gilmer County—also known as the "Apple Capital of Georgia"—to pick your own apples.
In Dawsonville, see if you can find your way through Uncle Shucks Corn Maze, or enjoy a hayride at Burt's Pumpkin Farm before choosing a pumpkin for your jack-o'-lantern.
Try some of the local wines in Dahlonega, or shop for holiday gifts at the annual Gold Rush Days Festival. No matter where you roam in the North Georgia Mountains, you're sure to enjoy the gorgeous fall colors dressing up the trees.
The Grand Canyon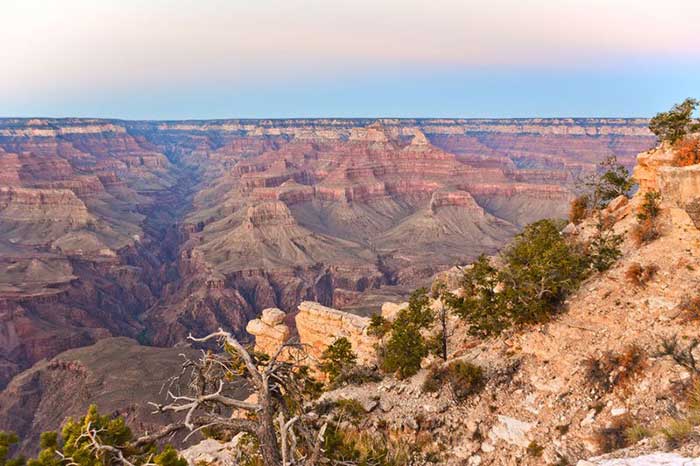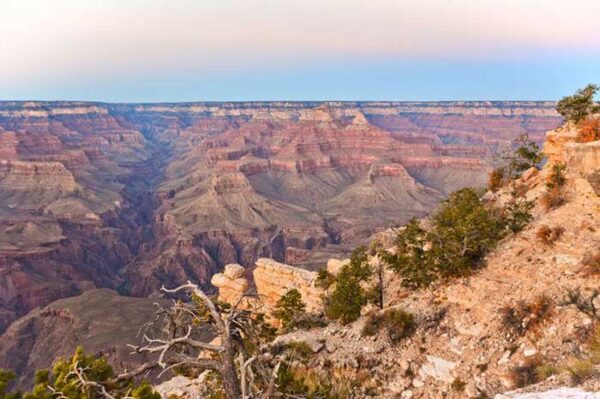 Bella, Whisper Wanderlust
After admiring it in so many American films, I decided to visit the Grand Canyon and enjoy its enormity and uniqueness in real life, as well. Therefore, I had to include it in the itinerary of a 10-day trip to the West Coast of the US in the fall.
When I saw the place where the geological processes have made a unique combination of sizes, colors, and structures, I was left speechless. The beginning of autumn, to me, is the perfect season to visit The Grand Canyon.
That's because you have the beautiful harmony of the colors of the vegetation and the rocks, as well as for the perfect temperatures, ideal for exploring the long, beautiful trails.
Massachusetts
Ipswich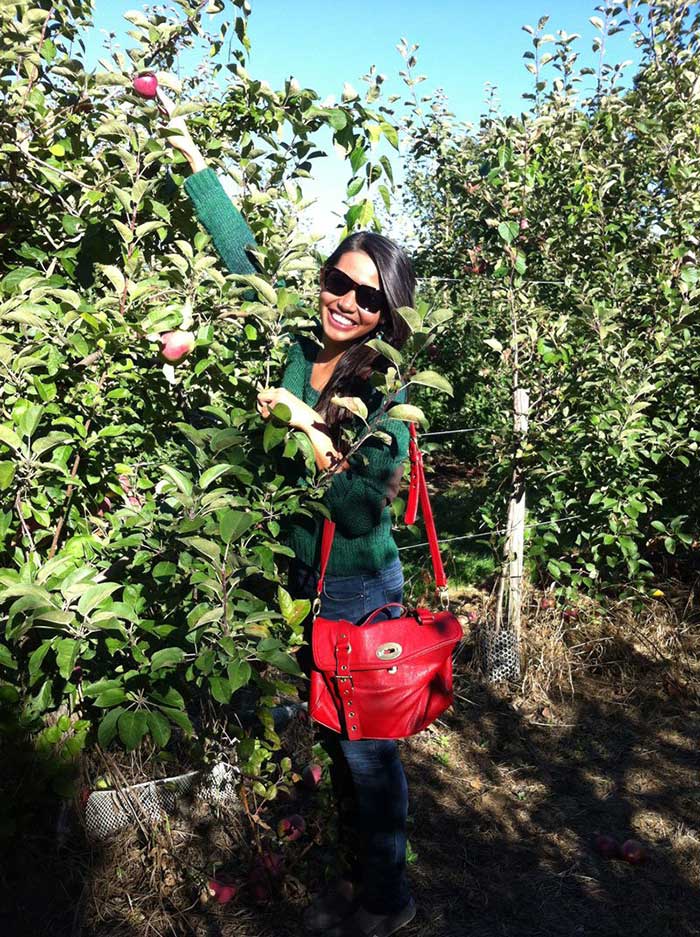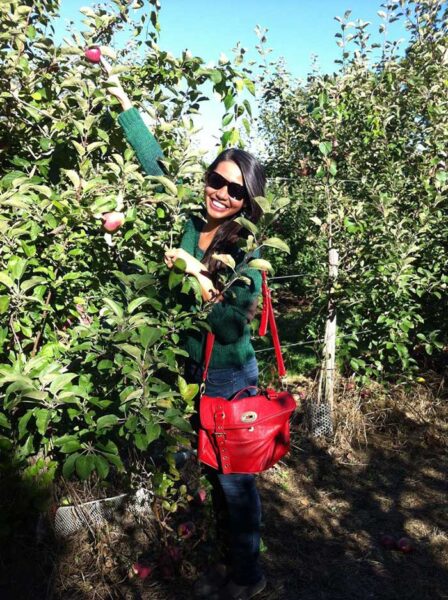 Izzy, The Next Somewhere
Nothing proclaims the advent of fall more than a trip to the apple orchards in Massachusetts to pick your own apples!
There's something about the rustic red farm surrounded by piles of hay bales and the rickety pickup trucks carting families to the vast expanses of orchards that have trees brimming with succulent Galas, tart Honeycrisps, and lip-smacking Granny Smith apples that are just so… autumn.
Russell Orchards in Ipswich is my go-to orchard. Why? Because they have more than ten different varieties to choose from and you can even go home with apple wines and ciders and apple cider doughnuts pulled fresh from the fryer!
Michigan
Traverse City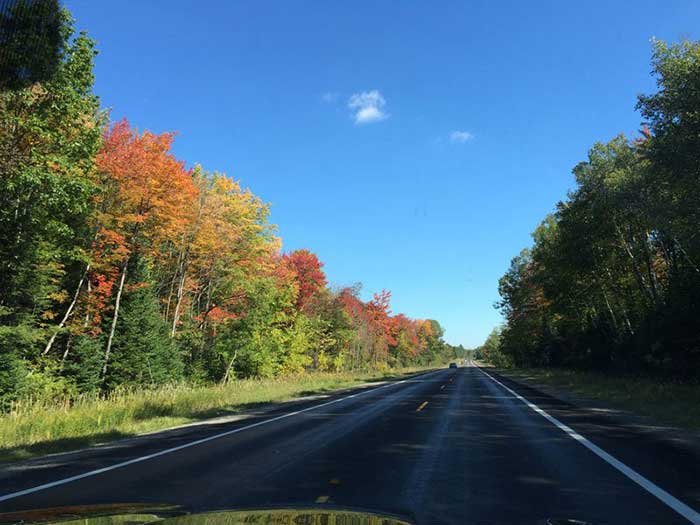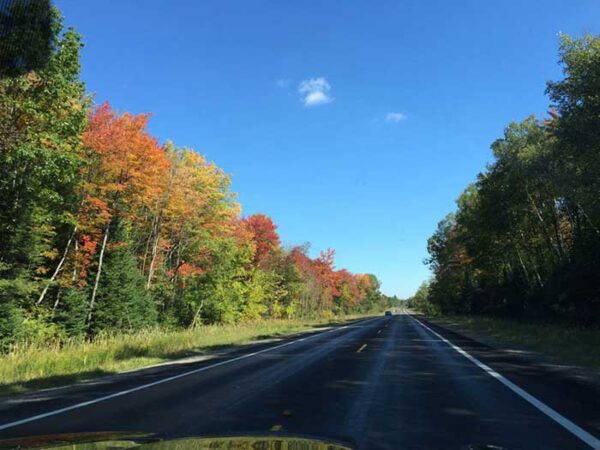 Sue Reddel, Food Travelist
Traverse City, Michigan is a terrific place to see the beautiful changing fall colors. It's also a destination that is a food traveler's dream. Whether it's fine dining or more casual fare that suits your fancy they have it all.
Don't forget to try the sweets from the Grand Traverse City Pie Company and top-rated Moomer's Ice Cream. Area wineries, craft brewers, and local meaderies are also abundant and delicious.
While you're there be sure to check out the nearby Sleeping Bear Dunes National Park. Beautiful spot for nature walks, bird watching and just enjoying the scenery.
Minnesota
The Boundary Waters
Cassie Dufon, Wandering With Coffee
The Boundary Waters in northern Minnesota has got to be the best kept Autumn secret. This area is mostly reserved for camping with only a few lodges to stay in. Just bring your tent and your gear and stay to soak in the best part of autumn! Minnesota, in general, boasts an incredible fall experience.
For starters, there's cooler weather perfect for sweaters and pumpkin spice lattes, as well as vibrant trees across the state. The Boundary Waters are the perfect place to stay if you want an adventurous and outdoorsy Autumn experience.
My recommendation is to visit Front Porch Coffee & Tea to pick up a warm coffee before wandering among the trees for the rest of your visit.
New Hampshire
White Mountains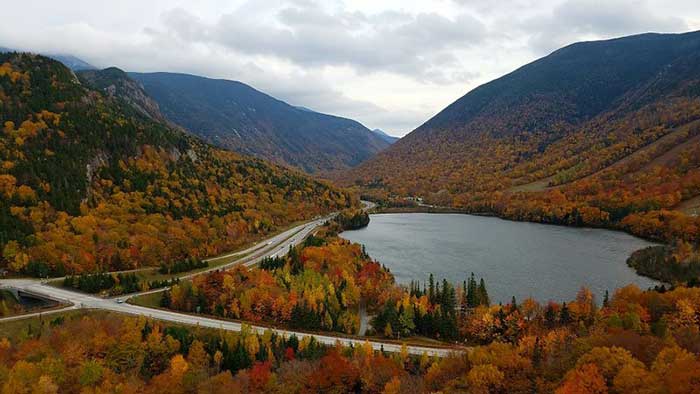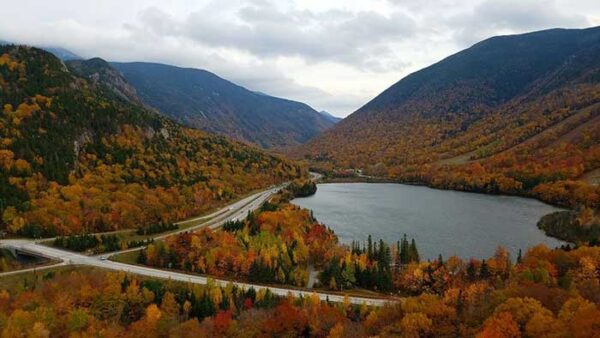 Frank Parrott, Nothing but New England
Fall in the White Mountains of New England is a wonderful myriad of colors.  With the leaves of the numerous variety of trees changing from their summer green to everything from vivid yellows to fire-engine reds,  it is no wonder why these mountains of New Hampshire are so popular. 
Hikers, bikers, and families on day trip drivers all have the ability to see Mother Nature work her magic. Of course, being a hiker, I am a little biased and will say that hiking the White Mountains in the fall is the best.  
The cool crisp air makes for perfect hiking conditions.  Reach a summit of one of the 48 four thousand foot mountains, and you will be treated to views you just can't get from driving in a car.
New Jersey
The Jersey Shore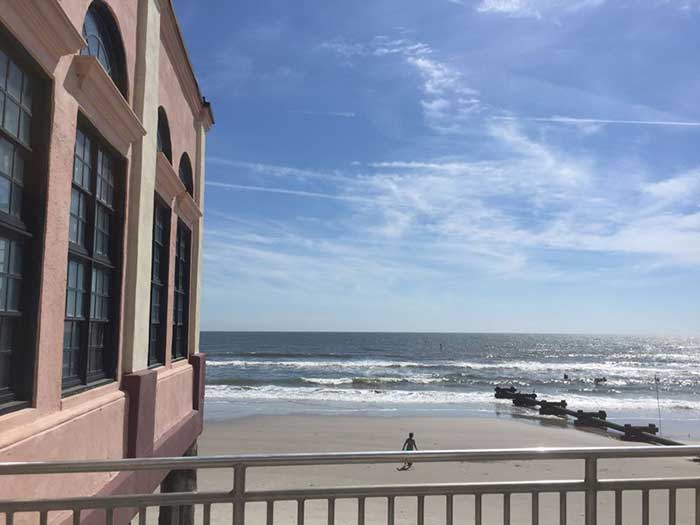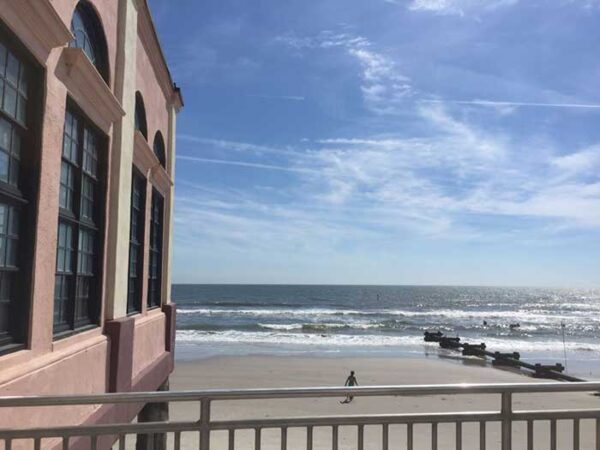 Erin, 10 Miles Behind Me
Summer may be ending, but it's the perfect time of year to head to the Jersey Shore. The crowds are gone and the beach is your own. There are also lower home rental prices than during the busy summer season.
Most recommended are the beach towns of the southernmost county in NJ—Cape May County: Ocean City, Sea Isle, Stone Harbor, Avalon, and the town of Cape May itself. Visit Cape May Brewery, climb the Cape May Lighthouse, tour Margate's Lucy the Elephant, rent a bike to ride on the boardwalks, or relax with a novel on the beach—even if you have to wear long-sleeves.
Check restaurant hours in the fall as some will shut down for the season or be open solely on weekends when winter gets closer.
New Mexico
Santa Fe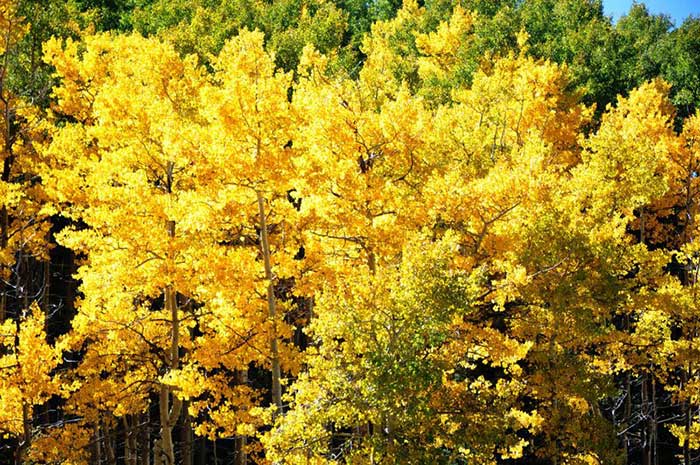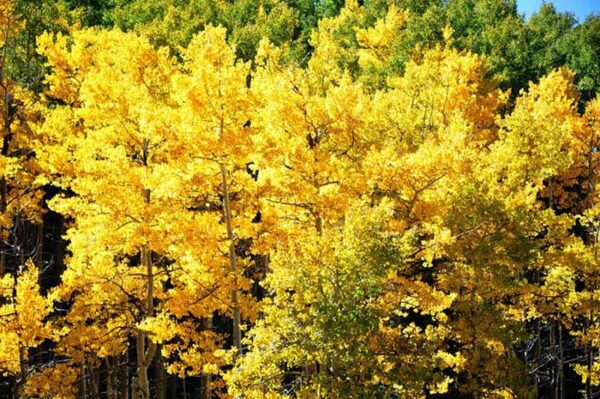 Billie Frank, Santa Fe Travelers
After spending most of my life in the Northeastern United States where fall is a riot of glorious colors, fall in the Southwest took some getting used to. The aspen, Northern New Mexico's most common native deciduous tree, turns yellow in fall giving the hills above Santa Fe a glorious golden mantle.
Lots of people drive up Hyde Park Road to view and photograph the mountain foliage in the Santa Fe National Forest. Finding a parking place can be challenging, but it's well worth the effort. If you want to see the foliage from above, ride the chairlift at Ski Santa Fe. Peak viewing season is early to mid-October.
New York
The Finger Lakes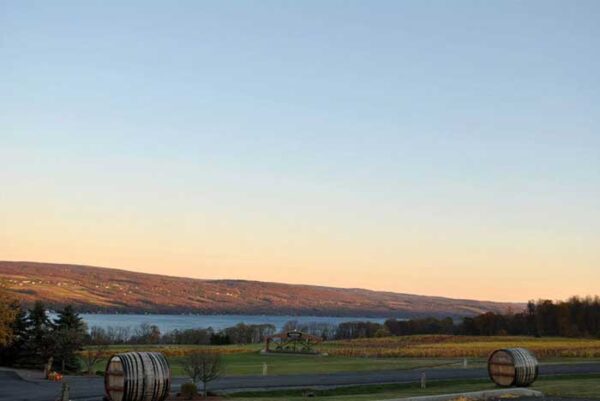 Karen, Wanderlustingk
The Finger Lakes in Upstate New York are one of my favorite fall destinations. It's a five-hour drive from New York City to Ithaca, however, the Finger Lakes are the perfect weekend road trip to enjoy the beautiful leaves turning!
The Finger Lakes are not surprisingly shaped like fingers, but they're surrounded by lush forest and rolling hills.  In the rolling hills, a wine tour of this region is a must for Riesling lovers as this region produces New York's best wine.
There's nothing like enjoying the stunning views of the lakes and the changing colors with a glass of wine!
North Carolina
Linville Falls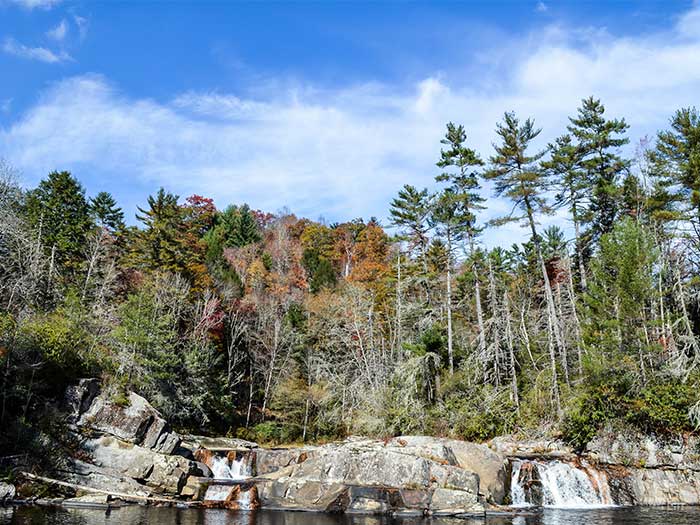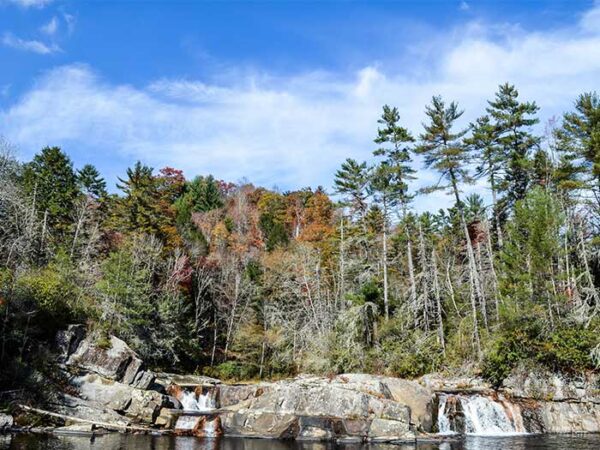 There are numerous overlooks along the way where you can sit and relax when it's not too crowded. Among the more prominent stops along the way, our favorite has to be Linville Falls.
You can take a short hike to a couple of overlooks or embark on the more difficult Plunge Basin Hike. Crowds will come from all around, driving the Blue Ridge Parkway but if you can get out early, you should be able to pull off some people- and car-less photos of those beautiful tree-covered roads and walkways.
Linville Falls is also home to some of our favorite fall hiking trails in North Carolina! We've also mentioned exploring the mountains of North Carolina as one of our favorite fall things to do there.
The Outer Banks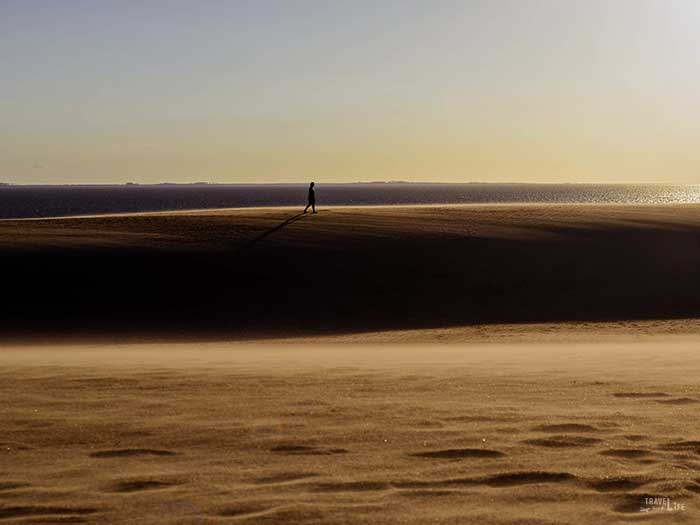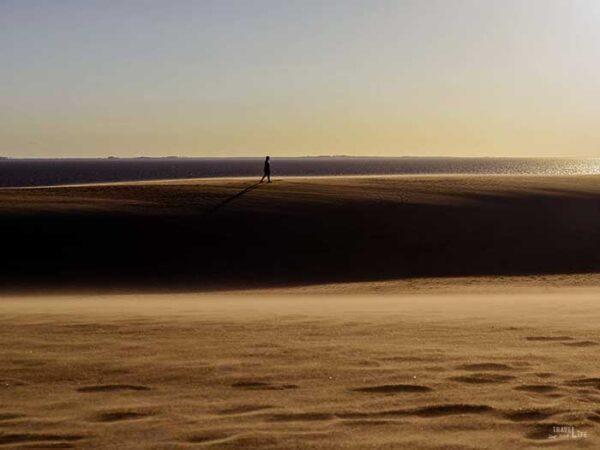 Many people will come to North Carolina to see the Blue Ridge Parkway and the mountains, but there are some pretty fun things to do on the coast, especially in the Outer Banks. Grab some Duck Donuts and hang out at one of the many beaches nearby, soaking in some sun and having a dip or two in the beautiful water.
Hopefully, you get a chance to witness the sunset from somewhere nice, and my personal favorite place has to be Jockey's Ridge State Park, where you can watch from one of its beautiful sand dunes.
Spend at least a weekend in the Outer Banks and you'll have plenty of time to enjoy Jockey's Ridge and more!
Ohio
Southern Ohio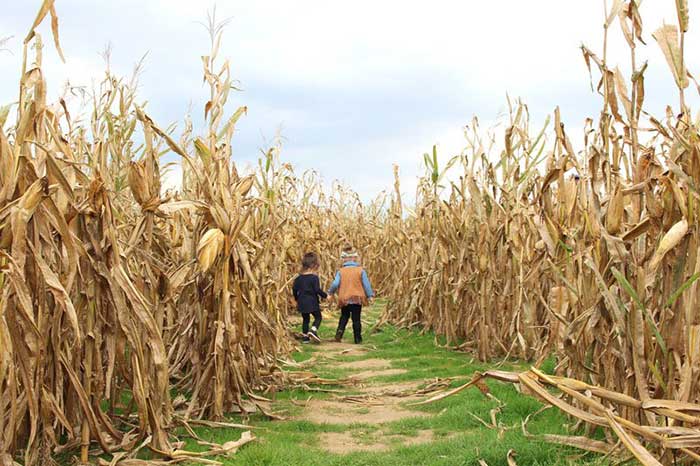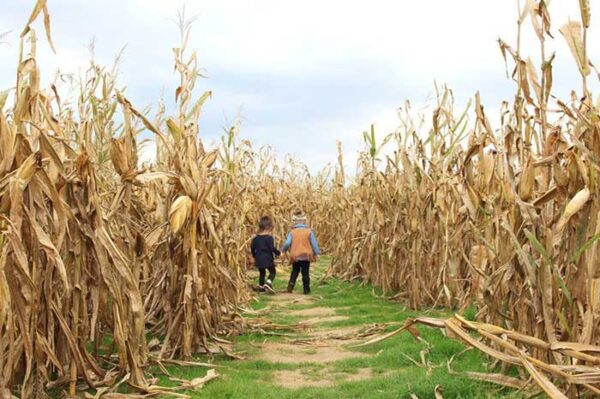 Hallie Bradley, The Soul of Seoul
Growing up in Ohio, I didn't really appreciate how beautiful autumn there is here. Then again, I didn't have much to compare it to. Having been up, down and all around the world now, I can undoubtedly say that Autumns should ONLY be spent in Ohio if you want to see true fall beauty.
The leaves change colors that you didn't think possible and the corn stalks that have browned are turned into mazes to run through. Pumpkin fields are open for autumn hunts and bonfire aromas waft down the avenues. Ohio is what you picture when you picture quintessential autumn.
Oregon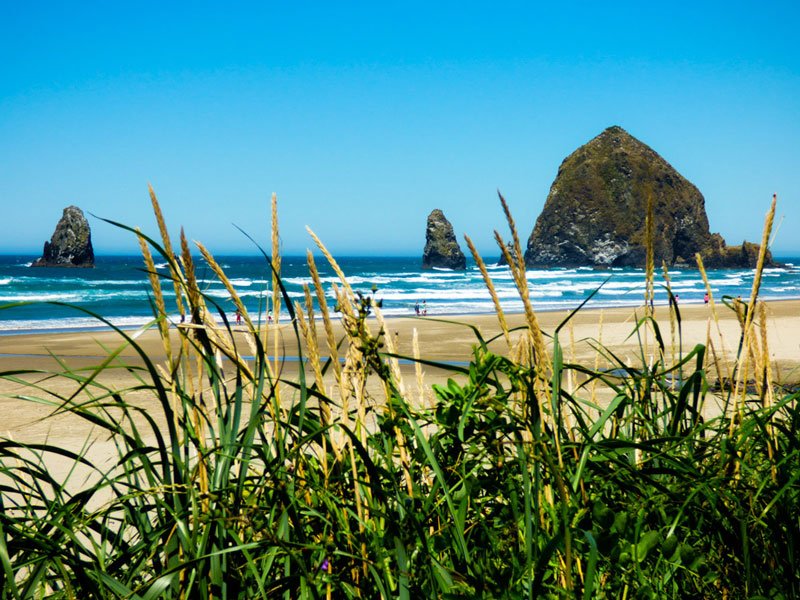 Sarah & Nathan, Discover the Pacific Northwest
With a year-round temperate climate and an abundance of natural beauty, the state of Oregon in the Pacific Northwest is a great destination almost year-round. The gray and rainy months of January and February being the exception.
However, our personal favorite time to visit Oregon is in September and October. When you think of the beach you probably think summertime, but Oregon's spectacular coastline is actually best in the fall months. That's because there's usually a gloriously warm and dry Indian Summer.
If you head to north and central Oregon you will be treated to scenic drives which take you past impressive waterfalls with a backdrop of fall colors. For wine lovers fall in the Willamette Valley is heaven.
Experience the excitement of harvest time while tasting some of the best wines in the world produced in over 500 wineries.
Pennsylvania
Laurel Highlands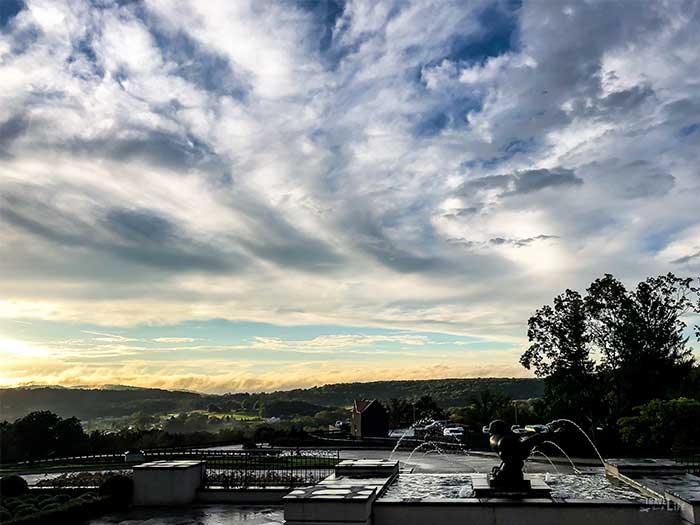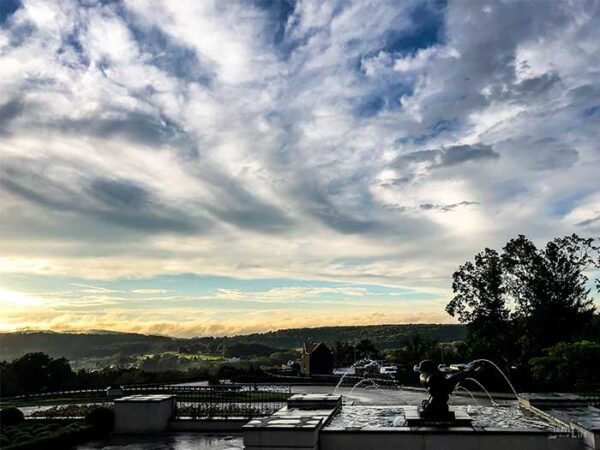 Laurel Highlands is a region in Pennsylvania that's long been one of Christina's favorite places to visit in the US during fall. That's because she grew up paddling the Youghageny and hanging out in Ohiopyle State Park.
We've been back in recent years and can still say this is a pretty awesome area to visit. Stay at a wonderful place like Nemacolin Woodlands Resort and you'll love everything about this part of Pennsylvania, too. 
You can read more about our stay at Nemacolin and stay tuned for more about Laurel Highlands!
South Carolina
Charleston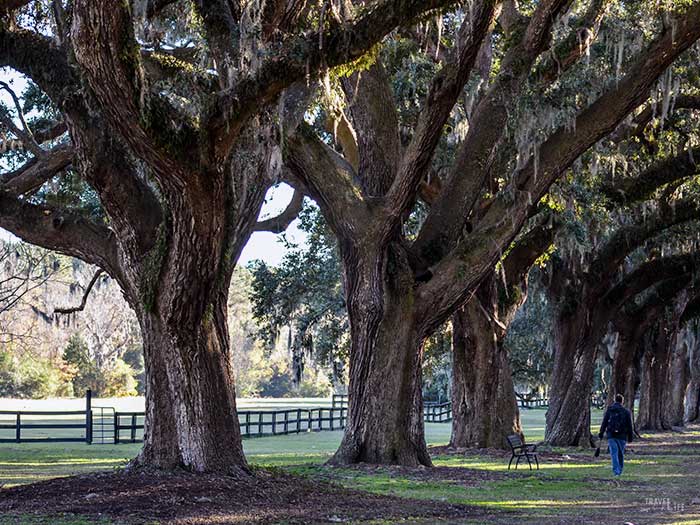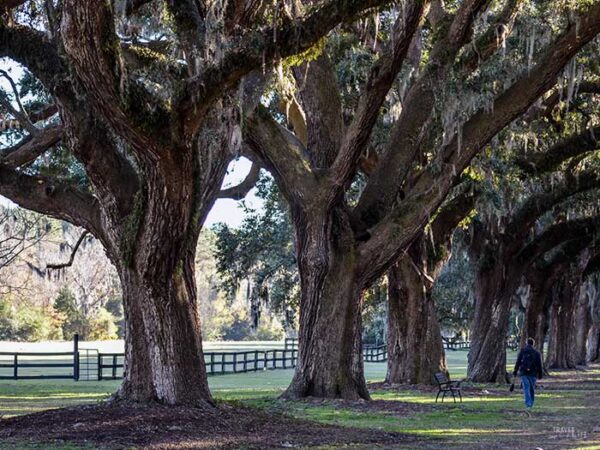 I'd definitely recommend visiting Charleston, South Carolina at any time of year. Fall is the best for beach lovers because temps are still pretty warm even through the end of September.
I'm a big fan of the city's historic district and plantation homes and think they're worth a visit throughout the year. I'll say one thing to keep in mind is the city's history, especially regarding slavery.
Sometimes, it's easy to forget the backstory and thankfully, many places in Charleston are doing better to inform people about the city's African-American story.
Bill Murray and Charleston
On the brighter side, be on the lookout for Bill Murray. He has a house in Charleston and likes to mingle in various local hotspots and he's part-owner of the Minor League Charleston Riverdogs.
I still haven't found him and use that chase as another excuse to continue revisiting the Holy City, if not for the awesome places to eat in Charleston (beyond shrimp n' grits), laid-back vibes, and everything else that makes it so great for an October holiday and beyond for a fall vacation.
Vermont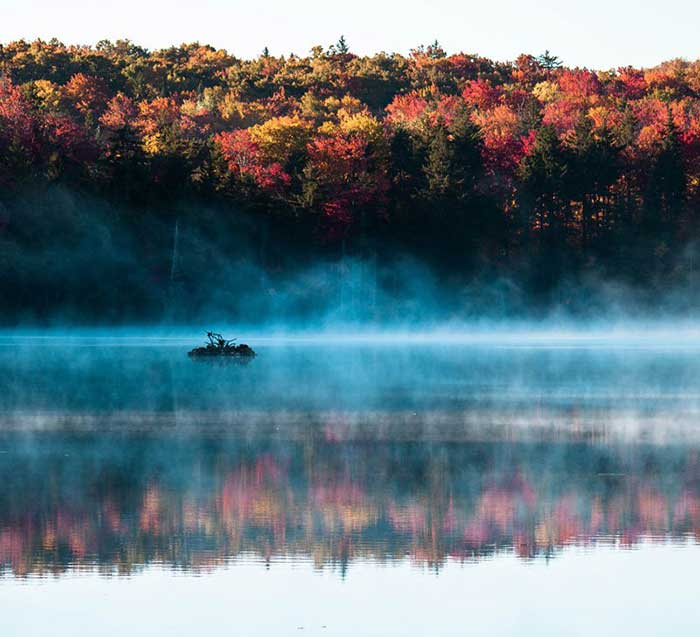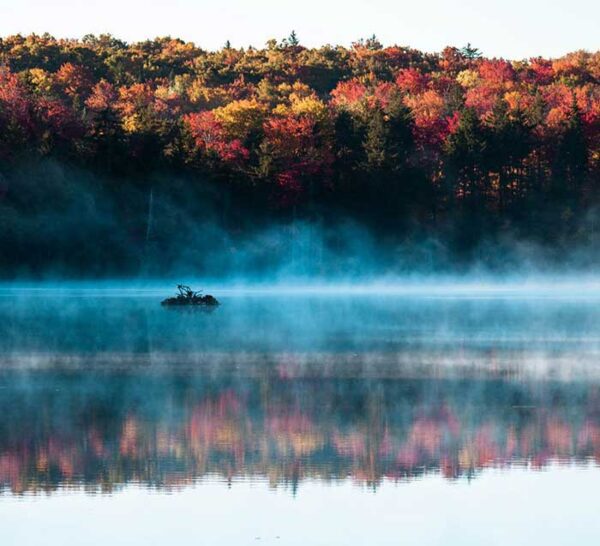 Tara Schatz, Back Road Ramblers
If you're a back road traveler, you won't want to miss October in Vermont. Leaf peeping is a serious activity in these parts, enticing visitors from near and far to come witness the car-crashingly beautiful colors that paint the mountains and valleys across the state.
Actually, the whole of New England is pretty gorgeous through October, but I'm partial to my home turf. In fact, as much as I love to traverse around the country, you will always find me in Vermont in October. 
Mother Nature in Vermont
The main attraction is Mother Nature, but towns, villages, cities, and rural communities go all out as well. As you travel Vermont's back roads, you'll find fresh cider doughnuts, colorful farm stands, autumn festivals, craft breweries, and live music.
This is, after all, our last big hurrah before winter sets in. Early October is the best time to see color in the mountains, followed by a stunning show in the valleys a week or two later. I'm partial to Southern Vermont, particularly the towns of Bennington, Manchester, and Wilmington.
Here's a weekend road trip that will turn you into an official leaf peeper, and make you fall in love with the not-so-green mountains of Vermont.
Virginia
Shenandoah National Park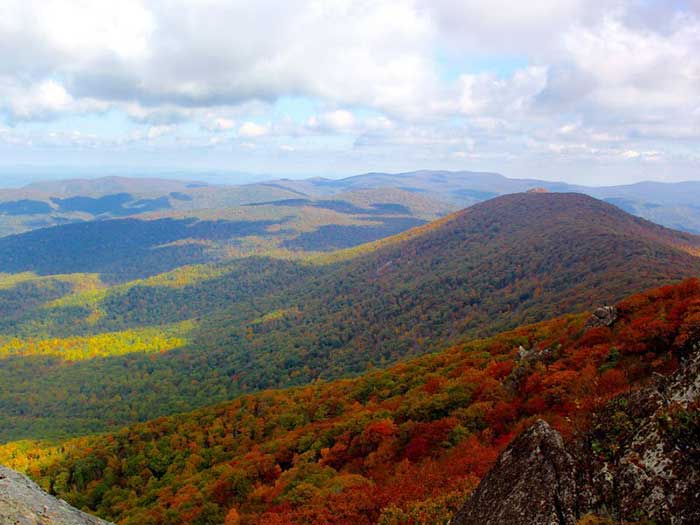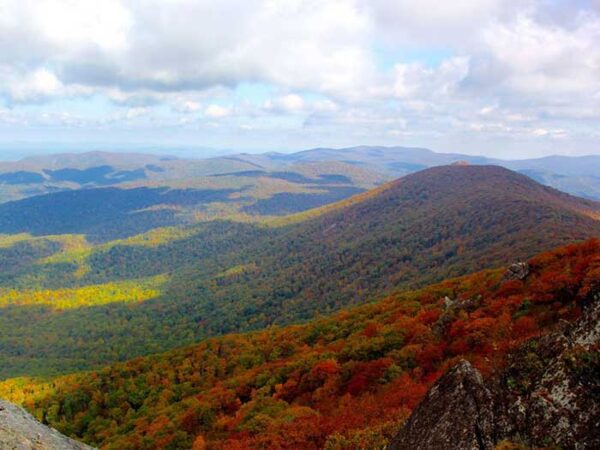 Julie McCool, Fun in Fairfax VA
October is THE month to visit Virginia's Shenandoah National Park and the surrounding Shenandoah Valley, as Fall foliage emerges and cooler temps replace summer humidity.
The park is ideal for both active hikers and folks who prefer easier access to nature. Virginia visitors can soak in forest and mountain views from 75 overlooks along the winding 105-mile long Skyline Drive.
Hikers will find even more dramatic vistas on short trails or a long stretch of the Appalachian Trail. Skyline Drive can get busy with Fall leaf-peepers, so plan to slow down and take your time. Happily, that's the best way to spot deer, bears, and other wildlife, too.
We spent a weekend in Front Royal, which isn't too far from Shenandoah. Read more about why it's one of our favorite places to visit in the US during Fall.
West Virginia
Huntington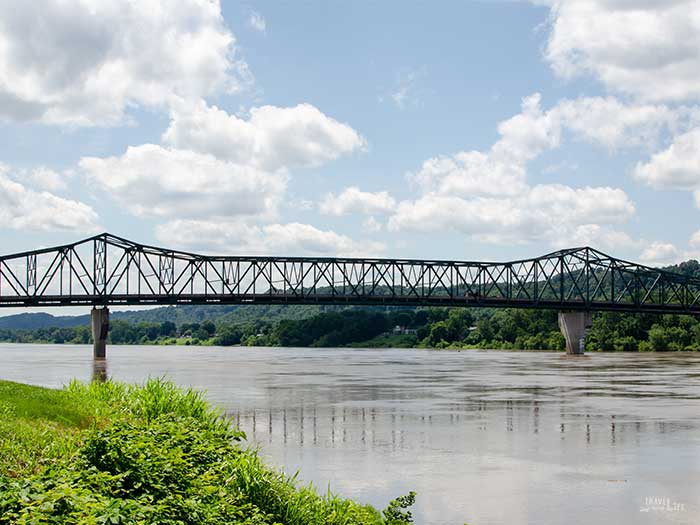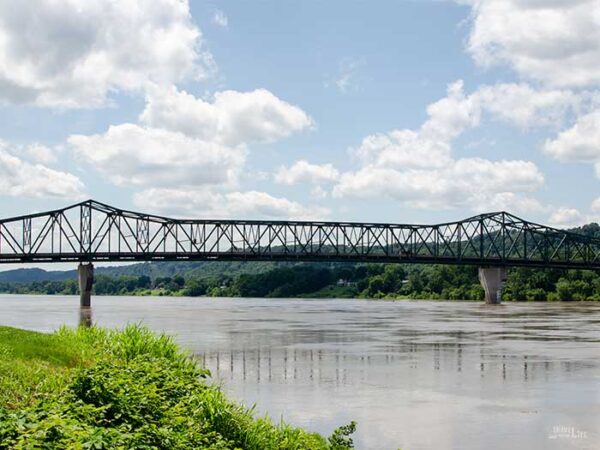 Although we moved away after many years living in West Virginia, Christina and I occasionally go back to our former home and back to Huntington.
It's a small town that's filled with wonderful people. There are also cool places to go here in the fall. Our favorites include Ritter Park, Beech Fork State Park near Lavalette, and the campus of Marshall University (Go Herd!)—sorry, WVU fans.
I could also go back just to have a meal or twenty at Fat Patty's, Black Sheep, or any of Huntington's other culinary options.
Guest author Alexis Stewart also shared five great brunch restaurants in Huntington!
Morgantown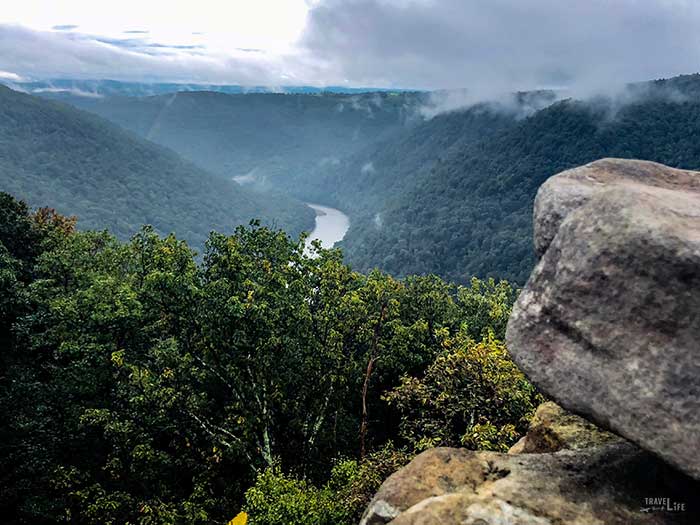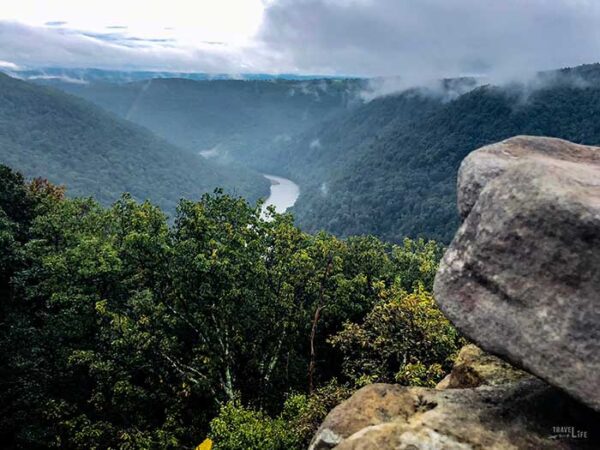 Morgantown is another awesome place to visit in the US during the fall. There are lots of fun things to do in Morgantown, even a Monday. However, autumn is even better.
If the Mountaineers are playing away from home, check out fun outdoor spots like the Cheat River or Cheat Lake. Of course, there's the awesome Coopers Rock State Forest.
Sit on Coopers Rock during fall and fall back in love with those beautiful West Virginia hills, if you haven't already. This is one awesome place to visit in the US during the fall.
If you see how we spent a weekend in Morgantown, you'll definitely fall in love with this awesome city!
Wisconsin
Northern Wisconsin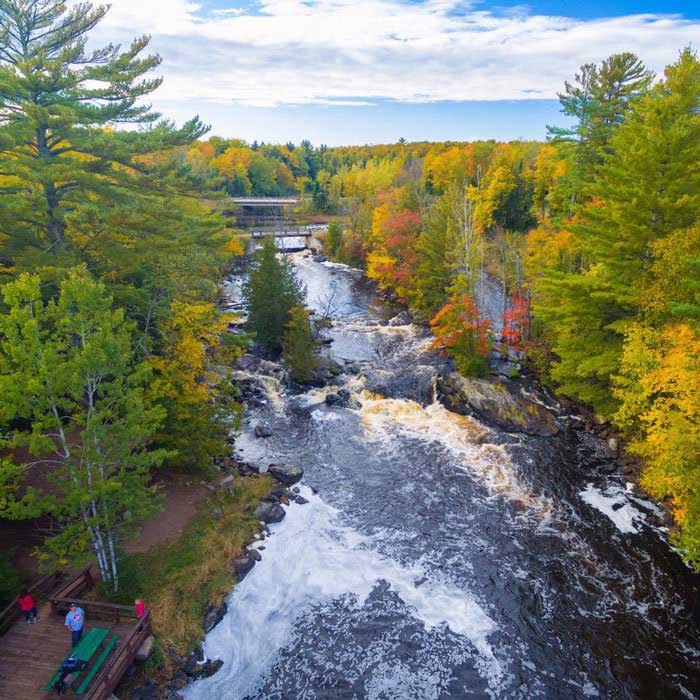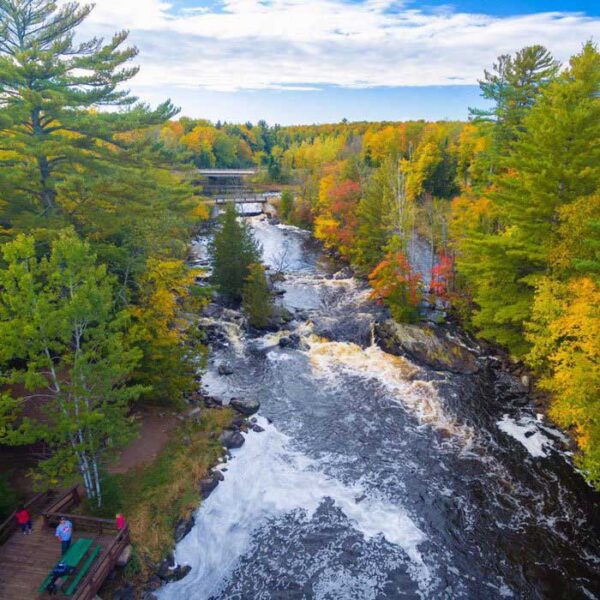 Hannah Lukaszewicz, Getting Stamped
If you ever find yourself in Wisconsin and have checked out all the Milwaukee attractions already, just head north on US Highway 41. We love going to the cabin in Minocqua.
It's a great place to escape the city for a long weekend in the fall. In the fall it's amazing to see all the trees changing color, the fresh air, refreshing temperatures, caramel apples, and microbrewery pumpkin beer.
There are a ton of lakes in northern Wisconsin, great for a long scenic drive or getting out on the water yourself. 
Our Thoughts and Yours
I'm so excited to check out more awesome places to visit in the US during fall. However, I am pretty happy with what we've got here!
Still, there are quite a few spots that we hadn't even thought about visiting and would love to know your thoughts on it.
Did we leave out any places to go in the US that you'd like to add? Let us know in the comments section below. We'd love to hear about it!