Affiliate links linking to products we love may be found within this article. For more info, please check our Disclosure page for more explanation of affiliates and sponsorships.

---
From the moment we spotted Nemacolin Woodlands Resort from National Pike (US 40), I knew we were about to experience a special place. That belief intensified each day as we were simply blown away throughout the entire stay.
And with that said, Nemacolin is a place that we'll be seeking out for a return when visiting the Laurel Highlands in Pennsylvania. We thought we'd share our first experience with you in case you hadn't heard of this wonderland that's just over an hour outside of Pittsburgh.
If you're already sold in Nemacolin Woodlands Resort and would love to stay here, check here for its pricing and availability.
Nemacolin Woodlands Resort
Cool Backstory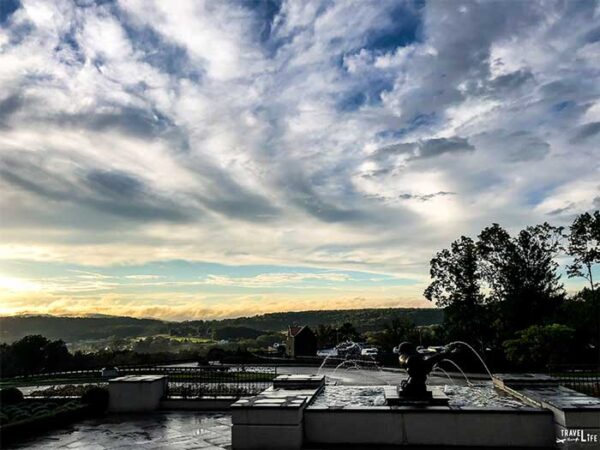 Compared to other places we've stayed, Nemacolin is a fairly new property. 84 Lumber founder Joseph A. Hardy III bought the land in 1987 and hoped to turn it into something more than a getaway.
Hardy had lofty ambitions and his daughter, current 84 Lumber CEO Maggie Hardy Magerko, has pushed her father's ideas to fruition.
Livable Rooms
Our Chateau Lafayette room started with a vaulted ceiling, a high, plush mattress, and some of the comfiest pillows we've ever touched. Upholstered benches, Two balconies, and plenty of separate space for our little one to sleep the night away continued the story of this absolutely livable room.
Chateau Lafayette magnificently represents Nemacolin and we definitely recommend a stay there. However, you can step things up even further at Falling Rock and the Lodge. Both are on the property and ready to wow at every turn.
Art All Around
As we approached our room and after checking in, beautifully carpeted and decorated hallways greeted us around each turn.
Art installations can be found throughout Nemacolin Woodlands Resort, with 700-plus pieces waiting for your eyes to meet them. Our toddler really enjoyed running around the halls there.
Side note: We think Nemacolin's wide-open spaces are a great way to wear out your little one in time for bed.
Adventure and Relaxation Junkies Rejoice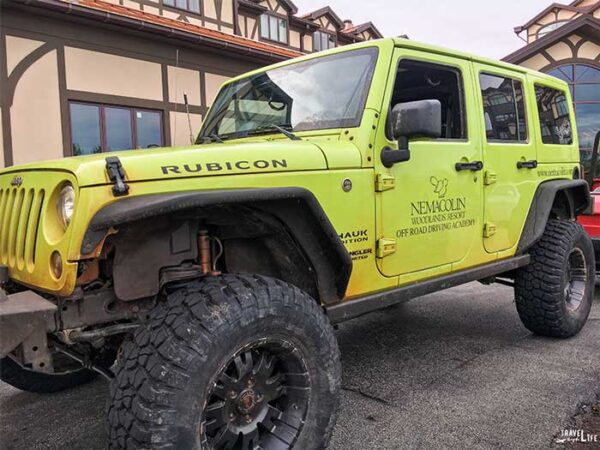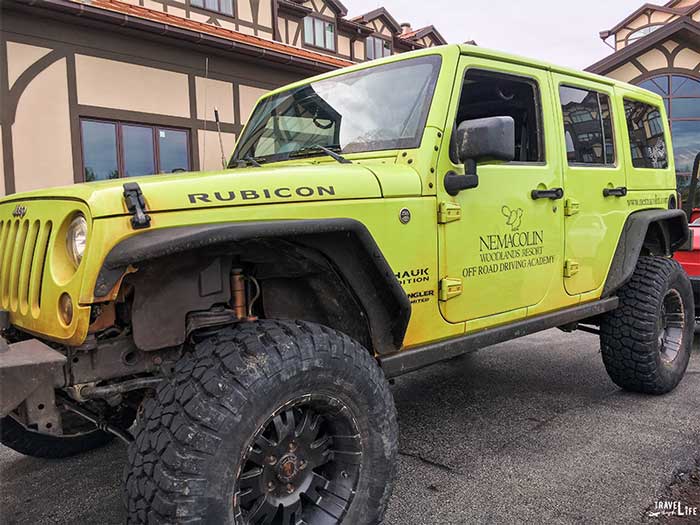 We were already sold on Nemacolin but were fortunate enough to experience more than our room. Charlotte enjoyed the property's Wildlife Habitats and I got the chance to go off-roading in a Jeep. There were plenty of other fun activities that make the resort a destination worth revisiting.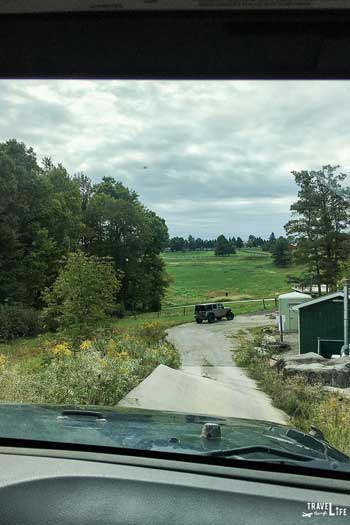 You can even go all in at Lady Luck Casino nearby, relax in the on-site spa, play a round of golf at Shepherd's Rock, and more. Check out all the fun you can enjoy at Nemacolin Woodlands Resort's Activities page.
Award-Winning Dining
We were treated to meals by tourism bureaus while attending our conference. However, we heard from friends about the exquisite dining you'll find when staying at Nemacolin.
After some investigation, we learned that guests have the option of indulging in farm-to-table creations in a five-star setting. So yet again, we discovered a reason one must come back to Nemacolin Woodlands Resort—to eat.
Drive to Nemacolin? Why Not Fly?!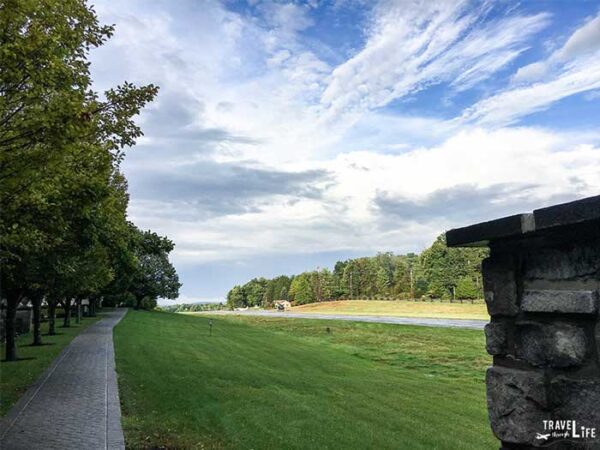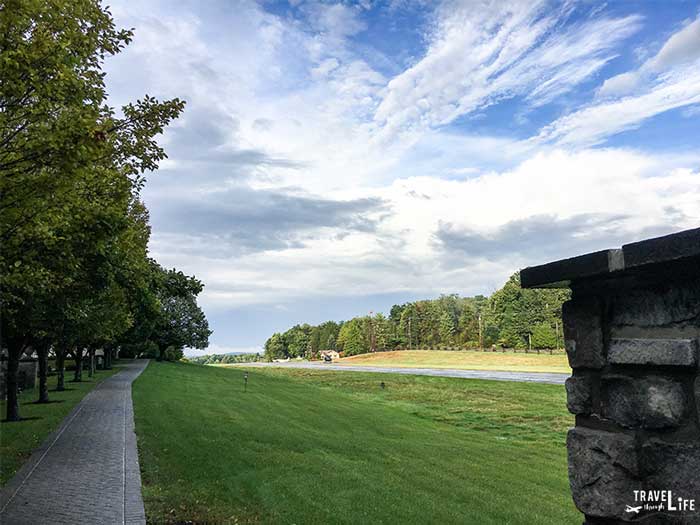 If you happen to be a pilot or someone who has a private plane or likes watching planes land at the place you're staying, then here's another reason Nemacolin is for you.
Personally, I'd like to helicopter in, but that's just me. Okay, fine. I'll fly in, but only if my helicopter is waiting on standby.
Natural and Architectural Beauty Nearby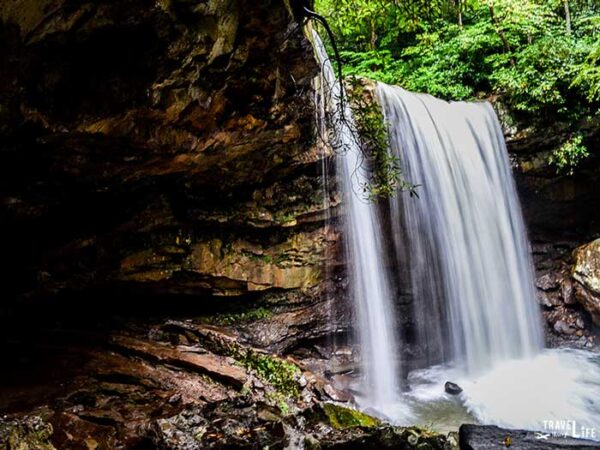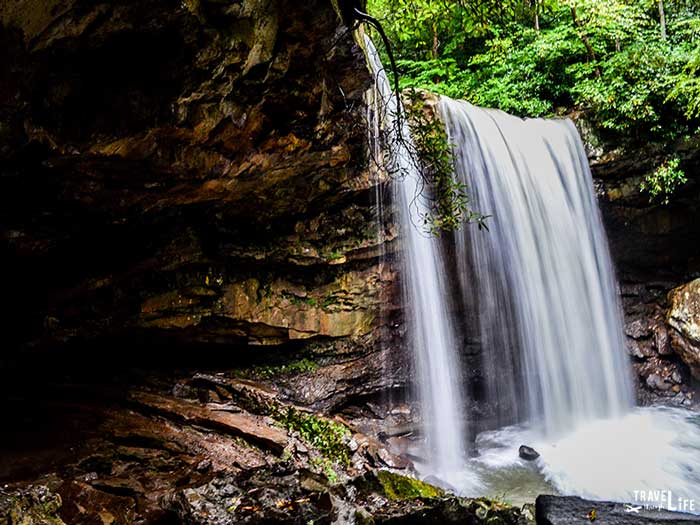 Seeing the natural and architectural beauty nearby is another reason you have to keep coming back to Nemacolin Woodlands Resort. Frank Lloyd Wright's famed Fallingwater is also in the area and worth a visit for aspiring house builders or those who just want to see an amazing structure.
Ohiopyle State Park is a place Christina and her family have been visiting for years for kayaking. The Great Allegheny Passage (GAP) Trail runs through Ohiopyle, too, and is fun for cyclists and those who just want to stroll along some beautiful scenic paths.
We interviewed Doug Riegner from Allegheny Trail Alliance about the work his organization has done to preserve the GAP, his travels, and more here. Have you ever visited Ohiopyle or ridden on the GAP? What else is there to do in the area?
Stay Fresh with Seasonal Events
Finally, you should plan more than one visit to Nemacolin Woodlands Resort because of the awesome seasonal events that happen there. Christmas at Nemacolin and New Year's Eve on the property both bring lights and more festive fun.
In the spring, the resort's annual Mother's Day brunch brings kids and their parents together over a delicious buffet. If you're looking at a specific time of year for your visit, stay up to date on the latest happenings through Nemacolin's Events Calendar.
When Will You Be Staying Here?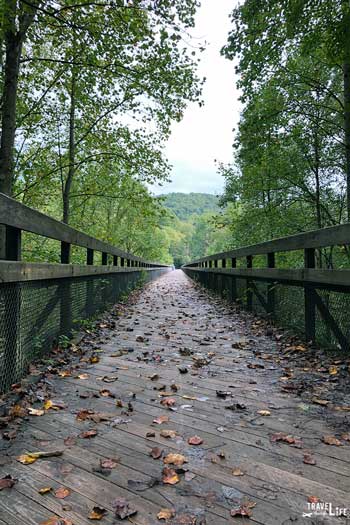 You may have noticed bits of grandeur and affluence dominate our descriptions of Nemacolin Woodlands Resort. But honestly, we found this place approachable and even family-friendly.
And those are two more huge reasons we will be returning to enjoy Nemacolin again and again. But with that said, what about you? When will you be checking into this wonderful and approachable city-of-a-hotel?
Disclosure Note
Special thanks to the Laurel Highlands Visitors Bureau and the Mid-Atlantic Tourism Public Relations Alliance for inviting us for the latter's annual conference, which was held at Nemacolin. All opinions within this article are our own.