Affiliate links linking to products we love may be found within this article. For more info, please check our Disclosure page for more explanation of affiliates and sponsorships.

---
Huntington, West Virginia is an Ohio River city that was founded in 1871 by railroad tycoon Collis P. Huntington. For many generations, it rode the wave of industrialization and has seen its ups and downs in recent years. But with the local business owners banding together and the community rallying for more, Huntington has achieved quite the glow-up lately. Thanks to its wide range of locally-owned restaurants and year-round events, we think you're going to find plenty of places to eat and things to do in Huntington to keep you coming back for more.  
This post on Huntington WV is part of our series on West Virginia and more places to visit in the US.
Go Herd or Go Away
Most notably, it's hard to walk around Huntington without seeing a flood of bison and kelly green. While home to 14,000 students at Marshall University, the town is much more than just your typical college town. It's steeped in rich history and pride for the area, but you won't get kicked out if you randomly yell, "GO HERD!" walking down the streets.
Things to do in Huntington, WV
We Are…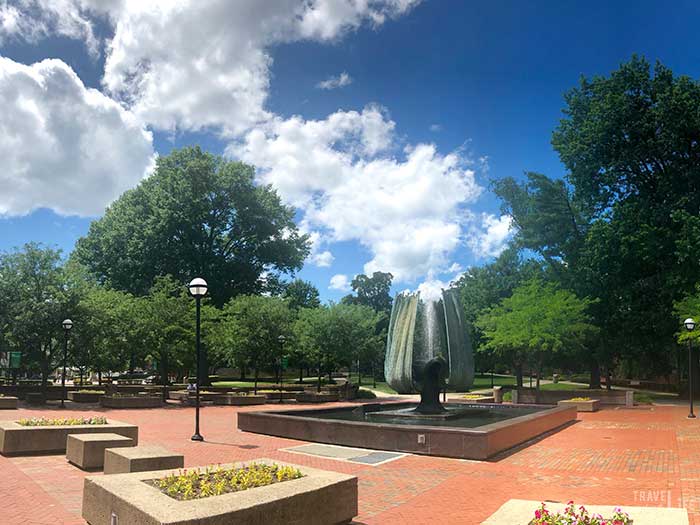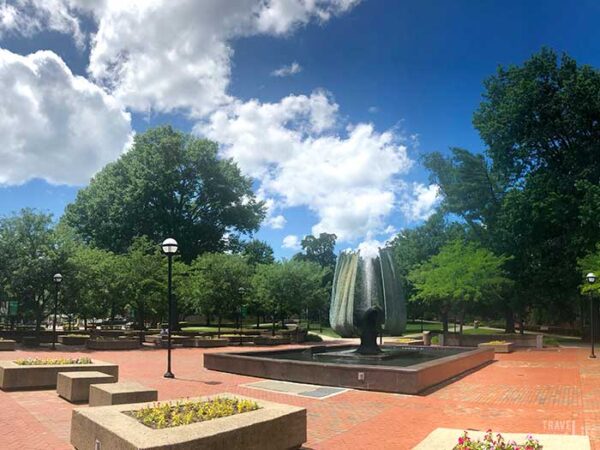 Sorry, Morgantown, and everyone else in West Virginia, but in Huntington, we bleed Kelly Green and support Marshall University Athletics. If you'd like to learn more about our alma matter, you can take the self-guided "We Are Marshall" tour. All you have to do is grab a tour map from the Visit Huntington Visitors Center at Heritage Station. From there, you can see where Hollywood movie documenting the 1970 plane crash of the MU football team was filmed. The tour will also take you to locations important during the rebuilding process. And of course, you can honor those who lost their lives at the Memorial Fountain on Marshall's campus.
Museums in Huntington
Learn about antique radios at the Museum of Radio and Technology. Another one in the "free things to do in Huntington" category. At Huntington Museum of Art (FREE on Tuesdays), peruse exhibits, join a class or workshop, or explore the mile-long nature trail. Heritage Farm Museum and Village, also known as the perfect place for kids, will teach you about 19th-century Appalachian history and farm life.
Catch a Show
On Marshall's campus, Smith Music Hall and the Joan C. Edwards Performing Arts Center are great places to catch a performance. Awesome musicians and local bands are always coming through the V Club. Oh, and don't forget about the iconic and historic Keith-Albee Performing Arts Center.
Have Fun Inside and Outside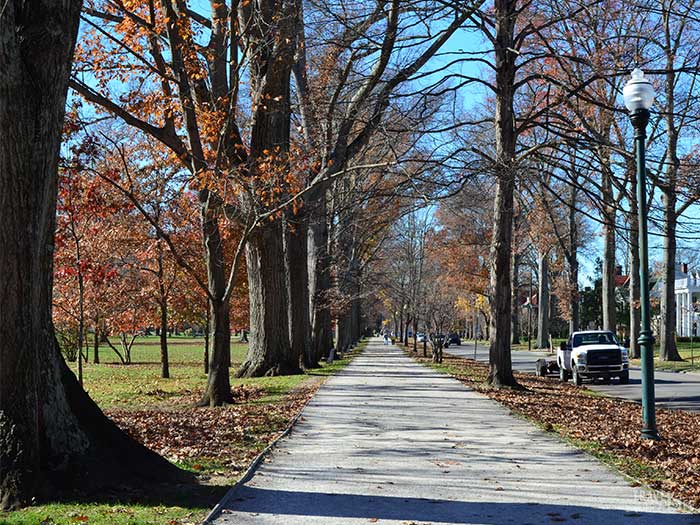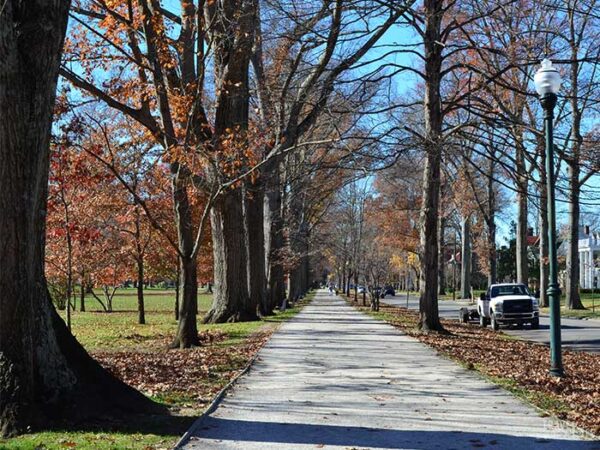 Channel your inner Katniss Everdeen at Battlearium with Archery Wars, Laser Tag, and Foam Dart Battles. There are many ways to opt outside in Huntington. You can start at Beech Fork State Park, the River Trail in Barboursville Park (I know, not Huntington, but still cool!), or Harris Riverfront Park. Stop and smell the sweetness at the Rose Garden and walk the trails at Ritter Park. And of course, get out and enjoy the 26-acres of historical fun at the 100-year-old Camden Park!
Shop Local
Start your "Shop Local" experience in Central City at The Wild Ramp or any of the nearby antique shops. You can also find local food and artisan goods at The Red Caboose in Heritage Station year-round or the seasonal farmer's market at Pullman Plaza on Wednesdays and Saturdays from mid-May through end-October. And we couldn't mention local art in the area without talking about the hand-blown glass at Blenko in Milton. Admission to observe is free, but you'll be tempted to buy something.
Restaurants in Huntington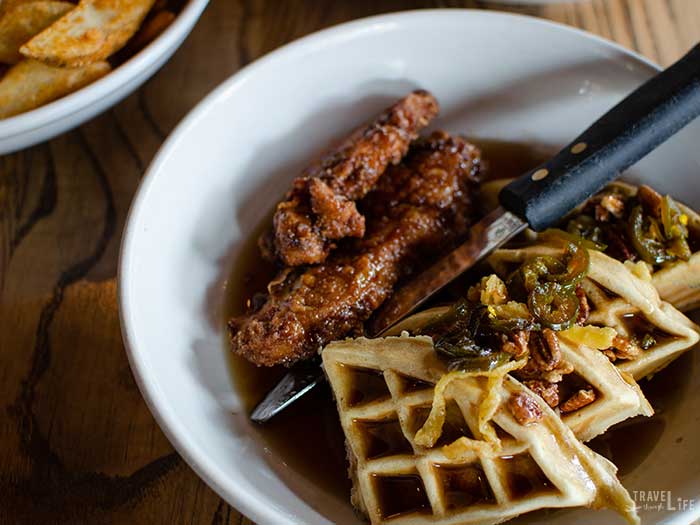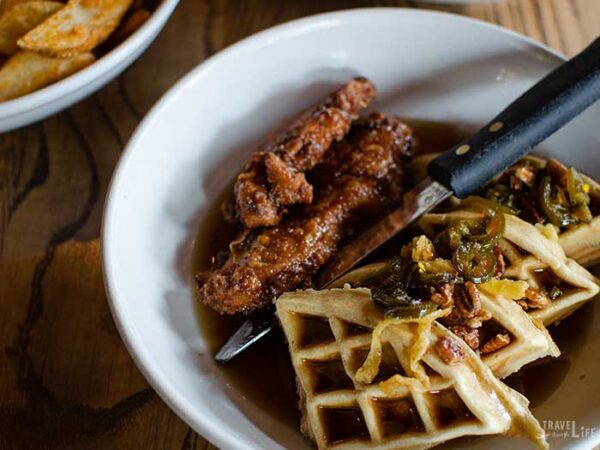 When I think of Huntington, I think FOODington. In the last several years there has been a resurgence and focus on local, thanks to the amazing people and restaurant owners of the Tri-State.
Traditional and New Favorites
From long-standing restaurants like Rocco's Little Italy (1345 4th Ave) and Jim's Steak and Spaghetti (920 5th Ave) to the new generation of foodie hangouts like Fuel Counter (809 3rd Ave), Huntington has never been short on delicious eats.
Hall of Fame Cafe
Website | 857 3rd Ave
A mainstay that has been in the area longer than most is the Hall of Fame Cafe, a Thundering Herd memorabilia-filled sports bar serving up everything from pub food to pasta and pizza.
Barbecue in Huntington
If you're looking for some 'cue, there are two must-eat places in Huntington—Buddy's Bar-B-Que (1537 3rd Ave) and Smoke 'Em if You Got 'Em (408 4th St). Both joints serve up delicious smoked comfort food from melt in your mouth brisket to gobble worthy pulled pork.
Fat Patty's
Website | 1935 3rd Ave
For Burgers, Fat Patty's is the obvious choice. Open since 2007, Fat Patty's serves specialty burgers and was even recognized by USAToday as being one of the top 51 Burger Joints in the nation.
The Market
Website | 809 3rd Ave
On a lighter note, there's Butter it Up, inside of Huntington's newest boutique shopping area The Market. Here, you'll find health-conscious and paleo-centered dishes. In addition to their delicious bulletproof coffee, they also have meal prep subscription! Also inside The Market is the melt in your mouth Austin's Ice Cream. With unique flavors like Grape Pineapple or Cinnamon, Austin's scoops and dips put the cherry on top for your meal. Go big or go home with a Cinnamon Taco. I promise you won't be mad about it.
Bahnof
Website | 745 7th Ave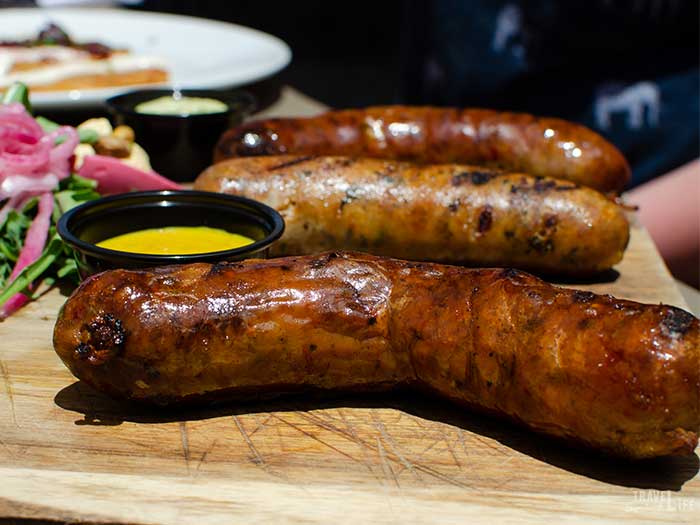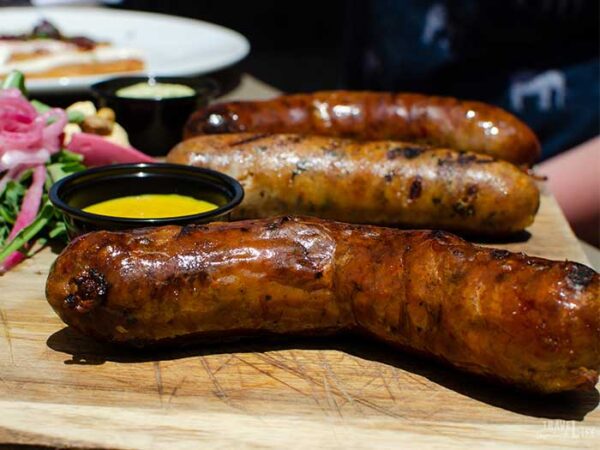 Bahnhof WVrsthaus has a special place in my heart, and not just because they serve incredible hand-cranked sausages. My husband and I met at Bahnhof in 2010, except then it was called Mac-Reedos and I was a bartender. Inside the new place, you get a twist of Appalachia with traditional German fare.
Pro tip: You simply cannot walk into Bahnhof without A Sausage Party and a side of Bad Shepherd Beer Cheese.
Backyard Pizza and Raw Bar
Website | 833 3rd Ave
Scratch-made wood-fired pizzas and oysters shucked within five days of their harvest date makes Backyard Pizza and Raw Bar that local upscale flare worthy to take your date. Huntingtonian owners Drew and Megan Hetzer pie up unique flavor combinations like a Reuben and a New Haven (chopped clams, mozzarella, and garlic). There's even a delicious Woo-Tang pizza topped with chicken, bleu cheese, roasted red peppers and finished with a Sriracha lime sauce. Don't fill up on pizza though, because the oysters there are a must-order!
Black Sheep Burritos and Brews
Website | 279 9th St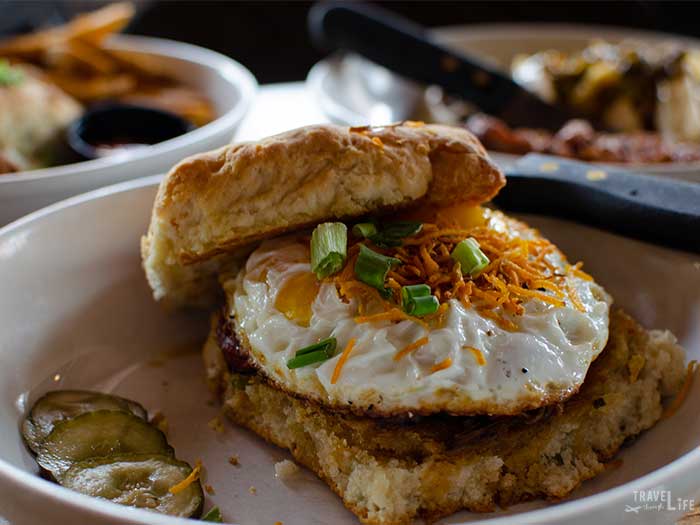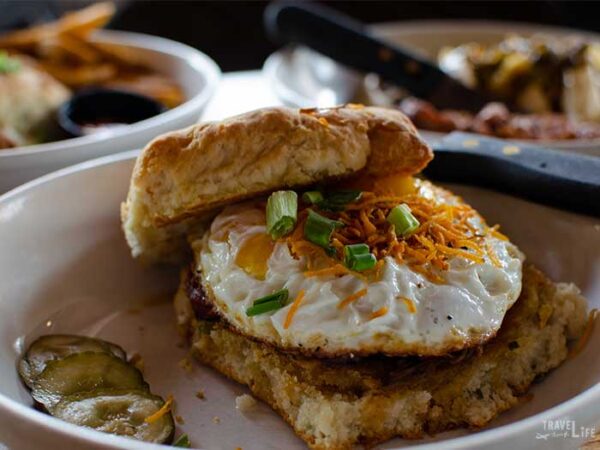 Where else can you get amazing wings, in house beer, AND specialty burritos? Black Sheep Burritos and Brews, duh! Don't even get me started on their brunch game! Okay, you can twist my arm and I'll tell you about how I still dream about the Smoked Brisket Hash Biscuit. Oh, and there's the on-point-ness of that Bulgogi burrito. Grab a pint of their Bad Shepherd and enjoy Black Sheep for brunch, lunch, and dinner! And don't forget to stop by when they've got live music or an event going on.
By the way, guest author Alexis Stewart touched upon Black Sheep and other restaurants in Huntington that do brunch very well.
The Peddler
Facebook | 835 3rd Ave
At The Peddler, Drew Hetzer of Backyard brings fresh-baked hamburger buns and duck fat frites into the mix. This is his second restaurant in Downtown Huntington, envisioned as a brewpub with arcade games. Everything is made fresh in-house including the burger meat, which is specially ground prime-grade organic beef. We've also been told they have the most incredible doughnuts for brunch!
Christopher's Eats
Website | 5340 US Route 60
If you've driven through West Virginia, you've seen billboards saying, "Coal keeps the lights on." But at Christopher's Eats, coal keeps the flatbreads coming! Using anthracite coal, Christopher's Eats most popular flatbreads are baked to perfection in a 900-degree oven. Regardless of your stance on coal, stop by Christopher's and chow down on their delicious Mac n' Cheese or even a Meatloaf flatbread!
Tudor's Biscuit World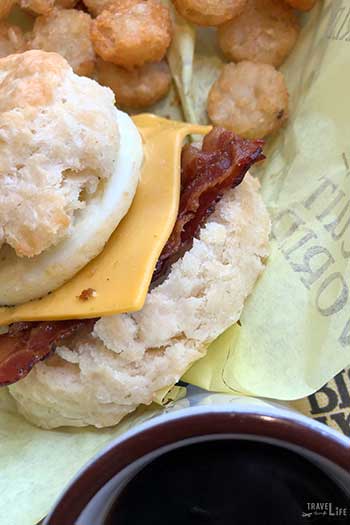 Just so you know, we've been told that if we didn't include Tudor's Biscuit World in this list we're officially banned from West Virginia. Sure, Tudor's is not a Huntington original (blame Charleston!) and there are plenty across the state. But as someone who lives further south these days, I can say that Tudor's has the best damn biscuits and are totally worth traveling for! Don't tell anyone in North Carolina that we said that and also, please let us return for a Mary B or two.
Final Thoughts on Huntington WV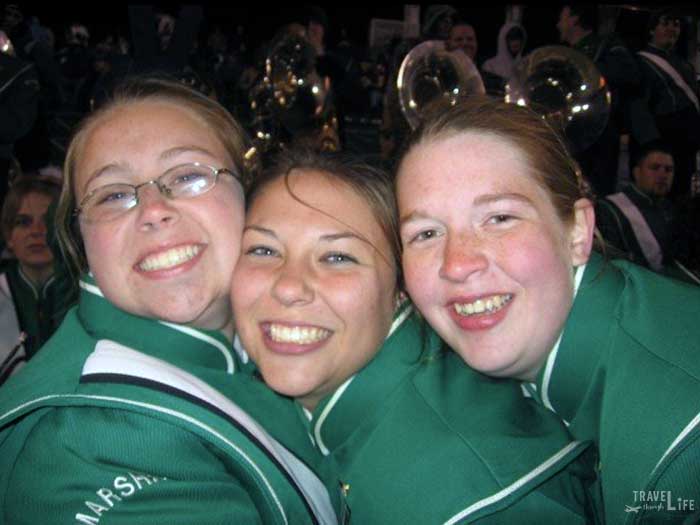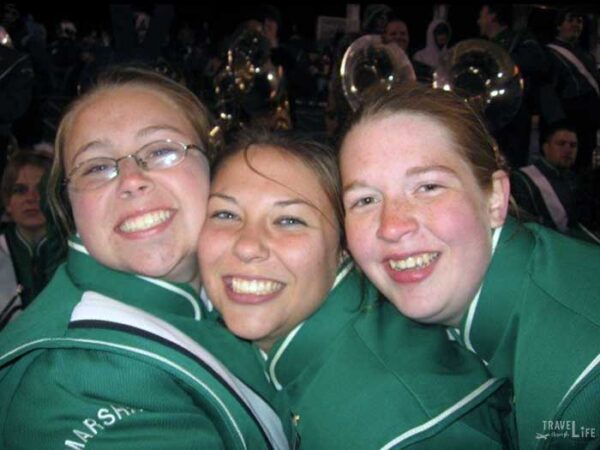 I first came to Huntington as a student in 2002 and instantly fell in love. It's where I spent my undergraduate years and several after during a very formative time in my life. Huntington was a place where I experienced heartbreak, spent many hours in the practice rooms of Smith Music Hall, slung drinks, and scooped chips at now-defunct restaurants. It's also the place where I found my love and future path.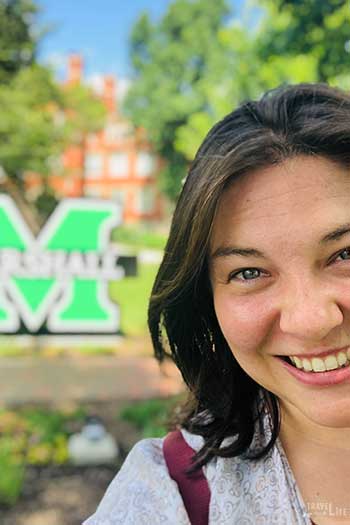 Coming back and visiting my former home as a tourist has shown me that there's more to this city. I'm glad that I came back and look forward to returning more often. That way I can explore these awesome things to do in Huntington and more.