Affiliate links linking to products we love may be found within this article. For more info, please check our Disclosure page for more explanation of affiliates and sponsorships.

---
Fayetteville is beautiful throughout the year, but if you happen to visit when it's cold outside, you'll still find plenty to do. If you've ever spent a winter in North Carolina, you know that it's not a complete snowy wonderland found on the Hallmark Channel. And that's especially true if you get closer to the coast and nearby spots like Fayetteville. Since we've spent some time in the area, here are some fun winter things to do in Fayetteville that we think you'll enjoy, too!
We really enjoyed a recent weekend here and can't wait to keep exploring this awesome town! If you're looking for a hotel in Fayetteville, check here for the best prices and availability before you book.
Winter Things to Do in Fayetteville
Shop Local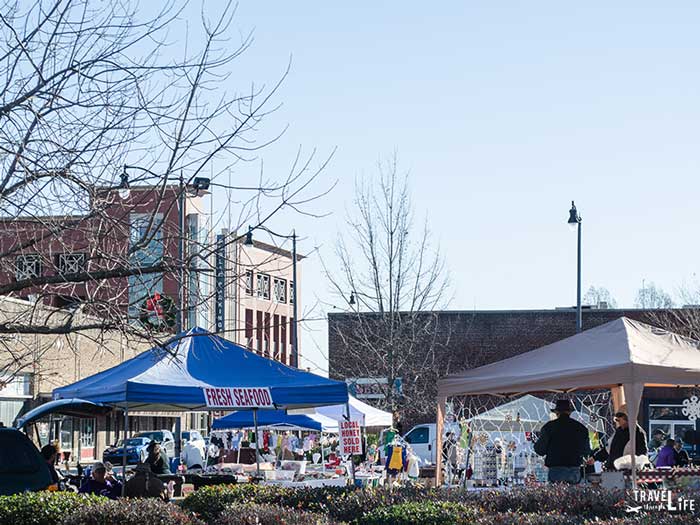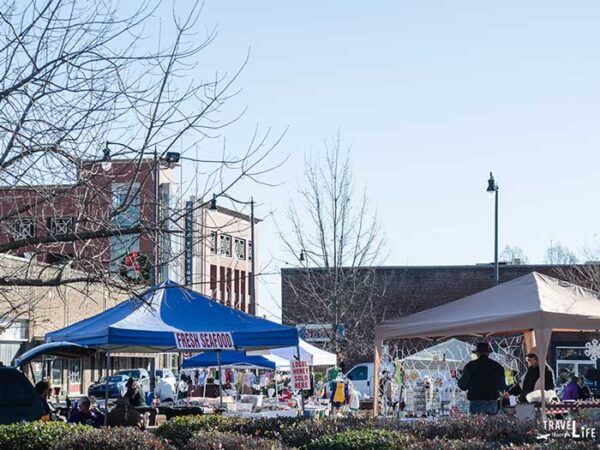 We love to shop local and Fayetteville has plenty to peruse. Whether it's browsing the City Market at the Museum vendors or the shops on Hay Street, Fayetteville has an incredible local scene. Saved from demolition, Brady's Soda Shop is now the iconic Rude Awakening Coffee Shop. The back patio is most certainly something to write home about and many people have done just that. It's open until midnight, so you can get your latte on anytime!
Shop Local Even More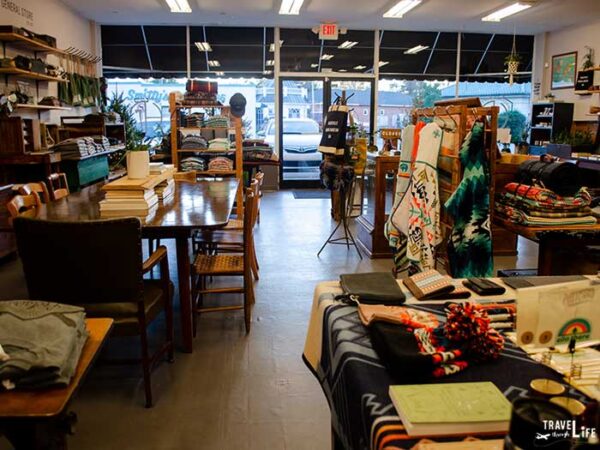 Tucked away in the Haymount District of Fayetteville is not your average general store. Leclair's General Store is thoughtfully filled with a beautiful collection of antiques, art, and oddities that make you want to start a Pinterest board. Sip some wine or a nitro cold brew while you browse and take home something that sings to your soul. Before you head to your hotel for the night, make sure to stop by The Wine Café and Angie will help you select the perfect bottle to relax and take home!
Float Away
A visit to Floating Shanti tops all other relaxing winter things to do in Fayetteville. Here, you can literally float in a calm space with the minerals your body craves. There's something symbolic about letting go of gravity and floating in a tub of magnesium-enriched water. Rejuvenate yourself with a soak and then center your mind with a private yoga session or massage. Not only will your body feel refreshed from the winter elements, but so will your mind.
Military History
Fort Bragg being nearby means there are plenty of ways to celebrate our military history.
Special Operations and Airborne Museum
Inside the US Army Airborne & Special Operations Museum.
Spend an entire morning strolling the US Army Airborne & Special Operations Museum. With plenty to do inside and out, the main exhibit starts with the history of airborne and special operations from the 1940s to current units.
If you want to know more before heading to the museum, check out Diary of an Airborne Ranger by Frank Johnson.
Veterans Park and Constant Vigilance
Go across the street to Veterans Park and take in the dog tag chandelier, made of 33,500 tags dedicated to North Carolina veterans. Take a moment to soak in Iron Mike, the 3,235-pound statue dedicated to all past, present, and future paratroopers. Another place to take pause is in front of is the bronze statue of Constant Vigilance, the first memorial for K9 soldiers killed in action.
Scope Out Seasonal Events
The holidays are a special time of year. With the Cool Spring Downtown District all lit up with festive lights and, Fayetteville goes above and beyond with the man himself offering horse-drawn carriage rides! Grab a hot chocolate from The Coffee Cup and enjoy the sites of downtown Fayetteville with Santa from a cozy carriage ride.
The Cape Fear Botanical Garden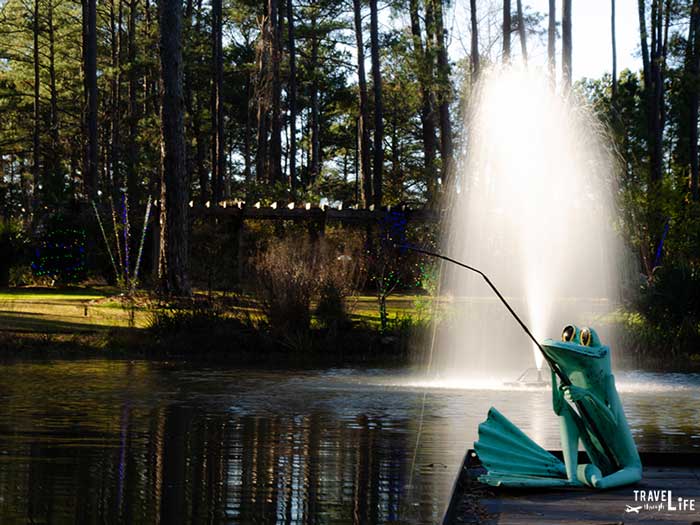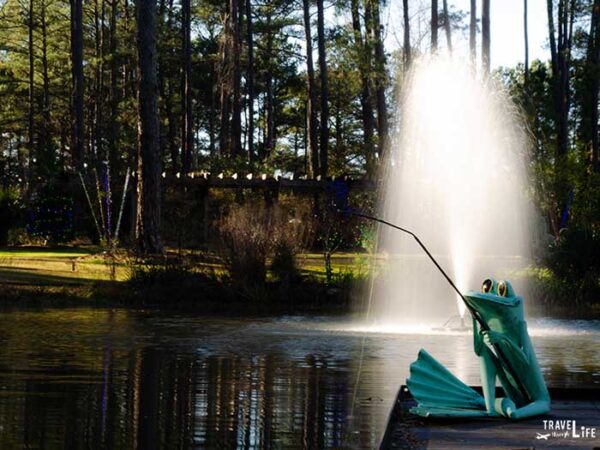 The Cape Fear Botanical Garden would top our list any weekend, but its "Holiday Lights in the Garden" event makes it one of the top winter things to do in Fayetteville! Bring the whole family when the sun goes down for a mile-long stroll of beautiful festive lights, hayrides, a visit from Santa, and S'mores roasting over the fire pit.
We love this place so much, that we included it in our Spring Things to Do in North Carolina & featured Holiday Lights in the Garden in our Winter Things to Do in North Carolina.

Up Your Brunch Game
We won't lie to you. We often travel for food. And…we specifically travel for brunch. Breakfast and specialty cocktails? They're great year-round but enjoying a morning feast could stand above the rest of our favorite winter things to do in Fayetteville.
Circa 1800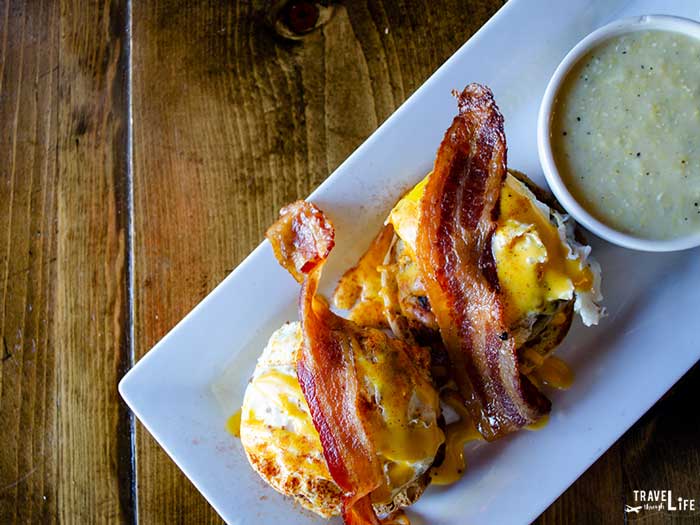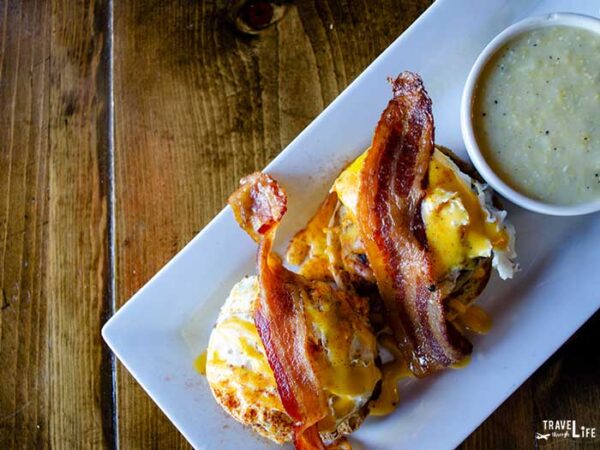 Circa 1800 is a brunch that we would gladly have every morning! Offered on both Saturday and Sunday, you can't go wrong with anything on the menu. From a build your own Bloody Mary bar to the signature chicken and waffles, Circa 1800 prides themselves on locally sourced ingredients. Sip on North Carolina draft beers or craft pickle martini with North Carolina spirits. Brunching with Circa 1800 is the perfect way to spend a winter morning!
Ready to Explore Fayetteville?
If you've traveled to North Carolina before, you know that winter is filled with fun seasonal events. Add that to all the cool permanent attractions in Fayetteville, and you've got an awesome little city worth visiting. Seriously, add this place to your list of winter things to do in North Carolina and you won't be disappointed!
This guide is part of our blog's series on North Carolina Travel, where we've covered cities like Charlotte, Greensboro, and more. It's also a part of our USA Travel section. The post originally appeared on our blog's sister site NC Tripping. Special thanks to Fayetteville Area Convention & Visitors Bureau for providing us with complimentary accommodations, admission, and meals throughout our stay. All opinions within this article are our own.