Affiliate links linking to products we love may be found within this article. For more info, please check our Disclosure page for more explanation of affiliates and sponsorships.

---
We enjoyed our first experience with Taste Carolina Gourmet Food Tours in Greensboro and just had to join them for another one—this time exploring restaurants in Carrboro and Chapel Hill. We realized soon after digging into our first dish, that we should've visited these places a long time ago. And that's just the beginning of why you should join Taste Carolina. For now, let us take you through our tour in Carrboro and Chapel Hill and things I loved about it.
If you're already convinced, join one of Taste Carolina's next tours. Hurry up and book, though, because they can quickly fill up! You can also read about all of our experiences with Taste here.
Taste Carolina Gourmet Food Tours
Restaurants in Carrboro and Chapel Hill
No Spoilers

While sharing our experience with Taste Carolina, I promise this won't spoil anything for you (No pun intended, maybe?). That's because the venues change, though not completely. The dishes will also vary, depending on when you visit. Sure, there are some mainstays, but not always, thanks to the last-minute nature of the restaurant business. That way, you'll never know what to expect before showing up. So if you've ever been on this tour before, you might want to revisit it and find new restaurants in Carrboro and Chapel Hill.

Carrboro and Chapel Hill Background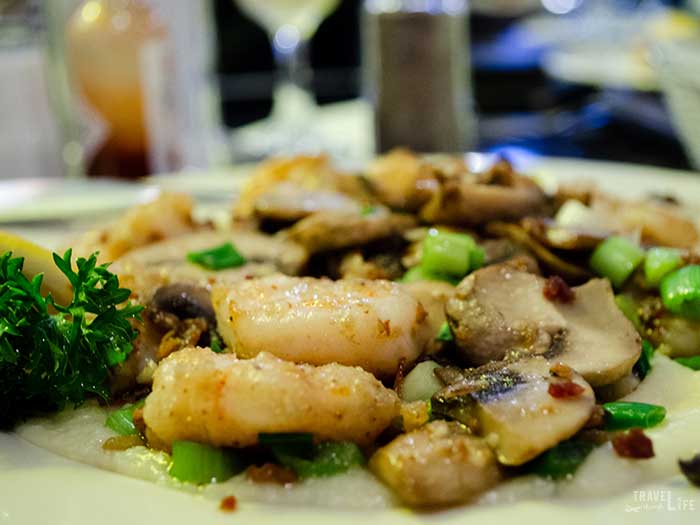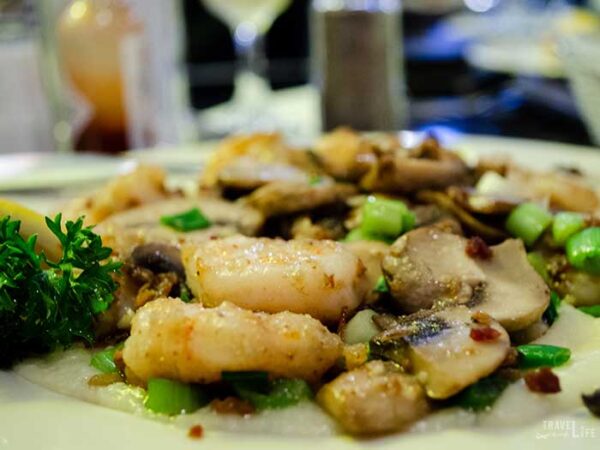 With Taste Carolina, it's not just about the food. In Carrboro, our awesome guide shared info about the town's creation and early history through today. There's even a bit of true crime lore in the area, thanks to our eventual stop at Crook's Corner in Chapel Hill. That's where we learned about the murder of Rachel Crook, which happened yards away from where you'll find some of the best shrimp and grits in all of America.

An Ode to the Carrboro Farmers Market
If join Taste Carolina's Saturday Morning tour (10:45, check for availability), you'll get to visit the Carrboro Farmers Market. At this place, the food comes from 50 miles away (or less) and the actual farmers must be present during market hours. It was the first true farmer's market in the Triangle and we've had a few memories here before arriving with Taste Carolina. We once visited a few years ago and enjoyed some of the most delicious doughnuts ever created, but can't remember the vendor. The sugar kicked in too quickly. Bring cash if you feel like searching for them, too.

A Community of Restaurants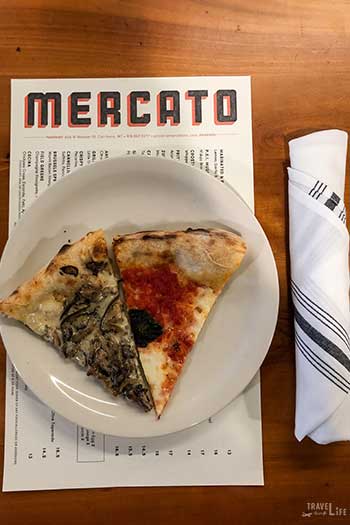 We discovered multiple connections between the restaurants in Carrboro and Chapel Hill, and many stories told directly from the source.

Pizzeria Mercato
As we sipped white wine and ate Margherita and Funghi pizzas, Pizzeria Mercato owner and chef Gabe Barker shared the background of his parents Ben and Karen. Those two iconic chefs owned Durham's Magnolia Grill, whose flavors live on, and helped Gabe get started in Carrboro. In fact, Gabe is still baking from the sourdough starter his mom had from before he was born.
Acme Food & Beverage Co.
We sat down to jambalaya surrounded by sauce and fried okra at Acme Food & Beverage Co. (pictured, top). That Carrboro mainstay has been keeping things more than interesting for 20 years, which is nearly impossible in the restaurant world. We met most of these people and when the chefs and restaurateurs weren't there to tell the story, our guide filled us in.
Digging Dishes, Drinks, and More Stories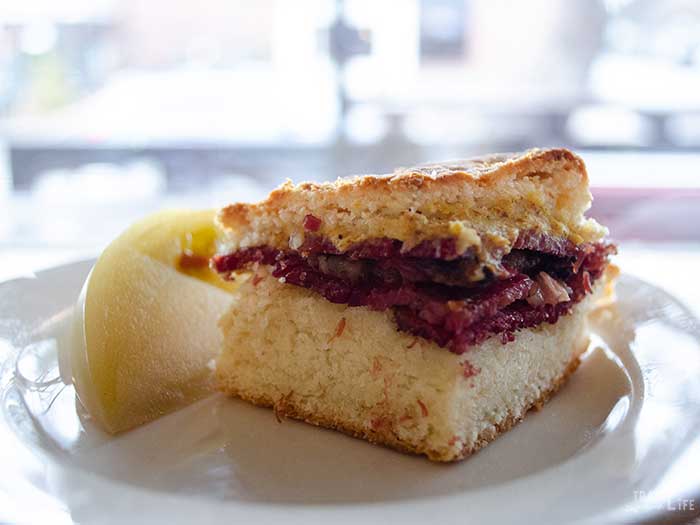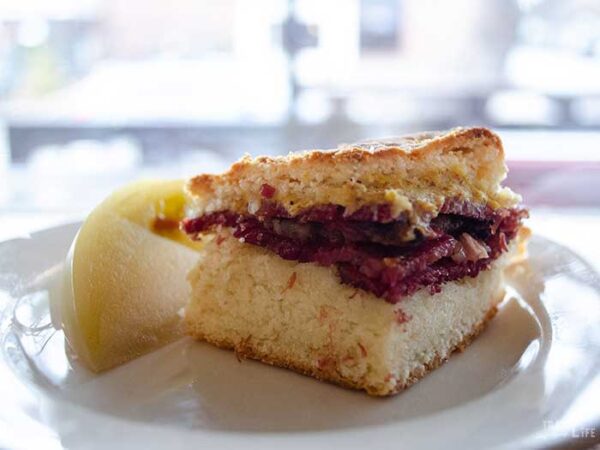 Neal's Deli
But we can't talk about restaurants in Carrboro without digging into the food even more. The culinary fun started with an aged pastrami biscuit with a picked tomato at Neal's Deli. Co-owner Sheila Neil previously served as the Manager at the Carrboro Farmer's Market and her husband Matt's father Bill Neal ran the show at Crook's Corner, helping to put it on the map.
Moreton Neal's Remembering Bill Neal is a split between homage and cookbook that honors this culinary hero.
Crook's Corner
That's where we ended for some of their signature shrimp and grits, along with a delicious bourbon cocktail and dessert. Today, Bill Smith is running the show and judging from the taste of things, Crook's is doing more than just fine. If you want to recreate his meals at home, as I do, check out Bill's Seasoned in the South.
Oakleaf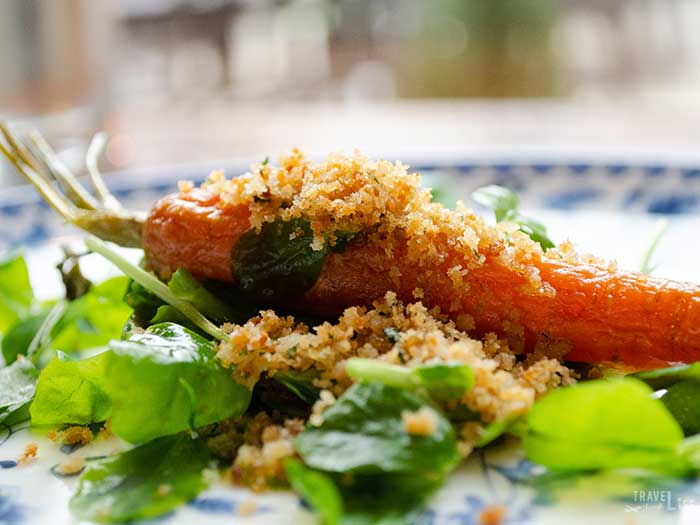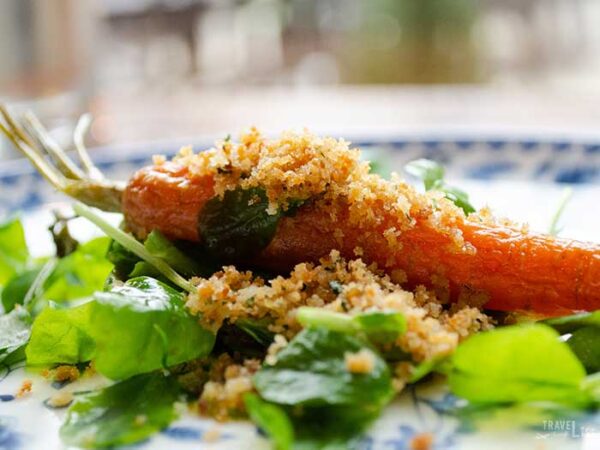 We dined on our deliciously roasted carrot with breadcrumbs and pea shoots at Oakleaf. There, chef Brendan Cox explained, "We like to minimize the time it takes from when it's picked to when it's on your plate." I took a minimal amount of time downing the clarified cocktail that was served along with our dish at Oakleaf. It was that good!

These weren't all the amazing dishes and drinks we consumed, but they were definitely the ones I'll never forget. What other restaurants in Carrboro and Chapel Hill should we try?

Meeting New Friends

It's always great to enjoy new restaurants and learn about their histories and dishes, but there are also new friends that you meet during these tours. We shared meals with folks from Raleigh, Cary, Chapel Hill, and elsewhere. As in Greensboro, we met people who'd been on multiple tours and some who had no idea what to expect. Sure, there's a lot of emphasis on the dishes and people behind it, but you get plenty of time to chat with your fellow foodies.

More Cities to Explore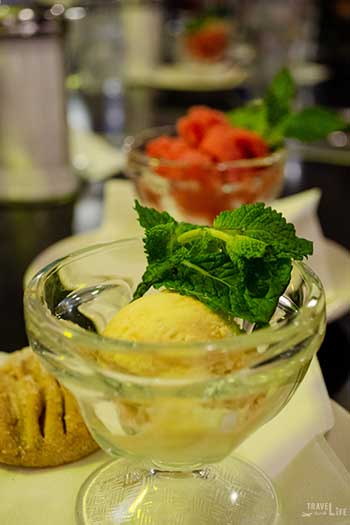 There were a few people who'd joined Taste before and who'll probably continue exploring North Carolina's cities via food tour. That got me thinking that eating through all eight Taste cities might be a bucket-list-worthy hobby to pursue. What do you think about that? Want to join us for the next one?
Your Thoughts?
We thoroughly enjoyed this experience with Taste Carolina and can't wait for the next one. Have you been on a Taste tour before? Ever done a food tour in North Carolina or elsewhere? We'd love to know about your thoughts and experiences in the comments section below.
Special thanks to Taste Carolina Gourmet Food Tours, who provided a complimentary tour. No other compensation was received for this review. This post reflects the honest opinion of our experience without outside influence. Also, this article originally appeared on NC Tripping and is part of our series on Travel Destinations, USA Travel, and places to visit in North Carolina.