Affiliate links linking to products we love may be found within this article. For more info, please check our Disclosure page for more explanation of affiliates and sponsorships.

---
The warmer seasons in South Korea are really fun but people find tons of ways to enjoy winter there. Thanks to a lot of help from some of the country's best bloggers, writers, and photographers, this guide will help expats and travelers who are looking for winter things to do in South Korea. Here, we have the best indoor and outdoor activities when you need to find cold-weather fun. Let's get started with mine and then move on to some of our friends' suggestions on places to round out your Korea winter itinerary!
Still looking for an awesome hotel in South Korea? Check here for the best prices for Seoul and South Korean cities!
Winter Things to Do in South Korea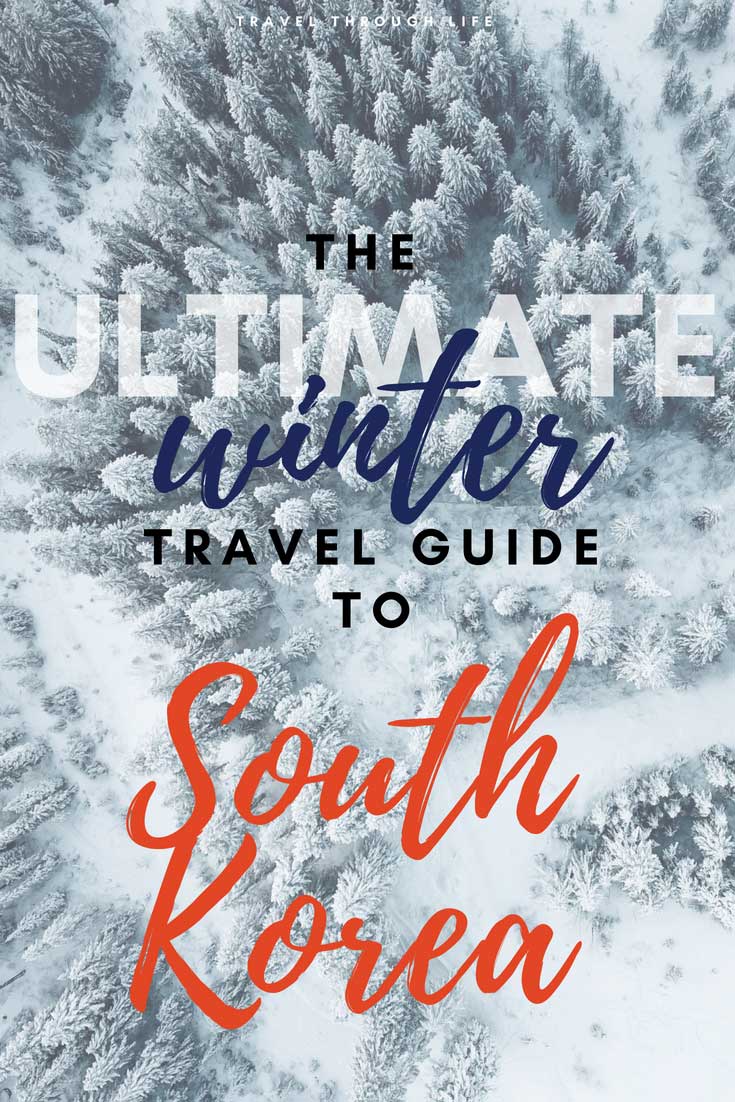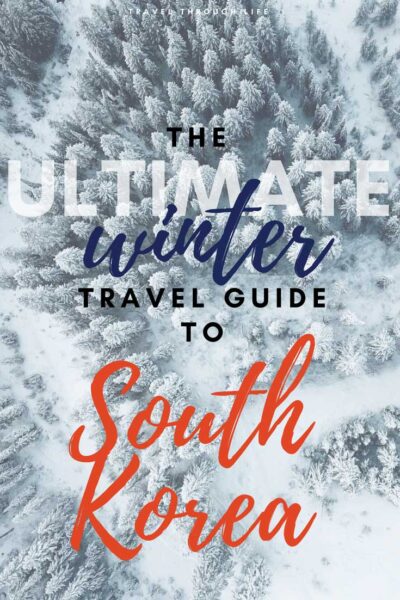 Saunas, Spas, and Jimjilbang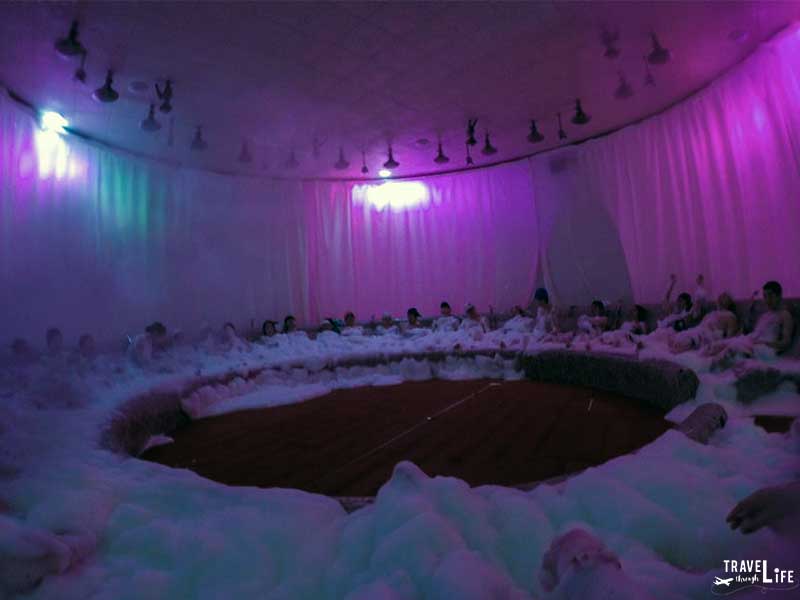 South Korean saunas are my favorite way to kill the winter months. I've visited so many either out of necessity or as the main purpose of our trip. Themes vary and some can really get more creative in the services they offer. Standard saunas or jimjilbang serve as a convenient way to get a quick shower and soak, or as a cheap overnight option when all the hotels are full. Incheon Airport even has a good sauna that offers cheap private rooms for people who'd rather stay overnight at the airport. I really can't think of a better way to relax after a long flight and that's another reason Incheon is one of the best airports in the world!
Some spas and jimjilbang have fun and catchy themed rooms that are either gender-separated or co-ed like the places we visited throughout the country. Some of my favorites include Busan's Spaland or Dragon Hill next to Yongsan Station in Seoul but the most interesting was the Red Ginseng Spa in Jinan, North Jeolla Province. We found that one during one of our many road trips through Korea. There, we could walk around and swim in the heated pools, or get covered in suds before an eventual rainstorm of water cleaned us off. My favorite part was the heated rooftop pools where you can sit and stare at the distant Maisan National Park. That spa definitely set the bar but as long as there are good pools and hot rooms available during the winter months in Korea, I'm happy no matter what!
We also included saunas as part of our things to know before you travel to South Korea!
Ice Fishing Festivals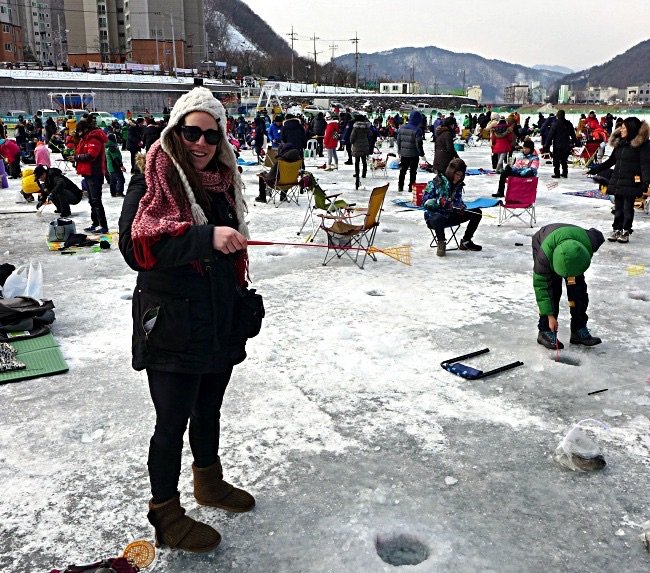 Katie McGrain, Around the World in KT Days (1 of 2)
You don't have to be good at (or even like) fishing to get into the Korean ice festival spirit. Before heading to the Hwacheon Sancheoneo Winter Trout Festival, I had probably caught two fish in my life. This festival was different. Despite the freezing temperatures, it was bursting with energy. People caught fish, played ice sports, and dunked into frigid trout-filled waters. Feeling the tug of a fish on my line after lots of waiting was quite the exhilarating rush! As I pulled the wriggling fish up through the small hole in the ice, the people around me cheered for the foreigner who caught a fish.
The best part was taking my prize to the 'cooking area' where it became a tasty meal. The Hwacheon Sancheoneo Winter Trout Festival is not the only ice fishing festival around.  Every winter, during the months of January and February, ice fishing festivals pop up all over the Korean peninsula.  Check out the Pyeongchang Mountain Trout Festival, the Yangpyeong Ice Festival, Chilgapsan Ice Fountain Festival, and Ganghwa IceFish Festival. Even if you don't catch a fish, there is still plenty of fun to be had.
Light Festivals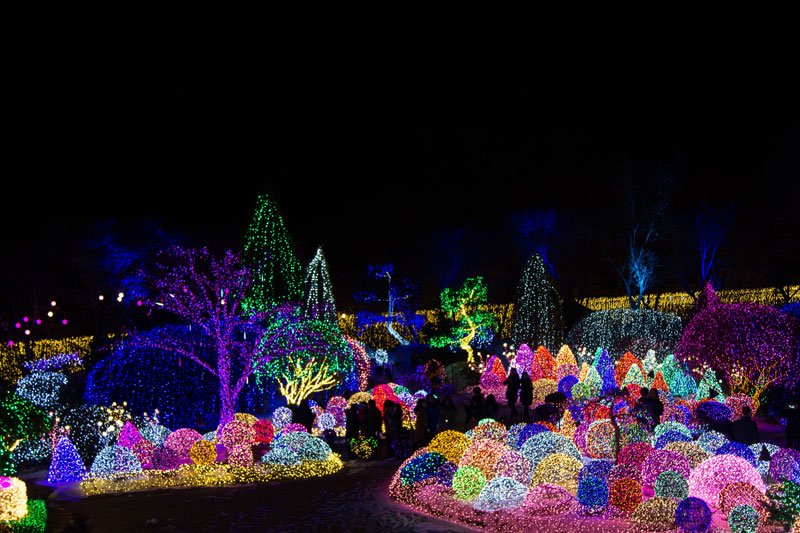 Lindsay Mickles, The Neverending Wanderlust
The Lighting Festival at the Garden of the Morning Calm is one of Korea's 'must-see' festivals during the winter. This garden, located in Gapyeong, is beautiful during any season but offers something really special to visitors during the winter. At the Lighting Festival, the garden is lit up by over 10,000 lights and the garden turns into an awe-inspiring fantasy-land. I am a big fan of lighting festivals, as my family and I used to drive around our local neighborhood in the US, looking at our neighbor's Christmas decorations. Through the Garden of the Morning Calm, I was able to experience a bit of home while in Korea. The Garden of the Morning Calm is an easy, yet full day-trip from Seoul and you can visit other local gems (like Nami Island) while you are in the area. 
Check out these Korean light festivals that will revive your Christmas Spirit!
Healing Cafes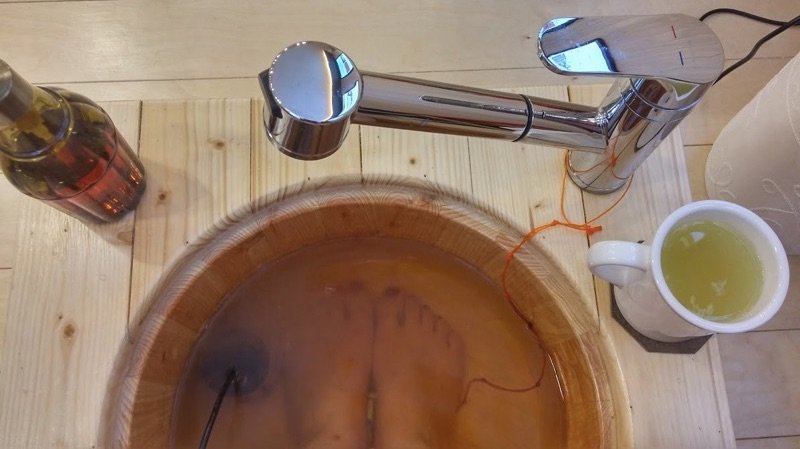 Rafiqua Israel, Rafiqua Israel Express
One indoor activity that I decided to do was visiting a "healing cafe" like this one in Pohang, called "Healing and Tea." Unlike other themed cafes I have visited in the past, a healing cafe allows you to enjoy a delicious, warm healthy tea of your choice while soaking the toxins out of your body through your feet. Quite an unconventional cafe per se, customers are taken through a swing door and instructed to remove their shoes.
Changing your pants is optional but advisable. That's because you'll want to be able to soak your feet comfortably for 30 minutes without getting your clothes wet. While sipping on your hot tea in a relaxing and calming environment, your feet will soak in a warm foot bath. The water is charged with positive and negative ions. Unlike other cafes, by the time your tea and foot bath finish, you will leave feeling extremely peaceful and relaxed, as if you just stepped out of a real spa!
Street Food, Markets, and Soup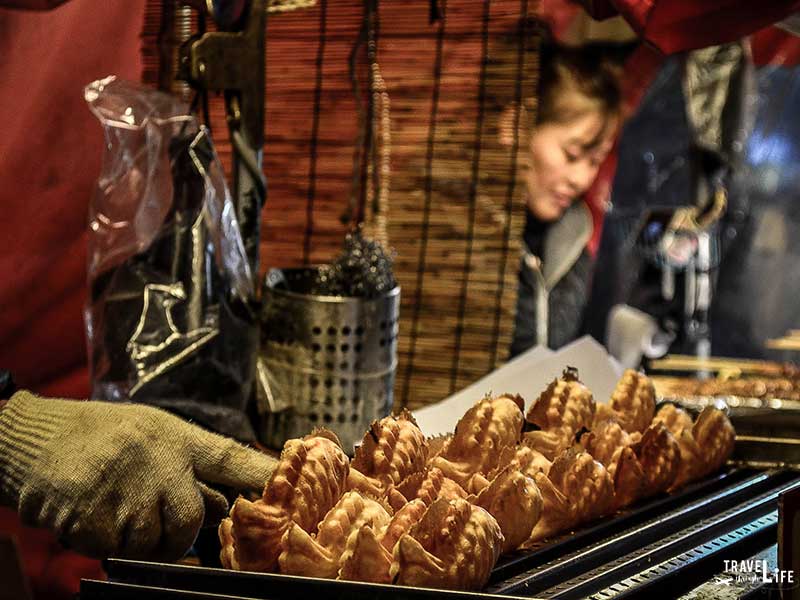 Eating is one of the best ways to warm yourself up when traveling through South Korea during winter. The country's street food scene (Pojangmacha or 포장마차) heats things up with Tteokbokki and that fish-shaped bread (Bunggeoppang) we all know and love. Our personal favorites are Bindeddeok (빈대떡) and Hotteok (허떡, those amazing filled pancakes that I'll never stop thinking about. My favorite place to find street food is in Busan's Nampo Dong, but there are street food spots throughout the country. If you want to eat delicious Korean street food at home, check out this Seoul Food Korean Cookbook by Naomi Imatome-Yun!
If you're looking for more of an indoor scene, check out markets like Seoul's Gwangjang Market. I'll always love walking through South Korea's markets for the smells, but also the action and overall atmosphere. Then there are the wonderful soups that you can eat in Korea throughout most the year, but especially in the winter. Gamjatang (감자탕) and its close brother Haejangguk (해장국) are a couple of my favorites, but there are so many more to name. More soup-y awesomeness includes Shabu-shabu (샤브샤브), Samgyetang (chicken soup), Mandu Guk (만두국), and Ddeok Guk (떡국). The latter is especially popular around Lunar New Year.
We love Korean food so much and talk about more favorites with this guide to the country's cuisine beyond Kimchi. 
Winter Hikes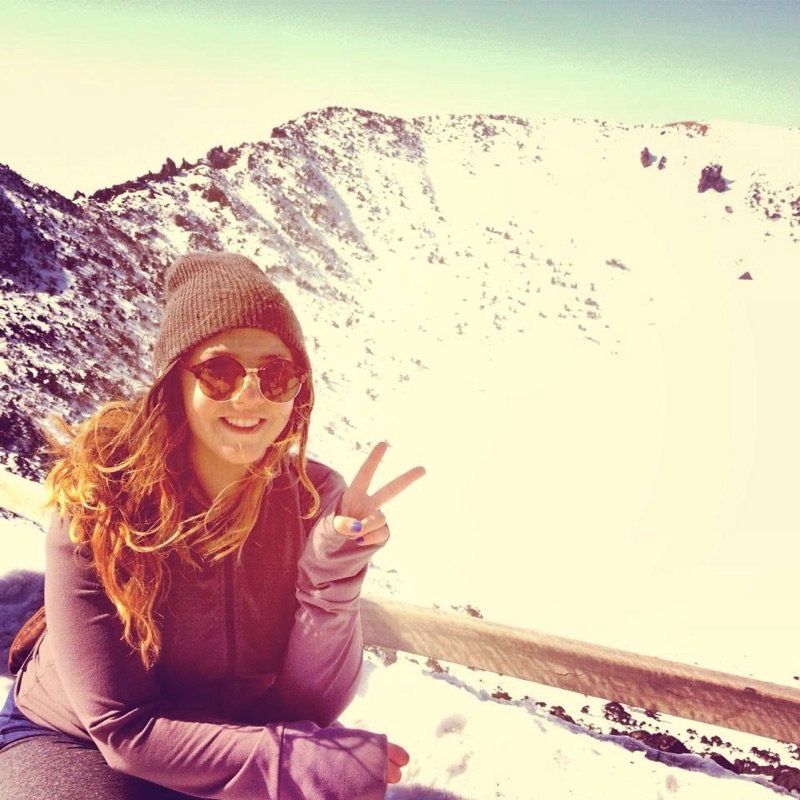 Laura Nailin, Willful and Wildhearted
With over 70 percent mountains accounting for this lovely country's terrain, it's easy to understand why Koreans love mountain climbing so much. One of the easiest ways to impress your Korean peers and immerse yourself in the culture is to adventure to one of the many Korean national parks. One of my favorite hikes is Mt. Halla, located on the nation's beloved Jeju Island. Standing at about 6,400 feet, this summit is known as South Korea's tallest peak.
I hiked this beast in the winter and it has been one of my most memorable weekends to date. The mountain was totally blanketed with snow, making the experience that much more difficult for an amateur like me. I was able to hike this mountain with broken crampons, no hiking sticks, and minimally wet feet. I ended up freaking out most of the locals by sliding down some of the slopes on my butt—weird-looking but incredibly effective! The entire hike took about eight hours and I was incredibly proud of myself when I reached the summit. Honestly, I have never been so happy to reach the end of a hike in my life.
We've also featured Laura for her awesome efforts volunteering while on the road. 
Skiing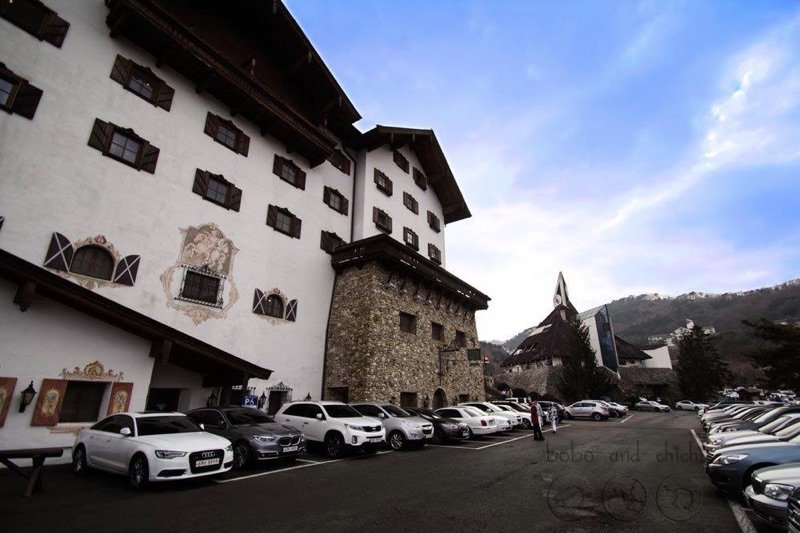 Megan Indoe, Bobo and Chichi
One of the highlights of Korea being a mountainous country, other than awesome hiking, would be all the different places to go skiing or snowboarding in the winter. There are 17 different resorts spread throughout the country for beginners to experts including the site of the 2018 Winter Olympics in Pyeongchang. All the resorts include some sort of other entertainment activities. They include karaoke rooms, saunas, bowling, table tennis halls, billiards, and even arcades to enjoy after a long day on the slopes. If you only want a day of hitting the slopes, there are multiple options easily accessible right outside of Seoul.
For example, Jisan Forest Resort is only a 40-minute commute from Gangnam and Vivaldi Park Ski World also offers a free shuttle bus for foreigners from Seoul! We really enjoyed our trip to Muju two winters ago where we spent two days hitting the 34 different slopes and soaking our sore muscles in the evening in the jimjilbang. Muju is one of Korea's largest resorts. It's also home to a 6.1 km slope designed for intermediate level skiers/snowboarders called the Silk Road Slope. If you like skiing or snowboarding then spending a winter in Korea will be perfect for you!
Stay at a Resort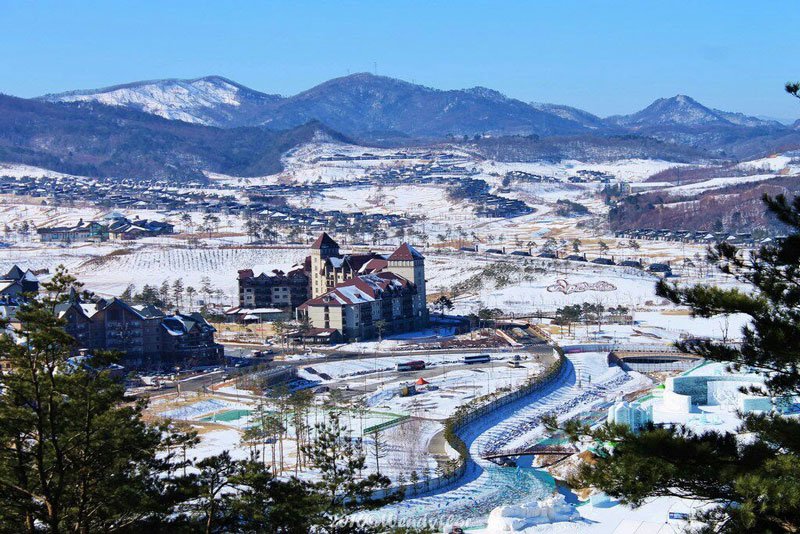 Wendy Flor, My Rocking Cradle
The Alpensia Resorts house 3 hotels, which are the Holiday Inn Resorts, Holiday Inn & Suites, and The Intercontinental Hotel. Our family decided to spend our holidays there before the place gets really busy for the 2018 Winter Olympics. The resort is good for family vacations and winter serves you with skiing all day and all night long. From our balcony, we could see skiers enjoying the slopes. Smaller kids and toddlers have their own corner for sledding. There's also "Ocean 700," a water park that entertains families all year. We also spent one morning doing a winter hike and had a good view of the Taebak mountains.
You can also stay at the Alpensia Resorts during your South Korea winter trip. Check on the best prices there and more South Korea hotels via our favorite booking sites! (TripAdvisor | Hotels.com)
Arcades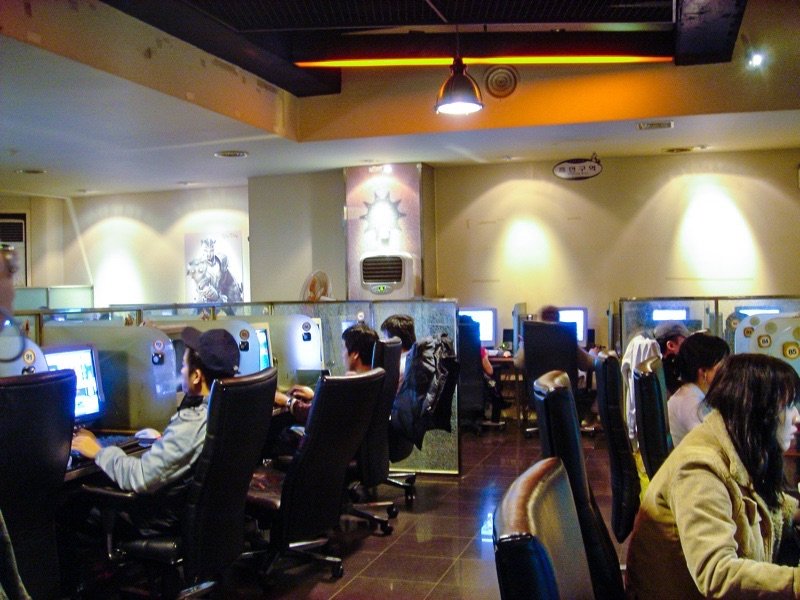 Katie McGrain, Around The World in KT Days
When it is too cold to go outside, or you are just looking to try something a little different, relive your childhood fantasies at the arcade. These Korean game centers have a little bit of everything. I mean, wouldn't you want to visit a place with classic arcade games, interactive games, sports simulations, and even single person singing rooms? Tons of arcades even have batting cages, BB Gun target practice, punching bags, and bowling.
When I'm looking for winter things to do in South Korea, I often head to the arcade and spend an hour or so playing games. It isn't just fun; it brings out my competitive spirit and even gets my heart pumping. The best is when a group of people gathers around someone crushing it on Dance Dance Revolution. The energy is electric! These noisy, neon-filled rooms are found all over Korea, typically below street level. Just look for the sign that reads 아케이드.  A cold Saturday night game hopping at the arcade is a night well spent.
Big props to Katie from Around The World in KT Days for giving us two suggestions!
Anything Else?
Man, these are a lot of winter things to do in South Korea! I really appreciate all the suggestions and help that came from these awesome bloggers. I think the last thing to do is find a restaurant that serves a nice bowl of soup and to hover over it for a while before eating. Are you ready for a Korean winter now? Whether you're already there or planning a visit, this list of things to do in Korea in December, January, and February will help round out your itinerary!
Ever visited South Korea during winter? What did you think of it? Did we leave something out in this South Korea winter travel guide that you'd like to add? We'd love to read your thoughts in the comments section below!
This travel guide is part of our blog's series on South Korea Travel and East Asia Travel. It was originally created on January 29, 2016. It has been maintained and updated (as of December 28, 2018) to reflect current viewpoints and travel trends.