Affiliate links linking to products we love may be found within this article. For more info, please check our Disclosure page for more explanation of affiliates and sponsorships.

---
So many of us have gained enough privilege to get out there and see the world, while some take it an extra step and think of ways to give back while traveling. Some people, including JK Rowling, condemn "voluntourism" and have highlighted ways that it does more harm than good. Instead of joining that discussion, let's look at seven travelers who volunteer abroad, from their own perspectives. Their stories will at least shed light on the positives that come from this complicated and hotly debated issue.
Seven Travelers who Volunteer Abroad
This post about travelers who volunteer is part of our blog's series on People who travel. It was originally created on September 3, 2016. It has been maintained and updated (as of September 22, 2018) to reflect current viewpoints and travel trends.
Amelia Old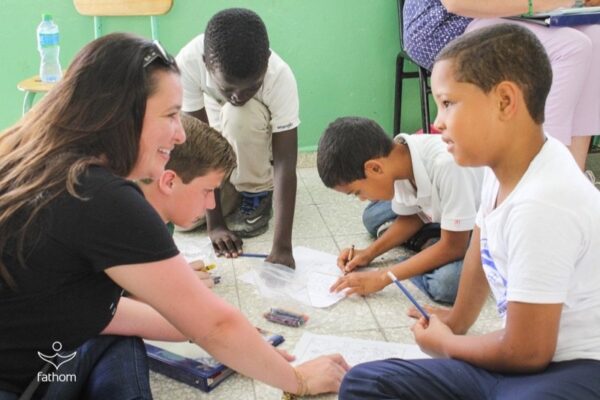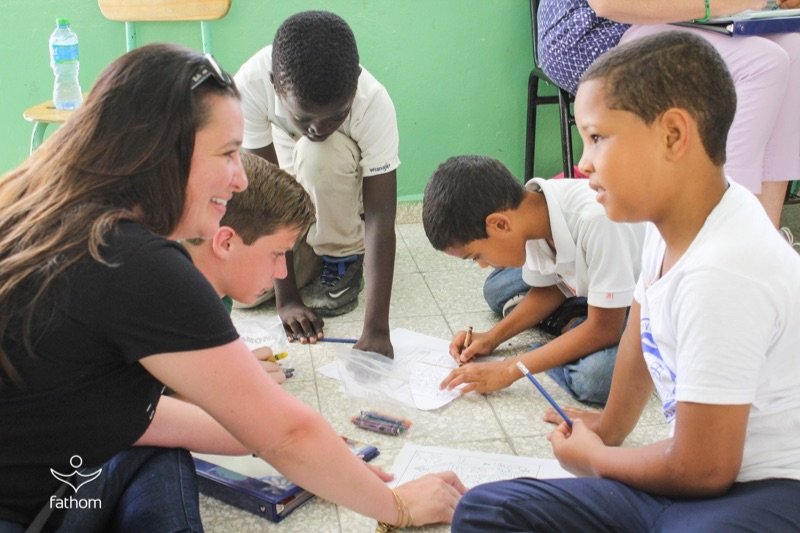 Photo and Words by Amelia Old, Passports from the Heart
I first began volunteering right after my brother passed away from a car accident. When Hurricane Katrina occurred I felt I needed to do my part. In the days after the storm hit, I became a trained caseworker with The Red Cross and assisted victims in a shelter set up in Atlanta, Georgia. I realized it was much more beneficial to myself and to those around me if I took my heartache and my pain and used it for good. My strength, my courage, and my love for the community only come from the actions of involvement.
You can use the experiences you've faced to help change another person's life. I want my children to see that no matter what they go through, someone else's heart may be hurting just a little bit more. And if they reach out, they may end up healing themselves in the process. A person's story goes further than what you see on the outside. Sometimes you just need to give someone the gift of time to find out what their chapters may reveal.
I love that Amelia is so humble and wants her children to realize that someone else is always in more need. Amelia is very active in her own community and writes about her experiences at Passports from the Heart, while sharing photo stories on Instagram. We also featured Amelia in an individual interview.
Emily Kydd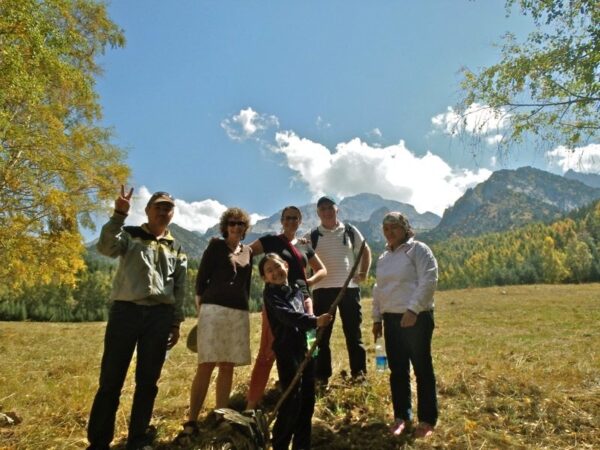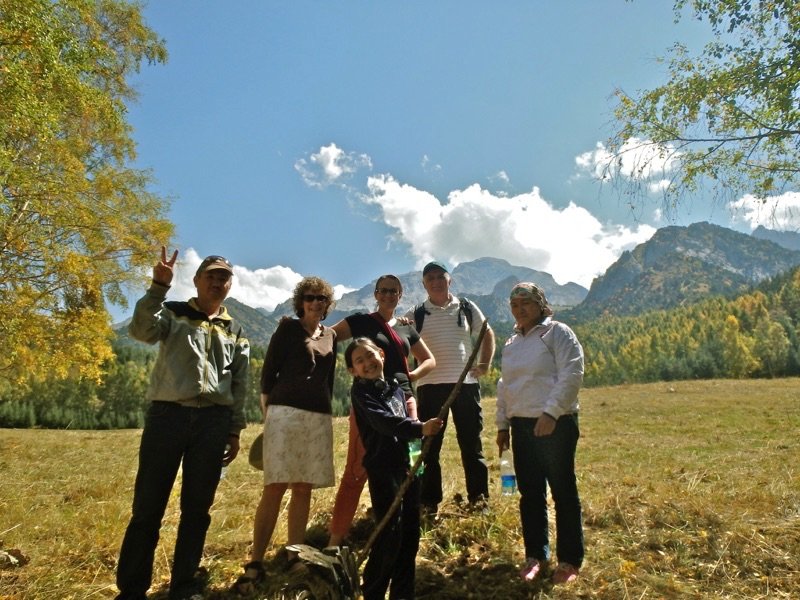 Photo and Words by Emily Kydd, See Her Travel
Everyone knows that best way to understand and appreciate a different country is to live there. But how does one do this long term? International volunteering! I signed on with the Peace Corps and ended up spending 18 months in Kyrgyzstan, a country I had never even heard of. I lived with a Kyrgyz family, worked with local counterparts and became a regular at all of the cafes in Osh. Spending Kyrgyz New Years with my family and dancing with my little sister stick in my mind as phenomenal memories.
I also went to Jamaica for a year, again volunteering with a non-profit. I have met wonderful people, and I know that I'm making an impact on a grassroots level by lending my skills and experience to my organization and its beneficiaries. Bonus: I spent a year exploring a beautiful island where most people only spend a week!
It's great to see that Emily has continued volunteering and in such disparate parts of the globe. Watch her go at See Her Travel and keep up with more real-time updates at Emily's Facebook Page. 
Erin Faherty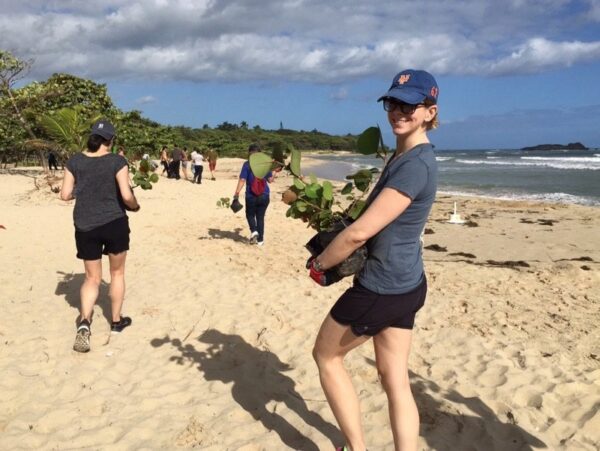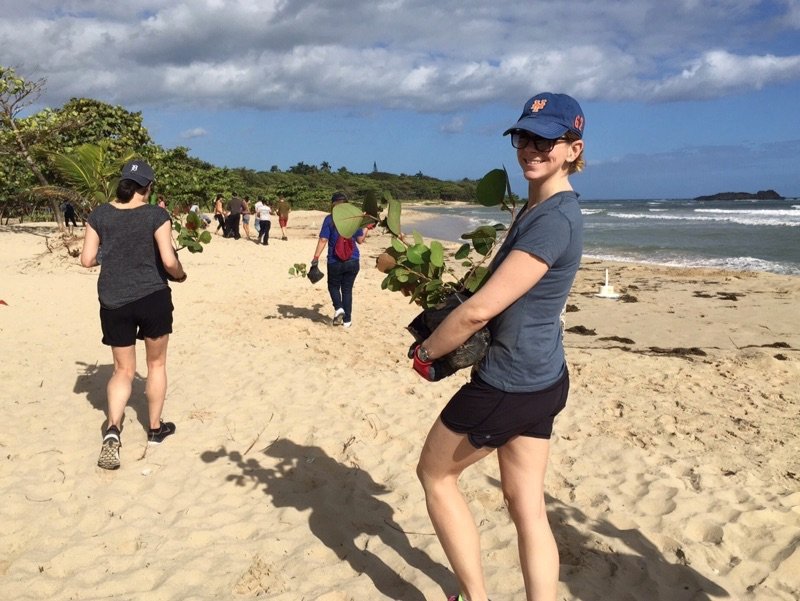 Photo and Words by Erin Faherty, 10 Miles Behind Me (& 10,000 More to Go)
My first Fathom travel experience earlier in the year confirmed my desire to give back as much as possible while traveling. On that trip to The Dominican Republic, I worked with children on their English, planted trees, and recycled paper with a women's co-op. On my next trip, I installed concrete floors, worked with more locals on their English, and worked with a women's chocolate co-op. Each was an incredible and rewarding experience.
Now that I have more time as I've quit my job to travel, I'm concentrating on more long-term work with some non-profits that have inspired me. I also volunteered in Myanmar for the amazing organization, Sundara, which recycles bars of soap from hotels that would normally be thrown out into new bars to donate to those in need. Sundara is also present in Uganda and India. I also went to Bangalore, India to volunteer with two organizations and I hope to work in Central and South America in the future.
Hopefully, we'll get to catch up with Erin after she completes the epic journey that she mentioned because it's filled with so much giving back. Read more about her life and adventures at 10 Miles Behind Me and be sure to follow Erin's Instagram account.
Frank and Cathy Merrifield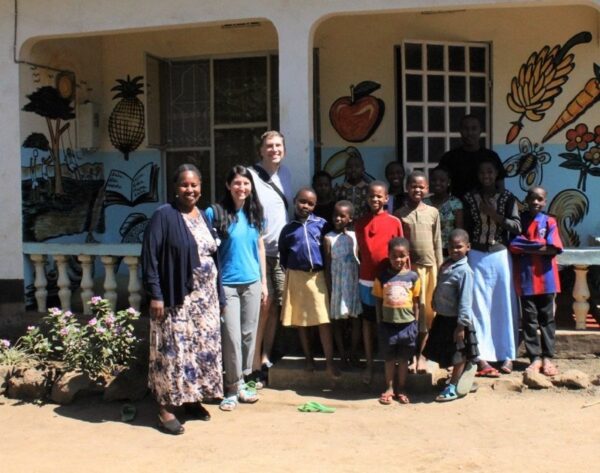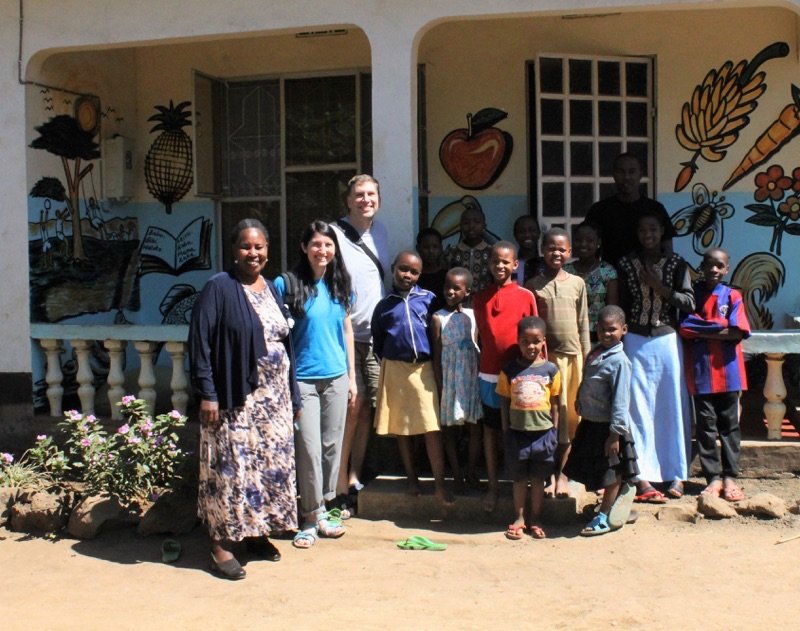 Photo and Words by Frank and Cathy, Roar Loud
While traveling to Tanzania, we had the opportunity to visit a local orphanage. We had filled an entire giant suitcase with as many items as we could think to donate. Meeting the children and the amazing woman running the orphanage was truly moving. With little help or resources, she manages to run an orphanage, be a teacher, and even be a minister for not only the orphans but for many of the local residents who can't travel to the nearest church.
Everyone there was friendly, welcoming, and inspired us to look for opportunities to volunteer in our future travels. Traveling gives us so much joy. It is fitting that we try to volunteer to bring some joy to others in need.
I love that mindset and hope they can find more opportunities like that one in Tanzania. Hear Frank and Cathy Roar Loud at their website and catch them on Twitter, where they'll likely be bantering it up on a chat or by sharing something awesome.
Kristin Winet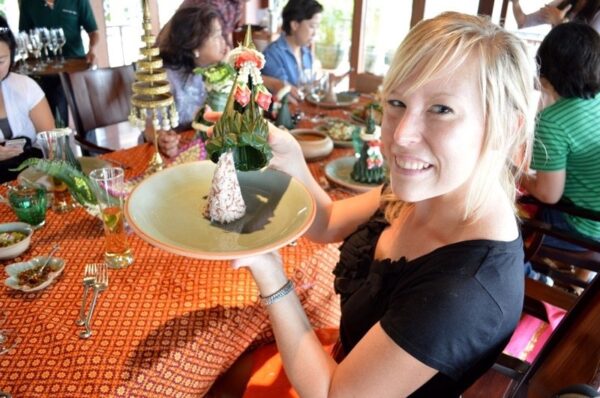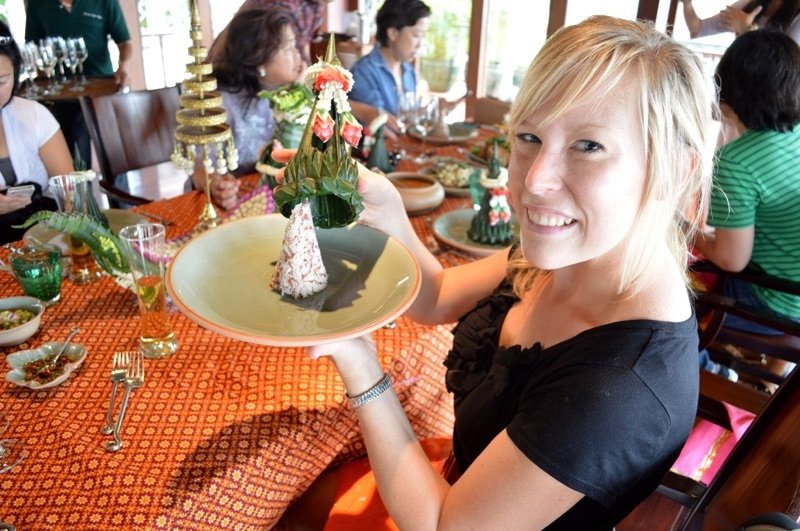 Kristin Winet, Bon Touriste
I'll start with my most memorable experience volunteering, as it really set the precedence for the way I travel and why we travel. I was 22 years old when I decided I wanted to live in South America and put my degree in Spanish Literature to work. At first, it was lonely days…I was nervous about speaking Spanish, and I wasn't sure what to do on the weekends. At the suggestion of one of my students, I started volunteering on Saturdays at a local nonprofit that helped at-risk youth learn life skills—and, as with most volunteer experiences, it changed me in far more ways than it changed them.
When I left Colombia many months later, I was no longer the insecure Spanish speaker who had a fancy degree but no real-life experiences, the girl who yearned to understand another culture, the timid dancer with two left feet…it's because I volunteered that I learned to laugh in Spanish, to be unafraid of the meringue, to better understand the inequities of our world, to cut open a mango the right way, that I am the traveler I am today—one who believes in leaving nothing but positivity and reciprocity behind.
With travel and volunteering, we can learn about ourselves and grow at the same time. I think Kristin definitely picked up a thing or two while in South America but if you investigate her website at Bon Touriste or Instagram, you'll see that she's done a lot more since. 
Laura Nalin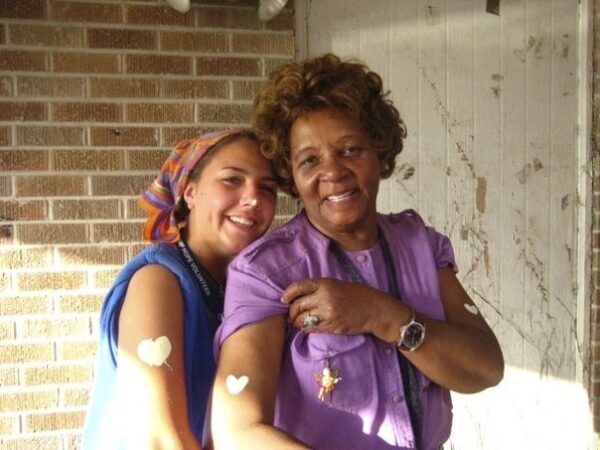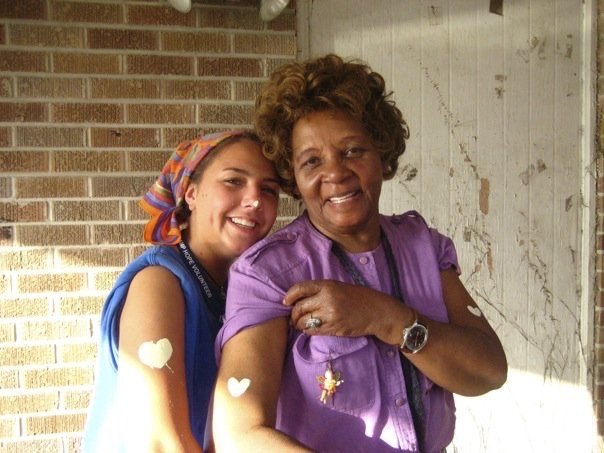 Laura Nalin, Willful and Wildhearted
My first volunteer trip was to New Orleans after Hurricane Katrina. We helped rebuild an elderly woman's home – totally gutted the interior and put up new siding. We let Miss Bessie pick the color and she chose yellow to add some sunshine to her circumstance. The woman had given all of her savings to a group of con artists disguised as a construction company, leaving her with nothing. Despite the fact that she didn't have a lot of money at all, she made it a point to cook us homemade meals each day and remembered our names. She instilled in me a fierce appreciation for being grateful for what I have and that's something that I'll carry with me forever.
We still get updates on Miss Bessie regularly and one girl was so touched by the experience that she relocated to New Orleans after college and visits her often. Miss Bessie's impact definitely changed the way I saw the world, thus changing my outlook on travel. I try to be as conscientious as I can be of my impact while I'm traveling. I research companies who reflect my morals and try to give my dollar to businesses and NGOs who give back.
Hopefully, we'll hear more from Laura after she finds a company that's the right fit. In the meantime, catch Laura's writings at Willful and Wildhearted and content curations on her awesome Facebook Page. 
Rachel Werz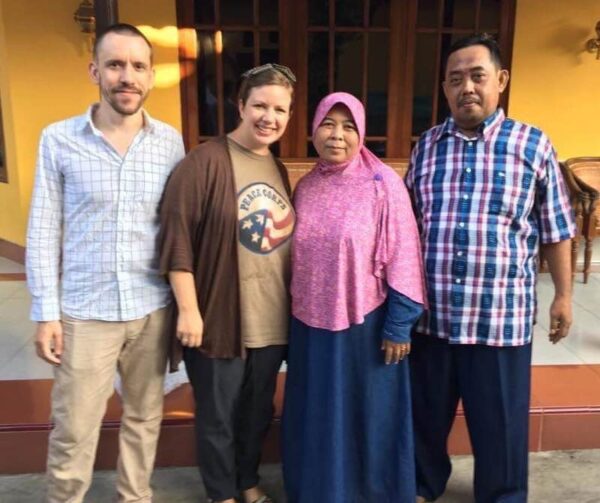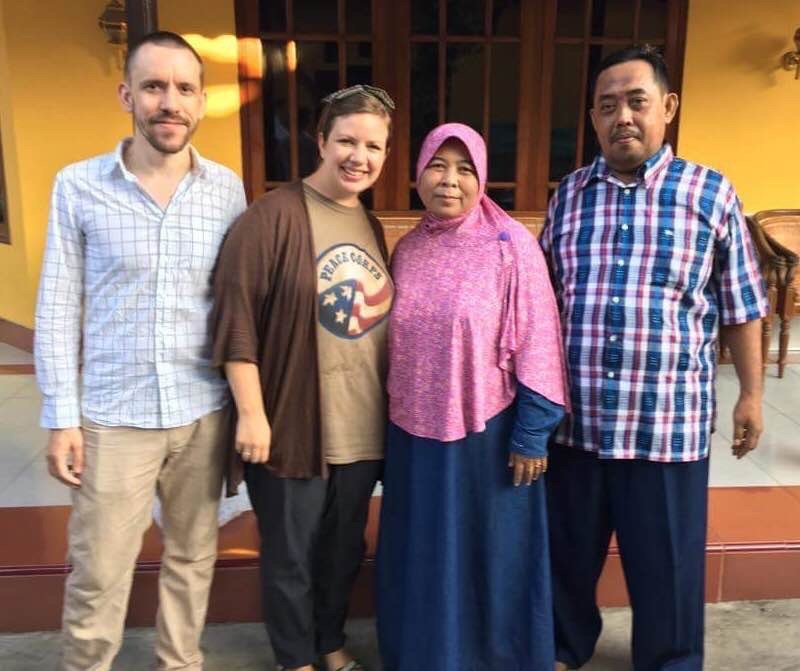 Rachel Werz
Volunteering has always been an important part of my travels. The first time I volunteered abroad I was studying Arabic in Morocco. I taught English to students aged 7-32 two nights a week, and although it was difficult, it enhanced my experience there and gave me insights into the culture I would never have had otherwise. A few years later, after backpacking around Southeast Asia for a few months, I landed an English teaching job in South Korea. During my time in Korea, I volunteered at a local orphanage, tutoring the kids in English and helping to plan fun field trips, picnics, and parties for them.
I also had the opportunity to raise money for a battered women's shelter through a production of The Vagina Monologues that I managed. In Korea, I was a paid teacher, but more than that, I was a part of a community that valued giving back to the country that so kindly hosted me for almost six years. After that, I spent two years as a Peace Corps volunteer in Indonesia, working as a middle school teacher and a teacher trainer. There is no wrong reason to travel. But making your experience abroad a two-way street, one in which you are giving back as much as you are gaining from being there, I assure you it is well worth it.
Evan and Rachel have done so many things and I can't wait to hear more from them in the near future. Subscribe to their YouTube channel for vlogs from their years in South Korea and elsewhere.  
Our Thoughts and Yours, Too!
It was a joy reading so many wonderful descriptions of time on the road that was very well spent. I know that this doesn't explain everything one needs to know about voluntourism but these amazing people showed that positive outcomes can result in the story. Personally, I just can't get over these experiences and really want to know if there are any more people out there with stories.
Do you have a story about volunteering that you'd like to share? What do you think of voluntourism and how these stories help the conversation? Let us know what you think in the comments section below.