Affiliate links linking to products we love may be found within this article. For more info, please check our Disclosure page for more explanation of affiliates and sponsorships.

---
Mapping out a South Korea Fall Travel itinerary is a tough job because you're visiting during an awesome time of year. The temperatures are cooling down from the super hot summer. Also, the leaves are starting to turn, which is especially wonderful in a place as full of natural beauty as this country. We've reached out to some experts to help pin down the best places to visit in Korea are absolutely grateful for their help. Let's scope out some beaches, foliage, and parks that make up this ultimate South Korea fall travel guide for visitors and expats, alike.
Check here for the best prices on hotels in Seoul and other South Korean cities before heading out!

South Korea Fall Travel
Bijindo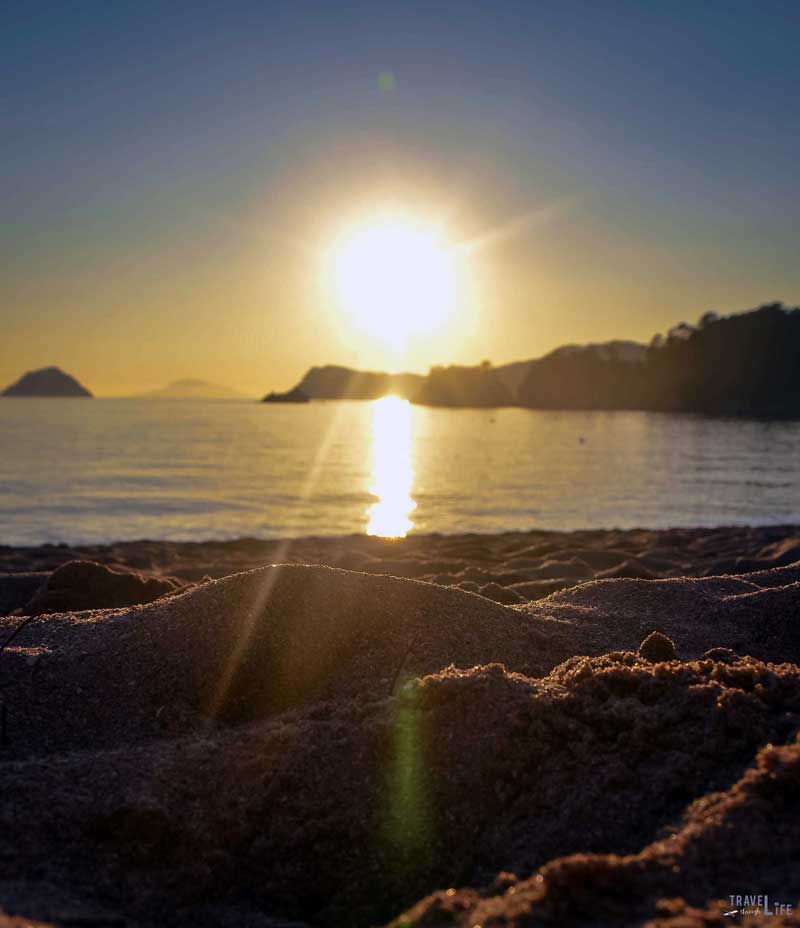 Alright, so Bijindo Island isn't so much for seeing the fall leaves as it is checking out epic sunsets and chilling on an island off the south coast. Accessible via Tongyeong, Bijindo is one of the coolest islands in South Korea. Fall is a great time to visit because the summer crowds have moved on to warmer waters elsewhere. You're also able to camp closer to the water than most designated sites will allow. Tell me that you hated it and I'll be mildly heartbroken. I'll still consider Bijindo a wonderful place to enjoy throughout the year but especially fall in South Korea.
Check out our guide to enjoying Bijindo Island! 
Changdeokgung Palace
Megan Indoe, BoboandChichi.com
Changdeokgung Palace should be on your list of things to do in Seoul, not just because it's a UNESCO World Heritage Site. it's also one of the most beautiful places to visit in the fall in Korea. Stroll through the secret garden and experience the gorgeous array of colors during the changing of the leaves. Paired with the beautiful traditional Korean architecture you feel like you're in a famous painting. Make sure you bring your camera, you won't want to miss capturing the beauty of this spot during this special time of year.
Daegu Arboretum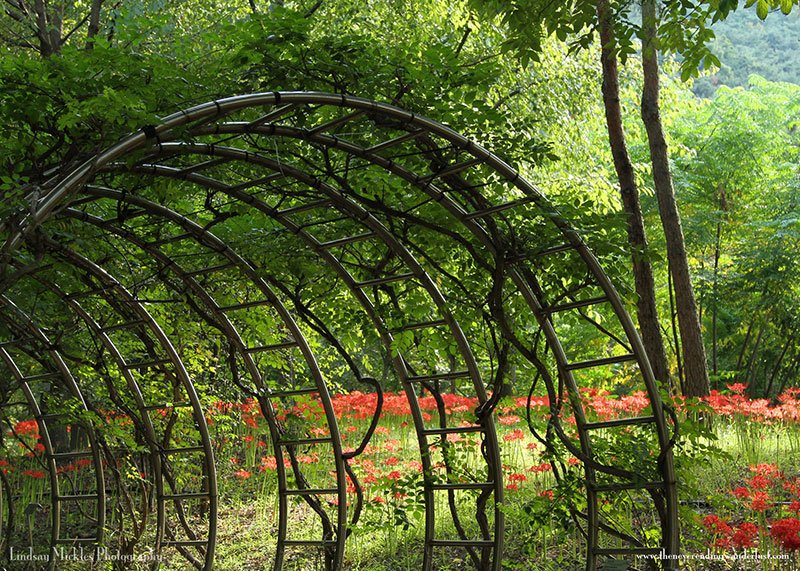 Lindsay Mickles, The Neverending Wanderlust
The Daegu Arboretum is one of my absolute favorite places to visit in Korea during autumn. Each week of the season offers visitors different, beautiful colors. The deep greens in early-autumn to the rich reds and oranges of late-autumn—the season never disappoints. Admission into the arboretum is free, and an easy walk from the Daegok subway stop on the red line. If you plan to visit the Daegu Arboretum during the autumn, definitely look up the yearly Chrysanthemum Festival; the landscaping and chrysanthemum flower sculptures are some of the best I've seen in the country. If you are traveling through the area, definitely take a day out to visit the lovely Daegu Arboretum.
Garden of the Morning Calm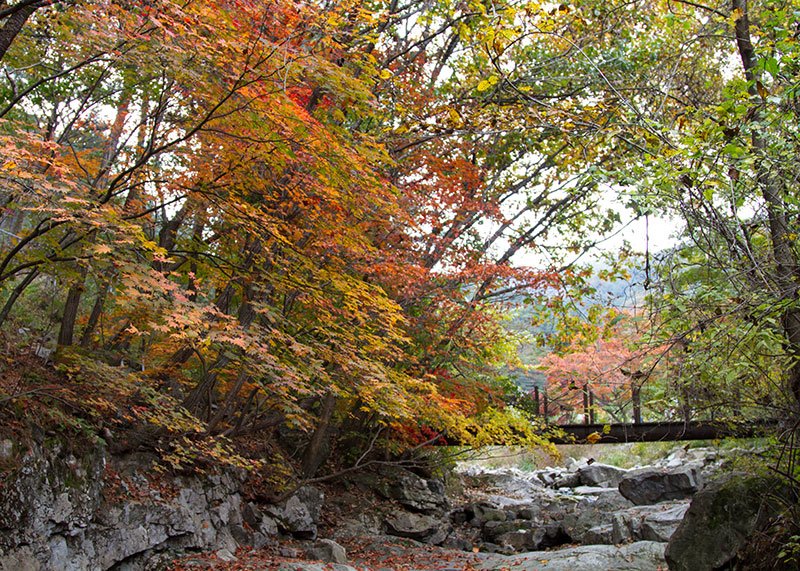 Lindsay Mickles, The Neverending Wanderlust
The Garden of Morning Calm in Gapyeong is one of the best places to visit in South Korea during autumn. The grounds are well-manicured, the gardens are stunning, and it is a perfect place to visit as you travel through Gapyeong. If you decide to visit the garden, I highly recommend looking into the dates for their Chrysanthemum Festival. During this period, the gardens are filled with thousands of colorful chrysanthemums, which look even more vivid against the autumn leaves. The Garden of the Morning Calm is easily accessible by car, chartered tour, or local transport and is absolutely worth the trip.
Haneul Park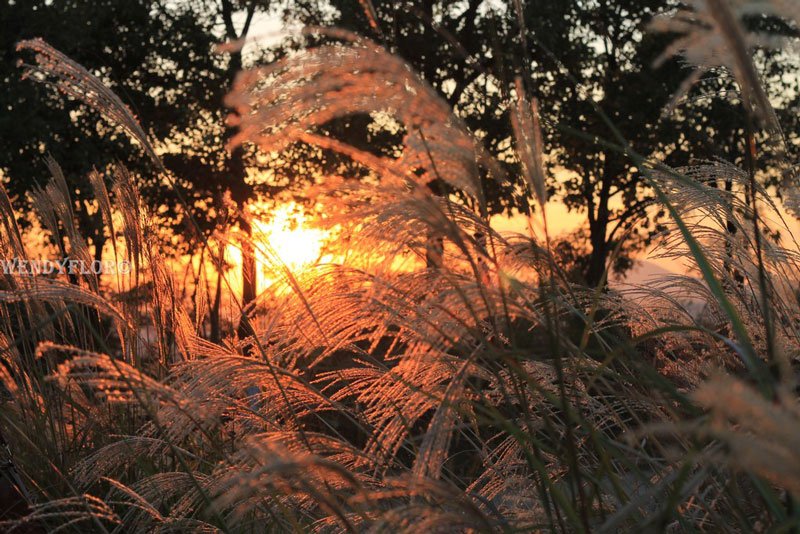 Wendy Flor, My Rocking Cradle
From the veranda of my apartment, I could get glimpses of the Haneul Park in Seoul, one of the must-go-to places during Autumn in South Korea. It houses the frequently photographed "Bowl of Sky" Observatory where one can see the wide expanse of brown, tall weeds swaying in the Autumn breeze. I chose one Saturday afternoon to have a rendezvous with the setting sun up in Haneul Park. I took a few pictures of Haneul's Autumn Landscape but it was the red, fiery sunset that amazed me. It's a haven for photographers, especially during Autumn. This photo was taken with a prime lens sans post-edit because the place and the season show its most natural beauty.
Jeju Island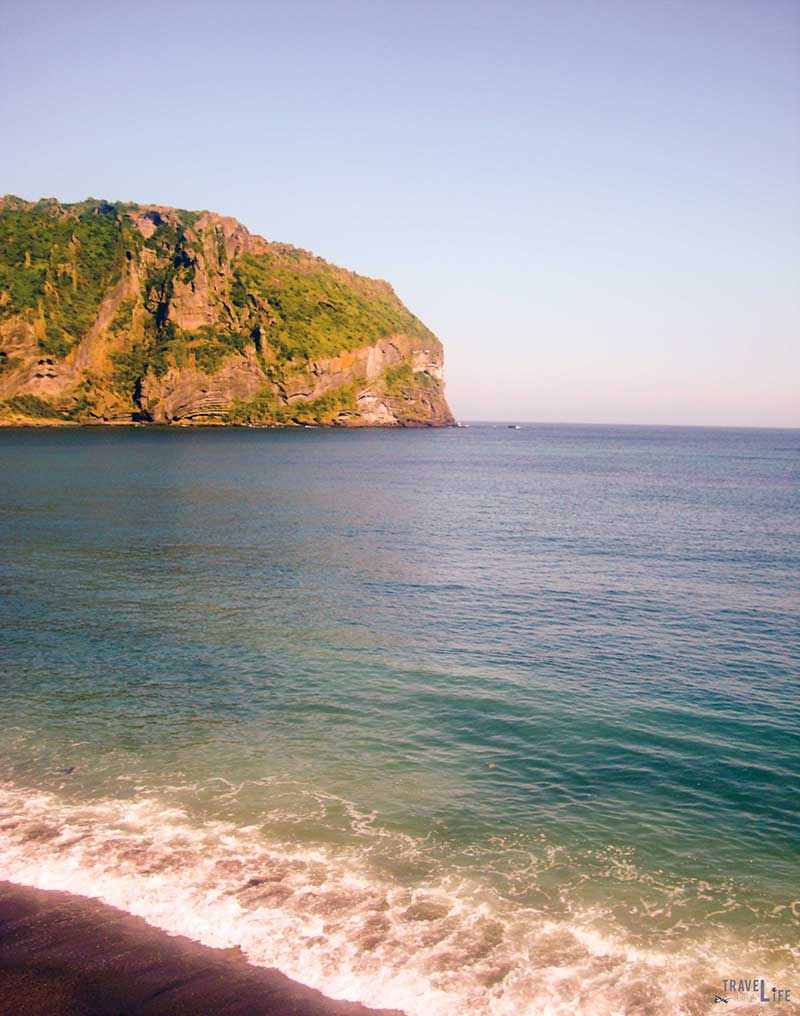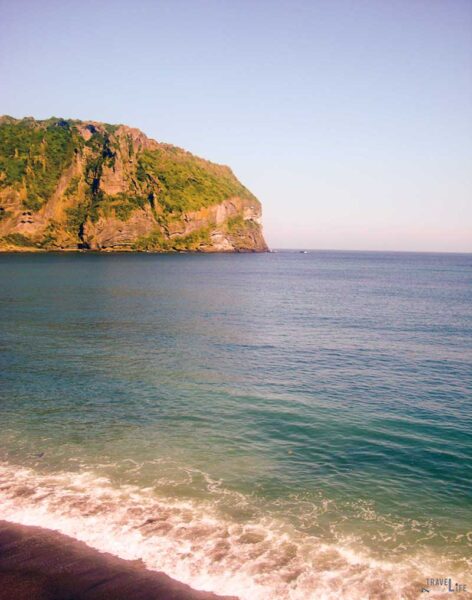 I'm always up for a trip to Jeju Island and even rate it among our 40 can't-miss places to see when driving through Korea. Fall is also a pretty rocking time to visit South Korea's most beautiful places. However, do avoid it during Chuseok because people love to cram the place during that massive fall holiday. Other than water-related fun, you can hike Hallasan and the Olleh trail, ride a motorbike around Jeju, ferry to Udo Island or some other nearby spots, or explore the island's overflowing collection of museums. Of all the places you can enjoy a nice view, our personal favorite was Hamdeok Beach, but we're always open to recommendations for other ways to enjoy the scenery in Jeju.
Want to spend more time and stay in Jeju? Check out one of the island's awesome hotels!
Jeonju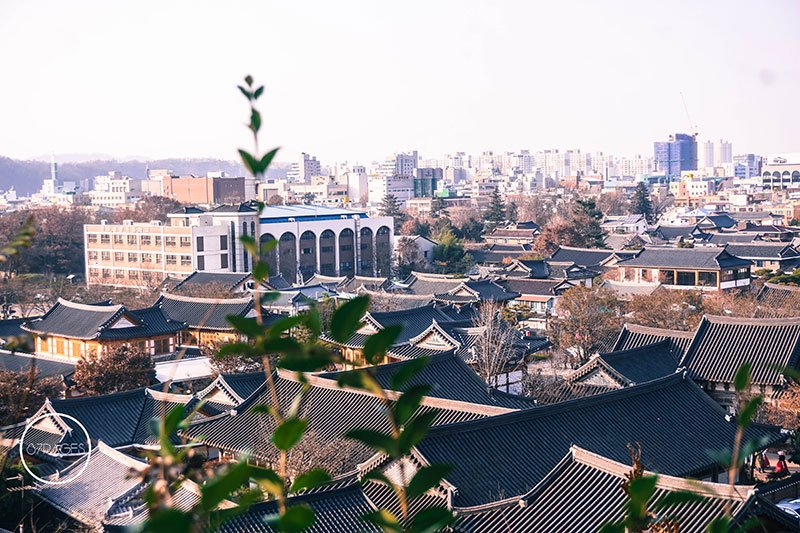 Star Lengas, 87Pages
Jeonju is considered the heartland of South Korea and known for its preservation of traditional Korean culture. No visit to Jeonju is worthwhile unless you get lost traipsing down the twist lanes of the Jeonju Hanok Village. There are around 800 traditional Korean homes (hanok) and for a landscape view of it all, climb up to Omokdae. Be sure to arrive before sunset, to capture the sun rays falling on the unique roofs. To really join in on the fun of exploring Jeonju Hanok Village, consider renting traditional Korean attire (hanbok). They make for a pretty photo and don't worry about feeling odd. Jeonju has become quite the haven for millennials, tourists, and amateur photographers seeking the perfect Insta-worthy photo. If you have a bit of time, charge up your camera and take a guided tour of Jeondong Catholic Cathedral, Gyeonggijeon Shrine, Jamin Village, Omokade, and Imokdae–believe me, it's worth it.
Jinju Lantern Festival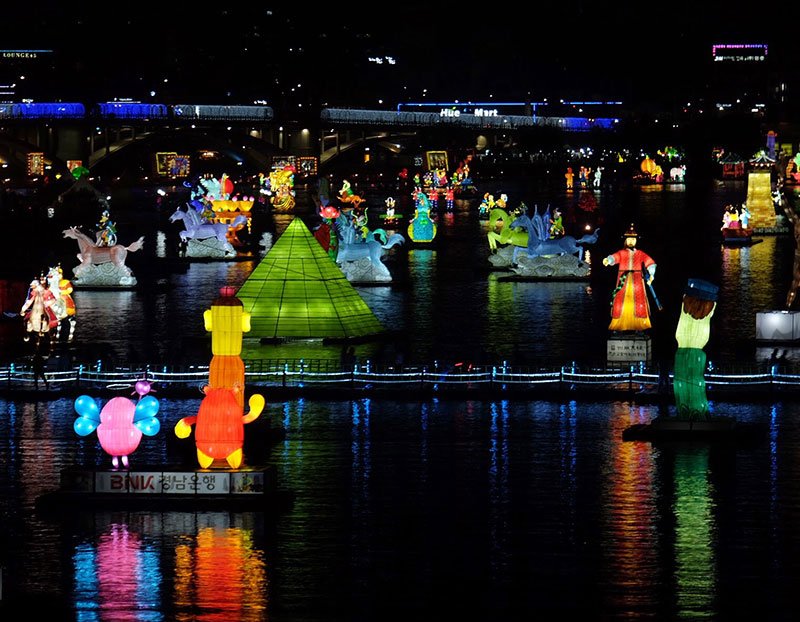 Jonathan Sacks, Everybody Hates a Tourist
As the weather begins to cool each October, thousands of people flock to the southern city of Jinju for the world-famous Jinju Lantern Festival. The Nam River comes to life with floating displays, and the city's bridges are covered in thousands of lights. Jinjuseong Fortress also plays an important role, as the festival celebrates important military battles against the Japanese. Visitors can purchase lanterns, which they then write wishes on & float down the river. The Jinju Lantern Festival runs for a couple of weeks, but get there for the fireworks show on opening night if you want to truly experience all of its bright glory.
Naejangsan National Park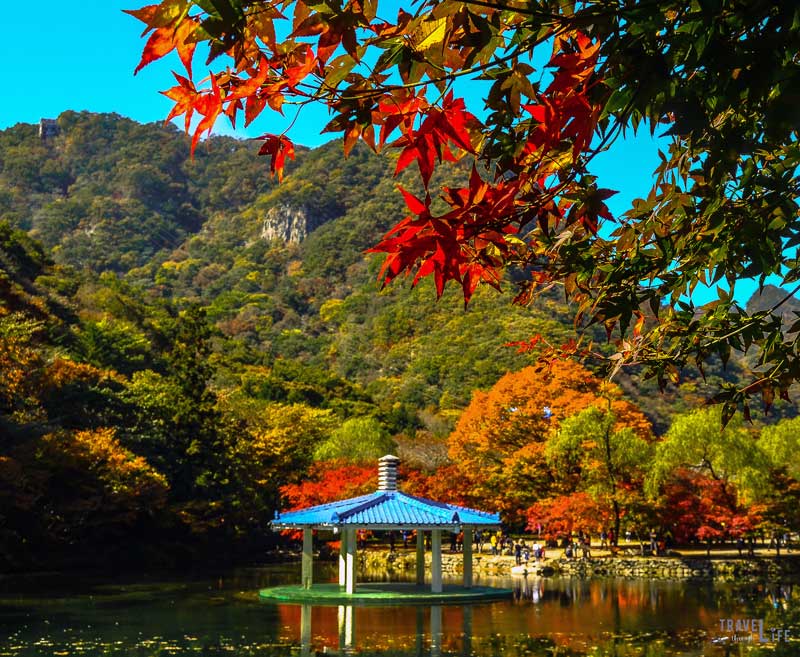 Naejangsan sits on the southwest corner of South Korea and is one of our favorite places to experience fall foliage in South Korea. People come out from all over the country to check out the beautiful maples that fill this park with color. Two words I have to say about this park—arrive early. I always advise this if one wants to beat the crowds but this is especially important for visiting Naejangsan to see the fall foliage. We got there at around 9 am on a Saturday during the peak and things weren't too bad. Regardless, it's a beautiful place and fall is definitely the best time to visit Naejangsan National Park.
Check out more from us about Naejangsan National Park and following leaves in South Korea!
Nami Island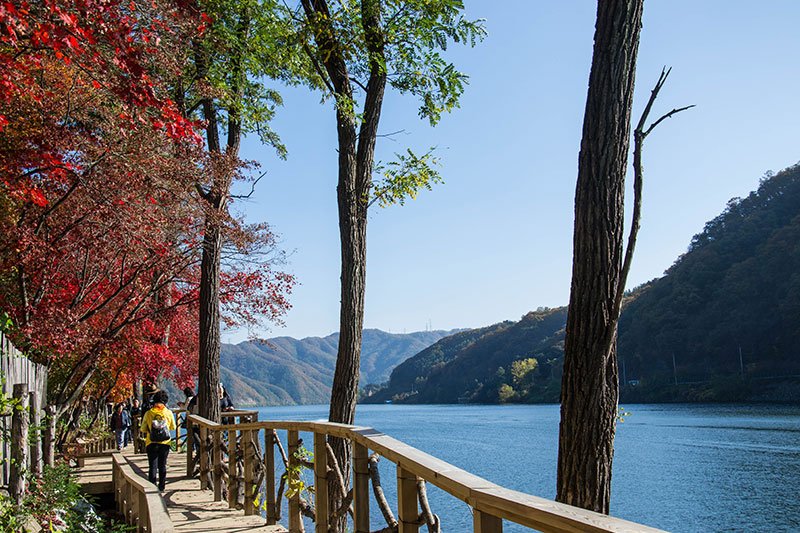 Rosie Benton, Ravenous Travellers
Nami Island is a tiny half-moon shaped island located about 60km east of Seoul, in Chuncehon. It gained popularity in 2002 when the Korean drama 'Winter Sonata' was filmed there, instantly transforming the island into a tourist hotspot. It's a tiny island with a big reputation and Nami Island is undoubtedly one of the best places to visit during fall in South Korea. In the autumn, the island comes alive with color as fall sweeps across the foliage. When you arrive you'll be surrounded by rows upon rows of giant trees bursting with burnt oranges, reds, and yellows. If the weather is still warm and you take a picnic, it's the perfect place to spend a relaxing afternoon. The island itself is very picturesque and laid back compared to the fast-paced Korean way of life you may have become used to.
Seoraksan National Park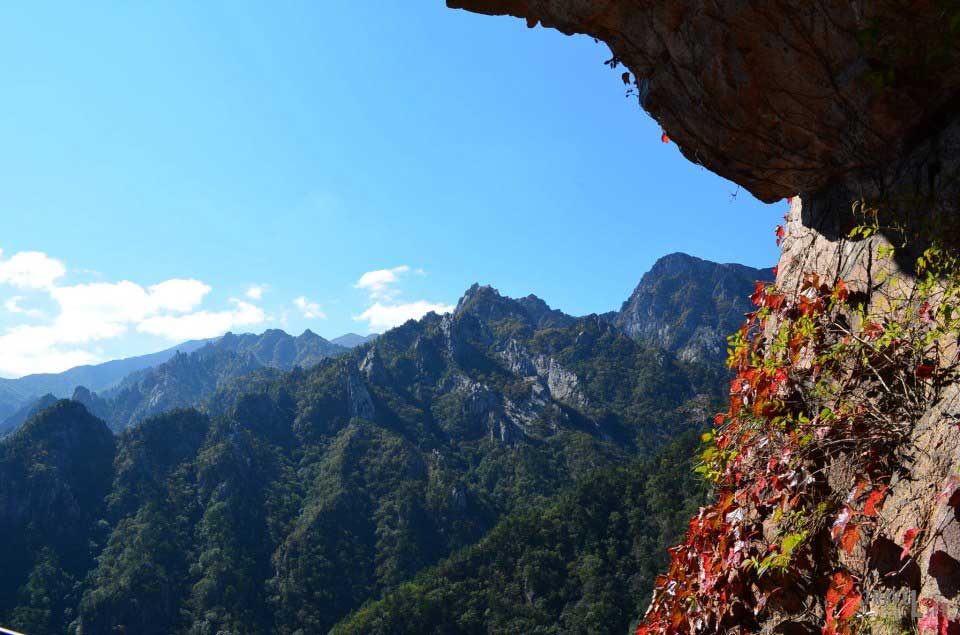 Seoraksan National Park is South Korea's best-known place to get outside and see the autumn foliage. If you ever get to that far corner of Gangwon Province, you'll see why. Enter early in the morning and you'll get a fairly quiet walk through Sinheungsa Temple, which hosts the largest seated Buddha statue in the world. Then there is the hikes and boy, are they the best! Ulsan Bawi was our favorite, though walking around Gwangeumseong after taking a cable car up was pretty rad! This was the perfect place to propose to Christina and that's what I did, albeit nervously! Even if you don't have a grand gesture planned, spend time at Seoraksan National Park and you'll definitely look back on it with a smile.
There are some really nice hotels around Seoraksan National Park! Check them out before you head out there!
Our Thoughts and Yours, Too!
With all these recommendations for South Korea's best places to visit in the fall, I'm ready to get there now. I hope your trip to Korea is as wonderful as a vacation can be. If you make it somewhere that didn't make the list, let us know in the comments section and we'll be happy to consider it! Enjoy South Korea during the fall season. Be sure to take as many photos and videos of this beautiful country as possible.
Do you think fall is the best time in South Korea? Where would you rank it among the best fall travel destinations, if you've ever visited during this awesome season? If you're still seeking some South Korea travel tips, let's us know what you're hoping to see and we'll be happy to help:) 
This guide is part of our series on South Korea Travel, East Asia Travel, and Asia Travel. It was originally created on July 13, 2017. It has been maintained and updated on our blog (as of December 27, 2018) to reflect current viewpoints and travel destination trends.