Affiliate links linking to products we love may be found within this article. For more info, please check our Disclosure page for more explanation of affiliates and sponsorships.

---
Raleigh sunflowers will be back at Dorothea Dix Park this summer for one of the most fun times in North Carolina's Piedmont region. At the beginning of July, these beauties make this a can't-miss event in Oak City! To get you better prepared for the next round in 2019, we're sharing a few of our own photos, tips, and a bit of background on of Raleigh's most iconic places. Hopefully, you'll get to enjoy this awesome event along with us!
These Dorothea Dix sunflowers were also included in our guide to summer things to do in North Carolina.
Raleigh Sunflowers at Dorothea Dix Park
This article about Raleigh Sunflowers also appears on NC Tripping. Here on Travel Through Life, it is a part of our coverage of Raleigh, which is one of our favorite cities in North Carolina. We originally created this guide on July 16, 2016. It has been maintained and updated (as of July 8, 2019) to reflect current viewpoints and travel trends.
Fun Tips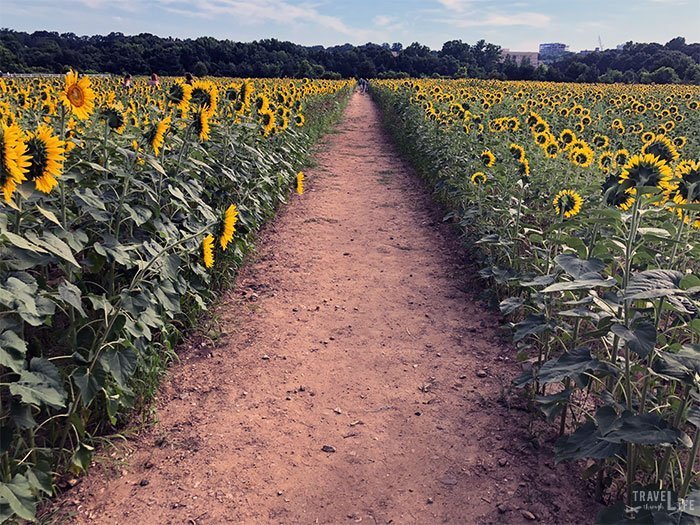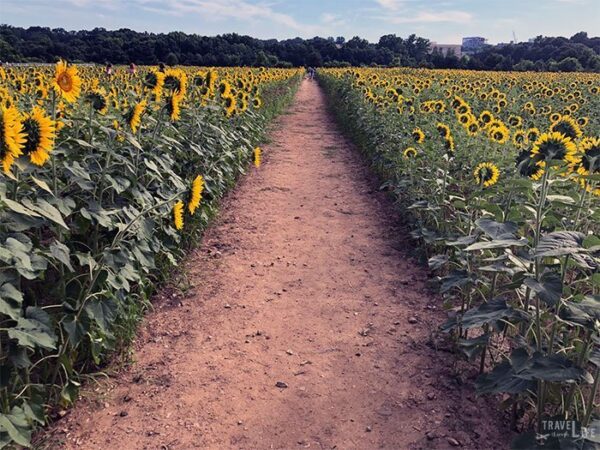 First, Dix Park's address is 2105 Umstead Dr but we found parking near the Dix Park Soccer Fields at 75 Hunt Dr. I absolutely recommend you arrive early to enjoy the Dix Park sunflowers. Of course, I always say that if you want to avoid crowds. We arrived as early as 7:30 am and there have been huge crowds. I'm not saying you should camp out overnight, but just make this one of the first things you do if you want some awesome people-less photos! A couple of other things, bring sunscreen and some bug spray (earth-friendly, of course!) to cope with the hot sun that's coming and any critters that are hanging around the sunflowers. Just don't spray any bees with it!
Dorothea Dix Park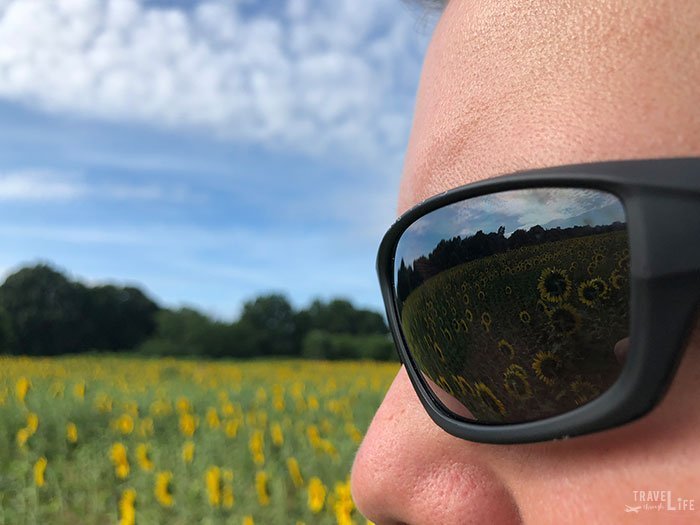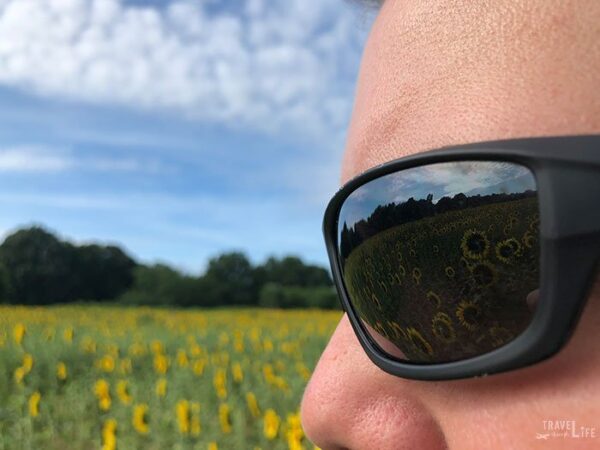 Clocking in at 308 acres, Dorothea Dix Park is Oak City's largest park. Aside from housing these Raleigh sunflowers in 2019 (and hopefully beyond), there are lots of cool spots to hang out, have a picnic, fly a kite, and just enjoy the scenery. It's one of our favorite patches of green space in the area and there's also cool views of the city's skyline from some parts, including the spot where the sunflowers were planted for 2019.
In case you didn't know, Dorothea Dix was a fairly noteworthy person (understatement) and her tireless efforts were the focus of Dorothea Dix: Advocate for Mental Health Care by Meg Muckenhoupt.
The Sunflower Field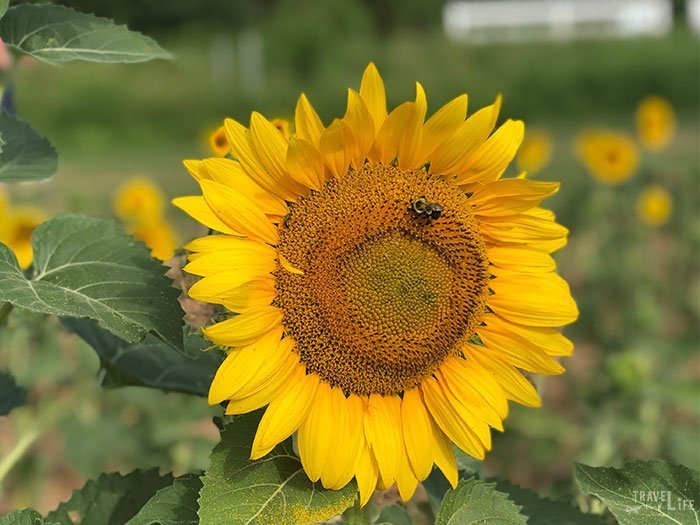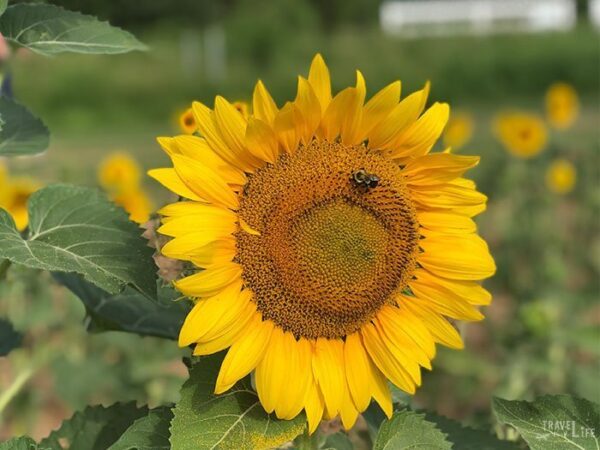 Starting in 2010, the sunflowers were planted at different parts of the area around the Neuse River Greenway Trail. In 2018, it moved to Dix Park in a more comfortable spot. We couldn't be happier! For 2019, the sunflowers started blooming on July 8 and should last until July 22. Hopefully, you'll get to see them before it's too late!
Earth-friendly Sunflowers
These sunflowers are eventually taken and used for biofuel that power city vehicles, so that's another reason to go check this out and support the effort. Honestly, I think this is a great way to mix earth-friendly practices with tourism and really applaud the efforts of Raleigh for making this more accessible to visitors. I always felt like we were trespassing (we probably were) by going up and seeing the beautiful flowers, but they were hard to avoid. Now, we're able to check them out without the worry of breaking any rules!
Our Thoughts and Yours, Too!
Is it worth it? Maybe this batch of sunflower porn tells you what I think. Just seeing the colors and so many of them justify the drive and walk out there. Standing tall, which ain't too bad when you've got the sun to contend with during the hot summer. A happy sunflower is a good sunflower to see. Is this worth it?
What do you think of these Dorothea Dix sunflowers? Would you get up early or wait until later and brave the heat for them? We'd love to read your thoughts in the comments section below.