Affiliate links linking to products we love may be found within this article. For more info, please check our Disclosure page for more explanation of affiliates and sponsorships.

---
The Durham food scene covers every time and place and I'm very happy to live in a city with so many culinary options. Whether you're spending just a weekend in Durham or a first-time visitor, you'll come away impressed with Durham and consider it a wonderful eating destination. With so many friggin awesome choices, I know it's overwhelming and that's why I wanted to share some of my favorites with you. My belly is starting to growl just thinking about this task, so let's make our way through the Durham food scene and leave very few stones unturned.
If you don't live in the Bull City and want to spend a weekend or more here, let our ultimate guide take you around before your visit. Oh, and don't forget about these awesome hotels in Durham! (Hotels.com | Trip Advisor)
The Durham Food Scene
Durham Coffee Shops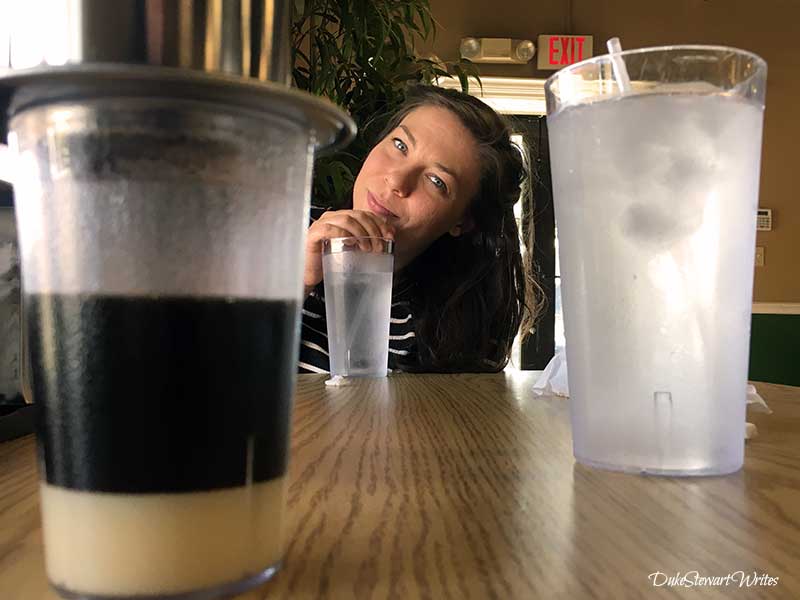 Coffee and food go together quite nicely in this town and one of my favorite places to mix the two is at Mad Hatter's by the Duke Wall. Cocoa Cinnamon has a few locations and I really can't decide on a favorite, though the original's proximity to Fullsteam—one of our favorite breweries—really helps. You'll see Ninth Street Bakery later on (see bakeries and dessert) but their coffee is certainly worth mentioning. You can get some at the Durham Farmer's Market but also in their shop between Main and East Chapel Hill. Saigon Grill brings it with the Vietnamese coffee and when I need to write a book in 24 hours, this would take care of my energy needs. When I'm in the mood for gelato or a bagel with good coffee, then I'll head to Francesca's Caffe on 9th Street. Of course, I could never forget Bean Traders in South Durham. Seriously, I now know where everyone in that part of town goes to get their fix.
Do you have a favorite coffee shop in Durham that I missed? I'm always up for trying new ones!
Breakfast
Breakfast shouldn't be fancy and that's part of the reason I love Silver Spoon off Roxboro Road in North Durham. Their skillets (you must try one) and generous portions are another reason why I'm thinking about going there right now. On Saturdays, I love going to the Farmer's Market and not just to appease the local food gods. I can walk around the food truck alley and grab a breakfast slice from Pie Pushers. This area also hosts the Durham Food Truck Rodeos that happen throughout the year. I can also walk past that and continue on to Rise Downtown Durham, maker of sweet and savory breakfast delights. Everyone here raves about Monuts Donuts and yes, I'm also a fan. Just don't ask me twice to eat a second or third donut because I will. There are more breakfast joints to explore in the Durham food scene and I couldn't keep it to just one section. Let's see what else you should eat for breakfast here!
Silver Spoon, Rise Downtown Durham, and Monuts all featured in the Breakfast section of our guide to casual restaurants in Durham. 
More Breakfast
Over by one of the fanciest looking post offices near South Square, Hope Valley Diner keeps the mimosas good and the specials rotating along. Rachel Ray enjoyed Elmo's Diner and I think it's cool, too. You know who else makes a mighty fine brunch? Vin Rouge does, and they can just keep on bringing more bread if they do please. Many restaurants in Durham share where their food is sourced and if you're paying attention, you'll see that a lot of them are using Guglhupf's bread.  Those breadmakers located right next to Foster's Market (see Sandwiches & Burgers) also cook up some wonderful breakfast and meals throughout the day. Just get in early or prepare to wait because it's popular!
I know I've left something out and will think about it next time I'm at Beyu Cafe or Nzinga's. What's your favorite place to eat breakfast in Durham?
Seafood/Southern Food/Comfort Food
Saltbox Seafood Joint is known as THE place to eat fresh seafood in Durham and I'm on board with the masses. Watt's Grocery makes some of the finest shrimp n' grits and on Main Street in Durham, Dame's Chicken & Waffles always has a line of people waiting to fill up on the sweet and savory. Like many people in Durham, we are anxiously awaiting their reopening at the new location in Downtown! On the comfort food front, MotorCo and Geer Street Garden have nice food menus, full of comforts and salads to go with a nice beer selection. For my spicy chicken needs, I go to Heavenly Buffaloes and remember not to go too hot, or else I'll pay later. I'll still eat it because the chicken and sauce are both THAT good.
Barbecue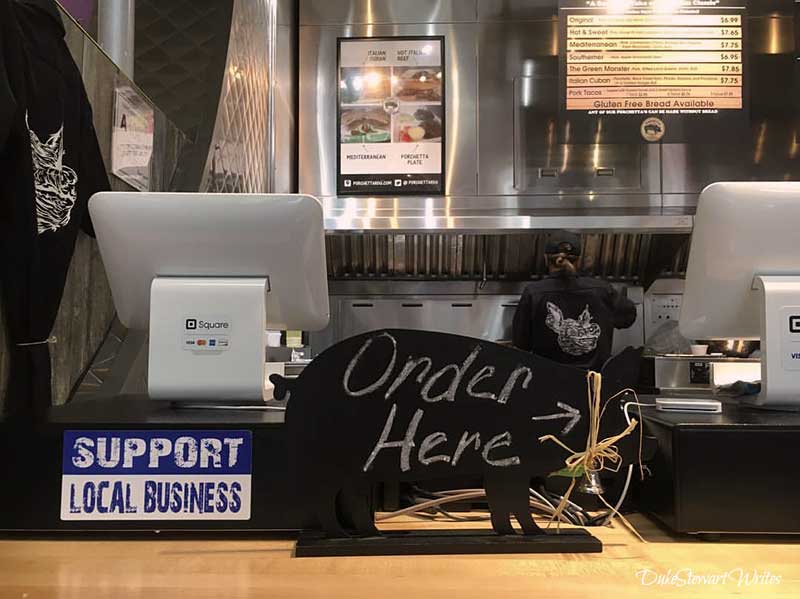 Over by the Eno River State Park, Picnic Durham has mighty fine grilled catfish but they also have some of my favorite sides. Oh, then there's that wonderful fried chicken and barbecue they've got going on. Speaking of barbecue, Heavenly Hog off Guess Road has been around quite a while and mixes old fashioned service with tasty hog and other southern creations. Head out on Highway 55 and devour as much as you can at Backyard BBQ Pit. I'm a bit biased here because the Original Q Shack is my favorite. Just watch them take that delicious brisket out and try to NOT order a plate or two of it. On the fancier side, the Pit has a location in Durham right next to Fullsteam. I promise that I'll stop mentioning Fullsteam. Also, there's even good barbecue inside the Streets at Southpoint Mall food court, at Porchetta.
Sandwiches and Burgers
The Italian-inspired Toast offers the town's best paninis and more. Foster's Market makes some of my favorites and has a great deli to choose from. They also make wonderful cakes, pies, and the most massive cinnamon buns I've ever eaten. King's Sandwich promises "Homecooking since 1942" and their burgers, dogs, and everything else might just take you back to another time. Nosh has really good burgers and an eclectic menu. I really can't decide on my favorite in the "Sandwiches and Burgers" category but will say these two are at the top: Only Burger and Bull City Burger. One gives you some truly interesting combinations (Go for the Texan at Only Burger) and the latter makes their own beer and guarantees fresh, local, and seasonal ingredients—don't expect a tomato in January.
Pizza
This is one area where I should get agreement from the locals. Randy's is a local franchise with more than a handful of locations and whether you want a white or something heavy on the meats, this is the best New York-style pizza you'll get in Durham. Of course, there are other styles and Pizzeria Toro and Pompieri Pizza makes the finest wood-fired pizza in the area. I'm partial to the former because they make great date night location. Over by Brightleaf, Lilly's brings it with their own version of awesomeness and if you're dining in, surrounded by art. I'm also partial to Pie Pushers and thankfully, they opened standalone location downtown. Seriously though, get a breakfast pizza from them or luck out and land a shroom and chokes. Either way, you'll be happy.
Asian Food
This was by far my hardest category because I really don't like to put all the ethnic food into one tiny category. What I will say is there's really good Korean food—P.S. I love Korean food—in the area and I'll always look to Min Ga first and foremost. They recently moved to Chapel Hill so we're currently in the market for a new Korean food mecca. Got any tips? In the meantime, Sitar hooks me up with awesome curry and naan though there's a new place downtown that I'm dying to try. Saigon Grill not only makes the most cracktastic coffee (see above) but also the best pho and noodle dishes. I've had some really good Thai food here that gives me memories of Chiang Mai and other parts of Thailand. I usually start with Pad Thai off Guess and Thai Cafe on University Drive.
More Ethnic Food
For the best ramen, I think one should always start with Dashi. It's the closest I've come to finding similar tasting stuff to what I had in Osaka so yeah, do it. I love Mexican food in so many varieties but Cosmic Cantina and Nana Taco make my favorite burritos and the former knocks out chimichangas every time I go. The Tamale Factory and Tequila Bar by Duke University Hospital (Big Duke) has an exciting menu and Chef/Owner Margaritte Malfy has a cool story to share, too! Mediterra and Saladelia offer differing styles of Greek food and I lean toward the former because of their falafel and ways of making it taste good.
There's so much more to talk about when it comes to ethnic in the Durham food scene, so I'll be touching upon this again another time.
Food Trucks
There are a lot of good food trucks in the whole Triangle area and many pass through Durham at any given time of the week. I'm always on the lookout for Chirba Chirba and their wonderful dumplings. I've been lucky to stumble upon Pie Pushers and stalk it on a weekly basis afterward for many slices. If you haven't yet, just go find them and try for yourself. I love their rotating specials and will always prefer a breakfast slice over anything else. Soomsoom Pita Pockets is a really good option for me when I want to eat endless amounts of bread and also their delicious hummus. American Meltdown has been serving my favorite food truck sandwich for nearly my entire time in Durham and just thinking about a buffalo blitz has me looking up their location.
Bull City Food Trucks has the scope on mobile deliciousness in the Durham food scene. What's your favorite?
Date Night
Durham has plenty of awesome date night spots. For cocktails, I'd go to one place and one place only—Alley Twenty Six. They make everything from scratch and the pickle plates are always amazing. For a drink and a view, the Durham Hotel is my first choice and is always our favorite spot to watch the sunset. Down on the ground, Mateo is always busy and its collection of tapas will show you why. Juju is not just another tapas restaurant and has a nice atmosphere to mix with beautifully presented dishes. Luna's serves up some pretty awesome empanadas to go with lovely sides. The Little Dipper has really good fondue and a tough-to-match ambiance. On nice evenings, I'm a big fan of sitting outside at Gonza Tacos y Tequila and eating their beautifully presented tacos, too.
Bakeries and Dessert
Bakeries are more known for being an early morning operation. However, my favorites in the Durham food scene also cook up some mighty fine dessert. Ninth Street Bakery makes some of my favorite coffee (see above) and they also whip up gorgeous (and yummy) pastries—their vegan pies for example. Loaf is a Durham favorite whose pastries and bread have made people happy, but their biscuits and croissants? Ay Dios Mio! You'll see Locopops in grocery stores throughout the area but stop by their location on Hillsborough Road. That way you can explore seasonal options, though I'm partial to sea salt caramel. P.S. We interviewed Locopops owner Summer Bicknell on our sister site NC Tripping. Check it out! For more dessert in Durham, the Cupcake Bar has cocktail-inspired creations and how could that ever go wrong? Seriously, try one and you'll see there's nothing wrong with it.
I'm also partial to Goodberry's off Roxboro Road but tell me, what dessert choices did I leave out? 
Our Thoughts and Yours, Too!
So these are my favorite places to eat in the Durham food scene. Give me the gaps. What did I miss? I'd love to give you props by putting something up that has stood the test of my own belly. Let me know what you think in the comments section below:)
This guide is part of our series on Food Travel, North Carolina Travel, and Durham Travel. It was originally created on April 27, 2017. It has been maintained and updated (as of December 30, 2018) on our blog to reflect current viewpoints and travel destination trends.