Affiliate links linking to products we love may be found within this article. For more info, please check our Disclosure page for more explanation of affiliates and sponsorships.

---
If you're looking for fun weekend things to do in Durham, this guide has everything you'll ever need. Just keep in mind that you'll have to come back because there's enough stuff to do for more than a couple of days. And exploring Durham's awesome restaurants and breweries, outdoor options, history, and will keep your weekend in Durham jampacked. Trust me. So with the challenge laid out, let's see exactly how you can enjoy this awesome city in the North Carolina Research Triangle.
This guide is part of our series on Durham, of the best places to visit in North Carolina. It originally appeared on NC Tripping, was created on July 30, 2018, and has been maintained and updated on our blog, as of June 20, 2019.
Weekend Things to Do in Durham
Stay in Bull City Style
To kick off our weekend in Bull City, check out The Durham Hotel. It's an amazing representation of our city and its rooftop hosts one of the city's best views. 21c Museum Hotel is just down the street, too, and home to a really cool and quirky art collection. In North Durham, the Arrowhead Bed and Breakfast ranks among our favorite hotels in North Carolina mainly because we loved it. Oh, and it's where we were married!
If you're looking for somewhere specific, here's a breakdown of the best hotels in Durham. If you're like us, you'll fall in love with the area are start looking through all the available homes for sale.
Eat at these Durham Restaurants
The Durham food scene is one of North Carolina's best and hard to encapsulate in one small section. That's why we've broken it down into guides to casual restaurants and ethnic restaurants on NC Tripping so far. If you've got some time and want to dig into Durham, here's a quick rundown of places to eat and when:
Coffee: Cocoa Cinnamon (Lakewood Location), Bean Traders, or Parker & Otis
Breakfast: Silver Spoon, Beyu Caffe, or Rise Biscuits & Donuts
Lunch: Picnic Durham, Toast, Ninth Street Bakery, the Tamale Factory and Tequila Bar, or Watts Grocery
Brunch: Grub, Hope Valley Diner, or Vin Rouge
Dinner Out: M Sushi or NanaSteak
Dinner In: Thai Cafe, Randy's Pizza, or Mediterra Grill
Food Trucks: Sympathy for the Deli, Pie Pushers, or Chirba Chirba
Dessert: Locopops or The Parlour
Explore these Durham Breweries and Taprooms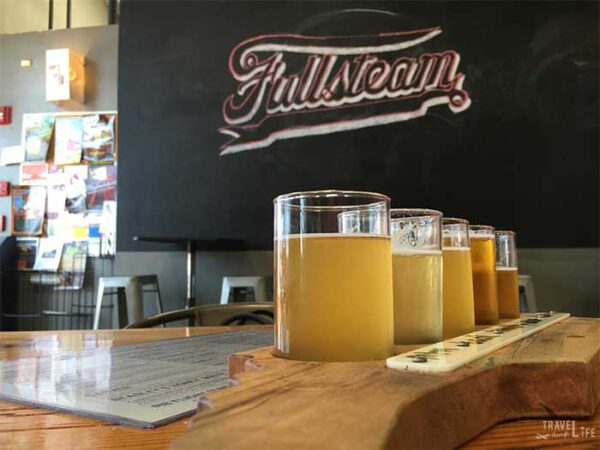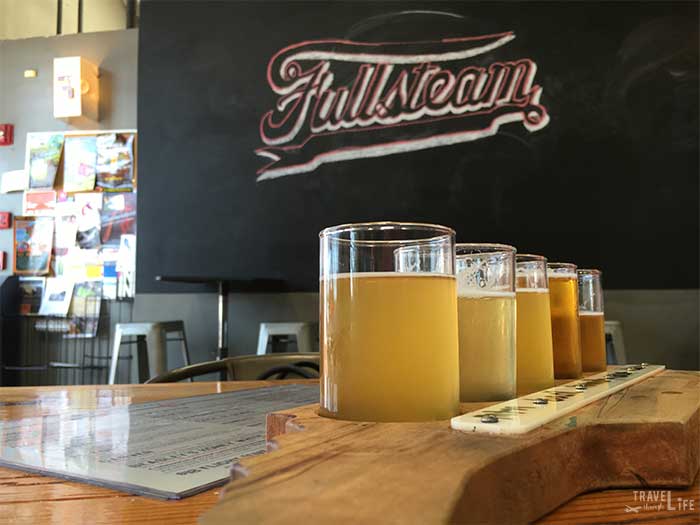 If you're looking for breweries in Durham, start with Fullsteam and Ponysaurus. Those two are among our favorite North Carolina breweries. Of course, we can't leave out Bull City Burger and Brewery, which combines organic and local eats with delicious beers. Oh, and don't forget about Dirty Bull Brewing Company. There, you'll find a nice and cozy place to sit while admiring their immense collection of Simpsons memorabilia.
And if you want to sample beers from all over North Carolina, Check out Pour Taproom and Clouds Brewing. These two places both offer a great selection and delicious eats.
Get Your Sip On at the Wine Feed
And if you thought we were only focused on beer and spirits, think again. The Wine Feed mixes a nice selection of bottles for sipping at the bar and a shop where you can take something home. Either way, it's a great Downtown spot.
Drink Cocktails Here
We know many of Durham's restaurants and bars make nice cocktails, but we think you're missing out if you don't visit Alley Twenty Six for a hand-crafted drink. Bar Virgile also makes a fine cocktail, as do The Durham Hotel and Counting House inside 21c Museum Hotel.
Visit Durham Distillery
You're bound to notice Durham Distillery in every restaurant you walk into in the Bull City. That's because everyone is using either their American Dry or Navy Strength Conniption Gin. But, touring the place where it's all made is a really fun thing to do in Durham, too! You can pop in for a fast tour and learn about the different varieties of gin and liquor that they produce. Or you can take an hour-long full walk through the facility and learn the ins and outs of what makes Durham Distillery unique. This is a fun date night activity, especially paired with music and food from the Blue Note Grill next door.
Check Out These Bars
Parts and Labor Mojitos = Yum!

They also make amazing food!
We start the "bars in Durham" conversation with Parts and Labor, for their food and drinks, outdoor seating, and proximity to Motorco Music Hall. Right around the corner, The Accordion Club offers great cocktails and a cozy atmosphere, too. More bars with outdoor seating, drinks, and food include Bull McCabe's and Devine's. And we couldn't mention Durham bars without giving Pinhook a shout. Bands come from all over to play there and it's also a great casual spot for hanging out. If you're looking to shoot some pool, start with The Green Room. Fun fact: Bull Durham shot a scene there. Can you guess which one?
Bottle Shops
If you want a massive variety to choose from, Durham's bottle shop scene can help. Like all the others we'll mention here, Beer Study is primarily a bottle shop, and you can also hang and drink from their taps. However, they get bonus points for having an arcade, too. Beer Durham offers beer and wine while Sam's Bottle Shop has that, plus cigars. The Glass Jug Beer Lab should fall into our "Breweries" section but they also have a wide selection of taps, cans, and bottles that are made elsewhere.
Play at these Barcades
And in case you wanted to up the ante for your weekend in Durham, hang out at the city's barcades. Boxcar is making waves across the state, especially in Durham, with their ever-expanding space. Quarter Horse has a more retro feel inside, with a fun assortment of games from back in the day. Social Games and Brews mixes arcade favorites with console classics, playable from the bar's TVs. It's the perfect spot to get your Goldeneye on if you know what I'm talking about. And at The Atomic Fern, you can chill and play board games with friends while sipping your drink.
Taste Carolina Gourmet Food Tours
Another great weekend thing to do in Durham is to sample the Bull City food and drink scene. And you can do that by joining a Taste Carolina Gourmet Food Tour. It's a great way to eat, learn about the city, and meet like-minded foodies!
Get Away at these Escape Rooms
If you really need a getaway, try out one of Durham's escape rooms—I'm sure you've never heard that one before. Bull City Escape is off 9th St and NC Escape is on Orange St, just off W Chapel Hill St. Closer to Chapel Hill, Mission X Escape is off 15-501 in Westgate Shopping Center.
More Places to Visit in Durham
Durham Bulls Athletic Park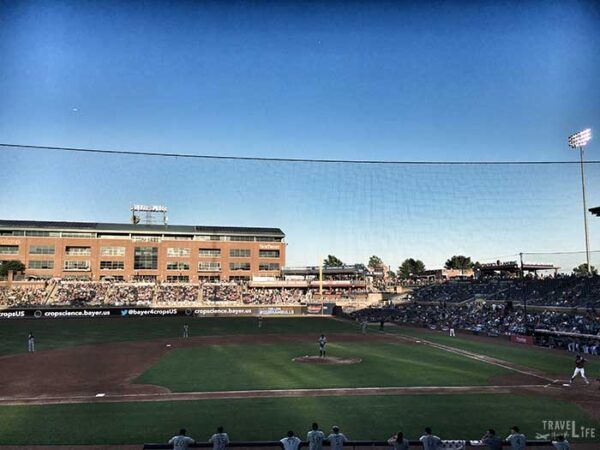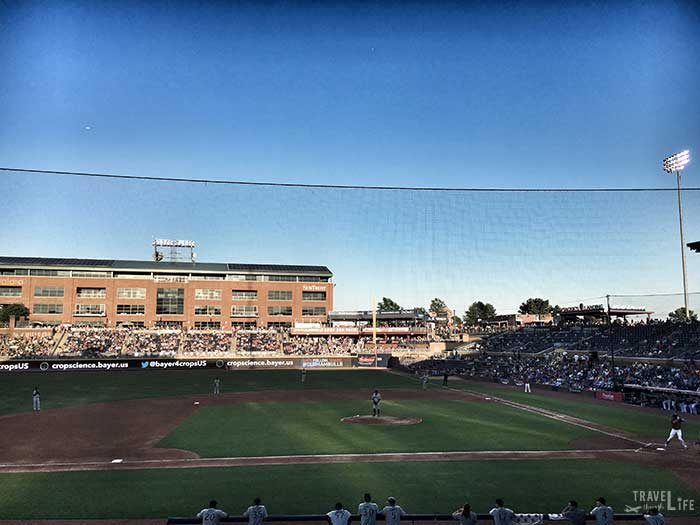 If you're around during baseball season, please catch a game at the Durham Bulls Athletic Park. It's a beautiful stadium and there's hardly a bad seat in the house. Honestly, I prefer sitting somewhere on the third-base side but also like ditching my seat for a bit. That's when I walk around and take in a pitch or two from various parts of the outfield.
Sarah P. Duke Gardens
You'll find quite a few beautiful places in Durham, but Sarah P. Duke Gardens is up there among the prettiest. It houses a gorgeous collection of trees and flowers and hosts quite a few events and weddings throughout the year. Seeing the cherry blossoms in early spring make this one of our favorites then, but you can hardly go wrong any time of year.
Duke University Chapel
Duke University Chapel is an over 80-year-old church that lies at the center of campus. If you visit, just stand inside and admire the grandeur and beauty that makes up the place. Maybe you'll be there when the pipe organ is going, which is an awesome added effect.
Duke Wall
Duke Wall is a nice path that takes you around the university's East Campus. It's a wonderful walk throughout the year, but spring and fall are when the blooms and foliage make this one of Durham's prettiest spots. 
Wallace Wade Stadium
There's a bit less demand for Duke football, but Wallace Wade Stadium is a nice place to watch a game in the fall. It's also the answer to an interesting trivia question: what site served as the Rose Bowl in 1942, due to security concerns during World War II?
Cameron Indoor Stadium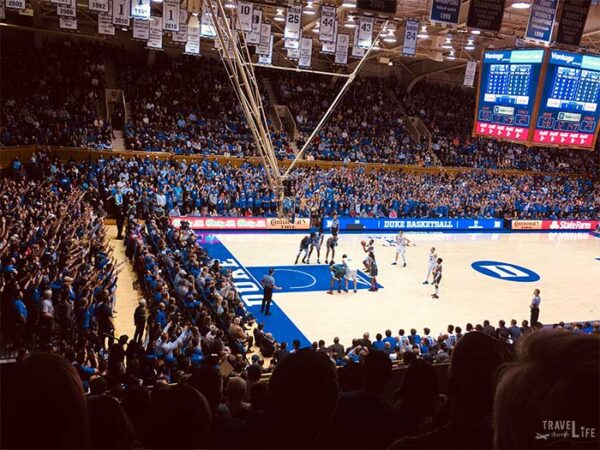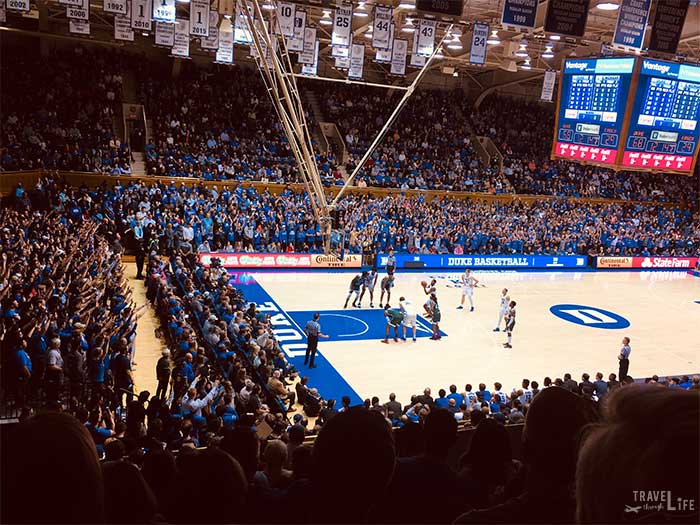 If you're in Durham during the winter, camp out in front of Cameron Indoor Stadium and you might be able to get a ticket to see Duke basketball. Seeing the men or women play against UNC is one of the unique things you can do in North Carolina.
Bonus Fun Fact: Don't assume everyone is a Duke basketball fan because you're in Durham. You're still in the state of North Carolina, where most people root for the Tar Heels and even Wolfpack over Blue Devils.
NCCU
Duke is not the only school in town, as North Carolina Central University is also here. Known as the nation's first public Liberal Arts institution for African-Americans, NCCU is known as a campus that gives back, as all students are required to perform community service before graduating.
Check their campus calendar for more info if you're interested in stopping by or doing a tour.
Street Art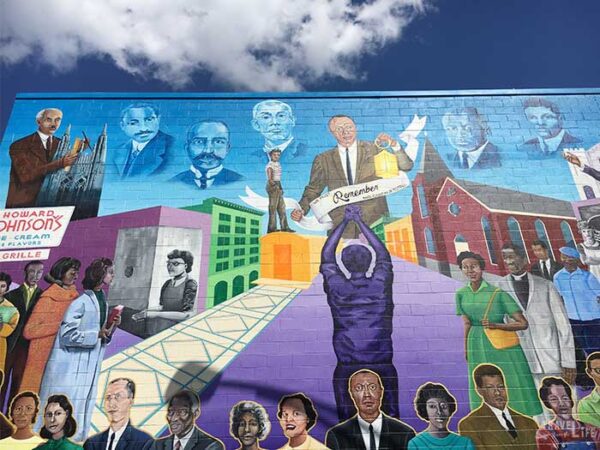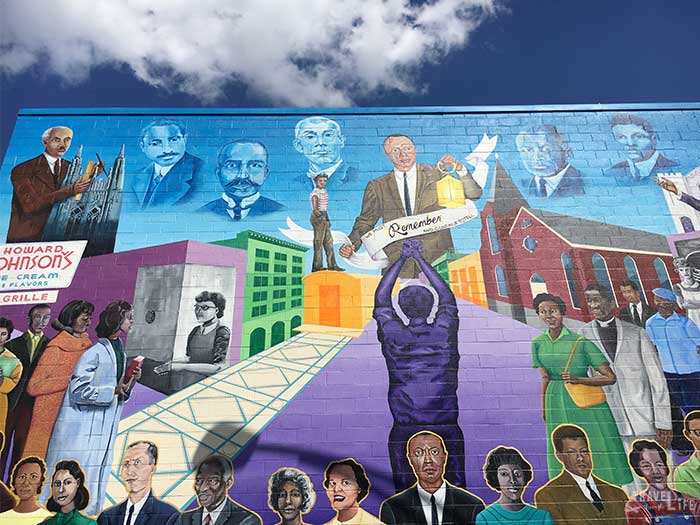 Downtown Durham's buildings host some of the coolest street art, centering on the civil rights era like the one pictured above, which you'll find at 120 Morris Street. There are also some cool murals dedicated to civil rights leader Pauli Murray throughout the city.
Historic Streets
Stop by the NC Mutual Life building and take yourself back to times when Durham's "Black Wall Street" rose during the early 20th century. On West Main Street, the Museum of Durham History can also give you insight into the city's origins through modern times.
Bull City Laughs
If I had to pick the most unique weekend thing to do in Durham, I'd go with Bull City Laughs. This comedy history tour takes place on a bus of all places and will whisk you around the city. This is not a PG-rated show, which is a good thing. Audience participation is encouraged, and topics include African-American history, the city's best burgers, and more.
American Tobacco Campus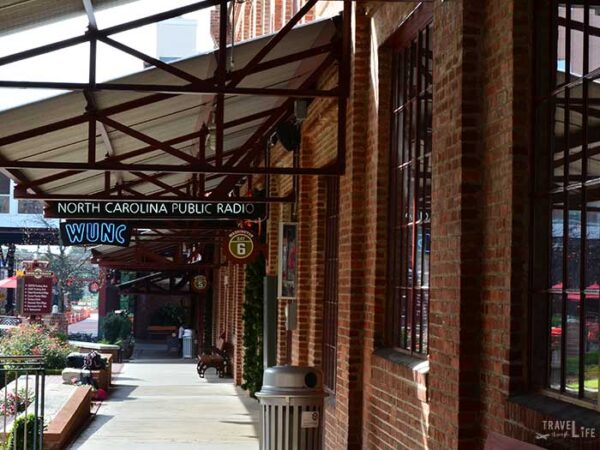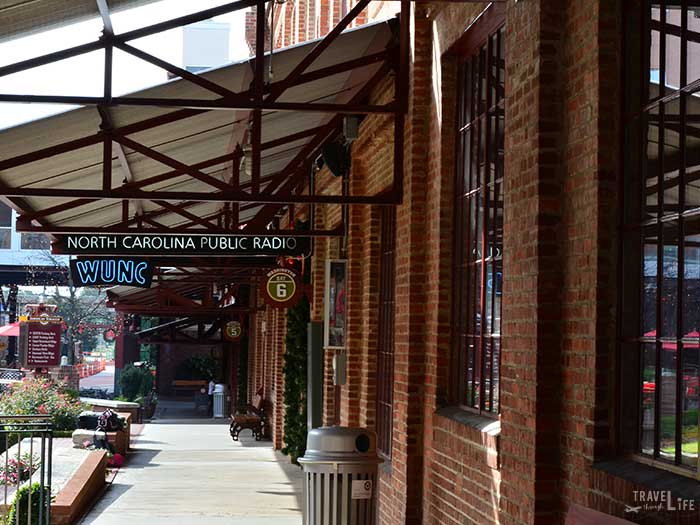 A big part of Durham's 2000s revitalization started around the American Tobacco Campus, which is a treat if you get a chance to walk around. This is usually the first place we take friends and family when they come to Durham for the first time. You'll see why when visiting.
DPAC
Rain or shine, DPAC (Durham Performing Arts Center) is one of the best weekend things to do in Durham. Among its 2,700 stadium-style seats, I still haven't found a bad one. And with over 200 performances a year, you'll most likely be in luck if you're in town and don't have anything planned.
Carolina Theater
And we can't forget about Carolina Theater, either. It's on the National Register of Historic Places and one of 13 original theaters that remain standing today. We also enjoy watching movies and performances there. And when Moogfest is in town, Carolina Theater serves as one of their venues, too.
Museum of Life and Science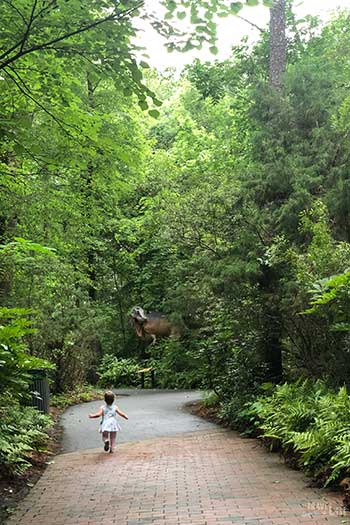 There are also quite a few family-friendly places to explore during a weekend in Durham but start with the Museum of Life and Science. Personally, I think you and the kids (or just you) can explore for hours. On NC Tripping, we included MLS in our guides to children's museums throughout the state and North Carolina's awesome museums.
City Parks
Durham's Parks and Recreation offices manage nearly 70 spots throughout the city. Durham Central Park is best known for Farmer's Markets, music events, and Food Truck Rodeos. However, we can't leave out South Durham's massive Piney Wood Park and West Point on the Eno in North Durham.
If you're a Durhamite or know the city well, what's your favorite park to visit?
Eno River State Park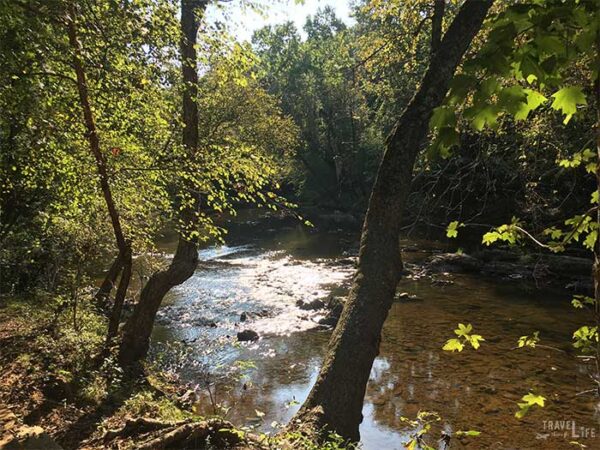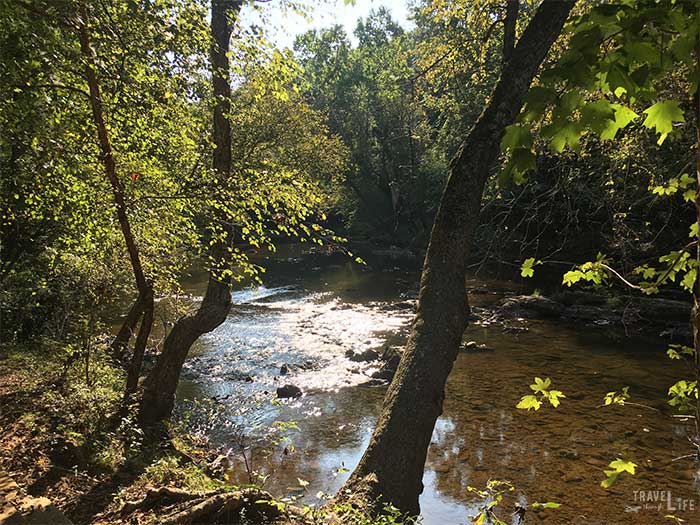 We've started many weekends in Durham exploring all the things to do at Eno River State Park. And honestly, this is where you should start when exploring the outdoors in Bull City. Our personal favorite paths there include Cole Mill, Cox Mountain, and Buckquarter Creek.
Eno River State Park featured among our favorite places to find hiking trails in North Carolina!
Duke Forest
Duke Forest's nice and flat nature walks within its 7,000-acre university-managed living laboratory and outdoor classroom. We've spent lots of time walking Duke Forest trails but love the Durham Division (off Highway 751 near Constitution Drive). The nearby Al Buehler Trail is also nice for hiking and mountain biking, with a bit of an incline, too.
We mentioned all of these fun nature spots and more among our favorite outdoor things to do in Durham, too!
So Many Weekend Things to Do in Durham!
After writing all of this, I now see there are so many weekend things to do in Durham. I can now understand when visitors don't get to see and do everything in Bull City. If you had to choose, what would you do first? And if you've visited Durham, hail from the area, or live here now, we'd love to know your favorites, too!