Affiliate links linking to products we love may be found within this article. For more info, please check our Disclosure page for more explanation of affiliates and sponsorships.

---
We're going to keep things low-key and share the best casual restaurants in Durham here. There are so many ways to explore Bull City's food scene, and we've mixed things up with some Downtown Durham restaurants, as well as those in other neighborhoods.
So before you venture out for your next meal here, take a gander at our favorites in this North Carolina city!
This guide is part of our series on Food Travel, North Carolina Travel, and Durham Travel. We originally created it on NC Tripping on August 13, 2018. It has been maintained and updated on our blog (as of October 28, 2019) to reflect current viewpoints and travel trends. 
Casual Restaurants in Durham
Breakfast
Many of these places serve lunch and dinner, but we want to focus on how they dish out the best breakfast in Durham!
Beyu Caffe
Website | 341 W Main St
Shrimp and Grits.

The Carver. MMM!
Beyu Caffe is a place where you can truly be you. Founded on the principals that we all have more in common than our differences, Beyu is a restaurant in downtown Durham with its own signature coffee blend and catering operation.
With no need to transition from breakfast to lunch, all items on the menu are served all day.
No matter when you visit, one item that you cannot leave without is the Carver's Peanut Butter Latte. It's crafted with espresso, peanut butter, and dark chocolate. This drink is like taking a giant sip of a Reese's Cup and we are here for it!
Elmo's Diner
Website | 776 Ninth St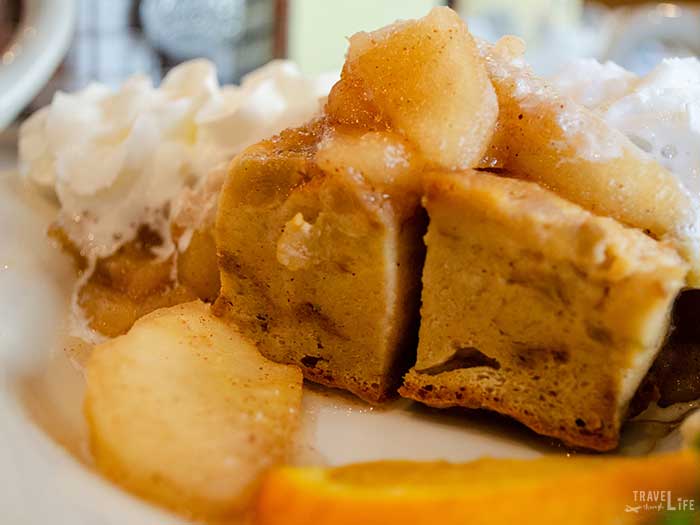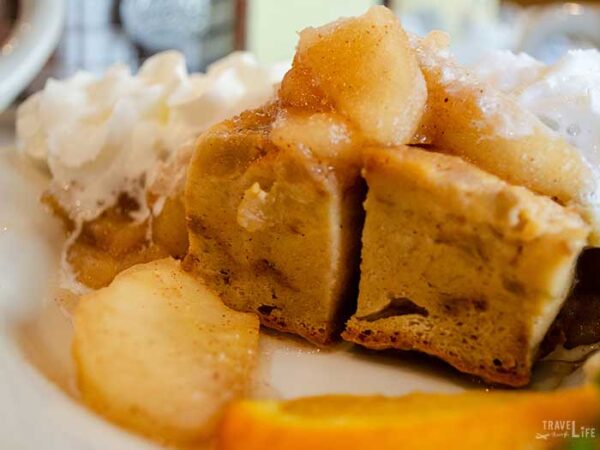 Now, you can't come to the Bull City without having breakfast or meals throughout the day at Elmo's Diner (776 Ninth St). This Downtown Durham restaurant (9th Street) is an institution and you'll hardly ever walk by during weekend mornings without seeing a line out the door.
If it's on Sunday, that's because they're likely waiting for the best brunch in Durham! Everything is delicious here, but their quiche is something to die for!
GRUB
Website | 1200 W Chapel Hill St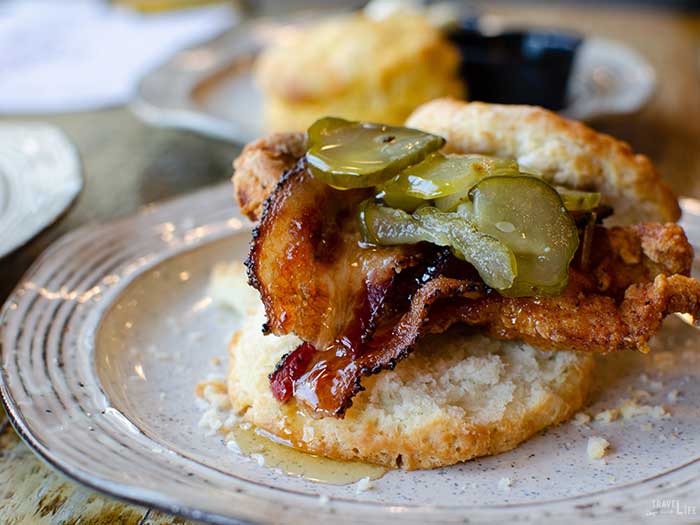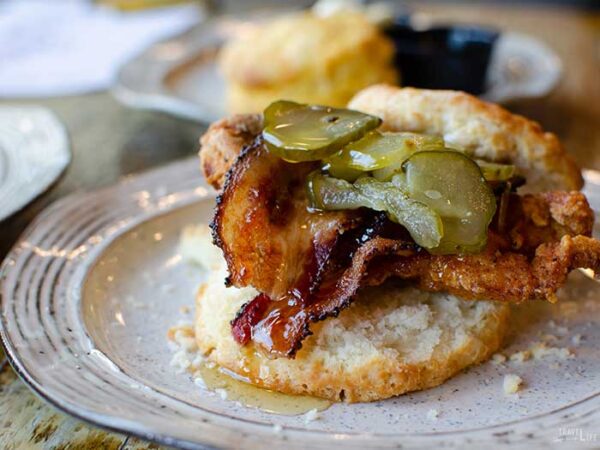 GRUB makes some of the best lunch in Durham, but we think of it as an absolute breakfast go-to. Housed in a renovated 1950s Pure Gas Station, this is a great place to grab a milkshake, breakfast, and bites throughout the day.
Their eclectic décor and melt-in-your-mouth biscuits make GRUB a must-eat Durham restaurant. The choices here are endless, and our favorites include chicken biscuits that won't quit and their juicy burgers.
Hot tip: Enjoy $6 Taco Tuesdays or a gourmet milkshake on the rooftop.
Monuts
Website | 1002 Ninth St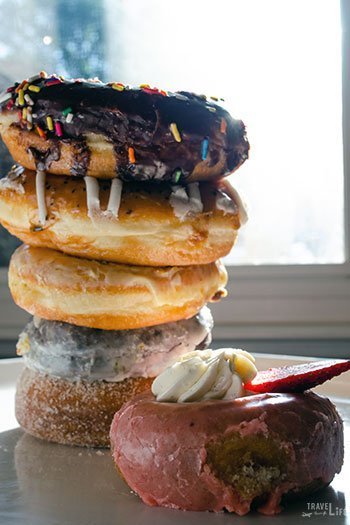 Who said doughnuts can't be a complete meal? At Monuts (1002 Ninth St), you'll also usually find a line out the door. But with a fresh list of cake or dough selections, Monuts is THE breakfast spot and totally worth the wait!
Don't like doughnuts? They also have incredible breakfast sandwiches and bowls! Every person who orders gets a fun fact card to read while they wait, too!
Rise Durham
Website | 401 Foster St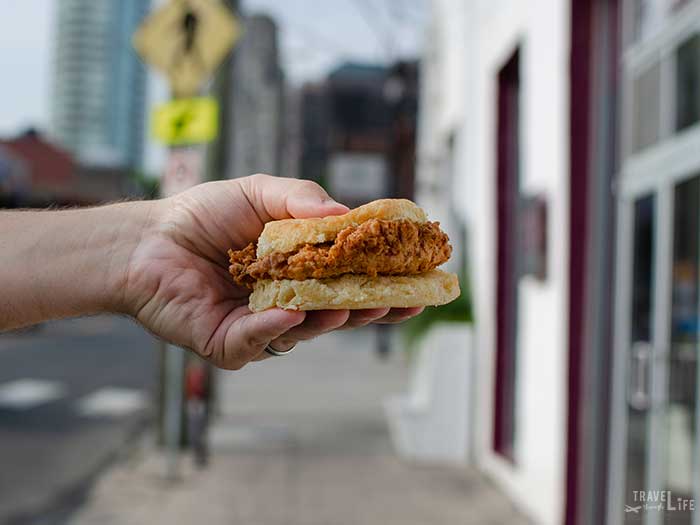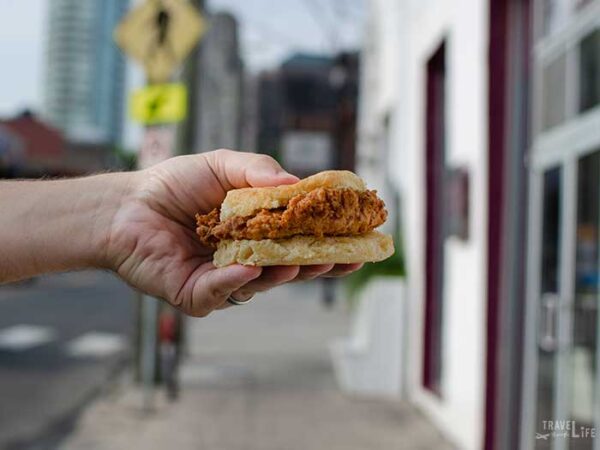 Rise Durham is a growing franchise with a location by the Farmers' Market and Durham Central Park (401 Foster St). Here, you'll find the largest and fluffiest biscuits you'll ever see. Definitely get a Righteous Chicken biscuit AND their Fried Green Tomato and Pimento Cheese Biscuit.
YOU'RE WELCOME.
Silver Spoon
Website | 5230 North Roxboro Rd
Silver Spoon (5230 North Roxboro Rd) is our favorite place to grab breakfast in North Durham. You may get overwhelmed by their massive menu, but remember that Silver Spoon's breakfast skillets are what many people come for. 
We love them, too, but also anything else that comes out, like the basics—pancakes with a couple of meats and eggs. Also, don't forget to grab some baklava on your way out because it's simply amazing!
True Flavors
Facebook | 5410 Highway 55 Suite AJ AK & 2022 Chapel Hill Rd
If you're looking for biscuits like momma makes, Chef Sidney Coves of True Flavors dishes them up alongside upscale southern favorites in a casual diner atmosphere.
With two locations (SoDu and Lakewood) you can chow down on smooth cheesy grits, duck hash, and their buttery biscuits while catching up with friends from all over the Bull City! This spot is absolutely one of the best places to eat in Durham, so what are you waiting for?
Lunch & Dinner
One of the things I love about Durham is how there are hardly two restaurants that offer the same types of food. The city's restauranteurs know that you have to find a niche and once that's been served, there's always a new one to search for.
Bull City Burger and Brewery
Website | 107 E Parrish St #105
The perfect spot to grab an in-house beer and grass-fed burger in Durham, Bull City Burger and Brewery has a lot going for it. There's always a fun new item added to the specials list, which is fun if you've been there more than a few times like we have.
And if a fun rotating menu isn't enough for you, check out BCBB's exotic meat month each April. That's when tarantulas, reptiles, scorpions, and more fun animals appear on the menu.
If you join a Taste Carolina Gourmet Food Tour in Durham, it's likely that you'll stop by Bull City Burger and Brewery.
The Chicken Hut
Website | 3019 Fayetteville St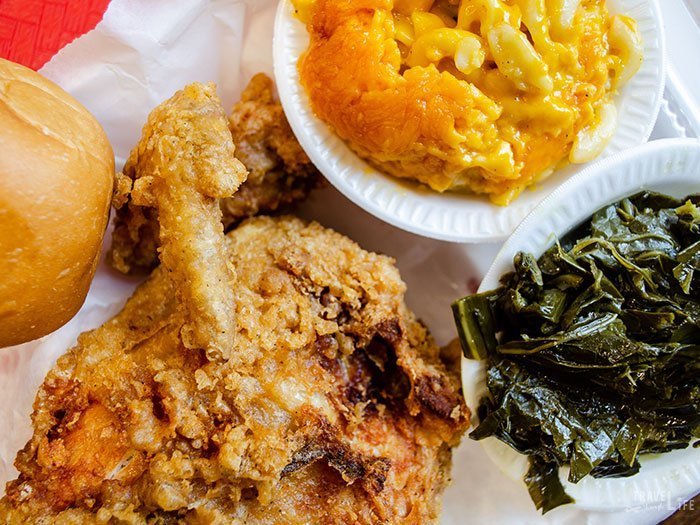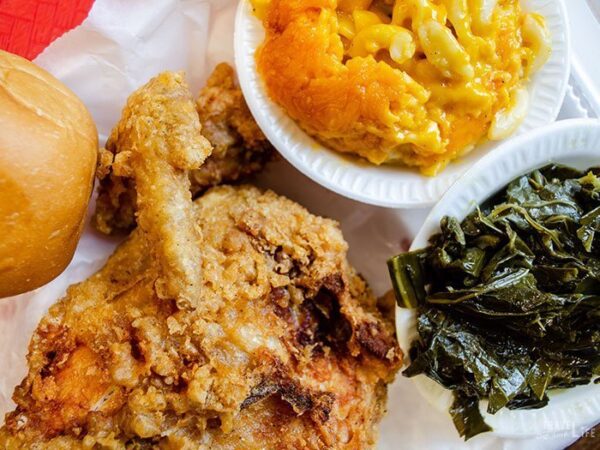 The Chicken Hut (3019 Fayetteville St) is a cash-only cafeteria-style restaurant and has been an institution in Durham for over 60 years. With daily specials and fresh made-to-order fried chicken, people line up around the block for that and their incredible side dishes and moist cake, too. 
This place is open for lunch-time orders so make sure you plan ahead and get in fast!
COPA
Website | 107 W Main St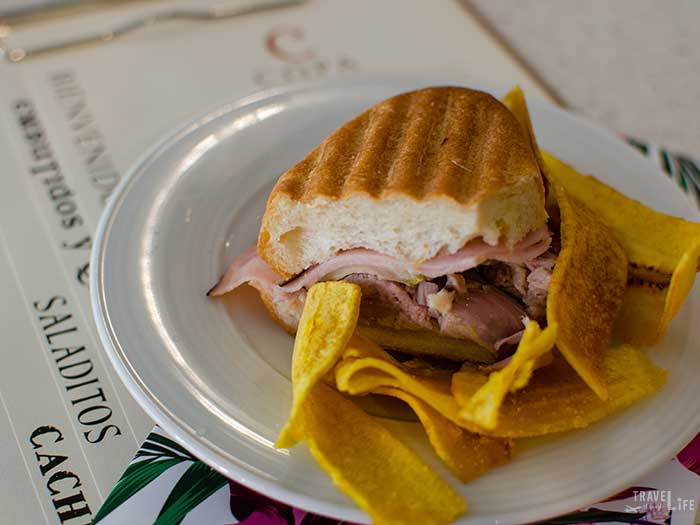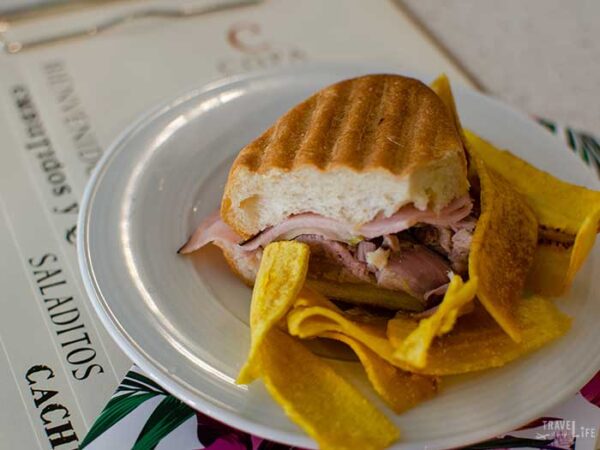 While COPA is more upscale during the evening for their tapas-style menu, their lunch menu is much more casual, harkening to the owners' previous Old Havana Sandwich Shop. With delicious Cuban sandwiches served on home-made bread, COPA is a must-eat casual restaurant in Durham.
The owners source from their farm in Hillsborough, keeping every bite as local as possible. Our recommendation? You can't go wrong with any of the sandwiches, a side of maduros, and definitely one of their in-house sodas!
Dame's Chicken & Waffles
Website | 530 Foster St Unit 103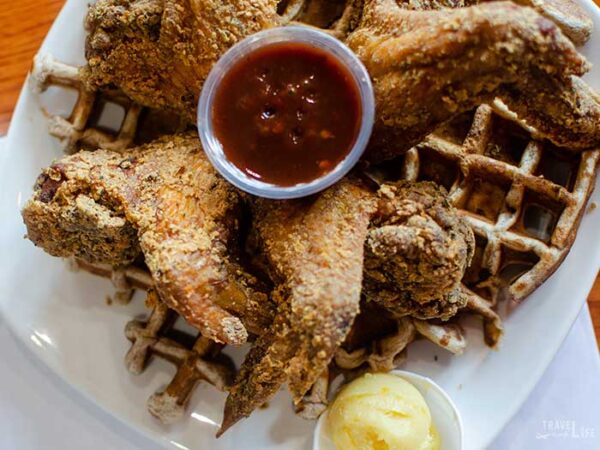 We all think of chicken and waffles as a Southern thing, but really the first tales of poultry and hot griddled carbs come from the arts renaissance in Harlem during the 1920s. The interior of Dame's Chicken & Waffles in Durham honors that period of art and jazz.
They also make chicken so juicy and crispy that you will keep coming back for more. Choose a waffle (we love the sweet potato), one of their seven shmears, add a drizzle, and you will surely be in heaven!
DeeLuxe Chicken
Website | 1116 Broad St Suite 100
Come hungry…

…and order everything!
When in the South, one must eat fried chicken. The brainchild of Scott Howell and Rick Robinson, DeeLuxe Chicken (1116 Broad St Suite 100) was born as a way to meet the demand for local fried chicken but with elevated sophisticated twists.
While fried chicken is a staple item, they also offer incredible burgers, salads, and seafood sandwiches using the freshest local ingredients.
Dip your chicken in one of their 12 house-made sauces or pull up to the bar for a soft serve cone. No matter what, come to DeeLuxe hungry and ready for a delicious dining experience!
We learned more about this awesome Durham restaurant when we interviewed Rick Robinson here!
Durham Bulls Athletic Park
Website | 409 Blackwell St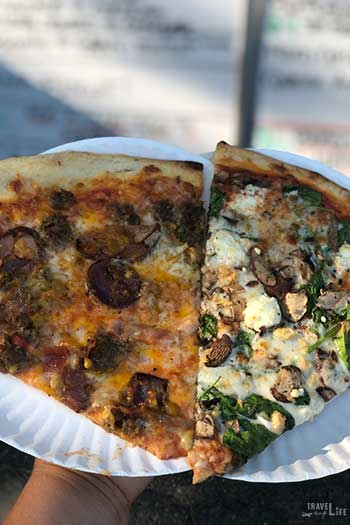 Head to Durham Bulls Athletic Park (409 Blackwell St) when Minor League Baseball is going (April to September) and you'll find great games, but also delicious eats. Classic favorites include Bright Leaf Hot Dogs and brews from Bull Durham Beer Company.
More awesome eats inside DBAP include Gonza Tacos y Tequila by left field and slices from Pie Pushers inside the concessions area. Note: Both Gonza and Pie Pushers have standalone locations in Durham, with the latter also driving around and serving via their food truck!
If you're not around during the season, other great choices include Tobacco Road Sports Cafe and Nana Steak. These are some of the best restaurants near DPAC, which is close to the ballpark.
Eastcut Sandwich Bar
Website | 3211 Old Chapel Hill Rd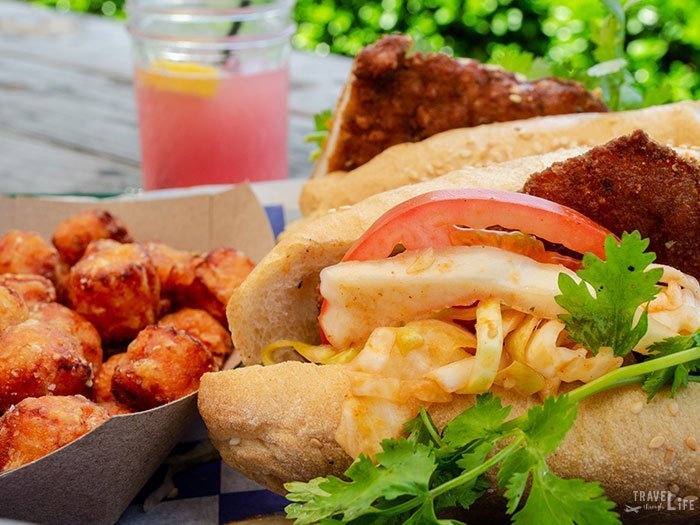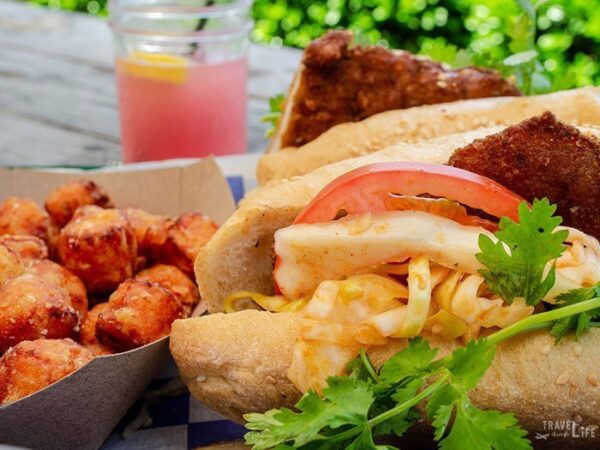 Eastcut (3211 Old Chapel Hill Rd) wanted Durham to have a place where a variety of culinary tastes met. With transients coming from all over to live, attend school, or work, they knew there was a market for it.
Here, you can chow down on delicious items like the Buff Chick and Clifford's Cutlet. You can also check out the blackboard special each day! Either way, make sure to order a side of house-made sweet potato tots and a frose!
Fullsteam
Website | 726 Rigsbee Ave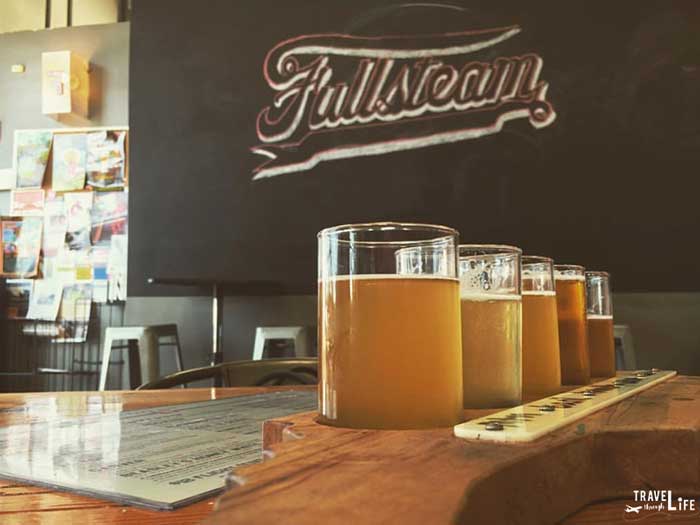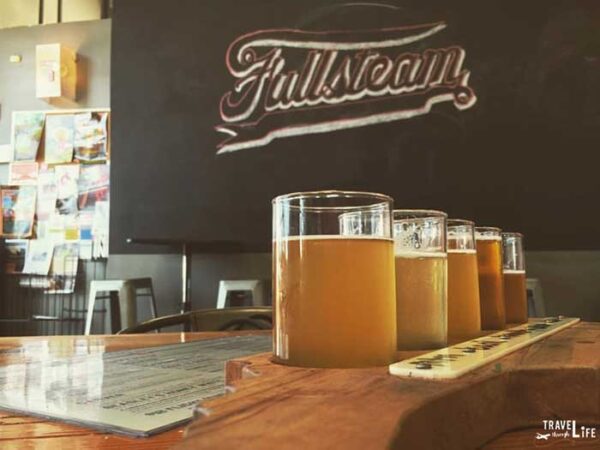 You cannot come to Durham without stepping foot into the beer mecca that is Fullsteam Brewery (726 Rigsbee Ave). We wouldn't have craft beer in North Carolina without Pop the Cap, spearheaded by Fullsteam Owner Sean Lilly Wilson.
And not only is the beer incredible and innovative (I mean, who else makes beer with pawpaws?), but the food from their kitchen is perfect. This is the perfect place to grab a board game, a brew, and relax in Durham!
We love Fullsteam so much that we interviewed Sean Lilly Wilson, who was gracious enough to sit down and chat with us! We also included Fullsteam in our list of favorite North Carolina breweries.
Gonza Tacos y Tequila
Website | 604 Fernway Ave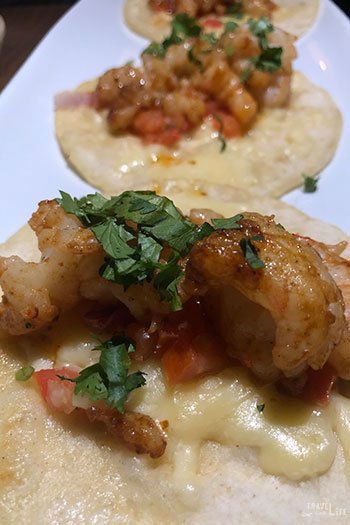 Gonza Tacos y Tequila has locations in Raleigh, Wake Forest, and Cary but their spot on in the center of Durham's Warehouse District (604 Fernway Ave) is absolutely worthy of a mention here. This Colombian-Mexican restaurant dishes fresh and flavorful taco combinations throughout every service.
You can sit inside or outside when the weather cooperates. Plus, they have an extensive tequila menu which you can't say "No" to when visiting.
We also mentioned Gonza Tacos y Tequila in our guide to Durham's best ethnic restaurants.
Heavenly Buffaloes
Website | 1807 W Markham Ave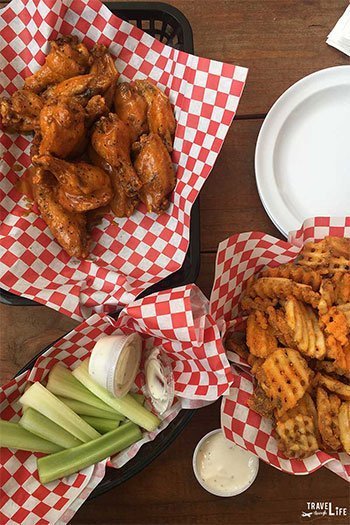 While it isn't exactly a "restaurant," this little shack off Broad Street is packing some serious heat! Wing and waffle fries are really all many people need in life and Heavenly Buffaloes (1807 W Markham Ave) is there to cater to your every need.
They even consider vegetarians, vegans, and anyone with an aversion to chicken with an incredible meatless wing! Also, who doesn't want to Burnie Zass-Hoff?
King's Sandwich Shop
Website | 701 Foster St
King's Sandwich Shop (701 Foster St) is the OG of places to eat in Durham. Preparing home-cooked food on Foster Street since 1942, King's is right around the corner from the Historic Durham Athletic Park.
We love walking up and ordering something random but challenge you to a Royale with Cheese or a couple of Spicy Blackbean Burgers, depending on your lifestyle.
By the way, Bites of Bull City is a great Instagram account and website to follow when new restaurants in Durham pop up!
Lucky's Delicatessen
Website | 105 W Chapel Hill St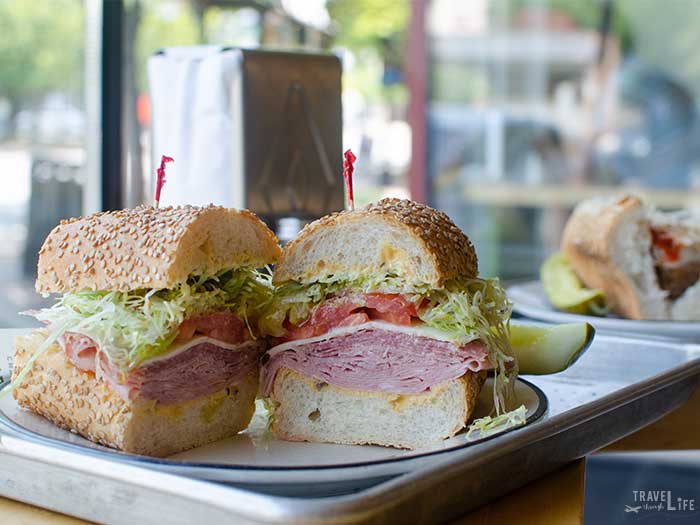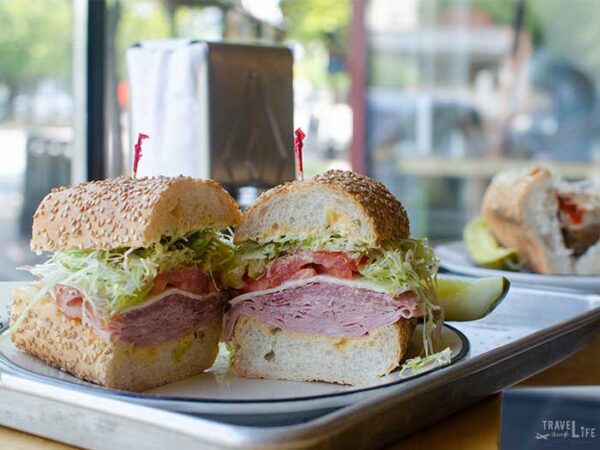 From the same family of Mateo, Vin Rouge, and Mothers & Sons, Chef and James Beard finalist Matt Kelly created Lucky's. This is the casual New York Style Deli that all northern transplants have been craving.
Traditional Jewish and Italian deli menu items dominate the menu, but you're also bound to see some southern flare listed on the board.
Personally, we think you should dig into their classic Italian Hero served up with shredded lettuce or housemade sausage sub. But honestly, anything you choose at Lucky's will be a winner.
NuvoTaco
Formerly NanaTaco
Website | 2512 University Dr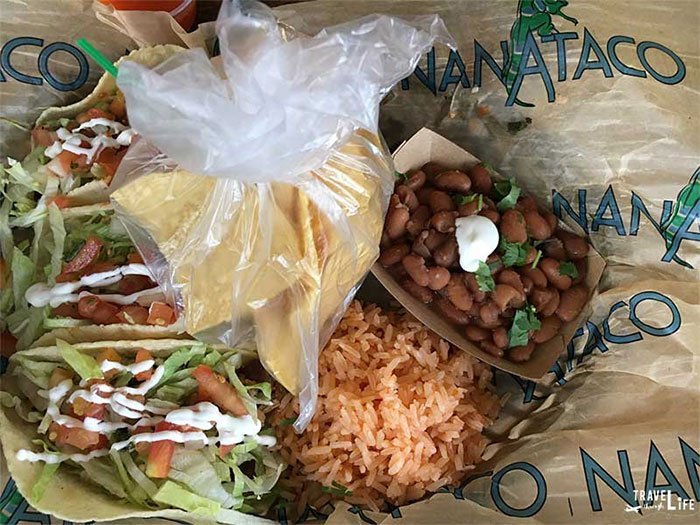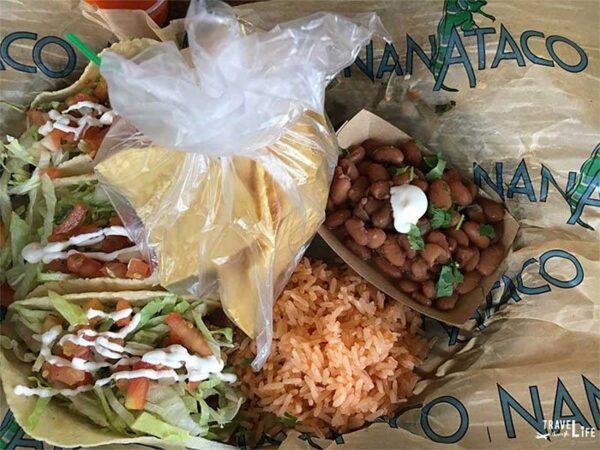 $5 Margaritas? Yes, please! Not only does NuvoTaco (2512 University Dr) serve up Mexican-American food with fresh, local ingredients, but they are one of the only restaurants to get dirty! Okay, with their meats is what I'm talking about. Get your head out of the gutter!
If you've never had a taco with beef tongue taco or hog jowls and want to try it, this is the place. You don't have to eat the dirty stuff, though. I will judge you if you come here without the Big Daddy Burrito!
I guarantee it's the size of our toddler's face.
Parts & Labor
Website | 723 Rigsbee Ave
You'll find delicious food, craft brews, and spirit-filled drinks at Parts & Labor, which pairs nicely with Durham's amazing Motorco Music Hall. Here, you'll find an eclectic menu that will easily make everyone happy.
Whether you're chowing down on marsala poutine, veggie samosas, or their delicious udon salad (pictured, right), the laid back vibe, this place perfectly accompanies all the great music that comes through Motorco!
Parts & Labor gets bonus points for having some of the best late-night eats in Durham, too!
Picnic Durham
Website | 1647 Cole Mill Rd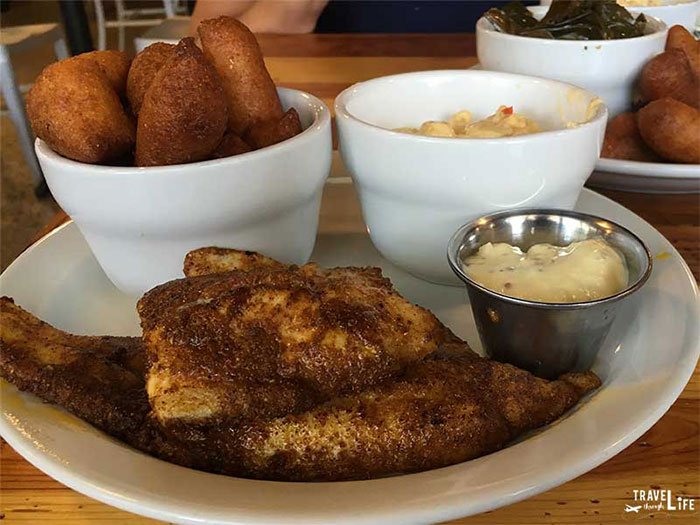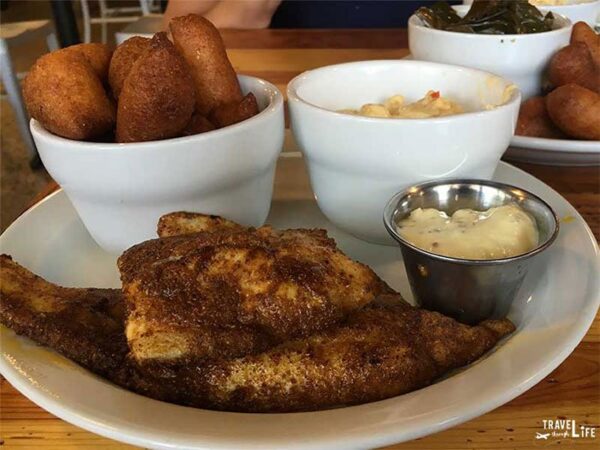 We've been coming to Picnic Durham (1647 Cole Mill Rd) for a long time and we're not alone. This place is well-known for its whole hog BBQ and picnic tables outside. Go for the pulled pork or sway away from traditional NC BBQ with some brisket.
Also, don't be afraid to be tempted by their smoked buttermilk fried chicken, which might be the tastiest bone-in bird you'll ever eat. However, you must eat their bacon-braised collards. That's an order!
Picnic Durham is near the Eno River State Park, which is one of our favorite places to enjoy the outdoors in Durham!
Pizzeria Toro
Website | 105 E Chapel Hill St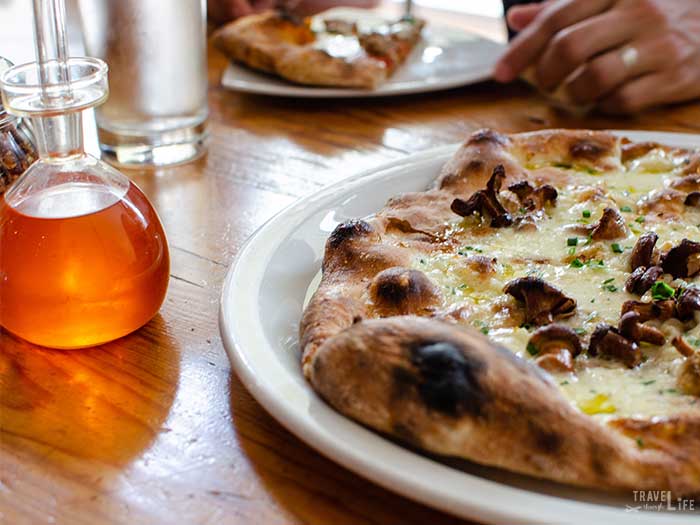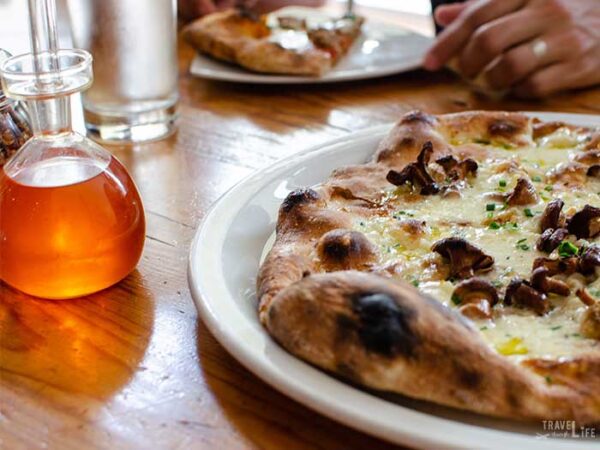 Pizzeria Toro is what we like to call "upscale" casual. That's because it's accessible to all but with more advanced flavor profiles. I mean, you won't find Buffalo mozzarella, spicy lamb meatballs, soft eggs, zucchini bechamel in your typical take-out pizza place.
Here, you'll find the main dining room with an open kitchen layout, a farm table in the center, and tables along the walls. It's not uncommon to see strangers conversing with each other over the farm table spurred by the question, "What's that you got there?"
Grab a friend and split their PNW Chanterelle mushroom pie and the kale salad that I still dream about every night!
Pompieri Pizza
Website | 102 City Hall Plaza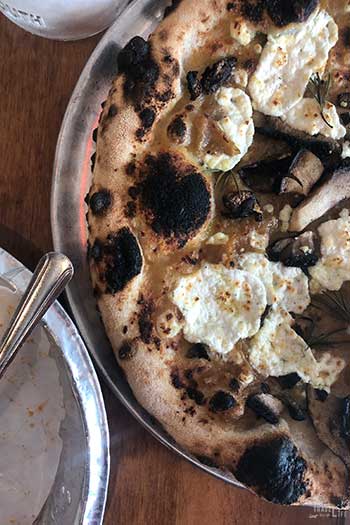 Neapolitan pizza isn't your standard pie and Pompieri Pizza isn't your typical neighborhood pizza joint.
With a casual laid-back vibe, Pompieri serves elevated flavors with locally sourced ingredients and a wood-fired char. In true Neapolitan style, you won't be served with your pie precut and the dough puffs out at the sides giving a light and airy crust.
And is it kid-friendly? With an in-house children's play area, you bet! Feel free to bring your kiddos for a night out at this awesome Durham pizza restaurant.
Hot tip: Check out their all-you-can-eat Family Meal Pizza on Sundays from 4:30 pm-6:30 pm! The chef chooses the pizza, though, so bring your adventurous tastebuds for some of the best food in Durham!
Spanglish
Website | 104 City Hall Plaza
If you eat at Spanglish and not take a selfie in front of the mural, did you even eat there? This thriving food truck from Raleigh arrived in Durham to serve us all some modern Puerto Rican food and we couldn't be happier!
One of Spanglish's most traditional dishes they serve is Mofongo, which mixes crushed plantains and a delicious broth.
Served with juicy pork, maduros, and avocados, it's filling and the perfect way to experience Puerto Rican food for the first time!
Sushioki
Website | 4900 NC Highway 55, Suite 510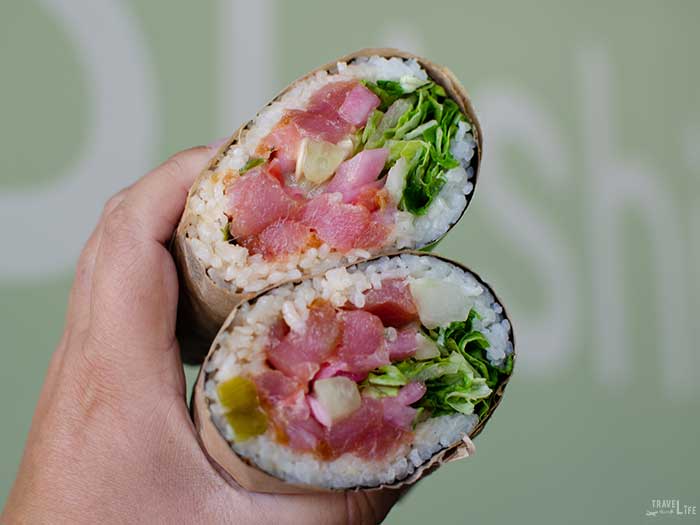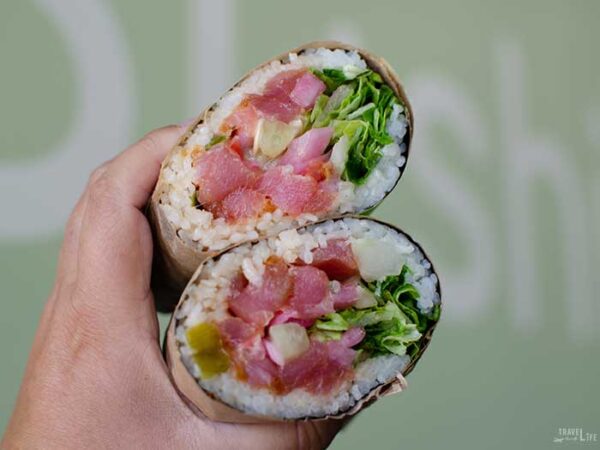 Visit Sushioki for sushi burritos, bowls, nachos and more! More than double the size of your standard sushi roll, this place brings fresh, fast, and healthy to RTP.
And not only is the food delicious, but Sushioki partners with organizations such as World Relief to hire area refugees while paying them livable wages. And before you stop by, check out their daily specials for $2 off designated rolls!
ZenFish Poké Bar
Website | 810 Ninth St
ZenFish Poké Bar (810 Ninth St) is the perfect spot to grab something healthy and delicious in Durham. With a variety of base options from white rice, brown rice, salad, quinoa to even zucchini noodles, this is the ultimate stop for the rising Poké trend being seen across the country.
One of the best parts of ZenFish is their commitment to the community. The signature bowls of Compassion, Gratitude, Courage, and Kindness are an inspiration and reminder of how to let love into your life.
Sourcing ingredients from local farmers and making sure that everything is compostable makes this guilt-free casual restaurant a must-stop!
Dessert
East Durham Bake Shop
Website | 406 South Driver St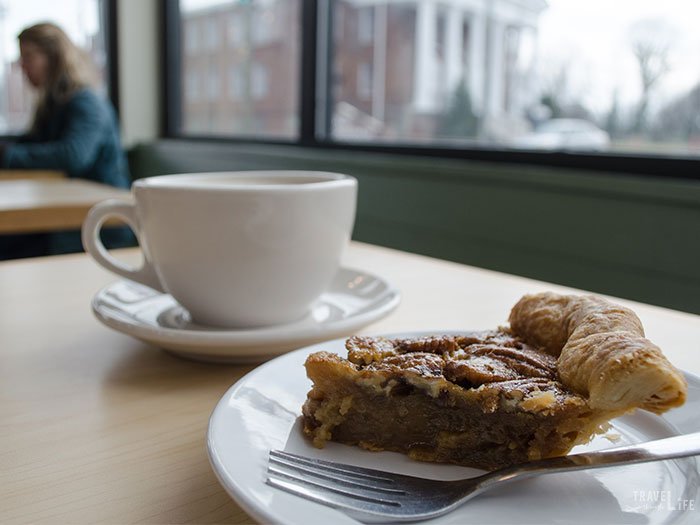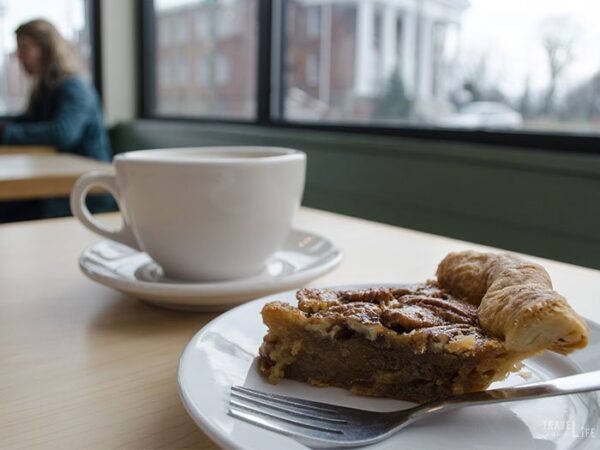 Made from scratch, locally sourced, fresh daily. All the markers for an amazing bakery. That's exactly what East Durham Bake Shop (406 South Driver St) is and more. Living Wage-certified and with the sweetest owners you'll ever meet, East Durham Bake Shop is a cozy little corner store where you can sit with a delicious cup of coffee and a beautiful slice of pie.
Locopops
Website | 2618 Hillsborough Rd
With seasonal flavors and tastes inspired by owner Summer Bicknell's travels, Locopops (2618 Hillsborough Rd) is the perfect place to dangle your legs off a front porch and lick a pop! We love their baby pops and silky ice cream, too.
Thanks to their expanding menu, you can even grab a slice of Mexican chocolate chess pie.
If you're into inspirational stories (I mean, who isn't?), read our interview with one of our favorite People of NC, the loco lady herself, Summer Bicknell!
The Parlour
Website | 117 Market St
Want a sweet treat while strolling around downtown? The Parlour (117 Market St) is the best place to go! Local fresh ingredients and 18 percent butterfat means this ice cream will leave you wishing for a double scoop.
They have plenty of treats for everyone, with vegan-friendly fruit sorbets and coconut milk-based creamy ice cream! Personal favorites include their Bourbon Butter Pecan, Vietnamese Coffee, and Salted Butter Caramel.
Sweet Charlie's
Menu | 1125 W North Carolina 54 Suite 204
Rolled ice cream is all the rage and Sweet Charlie's is where you can enjoy delicious flavor combinations or make up your own. Combining the Thai inspired ice cream rolls with American flavors, Sweet Charlie's rolls up flavors like "Namaste Strawberry Cheesecake" and "Rise and Shine Cinnamon Toast Crunch."
You can pick from premium ice cream, nonfat yogurt, and vegan bases and top it off with any (or all) of their free toppings! And if you really want to go the extra mile, eat your roll from an Early Bird Donut bun!
Our Thoughts and Yours, Too!
These are not the only casual restaurants in Durham that we love, but this should get you started if you've never eaten here. With such an awesome food scene to tackle, this was tough.
If you've explored some of the Bull City's places to eat, what's been your favorite so far? What's your favorite casual eating spot here?