Affiliate links linking to products we love may be found within this article. For more info, please check our Disclosure page for more explanation of affiliates and sponsorships.

---
Among South Korea's wealth of islands, Bijindo is one that topped our list for so long. After a lot of talking about going, we finally drove to Tongyeong and caught the ferry over to Bijindo. As far as islands go, this one is pretty small but is definitely worth the journey, if you're seeking a place as far away from it all as one can get in Korea.
Flights to South Korea are cheaper than you think! Check here for the best prices and the most convenient routes!
Bijindo Island
This travel guide is part of our series on South Korea Travel and East Asia Travel. It was originally created on September 12, 2014. It has been maintained and updated (as of December 28, 2018) to reflect current viewpoints and travel trends.
Fun Facts
If you ever look up a photo of Bijindo from above, you'll see that it's almost two islands. Some folks say that it's shaped like a dumbbell. Another fun thing to know about Bijindo's shape is that it's one of those awesome places where you can watch the sun rise and set from the same place.
When to Go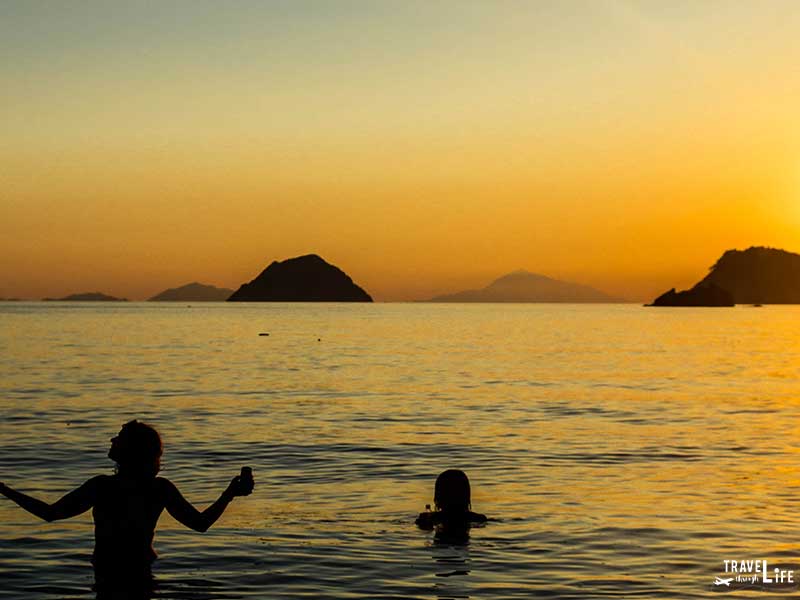 As one of the best beaches in South Korea, Summer is definitely the busiest time there. However, you can still enjoy the water in the late summer, as well as the hiking throughout many parts of the year.
Getting to Bijindo
Courtesy of Korea Tourism
Visitors leaving from Seoul should take an express bus from the Nambu Terminal or Seoul Express Bus Terminal towards Tongyeong. It'll take about 4 hours without heavy traffic but during holiday weekends, that time can easily go up. You can check bus schedules here.
From the Tongyeong Bus Terminal, you can take buses 101, 231, 301, 530, or 600 and head towards Seoho Market (통영서호시장).
Get off there and walk in the market's direction but instead to the Tongyeong Port Passenger Terminal (통영여객터미널).
From there, you can book tickets for a ferry to Bijindo. Boats leave at 7:00, 11:00, and 14:30. Boats take about 45 minutes and you'll be asked at the counter to purchase a return ticket for a specific date and time.
Slow down and find a hotel in nearby Tongyeong before your journey to Bijindo! (Booking | Hotels.com | TripAdvisor)
Where to Stay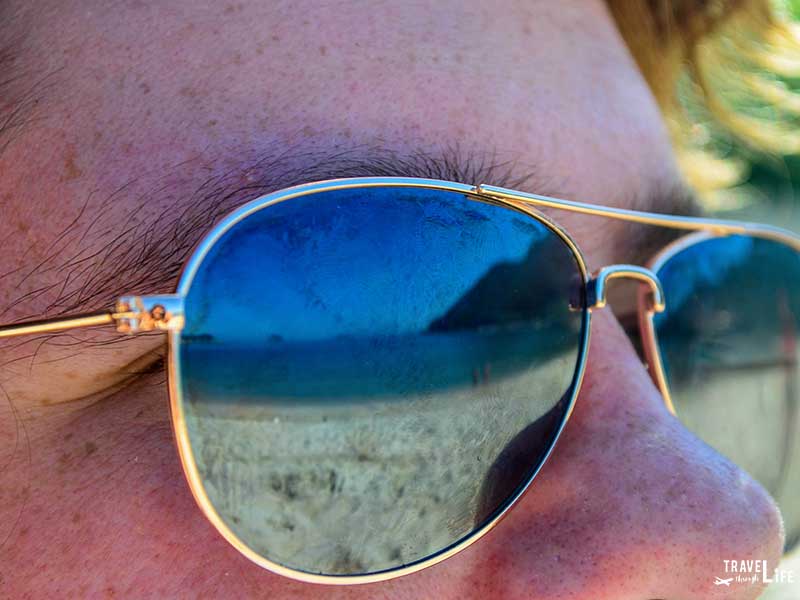 If you get to the island early enough on a weekend, you can grab a primo spot on the beach with your tent. It's one of the few places in South Korea where people don't crack down on plopping down right on the sand in the summer. If that changes, please let us know and we'll edit accordingly. Also, you can get a pension, of which there are a few on Bijindo. To book, you'd have to contact them by phone and flex your Korean language muscles. Another way to keep in close contact with Bijindo is to stay in nearby Tongyeong and day-trip back and forth.
Things to Do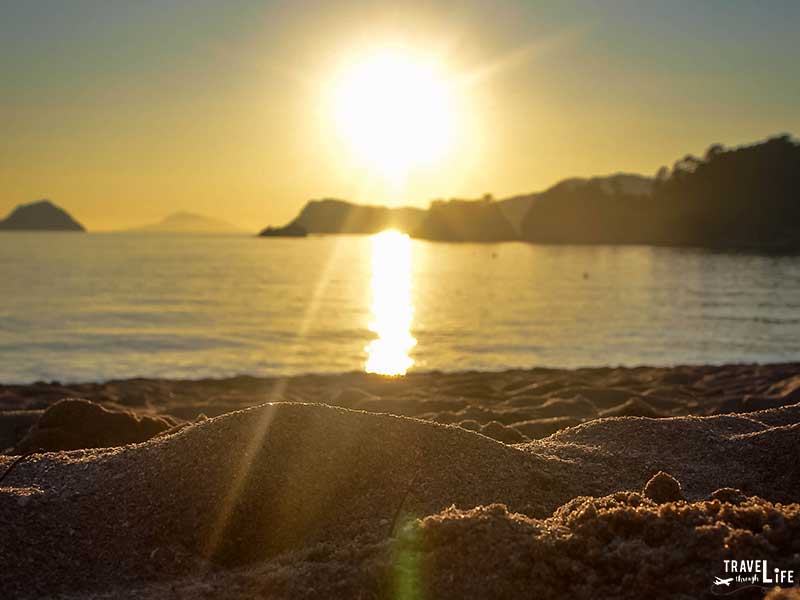 Many folks like hiking to the top of one of Bijindo's mountains and there's a trail that'll lead you there. The views from the top look pretty awesome are a great way to get a feel for the place. Of course, a lot of people come to just hang out on the beach, watch a few waves if any come in, and relax on one of South Korea's most beautiful patches of sand. Then, there's the beautiful sunset sandwiched between the gorgeous day and just cool enough night. When the sky started its transformation from cerulean to a shade of black not too dark thanks to stars and the moon.
Note: Those in search of food on Bijindo should keep in mind that it's a tiny island, so there aren't many restaurants. Bring your own food and drinks when you go.
Our Thoughts and Yours, Too!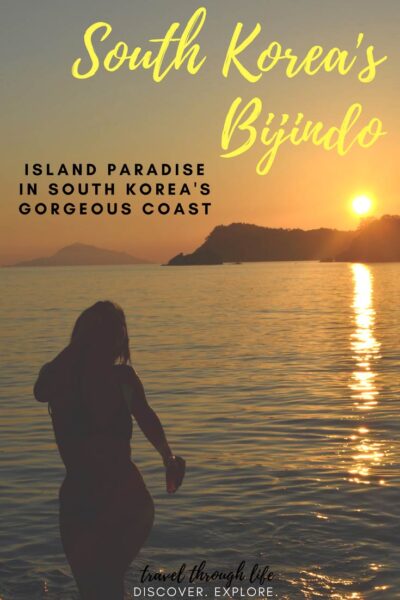 Bijindo is wonderful in so many ways and we're happy to have spent some time there. It's easy to think of reasons to come back and it all comes back to that wonderful sunset. Who wouldn't want to watch Bijindo during the golden sunset hours? Wouldn't you?
Ever been to Bijindo? What did you think of it? Want to go back like we do? Let us know in the comments section below:)