Affiliate links linking to products we love may be found within this article. For more info, please check our Disclosure page for more explanation of affiliates and sponsorships.

---
During a recent two-week stay in South Korea, my boyfriend and I wanted to explore an area other than Seoul. A fun way to choose a destination is to find out where locals vacation, then visit that spot. In South Korea, I quickly learned that Koreans and expats love Jeju, and Koreans boast that it is "the Hawaii of Korea." The four days we spent there turned out to be the perfect length of time for our getaway. Here are some tips on how to enjoy Jeju Island on a long weekend.
We think Jeju is fun throughout the year but also included it in our feature on Spring Things to Do in South Korea. Check here for the best prices on hotels in Jeju before you head there.

How to Enjoy Jeju Island on a Long Weekend
Featured image credit: FlickrCC/Republic of Korea. This Jeju travel guide is part of our series on South Korea Travel, East Asia Travel, and Asia Travel. It was originally created on August 16, 2016. It has been maintained and updated on our blog (as of December 27, 2018) to reflect current viewpoints and travel destination trends.
Trespass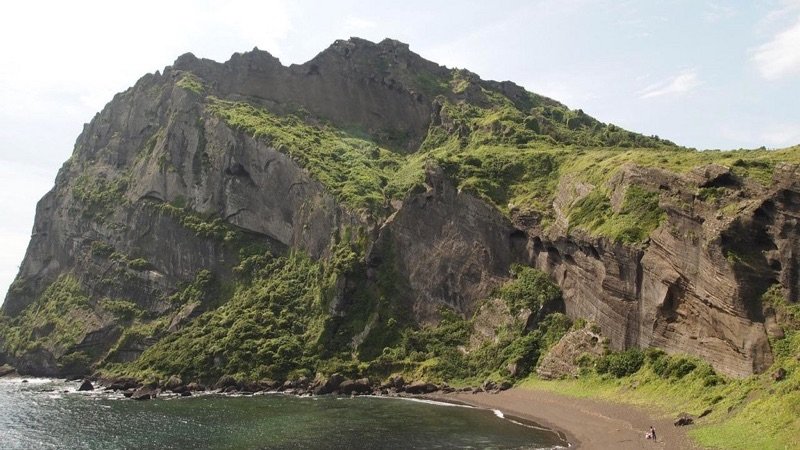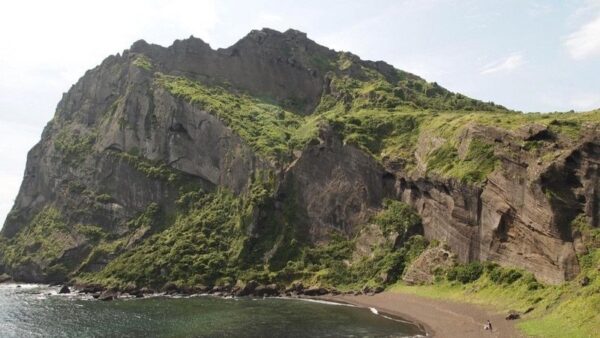 I am a self-proclaimed rule follower, so I can't believe I'm giving this advice. Don't be afraid to trespass. Jeju Island is a tourist destination, so officials have put up many "don't trespass" signs to keep careless tourists safe. However, if you are alert and intelligent, hop the fence! You'll see some of your most incredible views this way.
Generally, Koreans do not take warning signs seriously, either. You will probably see Koreans walk right past the sign with you, so don't worry, you're fitting in. If you are clumsy, drunk, or on a high cliff, this advice does not apply to you. Stay safe!
Halla San!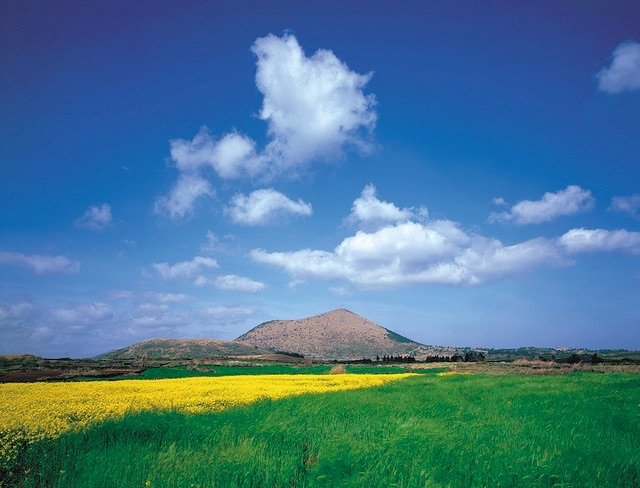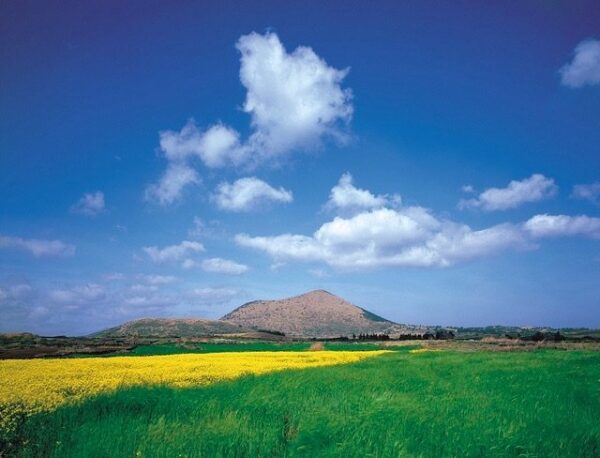 If you wake up one morning with a lot of energy, consider climbing a volcano. Mount Halla (or "Hallasan," as the Koreans call it) is a shield volcano, and the peak happens to be the highest point in South Korea. You can take Seongpanak Trail straight to the top. The 12-mile round-trip trek takes about eight hours to hike. Though it can be grueling, the path is well marked and very doable.
Accomplishing this feat will give you an overwhelming sense of self-satisfaction. Taking on challenges is one of the most important aspects of traveling. Don't forget to take plenty of water and snacks. My hanger is legendary, and after twelve miles, I was ravenous and fuming.
Factor in at least thirty extra minutes to relax at the top. If the weather is nice, you can see the 360-degree view of the island. If the sky is cloudy, you can rest and enjoy taking photos with your fellow Korean hikers. Most Koreans will love taking pictures with you.
Loveland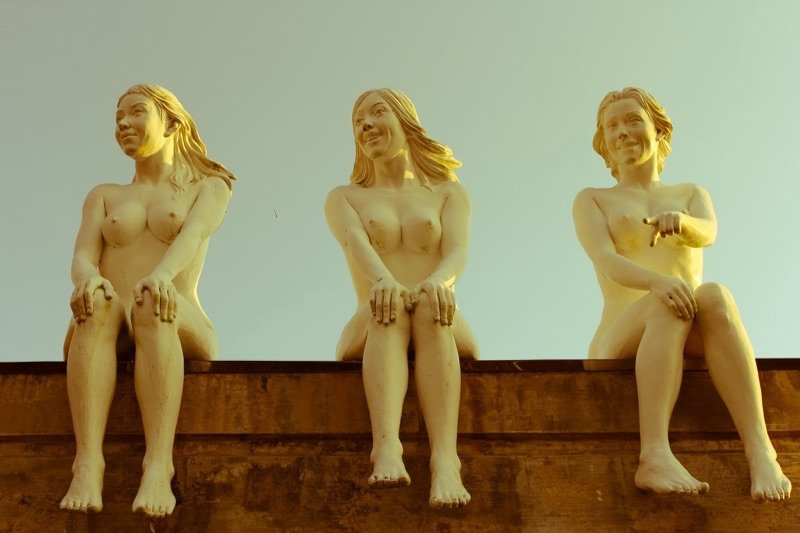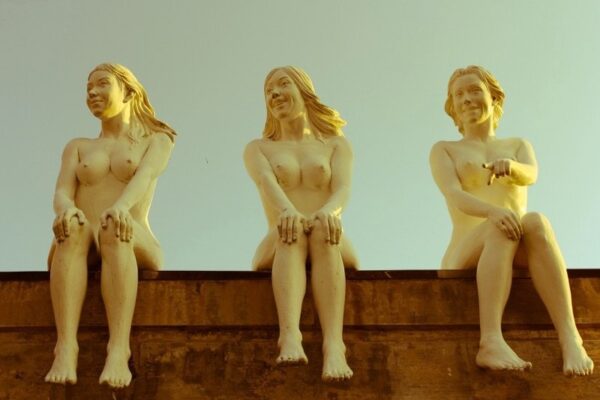 For many explorers, spending a day in a museum is not their idea of a good time. Wipe all preconceived ideas you have about museums from your brain. Loveland is an outdoor sex museum that will make your day.
The park was erected after the Korean War for the purpose of educating Korean couples who had undergone arranged marriages regarding the birds and the bees. They needed enlightening because Korea's sex education system was pretty poor.
Loveland has kinky statues and phallic symbols galore. Visiting with my boyfriend took our relationship to a whole new level.
Dokkaebi Road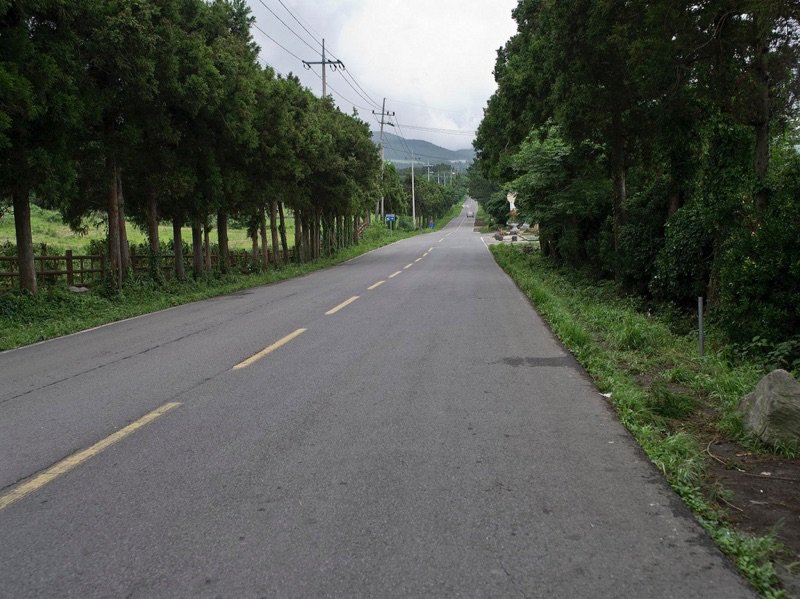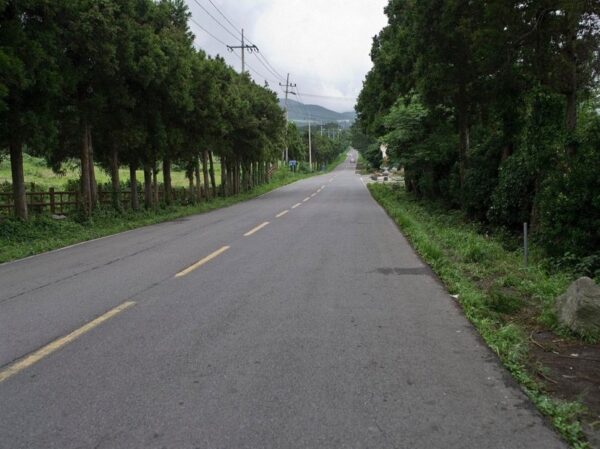 "The Mysterious Road" was something we heard and read about all weekend. We accidentally stumbled upon it as we walked around aimlessly, trying to find Loveland from our bus stop. The two places are only a five-minute walk apart. A group of twenty tourists from all over the world howled with laughter as they rolled water bottles on the ground.
The Mysterious Road, or Dokkaebi Road, is mysterious because items roll uphill rather than downhill. It's a light-hearted and delightful tourist trap. You'll have fun rolling bottles uphill, but you'll have even more fun watching people roll bottles uphill.
Learn more about the scientific secret behind this phenomenon. However, I usually choose to live in ignorance to make the world seem more magical.
Waterfalls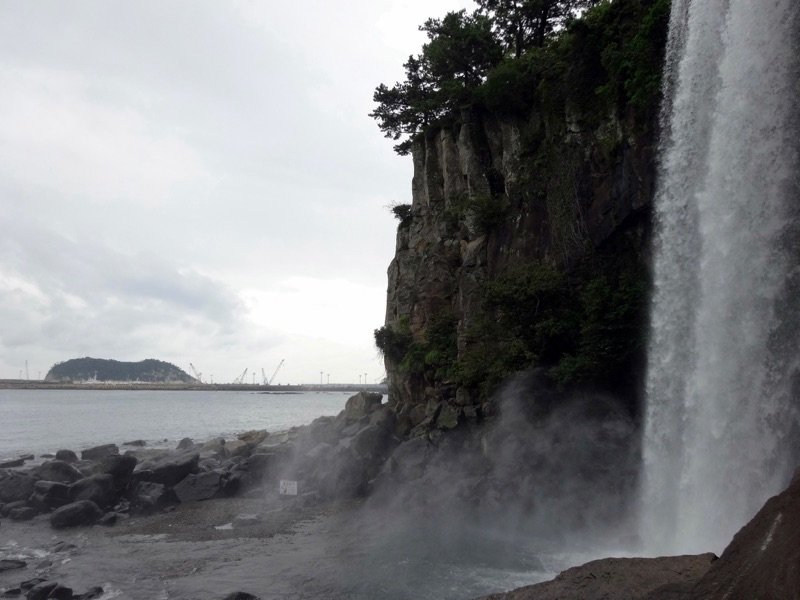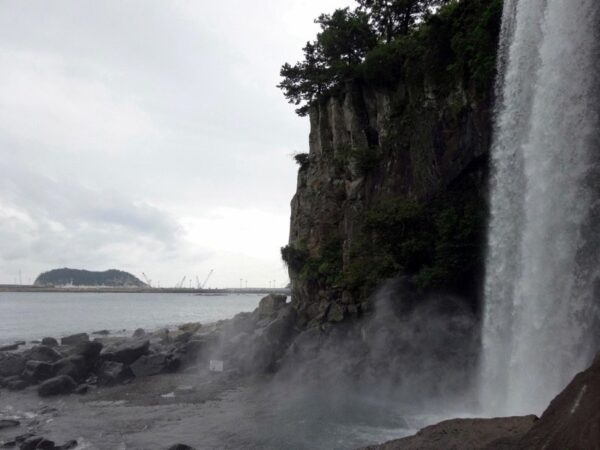 There are three main waterfalls on Jeju: Jeongbang, Cheonjeyeon, and Cheonjiyeon Falls. Yes, those last two have annoyingly similar names, which can make things confusing. All three are on the south end of the island, and they are some of the biggest attractions on Jeju.
If you have a beautiful day and are in the mood to take it easy and enjoy the scenery, spend your time at these waterfalls. We visited Cheonjiyeon Falls, which has a serene walking area that just beckons you to relax and spend time there.
I have a soft spot for Cheonjiyeon Falls because we met some of the most hilarious Koreans there. We asked someone to take our picture, and a group of Koreans formed around us to watch the Americans pose. They also forced us to position our arms in the shape of a heart. They thought it was the cutest thing ever and cheered for us.
Interacting with fellow Korean tourists might be my favorite part of Jeju Island.
Book hotels in the two main cities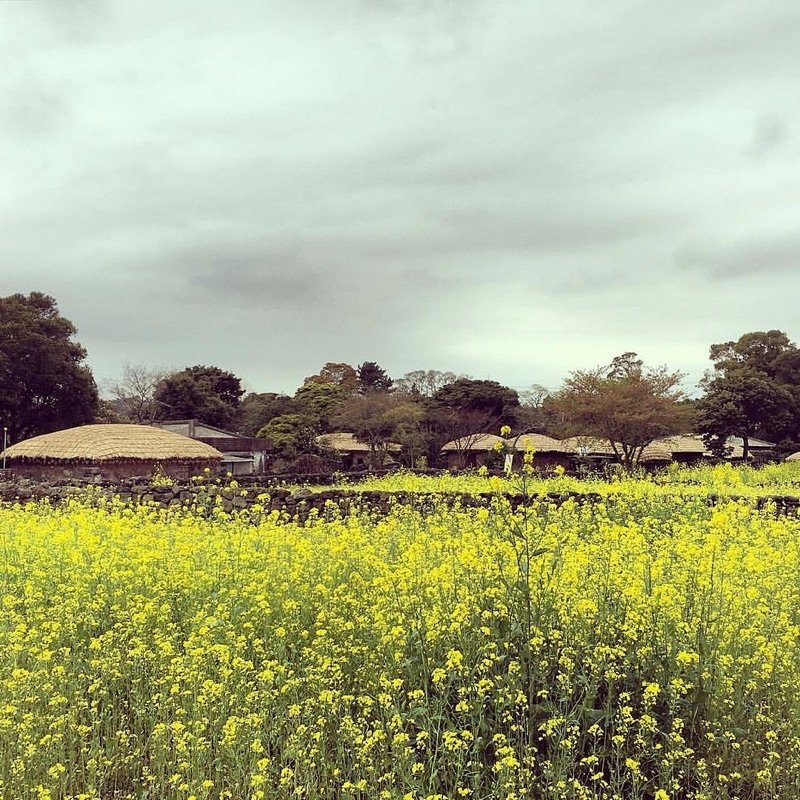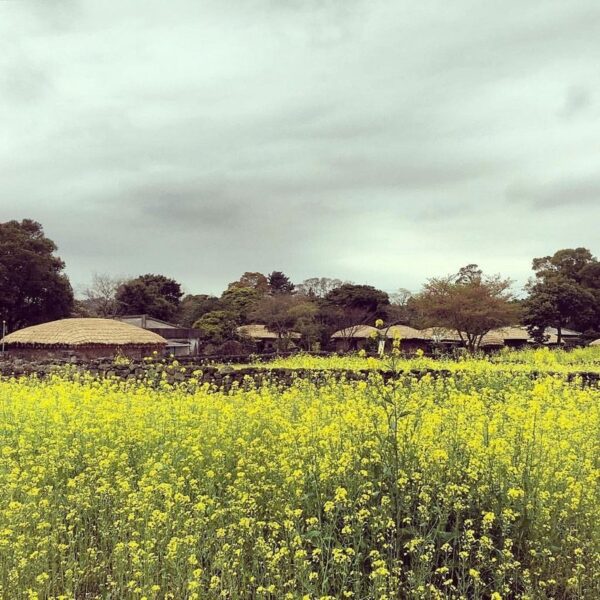 Most people go to Jeju for the island life, not the cities. However, Jeju Island has two major cities, Jeju City and Seogwipo City. Jeju City is on the north side of the island and Seogwipo City is on the south side. The two are only an hour's bus ride apart.
You will most likely fly into Jeju City, so I recommend spending your first night or two there. Then take a bus down to Seogwipo and spend your next couple of nights there. That way you can see the majority of the island.
We only booked a hotel in Jeju City, and we regretted our decision. We wasted a lot of time traveling to different places on the island every day. Jeju is gorgeous, and you don't want to miss any of it.
Manjanggul Cave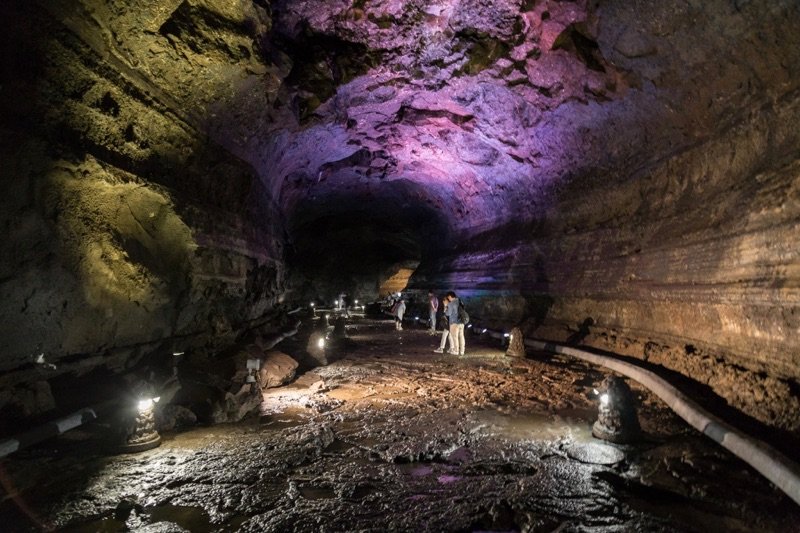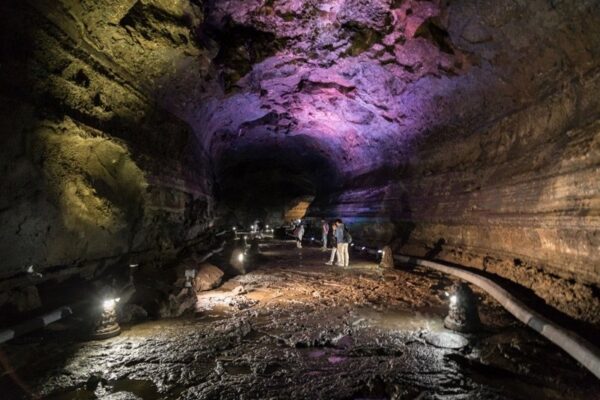 Visiting Manjanggul Cave is the perfect activity for a rainy day. You'll stay safe and dry underground. This lava tube ranks among the ten longest in the world, with displays that teach tourists about the cave. Be sure to wear sturdy shoes and a jacket down there.
I recommend this activity for anyone on a romantic getaway. The dim lighting makes for a dreamy afternoon with the person you love.
Jeju Island Food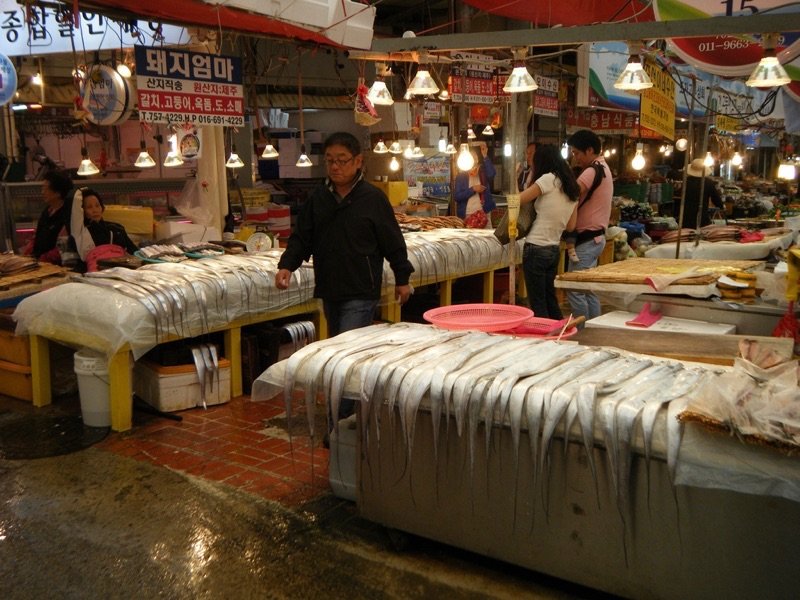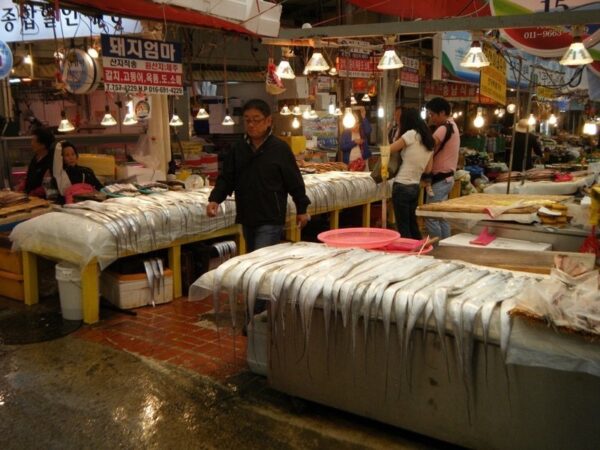 Let's be honest, traveling is just an excuse to eat a bunch of weird food and Jeju has plenty to go around. First, try as much seafood as you can. Take time to peruse the fish markets. I ate my weight in fresh shrimp, but I still regret never having tried live octopus. It's a cultural experience.
Also, go to a barbecue restaurant and order black pork. Jeju's black pork is made from the island's black pigs, and islanders boast of this delicacy because it's some of the most flavorful pork you'll taste in Korea. Finally, kimchi is prepared differently in each part of Korea, so try the kimchi that comes as a side dish with your meals. The kimchi we had on Jeju had a fishy taste. I gained about five pounds during my time in Korea. I'd do it again.
Jeju is well-known to Korean inhabitants, but most westerners don't know the island exists. Schedule a long weekend on Jeju Island during your big Korean trip. You'll find something new to explore every day.
Ready to Explore Jeju?
Are you ready to go explore Jeju Island now? Let Laura know what you think of her awesome guide in the comments section below:)