Affiliate links linking to products we love may be found within this article. For more info, please check our Disclosure page for more explanation of affiliates and sponsorships.

---
Naejangsan National Park is one of the best places to visit during Fall in South Korea, it's also a great park to see throughout the year. Because of the park's beautiful maple leaves, autumn is its busiest time. You'll see that It's the toughest time to avoid crowds. Of course, it's still the best time to visit, so let us show how we followed the leaves in South Korea's Naejangsan National Park.
Check the best prices on hotels in Seoul and other South Korean cities! 
Naejangsan National Park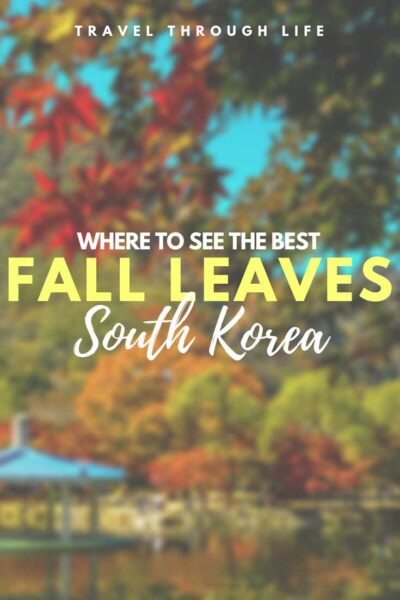 Directions to Naejangsan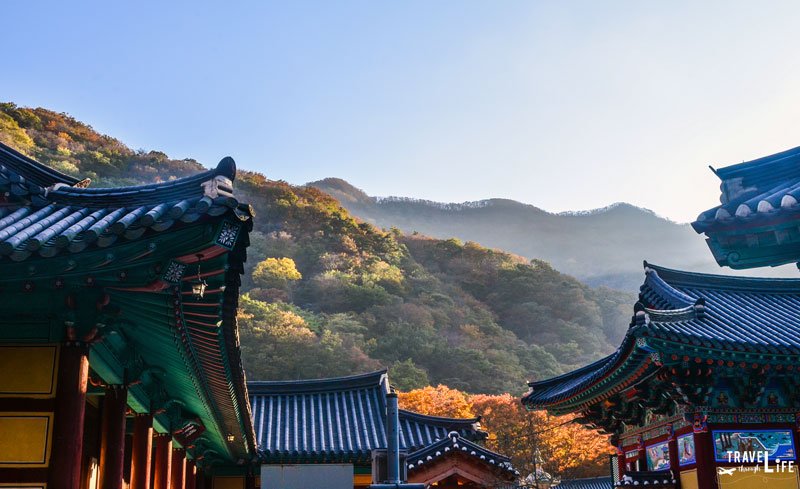 If you're not taking an exciting road trip through South Korea, you still have the country's wonderful public and private transportation systems to get you around. To go to Naejangsan National Park from Seoul, take a bus to Jeongeup and from the city's Bus Terminal, you can get to Naejangsan by taking Bus 171 (내장산). Multiple Trains go between Yongsan and Jeongeup each day and from the train station there, take Bus 101 to Naejangsan. From Busan, it's best to take a bus to Gwangju to Naejangsan from there. Transportation is an always changing thing.  Feel free to let us know if the best routes to Naejangsan change and we'll be happy to change it.
The Crowds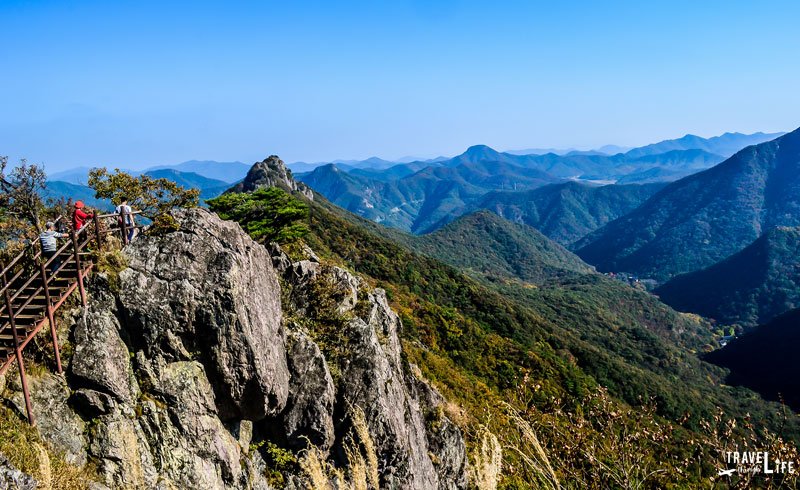 Fall in Korea's national parks means a fever pitch of crowds following the leaves. Our quiet drive through South Jeolla Province began without too much traffic until the park entrance came into view. That's when we ran smack dab into lines of individual cars and those ubiquitous tour buses. After abandoning the car at a distant parking lot, we got out searched for the right trail. There are information kiosks at the park's front entrance, explaining the types of trails and their difficulty.
Reaching the Peak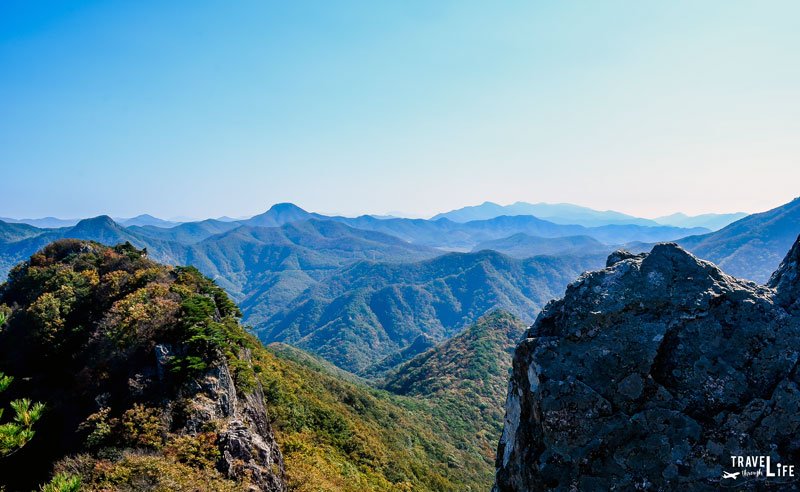 We picked one that followed the ridgeline, full of scenery yet at the same time, bringing back that pesky fear of heights I'll never forget from Wolchulsan National Park. Reaching the park's highest peak around lunchtime, we find spectacular views and a rock concert atmosphere. Everyone is sitting at the top and gobbling up bits of steamed pork (보쌈) and other treats. My taste buds swell at the smell of it all. However, the soju fumes quickly send them back to normal size. Beer cans crack open amid a chorus of chatter and laughter.
Running Down the Mountain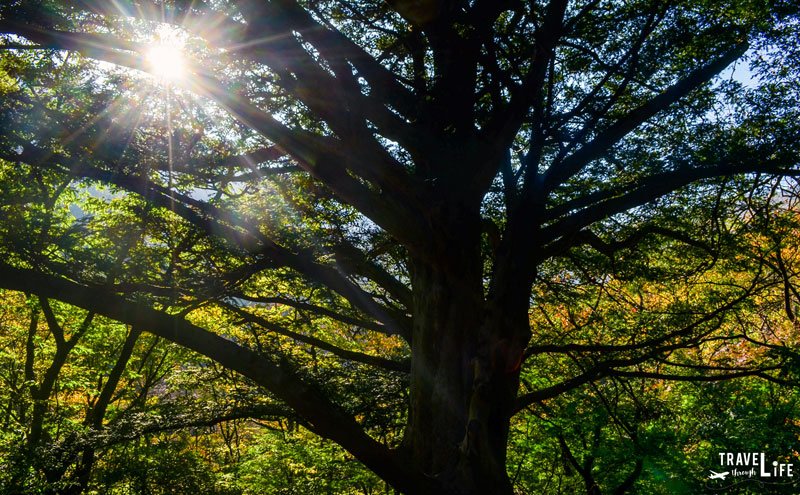 Our time to leave the crowded peak came, but we were not alone in any sense of the word. The tour buses must be leaving soon, considering the fact that some people are literally running down the mountain. Or maybe this was some sort of death sport, where the first one to fall and crack their head open wins. I also picked up the pace at one point and fell down some stairs, rolling my ankle as a result. A drunk woman beside me also fell and we were lucky to be too far away to clear the mountain.
Naejangsan Fall Foliage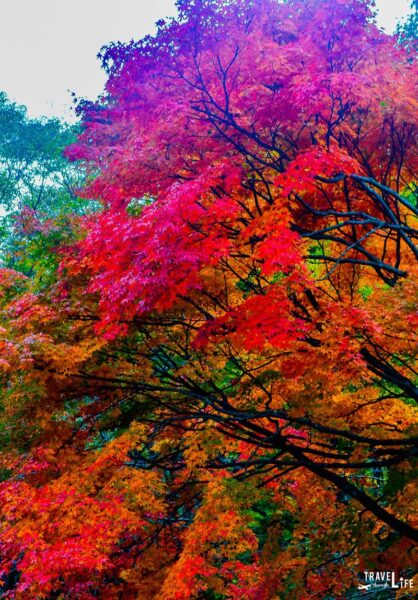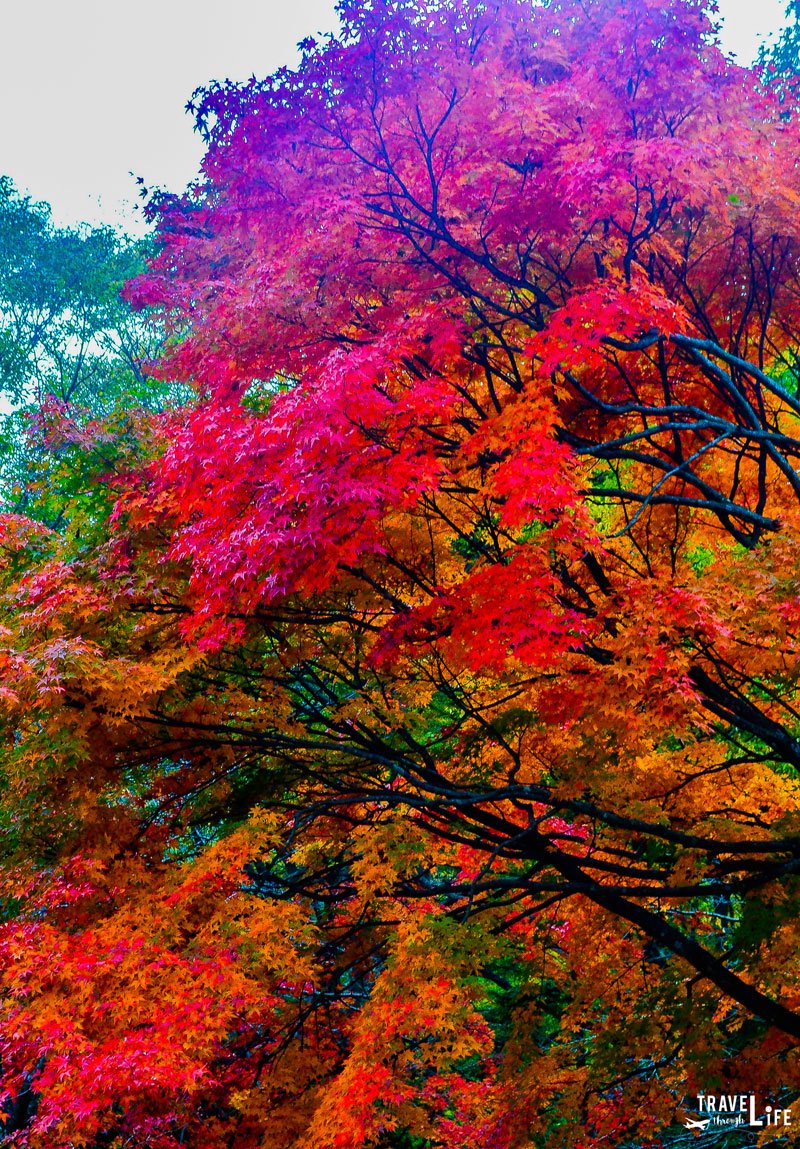 We were completely surrounded by red-orange maples and ginkgo trees. They perfectly mixed with evergreens and the beautiful blue sky. The leaves in Korea really are beautiful! This adventurous yet gorgeous hike will make Naejangsan National Park one of my favorite places to visit. We came out at Naejang Temple and looked back and up at the peak where we just stood an hour or so ago. I thought back to that food and realize that I'm hungry again, craving some of that steamed pork from before.
Our Thoughts and Yours, Too!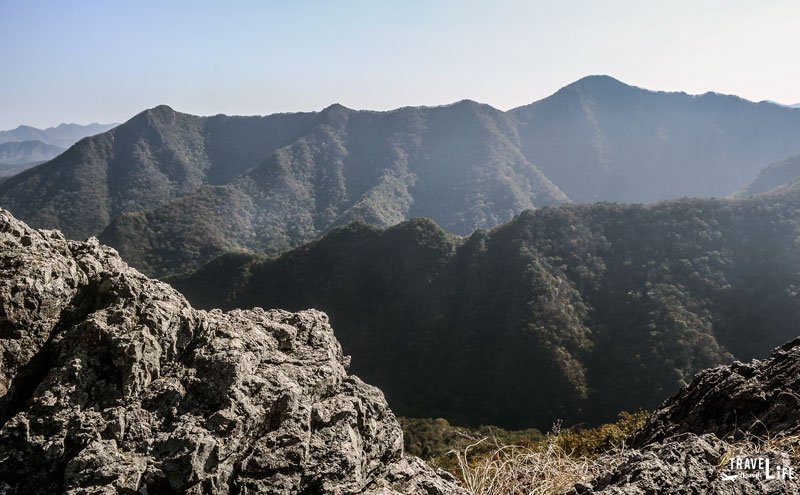 A walk around a lovely pond and along a ginkgo-covered path helped me realize why so many people come to these places. Following the fall leaves in Naejangsan National Park forced us to meet the crowds, and that's okay. Everyone's going to visit these wonderful spots at the same time. Elbows and noisy chatter might impose itself on natural places and the idea of peace but we're all here to share these sights. Everyone comes for the beautiful and serene. We're all the same.
There are tons of wonderful national parks and places to see fall foliage in Korea. Got a place you'd like to mention for enjoying South Korea in autumn? We'd love to read about it in the comments section below:) 
This Naejangsan National Park travel guide is part of our series on South Korea Travel, East Asia Travel, and Asia Travel. It was originally created on November 17, 2014. It has been maintained and updated (as of December 27, 2018) on our blog to reflect current viewpoints and travel destination trends.