Affiliate links linking to products we love may be found within this article. For more info, please check our Disclosure page for more explanation of affiliates and sponsorships.

---
Inn on the Square was our home base during the wonderful weekend that we spent in Greenwood, South Carolina for the Festival of Discovery. It's Greenwood's only full-service boutique hotel, but that doesn't mean they're taking it easy as the only game in town. No, sir (or ma'am), because the folks here know you've come to get away in their up-and-coming small town. Let us take you through nine great things about Inn on the Square and why you need to book a night or more at this awesome hotel in Greenwood.
Already convinced that you need to stay at Inn on the Square? Check out these sites for the best prices and availability! (TripAdvisor | Hotels.com)
Nine Great Things about Inn on the Square in Greenwood
Cool Building(s)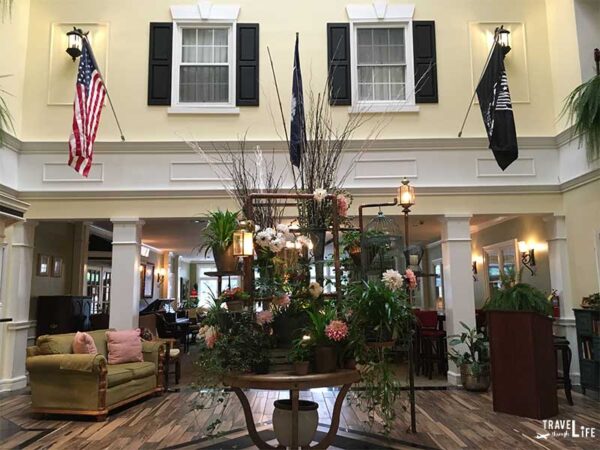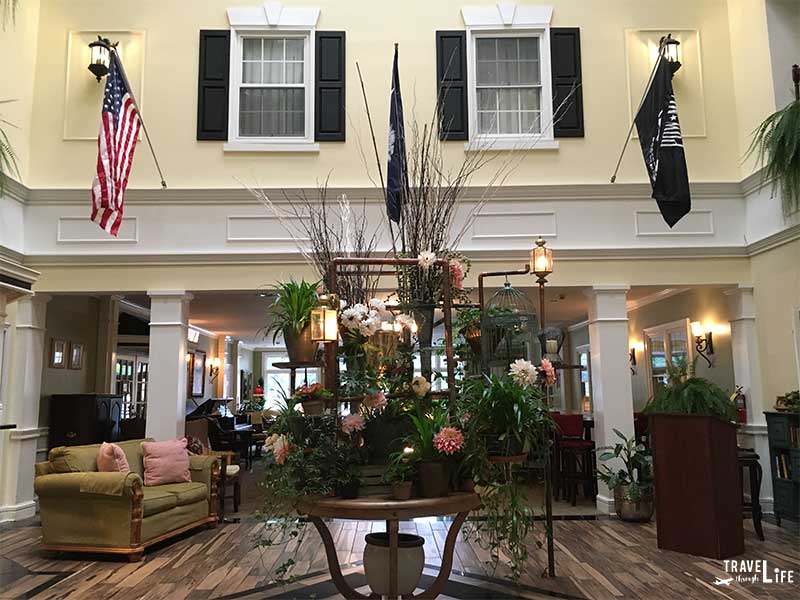 Walk into the lobby of Inn on the Square and you might wonder about how this place came together. It was once two separate buildings, with an alley running through where the lobby now sits. Various businesses resided in these two spots until they were abandoned when two local developers bought it in the 1980s. They convinced the city of Greenwood to condemn the alley, so the two could then unite the buildings and turn it into a hotel. The current Inn was renovated and revamped in 2015, and my does it look nice inside!
Location
Not only do you have a cool building to admire, but the Inn's location is the best one can find in Greenwood's hotel scene. You're right next to the Downtown, which is convenient during the Festival of Discovery, the South Carolina Festival of Flowers, or spending a weekend in Greenwood during any other time of year. Parking gets tough during the busier events, so having a place to walk from like this really helps!
Seeing Whatever the Sign Says
On the Main Street side of Inn on the Square, you'll see the hotel's sign adorned with a message of welcome. Hopefully, they keep up the dad jokes because seeing "I like pig butts and I cannot lie" really made my morning when we were in town. I mean, who doesn't like staying somewhere where you know the people in charge have a sense of humor? Hopefully, they keep upping the ante, because this not-so-seriously aspiring comedian definitely approves.
Comfy Rooms
I've been talking about all these other things and almost forgot about the most important part—the rooms. You can stay at one of the Inn's 48 rooms that are a part of the main building, and my oh my, they are nice! You can choose from their comfy and exquisitely decorated Executive (pictured above), Uptown, or Atrium Guest Rooms.
The Studios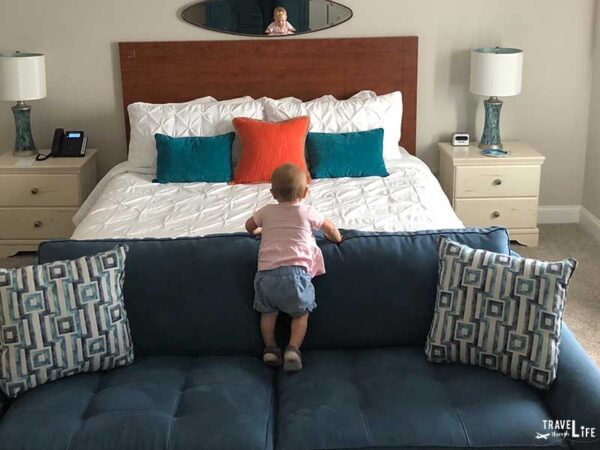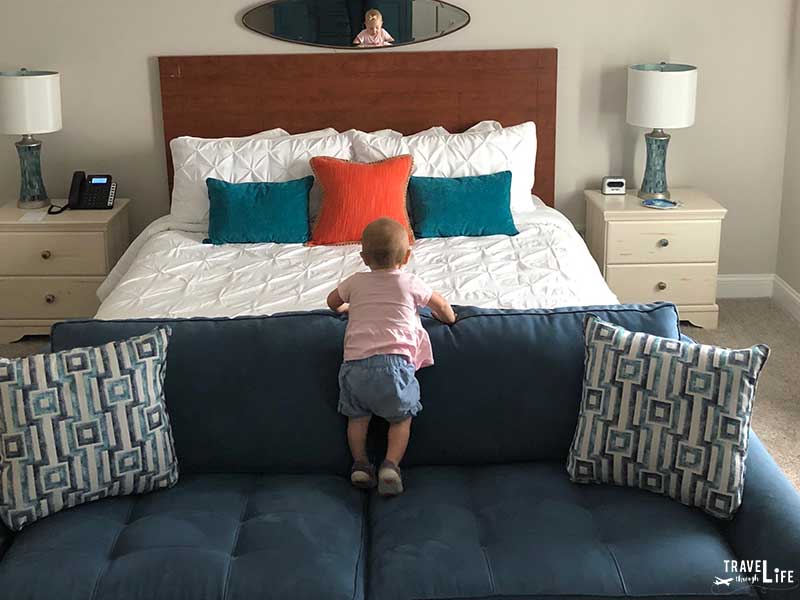 If you're looking to get away from everyone—I mean everyone—the Studios@118 are your ticket. For those traveling with a little one, I highly recommend this. You'll get a  king bed, sleeping sofa, stone shower, and massive jetted soaking tub for relaxing after a day out.
Cozy Common Areas
The lobby is perfect for relaxing before and after your days out in and around Greenwood. It was nice to relax and let our little one walk around before tucking her into a car seat for drives or the stroller for walks around town. Having space in our room and throughout the confines of our hotel is a big bonus!
Learn more about how we travel with our baby from her earliest days through toddlerhood! 
Great Food and Drink Spots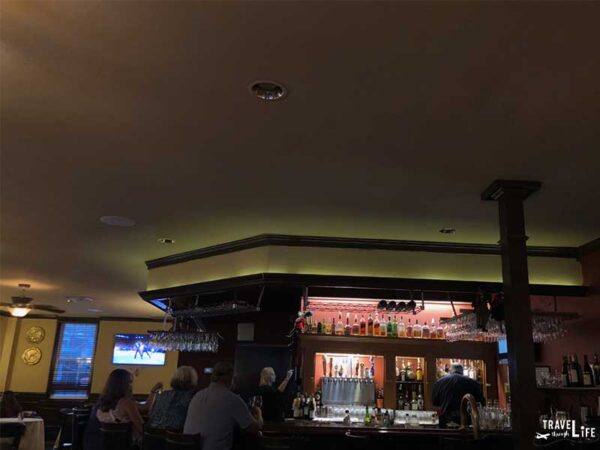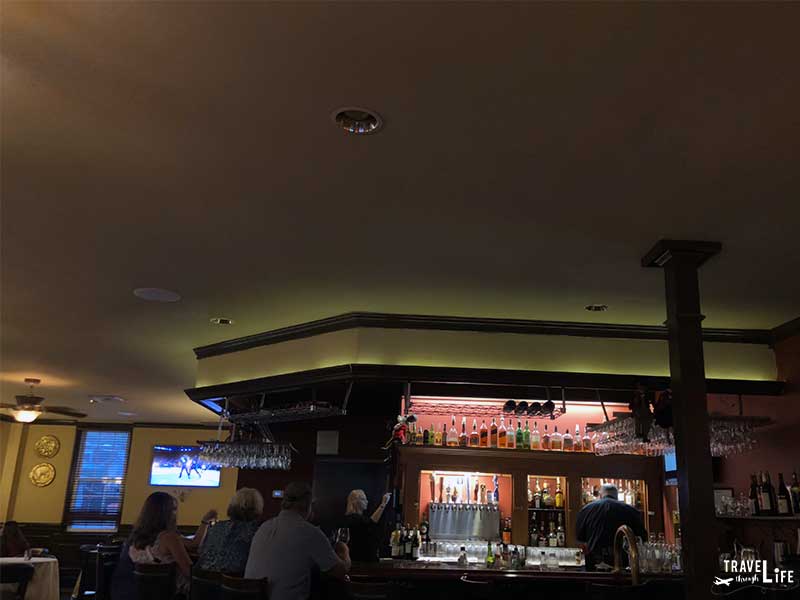 Inn on the Square guests also get access to Fox and Hound Lounge, which serves a wide variety of beverages. Food can also be served her via the Lounge Menu. If you're looking for a full sit-down meal, check out the on-site Carriage House Restaurant. They serve a nice breakfast to start the day, but also lunch and dinner throughout the week.
Fun Events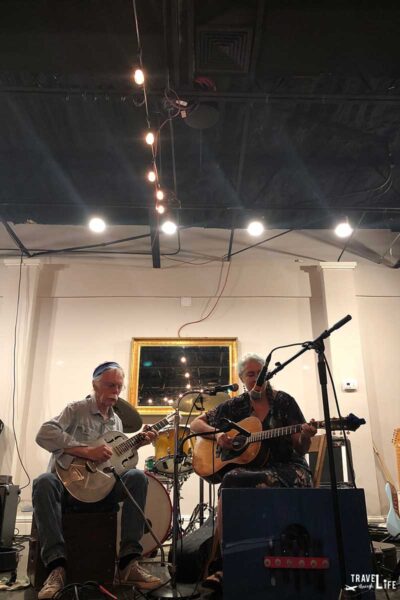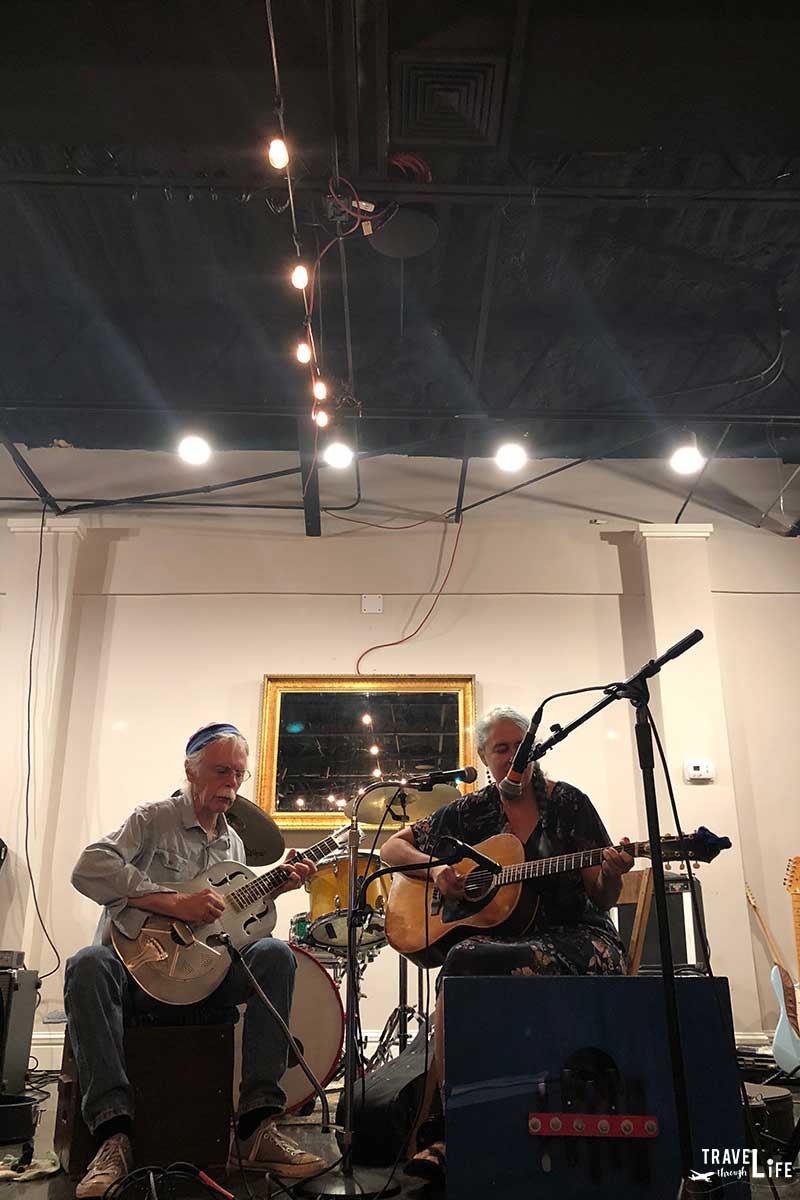 Even if you're not in town for the Festival of Discovery or the Festival of Flowers, the Inn should be up to something fun at the 2,500-square-foot Ballroom, which can host music events, weddings, or just about any other type of fun. Sunday Brunch (reservation recommended) is a big hit, especially if you're staying for the weekend and nice a nice boost before hitting the road.
For more info, check the Inn's events page, as they try to keep things as up to date as possible!
Small Town Southern Hospitality
We love small towns and Southern hospitality is also high on our list of favorites, so put these two together and you've got a winning combination. Everyone was so kind throughout our stay, even during such a busy time as the Festival of Discovery. Not only is the hotel great for families and solo travelers on business, the Inn is dog-friendly, too.
Final Thoughts and Yours, Too!
Inn on the Square has it made because it sits in an amazing location in Greenwood, but we think they go above and beyond in so many other ways. Great service, cozy rooms, and an overall relaxed atmosphere are more important to us anyway. If you haven't gotten a chance to pass through this awesome place to stay in Greenwood, please mark it down on your calendar and book at least a night there. Maybe you'll run into us at Inn on the Square, or somewhere else in Greenwood because we'll definitely be back.
Disclosure Note
This post on Inn on the Square is a part of our blog's series on South Carolina travel. It is also a part of our Hotel Guides series. There, we've featured places to stay, including Hyatt Place in Charleston, South Carolina, Proximity Hotel in Greensboro, North Carolina, and more! Special thanks to Old 96 District Tourism Commission for providing us with complimentary accommodations and meals at Inn on the Square. All opinions within this article are our own.