Affiliate links linking to products we love may be found within this article. For more info, please check our Disclosure page for more explanation of affiliates and sponsorships.

---
If you think that South Korea's Jinhae Cherry Blossom Festival is just another spring celebration, think again. We mentioned it as part of our things to know before you even travel to South Korea. Simply put, it's an awesome experience and worth your time. Thousands of cherry blossoms and millions of people come out at the same time for one of the world's best events. This is one of the best times and seasons in Korea and you have to make it there. Let's dig into how to get there and our own experiences and thoughts on this wonderful occasion in South Korea!
The Jinhae Cherry Blossom Festival also appeared in our feature on Spring Things to Do in South Korea. If you're looking for a place to stay nearby, check here for the best prices on hotels in Changwon before you head to the festival! 
The Jinhae Cherry Blossom Festival
Fun Facts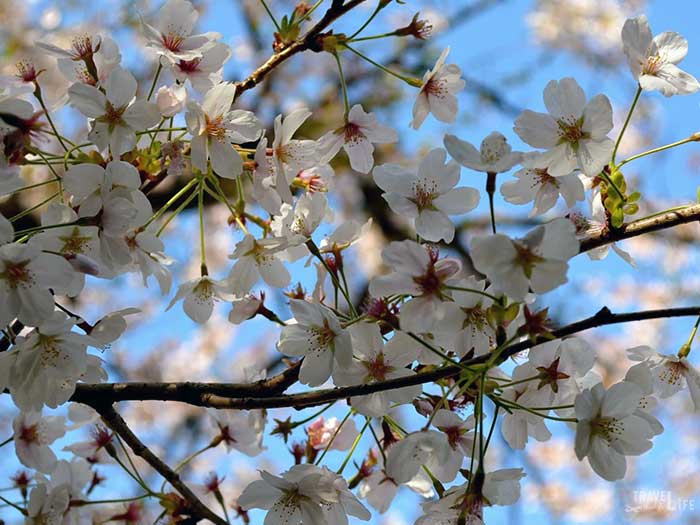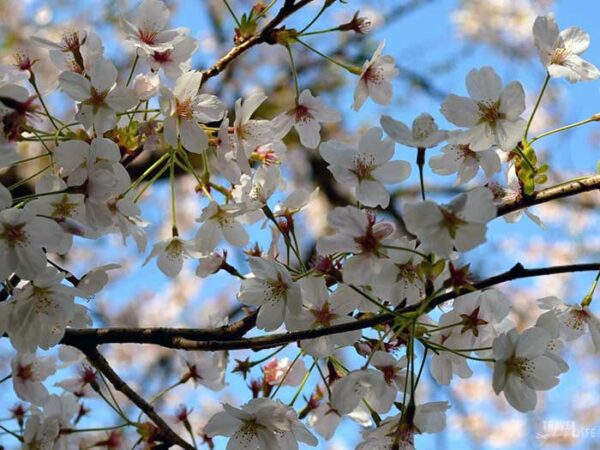 The Jinhae Cherry Blossom Festival made that always viral list of South Korea's 50 Beautiful Places to see. The festival has been around since 1952 when the city unveiled a statue of Admiral Yi Sun-shin. Over 300,000 cherry trees bloom to create one of the world's largest concentrations of cherry blossoms. Yeojwacheon Stream (see below) is well-known for its "Romance Bridge." K-Drama aficionados will know it for the TV show "Romance." It's estimated that millions of people descend upon tiny Jinhae—part of Changwon—for this amazing festival during spring in Korea.
Getting There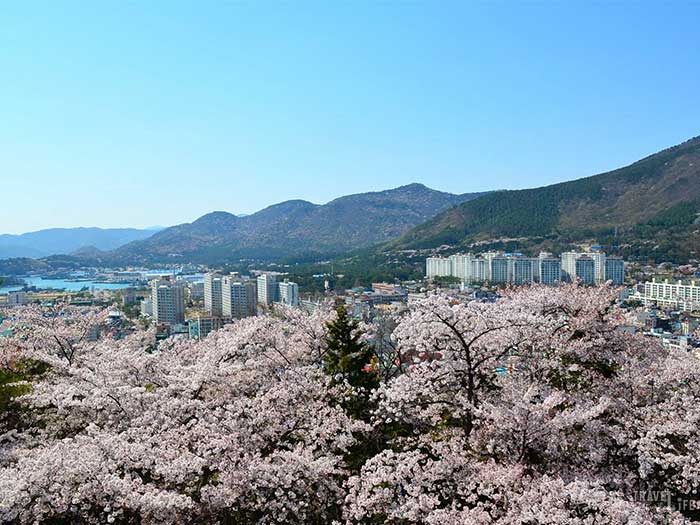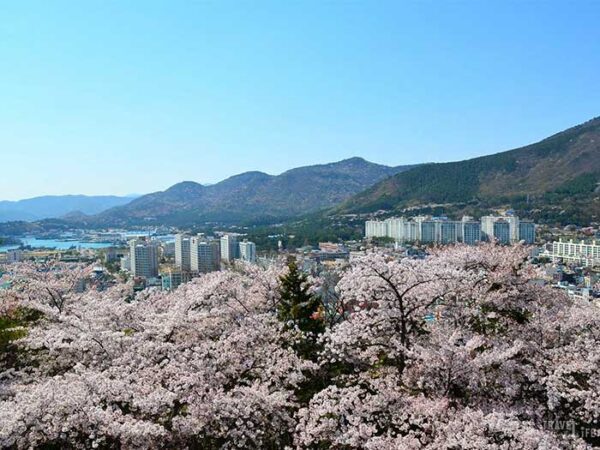 Lots of people go from Seoul to Jinhae and from Nambu Bus Terminal, you can take an intercity bus to Jinhae (진해) and after arriving, walk about 30 meters ahead towards Jungwondong-ro (중원동로) and turn right there. Walk for another 400 meters and stay left at the fork in the road. Walk another 200 meters and you'll arrive at the festival venue.
Bonus Tip: Traffic is a nightmare getting into the Jinhae Cherry Blossom Festival so I'd recommend you take the train (book in advance!) in and avoid all the gridlock that happens in this small town that usually doesn't handle so many cars. The scenery is beautiful from the train and it's much easier (and faster) than driving/riding on four wheels.
Festival Food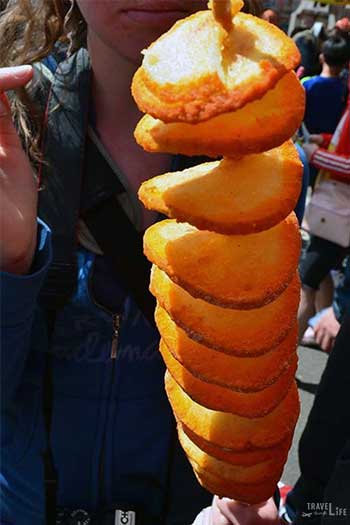 Words can't describe just how much food surrounds this festival. There's great Korean food there, but there's also a ton of western stuff to find and eat. Seemingly everywhere one can find whole pigs roasting over the open flame, Turkish kebab stands, and one particular spot where my friend and I completely double-take upon hearing shouts of "we've got hamburgers, real American beer here!" from an actual American guy and his friends. Each little alley leads to a new discovery and for people who don't live in Seoul or Busan, it's something of a western food paradise.
Beautiful Cherry Blossoms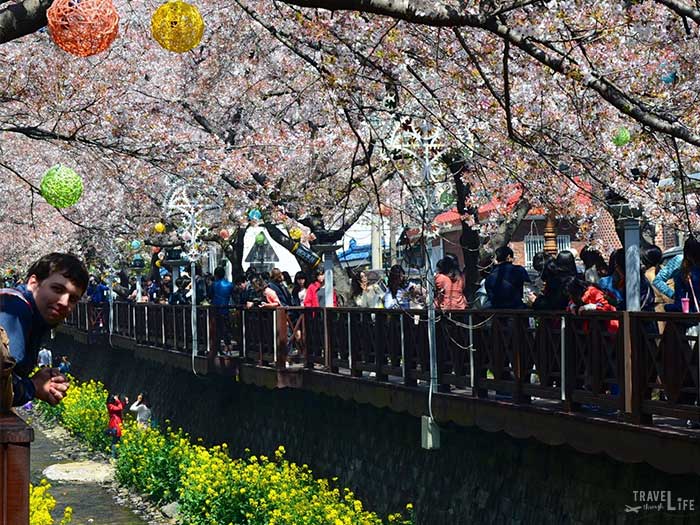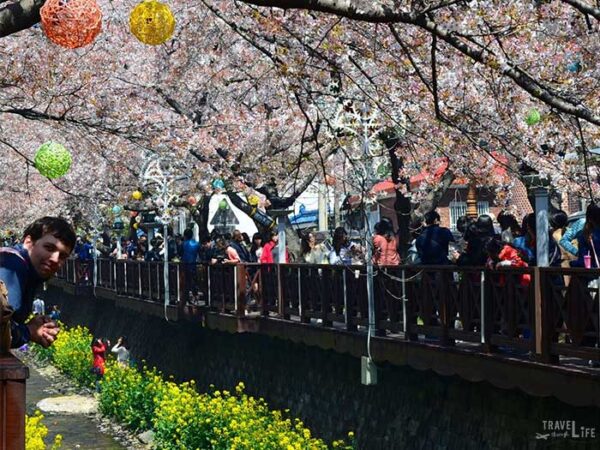 Yeojwacheon Stream can get hectic as the day drags on, but for good reason. The beautiful cherry blossoms are seemingly everywhere around the main festival walkways. Look for the One Year Stairs (365 steps to the top) and walk up to the top. From there, you'll get a necessary and awesome 360 view of the entire festival. Sometimes the blossoms will peak before or after the festival, but it's still a beautiful occasion. It's practically impossible to time these flower festivals without luck and a more flexible schedule but still, this was a worthwhile trip.
Festival Atmosphere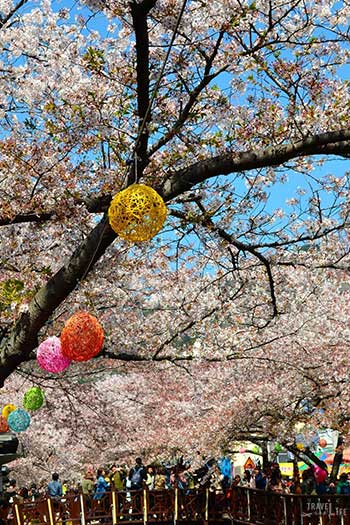 It can be easy to forget just how jolly Koreans become during festival time. Despite the enormous crowds and occasional elbows from old ladies, people are generally happy and friendly to interact with during a festival. Most of these events are usually meant to preserve past ideas and memories and in Jinhae's case, the Cherry Blossom Festival coincides with parades that recognize the famous Admiral Yi Sun Shin and his victory over Japanese invaders nearly 500 years ago. If you're there at the right time, you'll find music booming and people laughing all over the place.
Our Thoughts and Yours, Too!
People just seem to be in good spirits at these events and happiness is contagious. I want more festivals and for them to happen more than once or twice a year. If you're in the country during spring and want to see a good time away from Seoul, this event is something you should put down on your South Korea travel itinerary. The Jinhae Cherry Blossom Festival is not just about those beautiful flowers, but man, they're just too gorgeous to avoid as the main reason to go.
Have you ever traveled to Jinhae for cherry blossoms? If you have been to the festival, what did you think of it? Do you have anything like this where you live? If you're looking to enjoy the spring season in Korea, let us know what you'd like to do and we'd be happy to help. Either way, we'd love to read your thoughts in the comments section below:)
This Jinhae Cherry Blossom Festival travel guide is part of our blog's series on South Korea Travel, East Asia Travel, and Asia Travel. It was originally created on April 9, 2014. It has been maintained and updated (as of February 8, 2019) to reflect current viewpoints and travel trends.