Affiliate links linking to products we love may be found within this article. For more info, please check our Disclosure page for more explanation of affiliates and sponsorships.

---
The Raystown Lake Region in Pennsylvania is a pretty popular place to visit during summer. But after learning about their winter-themed Fireplace Getaway experience, I decided this is the perfect spot for a cold-weather retreat.
There are quiet and cozy places to stay, fun programs brought to you, and access to attractions that are normally closed. And if you're like us and look for ways to avoid crowds, I think you'll like the idea of getting away from them and everything else this winter in the Raystown Lake area.
All you have to do is bring a group of your friends or family (8-20 people) between January and March to Huntingdon County, Pennsylvania. Then, just kick back, and enjoy yourself in Central Pennsylvania.
This post is part of our series on all the awesome places to visit in Pennsylvania. We originally created it on December 4, 2019.
Winter in Raystown Lake PA
Getting to Raystown Lake
By Car
If you're planning a road trip, Pittsburgh is the closest city to Raystown Lake (45 minutes). DC and Northern Virginia (3 hours), Cleveland (3 hours), and Philadelphia (4 hours) are also within a half-day drive.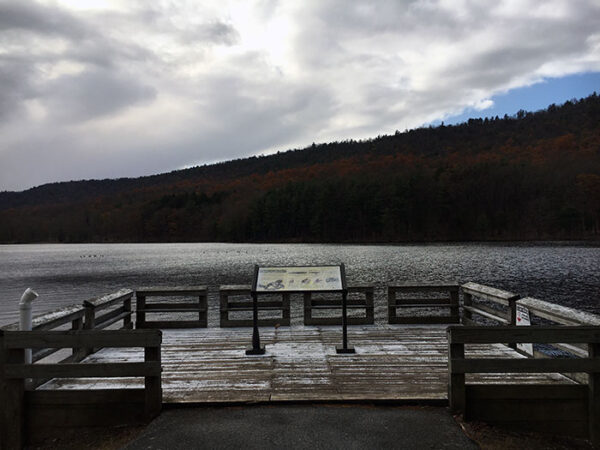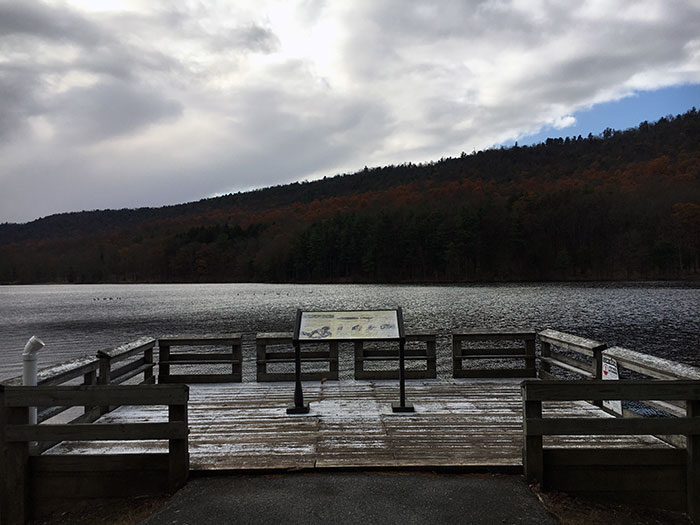 If you're driving to Raystown Lake and Huntingdon County, I highly recommend taking some extra time for stops along the way, especially if it's sunny outside. I was blown away by the scenery and took time for photos here and there.
If you prefer shorter, less romantic trips, you can fly into State College or Altoona. Both are growing and becoming more convenient from airports all around.
Picking Your Unique Raystown Lake Rental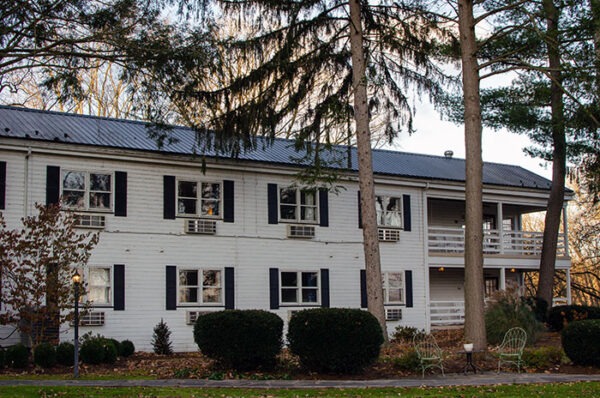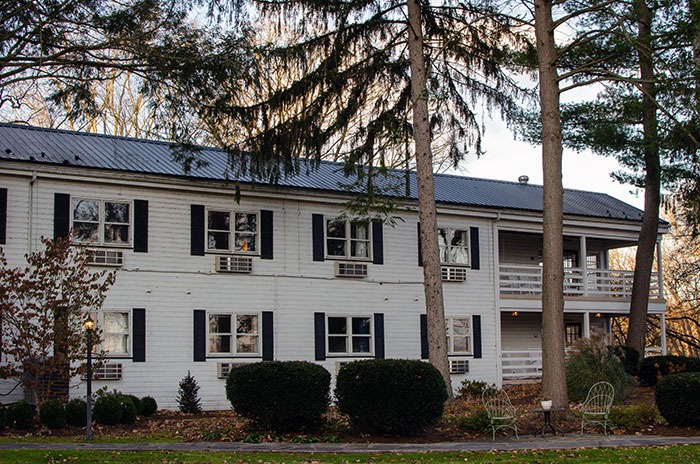 The first step to enjoying winter in Raystown Lake is picking your place to stay. I spent a couple of nights at Edgewater Inn & Riverside Grill in Alexandria. This historic property sits on the Frankstown Branch of the Juniata River. It offers nice views of the surrounding valley and mountains in the distance.
This area is very popular during summer, which means there are plenty of Raystown Lake rentals in various shapes and sizes of cabins and massive homes.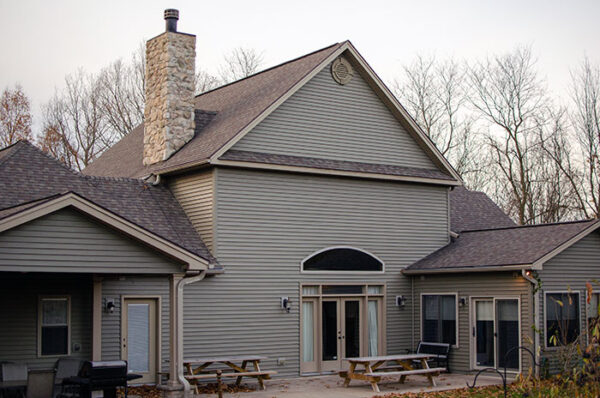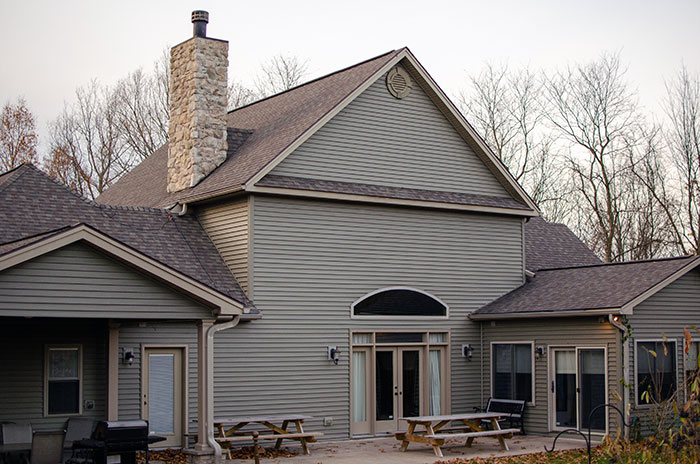 I was lucky enough to see a few of them in person, including Shamrock, one of the chalets of Raystown (massive and close to Seven Points Marina) and Heron's Cove (lower level wood stove!).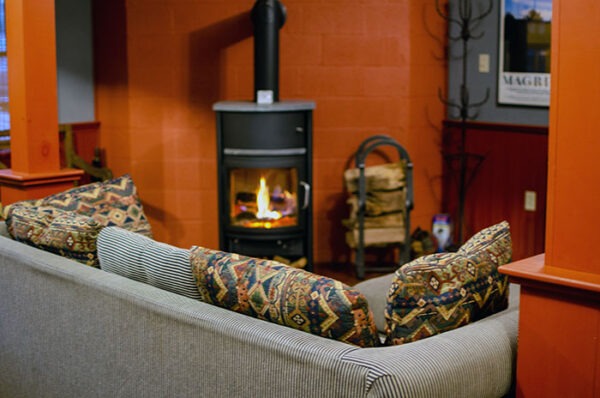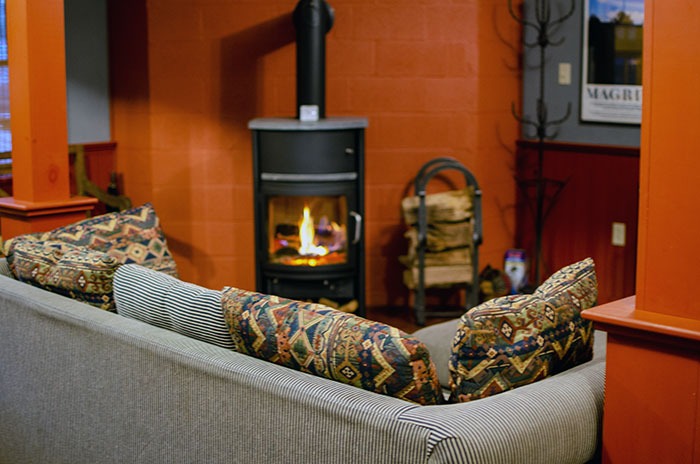 Honestly, I'm having a hard time picking a favorite. Which of these places would you book with friends when planning your fireplace getaway? You can learn about more participating properties to rent here.
Fun Activities Delivered to Your Lodge
Choosing your Raystown Lake rental is half the fun because you then get to choose a program that will come to you or one that you can experience outside. As an added bonus, you get to experience one for FREE, courtesy of Huntingdon County Visitors Bureau.
Here are your options:
Coffee Cupping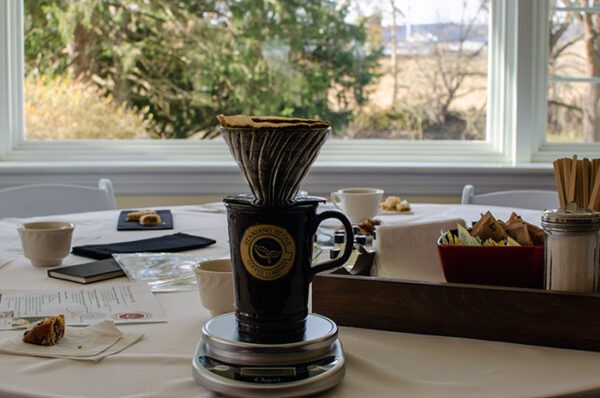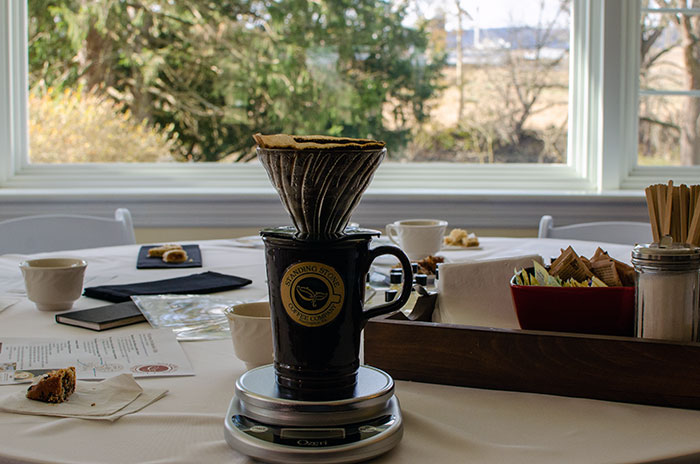 Before Greg Anderson, the owner of Standing Stone Coffee shared "Coffee Cupping" with us, I had no idea what to expect. During this interactive presentation, he shared the story of "farm to cup," the history of coffee production, original makers, and types of brews.
He ended things with a "cupping," which is an interesting way to taste and experience coffee.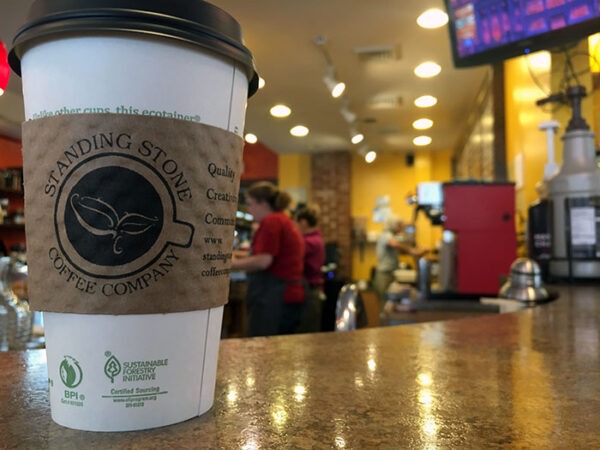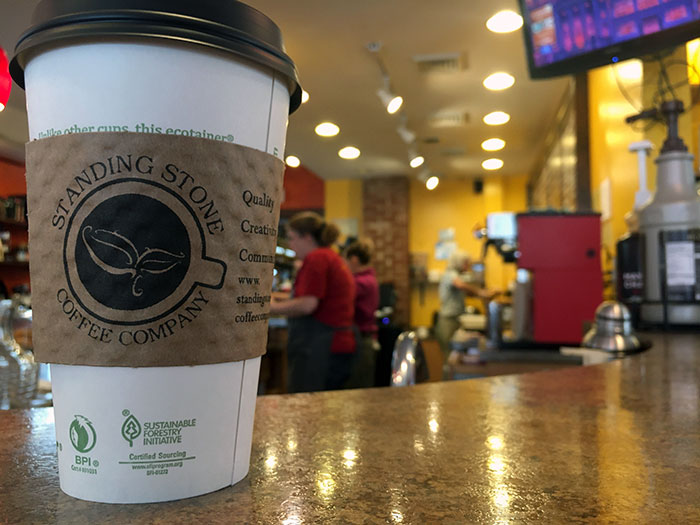 Greg also brought tons of coffee for us to enjoy. I liked it so much that I had to visit his shop in Huntingdon on my way home.
Cake Decorating
Even if you don't watch Cupcake Wars or the Great British Bakeoff, a Cake Decorating class with area master Jana Weaver will up your "caking" skills. You'll learn the basics, including how to split, stack, fill, crumb coat and finish a single-layer funfetti cake.
No matter how yours turns out, you'll come away better prepared for the next time you're called upon to deliver a cake for a friend or family.
Painting
Rebecca Reck of Bluebird Designs is a local professional artist who'll stop by and help you create a masterpiece. Whether you're a novice or sell your own works of art, this Painting class is a fun way to spend a few hours.
Kind Yoga
Experienced instructor Tracy Lake will take you on a journey of refreshment and rejuvenation through a Kind Yoga session. And for those unfamiliar with Kind Yoga, Lake will teach the basic tenets and benefits of the practice.
Raystown Lake Adventures Outside Your Rental
You also have the option of venturing out and enjoying three attractions that are either not open in the winter or only open by appointment.
Lincoln Caverns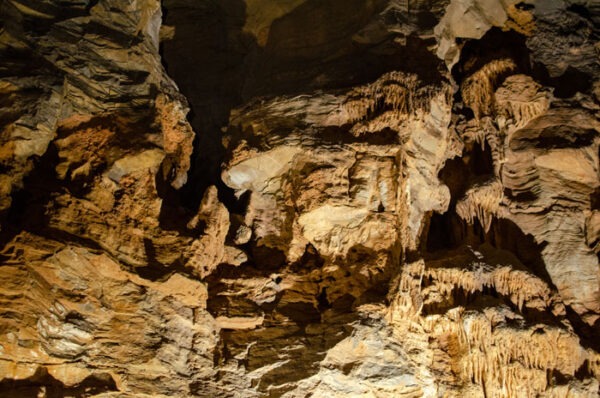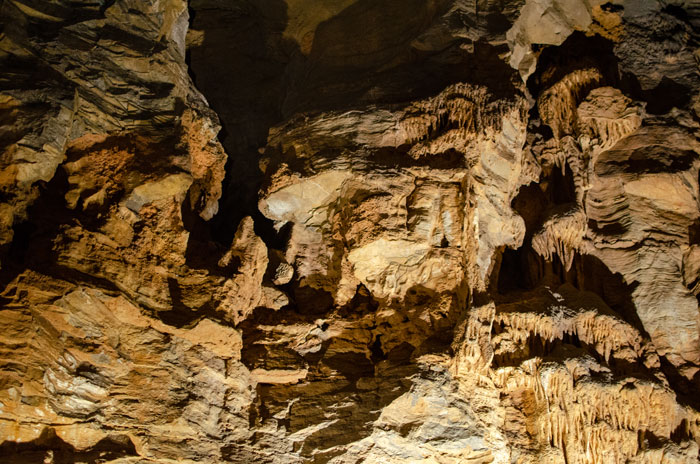 I was so happy to see Lincoln Caverns and not just because of all the cool flowstone and stalactites inside. If you visit during winter, the caverns' 50-degree temps will feel like a sauna compared to outside.
Black Light Adventures at Lincoln Caverns (Every Friday from 6:00 pm to 9:00 pm) is a bonus for January visitors. With special lights shining on the crystals, you'll see their phosphorescent beauty unveiled.
Isett Heritage Museum
The Isett Heritage Museum is a collection of unique antiques and memorabilia that spans more than a lifetime. 40,000 items from the 1800s to today are on display in three buildings and are waiting for you to come and check them out.
Swigart Museum
The Swigart is the oldest automobile museum in the US, with cars and carriages dating back to 1896 in their collection. It's a family-owned museum and exhibits are rotated on a yearly basis.
Popular cars in the collection include a Delorean, the one-of-its-kind Duesenberg 12-cylinder Gentleman's Speedster, and Herbie the Love Bug.
Additional Winter Things to Do in Huntingdon and Raystown Lake
Raystown Lake Overlooks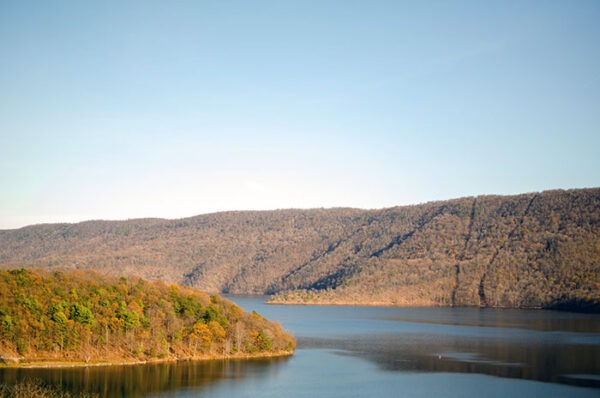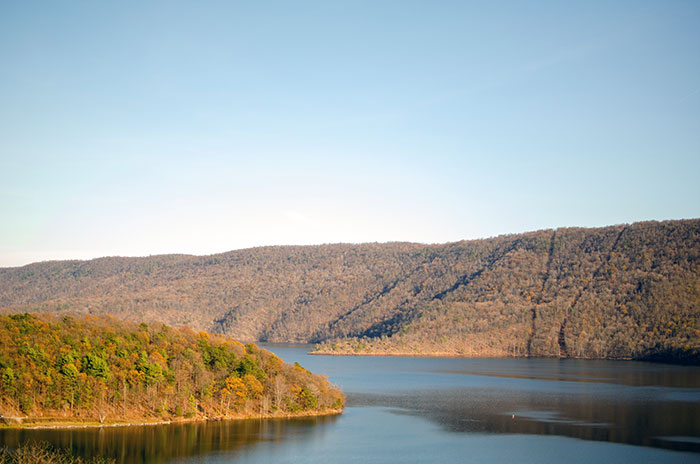 It might be too cold to swim—unless you like Polar Plunging (see below)—but don't forget that the lake is beautiful throughout the year. And I can't think of a better way to experience Raystown Lake during winter than looking down from an overlook.
Ridenour Overlook and Hawn's Overlook are home to two of the best. They're just a short walk from each other.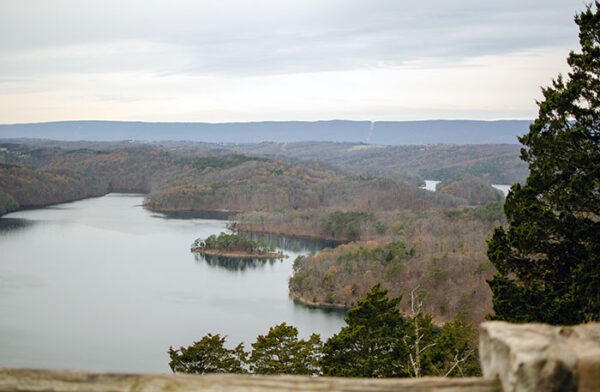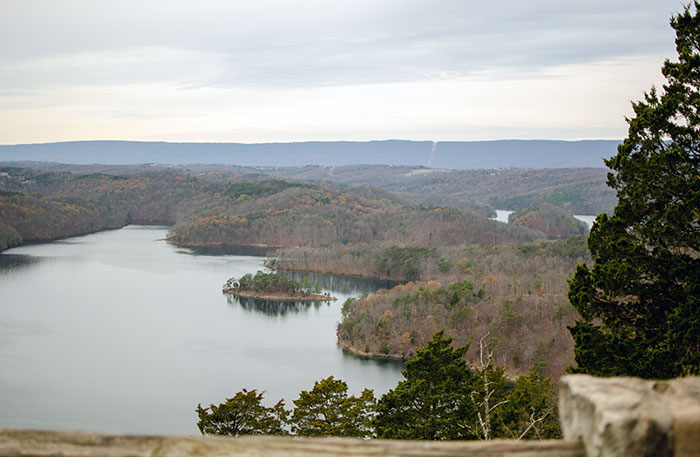 The overlook behind the Raystown Lake Visitors Center is also worth a visit. From there, you can enjoy a nice look down at Seven Points Marina.
Enjoy these Huntingdon Restaurants (and a Winery!)
Unless you're enjoying meals at the Edgewater Inn, you can't spend the whole time cooking for yourself. Here are a couple of awesome Huntingdon restaurants that keep things local, fresh, and delicious.
Three Twelve
Formerly known as Mimis, Three Twelve (312 Penn St) is a chef-forward restaurant that makes everything in-house, except for the pasta. Their daily lunch specials and rotating Saturday brunch keep things interesting enough.
However, I'll be back for mains like the Duck Breast and the Crab Cakes.
Boxer's Cafe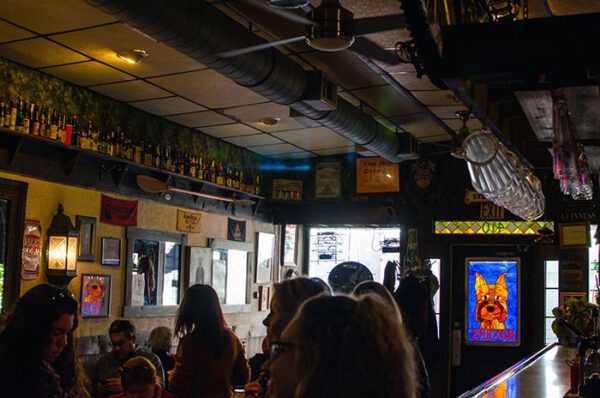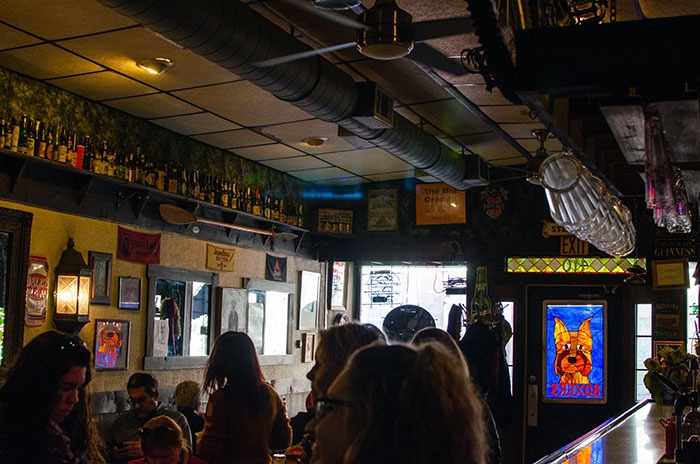 When I travel, I tend to eat…er, as decadently as possible, which is why I'm happy for places like Boxer's.
Sure, this place offers Cheesesteaks and Buffalo Chicken Sandwiches served on Philly rolls. But Boxer's also serves lighter and vegetarian options like the Boxerito—refried beans, cheese, lettuce, olives, and yummy salsa all packed into a flour tortilla.
Add in the fact that Boxer's has been sourcing as local as possible for all 25 years of their existence and I'm ready for a return visit pronto!
Taste at Reklaimed Wines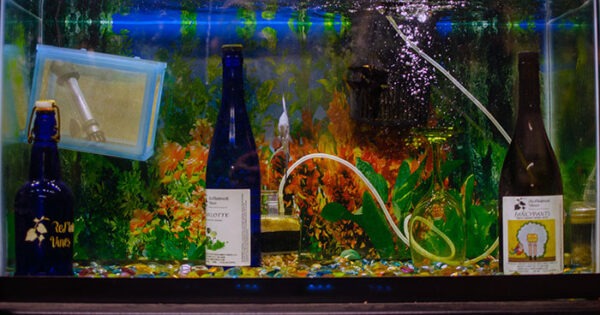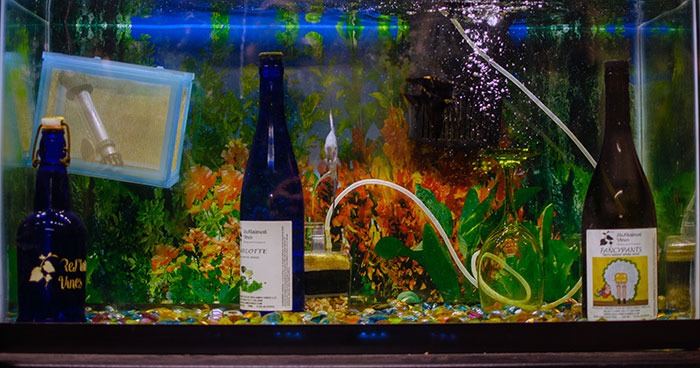 I promised a winery but didn't mention there was an inspirational story behind it. The story of Reklaimed Wines started before it opened when Charlie Knouse was recovering from a bout of Lyme disease. Knouse decided it was time to pursue his longtime dream of starting a winery.
That dream has come to fruition, as he and his wife Kristy have built a successful tasting room that features wines brought from home 30 miles away to Huntingdon.
A tasting is a must and if you need a recommendation, I say take a bottle of Bootlegger's Apple with Spice to sip solo or mix with something hot.
Winter Events in Raystown Lake at Huntingdon County
Beyond all the fun things to do and places to eat and drink, you'll also find some interesting events in Huntingdon County during winter.
Greenwood Furnace State Park hosts a First Day Hike (January 1), taking you along trails in the surrounding Rothrock State Forest. Greenwood Furnace also hosts a Snowfest & Polar Plunge (January 18). Before and after jumping in the cold water, enjoy a 5-mile race, music, a beach bonfire, and more fun.
And we mentioned Blacklight Adventures at Lincoln Caverns, but come out (or in?) for Batfest in February. During this fun event, a local wildlife rehabilitator will provide updates on the Indian Caverns Bat Habitat Project. Of course, games and crafts will join more fun during Batfest, too!
Ready for Your Fireplace Getaway in Raystown Lake?
I'm already yearning for more time at Boxer's, Lincoln Caverns, and all the other fun things to do when in Huntingdon County. If you're looking for a new adventure this winter, look no further than this patch of Central Pennsylvania.
For more info about this exciting opportunity to spend winter in Raystown Lake, check here.
Have you ever visited Raystown Lake and Huntingdon County? What did you think of this area? If you've never been before, we'd love to know what you're excited to try first! Just let us know in the comments section.
Disclosure Note
Special thanks to the Huntingdon County Visitors Bureau for hosting me. All opinions within this article are my own.