Affiliate links linking to products we love may be found within this article. For more info, please check our Disclosure page for more explanation of affiliates and sponsorships.

---
Bua Thong Sticky Waterfalls was the coolest looking day trip away from Chiang Mai when we were researching the area. It was a no-brainer. We had to go. It's about a 1–2-hour drive from the city, and totally worth it if you've got a morning, a car or motorbike, and the need for some cool water in a totally unique setting. Follow this guide and you'll see just how amazing Thailand's Bua Thong Sticky Waterfalls are and how they should fit your Chiang Mai itinerary.
This article about Bua Thong Sticky Waterfalls is a part of our series on Thailand Travel and Southeast Asia Travel. It was originally created on October 28, 2017. We loved Chiang Mai and can't wait to go back. If you're looking for a place to stay there, check availability and best prices on hotels in Chiang Mai here!
Bua Thong Sticky Waterfalls
The post has been maintained and updated (as of November 9, 2018) to reflect current viewpoints and travel destination trends.
Fun Facts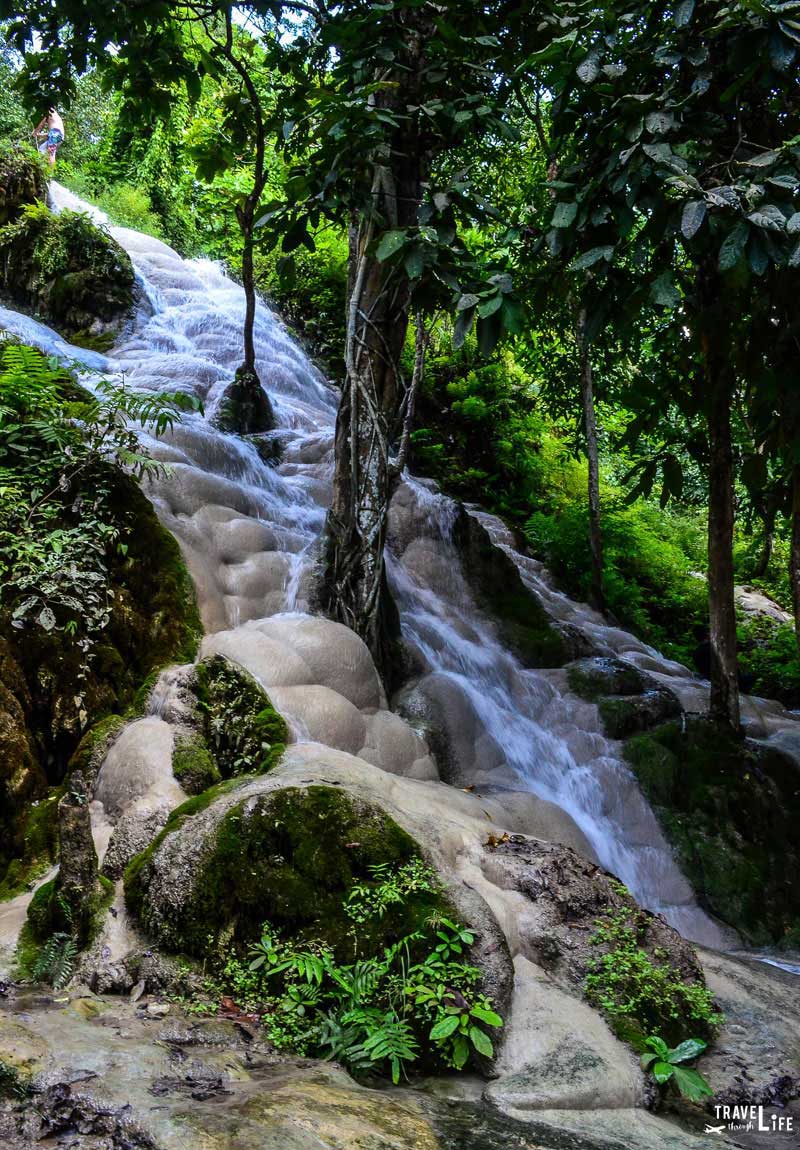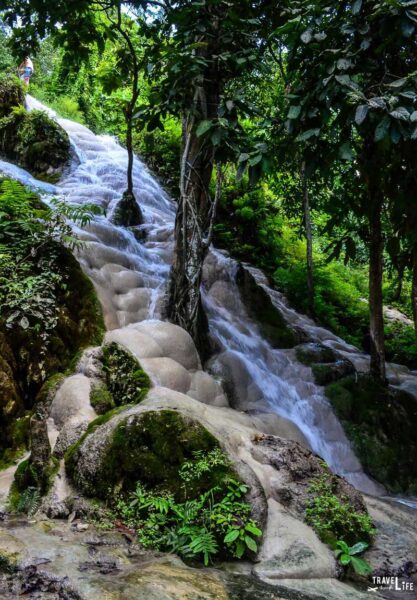 Bua Thong Waterfalls are nicknamed "Sticky" because of the limestone that creates just enough friction to prevent slipping when wet. It's not necessarily slide-friendly because of how rough the rocks feel, but they're perfect for climbing up and down. There are five levels of waterfalls, but even as large as the place may seem, it can still fill up. It may not have made Western and Chinese tour itineraries (yet), but many Thais know about this place and will visit, especially during Songkran.
Sticky Waterfalls Visitor Tips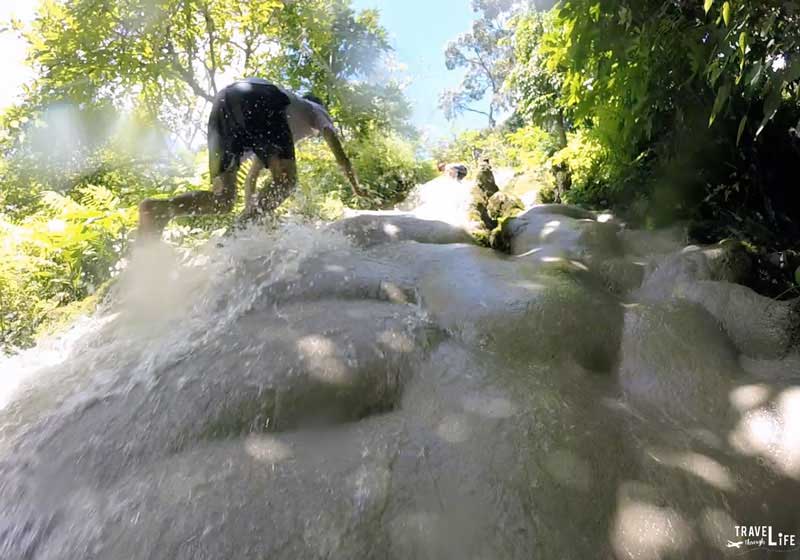 There are no lockers, so if you're planning on traveling to Bua Thong by motorbike or otherwise, I"d recommend bringing a dry bag to store your valuables. Bring a change of clothes and food, as there isn't much to eat there. Get there early and you'll avoid the crowds that may or may not end up there. I think it's great to have your own patch of limestone for photos and just general relaxation of the water.
How to Get There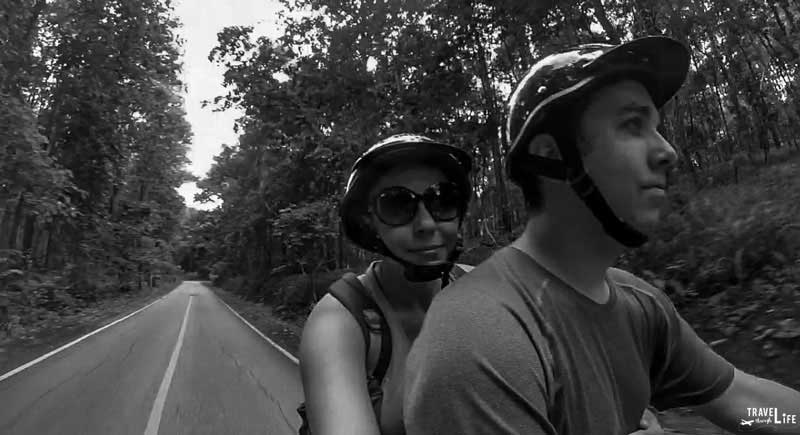 Thanks in Part to JohnnyFD.com
Follow these directions and you should get there in about 1-1/2 hours depending on how fast you drive. Drive on the superhighway toward the Central Festival Mall in Chiang Mai and follow exits towards the 1001 highway that goes towards Phrao. Stay on 1001 the whole way and ignore any business route distractions. Mae Jo University was a good landmark and hint that we were going the right way. Just don't veer away at this point. At some point, you might get confused and think you're lost but a sign will tell you that you're 18km away. Keep on truckin' and you'll see something that resembles a police checkpoint that was unmanned when we came through. Turn right before that and you'll be on the beautiful forest road that leads to Bua Thong. Park at the Bua Thong Waterfalls entrance and have fun!
If you're not feeling the drive out there, another option is to join TakeMeTour's private day tour with a local who has experience exploring the waterfall.
Be Careful but Enjoy the Ride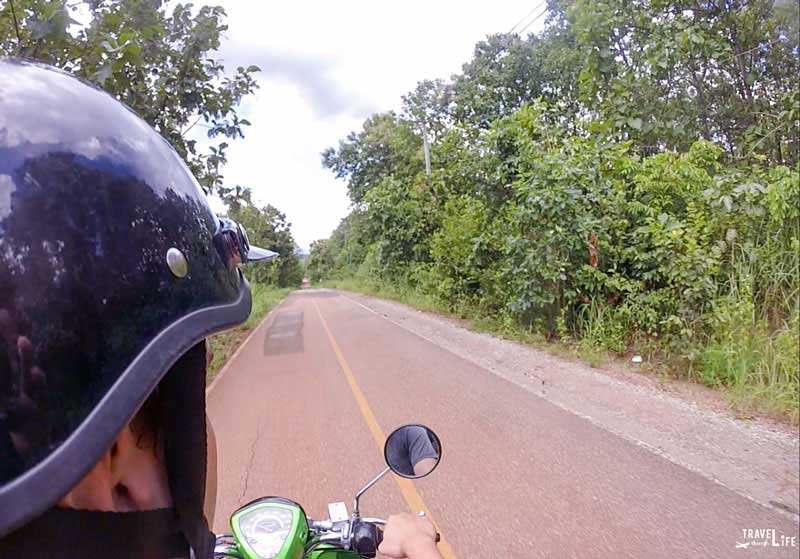 The people at our hotel warned us against this ride and I really can't figure out why. Just stick to the left sides of the road and keep away from the traffic and this is an easy ride. All 50ccs of the motorbike handles the trip very well. Traffic picks up from time to time and the ride gets noisy for the parts that run along the busy highways surrounding Chiang Mai but you'll eventually reach quiet and green surroundings that occasionally run into small towns and lush open spaces.
Climbing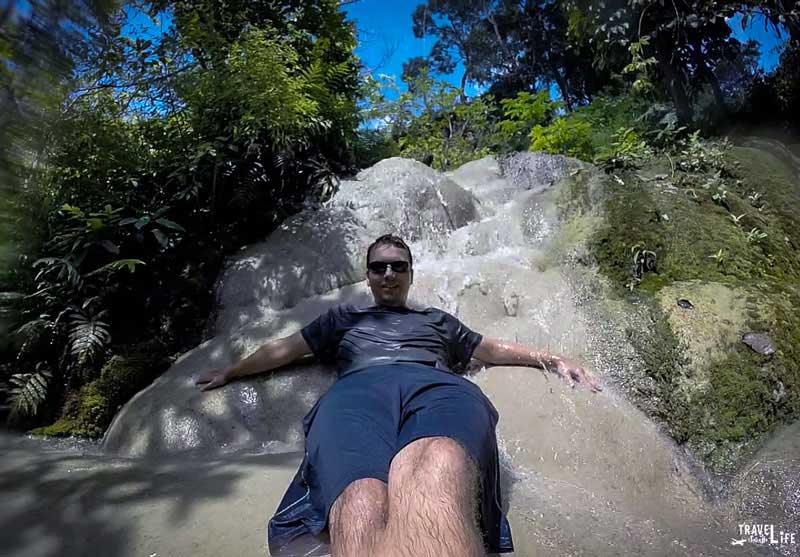 From a distance, one might think the water chugs down a series of muddy canals similar to the Mekong or other brown rivers. I was skeptical that one could walk on the travertine limestone waterfalls that have taken millions of years to form. That was until I saw some kids gracefully running up and down them like they've been doing it forever. Stairs lead all the way down to the bottom and third level, which is where we go in search of a spot to put our stuff. The water rushes gently down the rock steps and won't ever threaten to knock you over at any point. For walking around, I'd recommend some good water shoes like Teva or Keen. When climbing the sticky waterfalls, you'll see some green algae on the outside. Those with common sense say not to test it, but I did anyway and slipped a bit. Don't be like me in that situation or you could end up in bad shape!
Our Thoughts and Yours, Too!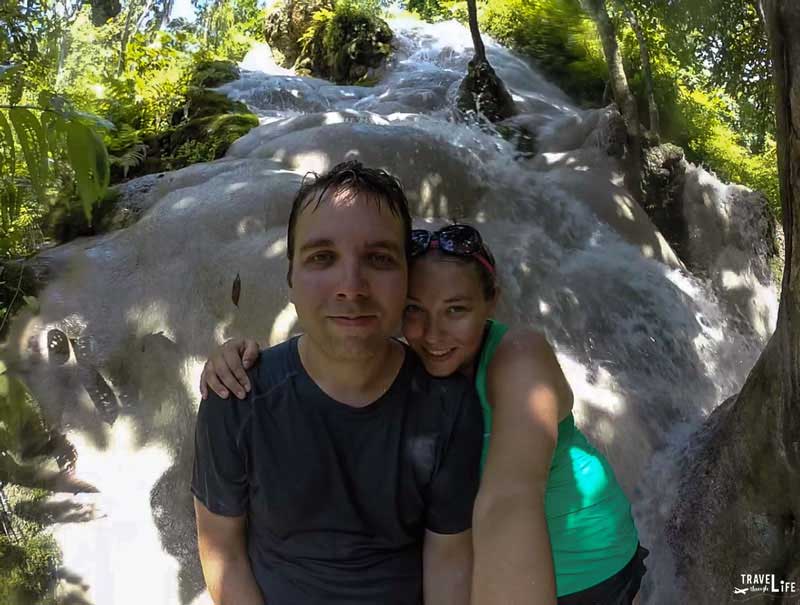 Visiting Bua Thong Sticky Waterfalls is one of the best things to do in Chiang Mai. Honestly, we think it's one of the most fun things to do in Thailand! Well, maybe other than playing with elephants. It's one of the many reasons that we've fallen in love with the country and find it near the top of our favorite travel destinations. It's also why we're particularly partial to Northern Thailand.

Ok, maybe you can act like you're sliding for a photo. No judgment! So what do you think? Have you ever been to Bua Thong Sticky Waterfalls? What did you think? If not, ever planning a visit there? We'd love to read your thoughts in the comments section:)