Affiliate links linking to products we love may be found within this article. For more info, please check our Disclosure page for more explanation of affiliates and sponsorships.

---
We fell in love with Chiang Mai, Thailand for a wide variety of reasons. Whether it was the daily dose of delicious food, the walks around fabulous temples, or the drive around the city's outskirts, we were amazed at all the things to do in this city. And that's why you're getting this love-filled Chiang Mai travel guide because we really do have a big soft spot in our hearts for that amazing city.
Chiang Mai Travel Guide
This is part of our series on Thailand Travel and also Southeast Asia Travel. It was originally created on March 25, 2016. It has been maintained and updated (as of December 27, 2018) to reflect current viewpoints and travel trends.
When to Go
Compared to the rest of Northern Thailand, Chiang Mai can get quite hot. Much like the rest of the region (and Thailand as a whole), the city's tourism peaks between October and February. That's when the weather is at its coolest and driest. You'll find the best weather during this time of year but also the largest crowds. Many people will also be traveling around the country as a whole for the major holidays, like Songkran and Loy Krathong. If you take a chance and visit Chiang Mai during the wetter months (July to October), you'll find smaller crowds but heavier rainfall. We did that and had some rain, but also some wonderfully sunny days. Just keep that in mind when you're picking when you'll be traveling.
Where to Go
Chiang Mai Points of Interest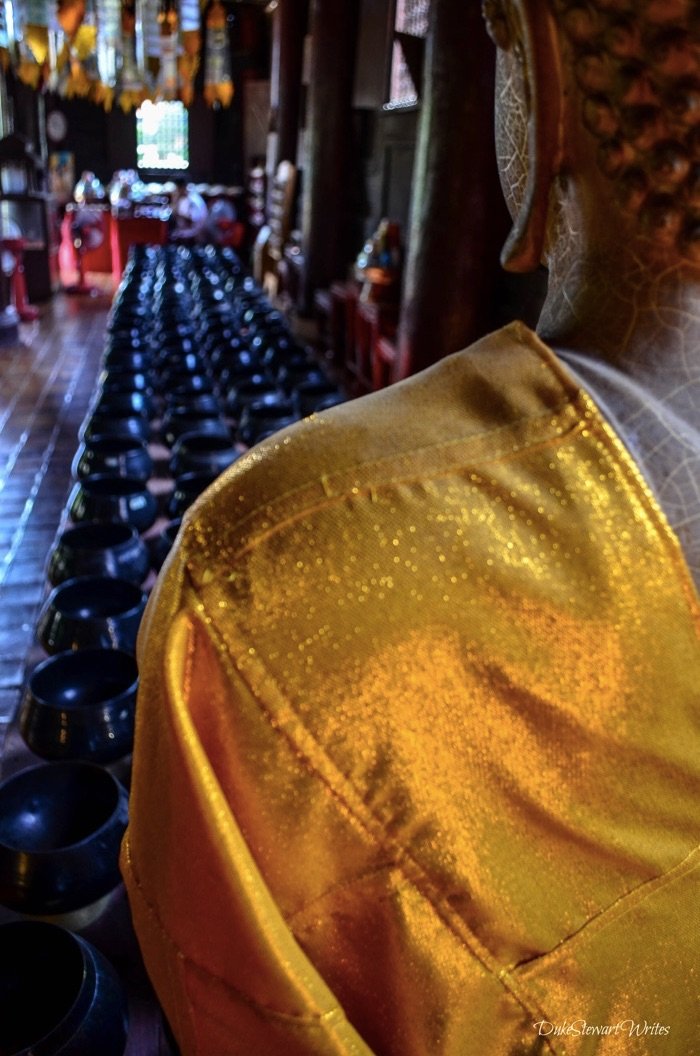 One of the best places to visit in Chiang Mai is its Old City, which I recommend if you want to get a good start near the action. Nimman Hyemin is well known as more university-friendly and not too far from everything. The Riverside seemed like the most romantic part of town and was filled with beautiful views of the water. Either way, it's well known that Chiang Mai hotels subsidize lower prices in the name of booking commission-rich tours for guests. The highlight of our Chiang Mai tour experience involves a fabulous day of playing with elephants (not riding).
The Temples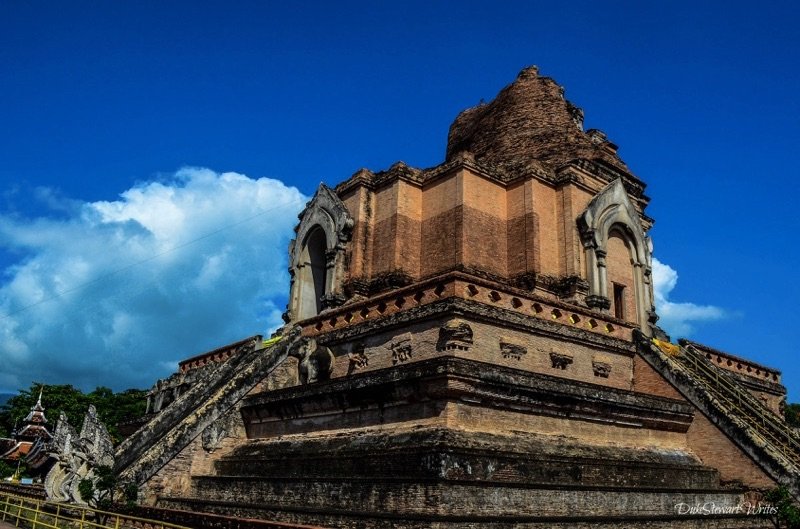 I truly love Chiang Mai's more relaxed atmosphere compared to the in-your-face nature of Bangkok. Much of that comes from its over 300 temples, which are hard to avoid. Some of our favorite temples include Wat Chedi Luang (pictured above) and Wat Chiang Man. You'll see beautiful structures and Thai Buddhist monks walking around. Some temples offer monk chats to spread their message to visitors from all over. My only experience was with a young man inside the Wat Chedi Luang complex. He was considering leaving the faith, due to all the rules he had to follow. Hopefully, he made the best decision and is doing well these days!
Food and Drink
Chiang Mai Food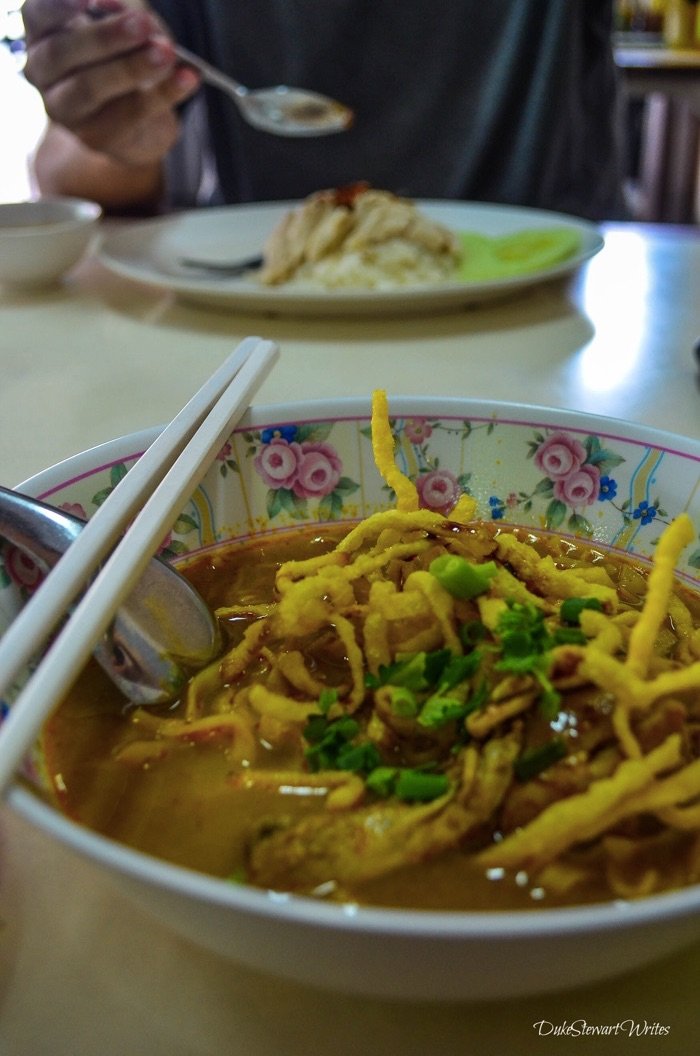 No matter where you've just come from, Northern Thai cuisine puts every previous meal you've had to shame. Referring to pineapple fried rice as standard Thai fare does it a bit of disservice, but that's what happens in this part of the country. Northern Thai food's distinction comes thanks to geography, as one can find different varieties of vegetables and fruits here. Its proximity to neighboring Myanmar and Laos also help, as I'll never get over those hearty and delicious bowls of Burmese-influenced Khao Soi that were pretty much a daily requirement.
North Gate Food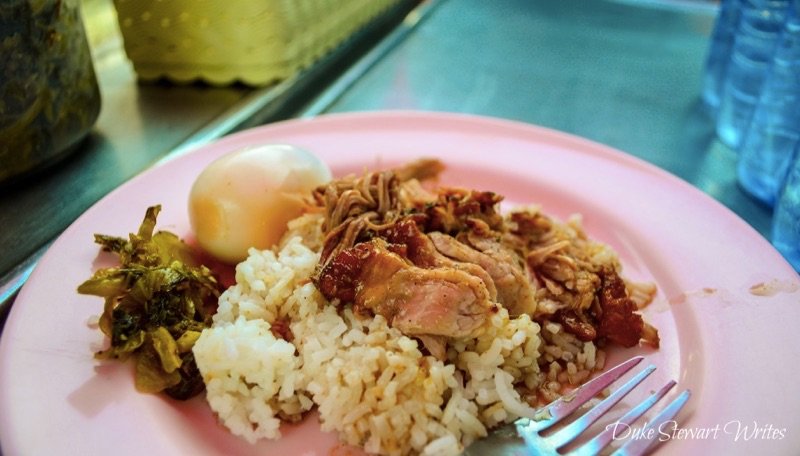 After cycling or riding the many Chiang Mai hotspots, our bellies always grumbled for a visit just outside the famed North Gate for food. Following Anthony Bourdain's lead, we searched out the "Cowgirl" who allowed a photograph after we bought some of her absolutely delicious marinated pork leg with rice and other sides. Thankfully it came in portions that leave enough room in one's belly for a sampling of the other awesome stalls in the area. I could handle two plates before tapping out but am sure others could withstand a more brutal assault. Come hungry or you'll be sorry.
Coffee Shops and Co-Working Spaces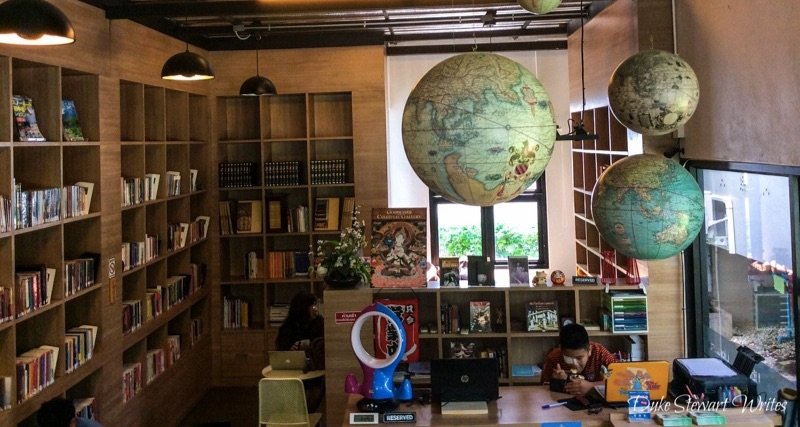 As delightful and exciting it is to play with elephants and going for motorbike rides, I'm a writer and have deadlines to meet while traveling. Coffee shops are easy to find and most have Wi-Fi available, as long as you're buying a coffee or some mango sticky rice. Chiang Mai's abundance of co-working spaces are worth noting because why wouldn't you want a place that offers good Wi-Fi, free food and snacks in exchange for a couple of dollars per day? The co-working spaces and cheap cost of living convinced me why so many digital nomads have chosen this city as a base.
Chiang Mai Surroundings

We love Chiang Mai for the comfortable Northern Thai bubble that one could easily get stuck inside. I could spend years exploring all the wonderful places that surround the city. We rode the 760+ curves away to Pai and completely chilled out in that backpacker's paradise for a while, and probably could've just given up on life while there. Having a motorbike opens up a bevy of possibilities when in Chiang Mai. The aforementioned Doi Suthep is a more manageable set of curves up and down a couple of mountains and leads to a beautiful temple and much more if you have enough gas to make it.
More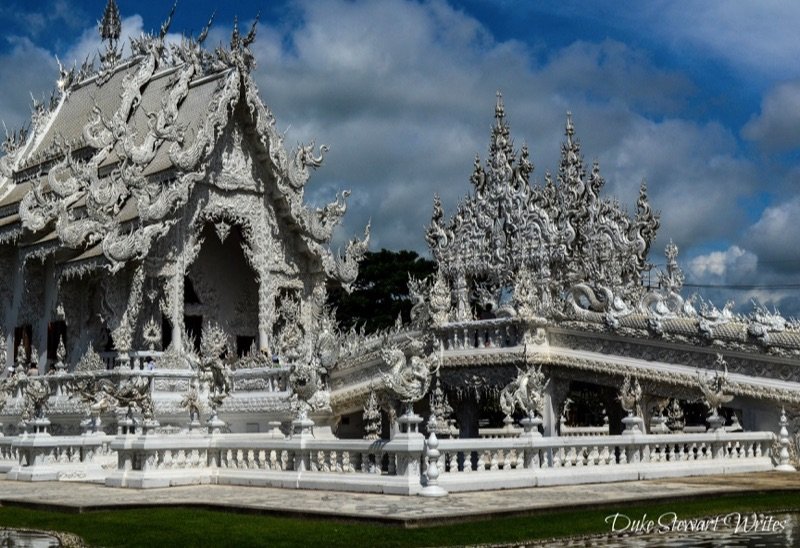 Our hotel urged us to book a car to reach Bua Thong Sticky Waterfalls but after a nerve-wracking ride along highways and country roads, we made it back in one piece and hardly a scratch on the rented scooter. My one regret is the 14-hour Golden Triangle Tour that pushed my exhaustion levels through the roof. Chiang Rai's White Temple was the one positive takeaway from that day but it's possible to do that alone. Very few tours are going to be as uplifting as our day at the Elephant Retirement Park, and I'm not the only person to vouch for that type of experience.
Caution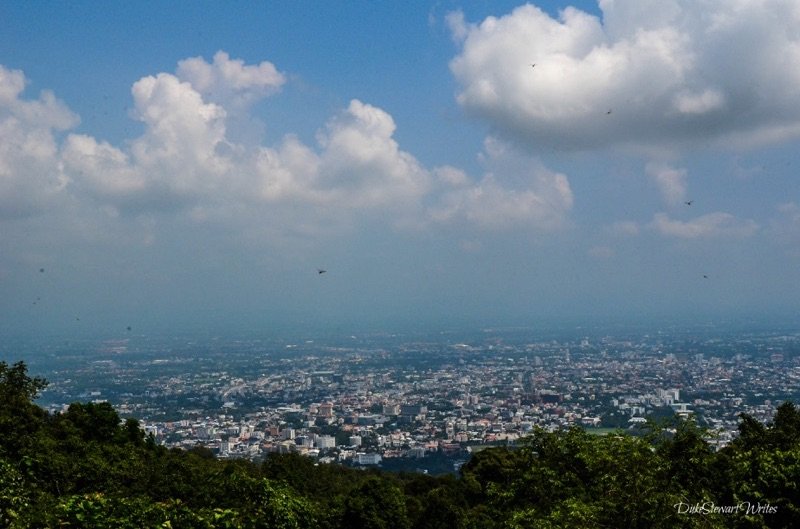 I felt pretty safe in Chiang Mai, but always suggest practicing caution when walking around or if you plan to go out late at night. Also, Bicycle and motorbike rentals loom everywhere but are caution-worthy. If one trusts their hotelier, ask them for help in this area. I mistakenly overpaid for the same crummy bike at an expat-run place with all the fancy signs. It's not just the foreigners who'll rip you off but my experience is to go for the place with rickety signs.
Our Thoughts and Yours, Too!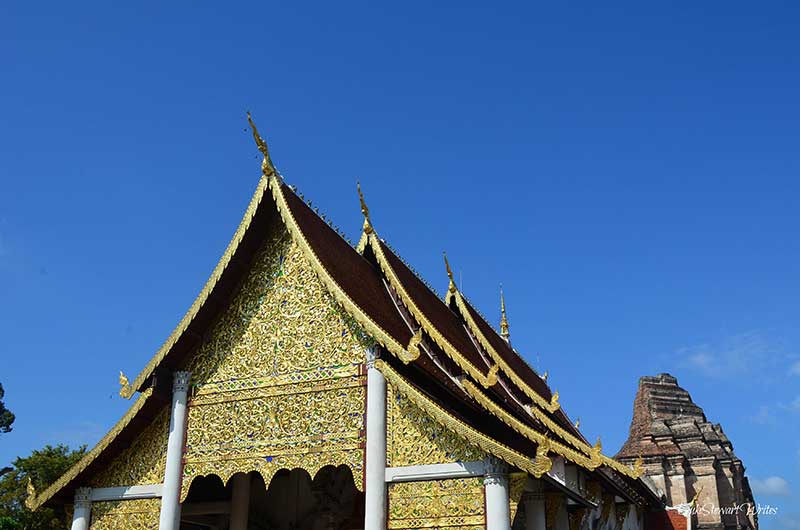 This city's mix of convenience, atmosphere, and that wonderful food kept us happy and hungry to see more every single day. It's easy to praise any place that one visits but I'll probably be on my deathbed raving about this wonderful Northern Thai city. I've seen some truly wonderful places in my own country and many others but have to say that I love Chiang Mai more than anywhere else.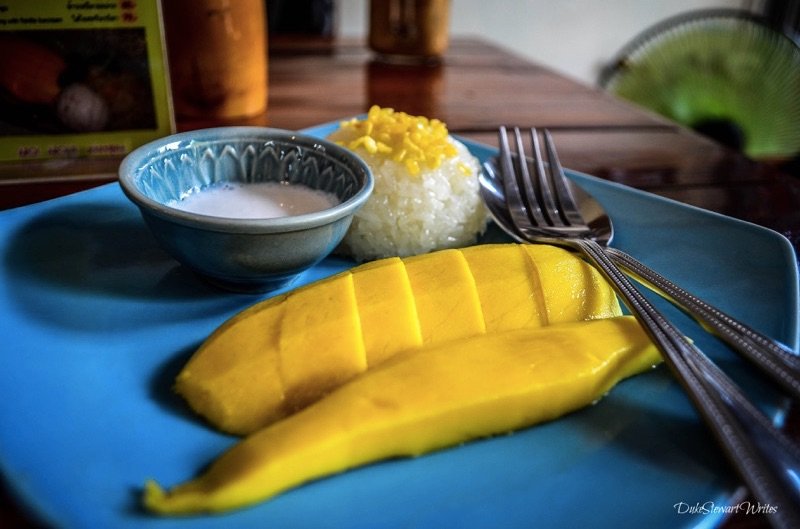 Have you ever visited this wonderful city? Do you also love Chiang Mai? What did you think of it? If you're in the planning stages, where do you plan to go first? I'd love to read your thoughts in the comments section below! 
Further Reading
DISCLOSURE: I may be an affiliate for products that I recommend. If you purchase those items through my links I will earn a commission. You will not pay more when buying a product through my link. In fact, I oftentimes am able to negotiate a lower rate (or bonuses) not available elsewhere. Plus, when you order through my link, it helps me to continue to offer you lots of free stuff. Thank you, in advance for your support!