Affiliate links linking to products we love may be found within this article. For more info, please check our Disclosure page for more explanation of affiliates and sponsorships.

---
We already drive a Toyota but wanted something with a little more space for a trip to Blowing Rock, North Carolina and for drives along the Blue Ridge Parkway. Enter the 2017 RAV4 Platinum. From much-needed extra space to fancy features and our oh so familiar moonroof, this was the perfect car for our Blue Ridge Parkway road trip and will nicely fit as yours, too.
Toyota RAV4
This is part of our series on Car Travel. Special thanks to Toyota USA with providing us with the RAV4 for this trip. All thoughts and opinions are our own throughout this guide.
The Engine
We've always enjoyed the "Toyota" feel when driving. The RAV4 has an added "All-wheel drive" option if you want to do some off-roading. In our experience, the RAV4's 2.5L DOHC 4-Cylinder Engine handled the ups and downs of the Blue Ridge Parkway (or any road) with no problem. Gas mileage is very good, too. The manual will tell you 24 Mpg (22 City, 28 Highway), but the odometer will frequently tell you a higher number, reaching the upper 20s.
Much Needed Extra Space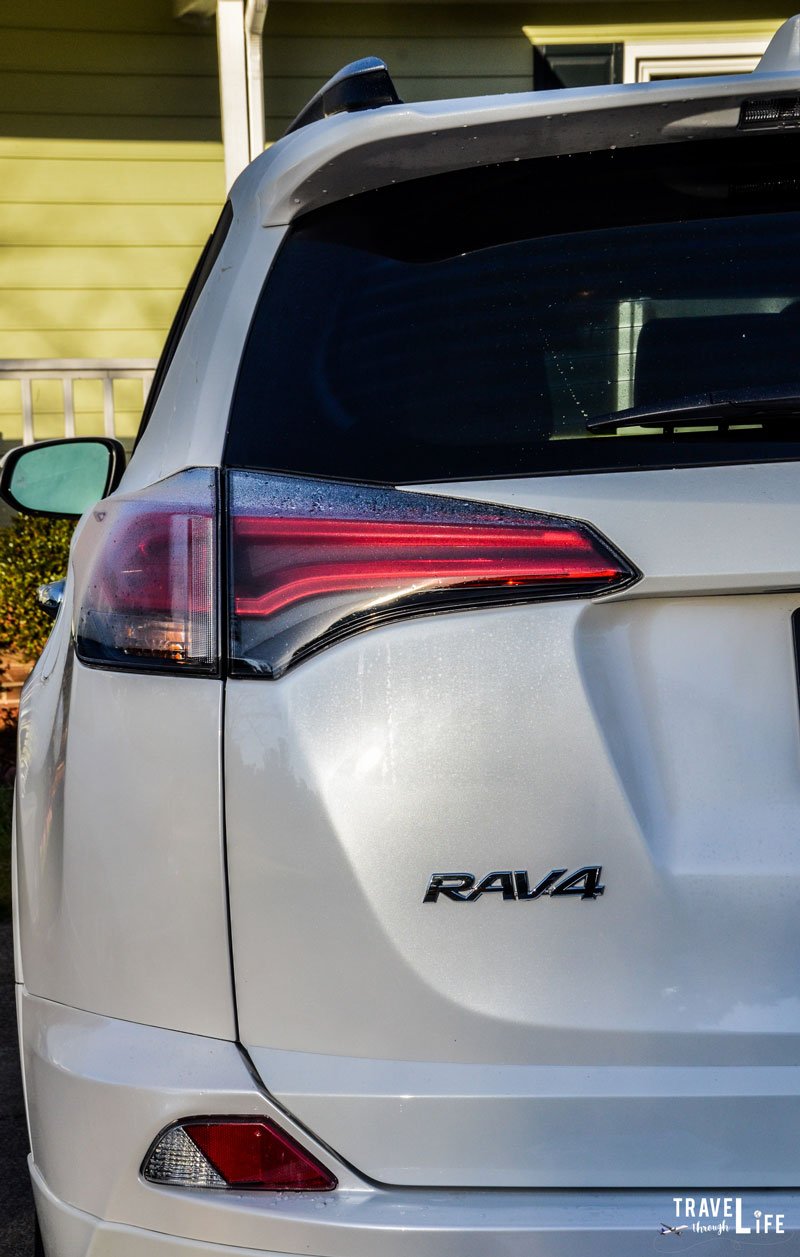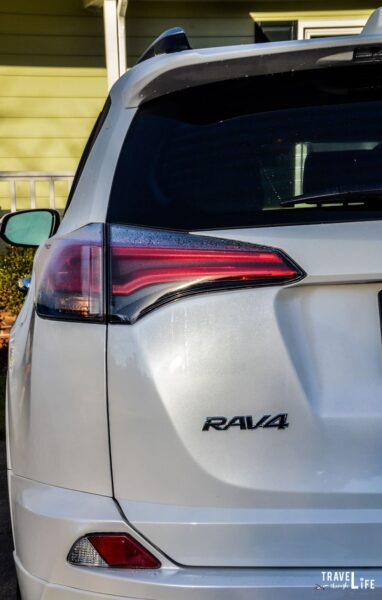 Since the addition of our daughter, we require a bit more space and the Toyota RAV4's interior provides exactly what we need. The trunk is great for fitting our bags, the baby's stroller, and pretty much everything else we brought along for the trip. We even had enough room for the apples we picked up, as well as any other souvenirs one might grab while traveling.
Moon Roof
I regret not having this in our Camry because every other car I've owned has come equipped with a moonroof. Honestly, why wouldn't you have one? It's the greatest way to air out your car. You can also invite just enough of a breeze to cool things down on a hot day. When entering our favorite national parks or outdoor places, Christina and I love to open the moonroof to let the fresh air in, and we were happy that the RAV4 had this.
Touchscreen
I was already impressed by the RAV4's touchscreen and was happy that there was an option to switch between AM/FM radio and SiriusXM Satellite Radio. What I didn't realize was that the touchscreen's Integrated Navigation would save us when we were trying to get back to civilization after spending some time off the grid. I'm a huge fan of my iPhone-powered Waze but we were in a no-coverage area. So my advice to you after deciding on a RAV4 is to be thankful for its navigation features. You'll need them at least once when traveling around this wonderful country.
Blind Spot Monitor
The RAV4's Blind Spot Monitor was my favorite feature. Why? Because people out there drive so fast and can zoom by without drivers even noticing. It was an added relief seeing that yellow light blink to indicate someone was next to us or close by. While I would still recommend double-checking before merging, I think this feature is one that Toyota should keep in future models.
Additional Features
These are not the only RAV4 features that I fell in love with and I'll throw out some worthy honorable mentions. Since the RAV4 felt much larger than my Camry, I was extra careful when backing in and out of spots. That's where the handy Backup Camera with Projected Static Lines came in. It eased my fears each time we left a small lot or parking garage. Opening and closing the trunk automatically was also cool and will come in handy when you've got an arm full of something and no free hand to pull up or push down. Then there are the Heated Seats. That's a no-brainer, right? You'll need them for early morning commutes and cold day drives to warm yourself up from bottom to top.
Our Thoughts and Yours, Too!
Take this car on the Blue Ridge Parkway or any other scenic road and you'll fall in love. The RAV4 is the perfect car for your road trip. We look forward to hearing about how much you enjoy yours, too.
Do you own a RAV4 or have you owned one in the past? What did you think of it? We'd love to read your thoughts in the comments section below:)