Affiliate links linking to products we love may be found within this article. For more info, please check our Disclosure page for more explanation of affiliates and sponsorships.

---
I met Doug Riegner (pictured above, right) while biking the famed GAP Trail in Pennsylvania's Laurel Highlands, while we were staying at Nemacolin Woodlands Resort. He, I, and others chatted for a while after our short ride through Ohiopyle State Park. Doug was our guide for the day and I was lucky enough to share a table with him as we sat down to lunch at the end of the day. Riegner shared stories about his work and why he travels to various places as a cyclist and advocate for better bicycle tourism. Shortly after meeting, Doug agreed to share more about the cool things he's doing. If you want to learn about helping your community and how to better enjoy some of America's (and the world's) best biking trails, this interview is for you.
Tons of people do the GAP Trail every year and love it! See their reviews and more about this awesome way to travel through the Eastern US!
People Who Travel: Doug Riegner
This interview with Doug Riegner is a part of our People Who Travel series, which highlights ass-kickers and genuinely good people who are working hard to live life on their own terms. Some of our favorites include Charity Organizer Mallory Markowitz, Travel Writer Vanessa Chiasson, and Brewery Owner Sean Lilly Wilson. Photos for this article were provided by Doug Riegner, unless otherwise stated.
Background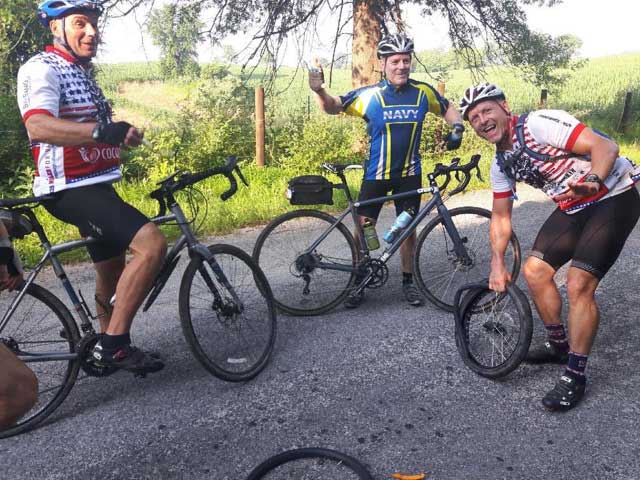 Carl Hedinger: Are you originally from the Laurel Highlands area that we passed through on the GAP Trail?
Doug Riegner: I'm from Allegheny County (Pittsburgh) and work for the Allegheny Trail Alliance. Through my trail involvement, I frequent this part of Pennsylvania, since the bike trail travels through it.
The Allegheny Trail Alliance
& Great Allegheny Passage Trail
CH: What is the purpose of the Allegheny Trail Alliance?
DR: The ATA first raised the money and built the Great Allegheny Passage Trail (GAP). Now, it has evolved into an organization that continues to raise money for a variety of things. That includes maintaining the trail, providing for features like water restrooms, signage, and accurate information like brochures, website, social media, as well as organize yearly events. We also promote trail town tourism and produce the only updated guidebook for the entire trail, including our neighbor trail, the C&O Canal Towpath. It's a neverending task to promote the GAP and the businesses that serve trail traffic.
Learn more about these trails through the ATA's official guidebook.
CH: What do you like most about the GAP?
DR: The freedom to get outside close to so many towns, but never too far away from a good place to eat or drinks after a spring or summer bike ride. The GAP offers short 30-minute scenic rides, high scenic trestle bridges, and historic tunnels. Then, there's the world-class ice cream, food, and drinks in each town found along the trail.
Favorite Places to Ride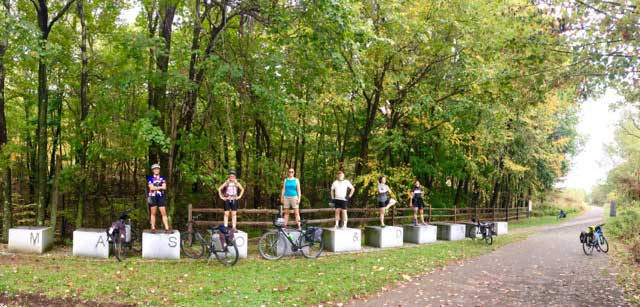 CH: As an avid cyclist, what's your favorite place to ride (aside from the GAP trail)?
DR: I tried twice to complete the 120-plus mile Garrett County Gran Fondo, near Deep Creek, Maryland, and can admit they were my favorite roads to bike on. It's challenging but scenic.
Takeaways
CH: What's your biggest takeaway from the work you're doing now?
DR: My biggest takeaway is greater appreciation. For years, I never knew the amount of money and volunteers it takes to maintain the trails and clean them off every month when trees fall down or a heavy rain washes out a section. The funds and volunteers are also crucial for raising more money to install bike fix-it stations, consistent accurate signage, porta johns, water fountains and more. I greatly appreciate the opportunity to introduce the trail and the towns along its corridor to thousands of people each season. Biking day trips and multi-day trips really are an incredible and affordable way to do a lot, see a lot!
Advice for Others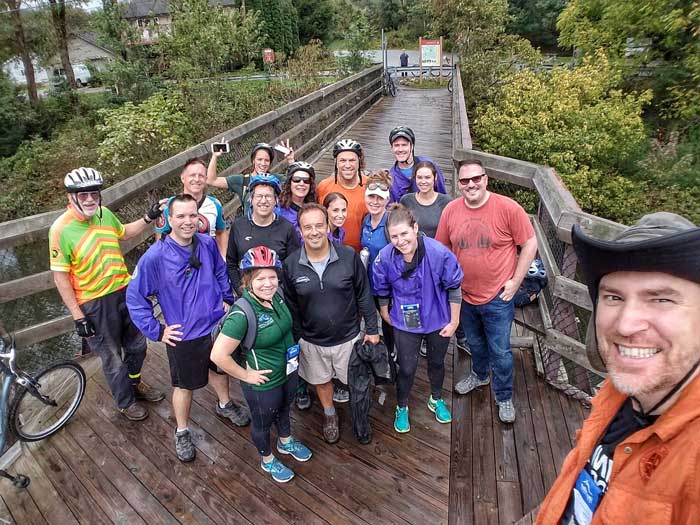 CH: Any advice for a person who wants to do something like you and ATA are doing?
DR: First, you have to look around your local area, and find who and where the existing trail groups are located. Contact them and attend one of their meetings. Get in the know about who they are, what their challenges are, and volunteer. Basically, find a place in your local trail system that you can be passionate about contributing to and do it!
Final Thoughts and Yours, Too!
Even after I've pressed "Publish" and re-read the interview for anything I may have overlooked, Doug's words and actions continue to inspire me. I wanted to learn about his passion for cycling tourism but didn't realize that his work went far beyond that. The way he's living is how I want to live—looking out for my own community and showing people all the things it has to offer. But what about you? Is there an organization like ATA in your part of the world that deserves some attention for all the good things they're doing?