Affiliate links linking to products we love may be found within this article. For more info, please check our Disclosure page for more explanation of affiliates and sponsorships.

---
Travel with kids will hopefully get a little easier as they get older. By now, you're watching your child learn how to crawl, eat on their own, and maybe even walk! And because of that, this is a PERFECT time to go traveling with your (now)older baby! They are still compact, you can fly for free, and they still sleep a lot so your travels don't have to involve a trip to the only kids' museum in town. This is also a time when the gear increases for the kiddo, but don't worry. We want to share 20 things that should feature in your older baby travel packing list, covering everything from the bare minimums to the luxury items!
This packing list article is part of our series on Baby Travel and Travel Packing Lists. If you'd like to see more of how we travel through life with our baby in tow, please let us know! We're always open to new ideas.
The Older Baby Travel Packing List
20 Things to Pack
This post was originally created on August 16, 2018, and has been maintained and updated (as of May 17, 2019) to reflect current viewpoints and travel trends.
Sleep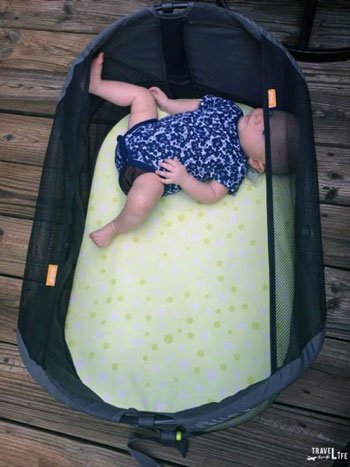 Tops of the older baby travel packing list is a bassinet. Our babe is petite, so we were able to fit her in her travel bassinet for a little bit longer than most. However, by nine months, we definitely needed to upgrade. We had the standard pack N play, but the more we traveled with it the more of a hassle we realized it was. It could be a pain to set up, it was heavy and bulky, and just hard to carry. So instead, we really like this travel crib. It pops up for a fast set up and can turn into a carry-on-sized backpack! Another compact travel option is this babyni. It is super lightweight and would be perfect for naps at the beach or while camping!
What's the verdict on bedtime for your kiddo? We'd love to know about how baby travel sleep works for your family.
Eating Tools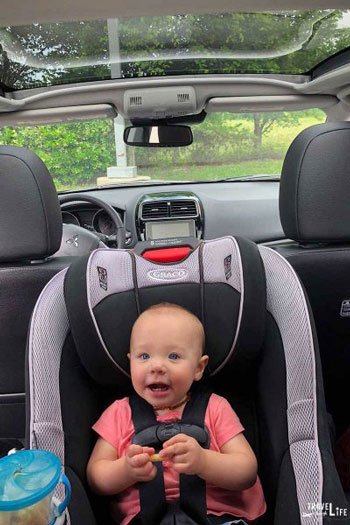 By 6 months, your baby is probably starting to dabble in solid foods! Whether you're traditionally weaning with purees or doing Baby-Led Weaning, food is on that baby's brain! While traveling with a toddler, we always had a stash of easy quick meals like pouches and some puffs. Sometimes that could keep the dragon calm, but usually, we had to resort to sharing our meals with her. I'd usually order a cup of fruit and share some of my main meal with her. Of course, some (really, most) of it ended up on the ground.
Need something more during feeding time? These items just might come in and save the day!
Cleaning Up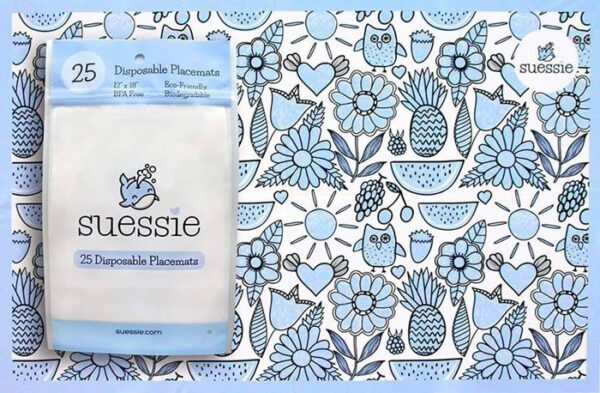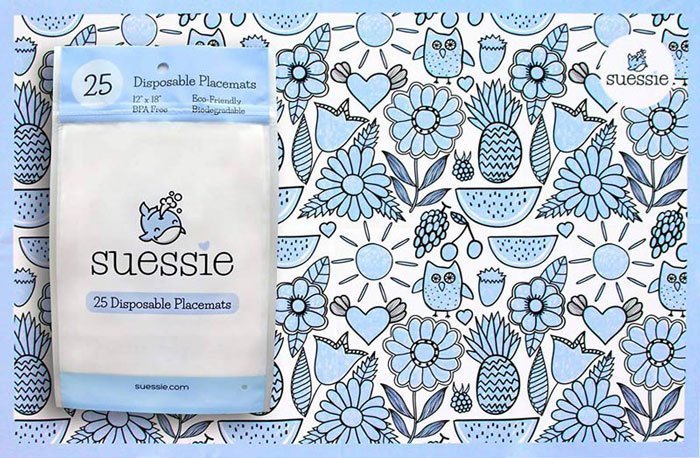 These disposable placemats are crucial to include in your older baby travel packing list! You can tape it to the table and ball up all of the food and trash into it so that the mess it minimized for your server. We love how this brand is eco-friendly and biodegradable because we know how much waste babies can make! Note: we always end up tipping more even though we carry a mini broom and dustpan to clean up, just out of courtesy!
Our Verdict
We also learned during this stage that babes can be really picky about the type of vessel they drink from, so our suggestion is to bring whatever works at home! We ended up with several cups that we could choose from, and this one just so happened to have two that we would rotate: this trainer Cup and a weighted straw sippy cup!
PS: this one also comes with two snack catcher cups for those puffs/cheerios/crackers/berries/veggies!
Play Time Toys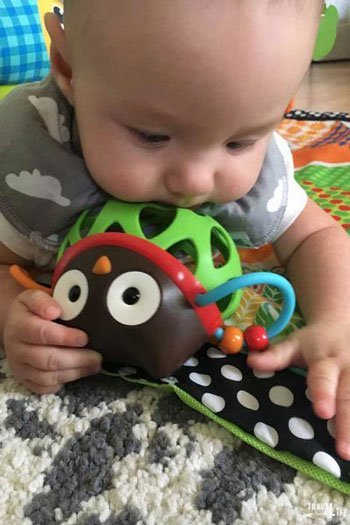 Entertaining your little dude or dudette can sometimes be a challenge. But the good news is that it doesn't always have to be a hassle. You also don't have to carry an entire bag just for baby travel toys! We usually only bring three toys and a book. For her toys, we bring one that's her favorite (like this owl that we jokingly call Rickon Stark…There's a long story to that one), one that has multiple functions, and one she's "never" seen before. I say "never" because often times this is a toy that she just hasn't seen in a long time. We rotate toys so sometimes there are toys in the closet that she hasn't seen in months. Another fun thing to do is just fill a makeup bag with a bunch of random items and sometimes that keeps them busy for hours!
Diapers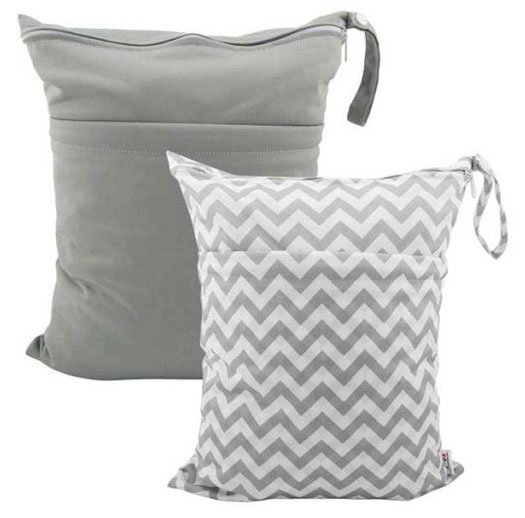 We cloth diaper at home, but found it stinky and sometimes inconvenient to haul around a big wet bag, plus room for diapers in our luggage. So while we travel, we include disposables in our older baby travel packing list. We still fill up our trusty wet bag. However, we dump any solid waste in the toilet and either dispose of our diapers in a dumpster or take them home with us to trash. The wet bag keeps most of the smell out- but we still like to dump it frequently. We recommend having both a large and small wet bag. The large bag can stay in the car/hotel room and the small one goes in the diaper bag for when you're on the go and there isn't a trash can nearby!
We've been recommending the wet bag for as long as we've been traveling with our little one, even from when she was an infant!
Extras
Deciding on a stroller versus a carrier is a personal preference, but when we travel, we usually take both!
Strollers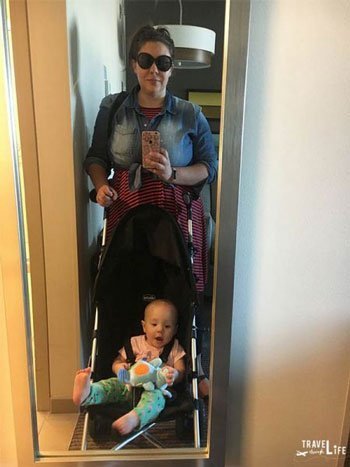 Sometimes, it's easier to carry her through small tight-fitting areas and other times it's nice to push and go! We have a small light-weight travel stroller that pretty much stays in the trunk of our car. It's been all over North Carolina and is simple. There are no bells and whistles because it really isn't going to be your main stroller. It just needs to be safe and function!
Carriers
I'm a bit of a babywearing fiend, so I have several suggestions for this. It really all depends on what kind of activity you're going to be doing. Also, you have to think about whether or not you plan on the babe taking a nap on you or not.
Ergo360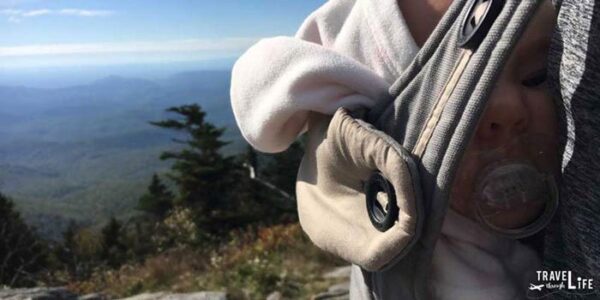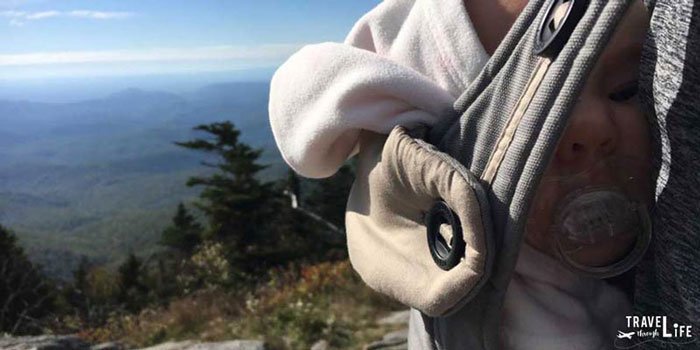 I LOVE my Ergo for pretty much everything. It's comfortable to wear her front facing or to back wear her. The Ergo is not as complex as a wrap to put on, but it does take some time to set up. It's perfect for naps on the go because you can snap the hood on and keep baby snug. We've hiked with her in our Ergo and found she was happy and comfortable!
The Ergo360 is key to our older baby travel packing list, but that's not the last we'll say about it. We also featured this essential in our guide to baby hiking gear beyond the carrier. We just couldn't leave it out!
Ring Sling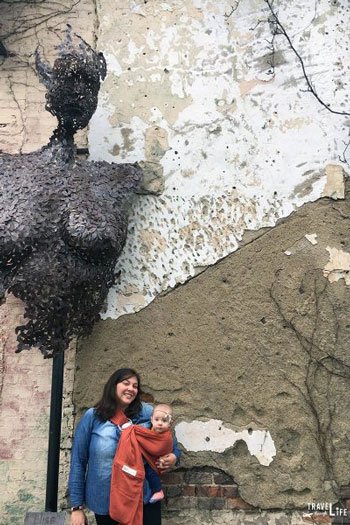 If you're wanting something that is easy and fast to put on and have limited packing space, I'd recommend a ring sling. It mimics you holding your baby but without the extra weight on your arms. I use this carrier around the house when I'm doing chores or out running errands. It's the ultimate beach gear for baby when she quickly changes her mind between being held and playing freely.
Where do you stand on this? Are you on team Ergo or Ring Sling, or both?
Portable Highchairs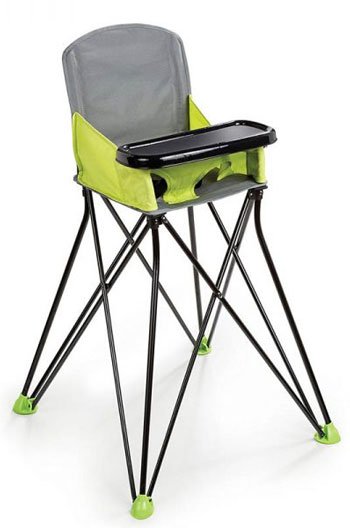 This is something that I definitely recommend if you are AirBnB-ing it or staying at a beach house. A portable high chair can help minimize so much mess! And this one from Summer Infant is lightweight and folds up to fit in the trunk of your car! So much better than just throwing down a towel and hoping for the best!
The Playard
A play yard is also another nice luxury to have in your older baby travel packing list if you are staying somewhere for a while. This play yard also has a shade canopy on it. That will definitely help keep the kiddo cool and safe! This is particularly useful if you are camping and one of the best baby beach items! Having a contained space without any rocks/seashells/debris can help decrease your stress of constantly knocking things out of their tiny hands!
Teething Relief Items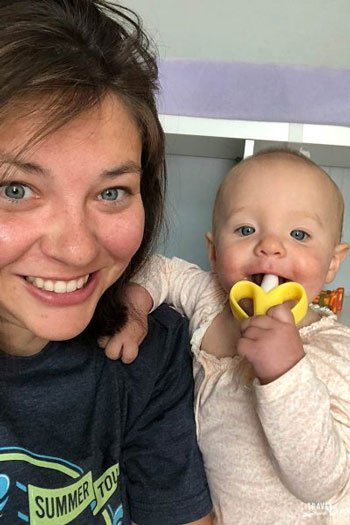 This is the age where babies start cutting their first tooth! Some babies are great and don't notice a thing, but our kid is a bit fussy when it comes to teeth. So we always throw a bottle of Punkin Butt Oil in our diaper bag. It's a safe, homeopathic liquid that you rub on their gums that provides gentle cooling relief to their swollen mouths. It's lightweight to pack and we've really noticed a difference on Charlotte when we've used it! Because it isn't as widely available as Motrin, I definitely recommend getting several bottles and keeping them in multiple bags. That's because you never know when teething is going to hit!
As you probably know, teething time is tough for everyone involved. There are so many pacifiers, teethers, and teething relief items out there that can help you in times of trouble!
Our Thoughts and Yours, Too!
I hope that now that you're babe is a little older, packing for vacation is a little less stressful. 6 to 12 months is still a very fun and exciting time to be parents of your baby! While it can seem challenging to think of all the things you for traveling with children, they really just need you to show them the world! Getting out and about is the greatest thing for you and your child. We hope that you're able to create lifelong memories without being stressed out about travel and your older baby packing list!