Affiliate links linking to products we love may be found within this article. For more info, please check our Disclosure page for more explanation of affiliates and sponsorships.

---
If you get to experience these holiday light shows and events in Roanoke and its surroundings in Virginia's Blue Ridge, consider yourself lucky. Because when the sun goes down between Thanksgiving and New Year's, the beauty of Western Virginia transforms into a lighted wonderland.
You can find old fashioned Christmas trees, light shows in neighborhoods and parks, and downtowns lit up to match our festive spirits.
After coming to the area specifically to check out lighted events and enjoy this festive time of year, we thought we'd share a few of our favorite places to go.
In this post, we'll share the best holiday lights events in Roanoke, its surroundings in Roanoke County, and elsewhere nearby.
This post is part of our series on Roanoke and more great places in Virginia. We originally created it on December 3, 2019.
Holiday Light Shows and Events in Roanoke and Virginia's Blue Ridge
Fashions for Evergreens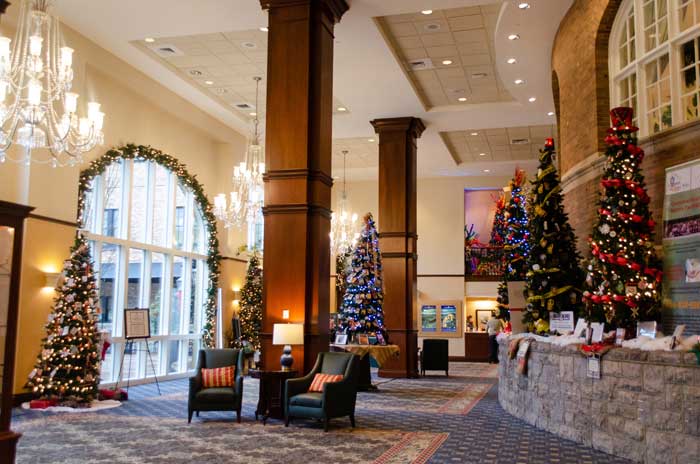 An awesome series of contemporary designs and old fashioned Christmas trees line Hotel Roanoke's halls during Fashions for Evergreens. The event is open to the public and they come from all over, beyond Roanoke and the rest of the area.
After walking through the hotel and seeing these 20-plus themed trees, we can see why! Money is raised for the United Way of The Roanoke Valley via your vote for the best, all for as little as a penny.
Dickens of a Christmas
Before and after Roanoke's Dickens of a Christmas around the City Market is a holiday light show in itself. Trees can be found on top of Carilion Hospital and lights all around Center in the Square.
We highlighted Center in the Square in our guide to a weekend in Roanoke and Virginia's Blue Ridge.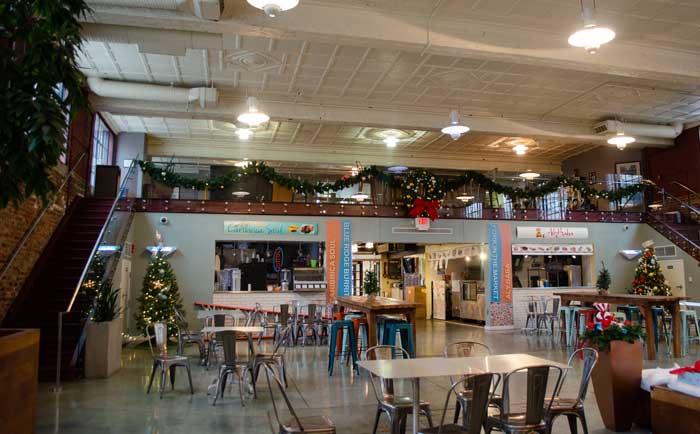 Inside the City Market, you'll find some trees and lights, too, which gives you another reason to walk through.
Then there's the big event, Dickens of a Christmas, which takes place on the first three Fridays in December. Each night holds something different, with a tree lighting, parade, and mini carnival.
Christmas Tree Lightings
Of course, you can't talk about holiday lights festivals without tree lightings, and Virginia's Blue Ridge is packed with them. We already mentioned the lighting during Dickens of a Christmas (December 6) and there's also Roanoke County's ceremony (December 2).
Here are a few places beyond Star City holding Christmas Tree Lightings:
Note: The lights continue on after these lightings, so don't worry if you missed the actual ceremonies.
More Tree Festivals
If you'd like to see more old fashioned Christmas tree displays, there are a couple of more options.
In conjunction with its tree lighting, Buchanan's annual Festival of Trees fills the front windows of the town's Main Street Library. There, you'll find hand-crafted ornaments put together by the elementary school's preschoolers.
Natural Bridge State Park's version of Festival of Trees is a competition of local businesses and organizations seeking the title of "Best Tree." Votes are submitted along with a donation of school supplies and winter clothes like gloves, socks, and hats.
Illuminights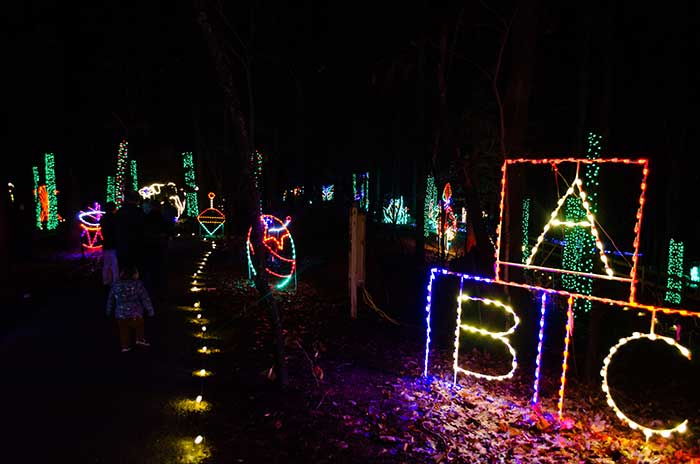 Explore Park's half-mile wooded trail gets lit up during Illuminights, as 500,000 lights take over in a variety of displays. Theme-displays touch upon nature, Christmas, adventure, and more.
There's even a maze with lights all around, which is especially fun if you're chasing a little one. About halfway through Illuminights, it felt like I was completely surrounded by twinkling bulbs, making it magical for all ages!
Two more fun reasons to visit include Explore Park's Christmas Market and nightly marshmallow roasting.
Volunteer Options: If you want to give back in the form of your time, you can get a free pass to Illuminights for every two nights you work during this event. Check here for more volunteer bonus options.
Tip: You can buy tickets at the gate but you'll save money if you buy them online, which you can do here.
Bonus Explore Park Event: Holiday Village
From December 14-16 and 20-24, Holiday Village opens in Explore Park with a variety of FREE family activities, food, music, and more in store.
You can enjoy visits with Santa, carolers, and local artist demonstrations, too during this festive and limited-time event!
Elmwood on Ice
Elmwood on Ice is great when the sun is out, but we loved the lights around it much more. Skating and ice sliding are both available at this fun event in downtown Roanoke and you can even rent the space for yourself on off days or outside operating hours if you want to hold a party or private function.
Note: There are limited hours on Thanksgiving and Christmas Eve and Elmwood on Ice is closed on Christmas Day.
Westover Ave in Grandin Village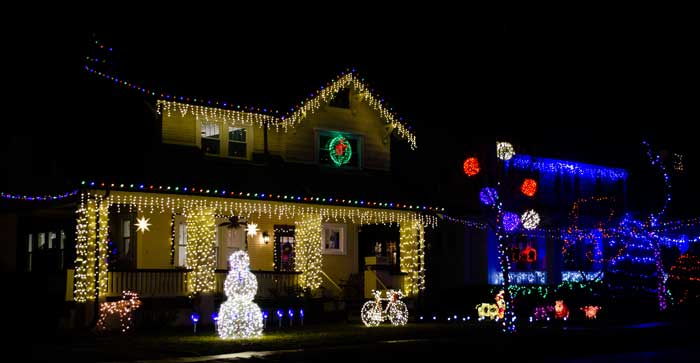 On any night after Thanksgiving, drive down Westover Ave in Historic Grandin Village and you'll see the coolest neighborhood holiday light show.
Parking isn't too limited in the area if there aren't many cars passing through. That way you can get out and even walk around and see the houses that are lit up.
Historic Grandin Village also hosts Winterfest, which is a fun gathering of artisans, music and more fun.
The Roanoke Star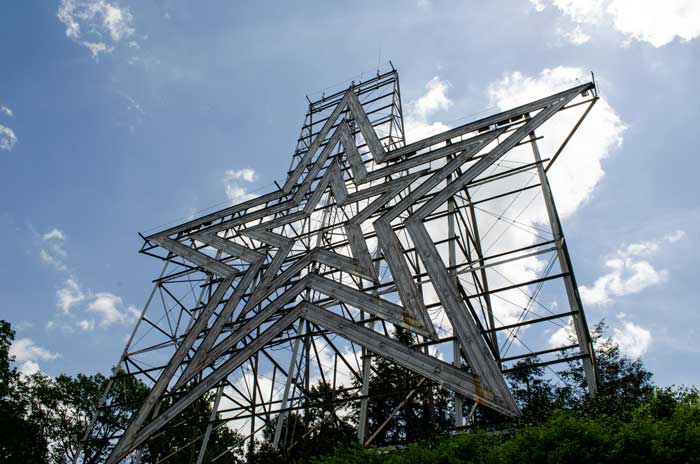 Since we are talking about lights, we can't leave out the Roanoke Star. After all, it was originally created as a Christmas decoration to shine during the holiday shopping season.
On clear evenings, you can easily see the star towering over Roanoke until it's turned off at midnight. You can also visit the Star Overlook at Mill Mountain Park until 11:00 pm.
Ready for these Holiday Lights Shows and Events in Roanoke and Virginia's Blue Ridge?
When visiting Virginia's Blue Ridge during this time of year, we can see after exploring all the events for ourselves happening in Roanoke and elsewhere in Virginia's Blue Ridge are part of why we keep coming back for more.
Are there any more holiday light shows or similar events in Roanoke and beyond that we should mention? Let us know and we'll be happy to take a look.
Disclosure Note
Special thanks to Visit Virginia's Blue Ridge for hosting us during our stay. All opinions within this article are our own.