Affiliate links linking to products we love may be found within this article. For more info, please check our Disclosure page for more explanation of affiliates and sponsorships.

---
Bethlehem, Pennsylvania is a historic town that was enthusiastically named through song on Christmas Eve in 1741. Throughout its existence, this Lehigh Valley town has long been known for Moravians and Christmas traditions.
We first wanted to explore Bethlehem because of the Moravian connection it shares with Winston-Salem, North Carolina.
But as we've learned since visiting this spot in Eastern Pennsylvania, Bethlehem has its own identity, proudly earning the "Christmas City" nickname for which it's known.
It's certainly a four-season destination, but the holiday season is the perfect time to visit. That's at least what we've discovered while tasting holiday flavored beer, searching for uniquely designed Christmas trees, and exploring more fun things to do during Christmas in Bethlehem!
This post is part of our series on all the awesome places to visit in Pennsylvania. We originally created it on November 27, 2019.
Christmas in Bethlehem
Take a Christmas City Stroll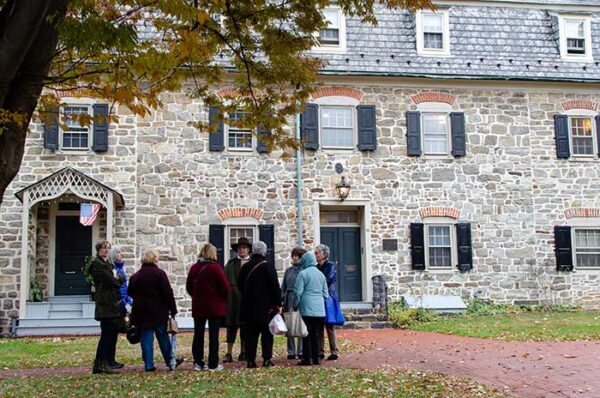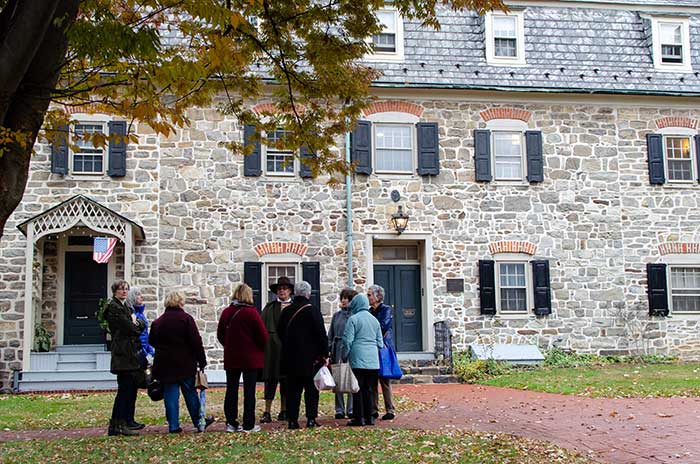 Take a guided Christmas City Stroll through Historic Bethlehem and learn about its past from a period-dressed historian of the. They'll share the city's Moravian beginnings, the life and times of Moravians, and the town's Christmas traditions.
For those unfamiliar with the Bethlehem area, this tour is arguably one of the best things to do during Christmas.
Learn About the Trees of Historic Bethlehem
During the Trees of Historic Bethlehem Exhibit, 20-plus exquisitely decorated trees are displayed across four historic sites throughout town, bringing Christmas joy and wonder to everyone!
Every year, the Bethlehem Garden Club chooses a new theme to decorate their trees with.
For example, 2019's Couture Trees are inspired by the world-renowned leaders of fashion, such as Dior, Chanel, and Burberry.
Purchase a multi-site museum pass and check out these trees at the 1810 Goundie House, Kemerer Museum of Decorative Arts, Moravian Museum of Bethlehem, and the Single Sisters' House.
Visit Christkindlmark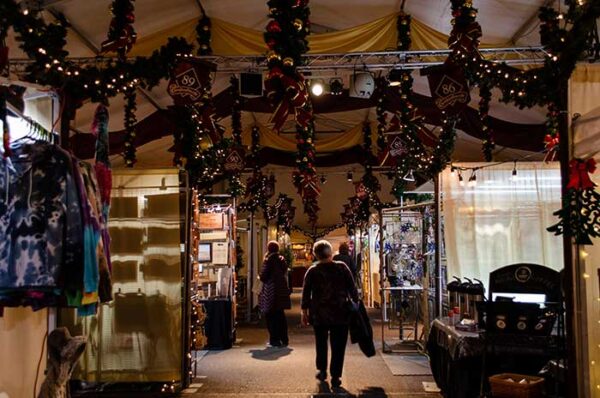 The Christkindlmarkt is easily one of the top holiday markets in the world, bringing hundreds of artisans and makers to heated tents in a setting back-dropped by the Hoover Mason Trestle.
Of course, this is THE place to shop local and pick up Christmas gifts for loved ones in Bethlehem. You can also meet St. Nick and grab some German ornaments along the way.
To keep things even more festive, sample delicious traditional German food while sipping hot boozy drinks as you walk around.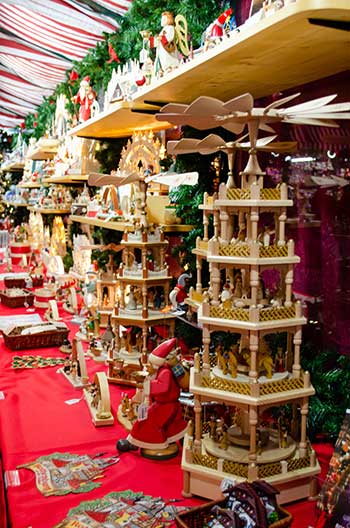 Parking is free but limited at this ticketed event. You can catch the heated trolley outside the Moravian Book Shop every 20 minutes, so don't have to worry about long waits!
Individual tickets can be purchased online, but there's also a combination ticket for both the Trees of Bethlehem and Christkindlmarkt available!
Find a Good Book in a Historic Shop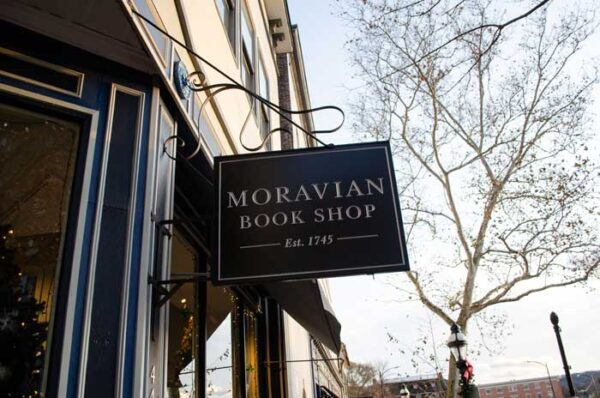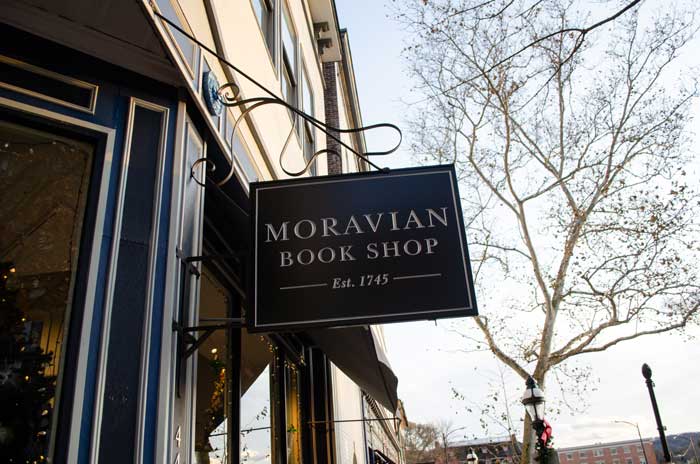 Something about the smell of books just reminds me of the holidays and that's a big part of why I love the Moravian Book Shop. This isn't your typical bookstore, as you can also learn about in Moravian heritage and culture while perusing.
Founded in 1745, the Moravian Book Shop is the oldest continuously operating bookstore in the world. They carry everything from new titles to curated and well-known Moravian history books.
Pack all this together and you have one of the most interesting places to browse for your loved ones during the holidays.
Listen to the Bach Choir Perform Handel's Messiah
Founded in 1898, The Bach Choir of Bethlehem is the oldest of its kind in the US, and they perform to thousands of people each year. Listening to the harmonies of their voices makes the Choir's annual Christmas Concert in Bethlehem is an extraordinary event.
For the performance, they'll mix Bach with well-known, traditional Christmas music from other composers. The Choir performs two concerts during the holiday season.
Drink Seasonal Beer at Fegley's Brew Works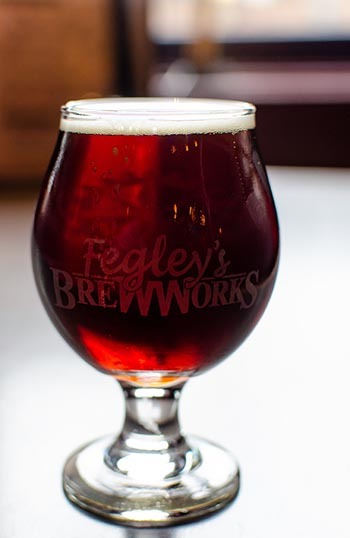 Fegley's Brew Works first opened in 1998, during an incredibly difficult time in Bethlehem's economic history. Thankfully, they survived and have been serving award-winning beer proudly from day one.
Many of us love a good seasonal beer, and if you do, please try a Rude Elf's Reserve. We swear this Fegley's creation tastes exactly like a gingerbread cookie!
Trombone Choir
Founded in 1754, the Bethlehem Area Moravian Trombone Choir is the oldest musical organization to still be performing today. Longevity isn't their only claim to fame, as it is said that the Bethlehem Trombone Choir saved the town from attack by playing in the bell tower on Christmas 1755!
While the Trombone Choir doesn't have a set performance schedule, it is not uncommon to see them caroling down the streets during the holidays or ringing away in the bell tower! Keep an eye out and if you happen to spot them, you'll earn some great holiday luck!
Find the Holiday Putz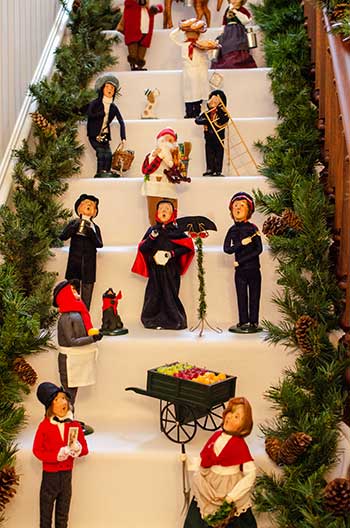 A Putz, sometimes called a crèche or nativity scene, is a traditional Moravian decoration placed in historic buildings throughout Bethlehem during the Christmas rush. Small wooden handcrafted miniatures are expertly placed to illustrate various settings of the Nativity story.
Hopefully, you'll get to see a few of them and if you need help, follow the Putz Trail. Locations include the Kemerer Museum, Moravian Museum, Single Sisters' House, and the 1810 Goundie House that we mentioned were included in the multi-site museum pass.
Additional Putz trail locations not included in the pass are the Central Moravian Church, Edgeboro Moravian Church, and East Hills Moravian Church.
Shop at the Christmas Huts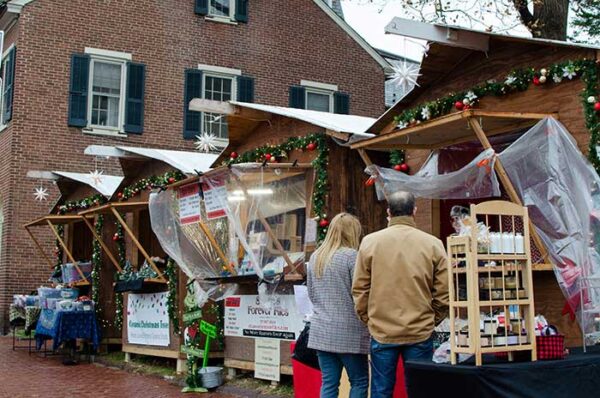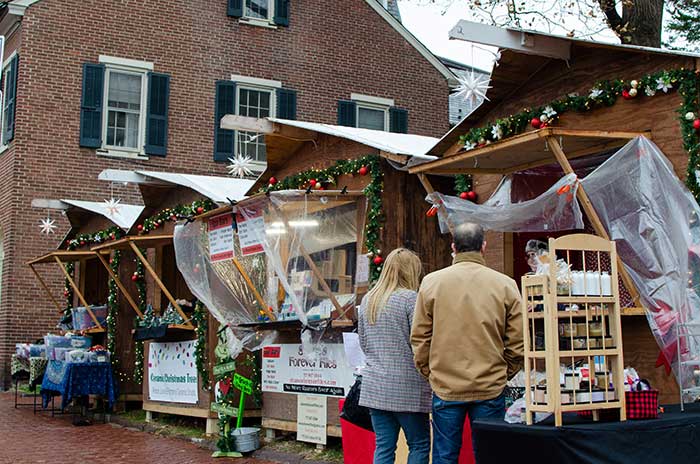 If you're still looking for the perfect gift and couldn't find it at the Christkindlmarkt or the Moravian Book Shop, then browse through the festive and adorable Christmas Huts on Main.
They're decorated and filled with works from local artisans, modeled in the style of the German Weihnachtsmarkt.
Note: The Christmas Huts are open in Bethlehem from Friday to Sunday during the holiday season.
Our Thoughts and Yours, Too!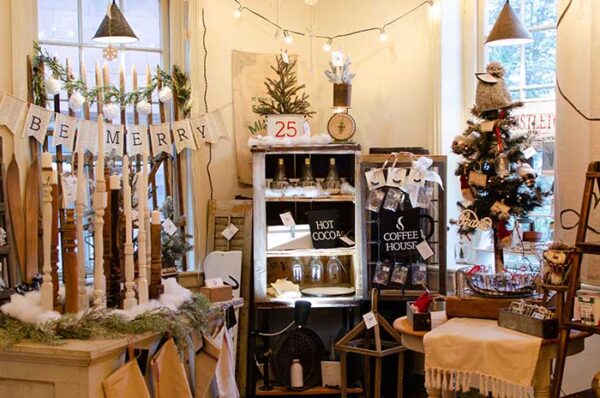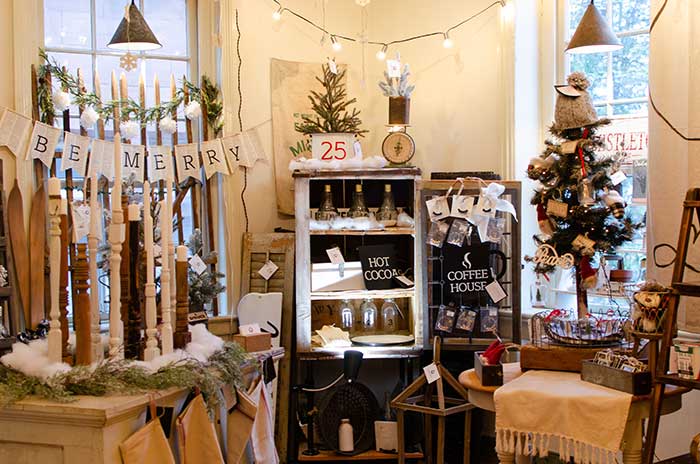 From its Moravian heritage to today's beautifully decorated and still festive town, it's no wonder that Bethlehem continues to live up to its "Christmas Town" moniker. Fill your hearts with holiday cheer while exploring this fun slice of Eastern Pennsylvania!
Visit this charming Lehigh Valley town and you'll quickly want to make it a yearly tradition for yourself and the whole family.
Have you ever experienced a Christmas season visit to Bethlehem, Pennsylvania? What did you think of it? Is there anything you think we should check out next time?
Also, if you've never been before, what would you love to do first out of the fun things that we mentioned? Let us know in the comments section while we plan our next trip up there!
Disclosure Note
Special thanks to Discover Lehigh Valley for hosting us during our stay. All opinions within this article are our own.