Affiliate links linking to products we love may be found within this article. For more info, please check our Disclosure page for more explanation of affiliates and sponsorships.

---
Days like this at Gongju Fortress (Gongsanseong) take one back to a previous era and also demonstrates why we came to South Korea. I don't care about the tacky souvenir shop that my back is facing, or the construction and tractor easily visible upon entering. My hope is to relive something once crucial to a former kingdom's existence. With a mix of history and today's quirks, I've already fallen in love with Gongju Fortress. It's long been at the top of my South Korea bucket list and should certainly grace yours.
Going Back in Time at Gongju Fortress
Getting to Gongju Fortress
If you're driving, here's the address: 280, Ungjin-ro, Gongju-si, Chungcheongnam-do. Korean: 충청남도 공주시 웅진로 280 (금성동)
If not, take an intercity bus to Gongju (공주). From the Gongju Bus Terminal, walk 700m along Singwan-ro 1-69 (신관로 1-69). Turn left onto Jeonmak 1(il)-gil (전막1길) and then go straight for another 100m to Jeonmak Sageori (전막사거리) bus stop. Take Bus 100 to Gongsanseong Fortress (공산성) bus stop. Courtesy of Korea Tourism
Note: Gongju Fortress is Closed on Major Holidays (Chuseok and Seollal). 
Our Story
The Ceremony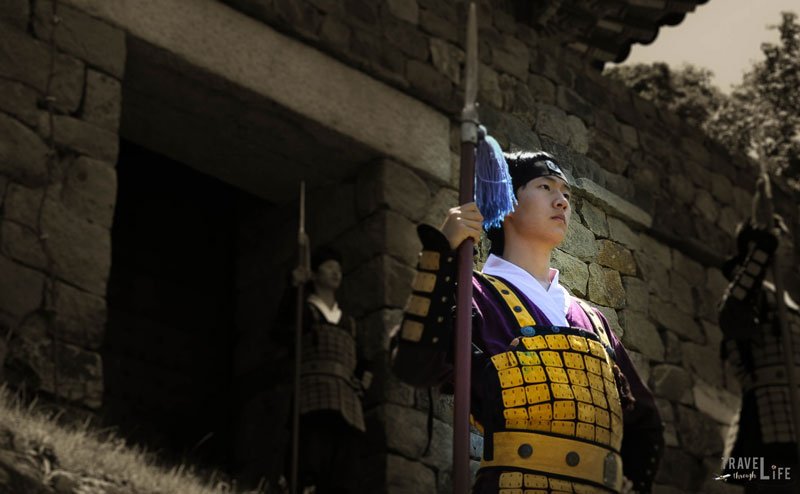 We arrive in Gongju early in the morning and just in time. A man beats a drum in the distance and keeps time to the pre-recorded music. I'm trying to capture the guards and their colorful garb along with the green grass in the background, but brown dirt and dead leaves dominate my wide lens. Christina does a much better job with our Nikon. The ceremony is moving along, full of intense noises and sounds all around. I notice that my wife and I are the only people here without children tagging along. This always seems to happen to me and makes me wonder why the other childless people in the world like stuff like this. Is there anything wrong with a kid at heart like me?
The Baekje (Paekche) Dynasty
.
The guards' attire and intense posture properly convey the idea that this former dynasty—the Baekje (Paekche)—was in trouble when they chose Gongju (née Ungjin) as their capital. They'd spend a little over 60 years here (475–538) until moving onto Sabi in present-day and nearby Buyeo. Gongju proved an important stop for the Baekje, as they strengthened their cause here before moving onto the better-situated Sabi. Bringing my mind back to the ceremony, things are getting intense. More music and cool choreography from the sword-bearing guards and at this point, I'm envious that Koreans can recall this type of stuff—1,000-year old traditions.
Walking Along the Wall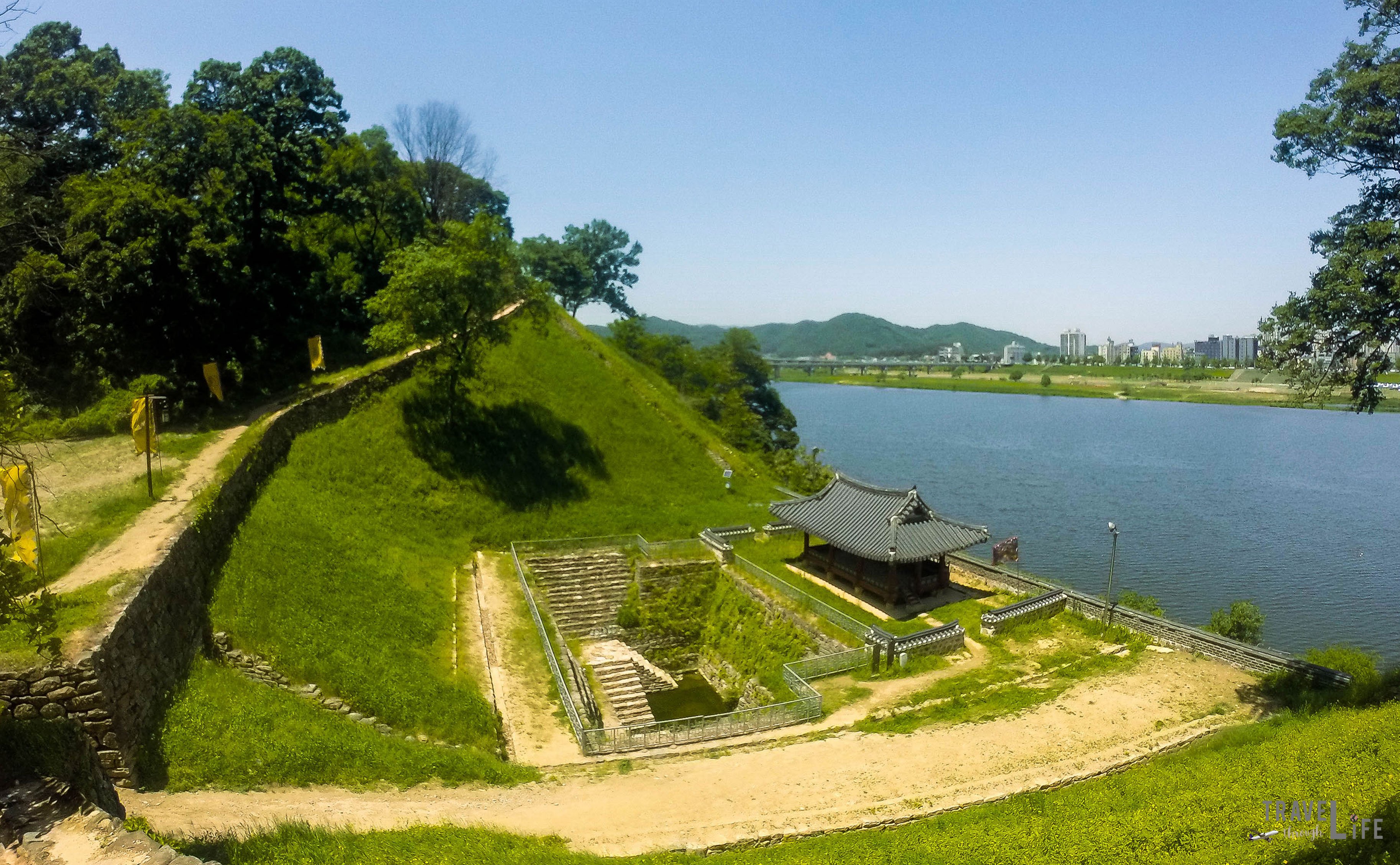 Seeing this instills a newfound appreciation for Korea's historical preservation, no matter how staged and fabricated some places become. After the 15-minute ceremony, it's business as usual with selfies and jockeying for the best shot available. We break away from the crowd and walk along the fortress wall. Even with the occasional intrusion by a family or group, I can go back and try imagining a life before this one. Magpies and other colorful birds stop and take a break on the path before moving back into the air. I can never get over the former's wonderful blue-tipped tails fluttering about.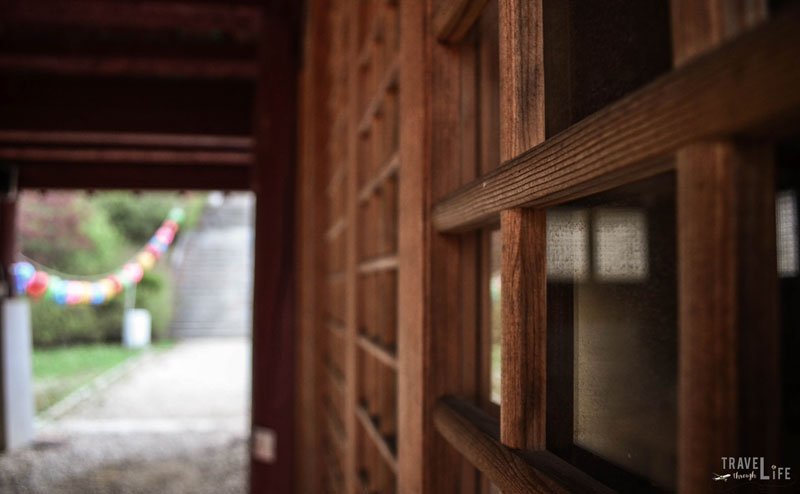 We continue through the tree-covered path, noting that spring is moving nicely into summer and giving this Saturday a beautiful green background to enjoy. Walking around the path along the wall is a true contrast from the noisy main gate and the crowds snapping selfies with guards. We walk around the area and temple where warrior monks once fought against the Japanese in the 1590s. Though I didn't see any hint of them, walking through the area reminds me of Simon Bond's spectacular photos of warrior monks. His perfect execution of those scenes will be forever burned into my memories.
The Geum River and Manharu Pavilion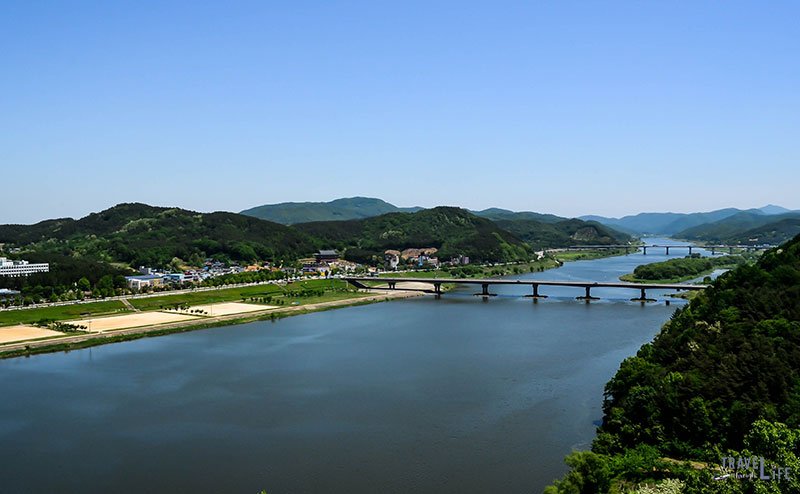 We spend the rest of our day walking along the 30 meter-high wall with no guard rail. I'm happy that we woke up early on a Saturday morning to drive out here. The day is not over yet, though, and we keep moving. The circular path leads us along the Geum River to the Manharu Pavilion, where a lotus pond was once a popular spot for rest and relaxation during these troubled times. Walking through the beautiful shadowy walkways and back into the sun, another ceremony sounds like it's on the way. They happen every hour and it makes me realize the quickness of our walk around the fortress. We head across the street for a meal and head onto the next piece of history, in Buyeo.
What do you think of this place? Wouldn't you love to visit Gongju Fortress someday? Let us know what you think in the comments section below:) 
This guide is part of our series on South Korea Travel, East Asia Travel, and Asia Travel. It was originally created on July 20, 2017. It has been maintained and updated on our blog (as of December 27, 2018) to reflect current viewpoints and travel destination trends.