Affiliate links linking to products we love may be found within this article. For more info, please check our Disclosure page for more explanation of affiliates and sponsorships.

---
The Shenandoah Valley in Virginia and West Virginia's Eastern Panhandle spans over 200 miles. With the picturesque Blue Ridge Mountains and Alleghenies standing to the east and the west, this is one truly beautiful and serene patch of land.
In Virginia, it spans from Lexington to Winchester, history-filled cities that provide a welcome interruption to your day trip or long journey.
And the places you'll find inside each town and city are a big part of why we, and you, know this is the perfect place to drive in the US.
From South to North, this guide will give you the perfect tips to see, eat, and explore during your Shenandoah Valley road trip.
This post is part of our series on Virginia and other awesome places to visit in the USA. We originally created it on December 12, 2019.
20 Must-Visit Places during Your Shenandoah Valley Road Trip
Lexington (Starting Point)
Natural Bridge State Park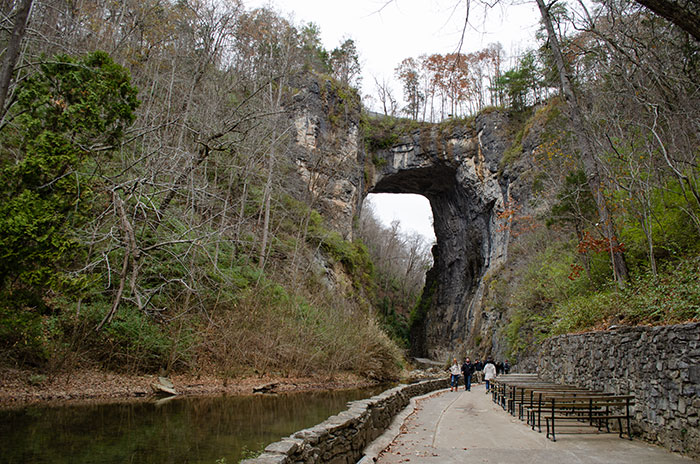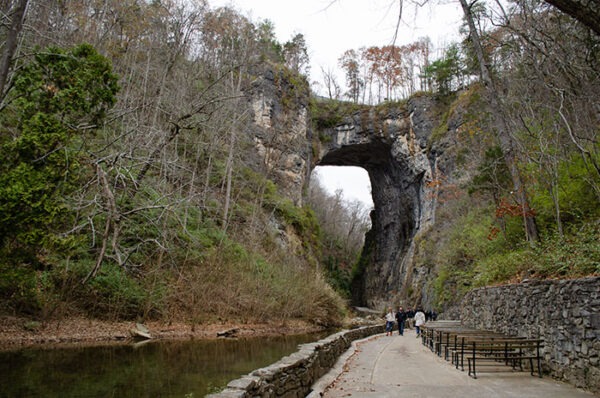 Natural Bridge State Park is a no-brainer for the National Register of Historic Places. The 215-foot tall (and 40-foot thick) Natural Bridge is carved out by a creek, weighing an impressive 36,000 tons, and the sight of it will literally make your jaw drop.
Hiking to the Natural Bridge is an easy quarter of a mile. However, if you're not feeling it, a shuttle bus that leaves several times an hour can take you.
In addition to seeing the naturally made bridge, the trail extends further. If you keep going, you'll pass through a Monocan Native American Village Exhibit, Saltpeter Cave, and eventually a waterfall.
Nearby is the Natural Bridge Caverns. Here, explorers can take an hour-long tour of the chambers that extend 35 stories below ground!
Great Valley Farm Brewery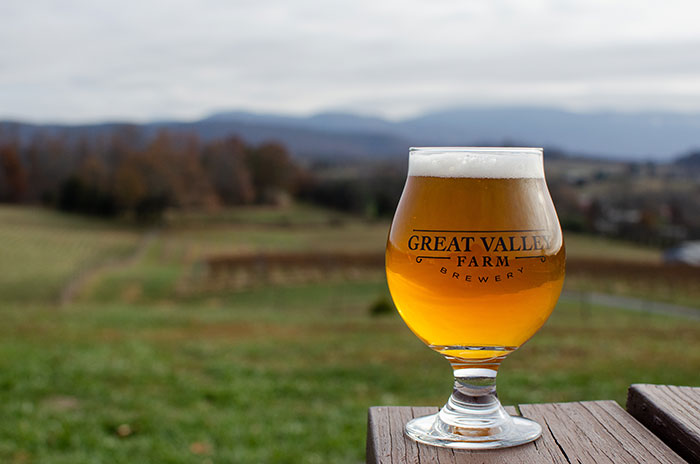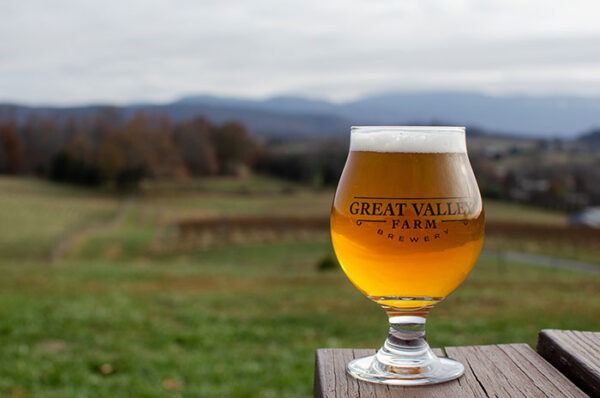 Belgian-style beer is poured overlooking the Allegheny Mountains at the majestic Great Valley Farm Brewery.
As part of the Shenandoah Beerwerks Trail, this stop includes a sprawling 27-acres of farmland. That's the area that grows the ingredients for these delicious brews.
Halcyon Days Cider Company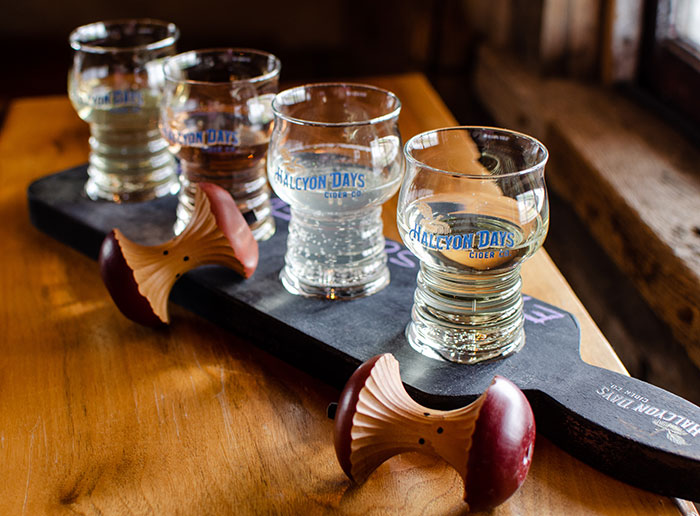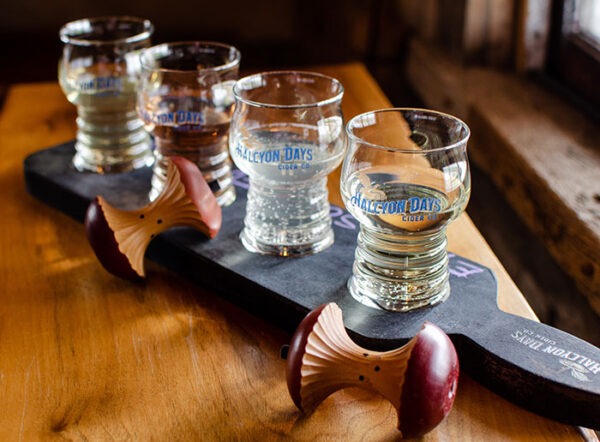 New on the scene in Shenandoah Valley is Halcyon Days Cider Company, a cidery committed to using only Virginia-grown apples. Their small batch brew-filled menu ranges from sweet to dry. And honestly, this IPA drinker was convinced to give cider another try after visiting this place!
While the cider alone is worth visiting, Halcyon is also known for its apple tree orchard labyrinth.
Shaped from 2,000 dwarf apple trees of 50 different varieties, the labyrinth is inspired from the Chartres Cathedral in France and stretches 1.7 miles.
We included these places and more in our guide to a weekend in Lexington, too!
Swoope
Polyface Farm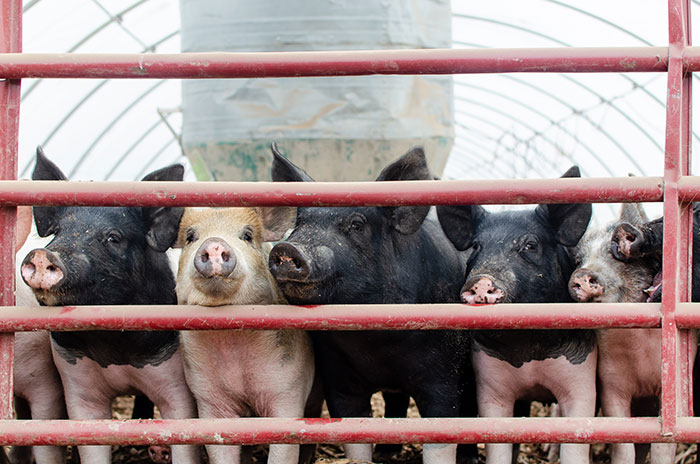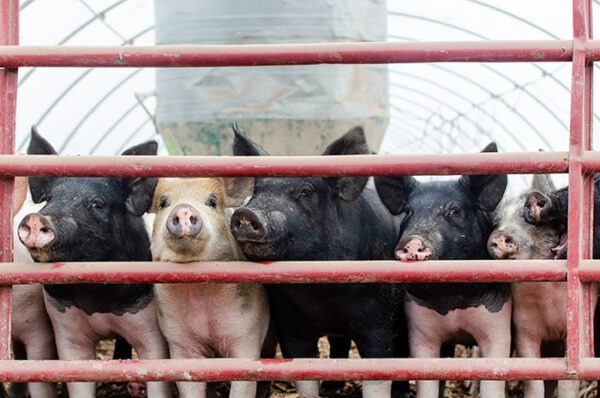 Polyface Farm is one of a kind, as you'll see when visiting this family-owned and operated business. The farm might be best-known for its owner and prolific writer Joel Salatin, but there's more to this place.
For starters, Polyface is one of the only farms in the US where you can walk around every nook and cranky any time you'd like. Seeing those happy pigs and chickens are a part of the farm's commitment to transparency in farming and truly organic living.
Creating symbiotic relationships among the animals at Polyface, these farmers have eliminated the need for fancy equipment, feed, and marketing. They've truly gone back to what is good for the animal and the land. Another claim to fame is Polyface's position at the forefront of grass-fed farming in the US.
All these factors make visiting the farm a must for everyone. Even if you aren't into agritourism, trust me. Your road trip must include a stop at Polyface.
This is a working farm, so do not expect a tour or information signs. However, you are welcome to ask questions inside the farm store and walk around the property to say hello to the animals!
For more on Salatin, I recommend reading The Omnivore's Dilemma by Michael Pollan. You can find some of Joel Salatin's books here.
Staunton
Woodrow Wilson Presidential Library and Museum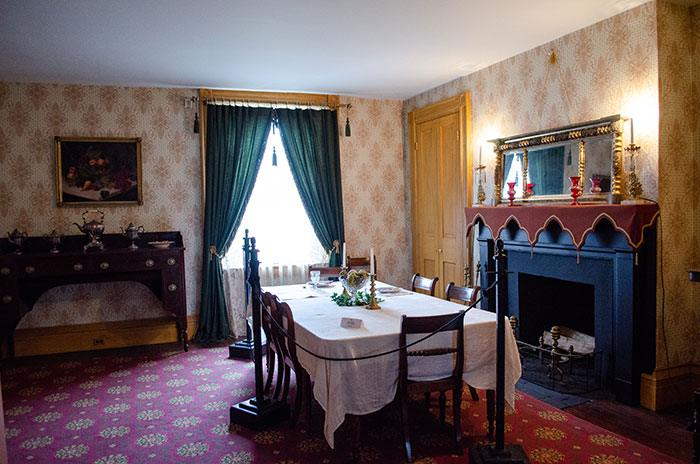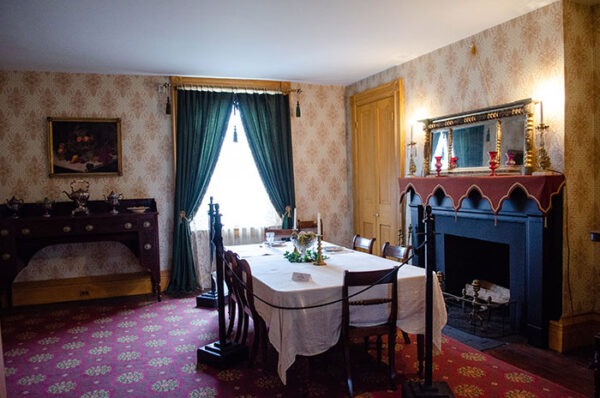 In Staunton, you can visit the birthplace of 28th President Woodrow Wilson and the museum that chronicles his life and accomplishments.
Step inside The Manse, the house owned by the Staunton First Presbyterian Church. There, Woodrow Wilson's father, Joseph Wilson served as church's pastor.
Exhibits of note inside include The President's restored 1919 Pierce-Arrow Limousine. You'll also find a detailed history of Wilson, including his positions on suffrage, prohibition, and World War I.
Museum-goers can also experience an incredibly harrowing World War I Trench exhibit, with various lights and sounds taking you back in time.
American Shakespeare Center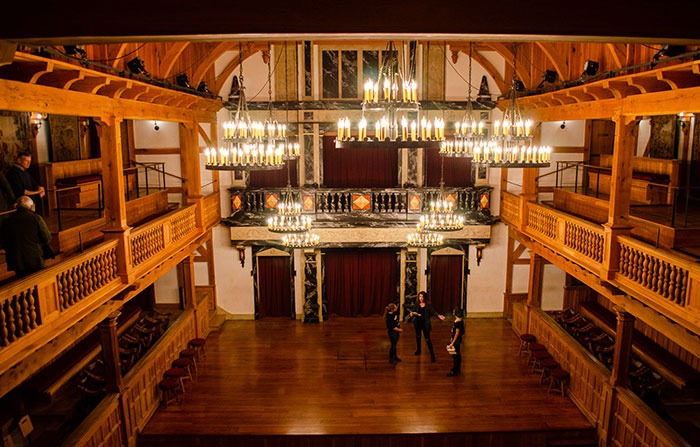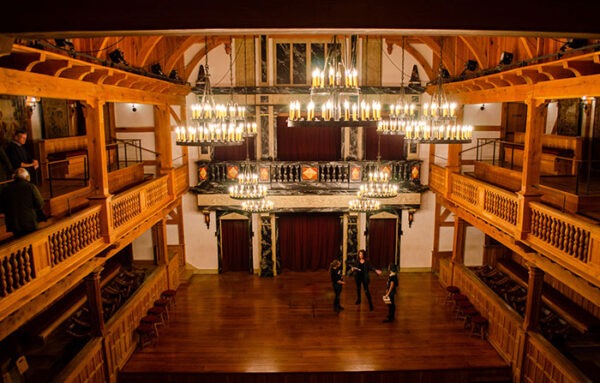 Take a tour or grab highly sought-after tickets to a show at the American Shakespeare Center.
This is the world's only recreation of the Blackfriars Theatre, which was demolished in 1655. Today, the Staunton version puts on the nation's best Shakespearean productions.
And just like during Shakespeare's time, the Blackfriars Playhouse features universal lighting, cast doubling, cross-gender casting, and minimal sets. Seeing a production by the American Shakespeare Center is an incredible experience and worth a stop during your Shenandoah Valley road trip!
Eat at Zynodoa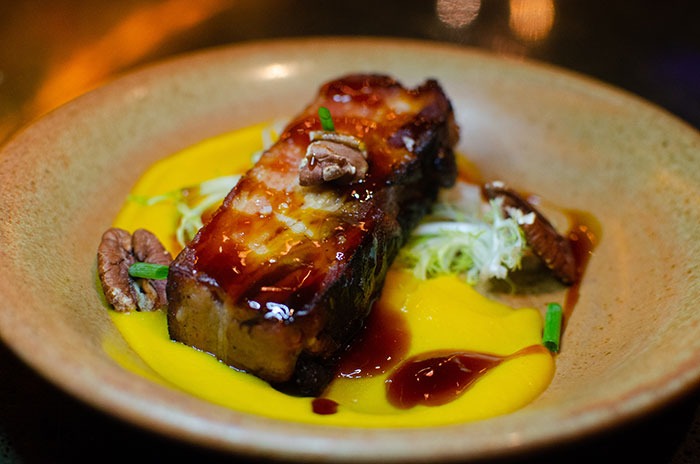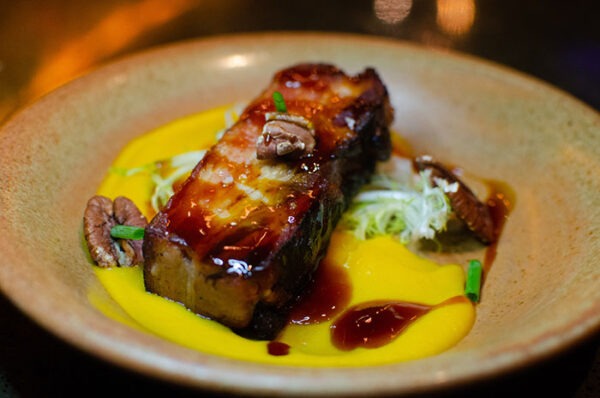 Around the corner from the Blackfriars Theatre, Zynodoa is the perfect pre-theatre dining spot! Here, you can eat delicious farm-to-table (including Polyface!) Southern food.
Each item on the menu has a description labeling where the products were sourced. That way, consumers know that they are supporting Virginia's independent farmers.
Honoring the farmer and the food, the dishes are thoughtfully prepared and plated to be beautiful and bursting with flavor.
Harrisonburg
Hop on Skyline Drive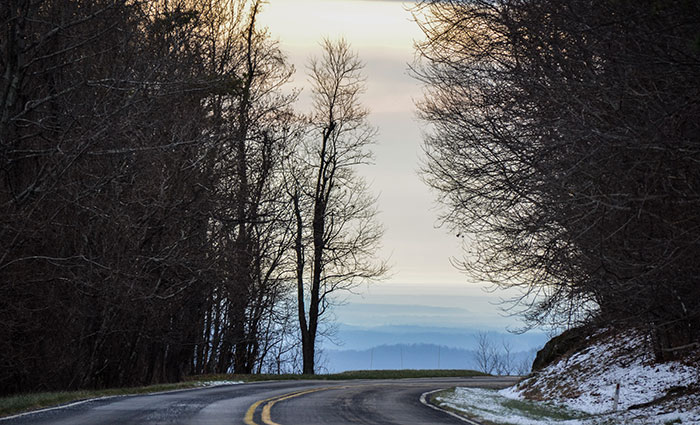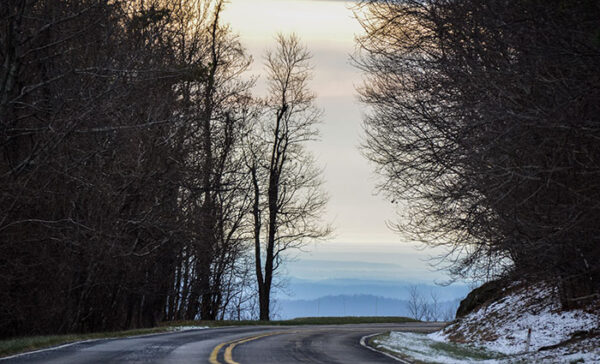 Skyline Drive is one of the most popular scenic drives in America and Harrisonburg is one of the most convenient spots for accessing it.
Tucked inside Shenandoah National Park, this is a definite bucket list-worthy thing to do. It is the only road through the park and runs 105 miles from Front Royal to Waynesboro.
Traveling the entire length of Skyline Drive will take approximately three hours if you don't stop at any of the 75 stunning overlooks.
Skyline Drive can also be accessed from Front Royal, Thornton Gap, Swift Run Gap, and Rockfish Gap, where the road meets the Blue Ridge Parkway.
Hike Shenandoah National Park
With over 200,000 acres and 500 miles of beautiful trails, the Shenandoah National Park spreads along the beautiful Blue Ridge Mountains. Opened in 1935, there are many types of wildlife, hikes for all abilities, and even seasonal lodging.
The Appalachian Trail runs for 101 miles through Shenandoah National Park. Adventurous hikers might want to try out one of the three rock scrambles in the park. Families should definitely check out the exhibits at the Byrd Visitor Center at Mile Marker 51.
Admission Note: The fee for a single vehicle to enter the park is $30. Check here for Entrance Fee-Free Days.
Virginia Quilt Museum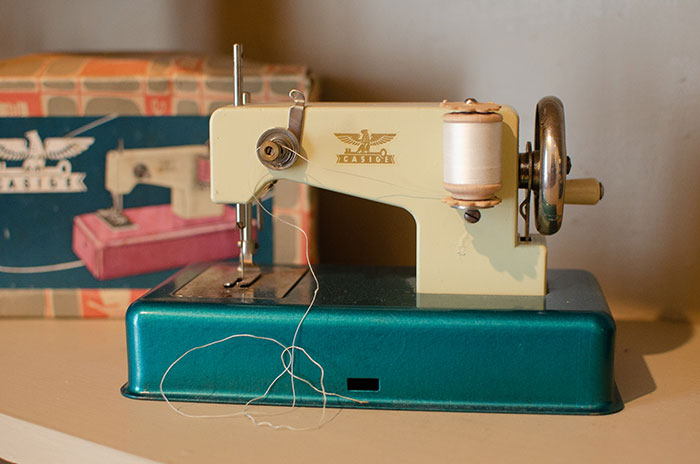 With more than 300 bedspreads in house, the Virginia Quilt Museum is an expansive collection. It's also charged with the conservation of a practice that runs deep in Virginia heritage.
Rotating exhibits, a permanent collection, plus a cool collection of sewing machines make this museum another unique to this area.
Celebrating and nurturing this tradition, the museum is worth a stop for just about everyone.
Luray
Luray Caverns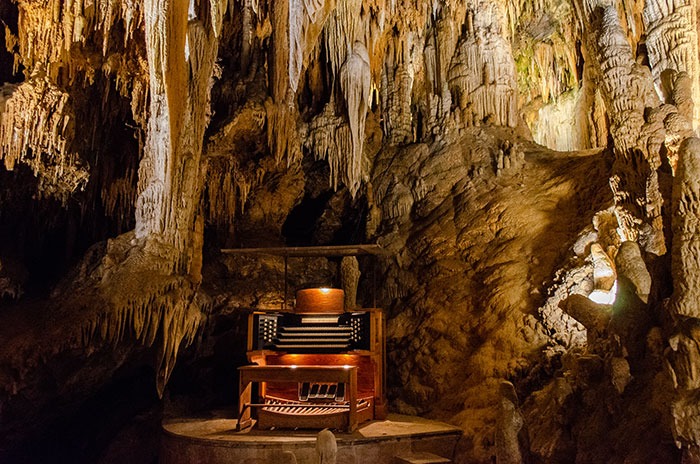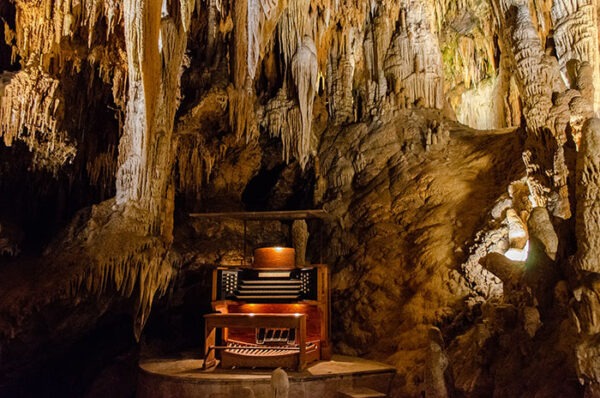 Discovered in 1878, Luray Caverns is the largest naturally occurring cavern in the Eastern United States. Their newly opened entrance offers a nice gradual sloped path. Visitors to the caverns traverse 1-1/4 miles of looping walkways that are surrounded by the 64-acres of stalactites and stalagmites.
These caverns are known for the Great Stalacpipe Organ, which was created by Leland Sprinkle in 1956. The "organ" is played by activating mallets attached to stalactites distributed across 3.5 acres of the caverns. That makes this the largest musical instrument in the world.
Tours run every 20 minutes and every 40 minutes during the offseason and cost $28 for adults and $15 for children. Your group ticket also grants you entrance to the Car & Carriage Caravan Museum, Luray Valley Museum, and the Toy Town Junction.
Additional tickets can be purchased for the Rope Adventure Park and the Garden Maze.
Middletown
Eat Virginia Barbecue at Shaffer's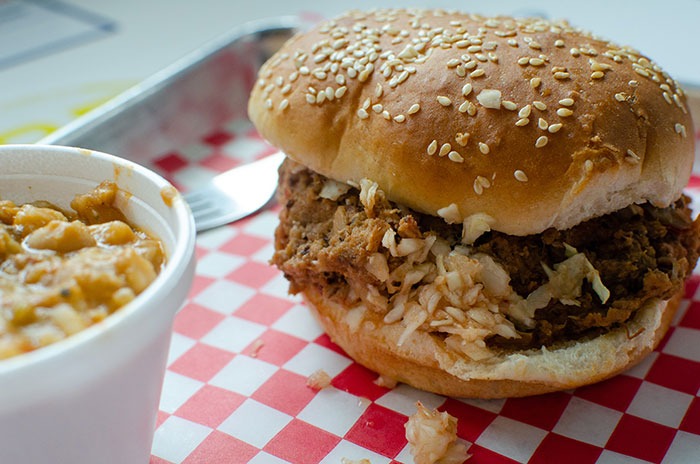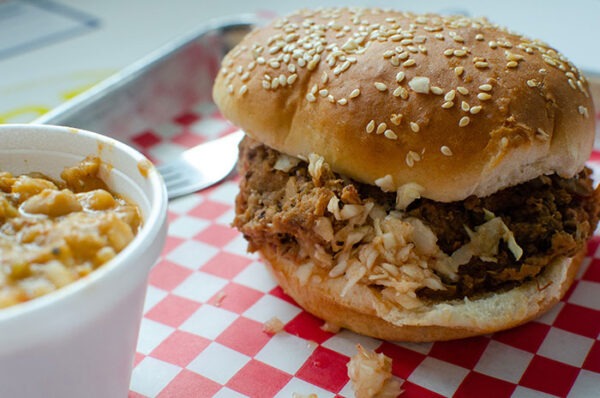 This former gas station turned wood-smoked barbecue joint is one of the best-kept secrets of Virginia! Shaffer's Barbecue has been smoking meat since 1952, remaining family-run for three generations, and filled with local love.
Steeped in vinegar and smoked over oak, Shaffer's is reminiscent of our favorite North Carolina barbecue. However, it's distinctly Virginia-style 'cue. While smoking pork shoulder, beef brisket, and local chicken, the pitmasters add home-made rubs to bring out more flavor.
Come for breakfast, lunch, or dinner and stock up on your favorite local products, too! Their market is filled with hand-curated Virginia products and they also carry an incredibly large selection of craft beer!
Shaffer's is right next to Belle Grove Plantation and makes a perfect 'cue and history-filled afternoon!
Belle Grove Plantation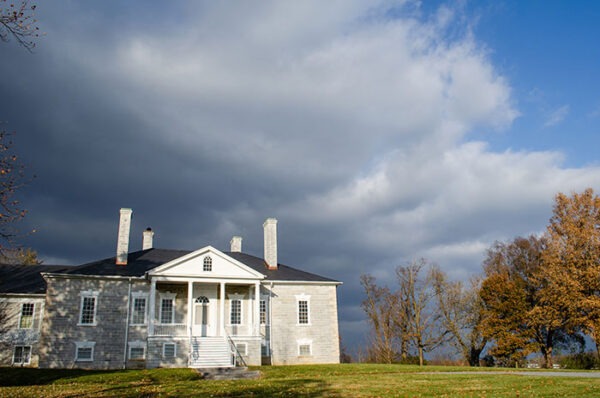 Belle Grove Plantation once was a prosperous 7500-acre plantation complex. It was built in 1797 by Major Isaac Hite and his wife Nelly Madison Hite, President James Madison's sister.
After Nelly's death in 1802, Major Hite married Ann Tunstall, and the couple was eventually joined by ten children in the Manor. As one of the oldest historical mansions of the Shenandoah Valley, Belle Grove shows the life and culture of early settlers.
And while the Hite family history is important and detailed at length during a tour, Belle Grove Plantation also does an incredible job of highlighting the work and stories of the 276 enslaved Africans who lived there.
The work isn't complete, though, as researchers are still working to learn more about these individuals who were owned from 1783 to 1851.
The African American story is an important narrative in our history, and not enough plantations across the American South are willing to share it as openly as Belle Grove does.
Front Royal
Downtown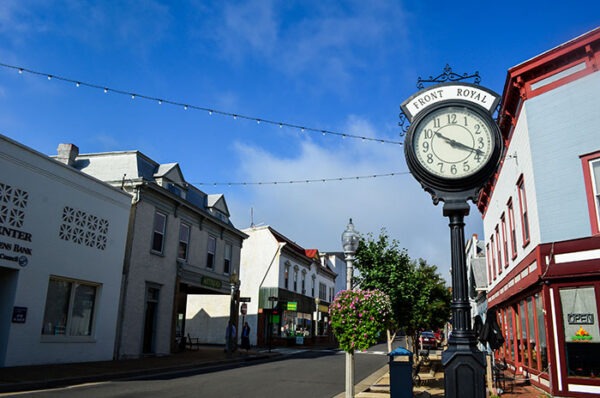 Front Royal is a fun town and just 72 miles west of Washington, DC, accessible via I-66 and Route 340.
We loved downtown Front Royal and were happy to spend a weekend there. Blue Wing Frog has some of the best REAL food in Virginia and Front Royal Brewing Company brings award-winning beer to the table with their dishes.
C&C Frozen Treats is THE place for dessert there and has an always-interesting Facebook Page you must follow.
Appalachian Trail Access
You can also hop on a section of the Appalachian Trail from Front Royal, even if you aren't up for 6 to 8 months of hiking from Maine to Georgia.
In fact, one hundred of the 2,178 miles of the Appalachian Trail swoop and swerve through the Shenandoah Valley. Hikers look for the white blazes along the trail which can be accessed just four miles east of Front Royal in Chester Gap.
Virginia Beer Museum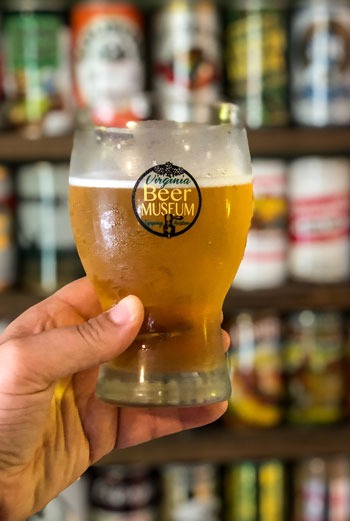 Cataloging the history of Virginia beer since 1607 to the current wave of craft beer, the Virginia Beer Museum is more than just a row of taps. Each room of the former Town Hall represents a different era of Virginia's beer history.
For more to do, eat, and stay in Front Royal, check out our guide to a weekend there!
Linden
Load Up on Donuts at The Apple House
For more than 50 years, The Apple House in Linden has been serving delicious Apple Butter Donuts to travelers and locals.
Near the northern entrance to Skyline Drive, this family-run establishment has much more than just incredible donuts. However, you definitely need some of them!
Stop by for some pork BBQ or one of their half-pound Angus burgers! Open for breakfast, lunch, and dinner, The Apple House is a Skyline Drive tradition!
Winchester
Walk Old Town Winchester Pedestrian Mall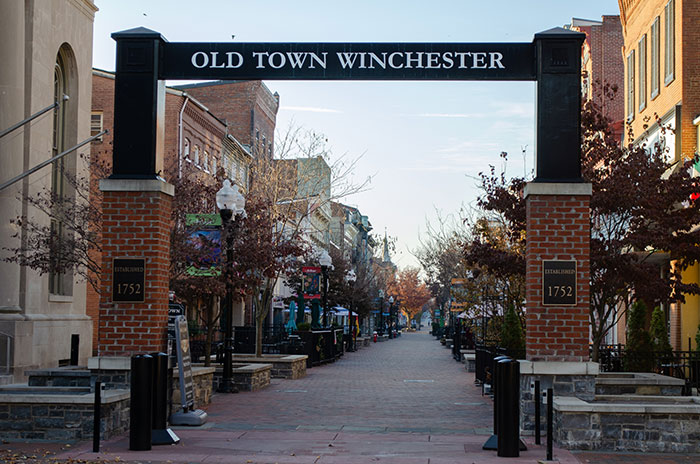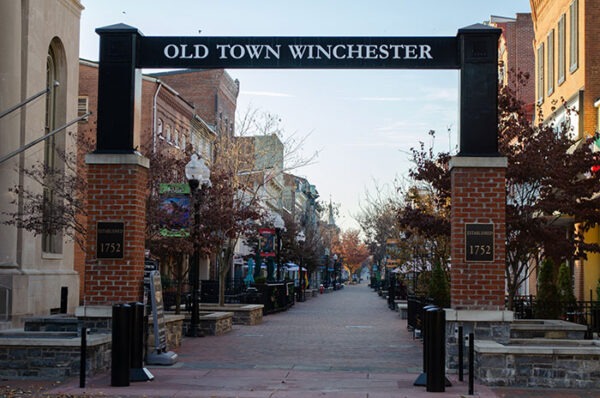 An eclectic mix of shops, dining, and architecture is exactly what you'll find in the Old Town Winchester Pedestrian Mall. With more than 30 restaurants and 60 shops, the 250-year-old pedestrian mall is a beautiful centerpiece to Winchester's historic downtown.
In addition to the shops and restaurants, Old Town Winchester also has important historical attractions.
You can stop by Stonewall Jackson's Headquarters Museum, George Washington's Office Museum, and the Old Courthouse Civil War Museum.
Need help finding something? Check out the Old Town Winchester App and even choose a self-guided walking tour!
Grab a beer at Winchester Brew Works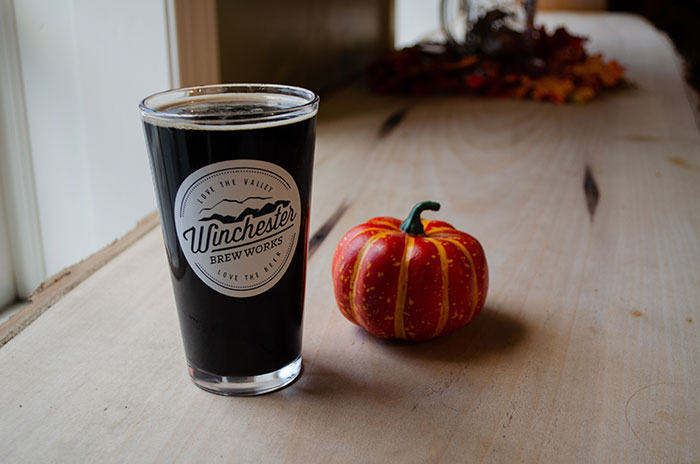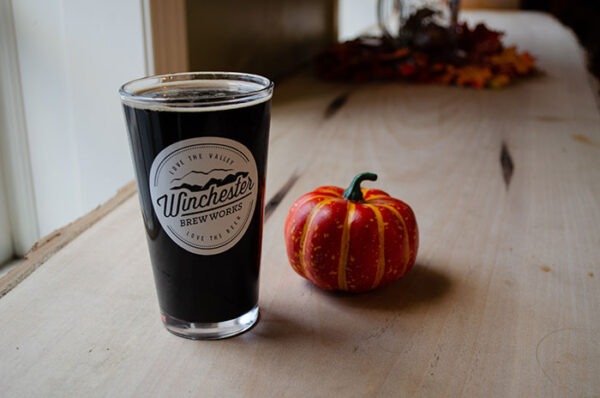 Women-owned and women-brewed, Winchester Brew Works has been fermenting grain since 2016. Winchester Brew Works serves delicious stouts, seasonal shandys, and IPAs.
They also do something I've never seen before.
Upon request, they can add various flavors to your beer. And based on my experience, I can vouch for a squirt of pumpkin spice in the fall or a dash of coconut as okay additions to a porter.
Shenandoah Valley Civil War Museum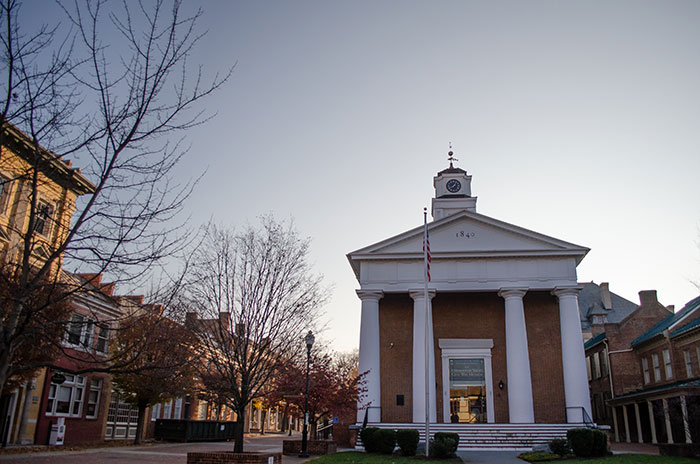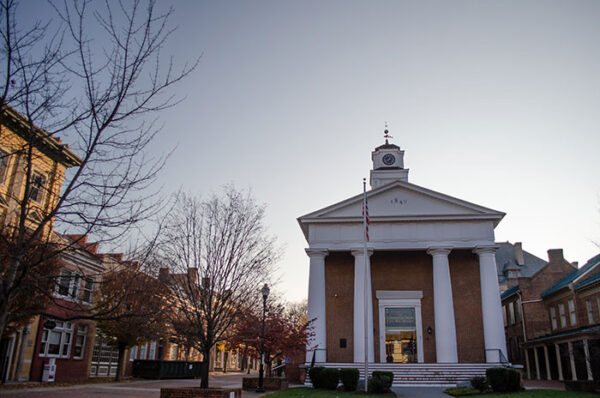 It's said that Winchester changed hands during the Civil War as many as 72 times, even 13 times in one day. Main Street was a hard-fought battlefield and the Confederate and Union Armies used Winchester as their headquarters, just blocks apart from each other.
And today, the Shenandoah Valley Civil War Museum commemorates Winchester's part in the war.
It sits inside of the Old Court House that served as a hospital and prison during the Civil War. Here, you'll find graffiti written by Civil War and over 3,000 artifacts.
Our Thoughts and Yours, Too!
This list of places to visit is just the tip of the iceberg, honestly. That's why we are ready for another Shenandoah Valley road trip, so we can keep exploring this region even further. While we gear up for it, we'd love to hear from you!
If you've driven through this part of the world, got any favorites you'd like to share? If you've never passed through, where do you want to go first? Let us know in the comments section below!
Disclosure Note
Special thanks to Shenandoah Valley Travel Association for hosting us during our stay. You can learn more about them here. All opinions within this article are our own.