Affiliate links linking to products we love may be found within this article. For more info, please check our Disclosure page for more explanation of affiliates and sponsorships.

---
After a night of drinks and eating a bit through Asheville's vaunted food and craft beer scene, we grabbed some coffee at Ultra Coffeebar (amazing Cold Brew!) in the city's River Arts District (RAD) the next morning. At Ultra, we met John Almaguer, a glass artist who organizes tours (his company is called Asheville Art Studio Tours) around RAD, which is a short drive south from downtown Asheville and home to more than 200 artists working in over 20 former industrial buildings. Almaguer introduced us to the area, its history, and eventually some of the people who make this one of the world's greatest collections of artists. We came away so grateful to have spent a day touring the Asheville River Arts District with someone knows so much about it. Let's start with the star of the show—John Almaguer. 
Planning a weekend in Asheville? Check our guide and also, take a look at the best prices on Asheville hotels before you go!
Touring the Asheville River Arts District
John took us to the NC Glass Center, where his work and many other people's wonderful creations live. There were already some people blowing glass and demonstrating it to visitors when we arrived, and it was cool to watch such a beautiful art form in person. Special thanks to the Asheville Convention & Visitors Bureau for setting us up with John's tour. All opinions within this article are our own.
John Almaguer, Glassblower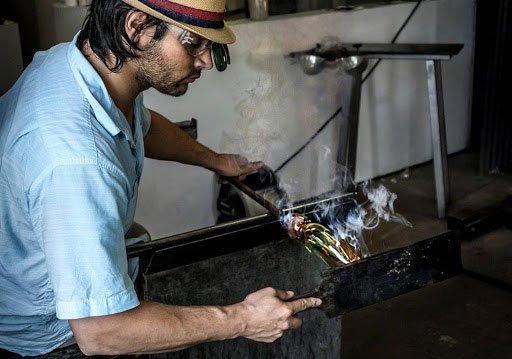 John has been blowing glass since 2003. Almaguer's first glass art-induced inspiration came when he was a teenager. After John later got a chance to try making his own, the rest is history, as they say. One thing I loved to learn about John was how he talked about travel. Almaguer has lived in four different countries and on three different continents, citing how each place had its own styles and expressions. To John, "Art especially is influenced by travel and exposure to different cultures. Travel changes your perspective and allows you to think in new ways and outside of your original culture's traditions."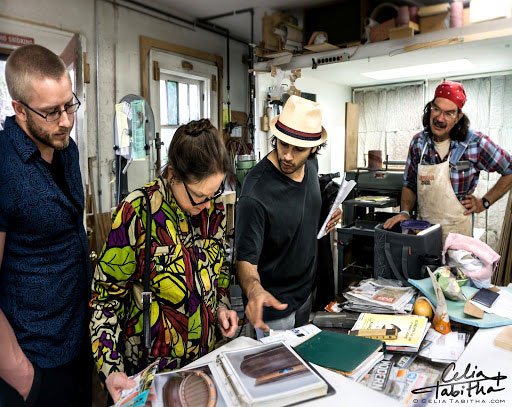 He was drawn to The River Arts District and Asheville after working in Italy and got engaged. John decided to move back to America after some thought and prayer, he and his wife landed on Asheville. He started the Art Studio Tours after seeing multiple visitors lost and not know where to go in the River Arts District. Knowing there was a need for a service to help guests get around and even curate the district in a way for them to give them a well-rounded experience of different types of art and mediums.  
Shoutouts: Michael Hofman and Phil DeAngelo. 
Stephen St. Claire, Dialuminist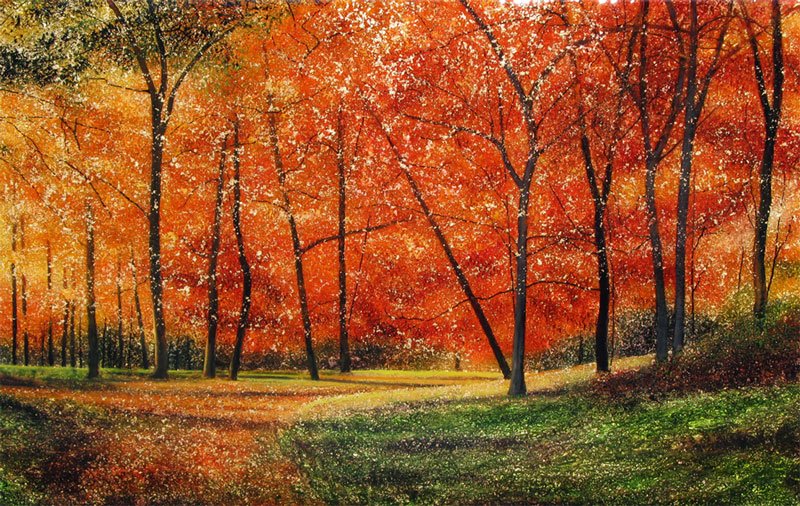 John first took us to see Stephen St. Claire, an artist and oil painter who utilizes metal leaf and light in a wonderful process known as dialuminism, painting this way since 2001. That was when Stephen visited an outdoor street art festival in Mt. Dora, Florida, where he saw an artist whose booth was filled with Greek Orthodox icons. As he put it, "These were legit. He was painting with hand-ground pigments and traditional gel mediums. They were amazing." Stephen had never encountered paint interacting the way it was on top of 24 karat gold. He went home and decided to try painting on top of gold leaf. "I had a couple scraps around, using the medium I was familiar with (oil paint) to see if it could possibly work," he said. And according to Stephen, it did.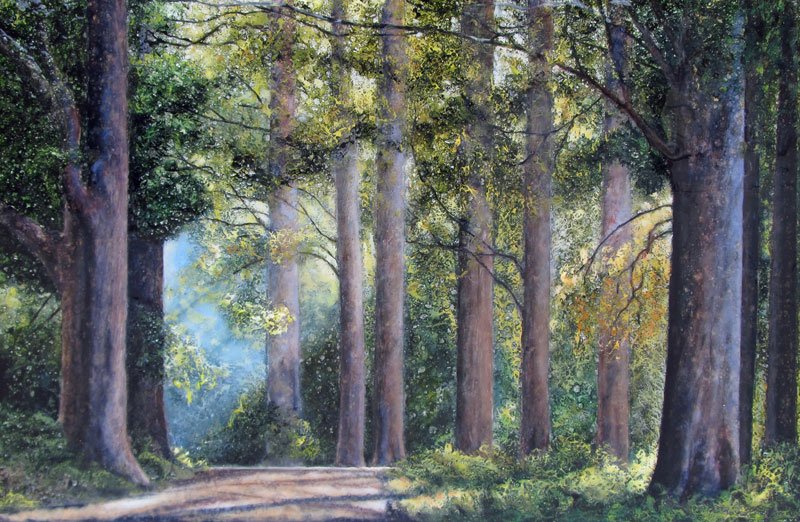 Realizing gold wasn't absolutely necessary to achieve the effect that St. Claire wanted, he spent time searching and hunting around for a metallic leaf that would produce the desired results, eventually determining that to be Italian aluminum leaf (the purest aluminum leaf there is). Today, that is what Stephen paints on to create what he calls, "a 'backlit' oil painting." He does that because backlighting the pigment—akin to stained glass—greatly intensifies the color. We walked around his studio and I fell in love with each piece of art on his walls, the larger ones created by Stephen and smaller ones by his wife Joy, though she also assists him with the former. The St. Claires were drawn to Asheville because they can have a studio open to the public six days a week and because of the community in the River Arts District. 
Shoutouts: Matt Tommey, who Stephen admires for the "incredible baskets he makes out of wild vines native to the Western North Carolina area."
Daniel McClendon, Fine Art Painter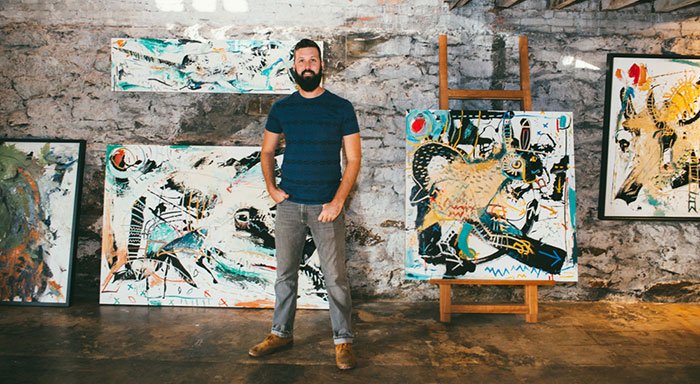 We left the St. Claires and passed through more of the former industrial district. That's when we stepped inside Daniel McClendon's studio. He was originally a realist painter and actually quit for a few months near the end of 2010, before rediscovering himself through abstract in early 2011. Listening to him tell this story was one of the most powerful parts of our afternoon and seeing his paintings presented in nearly chronological order from his old way to new really put things into clear perspective.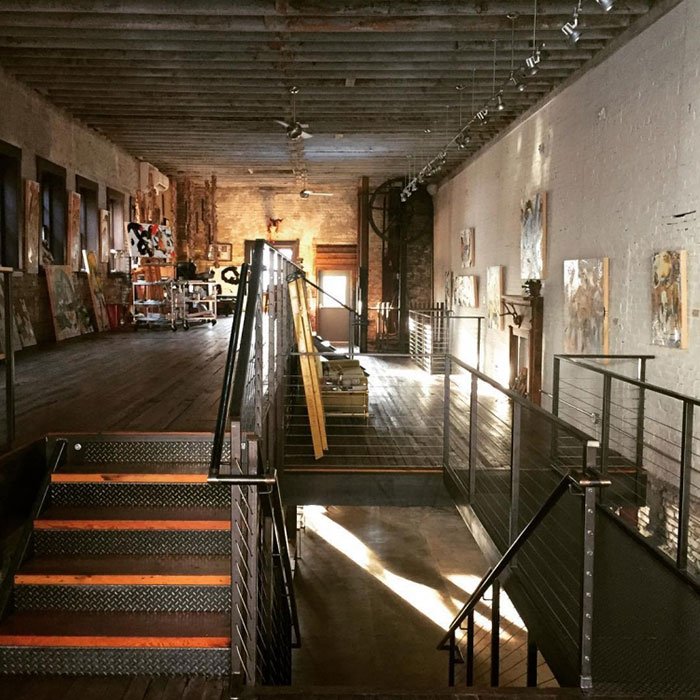 He described multiple paintings to us in his basement, with one realist example against the rest of his "new" works. His proudest creation is "Herd," which you can find on his blog. As Daniel explained, "It epitomizes what I'm trying to do with my work. This idea of a large number of animals acting independently but there's a collective sense of progress and purpose that never ends." He views his work as continuous forward exploration. On being creative, Daniel also said, "I can get along without creating at times but ultimately, I have to have an outlet, or else I'd probably self-destruct." 
That point really hit me because I also feel that way about creating things. I get this itch and nervous twitch if I feel like my writing is falling behind or standing still. I really appreciate Daniel opening up and talking about that. 
Shoutouts: Galen Frost Bernard, Joyce Thornburg, and Spencer Herr (not in RAD but nearby)
Andrea Kulish, Pysanky Artist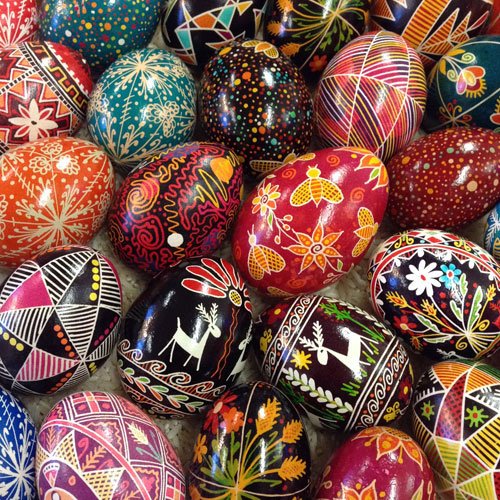 Before heading to the Glass Center and finishing up our tour, John took us to Studio A to meet Andrea Kulish, a pysanky artist and all around friendly person. She learned to paint from her mother when Andrea was five years old. Her family came to New York from the Poltava area of Ukraine, with her mother hailing from Ternopil and her father coming from Frankivsk. She showed us her beautiful collection of pysanky, which goes back thousands of years in Ukraine. She does workshops in her shared studio and goes over the hows and whys of pysanky as she demonstrates from start to finish. While pysanky kick up in popularity around Easter, I really wouldn't mind having 10 or 20 of these beautiful creations in my house throughout the year.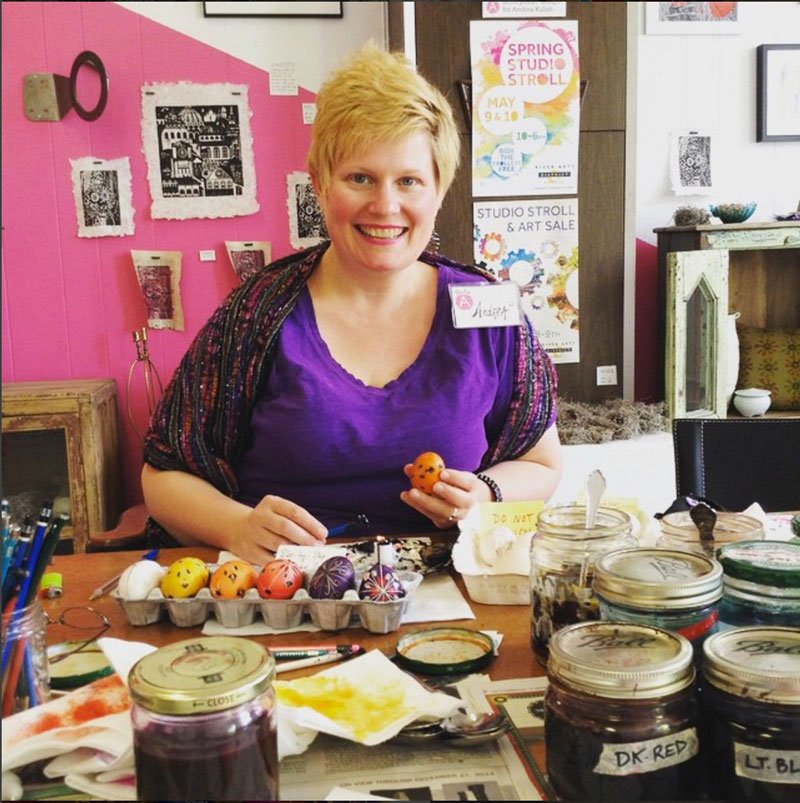 Like many people we met in Asheville, Kulish wasn't born here—and that's not a bad thing. Andrea came to Asheville from upstate New York and, as she put it, "felt a strong pull to the area." She'd always wanted to have her own shop and along with her husband—a musician—they came to Asheville for a "month-long trial" and have been there ever since. Inside Studio A, there are other artisans and Andrea has collaborated with them on multiple occasions. After hearing her story of coming to the Asheville River Arts District and seeing the smile on Andrea's face as she told this story, I really could see why an artist would want to come here. The community seems so welcoming, even to an outsider like me.
Shoutouts: Heather Morgan and Holly de Saillan.
Join the Asheville River Arts District Tour!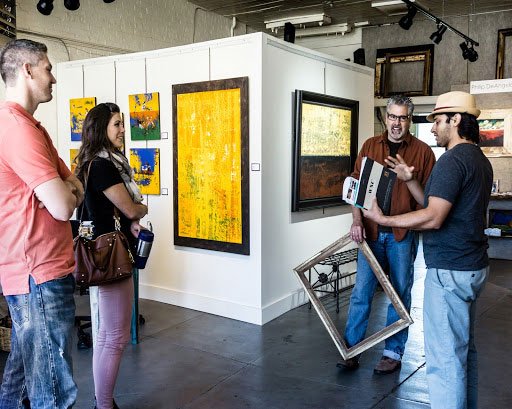 The tour John took us on may vary from the next one, because he likes to highlight different things each time. However, as he noted, "There are obviously certain high light spots I repeat quite often, as so many have top notch work, accessibility, and are good about describing their work." It was a treat listening to John share his knowledge of the River Arts District from its early history to the awakening that took place in 1985 when a group of people decided to transform the area. I highly recommend this tour and if you're in the area, please reach out to John and set up an Art Studio Tour!
More RAD Galleries and Things to Do
More galleries are pretty well known in RAD, including The Village Potters, 310 Art Gallery, Brian Boggs Chairmakers, and Jonas Gerard Fine Art. Other than the awesome caffeinated creations at Ultra Coffeebar, there are some great places to eat in the River Arts District. White Duck Taco, All Souls Pizza, and Fresh Wood Fired Pizza West are a few of the names you'll hear tossed around when asking about grabbing a bite. New Belgium Brewery has an Asheville location and it's not far from the River Arts District, across the French Broad. They have a patio and a 6,000 square foot taproom filled with delicious beers that are waiting for you to try. Speaking of the river, French Broad River Park is a great way to get some sun and enjoy the outdoors in Asheville.
More Asheville Art Spaces
Asheville's art scene is not just restricted to the RAD. The Asheville Gallery of Art is where many Downtown visitors start when arriving in the city. There's also the Ariel Gallery (jewelry, ceramics, glass, and more) and Woolworth Walk (I'm a sucker for soda fountains) in Asheville, but there's more art to explore beyond the city limits. Blue Ridge Parkway travelers flock to the Folk Art Center (Mile Marker 382) and Jackson County Green Energy Park has turned a former landfill into a more environmentally friendly art space.