Affiliate links linking to products we love may be found within this article. For more info, please check our Disclosure page for more explanation of affiliates and sponsorships.

---
I've always enjoyed Jack Kerouac's On the Road and how the famous author captured his journey-filled life. His vivid listings of otherwise ordinary towns were something about I thought about during a trip along South Korea's south coast on the S-Train. Excuse the ambitious homage but I honestly can't think of another way to write about an evening on a train. Little things and moments like this ride on Korea's S-Train are the reason that I'm still hungry and hopeful about our time traveling around this world.
Check the best prices on hotels in Seoul and other South Korean cities via these amazing sites before you go! (TripAdvisor | Hotels.com)
This travel guide is part of our series on South Korea Travel and East Asia Travel. It was originally created on August 15, 2015. It has been maintained and updated (as of December 28, 2018) to reflect current viewpoints and travel trends.
Riding the S-Train
We arrive at Suncheon Station after the 20-minute hop from Yeosu Expo and I really should be tired of the monotony that comes a two-stop trip. However, a new experience awaits and I can't relax. A bit of fortune and extra time have granted us a trip on the tourism-driven S-Train toward Busan. Korea has been offering these themed trains for a while and for once, I get to jump on one towards the country's second city. After a quick ride up one escalator and down another, we can see the train waiting on the platform.
The Outside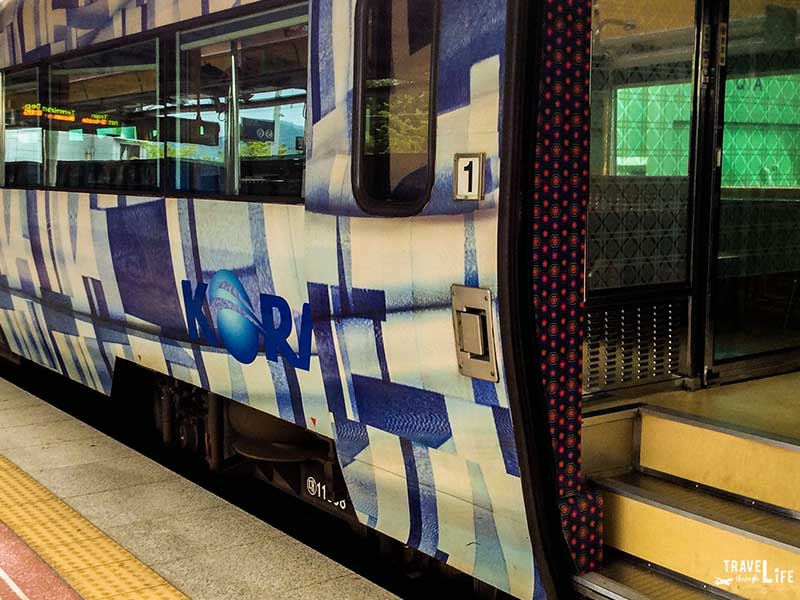 With a few minutes left to kill before it leaves, that youngster in me takes over and I rush to the front of the train to take some pictures of it resting on the tracks. The blue locomotive resembles a turtle with inspiration coming from Yi Sun Shin's famed warships. My love for trains might be irrational but frankly, I can't be alone. Right? Isn't there something romantic and extraordinary about riding the rails in a foreign country? Or is it just train travel in general? I notice that our neighbors don't share the excitement, having just awoken from a nap.
Almost Snowpiercer
We won't be bothering them for long, I assure myself and think about possible places to kill time away from our seat. Before the train leaves, a quick walk takes me through the train's variously themed cars. Designed to capture one's imagination while we travel through the countryside, each room is colorful and almost like a separate world. I think back to Snowpiercer and how these cars would've fit into that train, preferably without the post-apocalyptic ice age and revolution. Those thoughts quickly disappear as the train starts with a slight jerk, signaling that our journey has begun.
Great Design, Okay Sounds
The train slowly passes through Suncheon and its outskirts, soon revealing the wonderful green countryside. We see old haunts on this route and the first one is Hadong and its beautiful yet inconspicuous green tea fields. I grow too restless for our seat and convince my wife to that the Music Car would be great for a beer. The train plateaus at the top of a hill before entering a tunnel and we get a brief look down into another gorgeous valley full of rice farms. Sometimes beauty becomes monotonous when it's all around, I think. We enter the Music Car as the train works its way through the tunnel.
Sitting down at the first empty booth inside, I notice a collage of album covers that any 1970s music nostalgist would appreciate. I immediately fall in love with the color scheme in here and wonder if the designers really liked the Jackson Five and Simon and Garfunkel enough to include them in the album art that's plastered all over. Unfortunately, the blaring Kpop doesn't match up to the aesthetics. The train comes to a stop at Bukcheon, whose cosmos flowers and autumn festival are something that I've always longed to see.
Sundown, Bright Lights
More people hop on and by now, the sun is almost down. We walk back to our seats and get one last glimpse at the beautiful countryside before darkness and bright lights take over. I walk to the Green Tea car for a look but can't be convinced to buy a cup of Boseong or Hadong's finest. The lights of cities we used to know more closely come into view and soon fade away in the distance. We're getting closer to Busan and our hotel in Nampo Dong. My wife takes a nap as we pass Jinju Station, needing my seat to stretch out.
Taking the hint and moving somewhere else and to finish my last beer, there's a bench at the front of the car with a massive window in front of it. Of course, it would've been nicer when the sun was still out but the occasional flash of city lights are interesting enough for a sit-down. I take my book and sit there thinking about as little as possible while occasionally staring at the towns that pass by. I start to realize why this ride has been so special but just can't place my finger on it yet. The cities grow closer together as we inch nearer to Busan and I can tell that our journey is almost over.
Last Stop, Little Things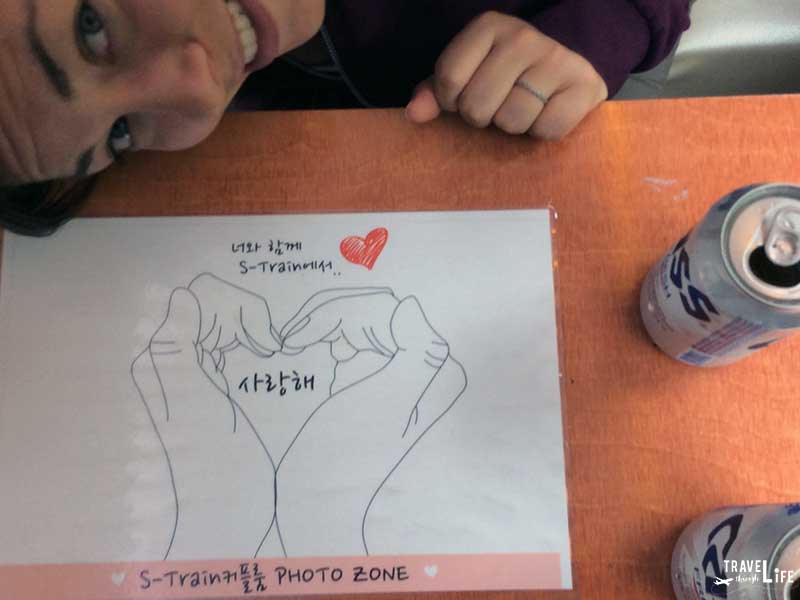 The train slides towards Busan Station and we grab our things, preparing to search for a hotel that's not too far away. I wonder if others had as much fun but they all seem more concerned with getting their Friday night started. My childlike infatuation with trains masks the fact that we're about to have an awesome weekend in Busan. This will be our last trip to Korea's second city so I start to wonder some train journey has kept me so excited. Busan is home to some of our favorite memories, including a visit to Haedong Yonggungsa Temple and a Temple Stay at Beomeosa during different trips.
Arrival in Busan
We get off the train and head toward Nampo Dong. We'll end up having a lot of fun in Busan, checking out Taejongdae and other cool places. I look back toward the train as we leave the platform and now understand why this trip was so special to me. It wasn't one thing alone but all these tiny, insignificant things coming together. It wasn't one moment but a series that made this otherwise meaningless trip so heavy and special for me. Sometimes we need to refocus and retool our imaginations because if we don't, they'll just wither away and disappear. The S-Train was the perfect little thing needed to keep my heart and mind moving in the right direction.
Has something like this ever happened to you? What has recharged your imagination in a similar way? I'd love to hear your story if you've got one! Let me know in the comments section below:)