Affiliate links linking to products we love may be found within this article. For more info, please check our Disclosure page for more explanation of affiliates and sponsorships.

---
South Korea's Boseong Green Tea Plantation has become a familiar weekend destination and a second adventure here is an easy no-brainer, thanks to Yeosu's proximity and some beautiful weather. There's not much to do in Boseong's downtown. However, the small city is home to one of Korea's most famous and most visited attractions. Walking around the famed Daehan Dawon Green Tea Plantation and nearby Yulpo Beach is convincing me yet again why this place is worth multiple trips.
A visit to Boseong for the Green Tea Festival appeared in our feature on Spring Things to Do in South Korea.
Boseong Green Tea Plantation
Directions to Boseong and Yulpo Beach
(Courtesy of Korea Tourism)
Buses will be more convenient for travelers and if traveling from Seoul, you can take a bus to Boseong from the Express Bus Terminal Station (About 5 hours). That is accessible via Subway Lines 3, 7 & 9. From Boseong Bus Terminal, you can take a local bus bound for Yulpo Beach and get off at Daehan Dawon Bus Stop. Train travelers can reach Boseong from Yongsan Station (5 hours, 30 minutes). Tickets can be booked at the station or at Korail's website here.
Our Story
We jerk and sway along with the bus riding through more obscure parts of Jeolla towards Boseong and though I'm no stranger to the perilous Korean buses, I still considered rethinking why one might want to brave this journey. My hatred for buses starts oozing out. I'm considering our reasoning for such a waste of a beautiful Saturday on a return trip to these tea fields. Aren't there plenty more new and exciting sites to see? Stepping off the second bus and standing at the plantation's entrance, I'm convinced that everything will be okay.
Cedar Road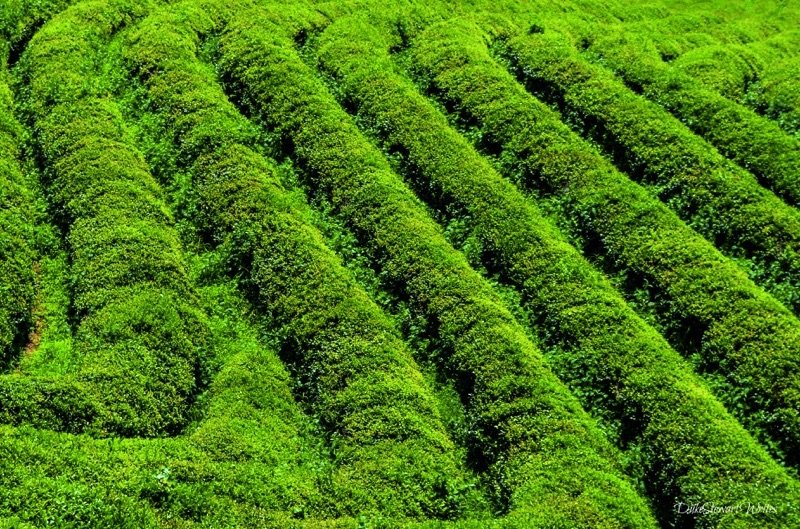 The year's Green Tea Festival had just closed. Perhaps for that reason, the walk inside was one of the quietest we'd ever encounter. Traveling early and away from peak times is a great way to beat crowds, I say! We walk towards the main entrance. There's much more time to think and stretch out without distractions or elbows coming our way. We walk through the familiar "Cedar Road" lined with beautiful tall trees and as green as ever. This is a perfect day, with the sun shining and not a cloud in sight. We through the maze-like tea field and try to imagine just how much tea might come from this mountain of a field. It's so cool to walk through!
Two years prior, I was too out of shape and struggled all the way to the top. Plenty of hikes and much healthier lifestyle later and getting to the peak of the plantation is so easy. The view from the top is nice enough and worth the trip up on a clear day like this one, with islands and the sea sitting in the distance. We walk down from the top and have an ice cream and some green tea to get the sugar and caffeine levels back to normal. There's a bus stop in front of the place but our patience grows thin at the same time as a taxi passes.
To Yulpo Beach
Just a short ride away from the plantation, Boseong has a pretty nice beach for a brief sit-down. The taxi takes us along beautiful mountainous roads that descend into towards the coast and Yulpo Beach. After seeing a fair share of "dud" beaches in Korea, my expectations for Yulpo are low at best. We sit in the sand and watching the ripping currents violently force themselves towards the shore further. I'm pretty happy with the decision to come here. The tide is out and lots of people are shedding shoes and sandals to go enjoy the wet, dark sand.
The day is perfect but one thing remains. As the sun starts its way down, we walk for a bit and find a barbecue place nearby. A Spanish couple comes in and we chat about this place and others throughout the meal. Instead of taking the bus all the way back, we head to Boseong's train station for a quieter return. No more buses will be swinging us back and forth today and my love of trains will be further reaffirmed.
Our Thoughts and Yours, Too!
This won't be my last time at Boseong and for so many good reasons. It's small when compared to other tea fields like Cameron in Malaysia and others but I'll always love it. Crowds can be a bit suffocating during busy times but whether you want to avoid them or not, you have to see this place at least once. If you're in South Korea and need a nice day trip away from the big cities, Boseong should be at the top of your list!
This travel guide is part of our series on South Korea Travel and East Asia Travel. It was originally created on May 20, 2014. It has been maintained and updated (as of December 28, 2018) to reflect current viewpoints and travel trends.