Affiliate links linking to products we love may be found within this article. For more info, please check our Disclosure page for more explanation of affiliates and sponsorships.

---
I slowly walk through immigration after a short plane ride and the city is similar to the one I left. This one, like Busan, is an important hub of activity. Port cities have many things to offer, but with Osaka food is king. I sample some takoyaki and walk around the quiet neighborhood not far from Osaka Castle. It is time to walk directly into Japan's kitchen.
Osaka
This Osaka travel guide is part of our series on Food Travel, Japan Travel, and East Asia Travel. It was originally created on February 4, 2015. It has been maintained and updated (as of December 28, 2018) to reflect current viewpoints and travel trends.
Dotonbori
You can't visit Osaka without walking through Dotonbori, the city's entertainment and cheap food hub. Namba Station approached and as we walked out the exit, my eyes scanned around the area for one thing – that big crab. The crustacean and the restaurant that accompanied it (Kani Doraku) was always a personal landmark for me in Namba. After pacing through some of those iconic Japanese alleyways, there we were.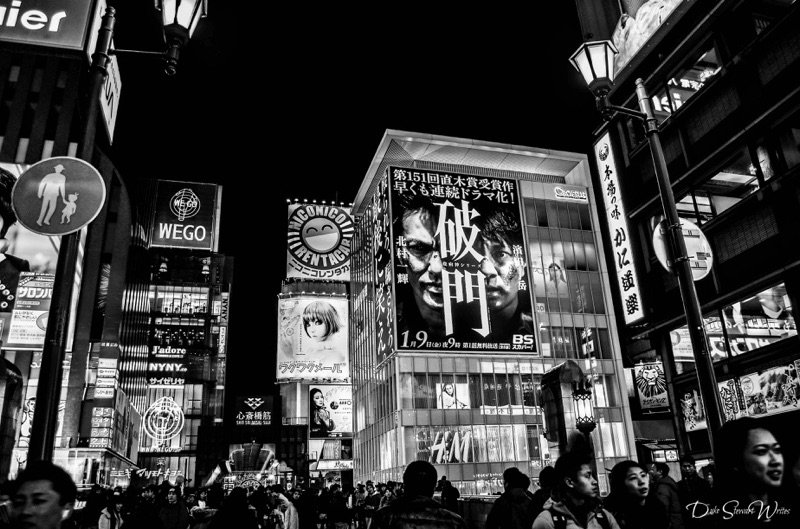 Hello Osaka. Good to see you again. Where to first?
Tourists and locals alike were on the hunt for the perfect meal because where else would you look? Stalls and restaurants presented a variety that bordered on food porn, with options flashing through my head. The whole spectacle was overwhelming.
Two beers. Two gyoza please.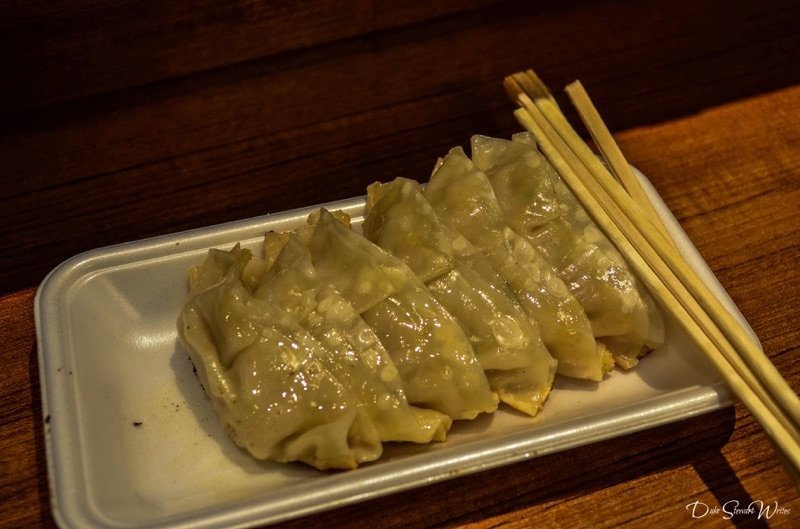 I order in a form of Japanese plagued by rust. Our draft beers come out as we plot the next point. It's all about keeping the night in motion, taking it all in. Ramen would be too filling and end the night prematurely. Maybe later. Take it easy tonight. After finishing two very delicious hand-rolled dumplings, my eyes scan around until I can see the dish that nobody (unless you're from Hiroshima) can do better than in Osaka – okonomiyaki.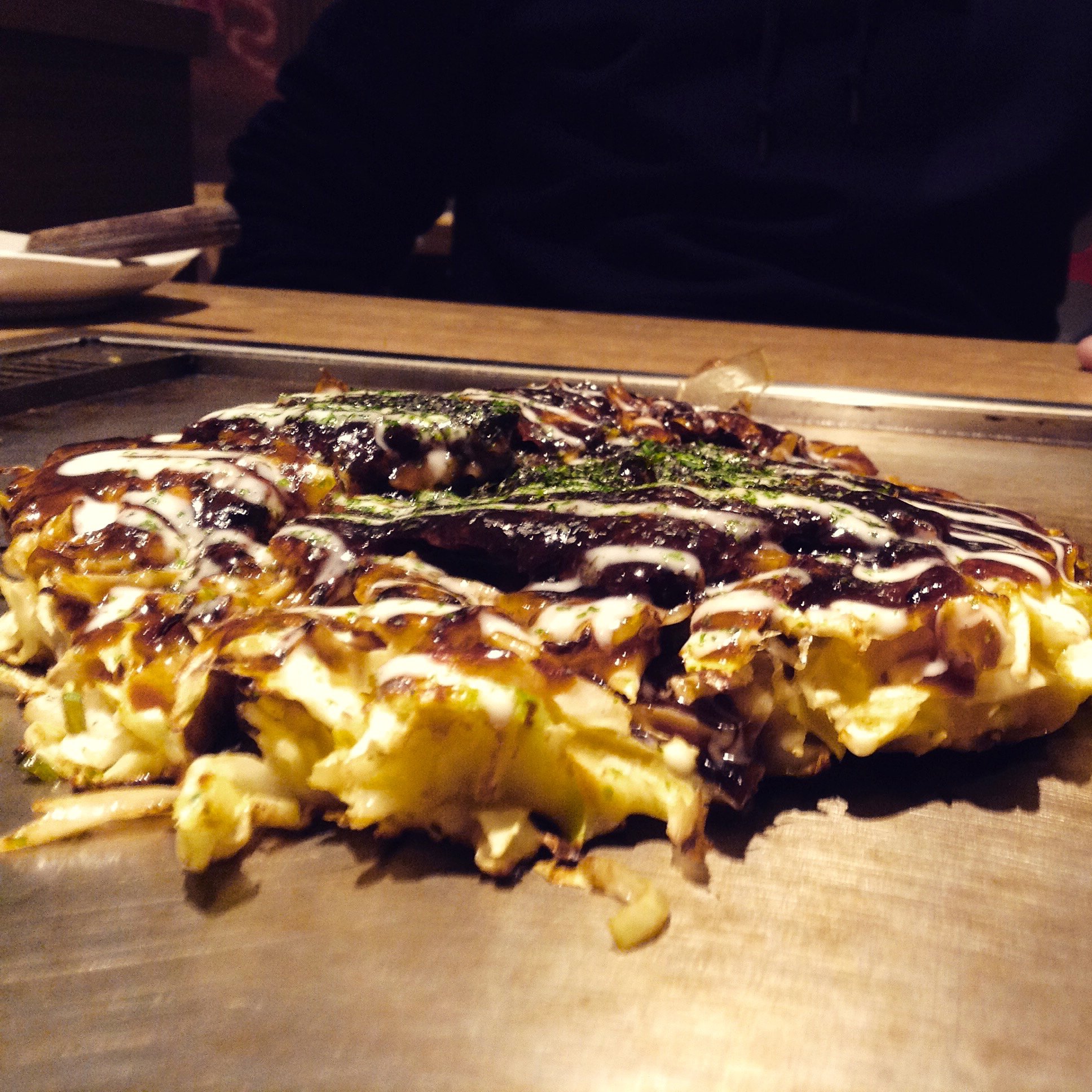 Calling it a Japanese pancake doesn't do this culinary masterpiece any justice, but analogies are necessary when describing something so uniquely delicious. After searching for a few minutes and making a loop or two, we find a second floor restaurant and are seated by a charismatic chef.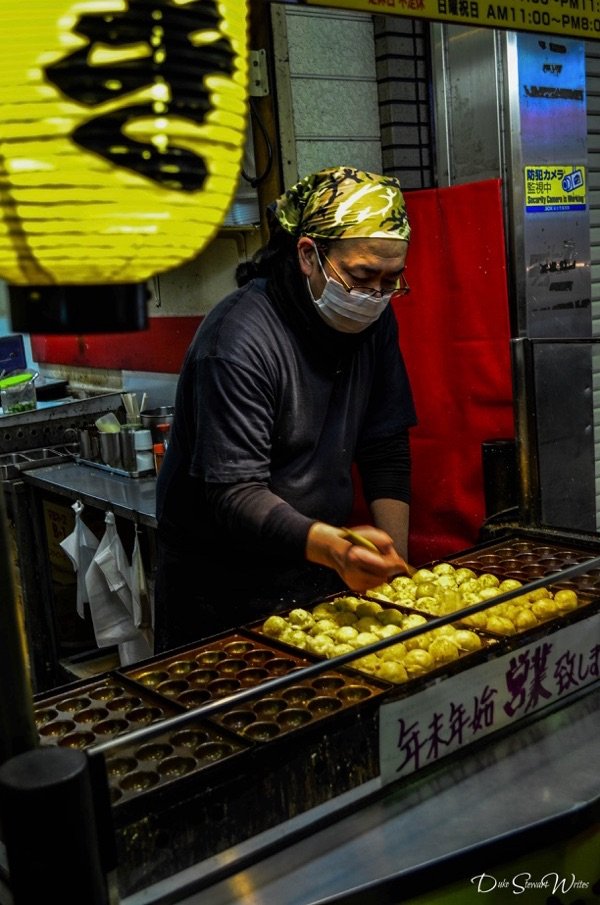 The food comes out to join the beer and hot sake, and only after a short wait. It's beautiful and truthfully, doesn't take long to consume. Small, cute meals made up the majority of our trip, and this night was just the beginning. There it was – a circular batter filled with cabbage, pork belly, and that delicious sauce grouped with a whole swathe of other flavors that entered my body during that blissful meal.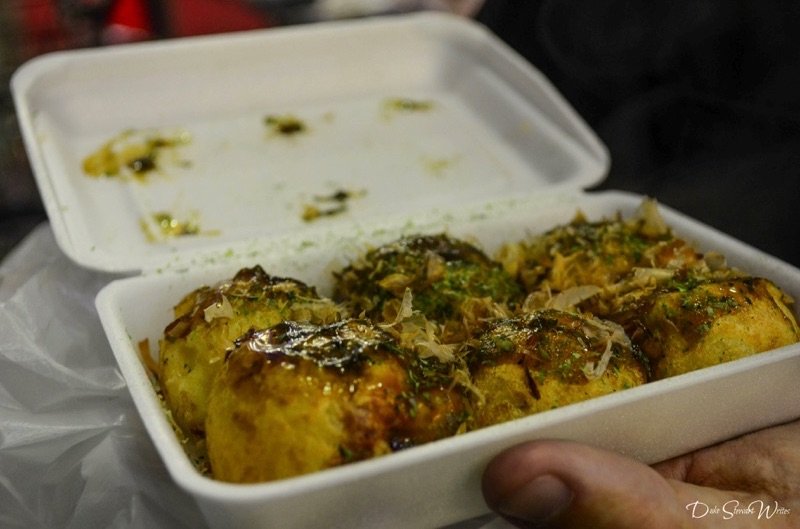 The rest of the night is a blur, thanks to the copious amounts of sensory overload (and the saké). The bright lights and noise in Osaka's center stage play second fiddle to some of the best food I can remember eating. This isn't the first time Namba District will leave me comfortably full and, as my brain struggles to process it all, the night quickly flashes and turns into the next morning.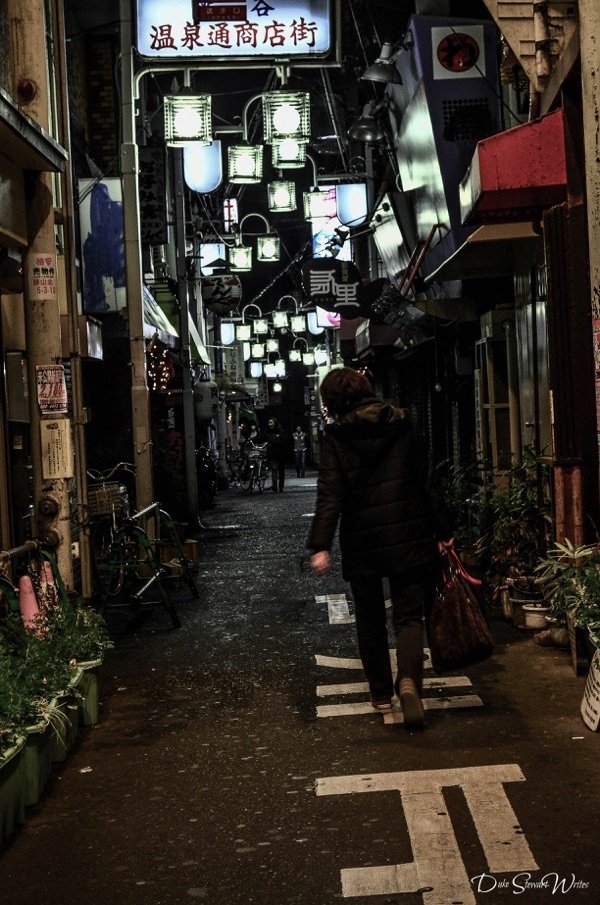 I wake up and prepare for the next merry-go-round in this food carnival, but know that first night was where we'll peak. After leaving Osaka, we have more great food experiences in other parts of the country but it's always that first night that keeps coming back. That first night in the Osaka restaurant mecca was a spectacular way to begin, as our palettes and taste buds truly met the best in Japan's kitchen.