Affiliate links linking to products we love may be found within this article. For more info, please check our Disclosure page for more explanation of affiliates and sponsorships.

---
Bali, Indonesia is an interesting destination because it really is two distinctly different "islands" within one massive one. The south of Bali (Denpasar, Kuta) is highly developed and has most of the nightlife, super-posh hotels, the airport, and crowds. Inland Bali is a series of mountains and valleys, epic views, terraced rice fields, waterfalls, and scenic beauty. Don't get me wrong. All of Bali is worth visiting. Coastal/Southern Bali is BEAUTIFUL, several Balinese beaches are world famous for surf, and it is hard to beat some of the southern Bali cliffs and cliff temples. But we're here to share with you five fun things to do in Bali on the beach and beyond, along with where you can experience them.
Check the best prices on Bali hotels before you go!
Five Fun Things to Do in Bali on the Beach and Beyond
Featured image provided by Travel Through Life. All other photos provided by the author and photographer Jeffrey Roehr.
Currency Note: The Indonesian Rupiah (IDR) fluctuates quite a bit against the Euro and the Dollar, so please keep tabs on conversion rates.
Important Note: Hire a Driver
Do not be tempted to drive yourself and just HIRE a DRIVER. The drivers know the roads. They also know lots of cool places to visit in Bali for food or detours you could not possibly think to take! We hired drivers for about 1.2M IDR per day. It meant we could sit back, give him a list of places we wanted to see that day, and we had no stress or worries about getting lost.
When To Visit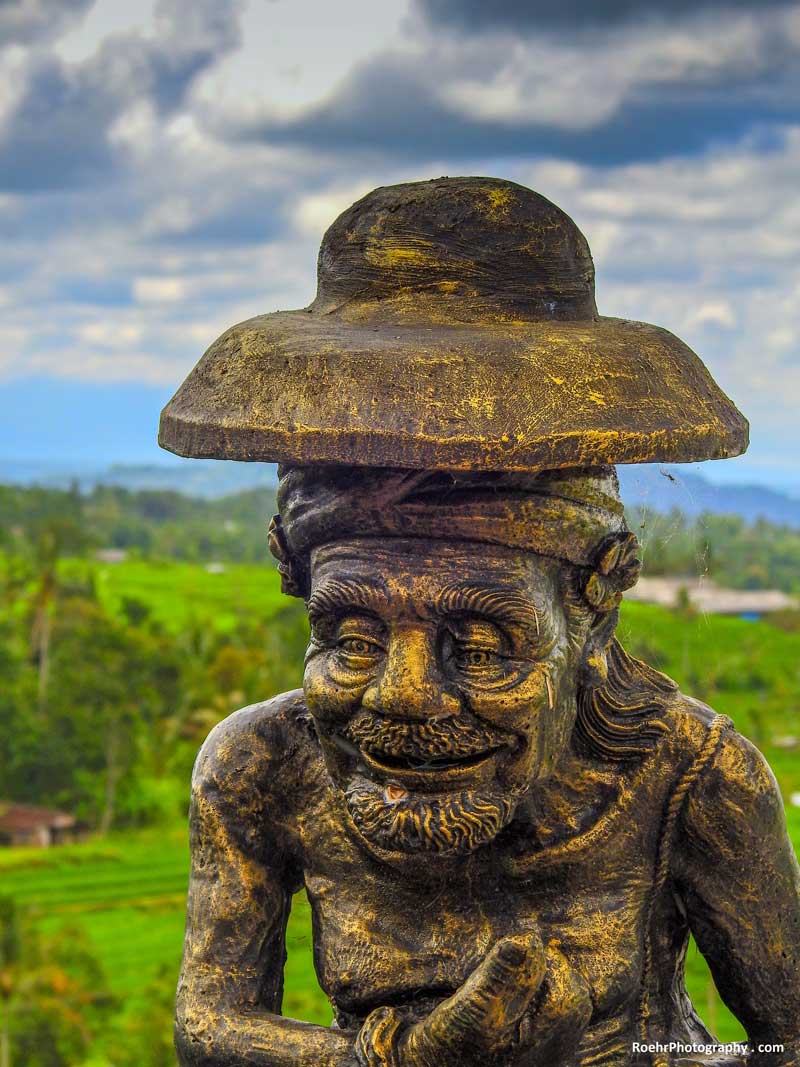 The rainy season in Bali runs from November to March, and prices are lower, but there will be rain. The three of us timed our trip to be at the end of the rains in late March, and although we had some rain, we also had perfect sunny days.
Learn more about the best times to visit Bali!
Horseback Riding on the Beach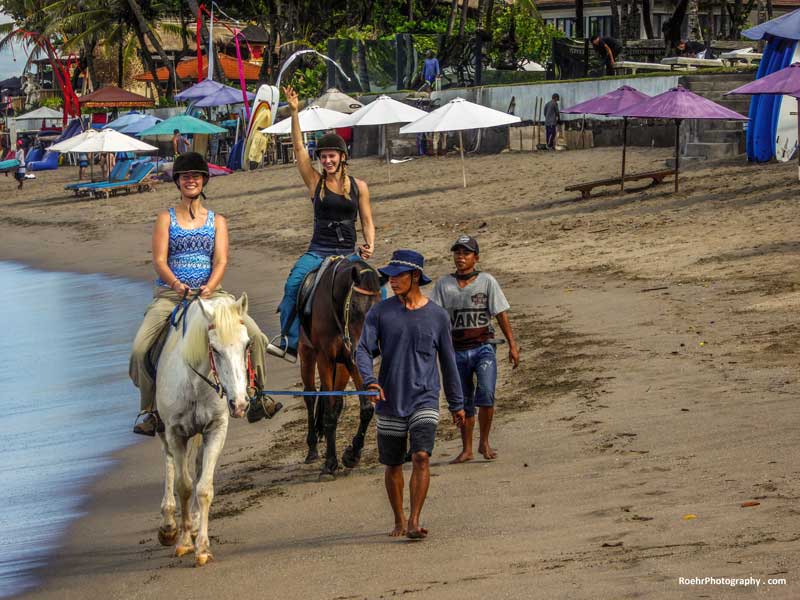 This was a perfect hour ride along the beach at the Bali Equestrian Centre in Canggu. The horses there were in great shape and condition, the service was superb, the equipment was clean and well maintained (English saddle), and the attitudes of our horses showed they enjoyed the walk, too. The beach is close to the stable, maybe 5 minutes on horseback to reach the sand. The staff escorts you by holding the reins, a "just in case" precaution. This was an experience I would do again and again. The price was reasonable (650K IDR for one hour-long ride) and that included the transportation (a small van) to and from the place where we were staying.
Note: I suggest doing this as early as possible in the morning, as even by the end of our ride at around 9 am, it was getting rather warm.
Dawn Hike on Mount Batur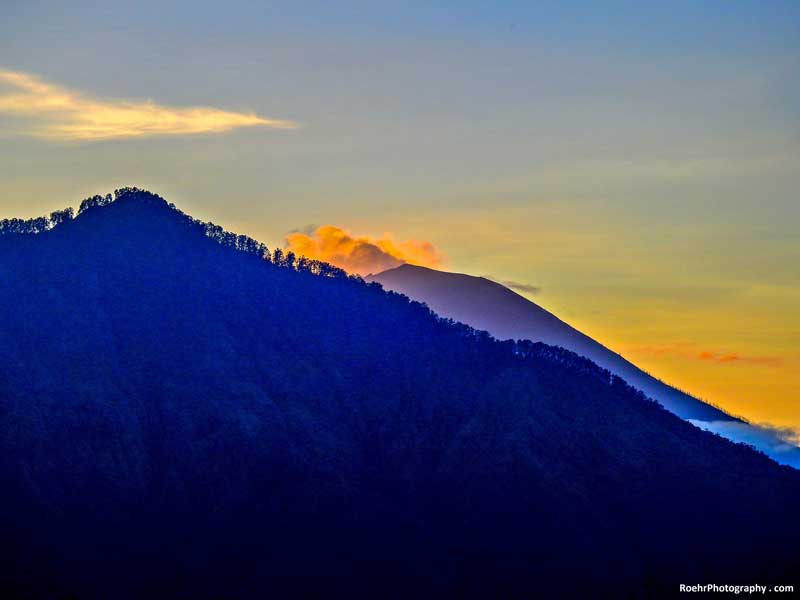 A dawn hike on Mount Batur is known as one of the top things to do in Bali. It's far to the north, and if you are staying in the Ubud area, you will get picked up at your hotel around 2:30–3:00 am (Cost: 460K IDR) to reach the base in time. Do not expect this to be an easy hike, and bring proper footwear. The start of the hike requires a five-kilometer walk up a road (yes, it is uphill all the way). The last 1,000 feet is basically straight up the 40-degree slope of a volcano on loose pumice, where you can easily twist an ankle or slice a hand. This is a tough hike, but if you can do it, WOW!
Caution: Just watch out for the thieving sneaky tricky monkeys all around the summit. They like opening up backpacks to steal food, sunglasses, passports, wallets, and anything else they can find.
A "Jungle Buggies" ATV Ride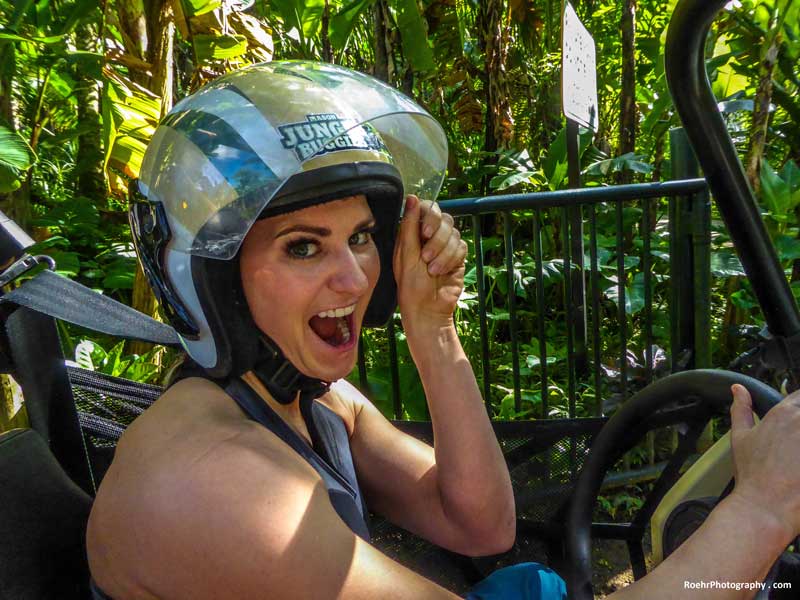 Located at the Kotu Bambu resort, "Jungle Buggies" operate ATVs on a seriously fun jungle course. I mean, SERIOUSLY FUN. Imagine a course filled with tight, twisty, sudden U-turns, banks, unexpected drops, trees that are sometimes WAY TOO CLOSE. You pay by the lap, each lap is 4.5 kilometers, and we did the standard three laps (890K per person). The two-person ATV is definitely the most fun, and you can switch drivers after each lap if you want. We did not swap, as my friend Bree is a Hollywood stunt performer who can drive circles around anyone. After the first lap, I was using both hands and both knees just to hold on. Yes, she's a bit nuts.
Note: The people running this place are serious about your safety, you have to go thru a safety talk, and they provide a pace car, so you don't go too crazy, and also to be there in case something happens. You must be at least 18 years old to drive, have to show a valid driver's license, sign insurance waivers, watch a safety video, and wear seatbelts, helmet, and visor. After the driving, you get to use the Kotu Bambu facilities, including (in our case) a really tasty Balinese lunch.
White Water Rafting on the Ayung River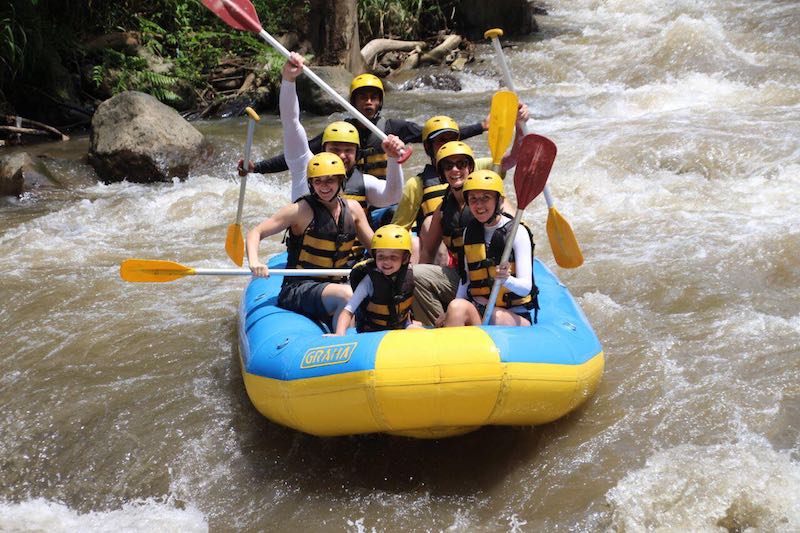 I have gone river rafting in Canada, Colorado, Maine, New Zealand, and even Alaska, and I put this relatively short and family-friendly (Class 1 or 2) river ride among the best rides I've had. Each six-passenger (plus one guide) raft goes through an incredibly scenic and deep river valley, with occasional waterfalls, stunning trees, and random wildlife. You can even see some amazing Balinese and Hindu religious cliff carvings. This had to be the warmest river I have ever rafted on, and you can go with a t-shirt and shorts. Access to the river—and the hike out afterward—is about 15 minutes each way. Expect steep and sometimes slippery trails, so bring proper footwear.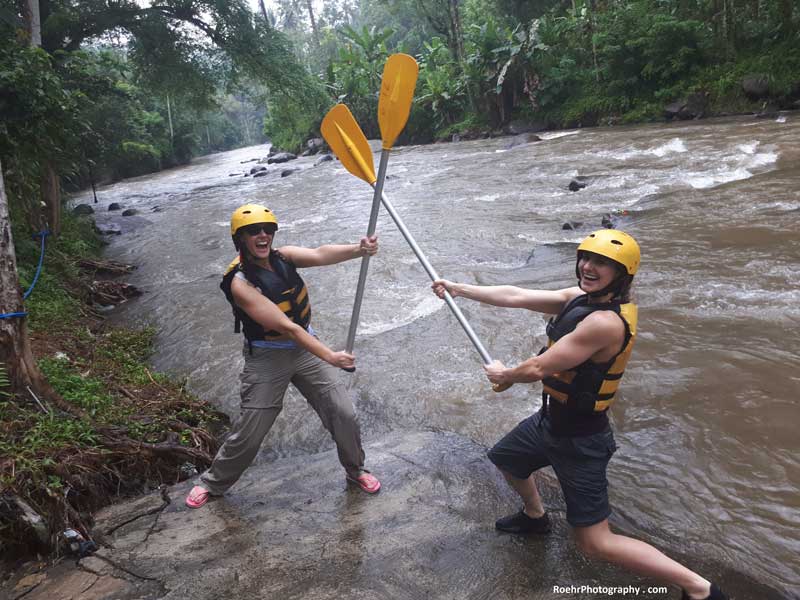 Note: There are several competing raft companies (each has their own color for the rafts) and some good-natured competitions and water fights do ensue on the river. Of course, we won every one of them…ahem. None of the raft companies handle hotel pickups. The cost was 560K IDR per person, plus we split 100K IDR for the taxi. The raft companies will take pictures of you for a fee.
The Temple of Uluwatu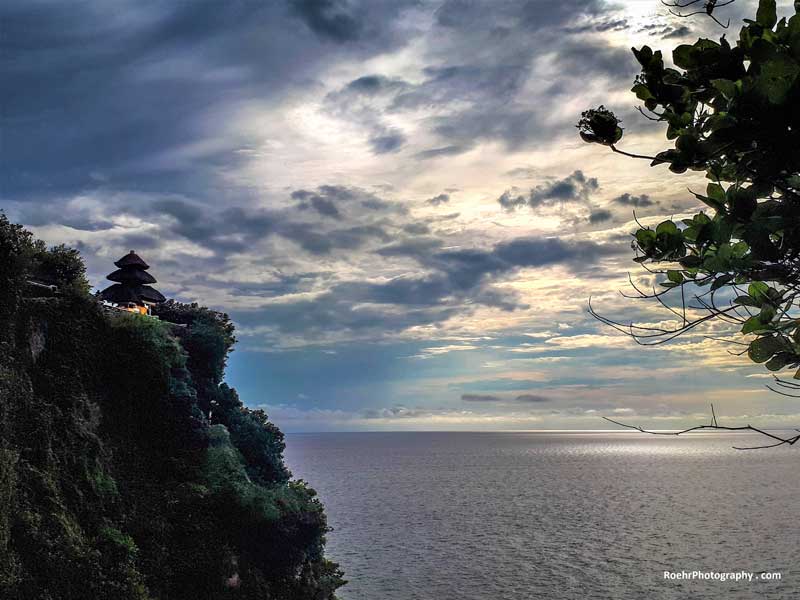 Uluwatu is a temple complex perched atop incredible cliffs all the way out on the farthest southwest corner of Bali. It is unimaginably beautiful, scenic, serene, and holy. All visitors must be "respectfully" dressed. That means no bathing suits and no bare shoulders. Also, everyone is provided a simple scarf/skirt when entering the grounds (Admission: 50K IDR).
The Complex and Kecak Fire Dance Ceremony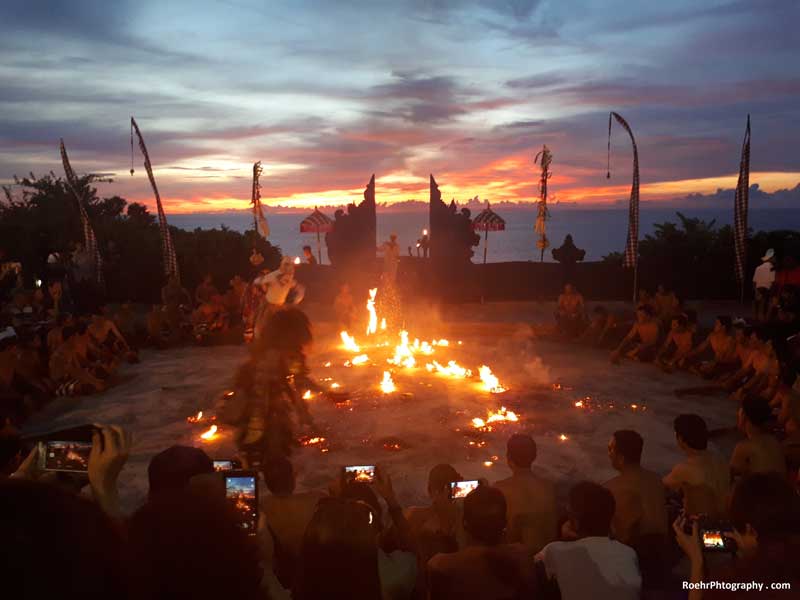 The complex is wonderful to wander through, but the big attraction is the sunset ceremony culminating in the fire dance. The hosts hand out a pamphlet explaining the basics of the legend behind the dance. It is a spectacular show, and we were doubly lucky because the sunset that night (as the ceremony was taking place) was worth a million dollars itself. If you can, head to the theater about an hour before the show starts to get a good seat. The show is totally worth it and is a big reason why this is one of the best places to visit in Bali.
Our Thoughts and Yours, Too!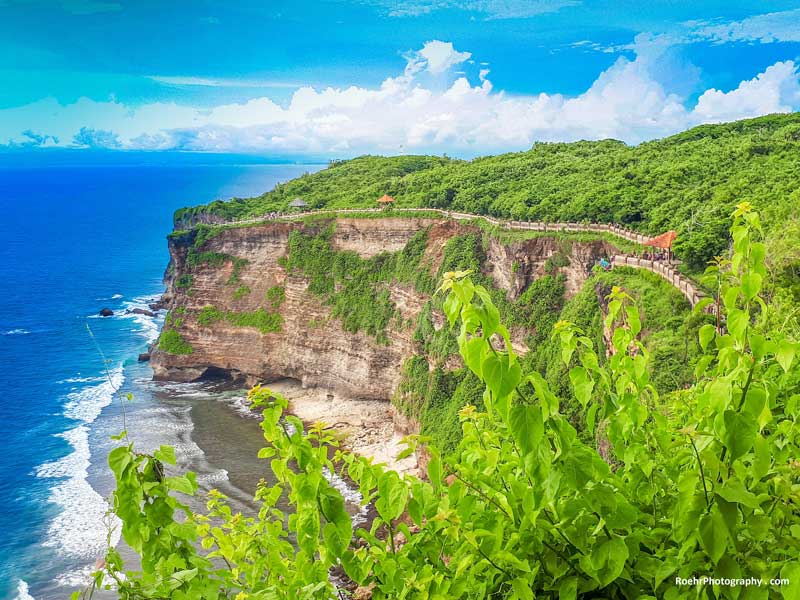 I can't say enough about what to do in Bali and think there are plenty of fun things for you there. You can check out all of these things, or decide if you want to focus on specifics. Your Bali vacation could be all about the uplands, the rice terraces, the volcanos, the steep hillsides, or on the southern beaches, cities, and culture. Bali really is two distinct islands and worth exploring no matter what you plan on doing.
Have you ever visited Bali? Tried any of these fun things to do there? We hope you enjoyed our list of things to do and where to go in Bali. If you're planning a trip to Bali, we'd love to know what you want to do first. Let us know in the comments section below.