Affiliate links linking to products we love may be found within this article. For more info, please check our Disclosure page for more explanation of affiliates and sponsorships.

---
You can't regret the life you didn't lead. ― Junot Díaz, The Brief Wondrous Life of Oscar Wao
Joining a Fathom Cruise and Traveling Deep
I could write one million words about the trip with Fathom and you still might not understand how much fun we had during that week aboard the MV Adonia. From the first sleepless day to those final moments before we nervously secured a seat on the last flight home, it was a joyride. Through a mixture of getaway and voluntourism, we met people from the States, Canada, and of course the Dominican Republic over the course of one truly memorable week. We come into this as "not cruise people" but after 7 days of traveling deep with Fathom, Christina and myself felt a huge impact that must be retold.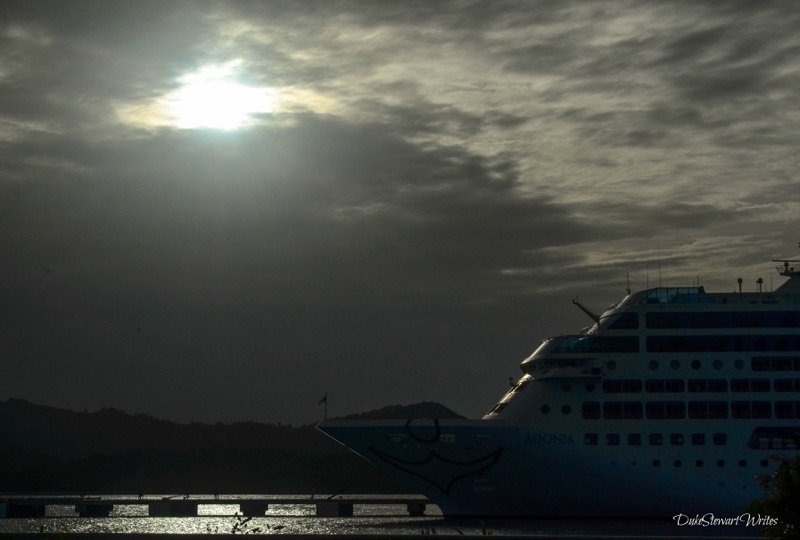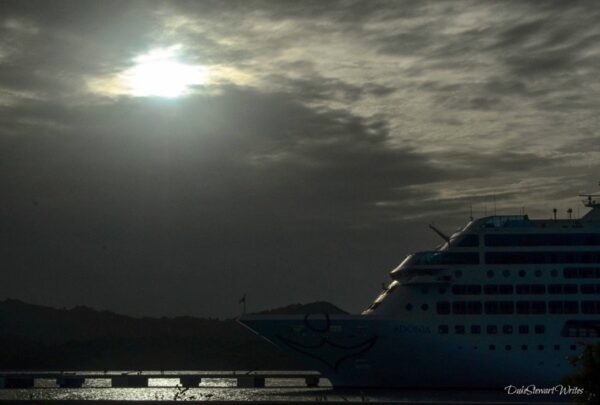 I really didn't read much about the Dominican Republic, other than the history that's provided in the fabulous book by Junot Diaz, titled "The Brief and Wondrous Life of Oscar Wao." All I knew was that a terrible man named Trujillo once ruled with an iron fist and more as he philandered and stole his way through life. That's really a good summation of what I understood going into this long first day that started way before we left Miami. A 2 A.M. wake-up and super early flight preceded us anxiously waiting for the cue to get on board the Adonia. That's the 704-passenger French-built ship that recently visited Cuba, as the first U.S. cruise line to do so since President Obama lifted the embargo.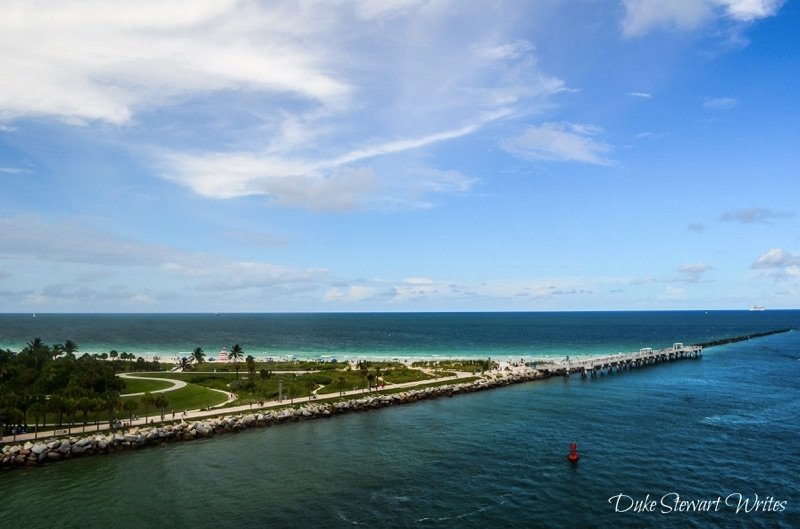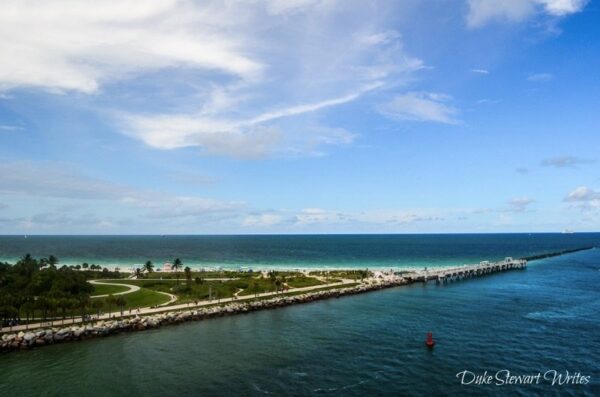 Leaving for Puerto Plata
The boat starts preparations for disembarking and we all rush outside to watch Miami disappear from view. Portside has the best view as a series of beautiful houses lead to a spectacular scene: Miami Beach. The earth fades away and the Adonia presses on towards Puerto Plata in the Dominican Republic, with music blaring from the band playing by the pool. Christina ditches me to take photos as I battle sleep deprivation with a beer, and there's so much activity around us but I feel like nothing is moving. I can't tell if we're stuck, and am thankful someone else is running the show.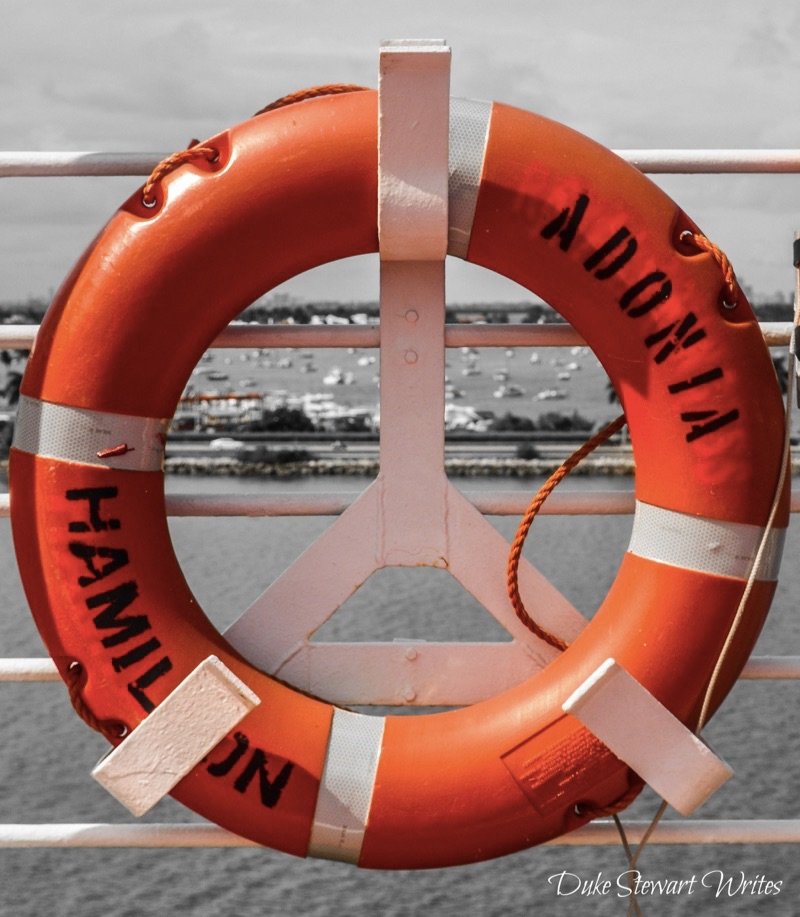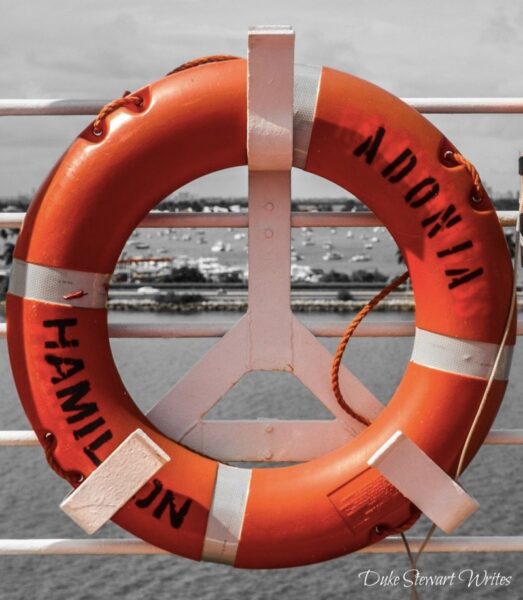 We have meetings, attend workshops, and get introduced to various people from all sorts of places along the way. Everyone is assigned to a Fathom Impact Guide who'll be the point of contact for our activities. A nice man named Greg walks us through the Dominican Republic's history and culture. There's a quiz that stumps most of us, including the ones who are familiar with this area. I realize that too much of my life has been spent studying Asia, not that it's a bad thing. Our world is too huge to conquer in a lifetime, I think. Will I ever touch all corners of it? Will you? My curiosity about this part of the world had never moved beyond reading books but this trip is going to change that.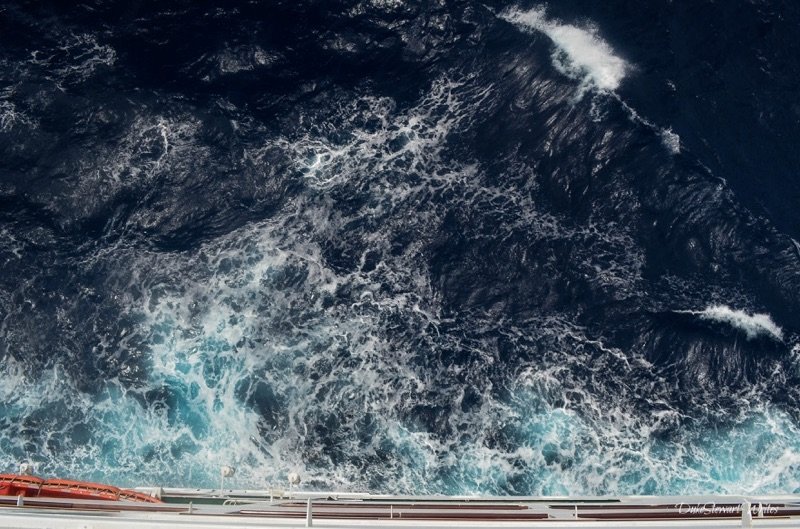 Amber Cove and Impact Activity Time
On the morning of our arrival, the twice-daily boat announcement comes on to mention how we'll prepare for the upcoming impact activities. Our groups form in the Curzon Lounge on Deck 5 and we eventually walk off the boat towards our first Fathom impact activity. This is our first encounter with Amber Cove that will serve as a nice break from the boat if necessary. It comes fully equipped with restaurants, shops, a pool, and waterslide that I'll conquer at a later time.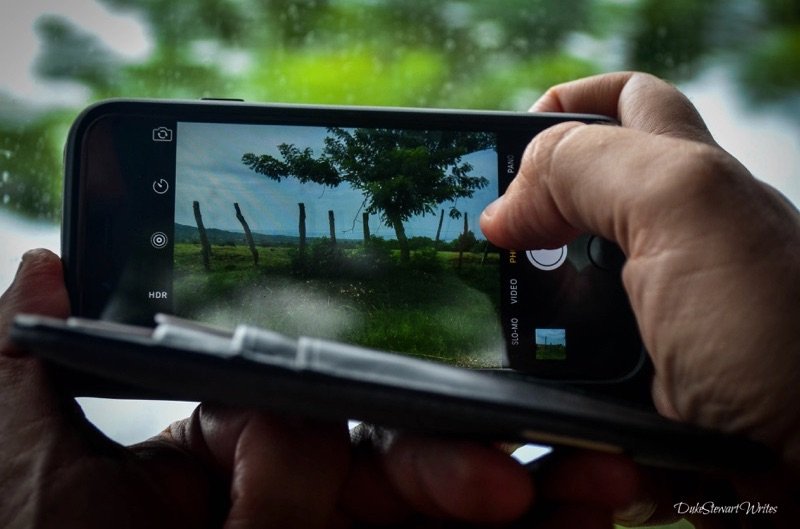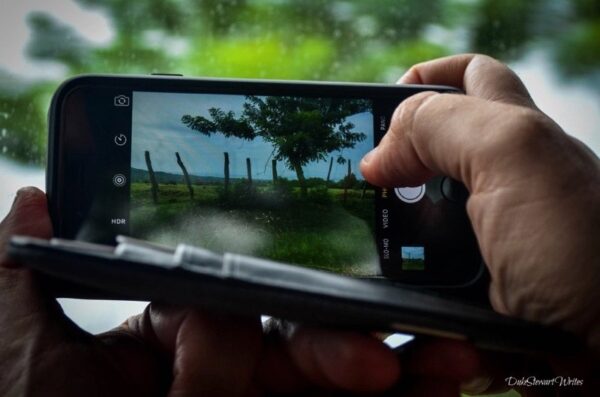 For now, we hop onto a crowded shuttle that will take us to the Community English activity that will squirt some grease into those ESL Teacher muscles that have gone rusty due to inactivity. The drive out starts on a normal highway but we're told that most of it will be through rough, mountainous terrain. We pass the time talking with new friends Katie and Erin—two kind souls who happen to be sisters and the only people who listen to my ravings about Oscar and Junot Diaz. They're in our group that ends up following a nice lady to her house, where we'll spend some time teaching English. Though the "teaching" session wasn't very long, my companion Luz is eager to learn and takes me back to all those moments hanging out with Hanu and other enthusiastic students back in Korea.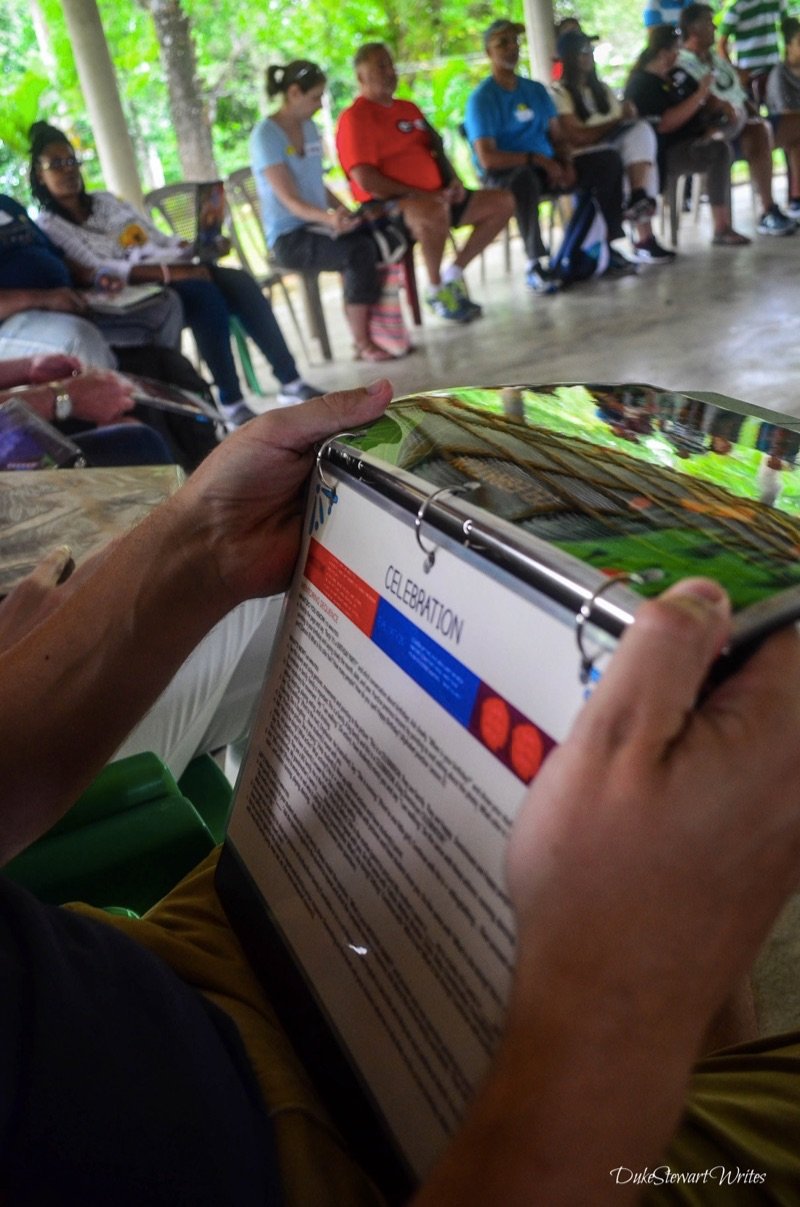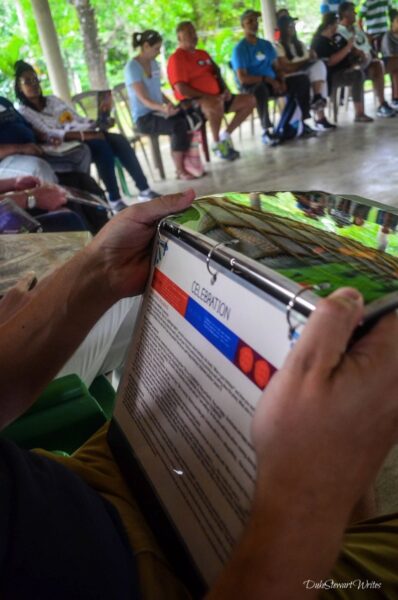 More Time and Damajagua
We spend less than an hour working with the students and after a brief closing ceremony, our party head back to the shuttle for the not-so-fun ride back down the mountain. My only comment for Fathom when asked for suggestions is simply "more time." Those moments working with Luz ignite a fire in me to finally sit down and learn Spanish, because that could've helped when gestures and simple breakdowns of words didn't work.
The next morning is something that we'd been planning for a time, thanks to Howard of Backroad Planet mentioning it before the trip. Our morning sliding down 12 of Puerto Plata's Damajagua aka 27 Waterfalls was retold throughout the rest of the trip, and is something I'll share in due time. My favorite involves our adopted cousin Josh being the resident badass of the group, jumping off all the rocks when everyone else was either too afraid to try or go first. The epic tale of him losing his phone and recovering it, only to realize it was rolling video the whole time, will be somewhere around the climax.
[instagram url=http://instagram.com/p/BHCKVxMgLi1/]
.
Pool Time and City Tour
I love that for minutes and hours each day, it's possible to connect with people in person while staying disconnected from our devices and the world around them. That's not the case at the Amber Cove pool because we're all huddled around our screens enjoying the area's best wifi. I catch wind of waterslides nearby from Dan, who's the husband of Nedra aka The Adventure Mom. and while it's no Damajagua, I get quite a rush down the closed tunnel slide, where it's dark all the way until the final turn. Some kids make fun of me as I barrel down the open slide, with some asking me if it were possible for me to go over the side. They're just too serious for me, and I run back up for another round.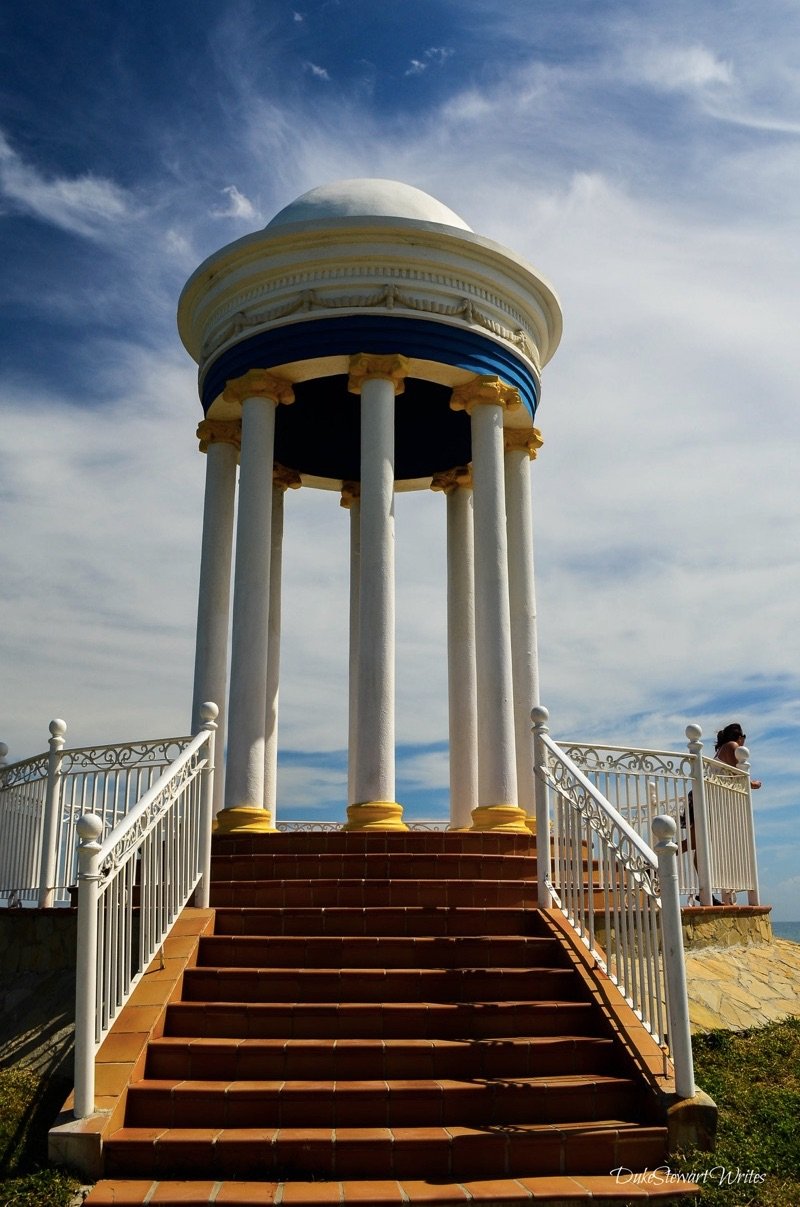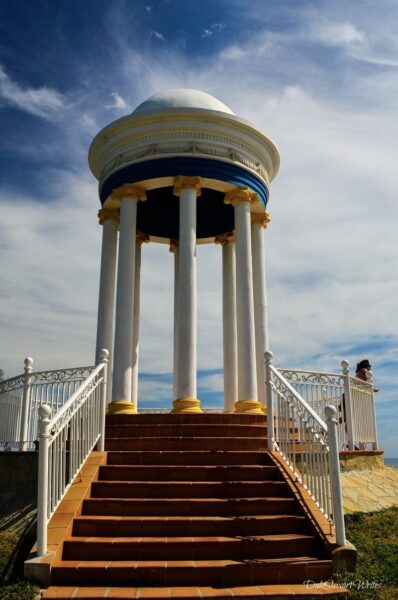 More moments persist through my mind, and I'm struggling to not be too chronological here. An early morning walk leads us to the overlook that has been on our minds ever since docking. Josh and Amelia aka Pretty in the Queen City join us later on in the day to find a taxi and head into the city for a tour of highlights. My inept Spanish ability doesn't land us the sweetheart deal that the fluent folks all got but it's still good enough. Our driver is asked to show off his English skills, and I can only think of baseball when speaking. He's not a Mets fan but how can you top David Ortiz when choosing a Dominican to follow? Bartolo Colon, anyone?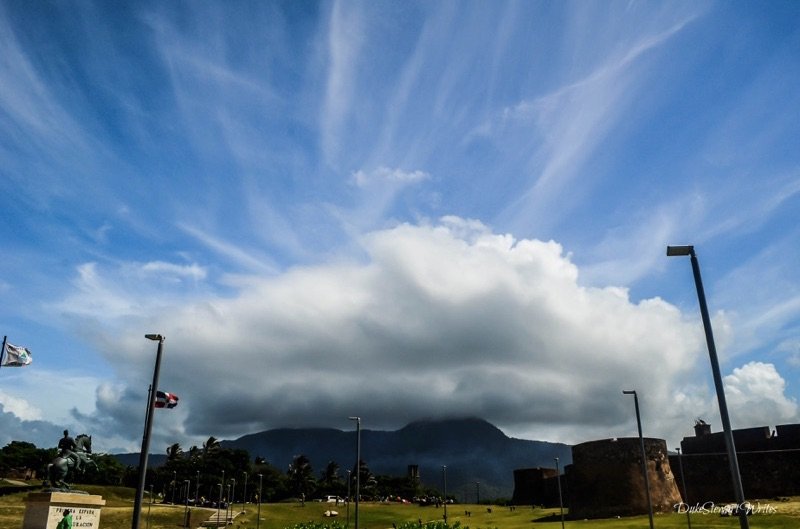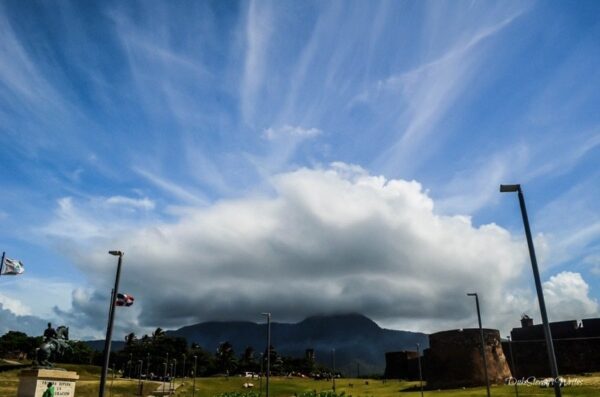 City Tour Audible
The city's colorful houses and neighborhoods hook me immediately. We're convinced to return and actually stay in the city someday. Our friend drops us off at hits like Fort San Felipe and an overlook just past a prison he describes as "free housing" at first. Puerto Plata's rum factory is another stop but we've arrived too late, but our man says not to worry. He instead takes us to an organic chocolate factory for a tour and walks through their gift shop. Amelia has a special moment with a young lady there, who is curious about our stay aboard the Adonia. They emotionally connect as the woman expresses heartfelt gratitude towards the people who've come to help.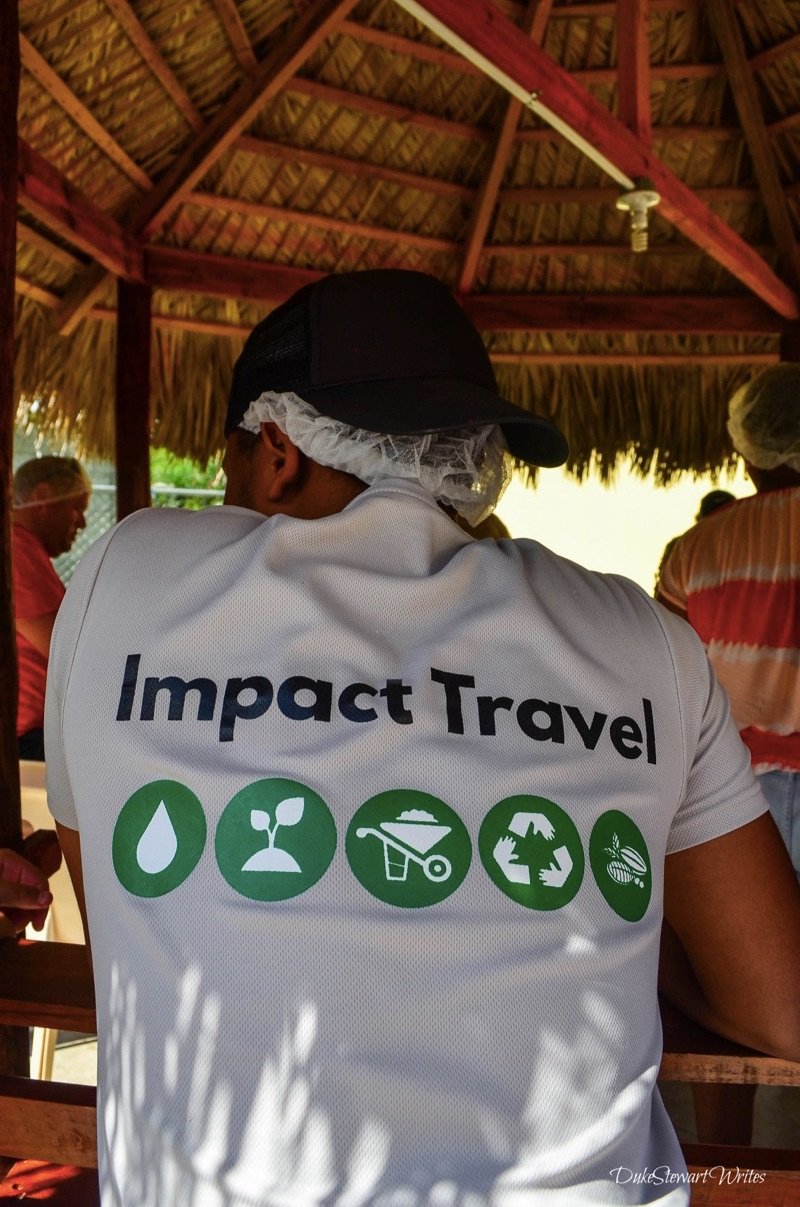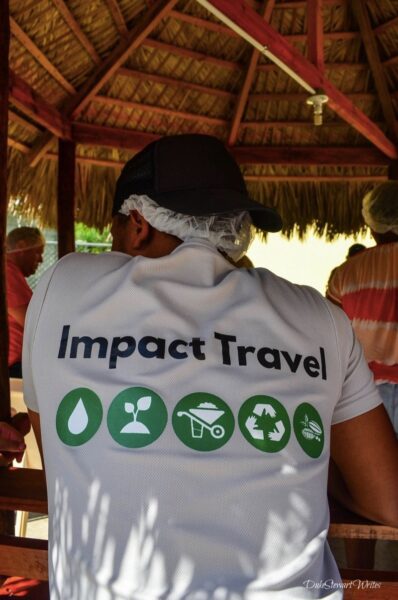 It's a common theme of the story that I've heard while talking to people on our boat. Anecdotes abound of tears shed while travelers work to replace dirt with concrete inside people's houses or those who planted trees to help reforestation projects. I recall our experience with the English students and can't think of any word other than "appreciation." Yes, this is a cruise and a certain stigma gets attached to that mode of travel. We honestly wouldn't have joined this without knowing there was some level of giving back, and Fathom certainly lived up to that part of the bargain.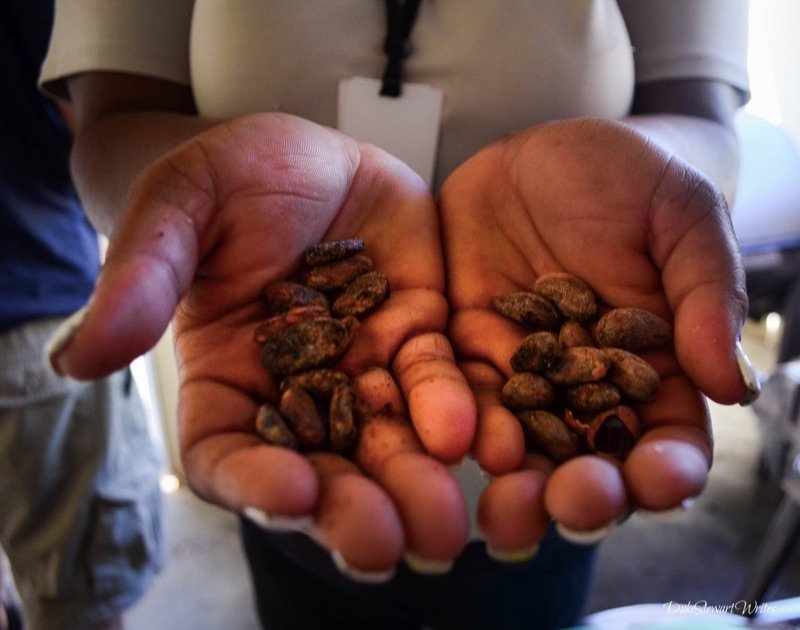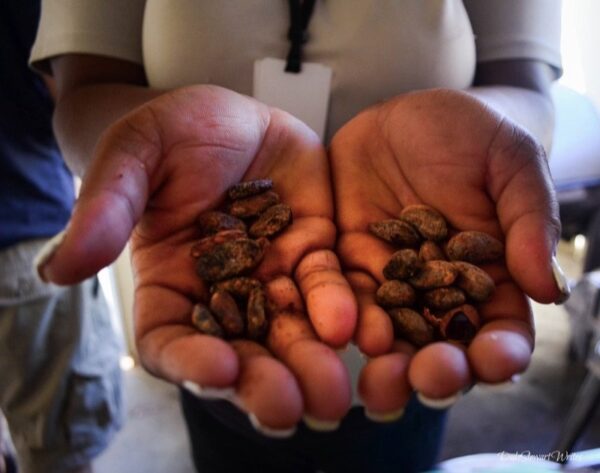 Chocal
Our second and final Impact Activity happens on the final day before leaving and is a wonderful way to finishing things off in Puerto Plata. The shuttle hauls us out to a local chocolate factory that's further out from the city than the one we visited just the day before. Known as Chocal, it's a community-led operation that a group of neighborhood women started as a way to stay busy. We're divided into groups and "help" with some of the processing, though I think we slowed them down if anything. To make up for it, most of us buy tons of chocolate to either eat on the spot or take home to our families. The stuff is so good that I'm not sure how much my family will ever see!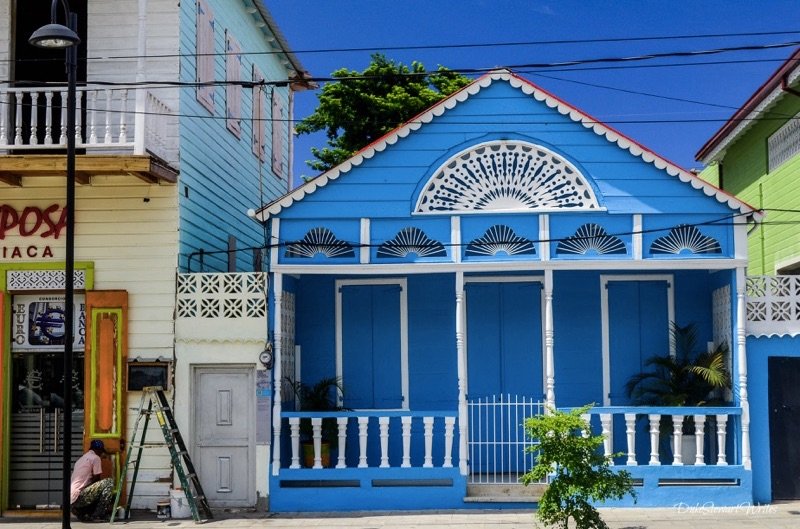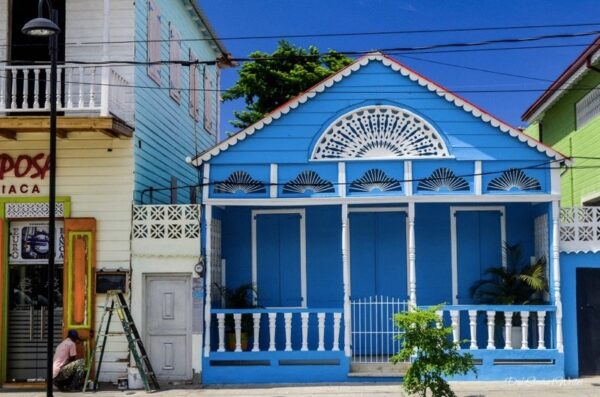 The boat departed after one last walk through Amber Cove, and I'm struggling to put it together. So many memories and good ones at that came from those few days in Puerto Plata. It was a new way for us to travel but isn't life all about doing something different from time to time? I spent the next couple of days mixing it up with all our new friends and learning about personal histories and various places throughout the world. We ate to excess and imbibed a little bit of duty-free rum because there was nothing left to do but enjoy the ride. I listen to Charles of McCool Travel talk about his knack for finding travel deals and epic drive through all 50 states, inspiring me to do the same someday.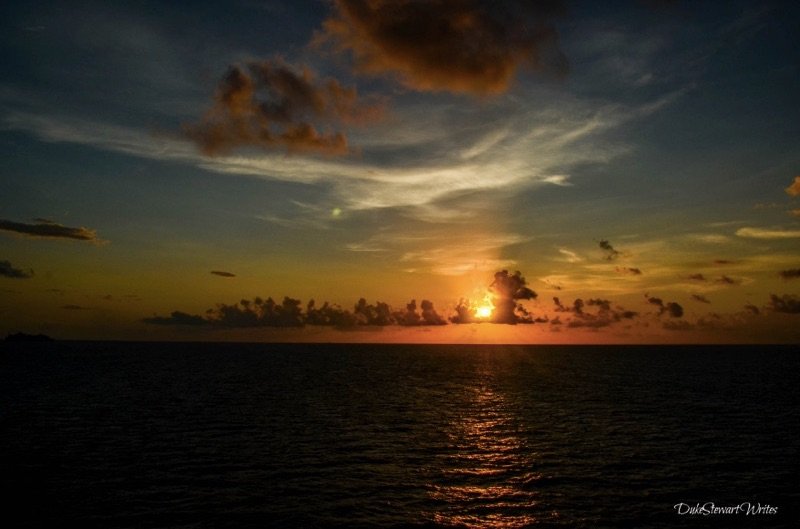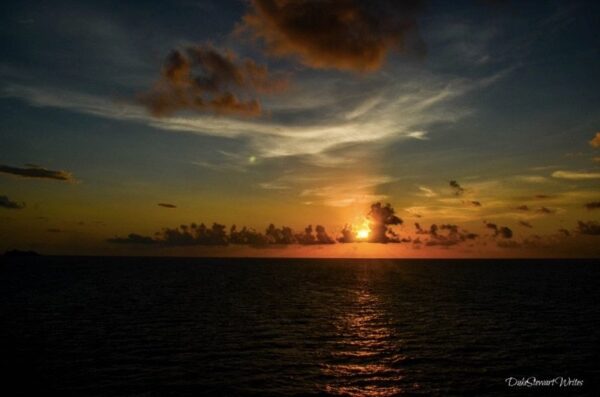 Return and Closing Thoughts
We stay up too late and only I pay for it the next day, though I don't regret the conversation one bit. My final day is spent nursing a headache from the rum, getting destroyed at ping pong by adolescents, and walking 5k to support an Orlando local (and Epicurista) who wanted to memorialize the shooting victims in a positive way. That evening's sunset is a perfect one that slowly lowers towards the sea. Sea legs still persist as we get back home and I start working, missing those wonderful people and Puerto Plata all the time. We built a nice little community on that boat and so many times, I wish we could get back on board. I know there's a footprint left by some of them but Fathom is working to give back to the places they visit.
They want to know more and give more at the same time, and I hope they succeed in this world that could use more giving.
Are you a "cruise person" and even if not, would you go on a Fathom Cruise? I'd love to read your thoughts in the comments section below:)
P.S. We met some special people during this trip and if I didn't mention you, don't worry. You'll get yours in a second:)
Awesome Bloggers and Writers We Met
Amanda from Survival Guide by The Working Moms
Amelia from Pretty in the Queen City
Amy from Pitstops for Kids
Carolann and Macrae from One Modern Couple
Cathy from Roar Loud
Charles from McCool Travel
Christina from Epicurista
Donna from Destinations Detours and Dreams
Donna from Nomad Women
Erin from 10 Miles Behind Me
Howard from Backroad Planet
Jesica from The Mommy Bunch
Kirsten from Kids are a Trip
Kristin from Bon Touriste
Lisa from We Said Go Travel
Melissa from Consumer Queen
Melody from Wherever I May Roam
Nedra from Adventure Mom Travel Blog
If we met and I forgot to list you here, it's never too late! Leave a comment and I'll gladly add you to this group of awesome people we met aboard the Adonia. 
Pin and Share!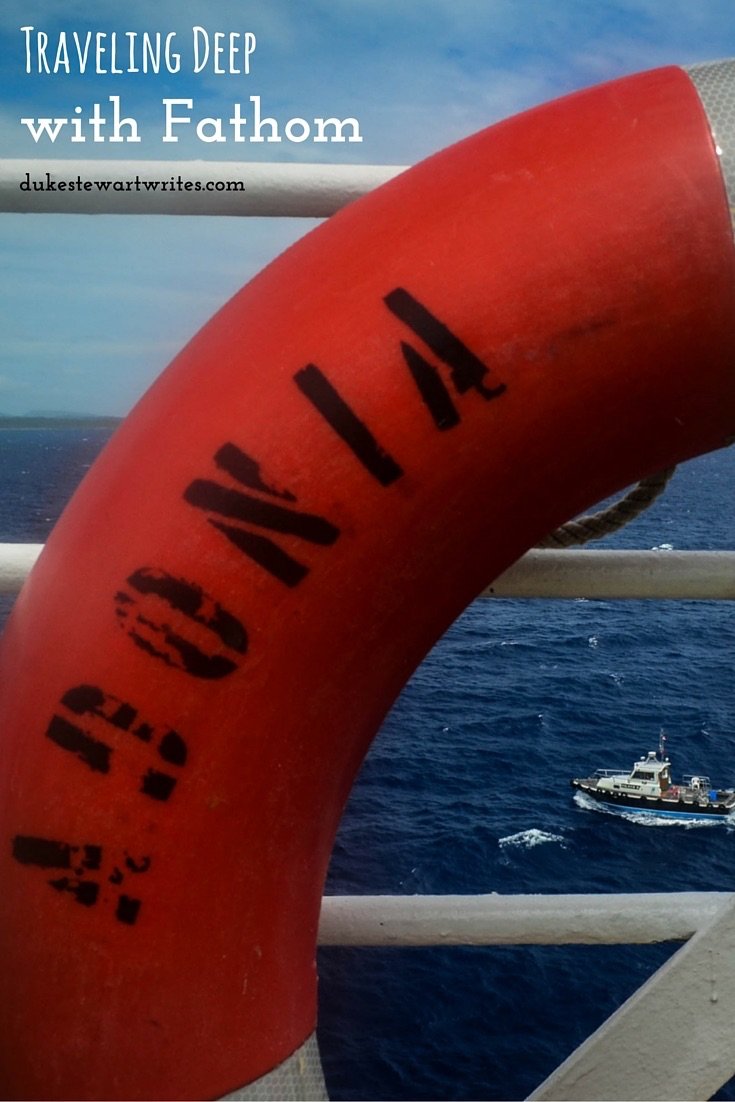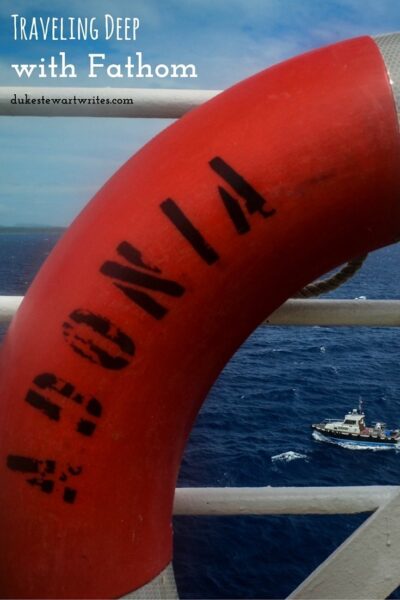 DISCLOSURE: I may be an affiliate for products that I recommend. If you purchase those items through my links I will earn a commission. You will not pay more when buying a product through my link. In fact, I oftentimes am able to negotiate a lower rate (or bonuses) not available elsewhere. Plus, when you order through my link, it helps me to continue to offer you lots of free stuff. Thank you, in advance for your support!