Affiliate links linking to products we love may be found within this article. For more info, please check our Disclosure page for more explanation of affiliates and sponsorships.

---
I assume the day is complete, as my wife and I cruise down the curvy mountainous road sandwiched between the clear blue sky and the valleys down below. Our windows are down and the breeze floods in like any other sunny Saturday afternoons like this one. The day is finished with our minds stuck on the luscious waterfall we'd just walked away from a few minutes before. It'll be a short drive towards sleepy Wanju and to the interstate, back home. We're not far from Jeonju, bibimbap capital and home to a nice traditional village overshadowed by Gyeongju near the east coast.
We mentioned a visit to Songgwangsa Temple and others throughout the country in our Spring Things to Do in South Korea.
Staying Connected at Songgwangsa Temple
View this post on Instagram
Along the way and driving around Mt. Wibong and its accompanying fortress, it's just a few hours towards Yeosu and the sea that seems so far away from this inland paradise. Other than the streams of traffic cops that signal us past a massive gathering at a nearby church, the ride is mostly uneventful yet gorgeous. I'll always get lost in valleys as long as they're green and wonderful, just like home. We reach the foot of the mountain and start getting our ruddy old GPS ready for the ride home, until the trip stops for a moment.
"Is that a lantern pyramid?"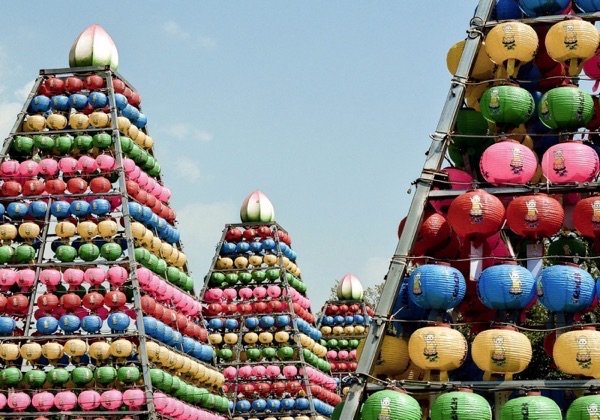 I can't remember who asked but one thing is certain. We've stumbled upon something worth stopping for, and Yeosu would have to wait. There's another Songgwangsa Temple that's a prominent highlight of Suncheon's Philosopher's Hike, so it's easy to get confused when describing this temple with the same name. We walk around joyfully surrounded by these paper lantern towers, after strolling through the entrance. More pyramids surround the temple's halls and famous belfry but something else demands our attention. A familiar and welcoming sound resonats from the temple's main hall.
The clapping sound and accompanying chants take over and until we leave, I can't discern any other sounds. We walk over to the side entrance to the prayer hall. Monks come in through the center of course but it's always good to remind myself of that. Outside the beautifully adorned wooden doorway, we stand and watch. Inside, a middle-aged woman stands next to a monk and prays almost in sync with his song, kneeling and praying until she finishes. As she walks past the entrance and the silver teakettles just before the threshold, she greets a girl who's likely her granddaughter. Tears stream down the lady's face and fill me with worry.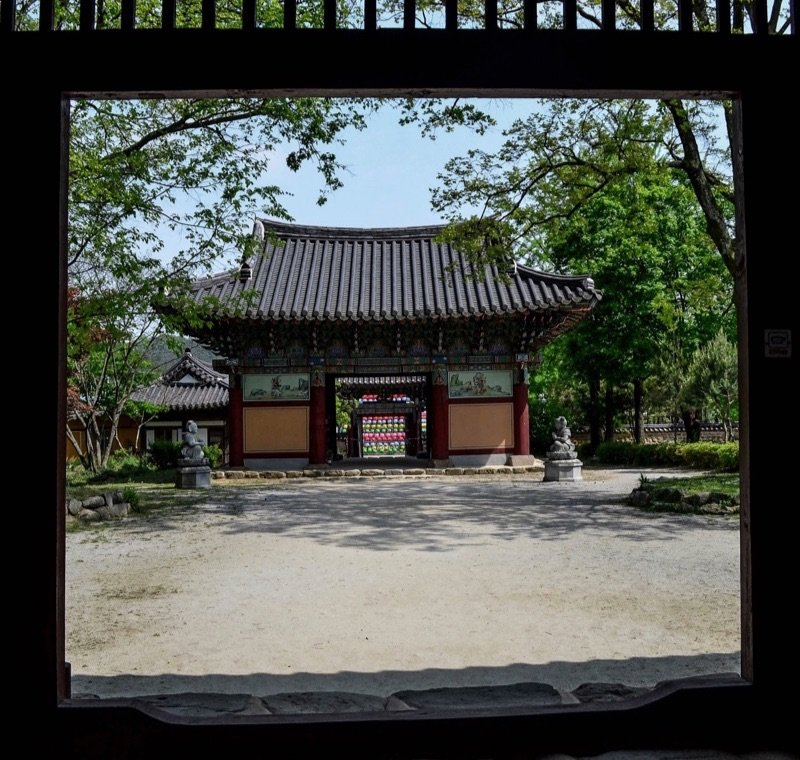 What's she praying for? Is it someone she'd lost or perhaps the bundle of brightness that she was hugging and now walking away with? Her exit leaves the room empty except for the monk chanting and keeping time with his moktak, wooden percussion instrument meant used during prayer. Nothing can stop him, and I can't quit watching and listening to his recitation of the same verse for over 10 minutes. Occasionally, he glances my way but we never make eye contact.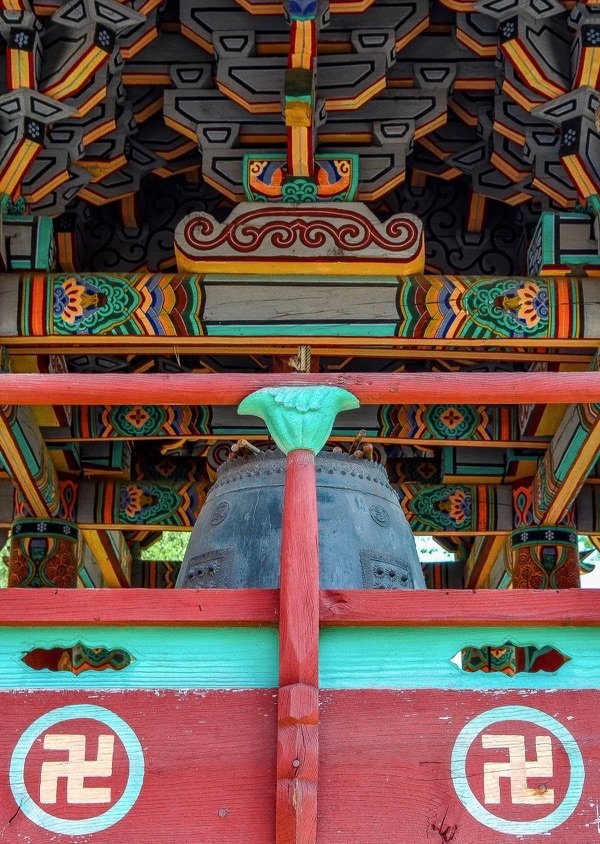 I watch him passionately pray to the enormous golden Buddha statues that tower over everyone who enters. I walk away expecting his song to continue forever but after scanning around the rest of the temple complex, the volume dips to a near whisper. As soon as I return to the door expecting him to finish, the monk picks back up into the same chant as before. He was just getting started and has no intention of stopping. Thanks to the sun continuing its way towards the sun, I can't watch him finish and wonder how long the monk kept going. As we drive back to the south coast, I wonder if he'll ever stop.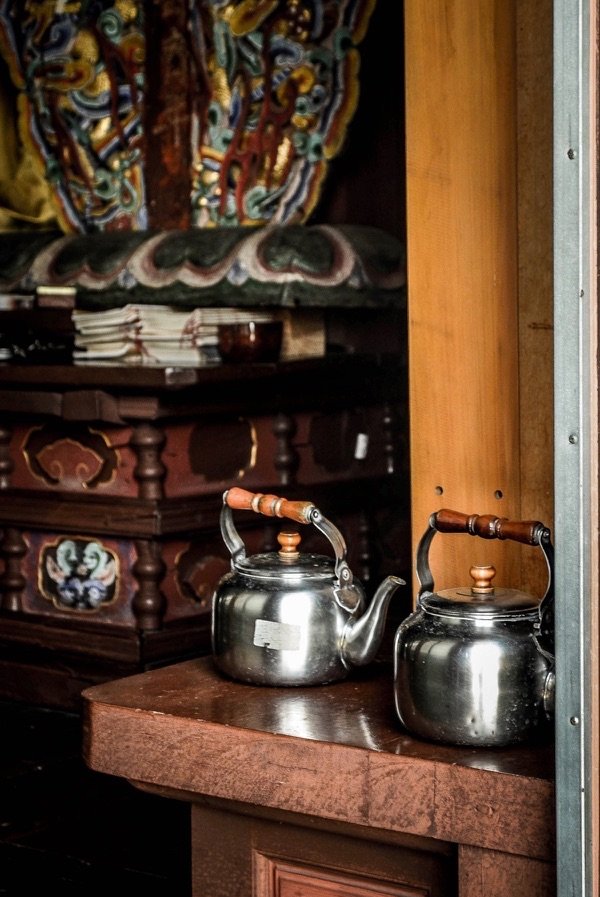 I keep thinking back to those moments spent standing outside the prayer hall. That image of the monk can't escape my thoughts, and I'm happy to still feel a deep connection through listening to his prayers and hollow drums. The memory of his passion will always rest inside a safe place, and come back when I need it. I'm not Buddhist but moments like these make me reconsider. I rarely feel such connections, and thank that monk for filling me with happiness on that glorious afternoon. We'll never see each other again but as long as I'm alive, I'll always remember the monk's song and rhythm that filled Songgwangsa Temple that day.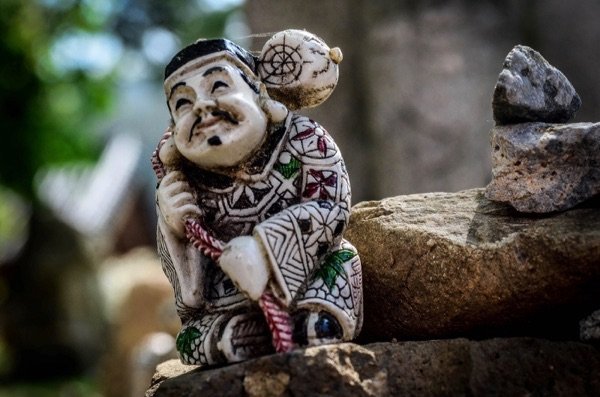 Thank you for keeping me connected.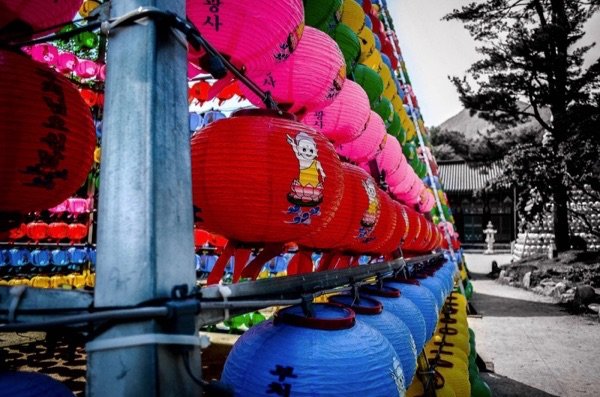 Have you had a similar experience? Ever get caught up in someone else's emotions? Share your story. I'd love to read about it.
Want to read more about Korea? Click here.
This travel guide is part of our series on South Korea Travel and East Asia Travel. It was originally created on May 20, 2015. It has been maintained and updated (as of December 28, 2018) to reflect current viewpoints and travel trends.